Today we want to show how to make air fryer eggplant fries for a low-fat, healthier take on the classic potato fries. You'll need only a few simple ingredients and your trusty air fryer. In less than 30 minutes, you'll be munching on a big bowl of crispy and healthy chips. Let's do it!
Preparing these eggplant fries is super simple: all you need to do is cut them into thick sticks and then bread them with starch, vegan "flax-egg", and panko breadcrumbs. Finally, pop them into the air fryer basket and let the machine do its magic. Your crunchy aubergines chips are ready to be savoured, dipped in vegan mayo or a spicy chilli sauce.
Classic French fries are deep-fried in very hot oil, making a tasty yet rather unhealthy snack. When your prepare fries at home from scratch, you can have complete control over the ingredients and cooking methods. Baking the chips in the oven is already a healthier option to deep-frying. But cooking them in the air fryer, means you won't need any oil at all. Plus, you'll have much crunchier fries, ready in half of the time — it's a win-win!
The air fryer works by circulating very hot air around the food, which gives it a crispy crust. Without using any oil, you can get a similar texture and taste to deep-fried foods like chips and pastries. Cooking with an air fryer can help you drastically reduce the fats and calories in the foods you eat, helping you lose weight and stay healthy.
Why make chips with aubergines instead of potatoes? For once, aubergines are lower in carbs than potatoes, and have a better nutritional profile. But also because it's fun to try new things! After dusting them with starch, we coated them with flax-egg instead of beaten eggs, to keep the recipe vegan and low-fat. Finally, we breaded them with panko breadcrumbs seasoned with curry powder and paprika for a crispy crust full of flavour.
Crunchy and golden, these healthy, air-fried eggplant chips are simply irresistible. We're sure they won't last long once baked — ours certainly didn't! The good news is that a serving of these veggie fries has only 180 calories and it covers less than 5% RDI of fats and 12% RDI of carbs. Amazing!
Ingredients
| | |
| --- | --- |
| Ground Flaxseeds | 4 tbsp |
| Water | 120 mL |
| Eggplant | 320 g |
| Starch (potato, corn, or arrowroot) | 40 g |
| Curry Powder | 2 tsp |
| Paprika | 2 tsp |
| Panko Breadcrumbs | 100 g |
Step 1
Let's start by preparing the "flax-egg".
Mix ground flaxseeds with the given water in a shallow bowl and let them soak for 10 minutes in the fridge.
As the seeds absorb water, they'll form a dense, gel-like mixture, similar to beaten eggs.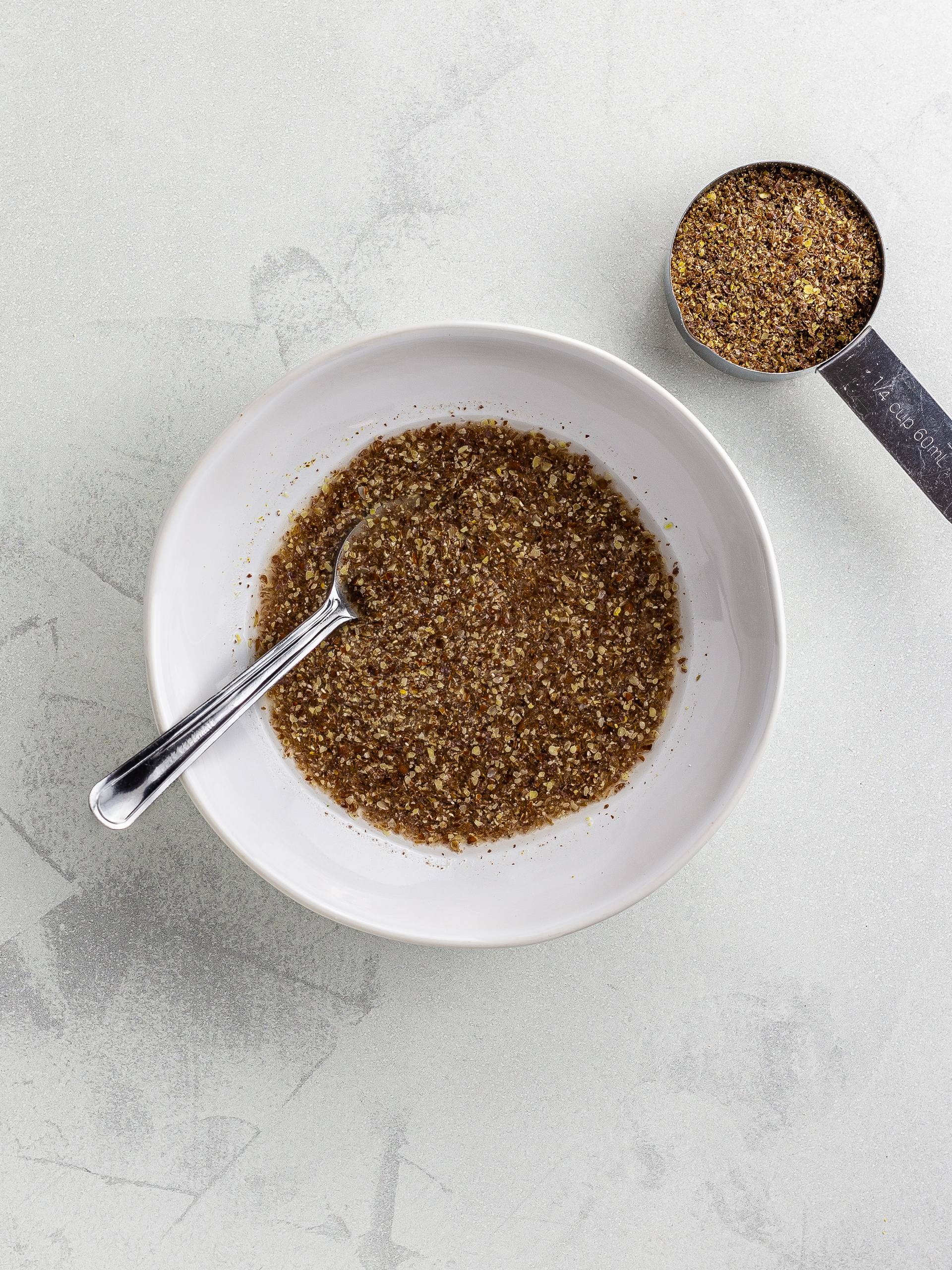 Step 2
Meanwhile, rinse the eggplants and trim off the ends. Then, slice them into thick sticks about 8 cm (3 inches) long.
At this point, you can optionally soak them in a bowl of cold water with salt. After 10 minutes, drain the aubergine sticks and pat them dry with a kitchen towel. This process helps to remove the bitterness from the eggplants, but it's not mandatory.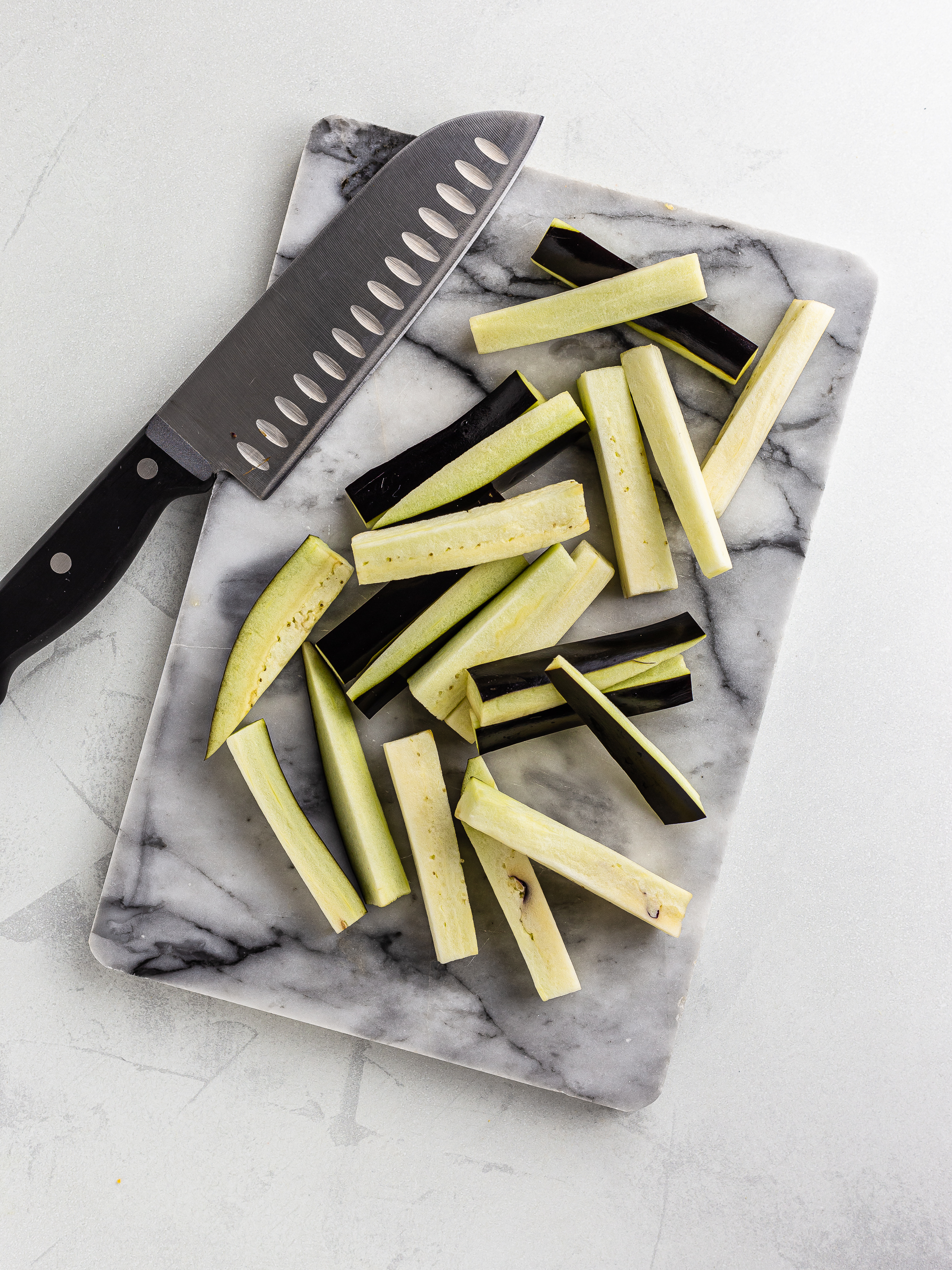 Step 3
Now, prepare two bowls: one with starch mixed with half of the curry powder and paprika; one with panko breadcrumbs mixed with the remaining half of the spices. Season both with a good pinch of salt.
To coat the fries, first sprinkle each eggplant stick with salt and roll it in the starch. Then, dip it in the flax egg and finally coat it with the breadcrumbs.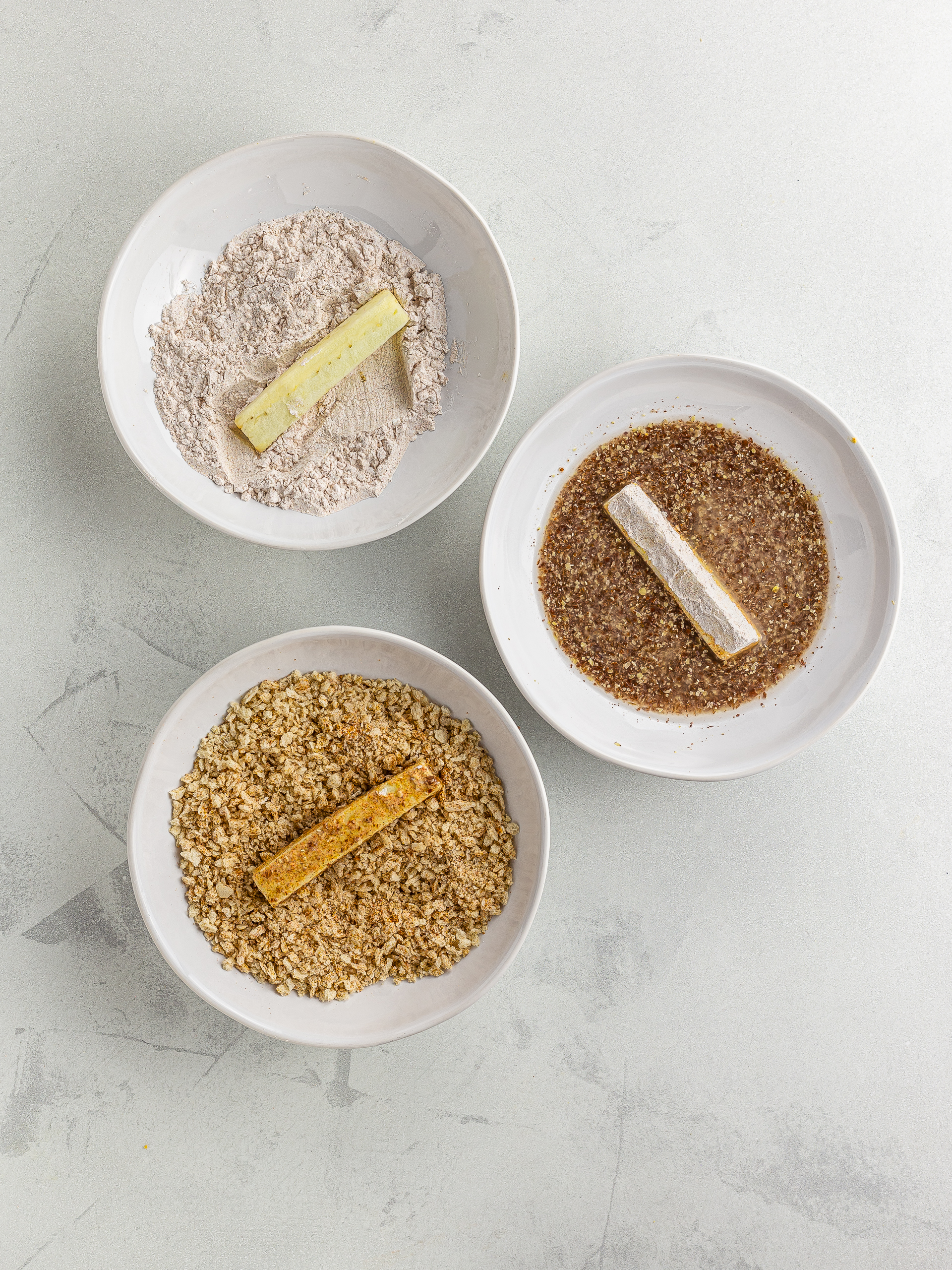 Step 4
Arrange the breaded eggplant sticks in the air fryer basket, leaving enough space in between to let the air to flow (1).
Set the air fryer temperature at 180°C (355°F), and bake the chips for 15 minutes, flipping them halfway through cooking time (2).
Enjoy these healthy fries while they're still warm, dipped in vegan mayo or low-fat vegan Hollandaise sauce.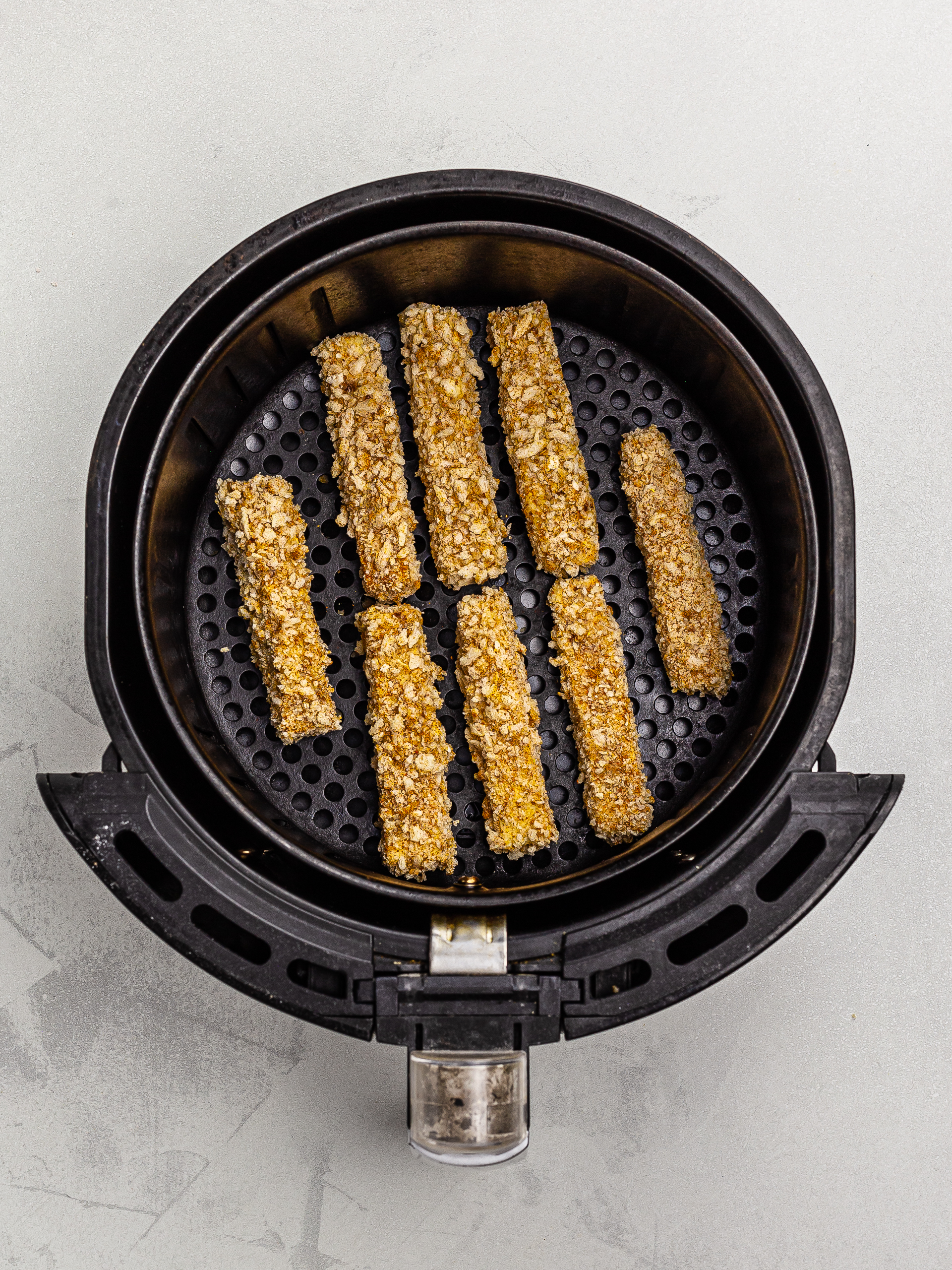 1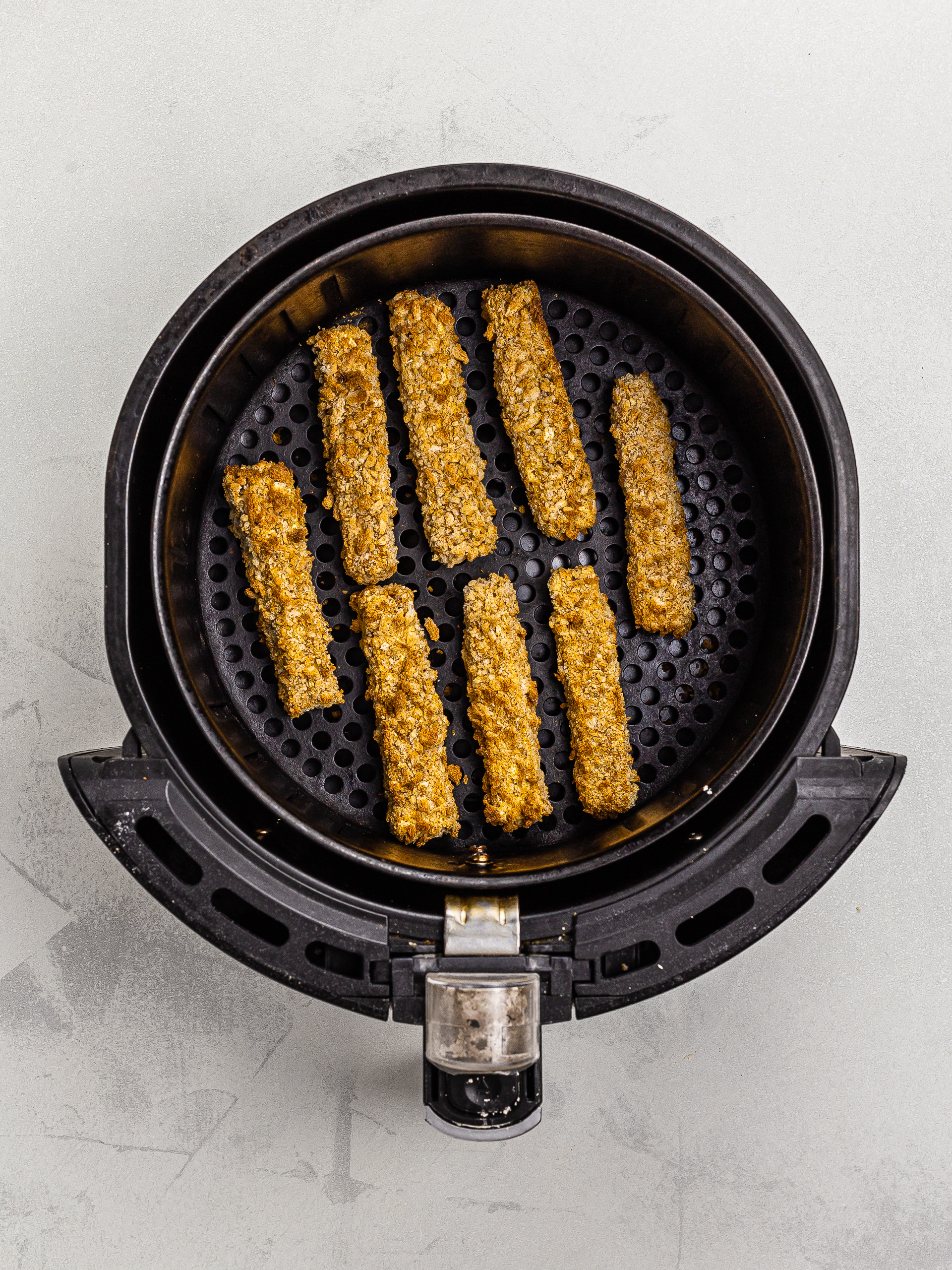 2
Tips
You can use a mix of water and flour instead of making the "flax egg". Whisk 70g (2.5 oz) of all-purpose flour with 100ml (3.5 fl oz) cold water in a bowl into a smooth batter.

For a gluten-free option, swap breadcrumbs with a mix of nuts, seeds, and oats. Add them to a food processor, blitz them until they're finely ground, and use them as you would with breadcrumbs.