What if you could have all the flavours of a carrot cake slice but in a healthier, low-fat treat? Our bite-sized carrot cake energy balls will surprise you with their unique taste, gooey texture, and amazing nutritional profile.
You'll find all the ingredients you love from the classic carrot cake recipe: sweet carrots, crunchy walnuts, and spicy cinnamon. But to that, we have added wholesome, healthy ingredients like oats, chia seeds, and Goji berries.
Instead of a load of butter, oils, and refined sugars you might get from a classic carrot cake, these colourful truffles contain only raw ingredients that will keep you full and energised for longer.
Oat is a source of slow-digesting carbs plus gut-friendly fibres that help with weight-loss too. Chia seeds, walnuts, and almond butter are rich in proteins, fibres, and healthy unsaturated fats. These nutrients are key to feeling satiated and nourished without experiencing that energy crush so common with refined carbs and white sugar.
Combined together, carrot and Goji berries give these energy balls a boost of antioxidants and vitamin A. We have an in-depth article about the health wonders of Goji berries, so check it out if you want to know more about this miracle berry.
You can make a big batch of these carrot cake balls in under 20 minutes, and you'll always have a nutritious pick-me-up snack at hand. Each bite has only 95 calories, and if you combine 3 or 4 of these balls, you can get over 30% of your fibre RDI, 20% of your protein RDI, and just 1g of saturated fats.
Ingredients
| | |
| --- | --- |
| Goji Berries | 40 g |
| Pitted Dates | 60 g |
| Carrots | 70 g |
| Jumbo Rolled Oats | 150 g |
| Ground Walnuts | 30 g |
| Chia Seeds | 1 tbsp |
| Almond Butter | 60 g |
| Cinnamon | 1/2 tsp |
| Ground Ginger | 1/4 tsp |
| Nutmeg | 1/4 tsp |
Step 1
Soak the goji berries in water for 10 minutes. They will soften and swell.
Then, drain them well and set them aside.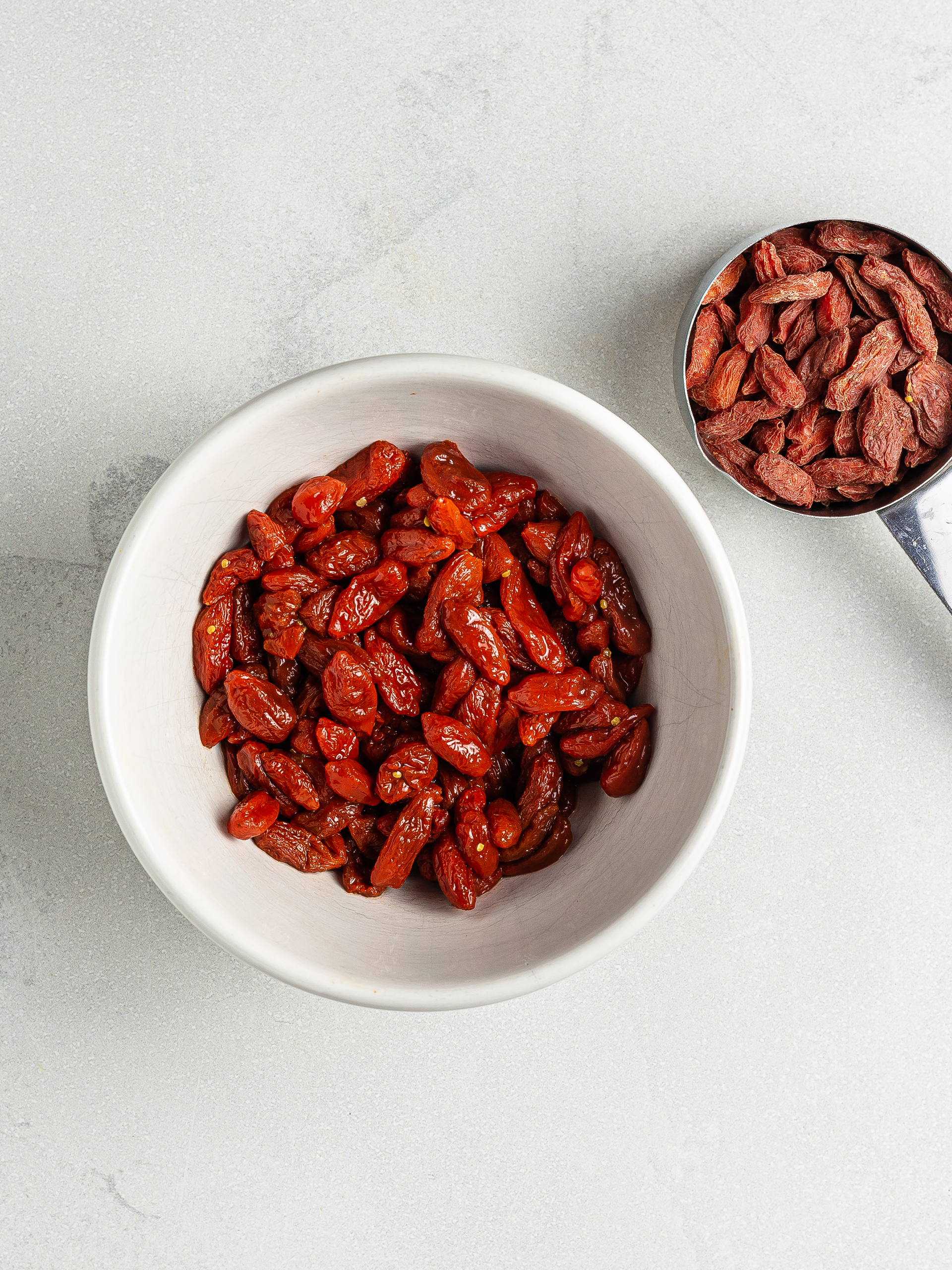 Step 2
Add the pitted dates to a bowl with warm water and leave them to soften for 10 minutes.
Then, drain them well and transfer them to a food processor along with peeled carrots.
Blitz the ingredients until they're finely ground, and you have a paste-like mixture.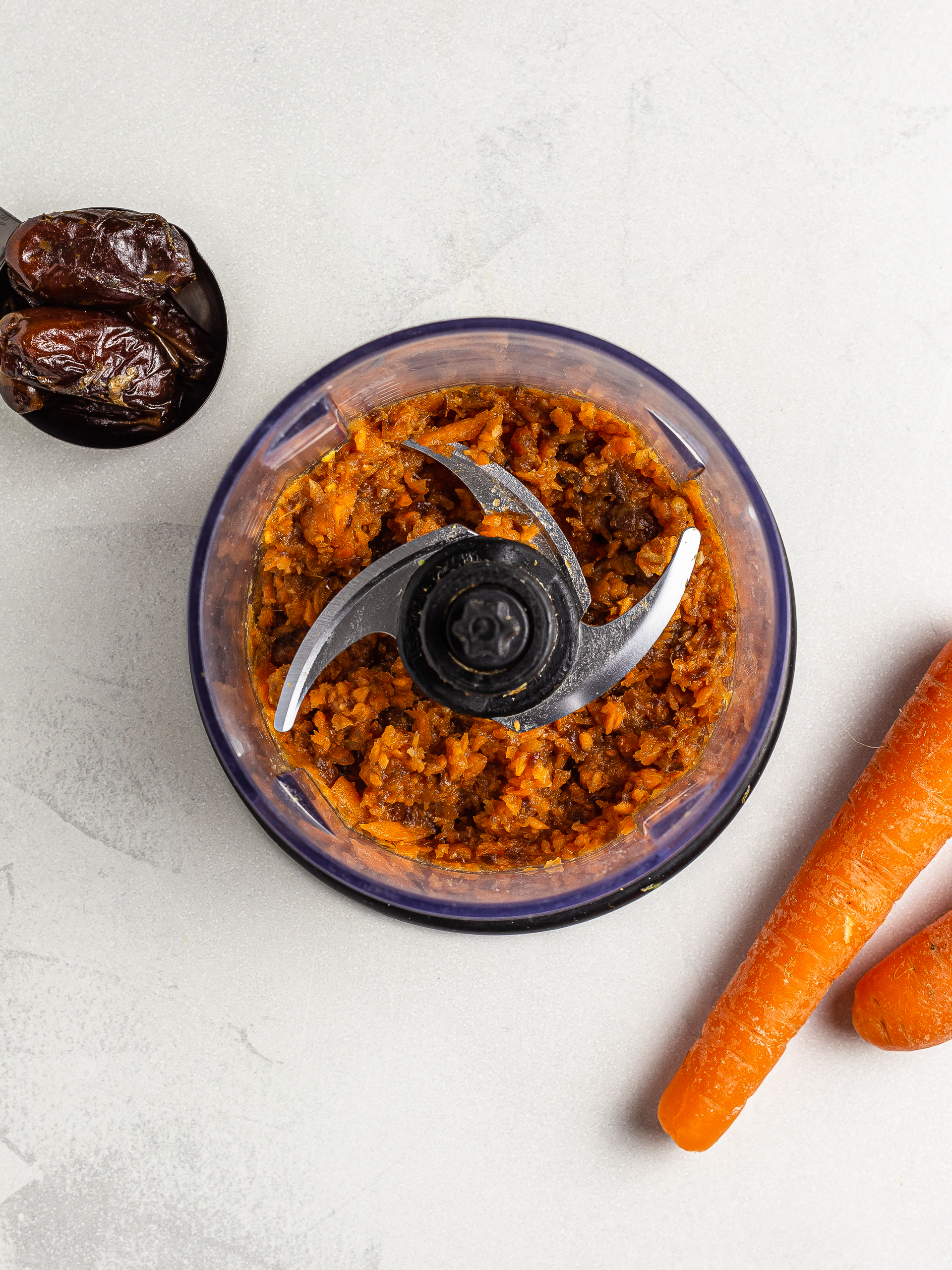 Step 3
Now, transfer the carrot mix to a large bowl and add oat flakes, ground walnuts, chia seeds, almond butter, and the spices.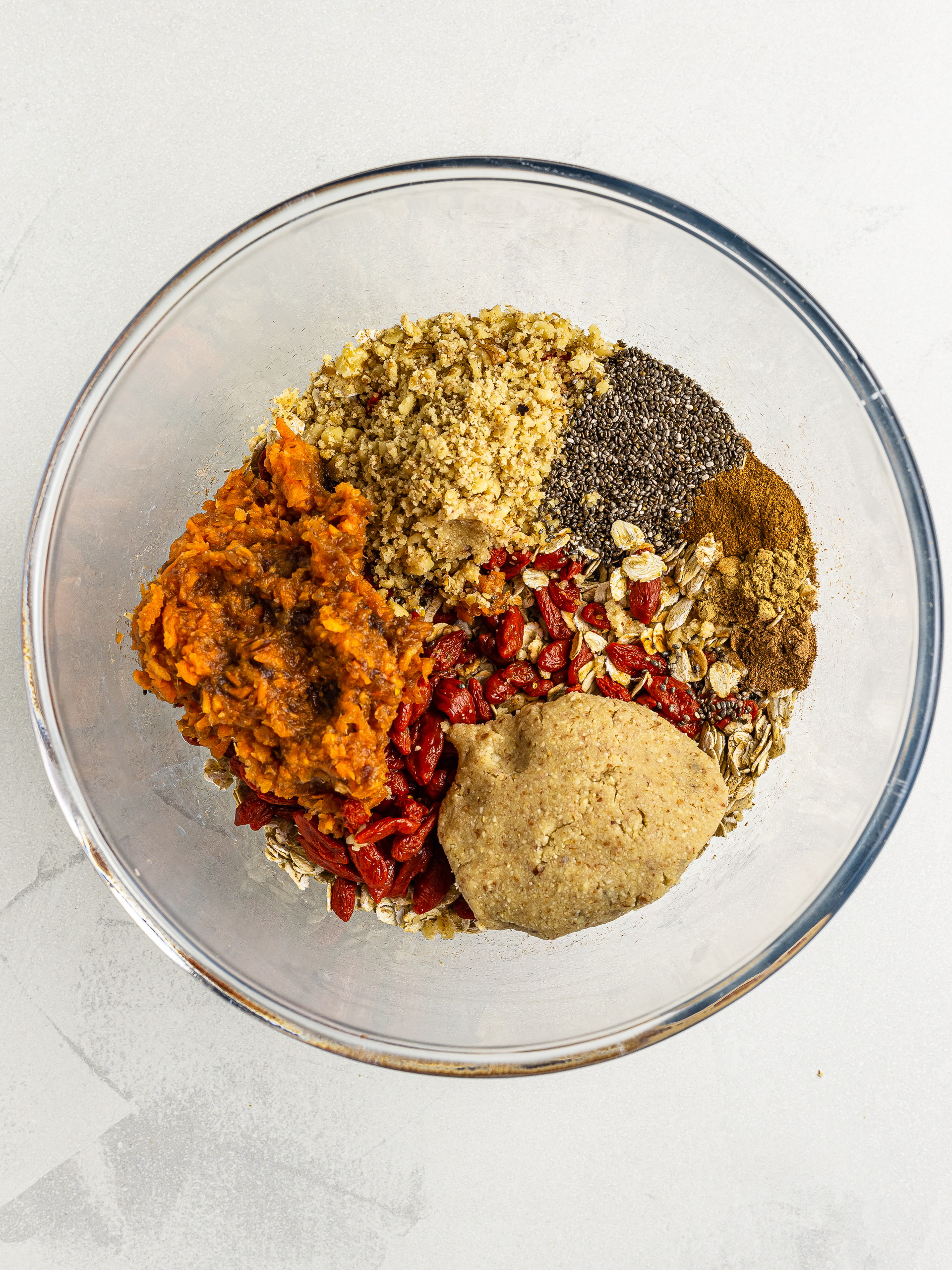 Step 4
Work the ingredients until they come together into a compact and pliable dough.
If it feels too sticky, add more oats, or, if too crumbly, pour in some water or a splash of milk.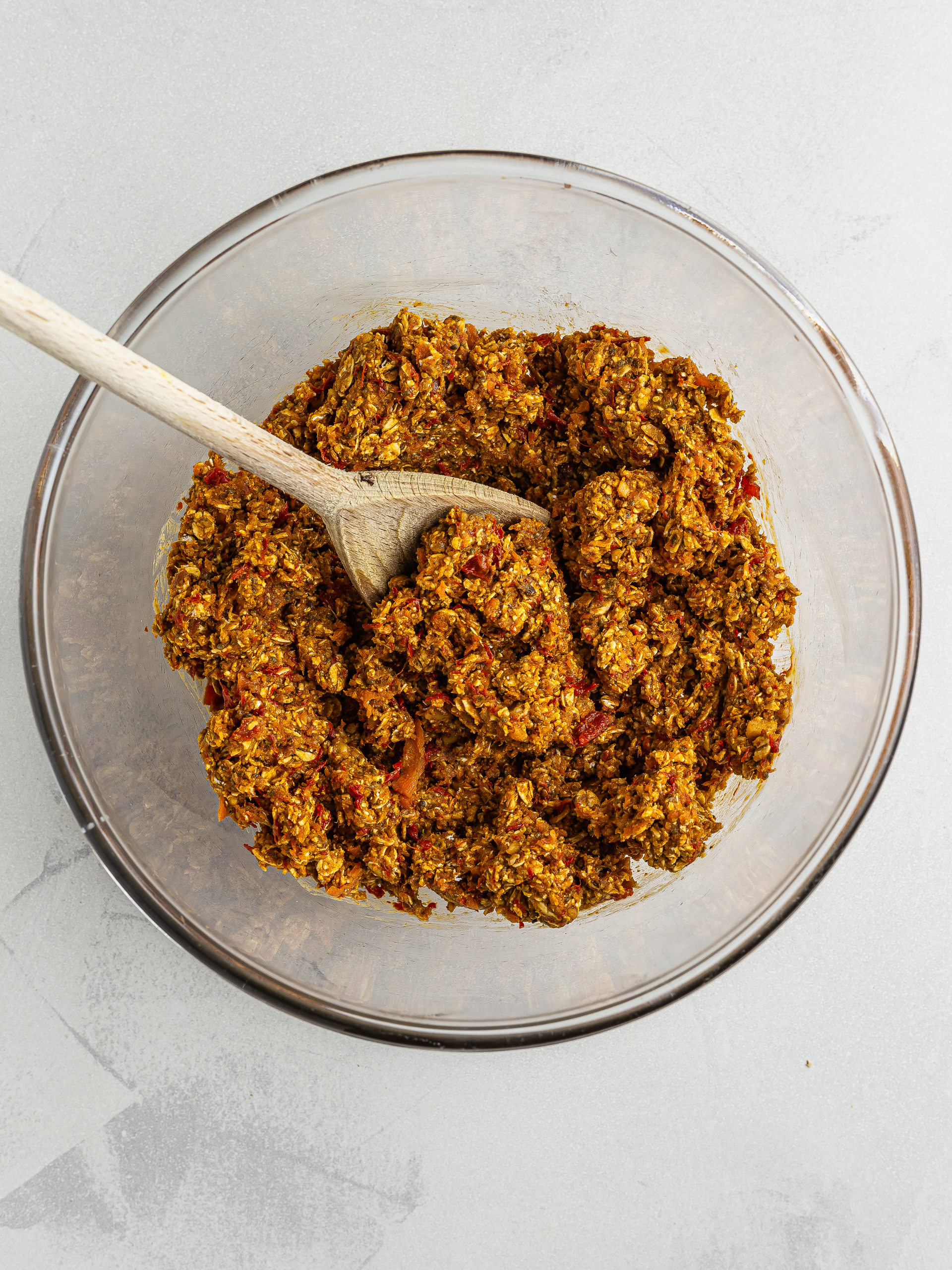 Step 5
To shape each truffle, pinch off a small amount of carrot dough, about 25-30g (0.8-1oz), and roll it in between your palms into a bite-size ball.
Repeat this step until you have used all the dough, and you're done.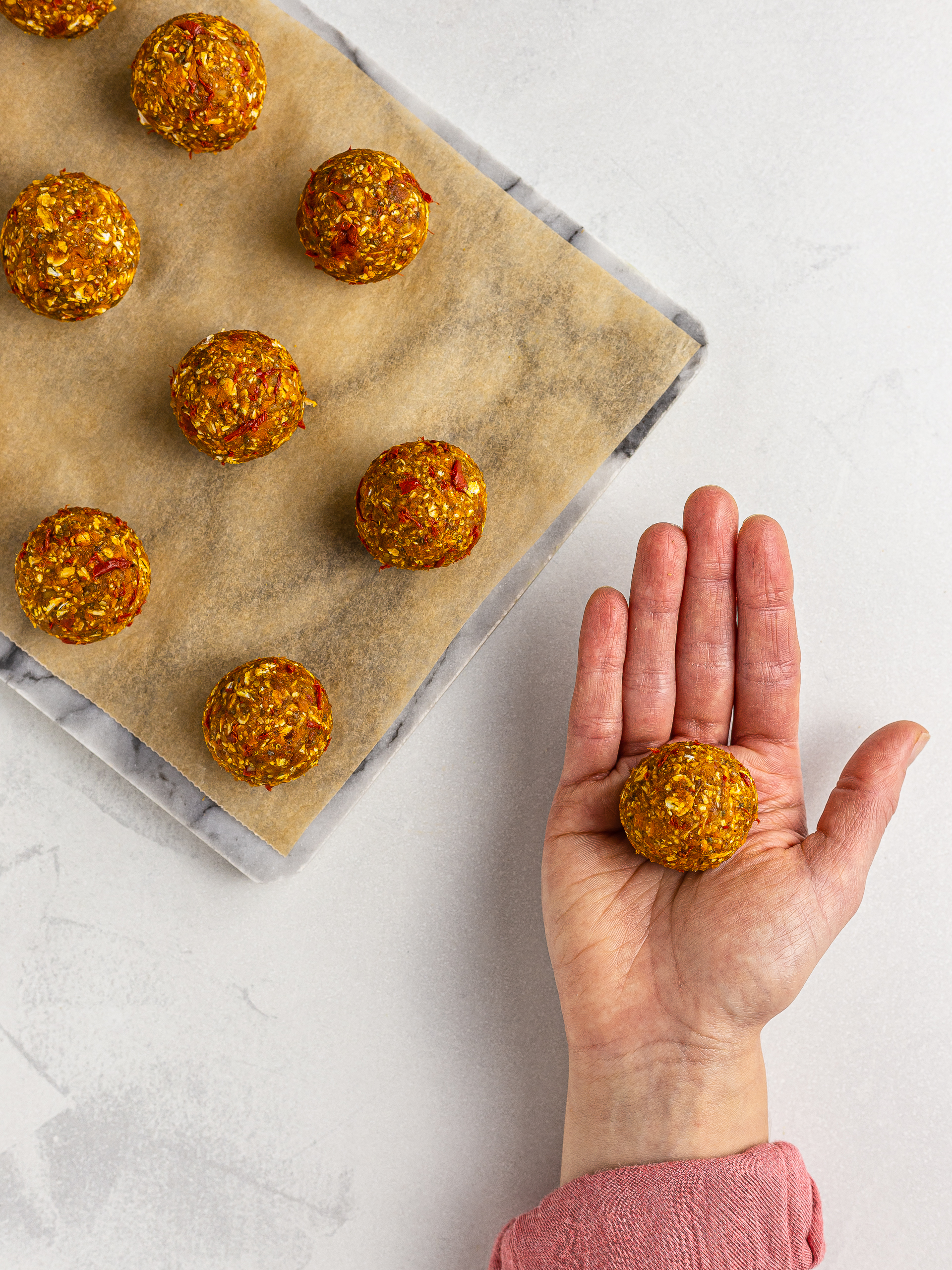 Tips
Store the energy balls in the fridge in an airtight container for 4-5 days. You can also freeze them for two months.

For a decadent finish, dip each ball into melted dark chocolate and then leave it to harden in the fridge over a tray lined with baking paper.

You can replace Goji berries with other dried fruit like raisins, apricots, mango, blueberries, or cranberries.