A nice bowl of crunchy granola is exactly what you need to start the day right. Even more so if it packs nourishing ingredients that will satisfy you from the inside out. So, give our wholesome cashew butter granola a try, and you won't go back to the store-bought one!
Crispy cereals and roasted nuts are what make granola everyone's breakfast favourite. But most of the granola you find at the supermarket is loaded with refined sugars, syrups, and salt, making it a not-so-healthy choice. Instead, preparing homemade granola is cheap and easy, giving you complete control over the ingredients.
All you need to make this cashew butter granola are jumbo oats, raw quinoa, flaxseeds, and cashew nuts. Mix them with mashed bananas, warm cashew butter and then slow-bake them until golden. A final sprinkle of chewy raisins, and there you have it, the healthiest granola ever!
Ingredients like honey, brown sugar and oil make the classic granola sweet and crunchy but rather unhealthy if eaten every day. To make our recipe as wholesome as possible, instead, we swapped sugar with ripe bananas and oil with cashew butter. These ingredients have a fraction of the sugars and fats, and they also add fibres, proteins, vitamins, and minerals.
We paired jumbo oats with raw quinoa for extra plant-based proteins, but feel free to use only oats or swap it with buckwheat or puffed rice instead. The best thing about this recipe is that you can mix and match your preferred fruit, nuts, and grains, crafting your favourite granola!
So, why not make a big batch to keep at hand for the whole week? You can scatter these crunchy clusters over yogurt, add them to fresh milk, pair them with chopped fruit, or turn them into energy bars, like these passion fruit bars.
Another option is to snack on them right from the jar for the ultimate crunchiness!
Ingredients
| | |
| --- | --- |
| Raw Quinoa | 100 g |
| Ripe Bananas (peeled) | 120 g |
| Cashew Butter | 60 g |
| Cinnamon | 1 tsp |
| Jumbo Rolled Oats | 100 g |
| Cashew Nuts | 75 g |
| Ground Flaxseeds | 25 g |
| Raisins | 75 g |
Step 1
Rinse the quinoa a few times using a fine-mesh sieve and then leave it to drain excess water.
This step helps to flush away those bitter compounds called saponins from the quinoa.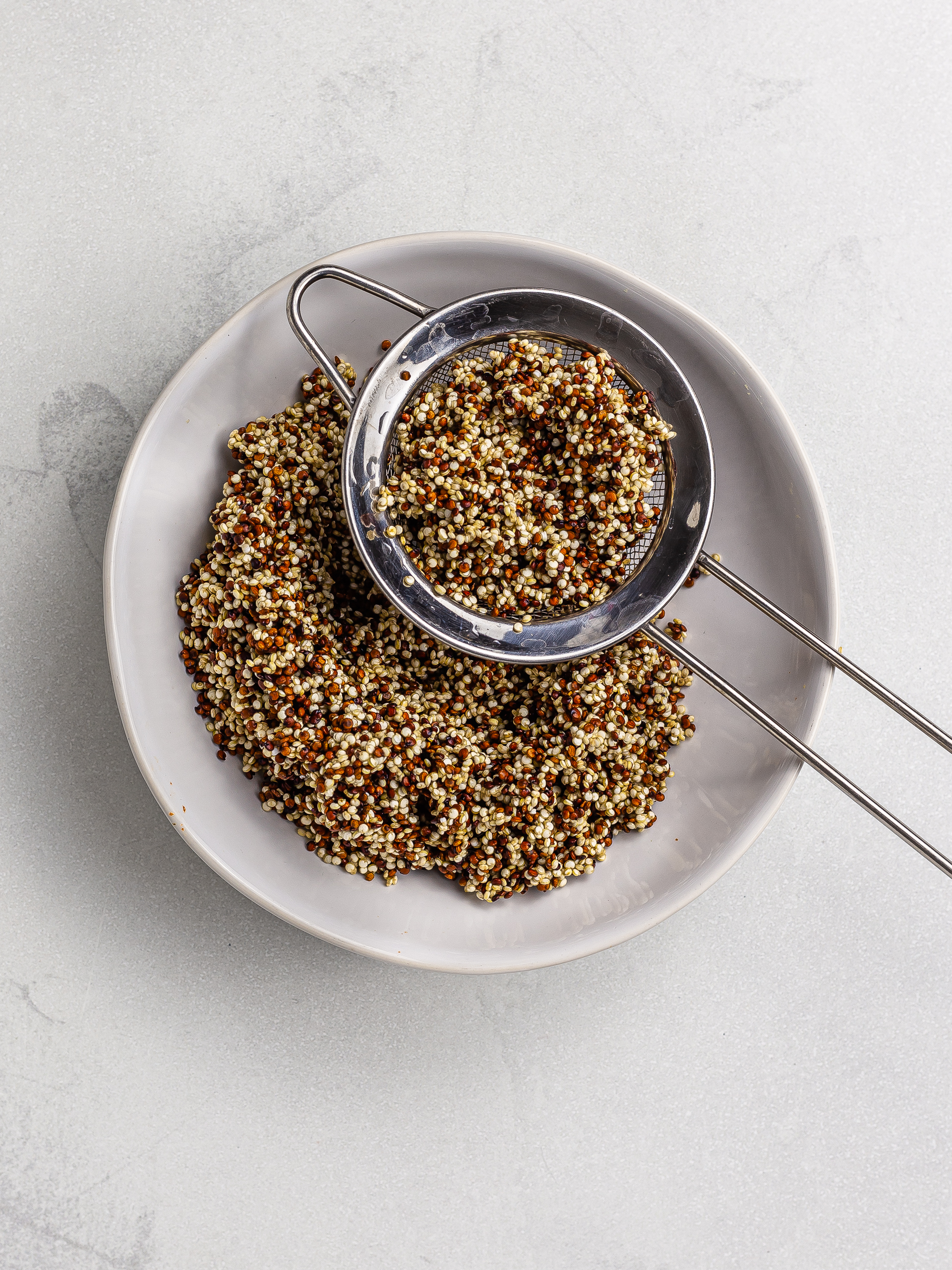 Step 2
Meanwhile, blend or mash the bananas; also, warm up the cashew butter in the microwave or over a double boiler.
Now, mix the banana, nut butter, and cinnamon in a bowl.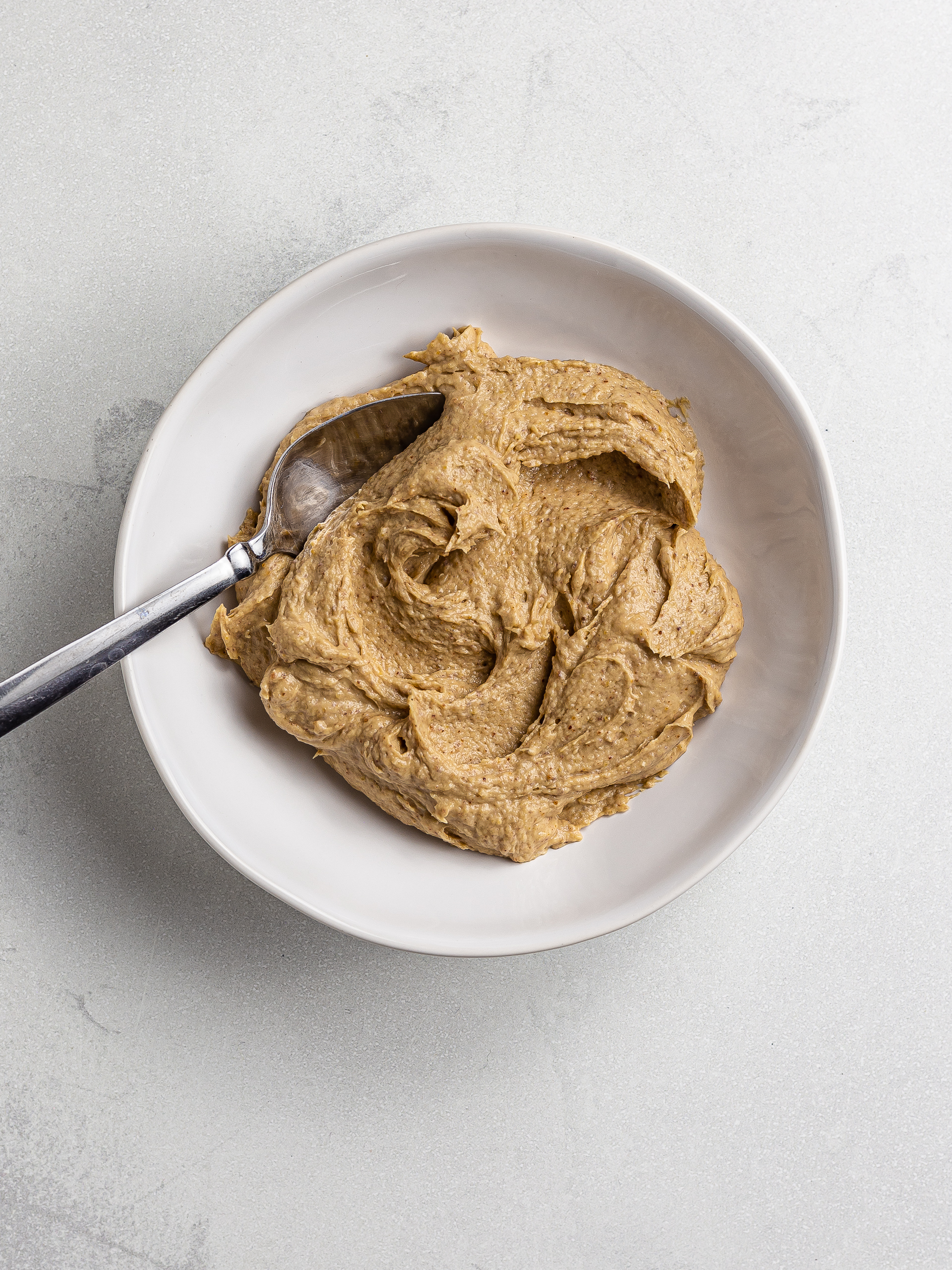 Step 3
Combine the jumbo oats with cashew nuts and ground flaxseeds in a large mixing bowl.
Then, add the quinoa and banana mixture.
Work the ingredients with a spoon until they come together into a dense, slightly moist dough.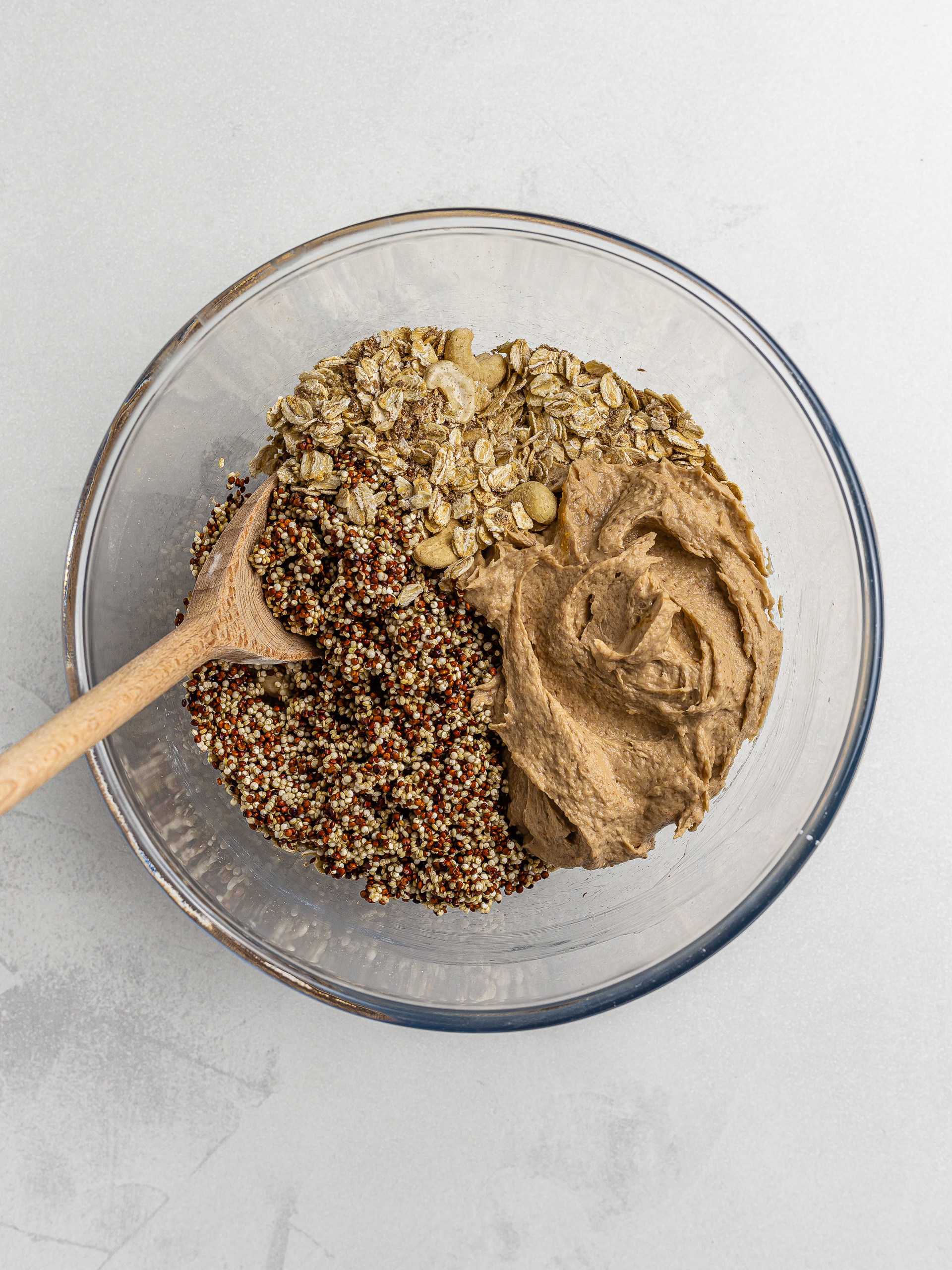 Step 4
Spread the granola dough onto a large baking tray, flattening it down with a spatula or the back of a spoon.
Try to make it as thin and flat as possible; this way, the granola will cook faster and crisp up more.
Then, bake it for 20 minutes at 160°C (320°) in static mode or 140°C (285°F) in fan mode.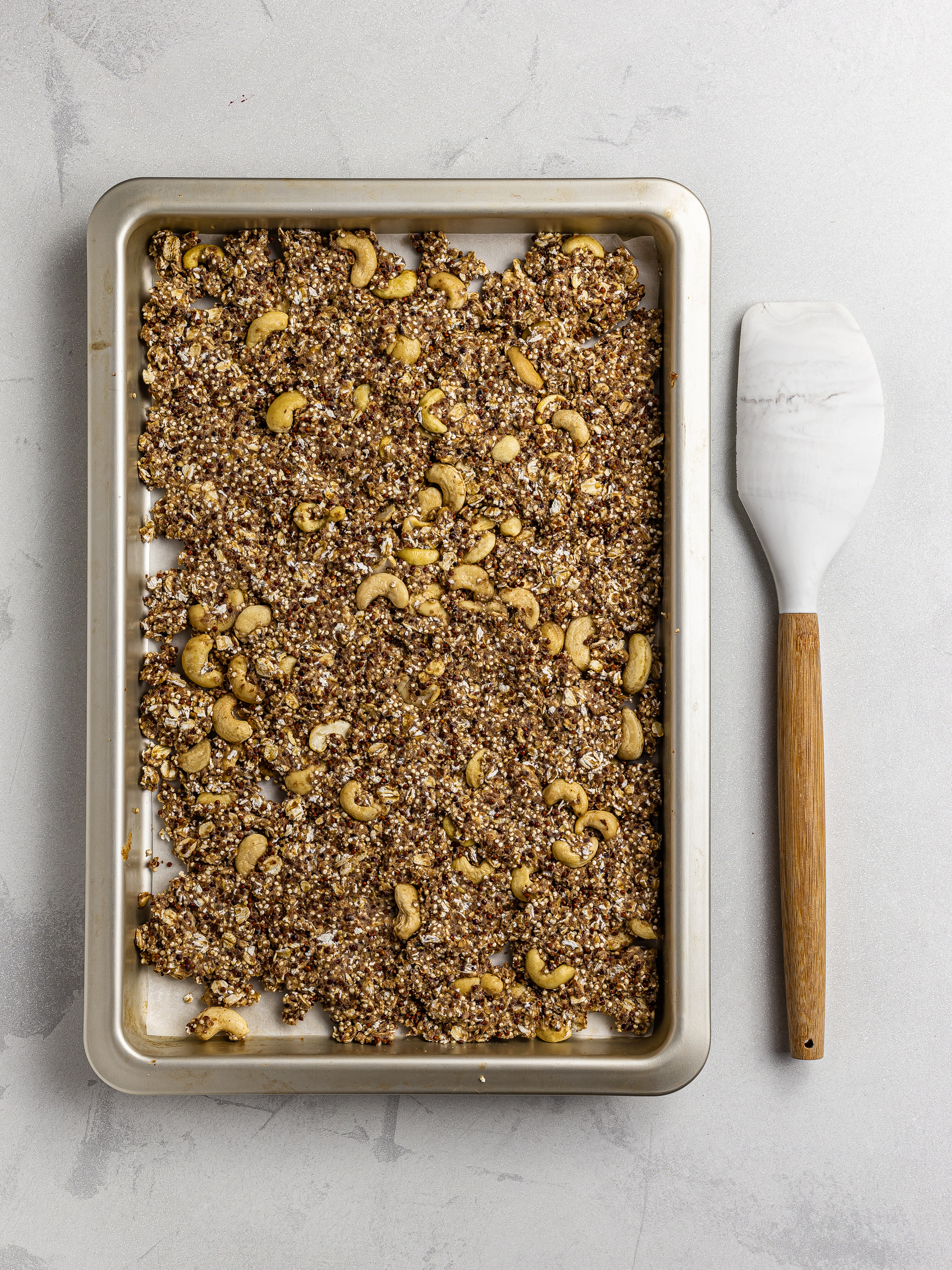 Step 5
Now, break down the granola slab into smaller clusters, pounding them with a spoon.
Then, toss them around so that the bottom of the clusters is now facing up.
Return the tray to the oven and bake the granola for another 20 minutes.
Stir it halfway through cooking time to get an even browning.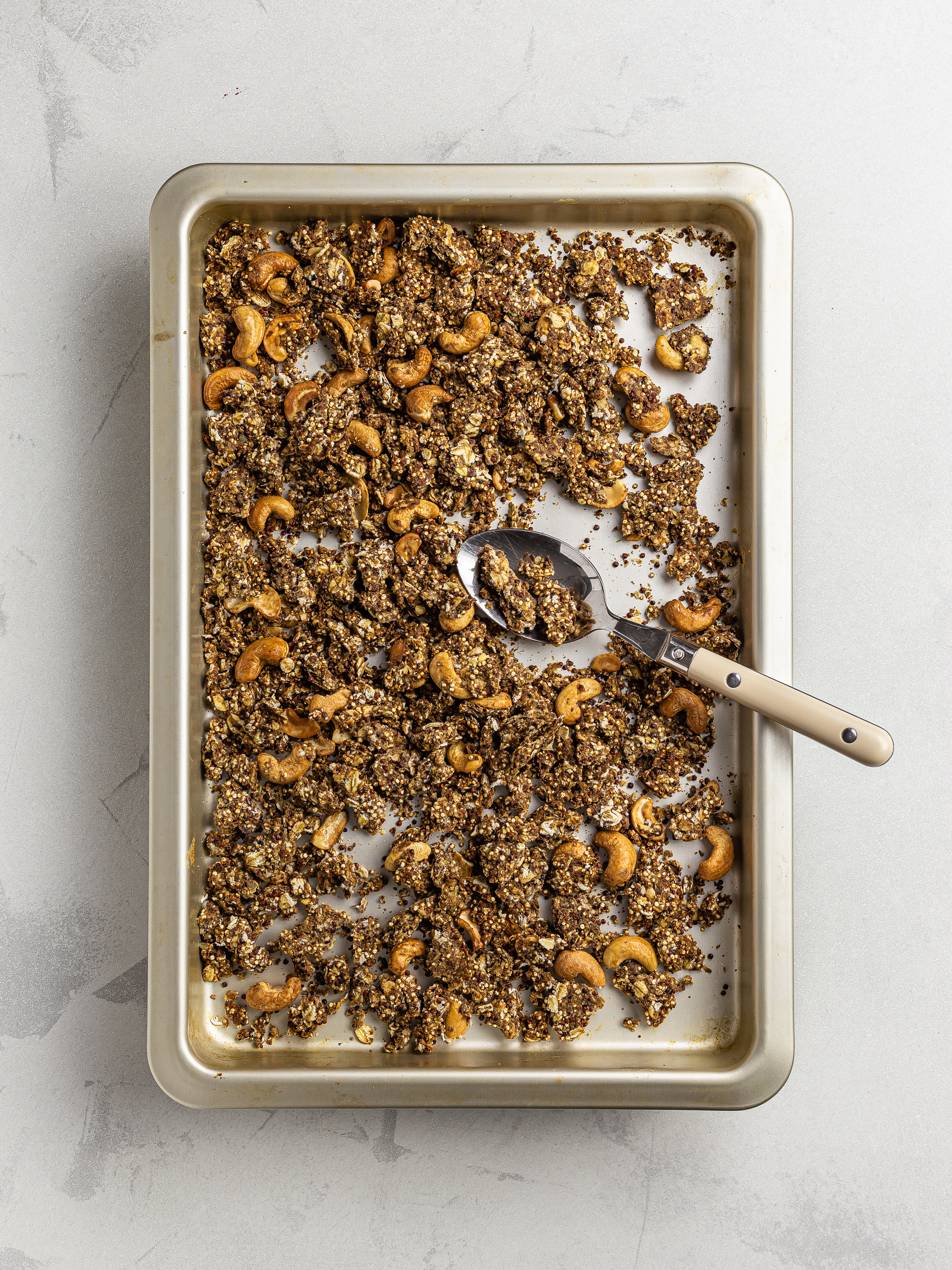 Step 6
Now, tip in the raisins and bake the granola for the final 5 minutes (1).
Then, leave it to cool down completely and crisp up on a wire rack (2).
Enjoy your homemade cashew butter granola right away or store in a tight-seal jar.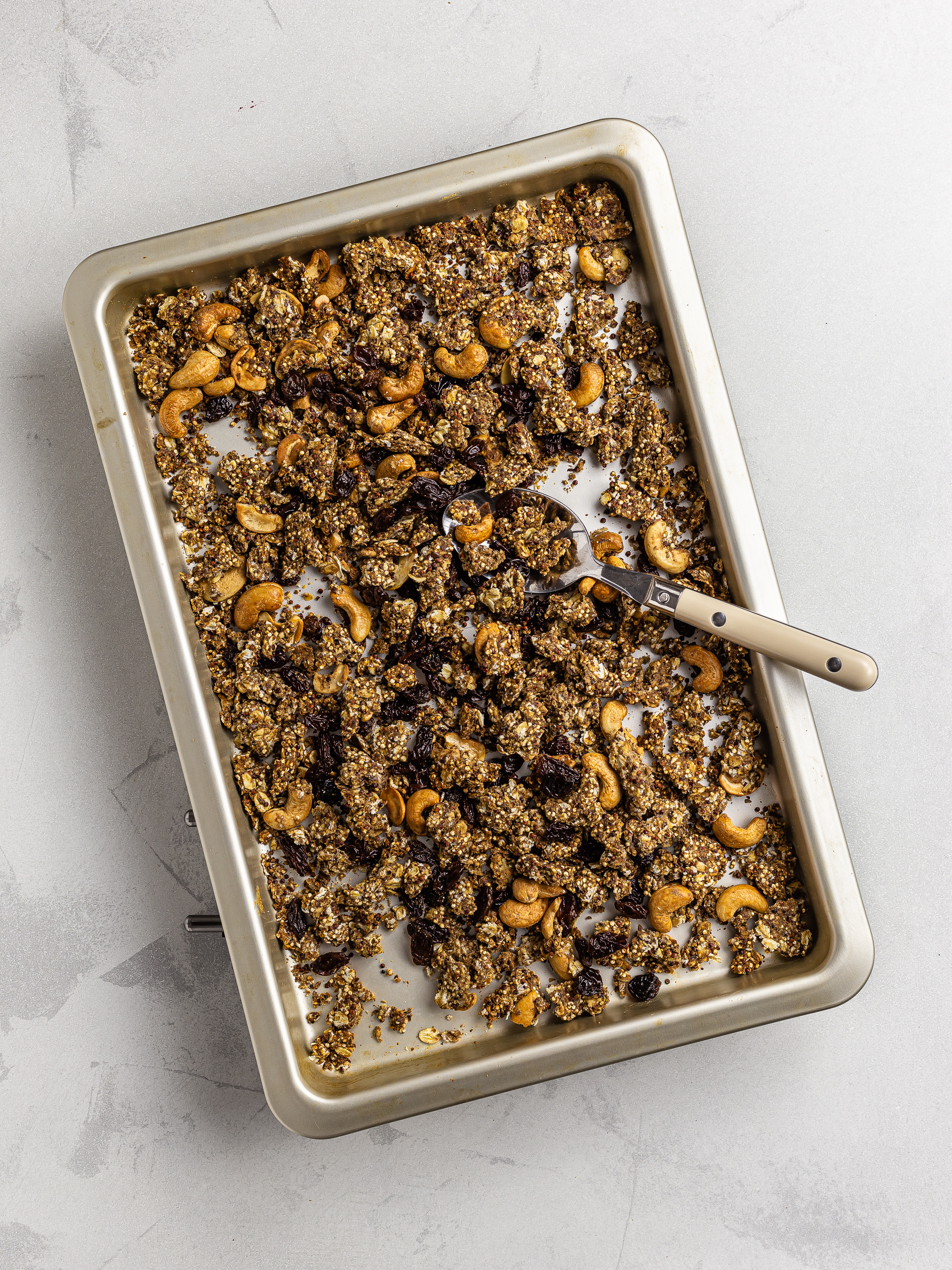 1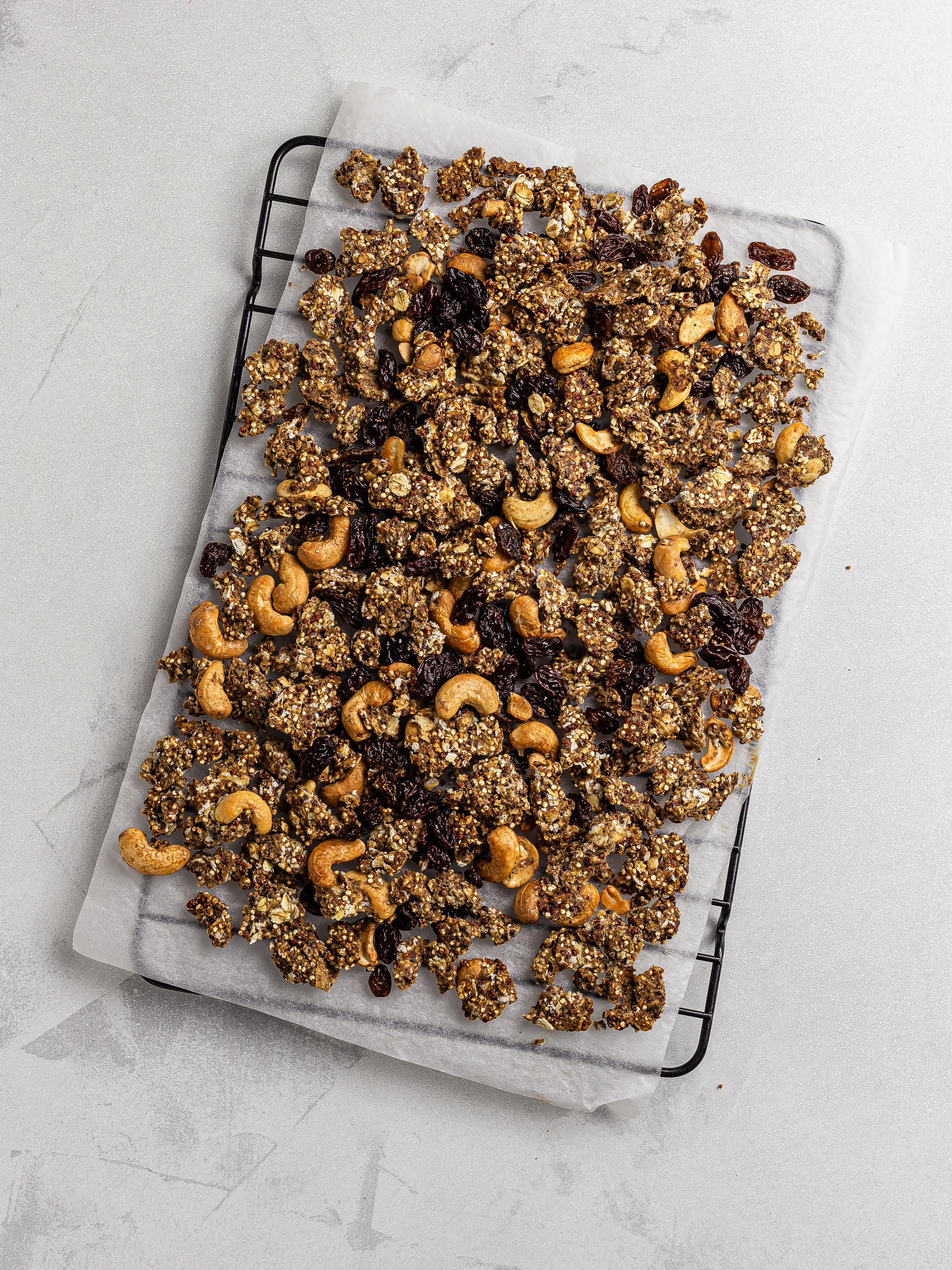 2
Tips
You can swap raisins with dried blueberries, cranberries, or Goji berries.

To store the granola, let it cool down completely on a wire rack lined with a sheet of baking paper. Then, transfer it into an air-tight container and keep it in the cupboard for up to two weeks.

Instead of plain cashew butter, you can use our cashew butter spread with matcha powder for a pop of colour and an antioxidant boost.