Can you make brownies that taste as good as the original but are 10x healthier, vegan, and low carb? Yes, here's how:
Use naturally sweet ingredients instead of refined sugars

Replace butter with a zero-fat, plant-based thickener

Swap eggs with a vegan alternative

Use a mix of cocoa powder and dark chocolate

Replace flour with a low-carb ingredient: raw cauliflowers!
In the recipe below we'll make cauliflower brownies that tick off all the points above. These brownies are vegan, low-sugar, gluten-free, but retain all the gooeyness and decadence of the traditional treat.
Using cauliflowers in bakes is super fun, and smart! First, you can give meaning to excess caulis in your fridge. Second, you can turn hyper-caloric recipes low-carb or even keto. And if you are concerned about tasting raw cauliflowers in your bakes, fear not. With the right ingredients, you won't even tell they are there at all.
The other "secret" ingredient we used are the dates. With our homemade date paste, we'll eliminate both refined sugars and butter in one swoop. Dates make these brownies naturally sweet and add creaminess to our dough with zero fats! In the right amount, they are even allowed on a keto diet.
To sum up, these brownies are truly delicious and surprisingly wholesome. One square has only 113 calories and will give you 4g of fibres, 4.7g of fats and 1.6g of saturates. Compared to the classic brownie, that is double the fibres, half the fats and six times fewer saturated fats. Try them out. You'll love them!
Ingredients
| | |
| --- | --- |
| Raw Cauliflower Florets | 500 g |
| Pitted Dates | 250 g |
| Chia Seeds | 2 tbsp |
| Water | 70 mL |
| Cocoa | 90 g |
| Almond Butter | 45 g |
| Vanilla Extract | 1 tsp |
| Baking Powder | 11/2 tsp |
| Dark Chocolate 99% | 40 g |
Step 1
Trim the cauliflower stems and add the florets to a pan with water.
Bring to a boil and then simmer covered over low heat for 15 minutes.
Once the cauliflowers are cooked and soft, drain them, and transfer them into a colander to lose excess water and cool down a bit.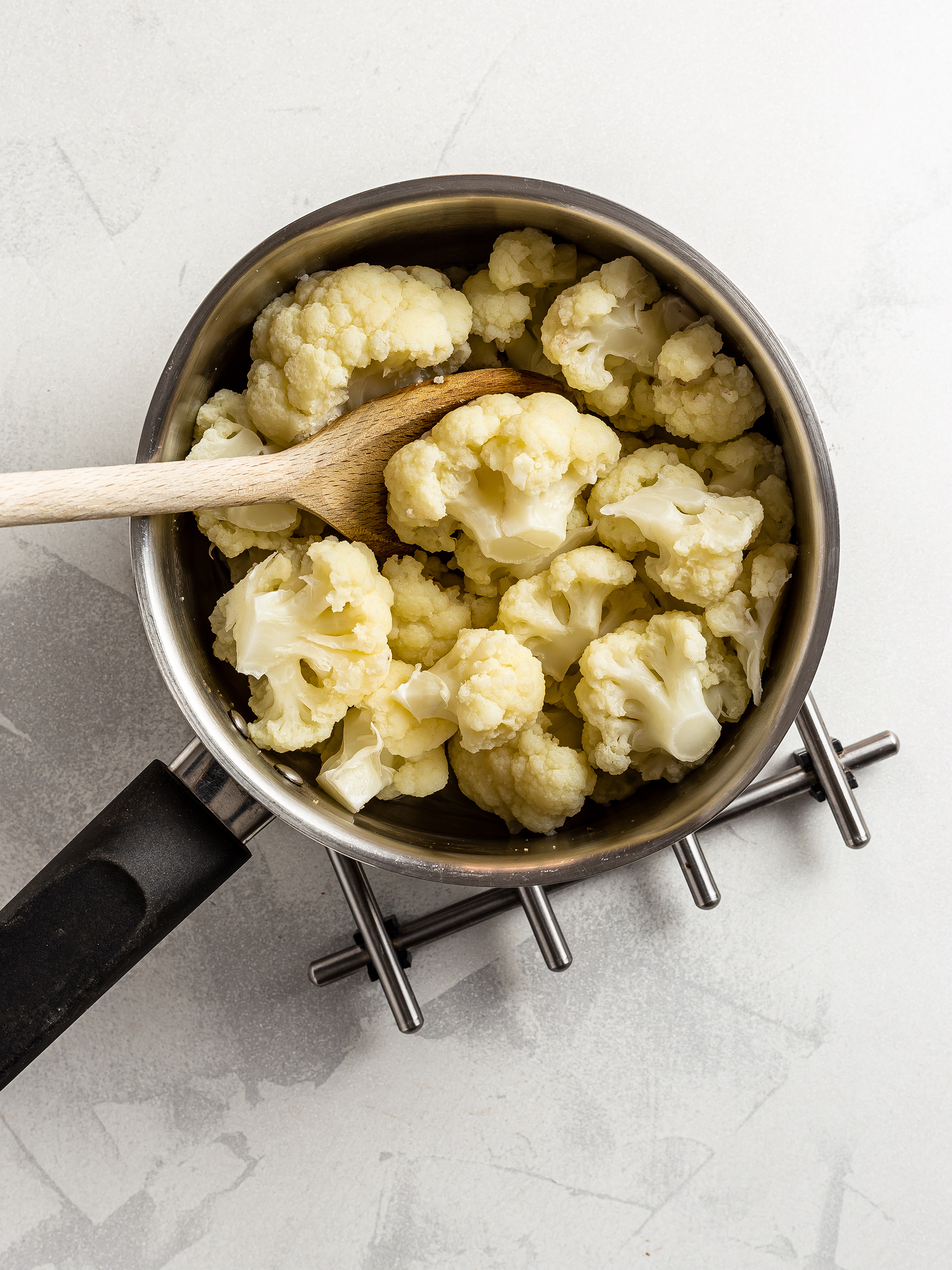 Step 2
In the meantime, soak the pitted dates in a bowl with water for 10 minutes, then drain them and set them aside (1).
In another bowl, combine the chia seeds with the given water and leave the mixture to thicken in the fridge for 10 minutes (2). You'll have a dense and gel-like mix called 'chia egg'.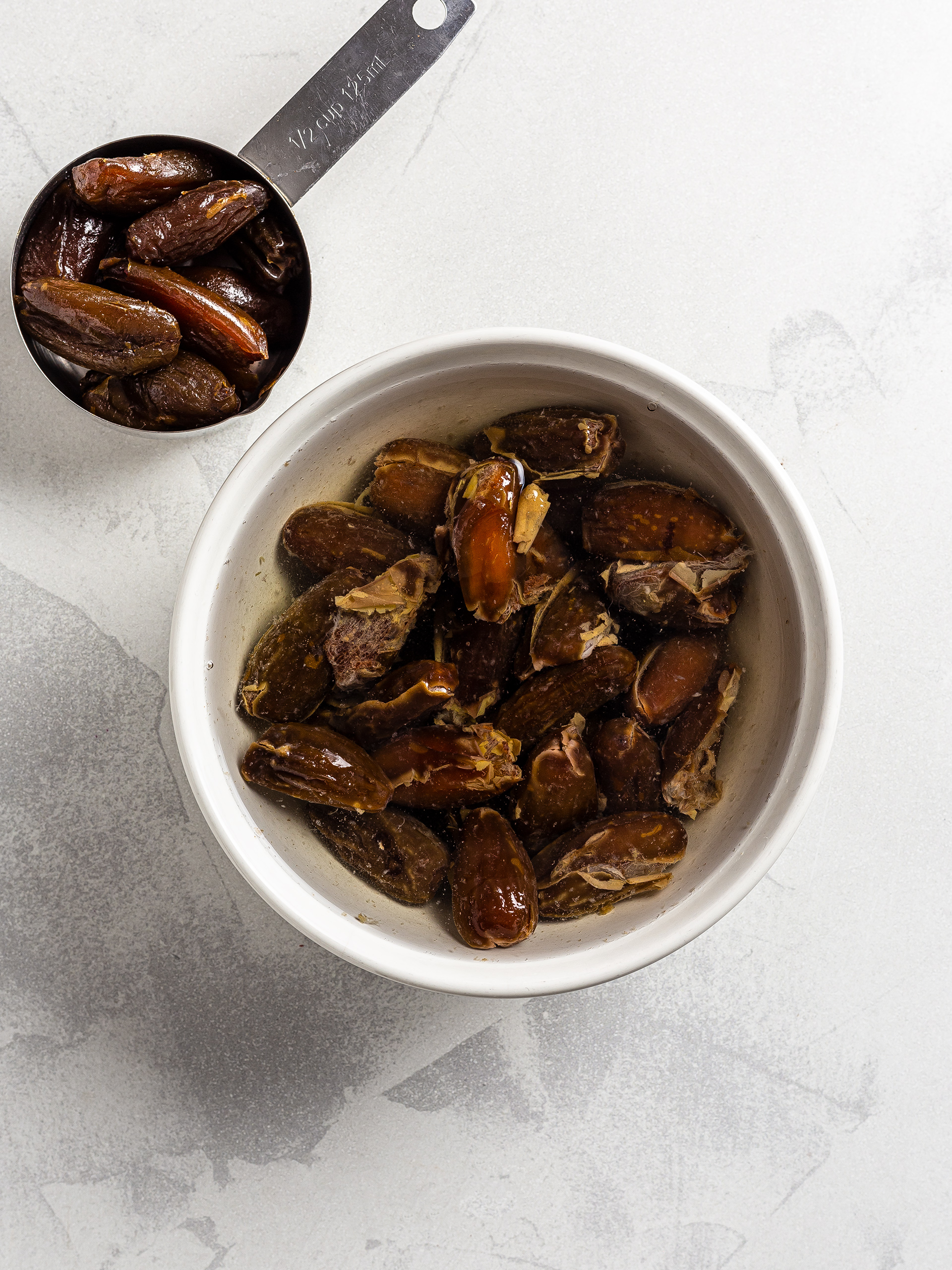 1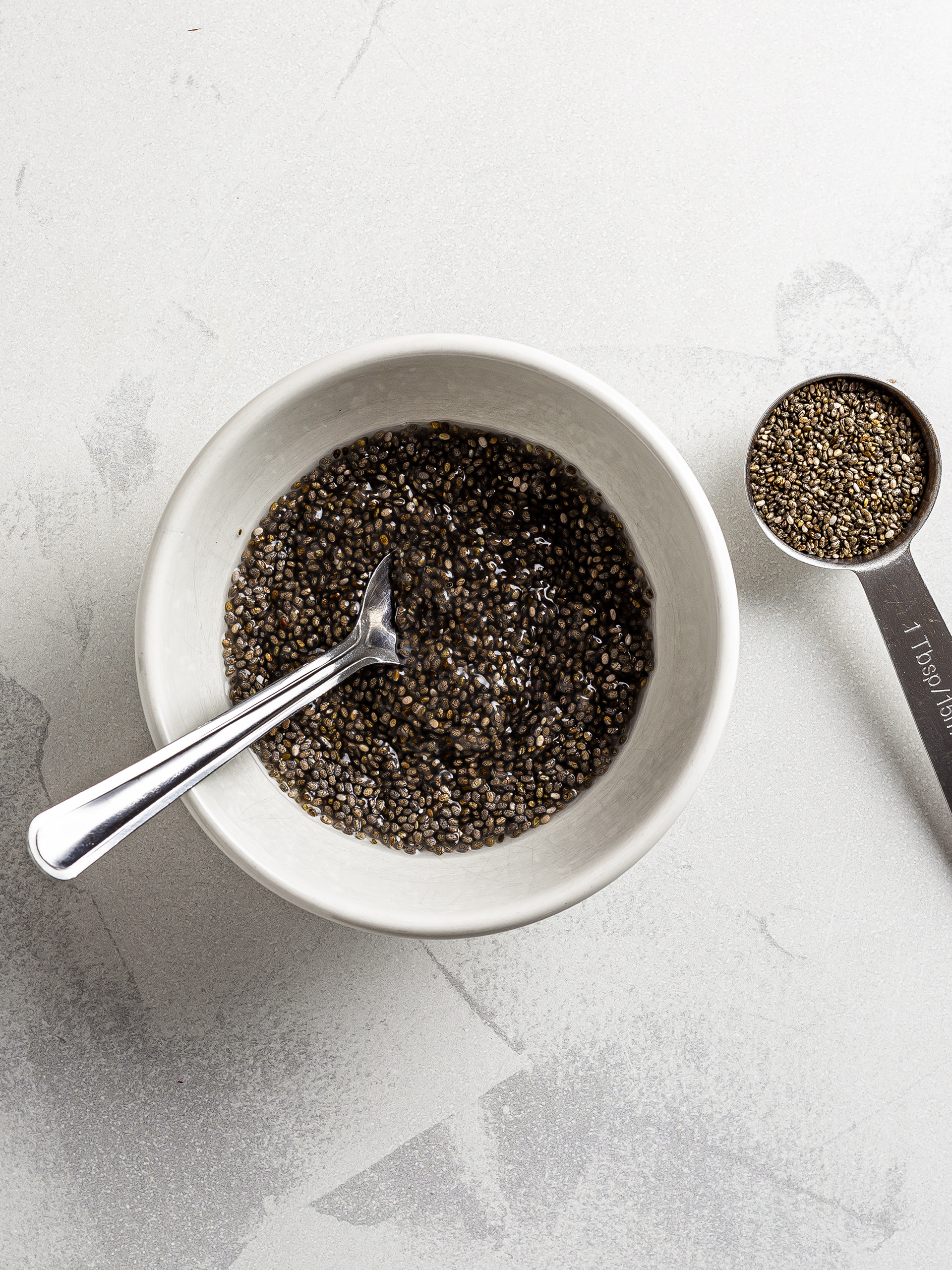 2
Step 3
Now, add the cooked cauliflowers and soaked dates to a food processor.
Blitz the ingredients into a creamy and smooth pureé.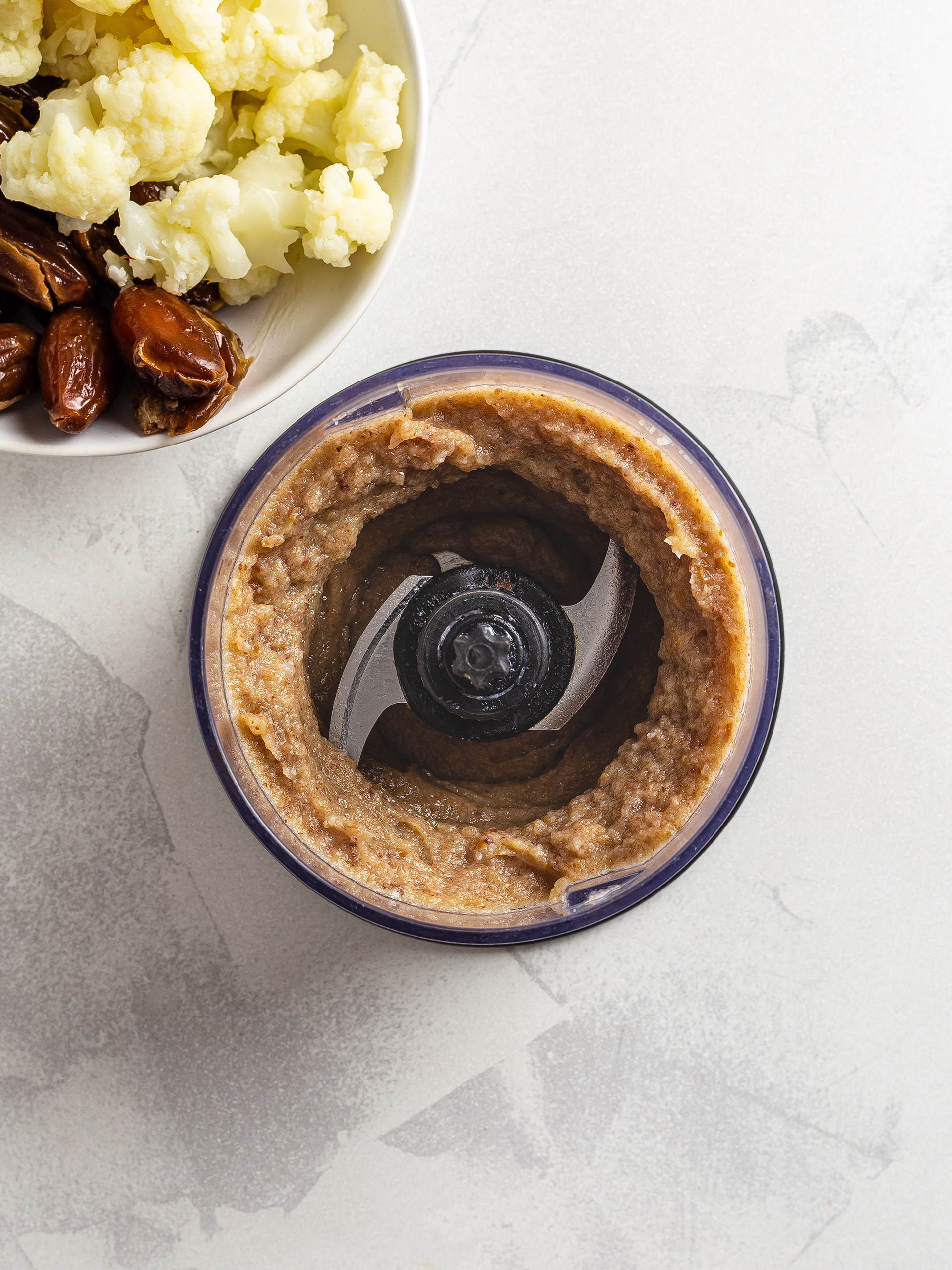 Step 4
Next, transfer the cauliflower mash to a mixing bowl and add the chia egg, sifted cocoa powder, almond butter, vanilla extract, baking powder, and a pinch of salt.
Mix well until the ingredients are well incorporated and then stir in the dark chocolate melted in the microwave or over a double boiler. You can check our tips below where we explain how to do it.
The brownie batter will be rather moist and soft.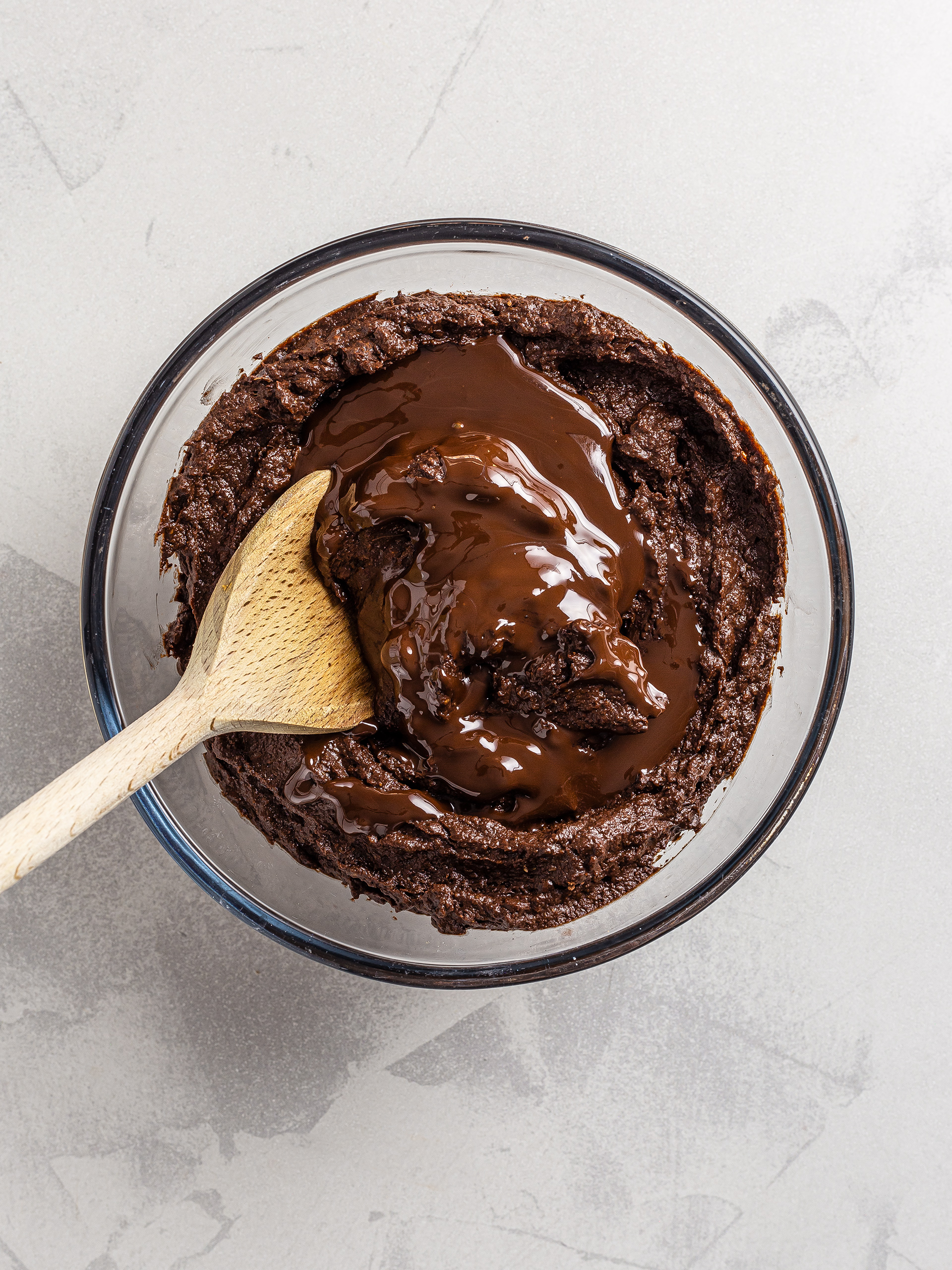 Step 5
Transfer the chocolate batter into a 20 cm (8 inches) square baking tin. You can grease and flour it or line it with parchment paper.
Then, level the brownie mix with the help of a spatula or the back of a spoon.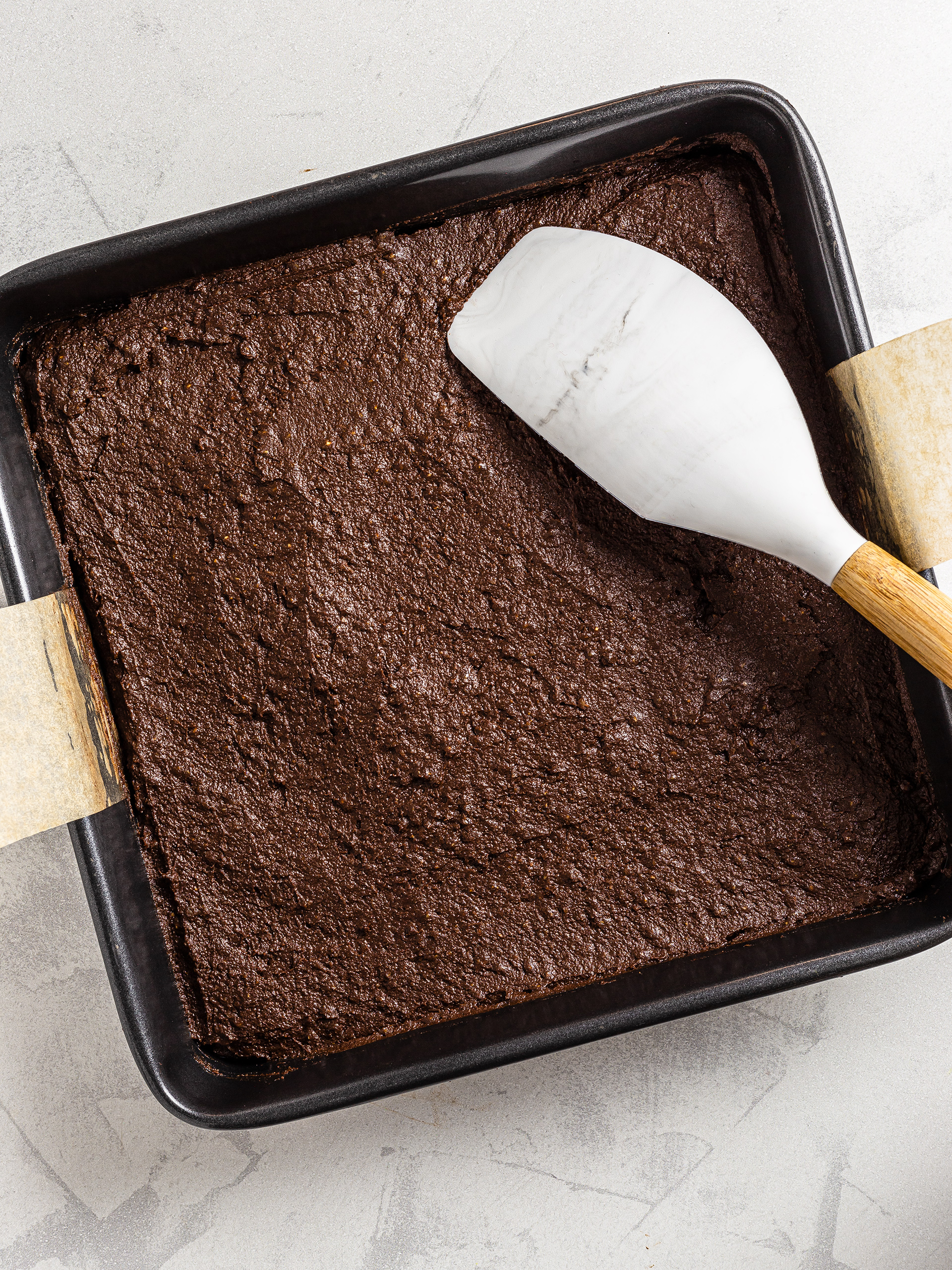 Step 6
Bake for 35 minutes at 200°C (390°F) for static ovens or at 180°C (355°F) for fan ovens.
To check if the brownies are done, insert a toothpick in the centre. It should come out almost clean, without chunky residues, just with a bit of smeared chocolate.
The brownie slab will be quite delicate, so handle it carefully and make sure it's completely cold before slicing it into squares.
You can serve these cauliflower brownies with dusted cocoa and dark chocolate shavings.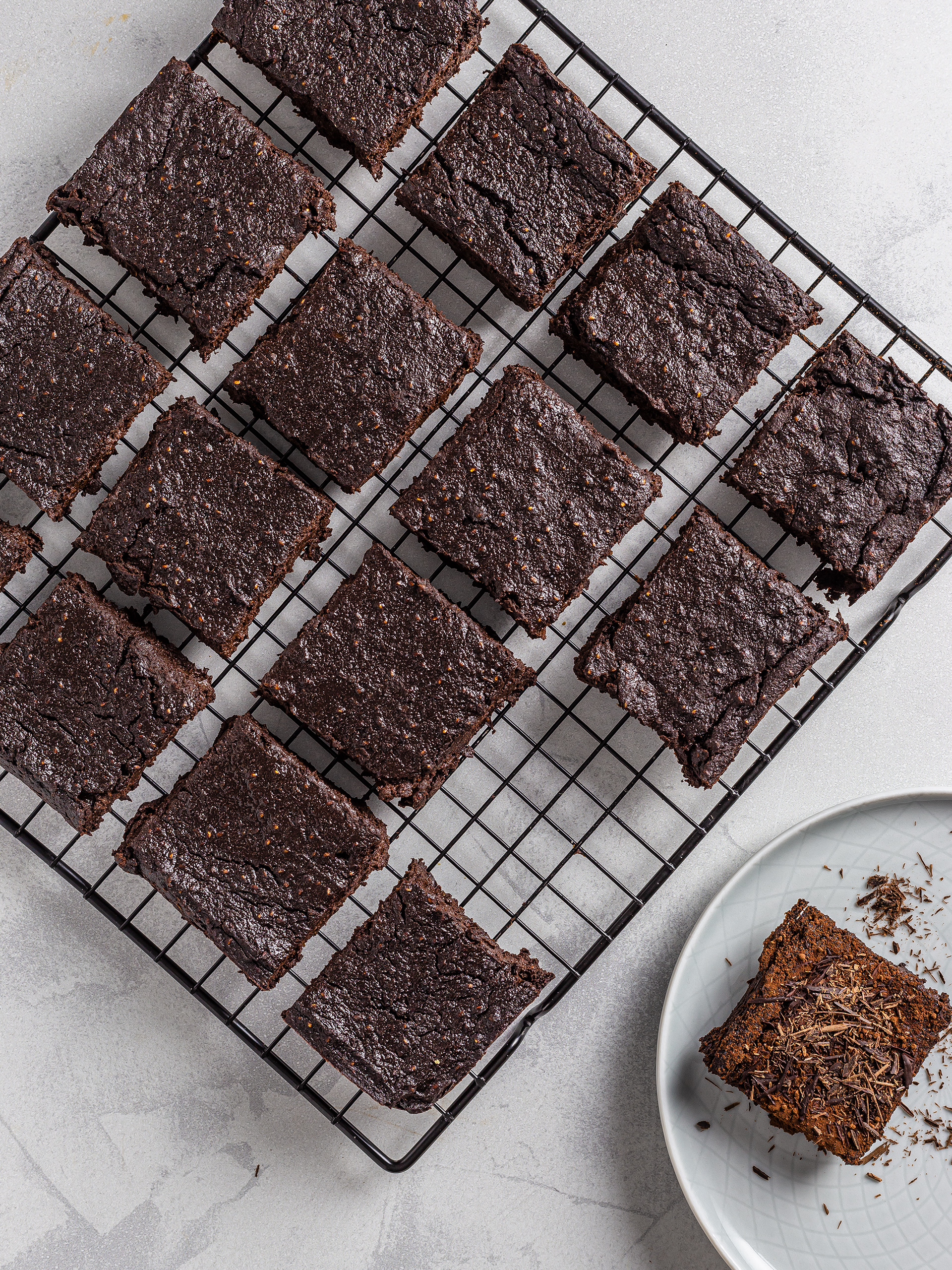 Tips
Add a few teaspoons of instant coffee to the brownie mix for a deeper flavour.

You can melt the chocolate either in the microwave or over a double boiler. Break down the bar into smaller chunks and then add them to a heat-proof bowl. Place it in the microwave for 20 seconds over high heat, then stir the chocolate, and put it back, repeating this process until it's completely melted. For the bain-marie, sit the bowl over a pan with simmering water and allow the chocolate to melt stirring occasionally. Make sure there's no water or steam getting into the bowl or it will harden the chocolate.

Being made with a date and cauliflower pureé, the brownies are very gooey. Thus, we recommend you keep the cooked slab in the fridge before slicing it into squares.

Keep the cauliflower brownies in the fridge in an airtight container up to 4 days or freeze them for a month.