If you want to prepare a delicious Italian-style risotto but you're following a specific diet, our creamy courgette risotto is definitely the recipe for you.
This easy recipe is vegan, vegetarian, and gluten-free, made with grated courgettes, lemon zest, fresh herbs, and silken tofu.
Silken tofu makes this zucchini risotto super creamy without the need for cream or cheese. It provides good quality plant-based proteins and it also keeps the saturated fats low for a healthy recipe in just 400kcal.
Bursting with flavour, this delicious summer dish is perfect to serve at dinner or on a special occasion.
For more tasty recipes like this sent right into your inbox every week, subscribe to our newsletter and you'll get our free ebook!
Ingredients
| | |
| --- | --- |
| Extra Virgin Olive Oil | 2 tsp |
| Medium Shallot | 1 |
| Garlic Cloves | 2 |
| Arborio Risotto Rice | 140 g |
| Vegetable Stock | 450 mL |
| Courgettes | 180 g |
| Silken Tofu | 120 g |
| Fresh Thyme | 1 tbsp |
| Fresh Parsley | 2 tbsp |
| Zested Lemon | 1 |
Step 1
Heat the extra virgin olive oil in a skillet.
Add finely chopped shallots and minced garlic cloves and sizzle all for a few minutes until soft, fragrant, and lightly golden (1).
Then, add the arborio risotto rice and dry-cook it for a minute to slightly toast it and let it soak in the flavours (2).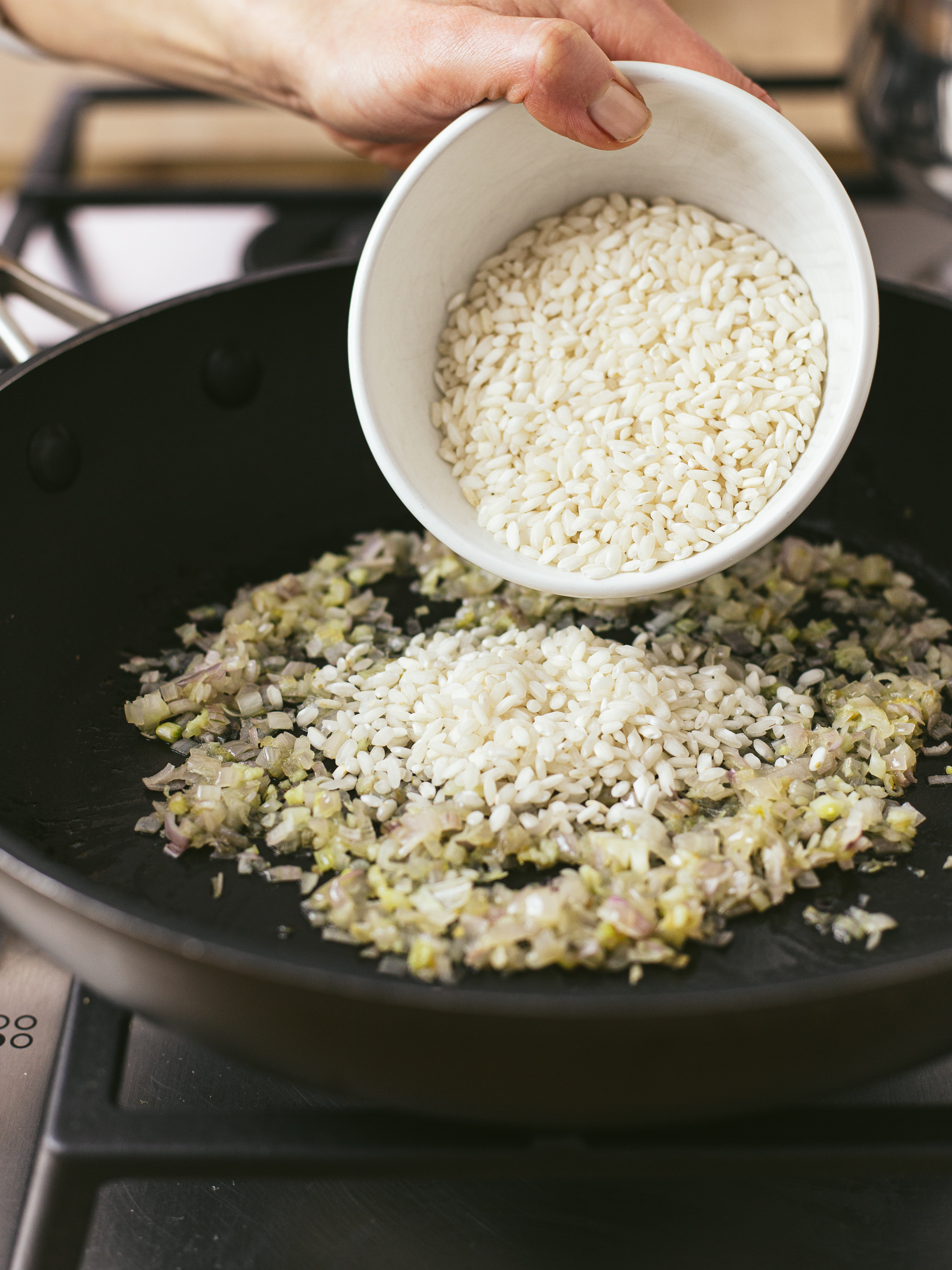 1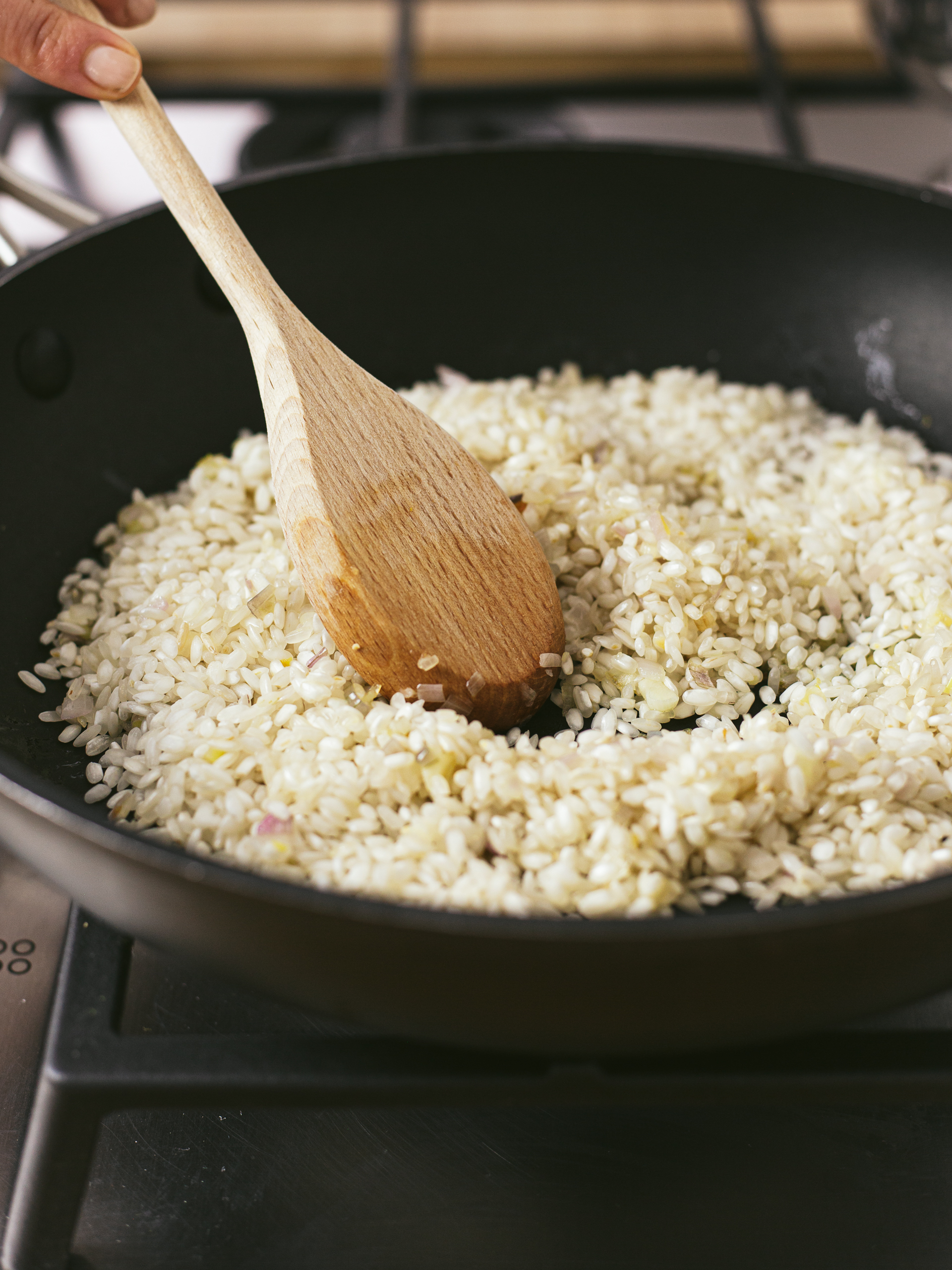 2
Step 2
In another pot, bring the vegetable stock to a boil and keep it to a low simmer for the whole time you'll be cooking the rice.
Now, pour enough ladles of hot stock into the skillet to fully cover the rice and stir well.
Simmer the risotto uncovered over low heat, stirring occasionally, until the liquid has been absorbed by the rice.
Then, repeat this gradual addition of the stock as many times as needed until the rice is halfway through cooking time, about 8-10 minutes.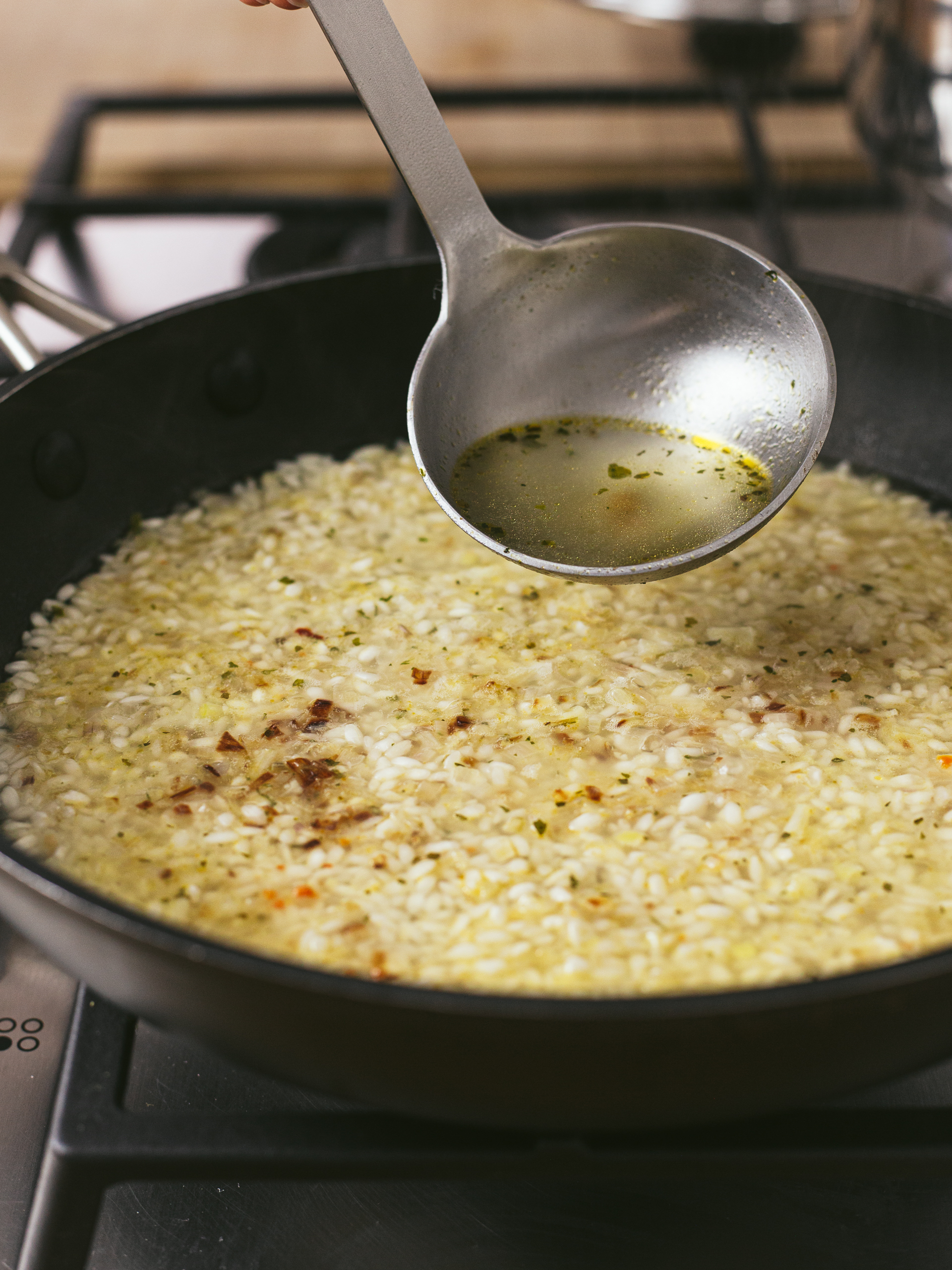 Step 3
Shred the courgettes with the coarse-grating side of a box grater and stir them into the simmering risotto.
Continue to cook the zucchini risotto, adding ladles of broth, until the rice is almost done — tender but with a little bite (al dente), about 10 more minutes.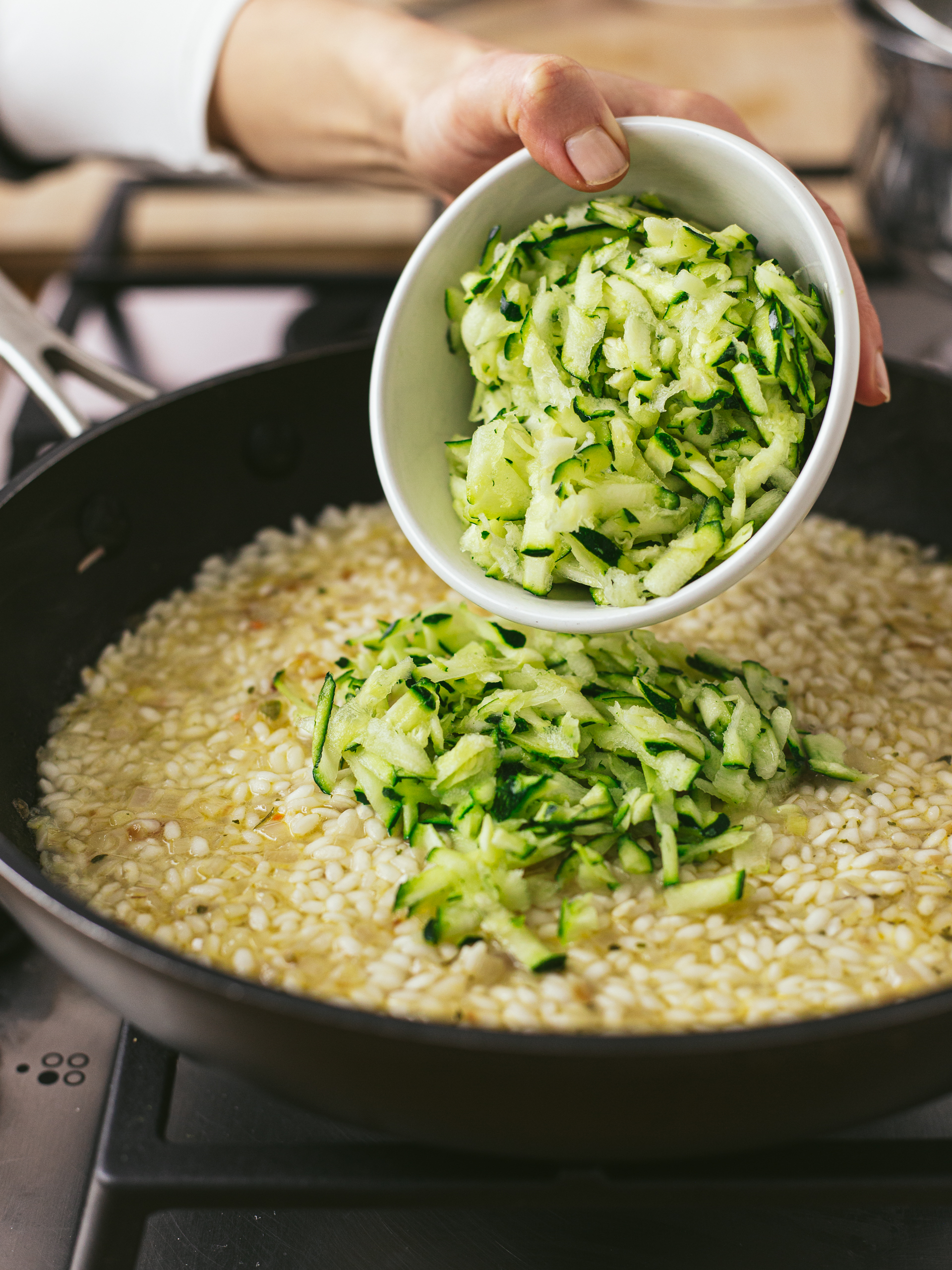 Step 4
Drain the silken tofu block, add it to a food processor with a splash of stock, and blend it until smooth and silky.
Then, stir the tofu into the risotto to make it creamy, followed by thyme, parsley, and lemon zest (1).
Season with salt and black pepper to taste, and finish cooking the zucchini risotto until it's thick and creamy, about 1-2 minutes (2).
Your vegan creamy courgette risotto is ready!
Divide it among bowls and garnish it with lemon zest, fresh herbs, and a crack of pepper (3).
Enjoy!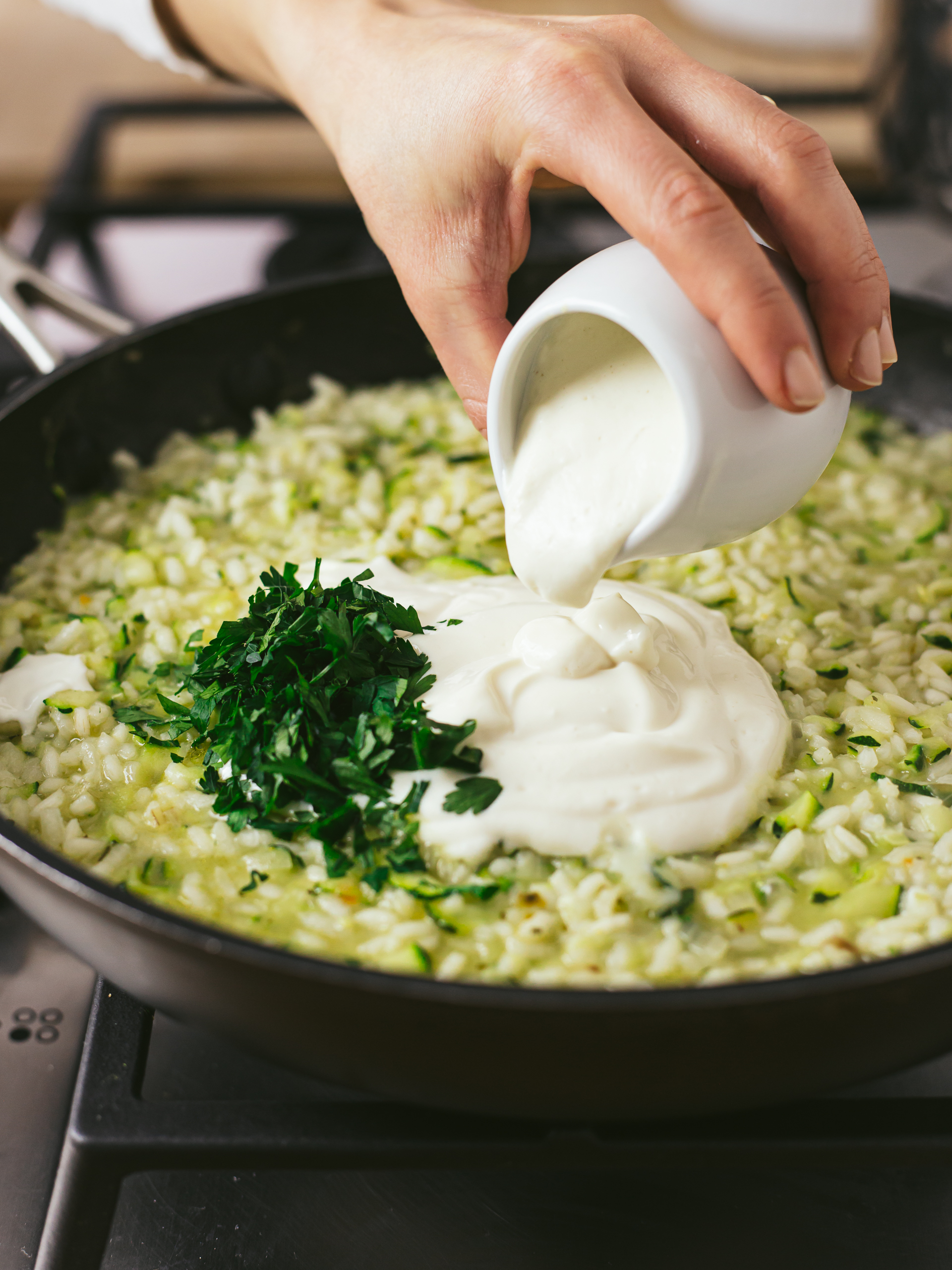 1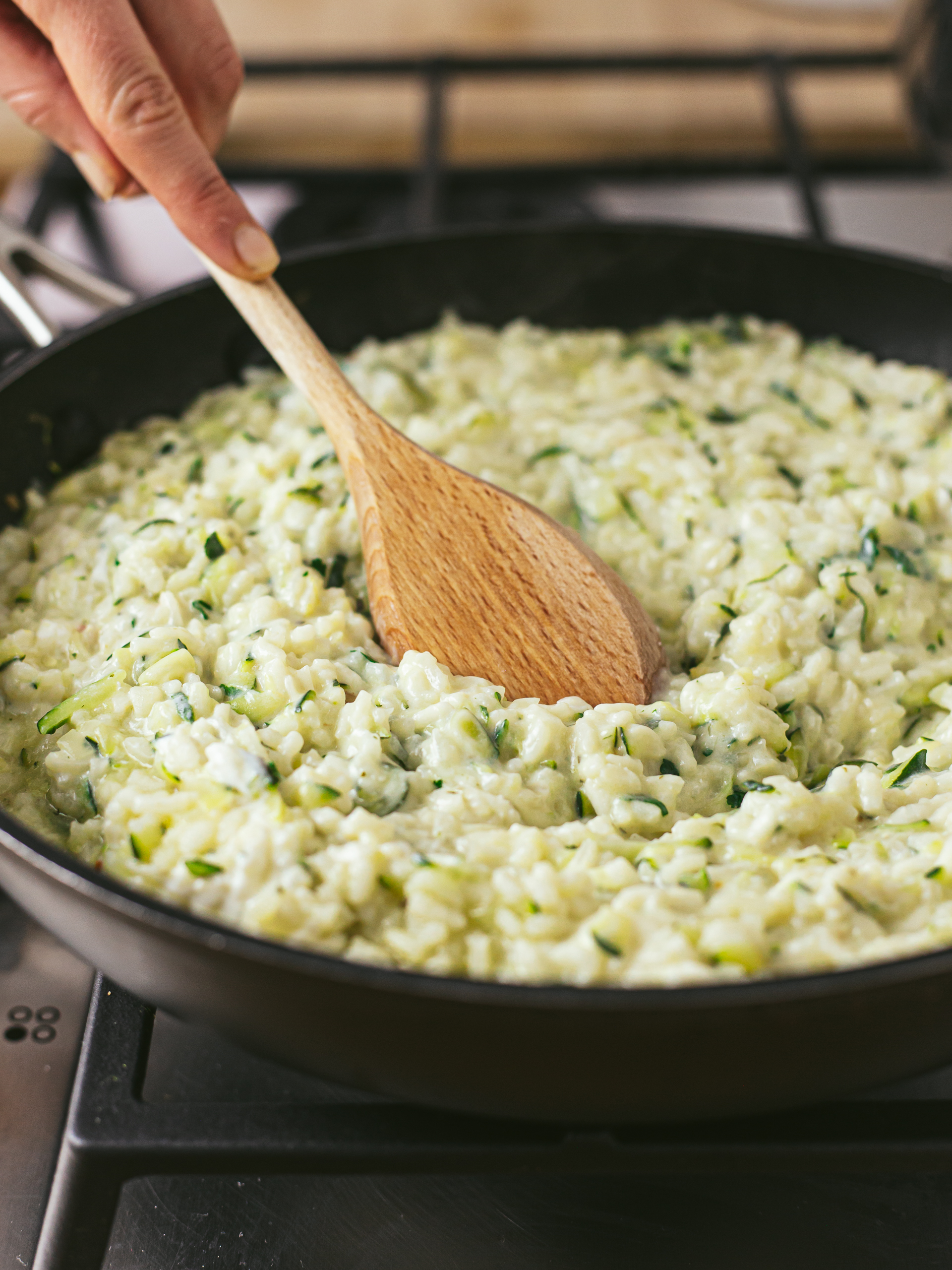 2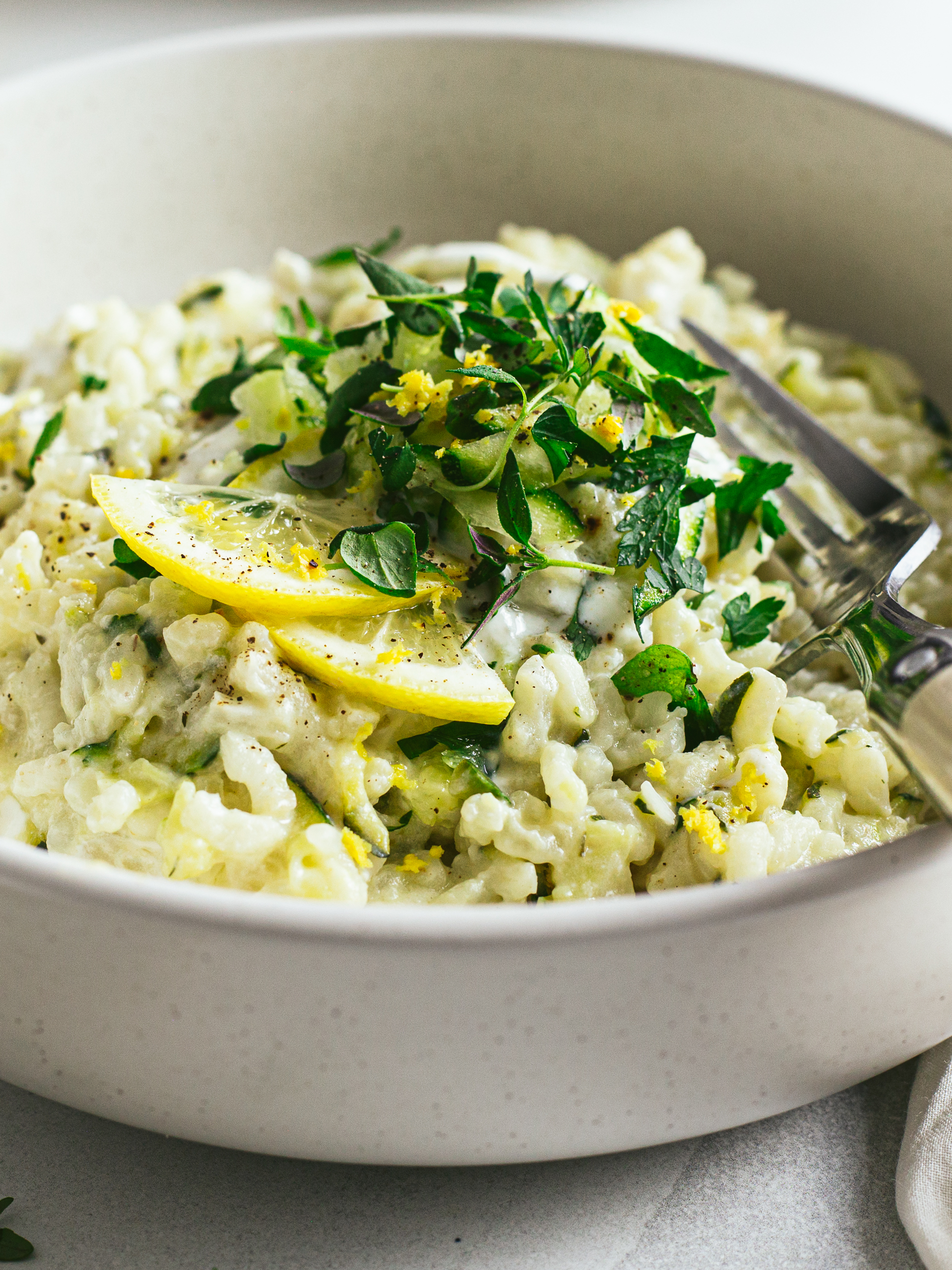 3
Tips
For extra flavour, add nutritional yeast flakes to the risotto before serving. You'll also get precious B vitamins like vitamin B12 which may be lacking in a vegan plant-based diet.

Make sure you use risotto rice, also called arborio rice. It's a short-grain chewy rice that is high in starch making it the perfect choice for a creamy risotto.

Top the zucchini risotto with toasted pine nuts, almond flakes, or pumpkin seeds for a crunchy finish and extra proteins.