Looking for an exciting and deeply refreshing drink? You've come to the right place. This watermelon and dragon fruit cooler is a fun and delicious drink sure to beat the summer heat. You'll love it!
Many fruit refreshers come with a lot of sugars, syrups or extra flavourings. But our recipe is as simple as it gets. Just two ingredients — pure fruity goodness!
So yes, you guessed it. All you need to make this cooler is watermelon and dragon fruit.
Both fruits are full of flavour and naturally sweet, great for whizzing up a tasty smoothie. And because they're rich in water, they're very rehydrating.
Watermelon is a summer favourite, and it's over 90% water. What better choice to quench your thirst when it's hot outside!
Dragon fruit is also very refreshing, and it looks really cool and exotic!
First time trying dragon fruit? Then, you're in for a treat!
This awesome fruit has a vibrant pink skin that looks like dragon scales, and it holds a white, juicy pulp dotted with tiny black seeds.
Dragon fruit is native to Mexico, and it's also known as pitaya. But, you may also find it as strawberry pear.
Where do you get it? Your best bet is large food markets or supermarkets. It can be a bit pricey, but it's totally worth it.
The pink-skinned variety is the most common, but you may also find the red or yellow one. And not all dragon fruits have a white pulp; some are red inside, but they're quite rare.
Although dragon fruit looks so exotic, it doesn't have an overwhelming tropical flavour as fruits like mangos or passion fruits.
Instead, it's just lightly sweet, and some say it tastes like a cross between a kiwi and a pear. For us, dragon fruit also has hints of grapes, bananas, and melon. We love it!
The pulp feels creamy and juicy, with a nice chia-style crunch because of its tiny black seeds.
And these tiny black seeds contain iron, fibres, and magnesium, giving a little nutrient boost to this refresher drink.
Finally, dragon fruit even has some proteins, which is quite rare for a fruit!
Ok, time to gather fresh watermelon and dragon fruit, and head below for the full recipe. We'll show you how to layer the juices in tall glasses for a super cute look!
Ingredients
| | |
| --- | --- |
| Fresh Dragon Fruit | 320 g |
| Fresh Watermelon | 320 g |
Step 1
Let's start by cleaning and prepping the dragon fruit.
You can find different varieties of dragon fruit (also called pitahaya or pitaya) at large food markets, big supermarkets, or online.
Dragon fruit can come with pink, red, or yellow skin and white or red flesh.
In this recipe, we used pink dragon fruit with white pulp.
To open the fruit, cut it into quarters lengthwise. Then, grab each quarter and peel off the pink skin, or scoop it with a spoon.
The skin is inedible so you can discard it.
You'll now have segments of white pulp dotted with tiny black seeds.
Chop them into chunks and set them aside.
As for the watermelon, cut it into wedges, trim off the green base and remove the seeds. Then, chop the pulp into chunks.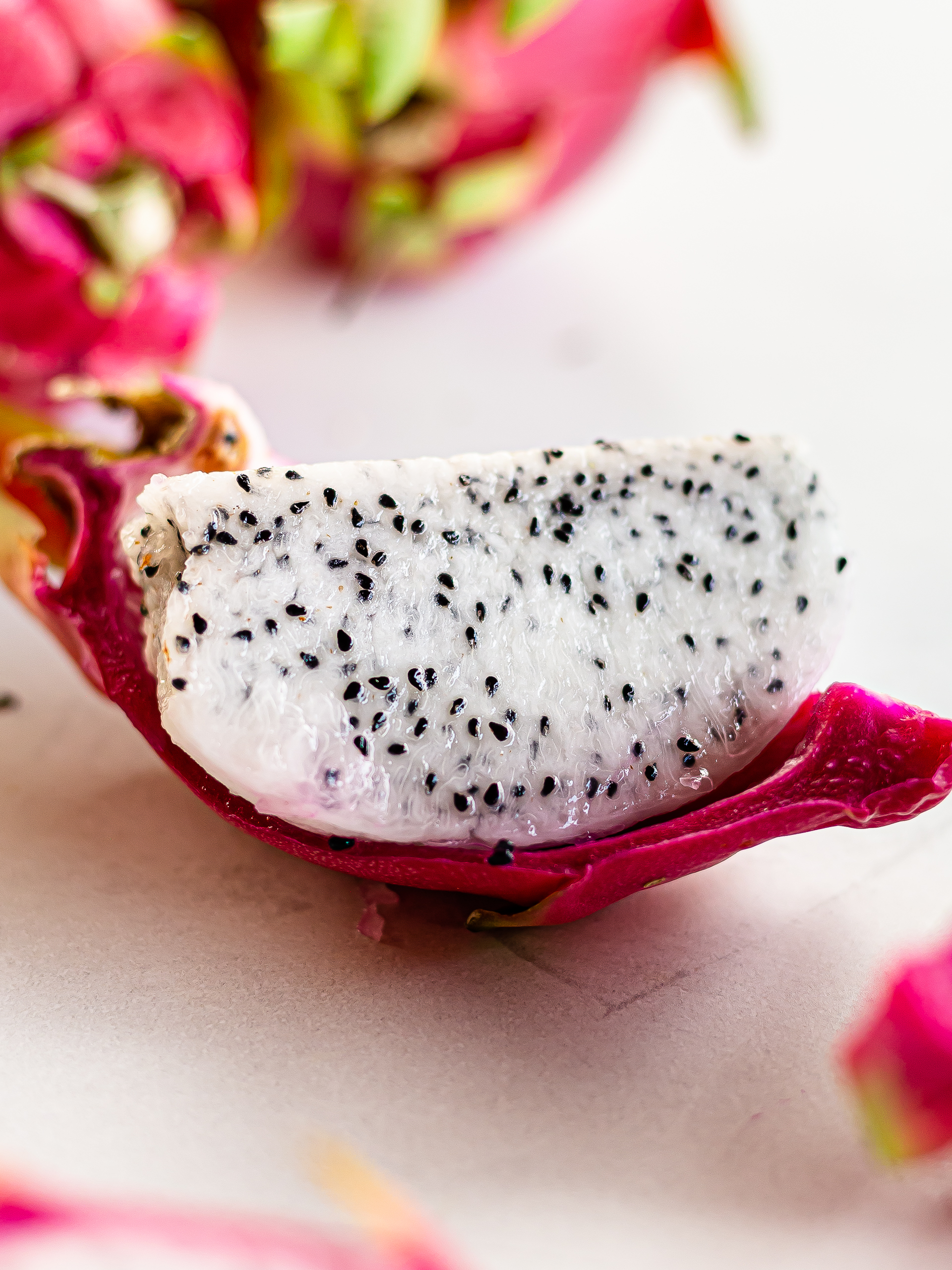 Step 2
To make a layered drink, we need to blitz each fruit separately.
But you can also blend them together and pour all into glasses if you prefer.
So, add the watermelon to a blender and whizz it until smooth (1).
Divide the watermelon juice among glasses and rinse off the blender bowl.
Then, add the dragon fruit to the clean blender and blitz it until smooth (2).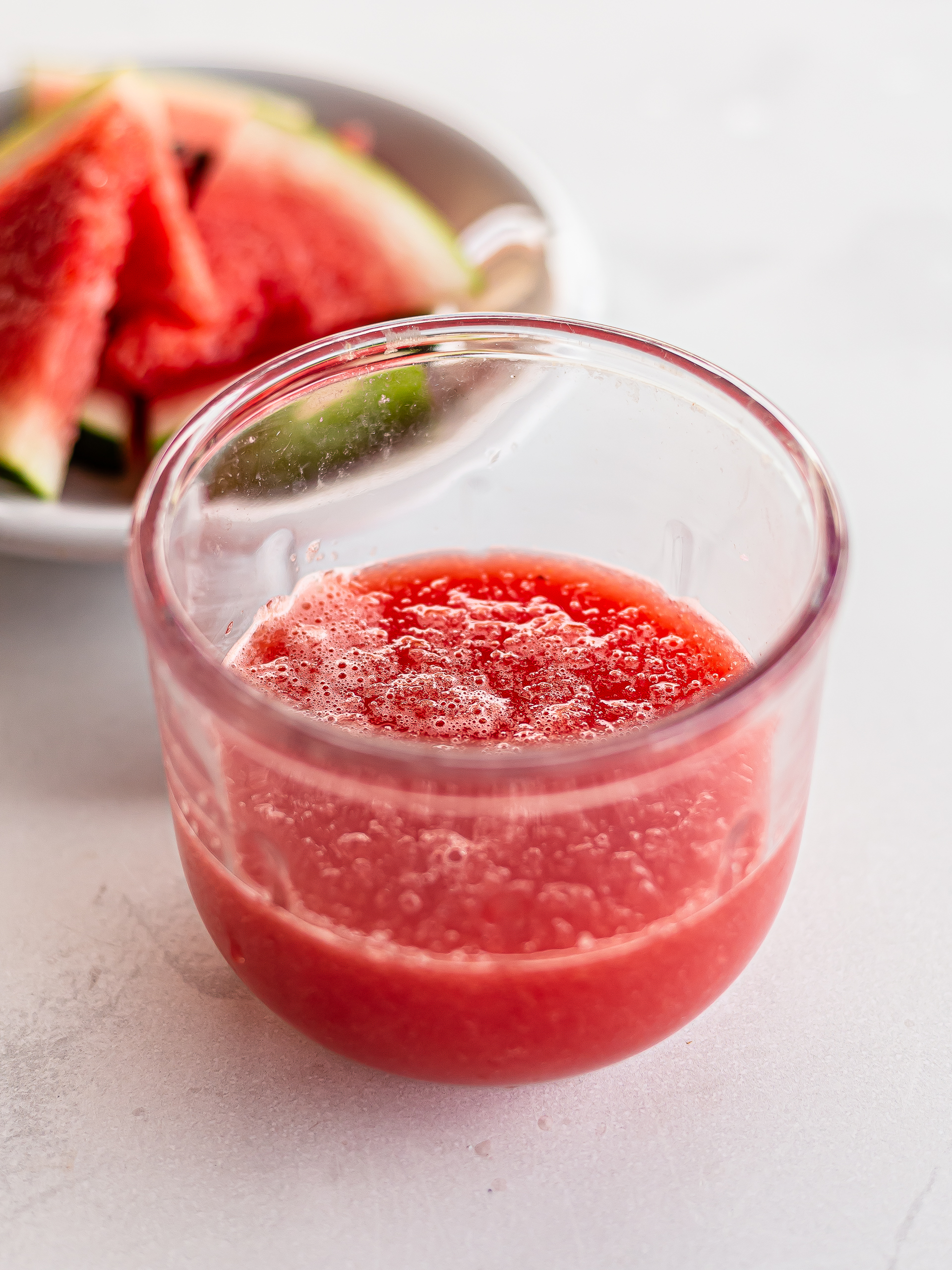 1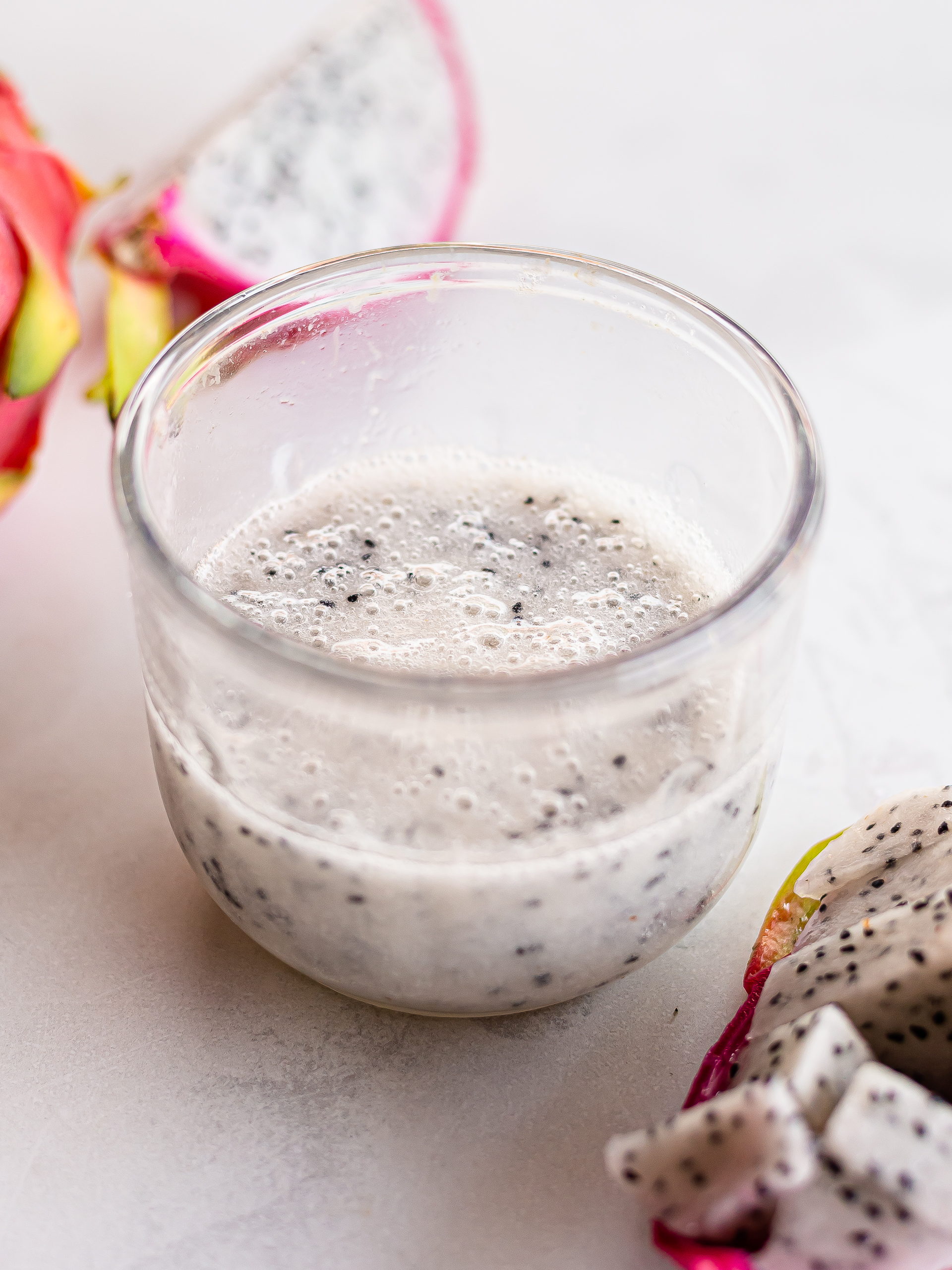 2
Step 3
To make sure the two smoothie layers don't get mixed, tilt the glass to one side and slowly pour the dragon fruit juice over the watermelon base.
Let the dragon fruit juice trickle on the side of the glass rather than splashing it right over the watermelon smoothie.
Fill the glass to the top and keep the drink in the fridge until nice and fresh.
Repeat for the other glass or glasses and enjoy!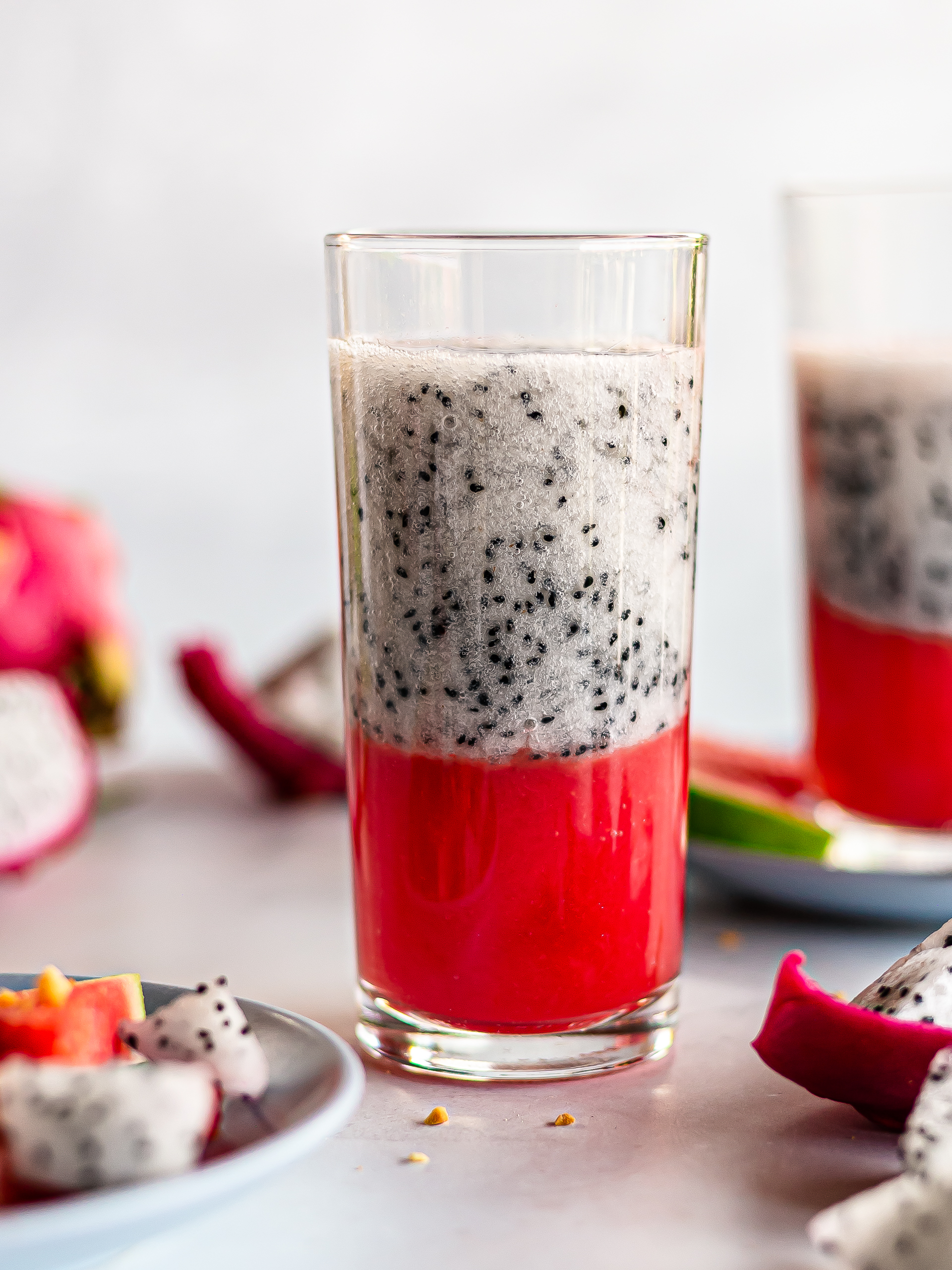 Tips
Try adding a splash of chilled coconut water for extra freshness and sweetness.