This corn salad with fresh cilantro and lime is an easy and quick recipe to prepare ahead for a party, dinner, or an outdoor meal.
Mexican-inspired flavours, like sweet corn, avocado, lime, and cilantro, come together in a mouthwatering dish that will keep you coming back for more.
Corn is such a versatile ingredient and also quite healthy. It's a starchy vegetable rich in fibres that will keep you full for long. Also, it provides vitamins, including vitamin A, and health-boosting antioxidants. For a quicker recipe, we have used canned sweet corn in this salad recipe, but feel free to use corn ears or frozen corn if you like.
We have topped this dish with a tangy and fragrant dressing made with fresh cilantro (also known as coriander), lime, honey, and garlic. It boosts this salad with extra flavour and goodness.
If you're on a weight loss plan, this recipe is a must-try. In just 300 calories per serving, it provides healthy fats, proteins, and plenty of fibres. You can top it with black beans or grilled chicken to make a meal out of it.
If you love healthy recipes like this, make sure to subscribe to our newsletter, and you'll get our newest recipes sent right into your inbox every week, plus our free ebook!
Frequently Asked Questions
Can corn salad be made ahead?

Yes, you can make this fresh corn salad with cilantro on the day before and keep it in the fridge for your next day lunch or dinner.

When stored in an airtight container in the fridge, this salad will even last for up to four days.

This dish will last long because vegetables don't spoil as quickly as animal products once prepared. Also, the antioxidants found in the lime juice dressing prevent the salad from browning too soon.
What to serve with corn salad?

This avocado and tomato corn salad makes an excellent filling for tacos and enchiladas as it's bursting with Mexican-inspired flavours.

We also tried it as a side dish to accompany grilled fish or beef, and it tastes great!

You can even make a meal out it by topping the salad with grilled chicken or beans, like pinto or black beans.
Why is corn salad healthy?

Prepared with sweet corn, avocado, tomato, and quinoa, this quick corn salad is incredibly healthy, and we recommend it as a side dish or main meal for everyone who is following a weight loss plan.

This salad provides a nutritionally balanced meal with 2 of your 5-a-day for fruit and vegetables. It's also a source of healthy unsaturated fats from avocado, proteins from quinoa, and fibres from corn.

Corn is regarded as both a starchy vegetable and a whole grain, thus offering the best of both worlds. You'll have plenty of fibres to keep you full and feed the gut-friendly bacteria. Moreover, you'll get all the precious nutrients found in whole grains, like vitamins, minerals, and antioxidants [1].

Sweet corn is high in vitamin A and health-promoting phytochemicals. Among these plant chemicals, lutein and zeaxanthin are potent antioxidants which are essential to support healthy vision.

Many studies have shown the incredible benefits of plant-based whole foods diets not only as an aid to weight loss but also as a way to improve your overall wellbeing. Therefore, we suggest you prepare a big batch of this corn salad always to have a healthy recipe at hand.
Can people with diabetes eat corn salad?

Although diabetic people can enjoy starchy foods as part of their daily diet, they still need to control their blood sugars. Therefore it's essential for them to monitor their carbohydrate intake and choose ingredients that have a low glycemic load (GL) or index (GI).

The sweet corn in this corn salad is a diabetes-friendly food as it has a medium GL and low GI, with a value of 15 and 52 respectively. Also, a 90g portion of sweet corn provides only 10g of carbohydrates.

The glycemic index ranks carbohydrates according to how fast they will cause a rise in blood sugars. The lower a food's glycemic index is, the slower blood sugar rises after eating that food [2].

However, the glycemic load is a more accurate predictor of blood sugars as it also takes into account the number of carbohydrates. It means it can tell how much glucose that food will deliver to your bloodstream according to its portion size and amount of carbs digested [3]. An ingredient can have a high GI but a low GL, like some fruits, and so still be considered healthy.

The tomatoes, avocados, and quinoa in this salad recipe are also suitable for diabetic people as they are low in carbs and don't spike blood sugar levels. Moreover, one serving of this corn salad has 40g of carbohydrates, which is one-fifth of the recommended 200g per day for diabetic diets [4].

By the way, did you know you can filter our recipes according to many nutritional values, include the amount carbohydrates per serving? Awesome! Be sure to check out our SmartSearch tool for filter option and many more.
Ingredients
| | |
| --- | --- |
| Extra Virgin Olive Oil | 2 tbsp |
| Red Onions | 80 g |
| Canned Sweet Corn | 360 g |
| Dried Quinoa | 200 g |
| Cherry Tomatoes | 240 g |
| Avocado | 2 |
| Fresh Cilantro | 30 g |
| Lime | 2 |
| Honey | 1 tbsp |
| Water | 2 tbsp |
| Garlic Powder | 1/2 tsp |
| Salt | to taste |
| Black Pepper | to taste |
Step 1
In a skillet heat 1 tbsp of extra virgin olive oil and add finely sliced red onions. Sizzle until they get translucent and fragrant.
Drain and rinse the canned sweetcorn and add it to the pan with the onions. Stir well and cook for 10 minutes or until the corn is lightly toasted and browned.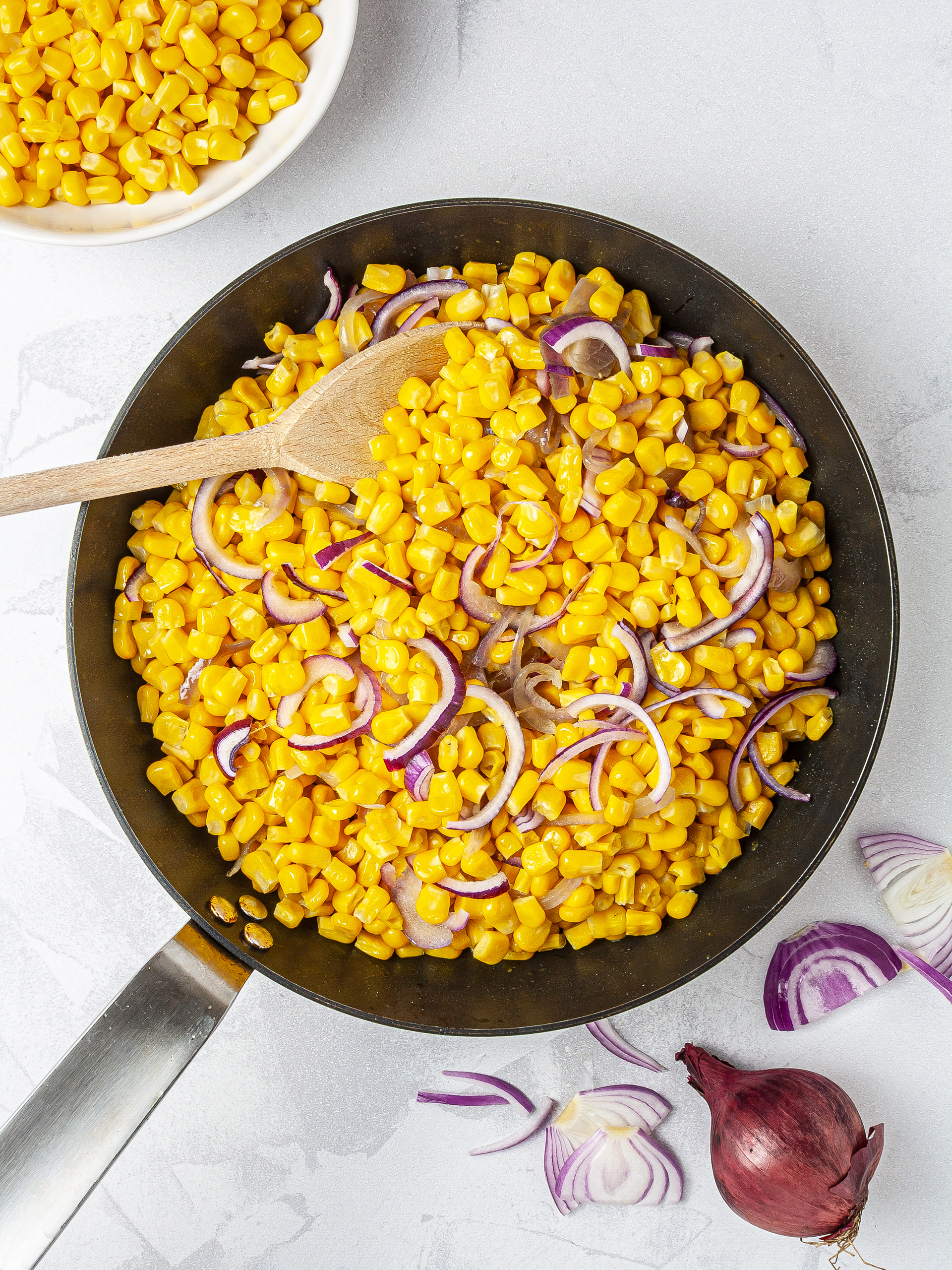 Step 2
In the meantime, add the dried quinoa in a pot and cover with water.
Bring it to the boil and simmer for 15 minutes until the quinoa has absorbed the water and is tender.
Then, drain excess water and set aside.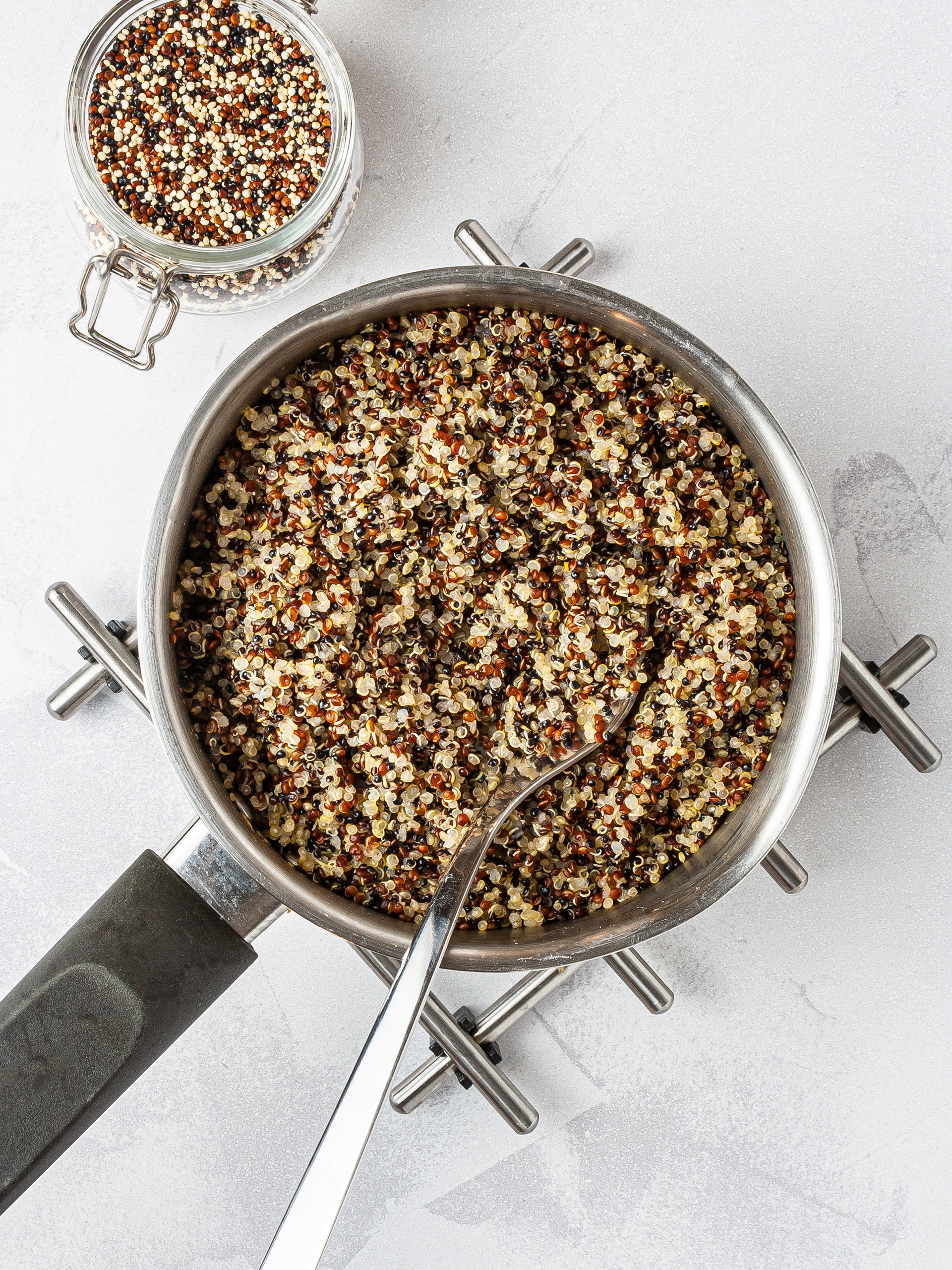 Step 3
To prepare the other salad ingredients, start by rinsing and halving the cherry tomatoes.
Then, prepare the avocado. To do so, slice it lengthwise until the knife hits the pit, then twist the two halves apart and open. Remove the pit, and use a spoon to scoop out the flesh whole. Then slice the avocado with the flat side down on the chopping board.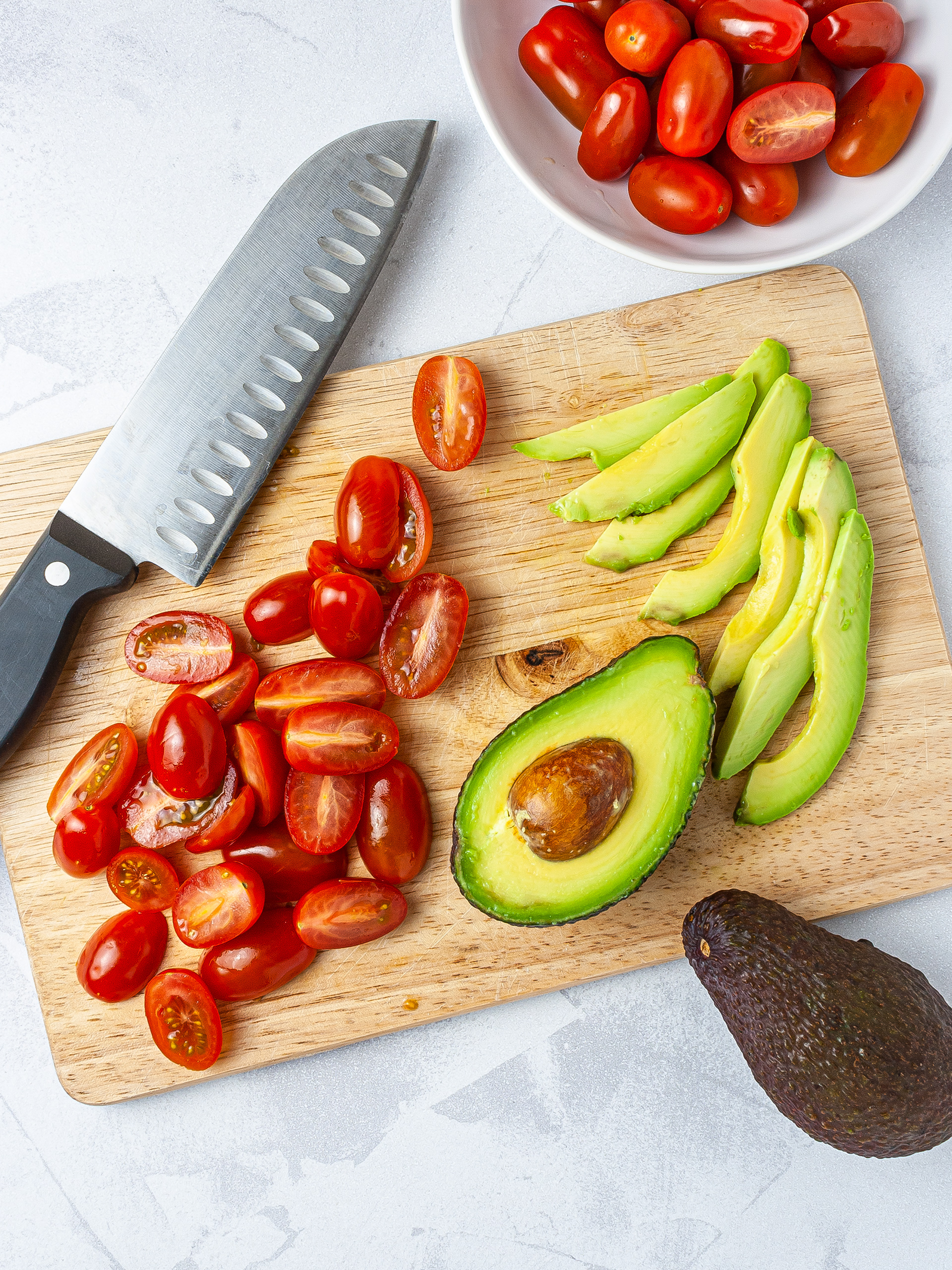 Step 4
For the cilantro dressing, place fresh coriander leaves in a food processor and add lime zest, lime juice, honey, water, the remaining 1 tbsp of oil, and garlic powder. Season with salt and pepper to taste.
Blitz all the ingredients until you have a smooth and runny salad dressing.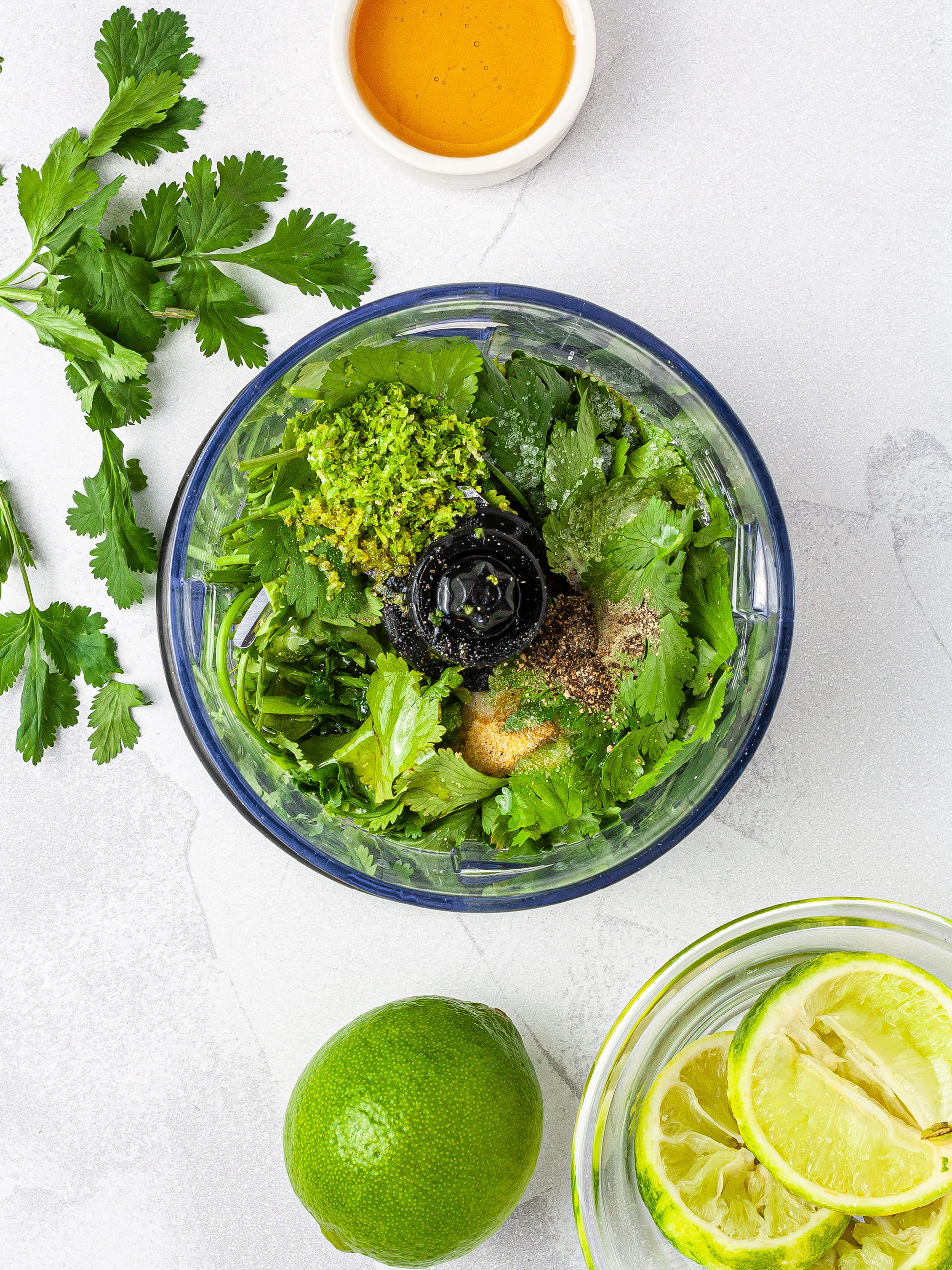 Step 5
Divide the cooked corn with onions, quinoa, tomatoes, and avocado among serving bowls or toss them all together in a large salad bowl.
Then, pour the lime and cilantro dressing over the corn salad and garnish with chopped fresh coriander.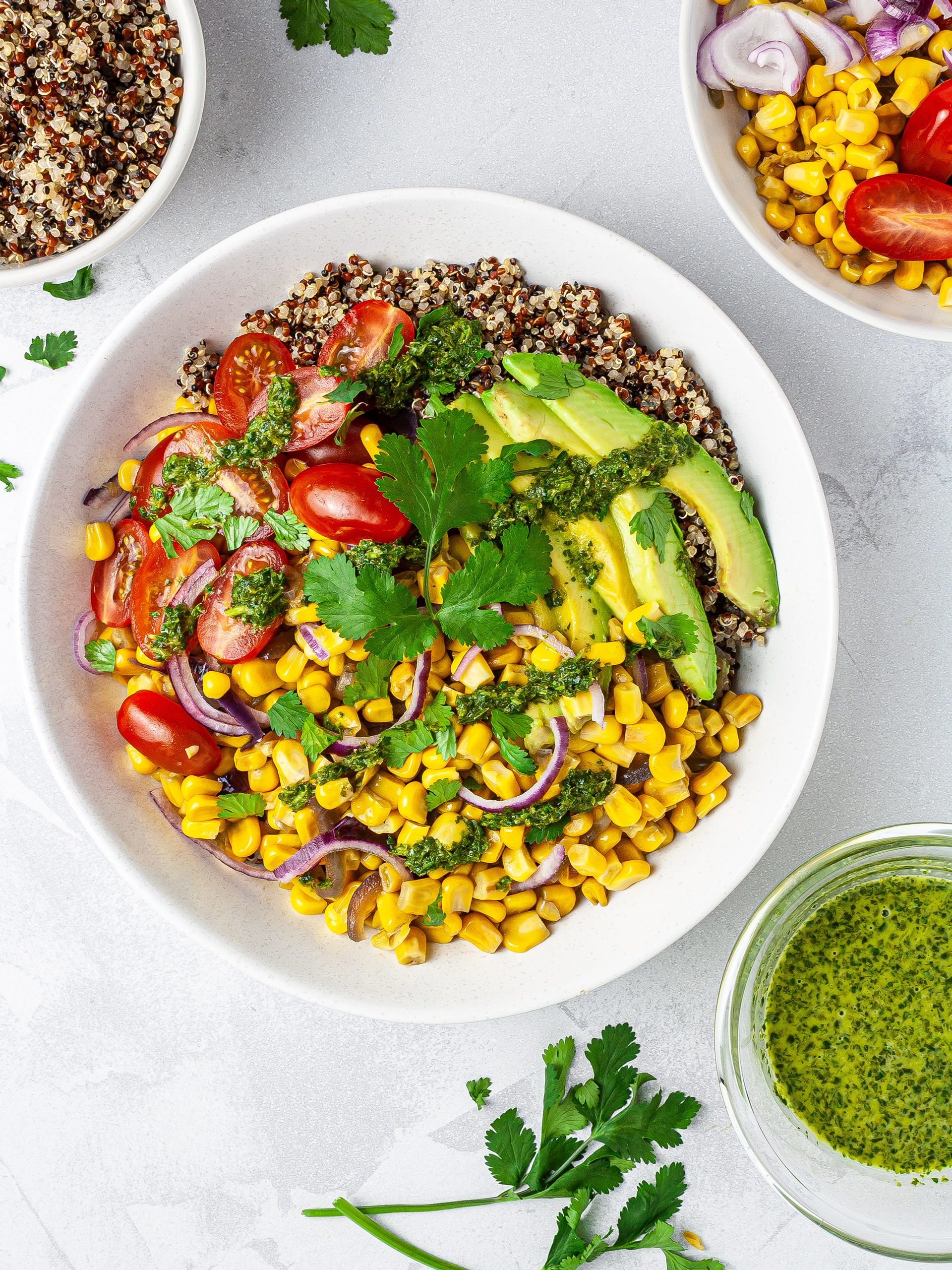 Tips
For this salad dish, you can use fresh corn ears, canned sweetcorn, or even frozen corn as their nutritional profile is equivalent.