When making our healthy vegan plum crumble, we have taken inspiration to the traditional British crumble recipe, but picked the right ingredients to delivery a tasty yet healthy alternative. Let's take a quick look at how we have done it and then let's jump into it!
We have removed the butter used in the classic recipe, therefore making this vegan and substantially reducing the amount of saturated fats. In fact, there's only 0.9 grams of saturated fats per portion, which is less than 5% of your recommended daily dose. Dare we say impressive for being a dessert? Yes!
Then we have replaced flour-crust toppings with oats, nuts and a hint of flavourful vanilla, making our plum crumble gluten-free as well. You could do without the nuts if you are allergic, the recipe would still work great. Oats also pack in lots of fibres, gibing a single portion of our crumble almost 15% of your daily fibres intake! Bossing it.
Also, by not using any refined sugars, we have relied uniquely on the natural sweetness of the plums and considerably reduced the amount of carbs and sugars as well.
So basically this is the perfect recipe for those looking for a healthy dessert to satisfy their sweet tooth or those with food allergies and special diets. You can discover more delicious recipes like this through our Smart Search function to filter recipes according to your diet, allergens, nutrients and more!
Just a few simple steps keep you away from all this goodness.. Let's do it!
Ingredients
| | |
| --- | --- |
| Hazelnuts | 20 g |
| Oat Flakes | 50 g |
| Plums | 420 g |
| Ginger | 2 pinch |
| Potato Starch | 10 g |
| Rapeseed Oil | 30 mL |
| Vanilla Extract | 1 tsp |
Step 1
While you bring the oven to 170°C (340°F) - or 150°C (300°F) for fan ovens - let's start chopping the hazelnuts and then let's distribute the oat flakes and nuts flat over a baking tray lined with parchment paper.
Roast everything for 10 minutes or until lightly golden (1).
In the meantime, rinse the plums, remove the pit and cut into small chunks (2).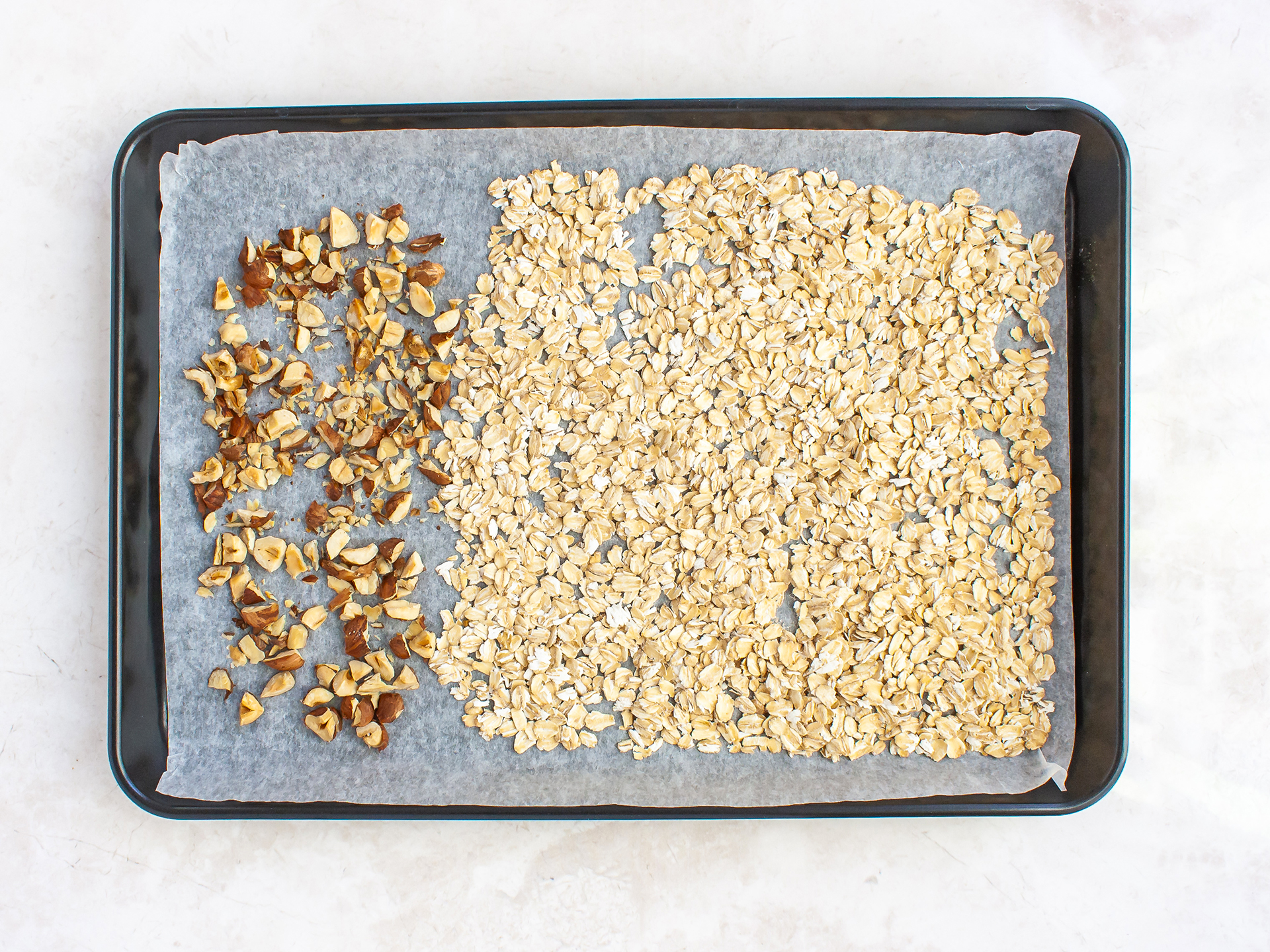 1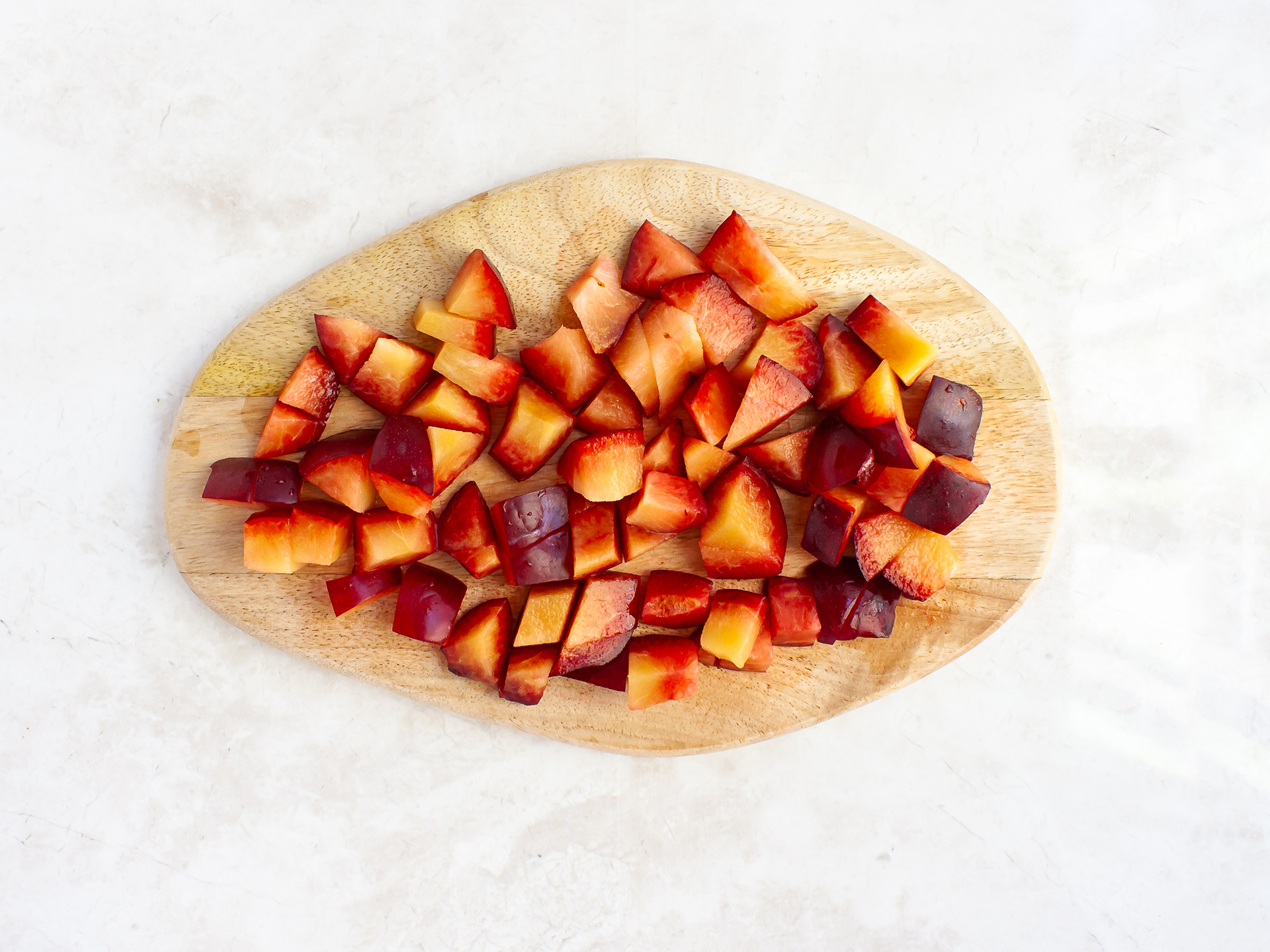 2
Step 2
In a mixing bowl, add the toasted oat flakes, hazelnuts, ginger, potato starch, oil and vanilla extract.
Combine the ingredients until the oat flakes group into clusters.
Add water if the mixture is too dry or starch if too wet.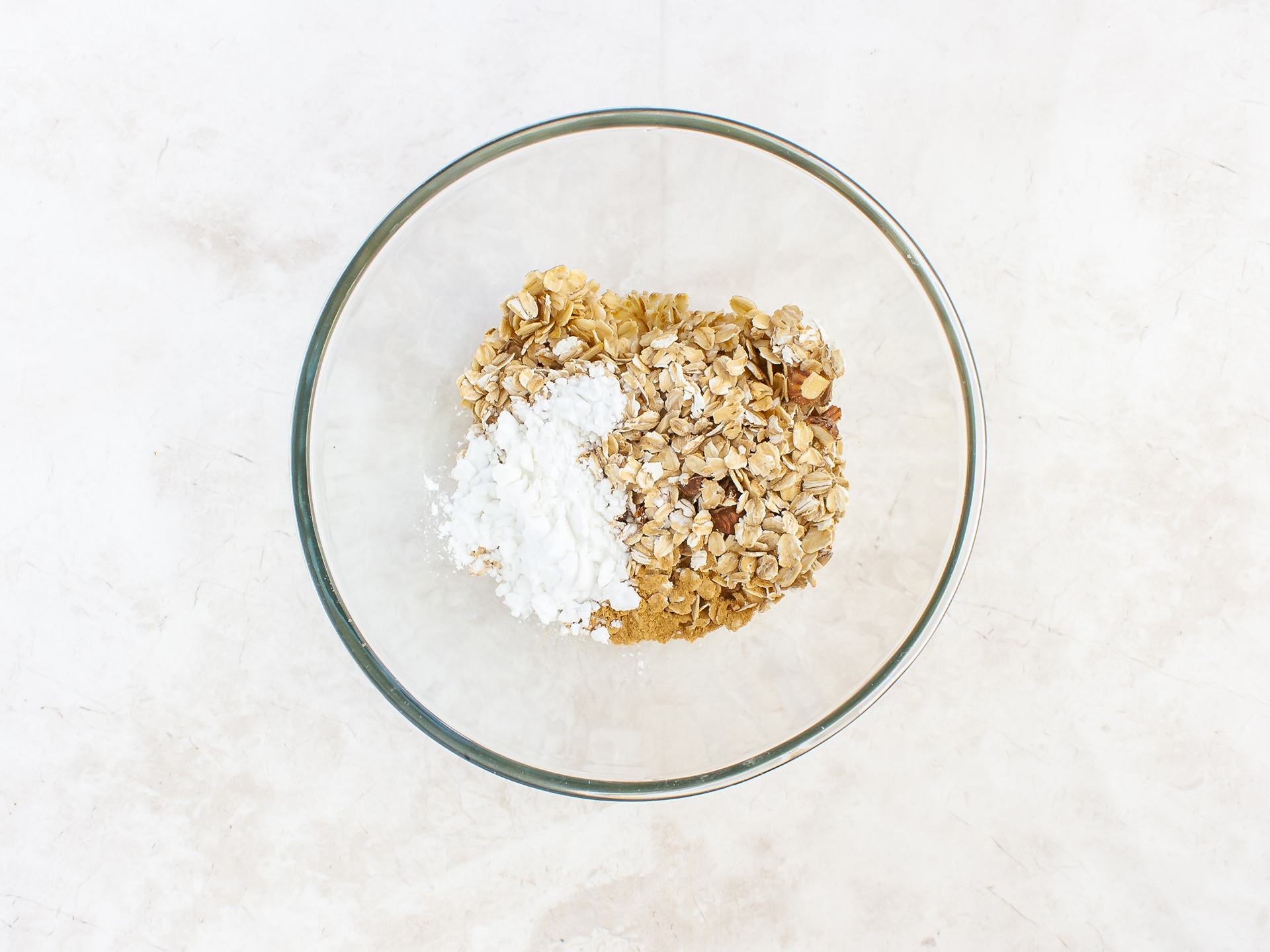 Step 3
To prepare a single-serving fruit crumbles, use one ramekin per person.
Divide the plums among the oven-proof pots filling them at two-thirds and distribute the oat and nut crumbles among the ramekins covering the fruit (1).
Bake in the middle shelf for 35 minutes. The dessert is ready when you see bubbles popping at the top, the fruit juice browning and the oat crumbles turning golden (2).
Allow the fruit crumbles to cool down for a few minutes and serve warm or with a spoon of hot custard. Enjoy!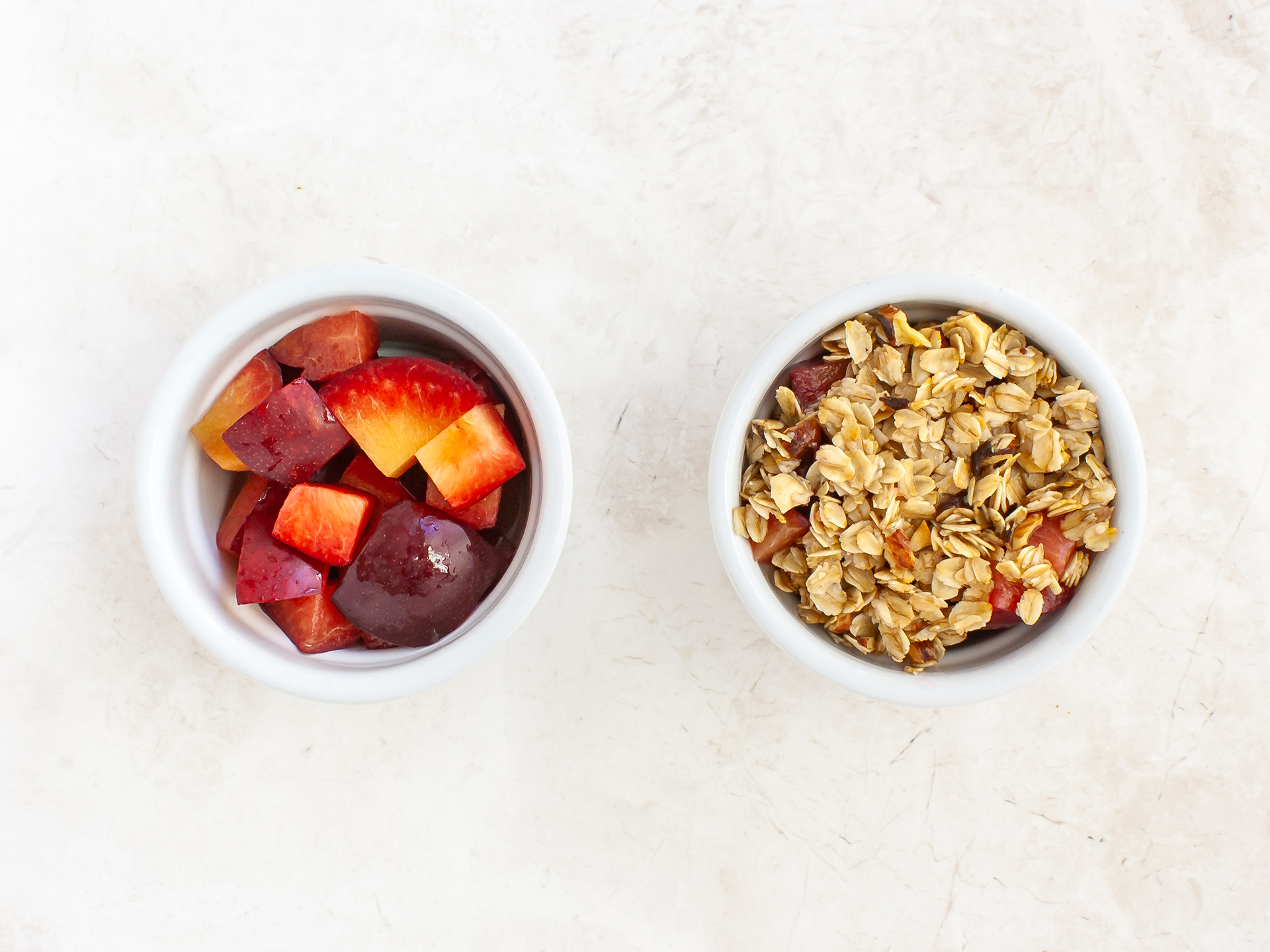 1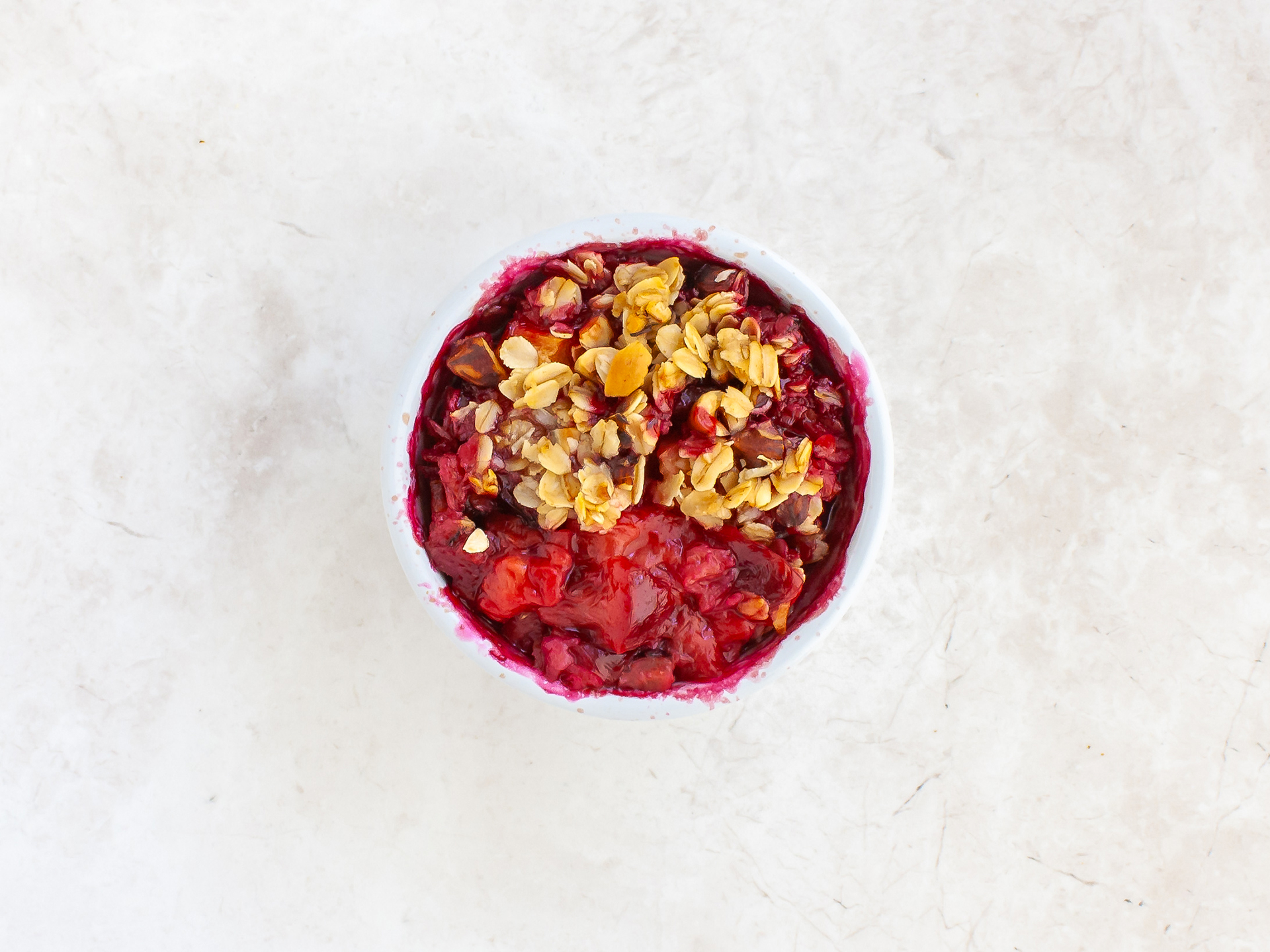 2
Tips
Sprinkle the top with water before baking to help the binding of the crumbles topping while cooking.

For a sweeter fruit crumble use very ripe fruit or add a splash of honey or agave nectar.
Watch on Youtube