Isn't Pad Thai wonderful? There's another awesome recipe in Thai cuisine called Pad Woon Sen which uses the gorgeous glass noodles (AKA woon sen, transparent noodles, or cellophane noodles).
We thought, why not combine the two dishes and turn them into something new? So here is our glass noodle pad thai recipe for you. Let's call it Woon Sen Pad Thai!
First, we picked bean sprouts and peanuts from the classic Pad Thai. Then, we borrowed the glass noodles, carrots, cabbage, and mushrooms from the Pad Woon Sen recipe. As "pad" means stir-fry, we took all these delicious ingredients and seared them to perfection in our wok, yum!
While the classic Pad Woo Sen sauce includes fish sauce and sugar, we made ours with soy sauce and maple. Using maple is a great way to add flavour and get rid of refined sugars. And by replacing fish sauce, we made this recipe fully vegan. Then we garnished everything with bird's eye chillies and cilantro for that authentic Thai finish.
Another ingredient stood in the way of veganism: eggs! Eggs are in the original Pad Thai recipe, but we used tofu instead. Tofu is an excellent plant-based source of complete proteins, and it's quite similar to stir-fried eggs once seared and shredded.
We think you'll love this glass noodle pad thai if you are looking for a fun and vegan alternative to the classic recipe. It's got lots of wholesome plant-based ingredients and a great nutritional profile. Plus, it's easy to make and ready in 30 minutes. Let's wok right into it!
And if you'd like to try more stir-fry recipes with tofu, check out this Thai cashew tofu and Korean tofu japchae. So easy and tasty!
Ingredients
Sauce
Gluten-Free Soy Sauce

40 mL

Maple Syrup

30 g

Lime

1

Stir-Fry
Glass Noodles

200 g

Sesame Oil

2 tbsp

Brown Onions

1

Garlic Cloves

2

Bird Eye Chillies

4

Firm Tofu

400 g

Pak Choi (Chinese Cabbage)

300 g

Shiitake Mushrooms

300 g

Carrots

2

Beansprouts

200 g

Toppings
Spring Onions

to taste

Bird Eye Chillies

to taste

Peanuts

25 g

Fresh Cilantro

to taste
Step 1
Add the glass noodles to a bowl with water at room temperature and leave them to soak for 10 minutes.
In the meantime, heat the sesame oil in a wok and then add finely chopped onions, crushed garlic, and sliced chillies.
Sizzle the ingredients for a few minutes or until the garlic turns golden and fragrant.
Step 2
Next, add firm tofu diced into bite-sized cubes and sear them over high heat for 5-10 minutes.
Once the tofu pieces are crispy and lightly browned, remove them from the wok, trying to leave as much oil as possible in the pan to cook the pad Thai.
Then set them aside.
By doing so, the tofu won't get soggy or crumble when you stir-fry the vegetables and noodles.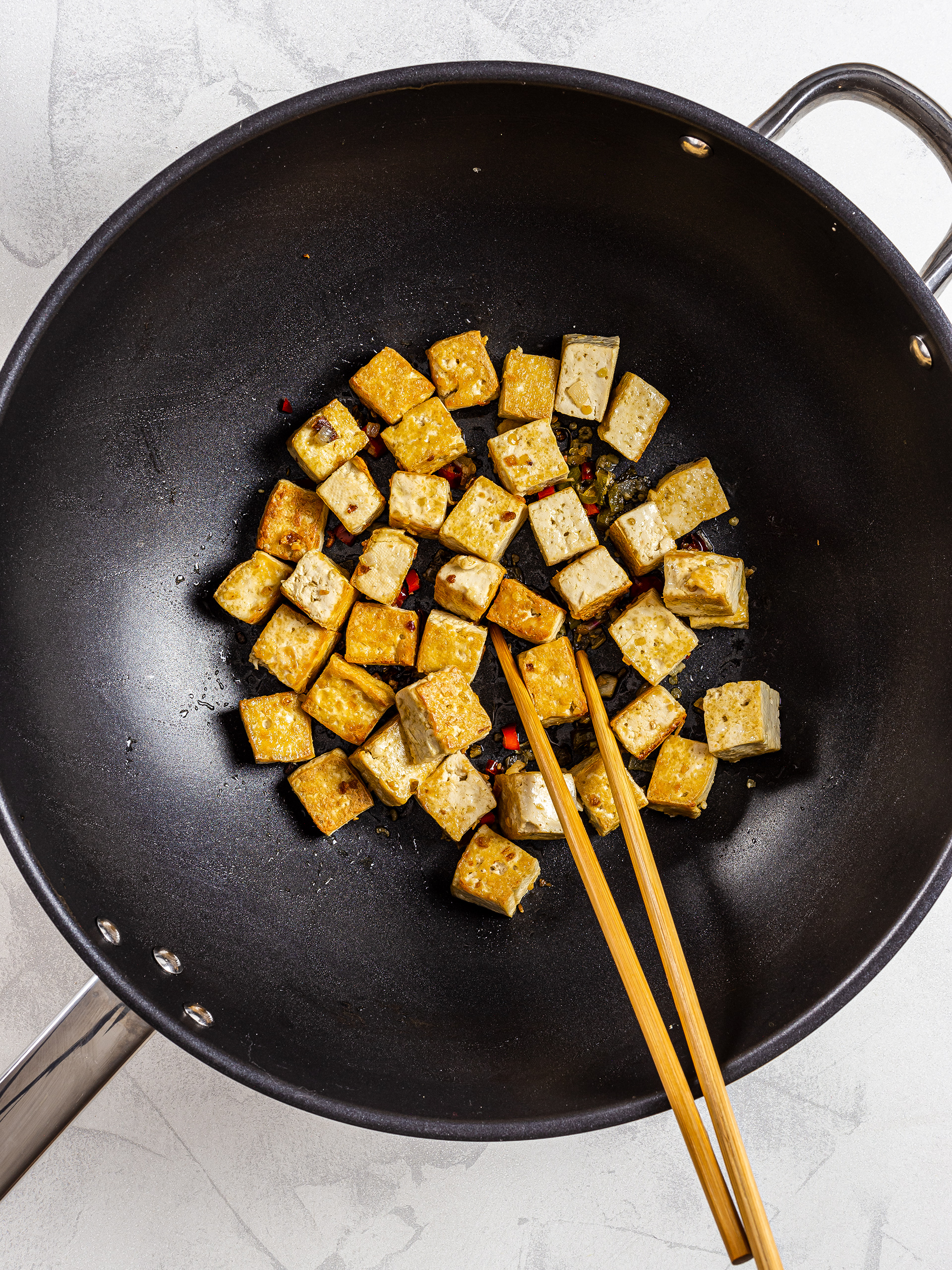 Step 3
Now, drain the noodles and add them to the wok with the spicy oil.
Cook them over medium heat for 5 minutes or until they have slightly softened.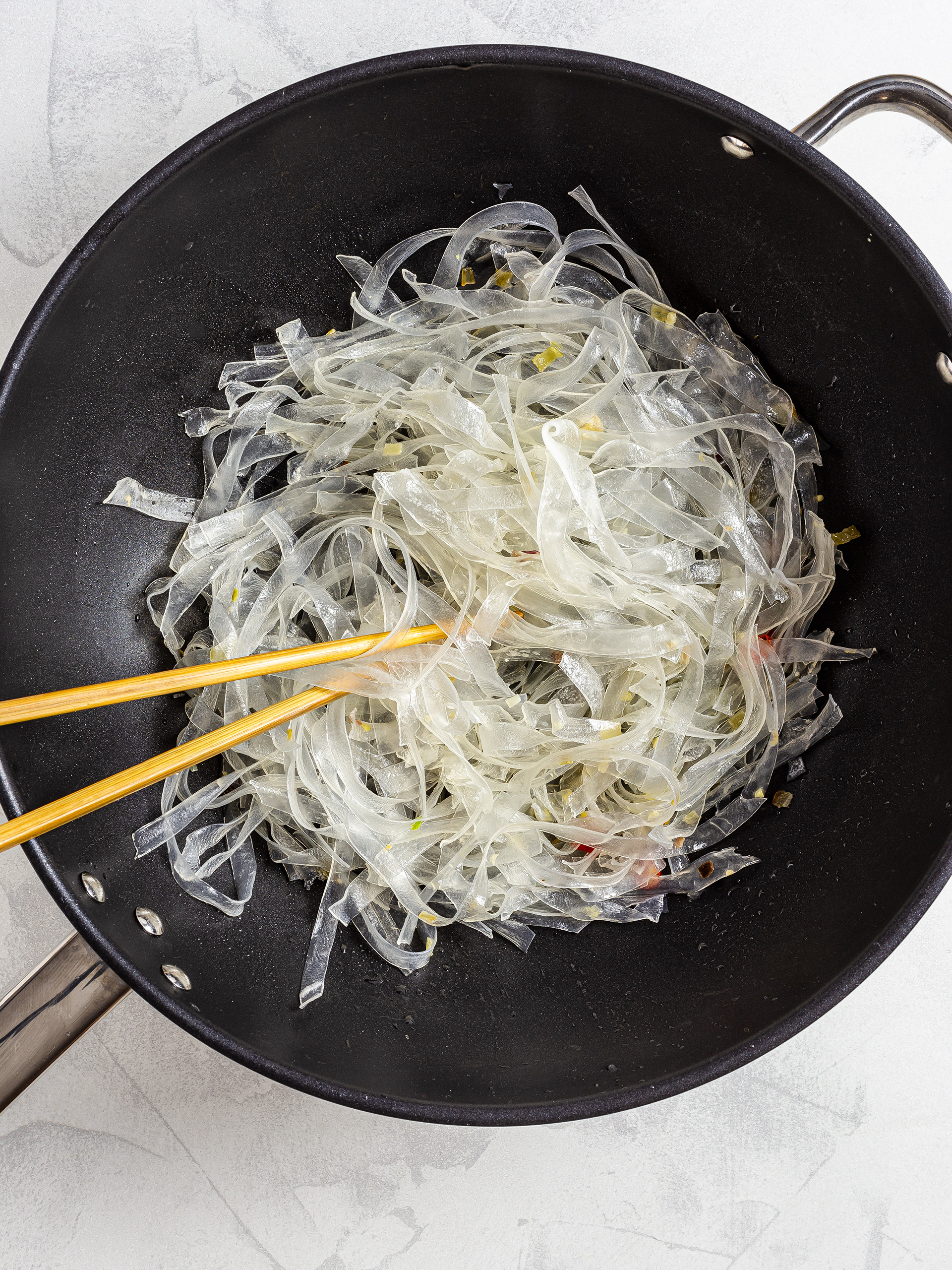 Step 4
At this point, it's time to get the veggies ready.
Shred the cabbage, dice the shiitake mushrooms, and peel the carrots with a potato peeler or mandoline slicer to get thin strips.
Then, add these ingredients to the pan along with the bean sprouts and stir-fry for 5 minutes over high heat.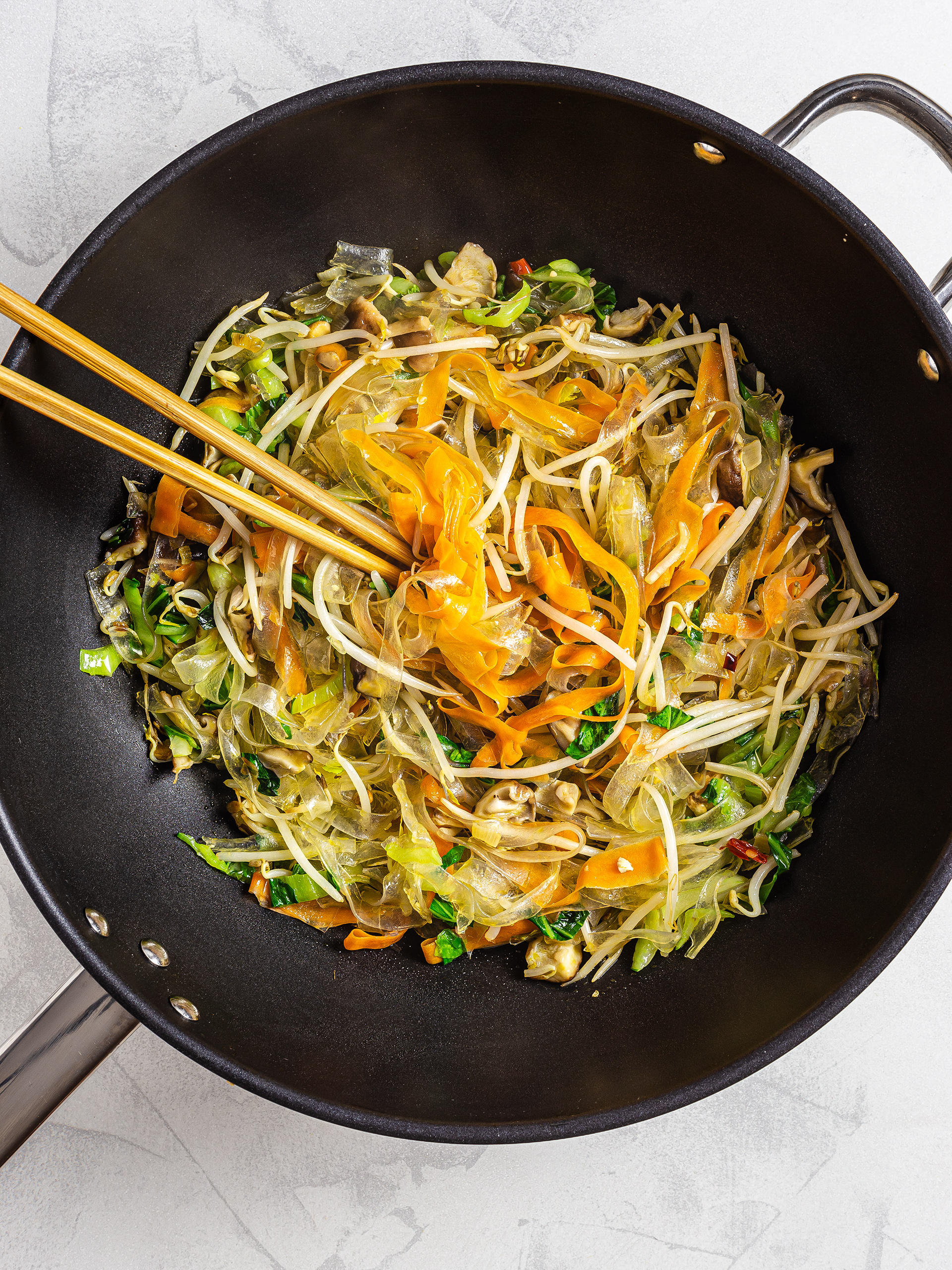 Step 5
In a small bowl, combine the sauce ingredients, that is the soy sauce, maple syrup and lime juice.
Then, pour the mixture over the noodle stir-fry, add the prepared tofu cubes, and give all a good mix.
Cook the pad thai for a further 5 minutes over high heat, making sure the mushrooms are cooked through, and the vegetables are crunchy.
Then, season with salt and pepper to taste.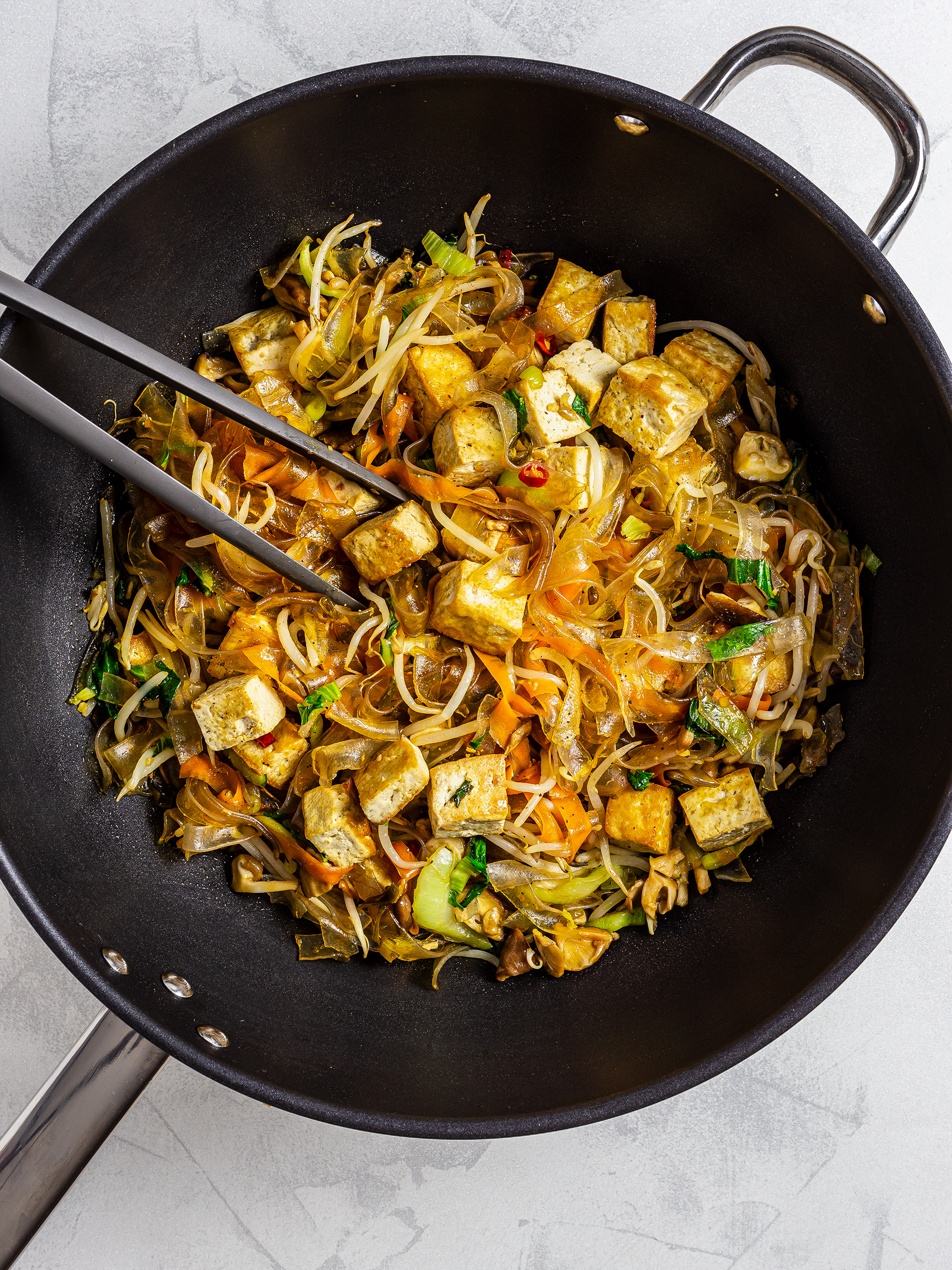 Step 6
To finish, divide the noodles among serving bowls and top them with sliced spring onions, bird eye chillies, and roasted peanuts.
Serve this pad woon sen with lime wedges and fresh cilantro.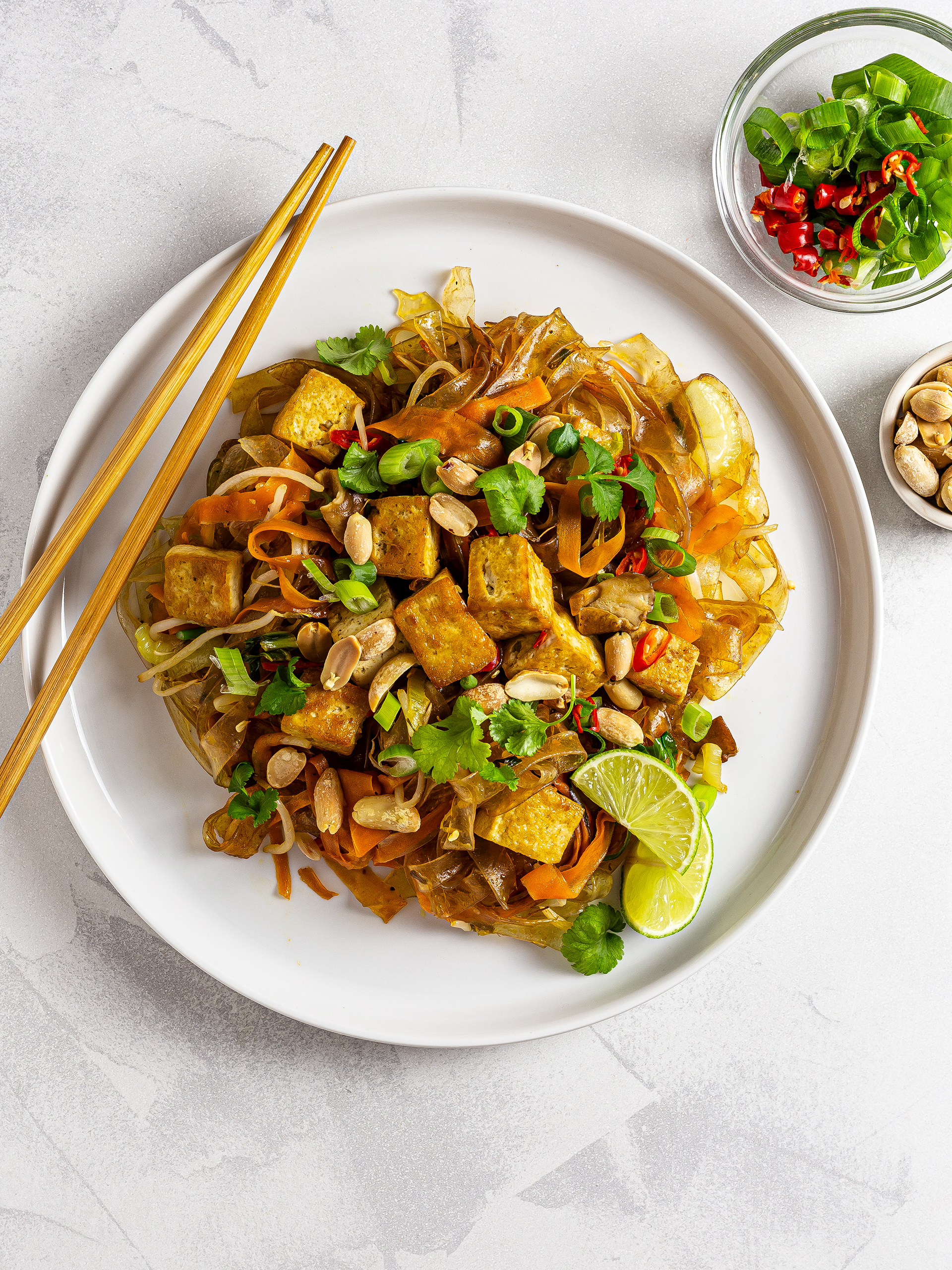 Tips
Glass noodles also come under the name of clear noodles, bean thread noodles, or cellophane noodles. They can be made from sweet potato starch, mung bean starch, or arrowroot starch.

Season the noodles with white pepper, which is the classic spice used in the Thai Pad Woon Sen recipe.

To roast the peanuts, you can dry toast them on a skillet over high-heat or cook them in the oven at 200°C (390°F) for 5 minutes.

If you have a peanut allergy, you can replace them with cashew, macadamia, or brazil nuts.

If you can't eat soy, make sure you use beansprouts made from mung beans. Also, replace soy sauce with coconut amino sauce or a mixture of balsamic vinegar and rice vinegar. And finally, use seitan, Quorn, or any bean you like instead of tofu.