With our easy step-by-step recipe, you can now prepare a delicious dairy-free and gluten-free apple strudel to enjoy with friends and family over the festivities or on a special occasion.
Apple strudel is a classic German-Austrian recipe prepared with unleavened pastry wrapped around a tasty filling of apples, raisins, and buttered breadcrumbs.
To make a healthier variation of this traditional apple dessert, suitable also to allergy sufferers, we have made the dough gluten-free with oat and almond flour and the filling without butter and refined sugars. This means this recipe is also sugar-free and vegan.
Prepared with a mouth-watering mix of apples, orange juice-soaked raisins, flaxseeds, and citrus zest, this strudel filling is not only extra tasty but also lower in saturated fats and sugars than the original recipe. Each slice has 350 calories, only 12g of sugars, and almost 5g of fibers. You can read more about the nutritional properties of this vegan strudel in our FAQ below.
Now, it's time to put your apron on and get baking!
Frequently Asked Questions
Can I freeze this dessert after baking?

Although it's unlikely you'll have any leftovers of this delicious dessert, chances are you'll have a few slices left, especially if you aren't preparing this strudel for a big crowd.

But don't worry, you can freeze this apple strudel on the same day, and it will keep for up to two months.

Transfer the slices to a zip-lock bag or plastic container interleaving them with strips of baking paper to prevent the portions from sticking one to another.

Whenever you fancy a homemade treat, leave the strudel to thaw on the kitchen counter for a few hours or in the fridge overnight. Otherwise, just pop the frozen slices in the oven or microwave, and heat them until nicely warm.
What makes this gluten-free strudel healthy?

To make this vegan and flourless strudel, we could have used any store-bought gluten-free pastry sheet to replace the shortcrust, plus heavily processed margarine to replace butter.

However, we wanted to show you how to prepare this apple dessert from scratch with wholesome, plant-based, and healthy ingredients.

Ground oats and almond meal are excellent gluten-free flours that add both flavour and nutrition to any bake. Compared to plain wheat flour used to make the strudel shortcrust, oatmeal has more fibres while almonds are low in carbs.

Although vegan, margarine is far from being a healthy ingredient. Even if you buy the non-hydrogenated options, chances are they're still loaded with additives and emulsifiers. Instead, we opted for simple vegetable oil and applesauce to prepare the flourless strudel pastry, and flaxseeds for the no-butter apple filling.

Flaxseeds are a truly amazing ingredient as they substitute both butter and breadcrumbs in this strudel recipe. They give a nutty flavour to the stuffing and help keep apples and raisins together thanks to their binding properties.

But flaxseeds also add a real nutritional boost to this German dessert. They are rich proteins, omega-3, and fibres.

As this wasn't enough, we made this apple strudel also sugar-free, sweetened with just a drizzle of maple syrup. This antioxidant-rich natural sweetener has almost half the sugar content of refined white sugar.

The result is a healthy and delicious strudel with 350 calories per serving, 12% of your RDI for carbs, and 18% of your RDI for fibres. This means that each slice has eight times fewer saturated fats, half of the fats, and three times fewer sugars than the classic one.
Can I make this vegan apple dessert ahead?

Of course, you can. This flourless strudel is the perfect bake for when you have guests over. You can prepare the dough and the filling, and then keep them separate in the fridge for a few hours or overnight. Then, put them together following our recipe and bake when you're ready.

Alternatively, you can prepare and cook this eggless strudel the night before. Keep it wrapped up in cling film and then warm it before serving to bring back all its flavour.

As a final option, you can freeze the uncooked strudel to reserve it for when you'll need it.
What can I use instead of raisins?

The classic German strudel is filled with raisins, but you can surely opt for other dried fruits.

For example, dried cranberries, blueberries, dates, apricots and even mangoes are all excellent replacements. Swap them in the same amount, and you're good to go.

If instead, you aren't fond of dried fruits in general, then add chopped pears along with the apple and add other nuts like hazelnuts or pine nuts.
Which other spices can I add?

For this apple bake, we have used ground cinnamon to add sweetness and then the zest from lemon and orange for extra freshness.

Allspice, nutmeg, and ginger are other excellent spices that you can use for this vegan pastry dessert. Also, try adding a few ground or crushed cardamom seeds to the raisin filling for a unique twist.
Ingredients
| | |
| --- | --- |
| Orange | 1 |
| Raisins | 70 g |
| Almond Flour | 120 g |
| Ground Oats | 150 g |
| Potato Starch | 140 g |
| Canola Oil | 90 mL |
| Water | 60 mL |
| Medium Apples | 3 |
| Almonds | 40 g |
| Maple Syrup | 60 g |
| Lemon | 1 |
| Ground Flaxseeds | 30 g |
| Cinnamon | 1/2 tsp |
Step 1
Squeeze the orange, saving the zest for the filling, and then combine the juice with raisins. Leave the dried fruit to soak while you prepare the other ingredients.
Boil 1 peeled apple until it has softened and can be poked through with a fork.
Then, mash it or blitz it in a food processor to make applesauce.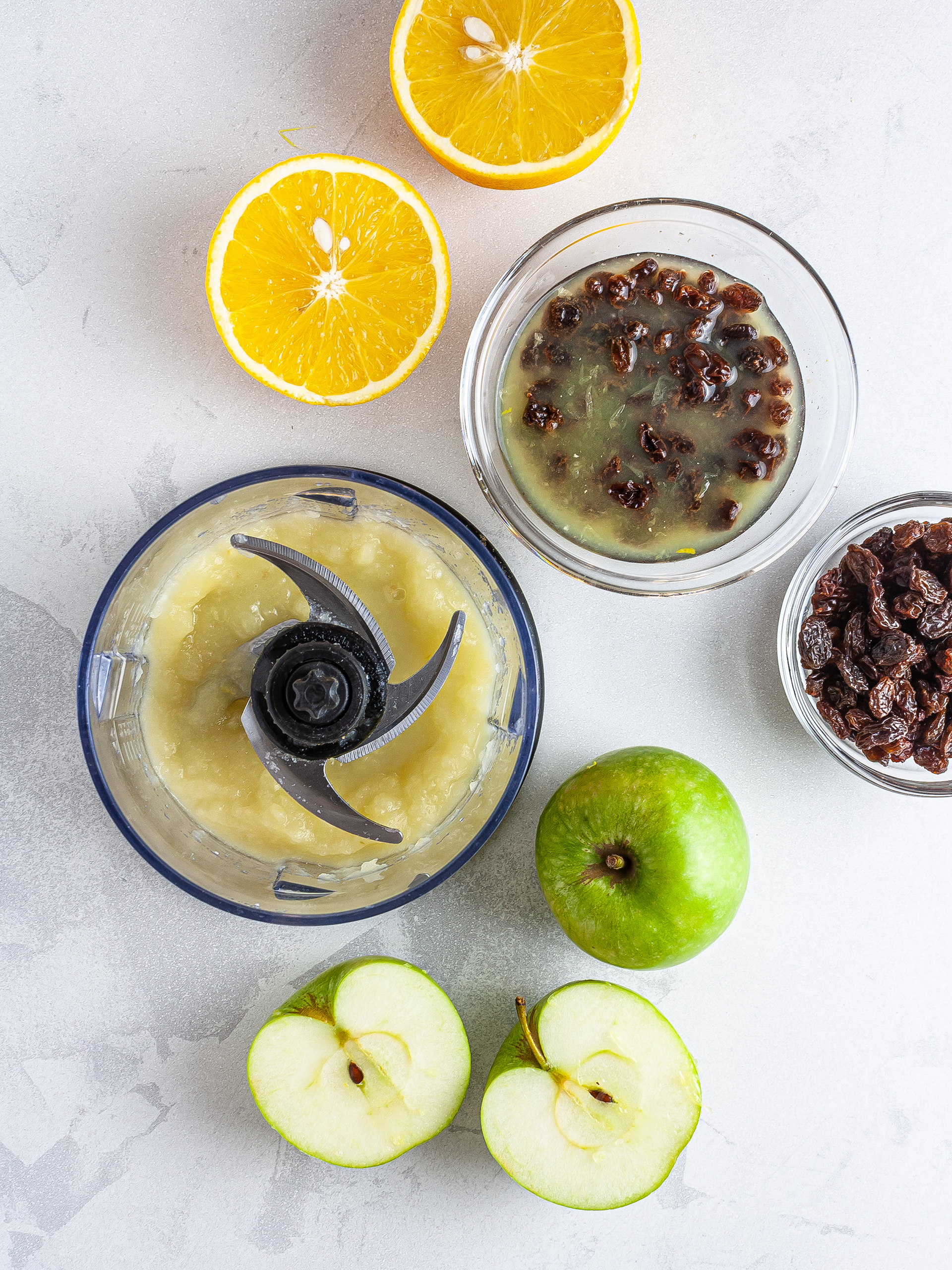 Step 2
In a mixing bowl, combine almond meal, ground oats, potato starch, and a pinch of salt. Then, add vegetable oil, cold water, and applesauce.
Work the ingredients until they come together into a smooth and slightly greasy dough.
If needed, add more water or almond meal to get the right consistency.
Then, roll the strudel dough into a ball and keep it in a bowl covered with cling film.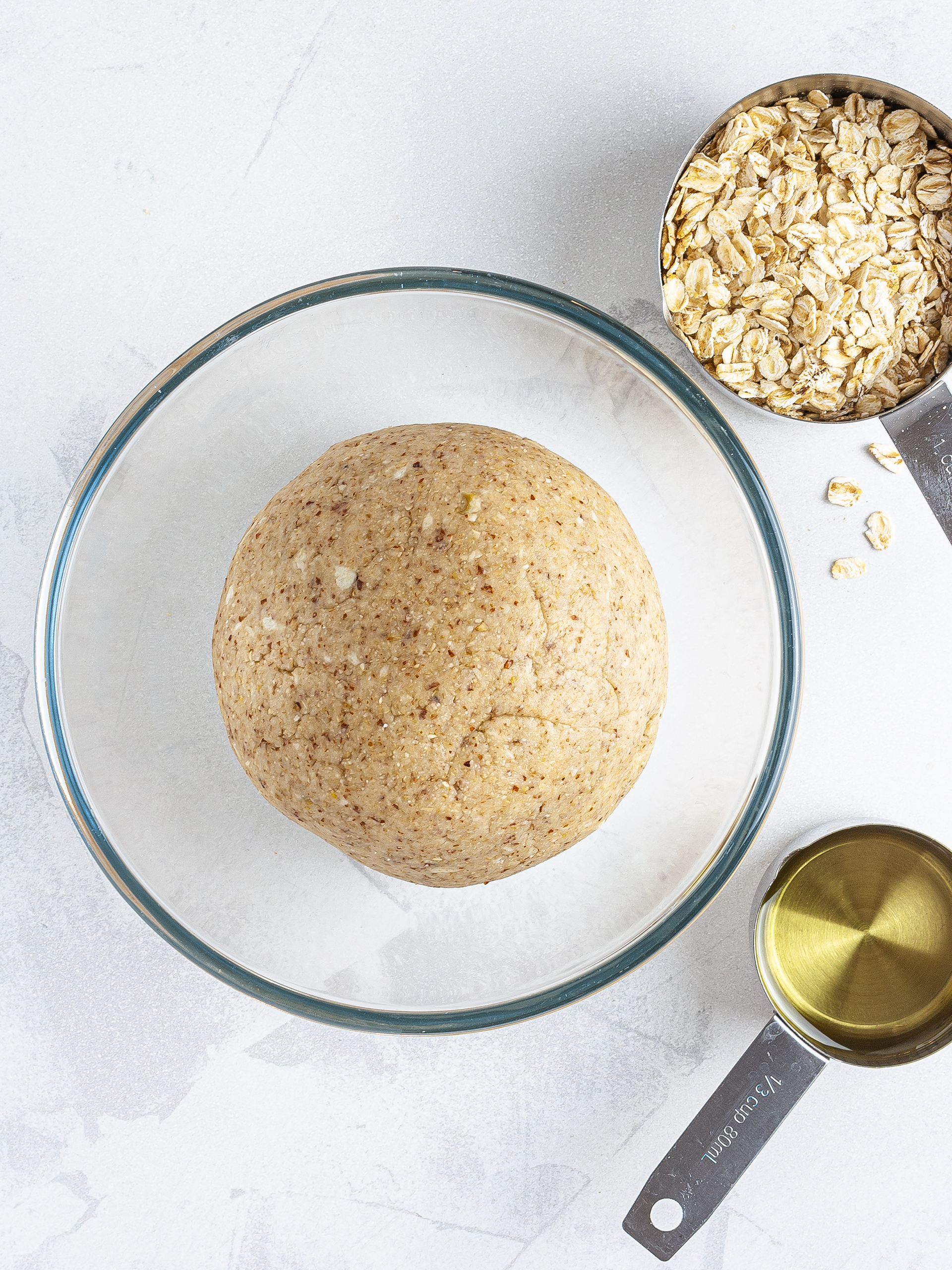 Step 3
Now, let' put together the strudel filling.
Drain the soaked raisins and add them to a bowl along with 2 diced apples, chopped almonds, maple, lemon zest, orange zest, flaxseeds, and cinnamon.
Give it all a good stir.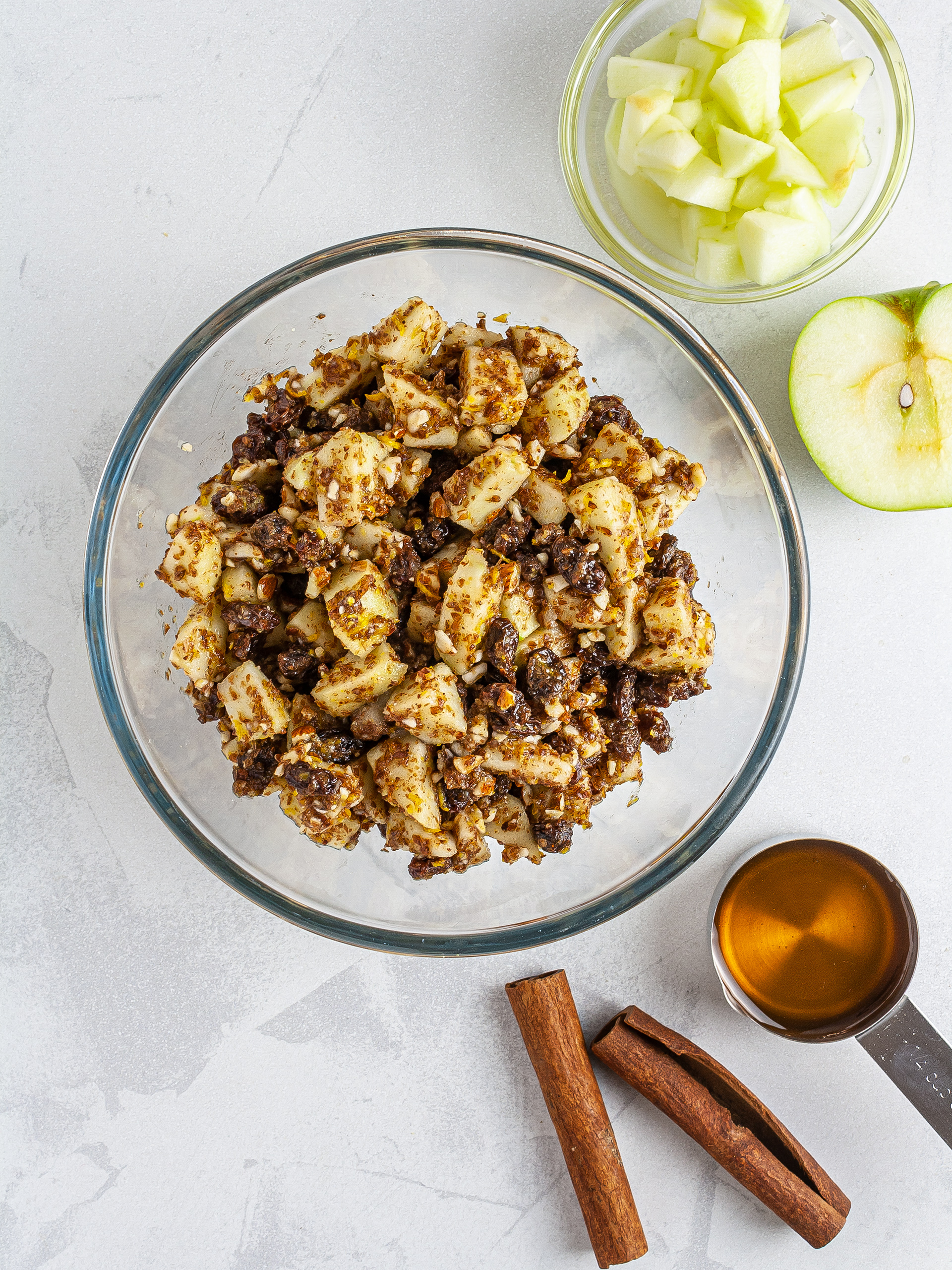 Step 4
Roll out the dough in between two sheets of baking paper to a 3 mm (1/8 inch) thickness and trim off any excess to get a rectangle shape.
Then, spread the prepared filling over the dough, patting it down evenly (1).
To make the traditional strudel shape, fold in the short ends of the dough, and then roll the dough over the filling along the long edge.
This step could be a bit tricky as the gluten-free dough is crumblier than a regular one, so hold the strudel tightly helping yourself with the baking paper.
Now, transfer the strudel, seam-side down, onto a baking tray and score the surface with a sharp knife (2).
This will help excess steam from the baking apples escape without affecting the strudel.
Before cooking it, you can brush the roll with some maple and sprinkle with oat flakes and almond shavings.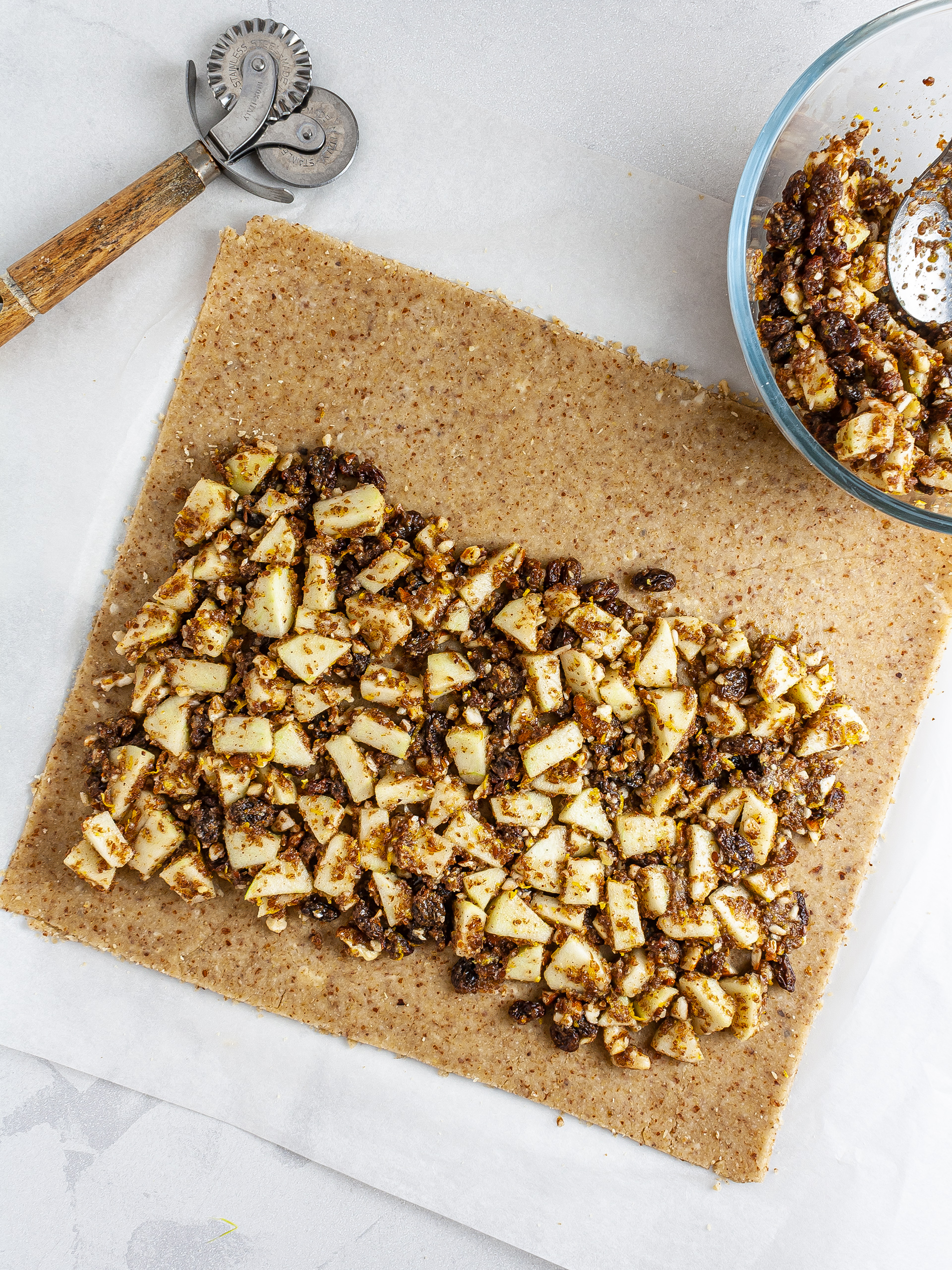 1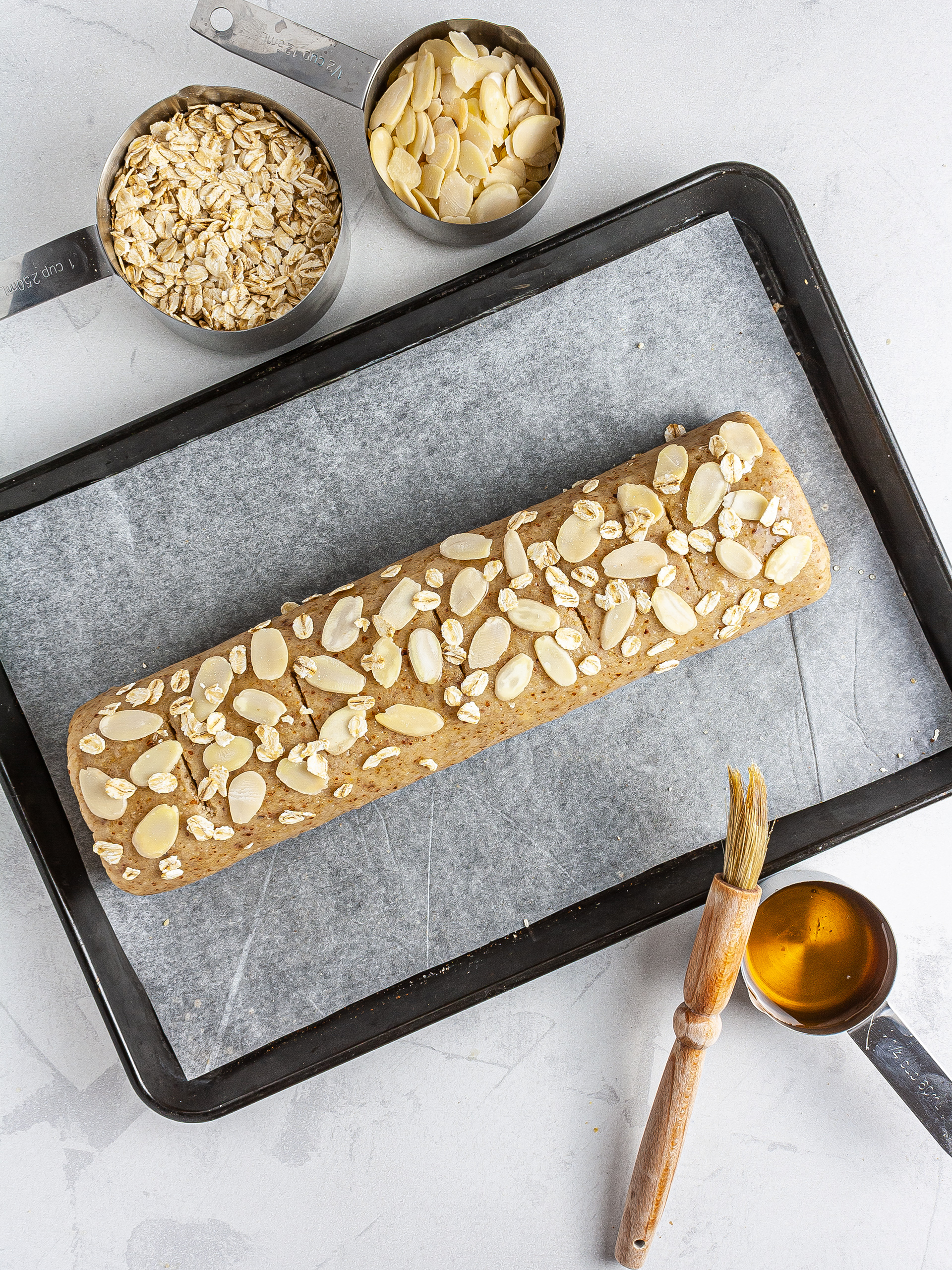 2
Step 5
Bake the strudel for 40 minutes at 180°C (350°F) for static ovens or at 160°C (320°F) for fan ovens.
When the crust is nicely golden, remove from the oven, cut into slices and enjoy while still warm.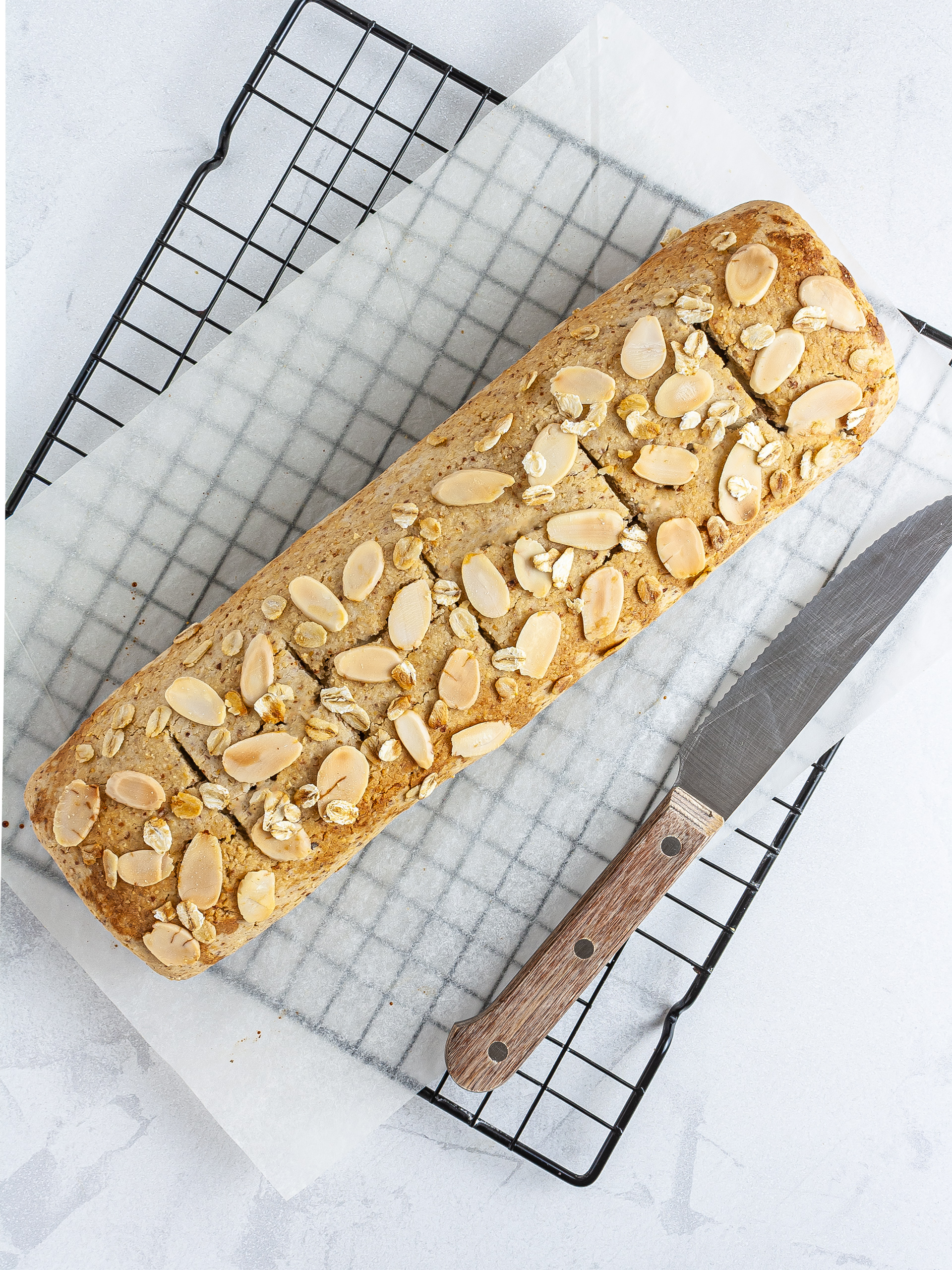 Tips
The classic strudel dough is stretched very thinly and rolled around the filling several times. However, as a gluten-free dough is less stretchy and crumbles more easily, we recommend rolling it just once or twice around the filling.