Our pear turnovers with a creamy date paste are a treat from heaven. We have taken the classic recipe and improved upon it to make healthier and also gluten-free! It is an easy recipe to make, which makes it all the more enjoyable and guaranteed to be loved by kids and adults alike.
One big mission we have at Foodaciously is making our recipes suitable to as many people as possible. We have taken special precautions when designing this recipe to make it ideal for celiacs, people with diabetes, folks on a low sugar diet, and vegans.
We have used gluten-free puff pastry instead of a regular one. It is nowadays quite easy to find gluten-free pastry sheets or phyllo dough at the supermarket.
We have also cut on sugars by using dates instead of refined white-sugars. Dates are a superb alternative to refined sugars. They are naturally sweet but have a low glycemic index (GI) and lots of fibres. Moreover, they are rich in fructose which doesn't raise blood sugar and is not fattening.
Finally, we got rid of milk and eggs used for the "egg wash" and instead used vegan ingredients to give a beautiful gloss to the pear turnovers.
If you love healthy recipes like this, subscribe to our newsletter, and get our newest recipes straight into your inbox as soon as released, plus our free ebook.
Frequently Asked Questions
Can I fry pear turnovers?

You can opt to fry these pear turnovers instead of baking them in the oven. We recommend you stick to our recipe and bake them, to avoid adding unnecessary fats from the frying oil. But we won't judge if you won't! Maybe you want to treat yourself with something ultra-crispy after a hard day at work or to celebrate a special occasion. We are here to help.

To fry them, follow the recipe all the way to step 4 when we put the turnovers in the fridge for 10 minutes. You will need to pay attention to the edges of the turnovers, making sure they don't split open while cooking. For this reason, we suggest you use enough frying oil in the pan to fully cover them so that you won't have to flip them while frying. If you have a deep-fryer, all the better. Alternatively, use enough oil to cover past the seam mark, so that delicate section gets cooked before you have to flip the turnover upside down.

Please keep a close eye on them while frying and take them out as soon as brown all over. Now pat them with a paper towel thoroughly to remove excess oil and allow to cool down on a rack before serving.
What other fruits can I use to make gluten-free turnovers?

People have made turnovers successfully with so many different fruits and ingredients. The possibilities and combinations are endless! Below we suggest some interesting ones that are sure to be a success.

Use apples together with pears. Follow our recipe above and replace 50% of pears with apples. The rest is the same.

Use 50% pears and 50% cranberries or 50% pitted cherries.

Substitute pears with peaches to make peach turnovers.

Use 70% bananas and 30% strawberries, or swap the pears for mango. Try these two variations without using the allspice and the ginger.

Another great addition to the ingredients above is chocolate. Chop chocolate in medium-sized chunks with smooth edges and fit them at the centre of the filling. Eat the pear chocolate turnovers hot and enjoy the melted chocolate heart!

These are just a few options. There are so many ways to make healthy turnovers. Let us know if you find a special one!

If you want to keep them gluten-free and vegan, pay attention to any ingredients you introduce and remember to buy gluten-free and dairy-free puff pastry!
Can I make turnovers without using pastry sheets?

If you don't have puff pastry, you can still enjoy these pear turnovers by either making the puff pastry yourself, or by using shortcrust pastry, or "pie crust". Shortcrust pastry is what you use in pies and cakes. It's easier and quicker to prepare from scratch than puff pastry.

There are many ways to make shortcrust pastry at home. Please take a look at one of our pie recipes for step-by-step instructions on how to make vegan and gluten-free shortcrust pastry.

You want to flatten the pie dough as much as possible and cut it into squares. Next, fill each square with the pears and dates blend, and fold it over to form a triangle. Then cook it in the oven for 35 minutes in a preheated oven at 170°C (338°F) or 150°C (302°F) for fan ovens until the crust is golden and crisp.

Note: The hardest part will be folding and shaping. You see, gluten-free and egg-free dough is very crumbly and doesn't stretch much. So you will have to be very delicate when trying to shape the dough into turnovers. Keeping the dough a bit thicker may help you succeed with more ease. Alternatively use classic shortcrust pastry made with butter and eggs, which is much more stretchy, if you can.
Ingredients
For the Filling
Dates

80 g

Water

50 mL

Pear

2

Cinnamon

1/4 tsp

Ginger

1/4 tsp

Allspice

1/4 tsp

Lemon Zest

1 tsp

To Glaze
Almond Milk

2 tbsp

Maple Syrup

1 tsp

Others
Gluten Free Puff Pastry

320 g
Step 1
Let's start by blitzing the pitted dates with water in a food processor until you have a smooth paste.
The date paste shouldn't be too runny, or it will make the pastry soggy when baking.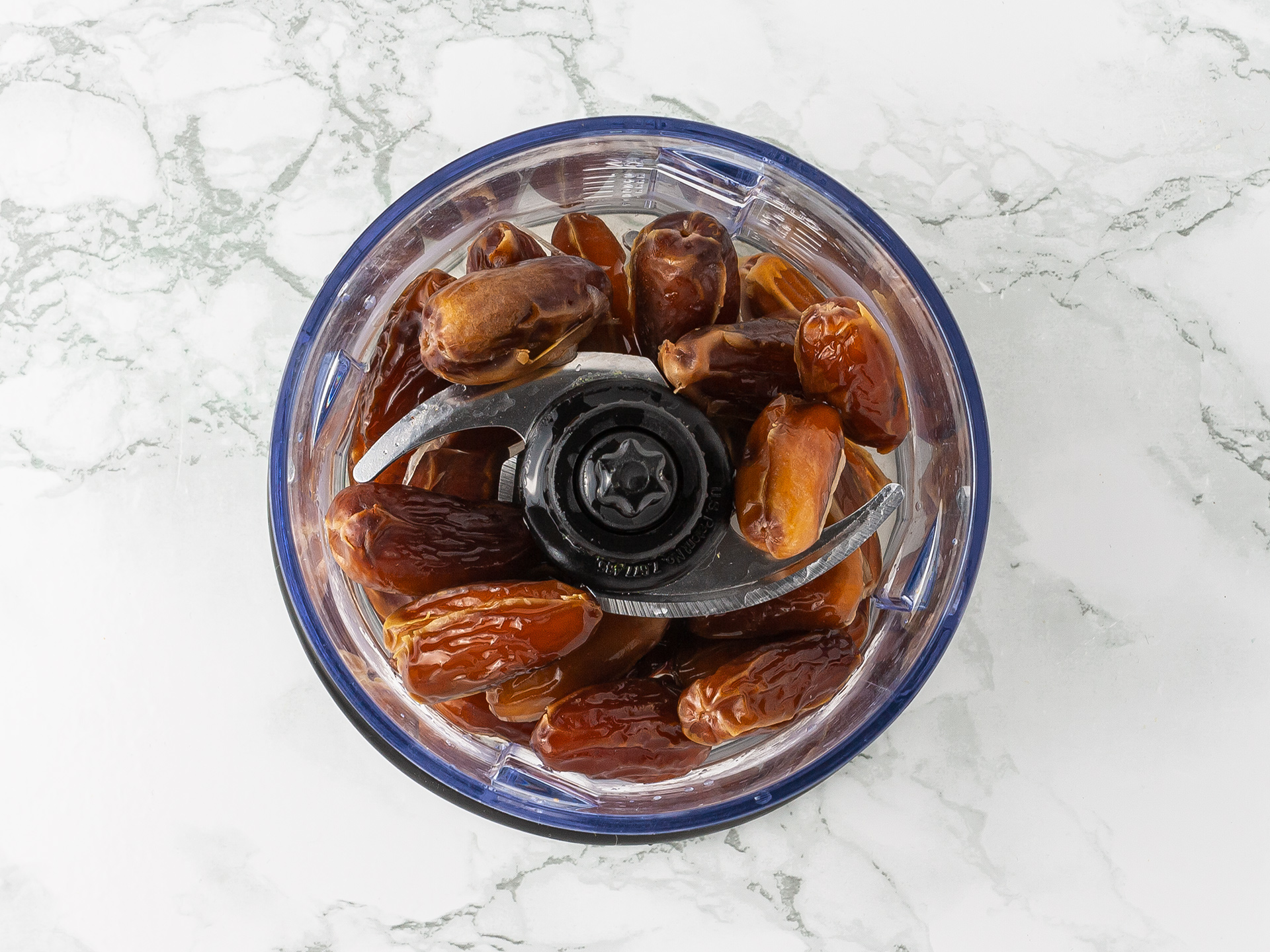 Step 2
Next, peel, core, and finely dice the pears.
Then, in a mixing bowl combine the blended dates, chopped pears, cinnamon, ginger, allspice, and lemon zest.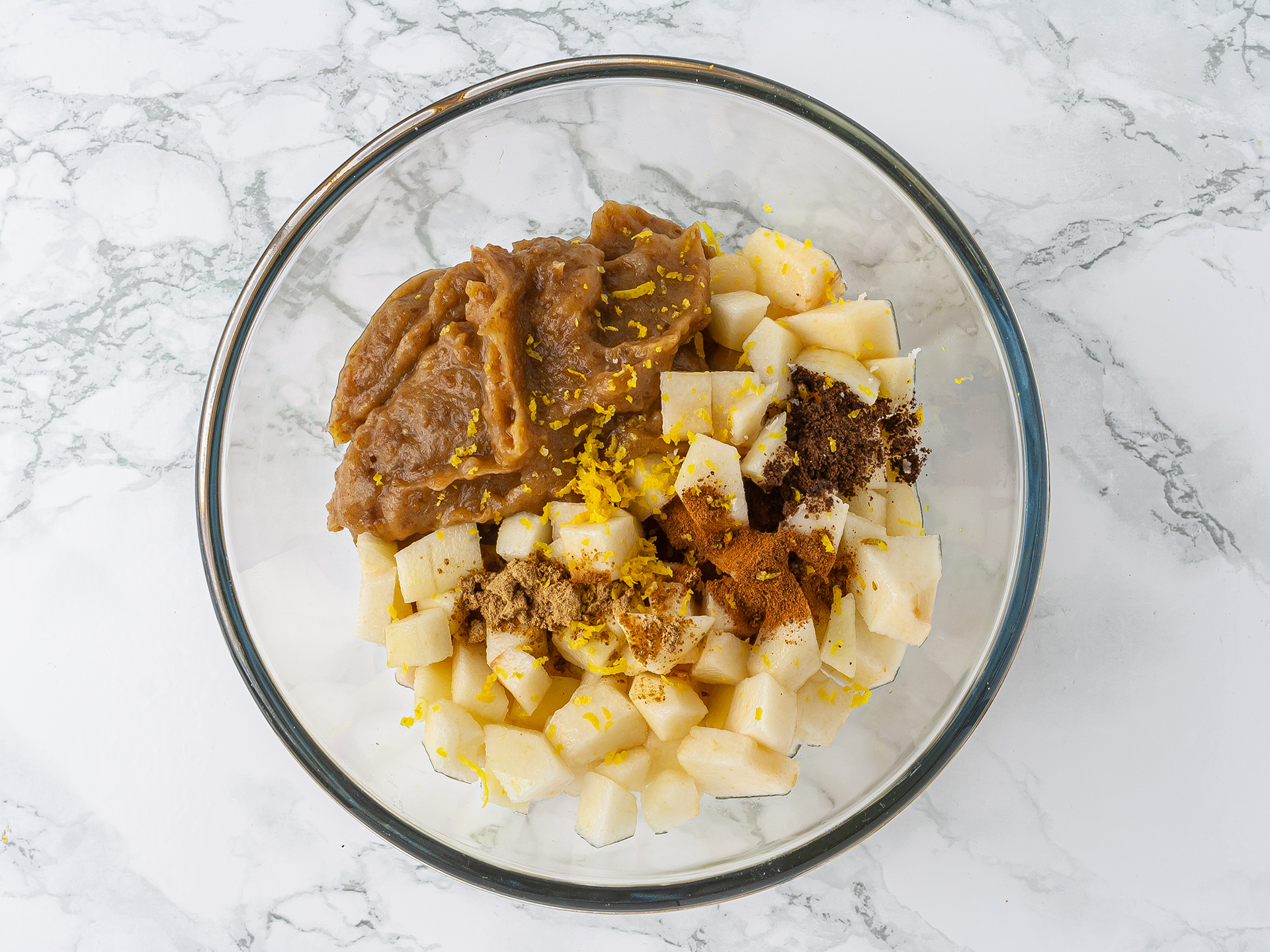 Step 3
Roll out the puff pastry and, with the help of a dough wheel cutter, cut out as many squares as the number of servings.
Next, add two tablespoons of pear filling to the centre of each square, brush the edges with water, and then fold the dough to form a triangle.
Use the tines of a fork to seal the edges of the pastry to prevent the filling from oozing out during baking.
Make three slits in the centre of the pear turnovers. Without these cuts, the inside would get too soggy, and the turnover would swell excessively.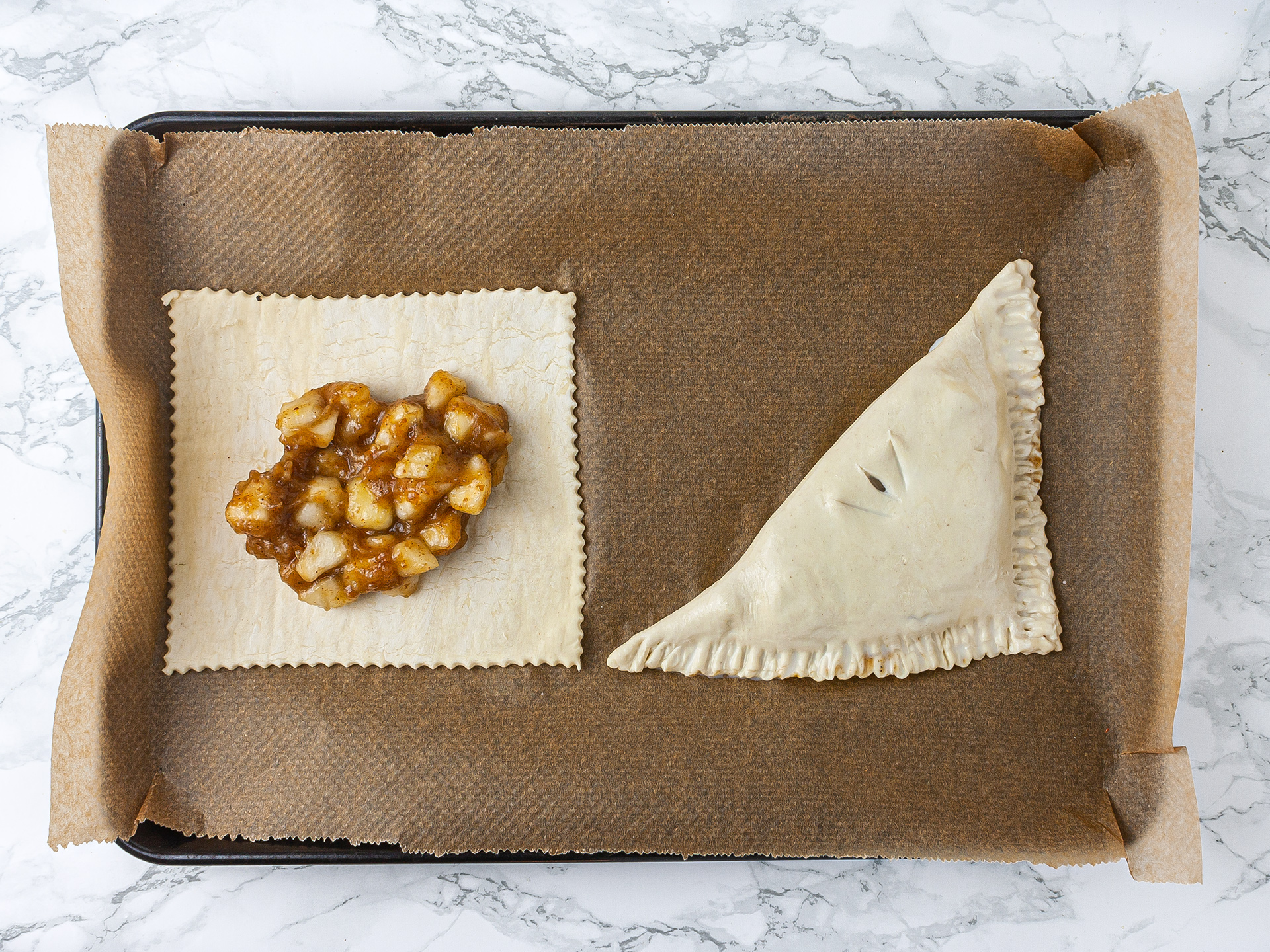 Step 4
Brush the pastries with a vegan "egg wash" made with almond milk and maple syrup to give them a glossy finish.
Let's refrigerate the pear turnovers for 10 minutes before cooking, to make the dough flaky. Proceed with baking them for 25 minutes at 200°C (400°F) or 180°C (355°F) for fan ovens.
When the pastries are brown all over, transfer them onto a wire rack to cool down.
You can enjoy this delicious pear dessert hot right out of the oven or on a later day. It will keep well in the fridge for up to four days. If you want to warm up the turnovers, we suggest you don't use the microwave as it will make them soggy.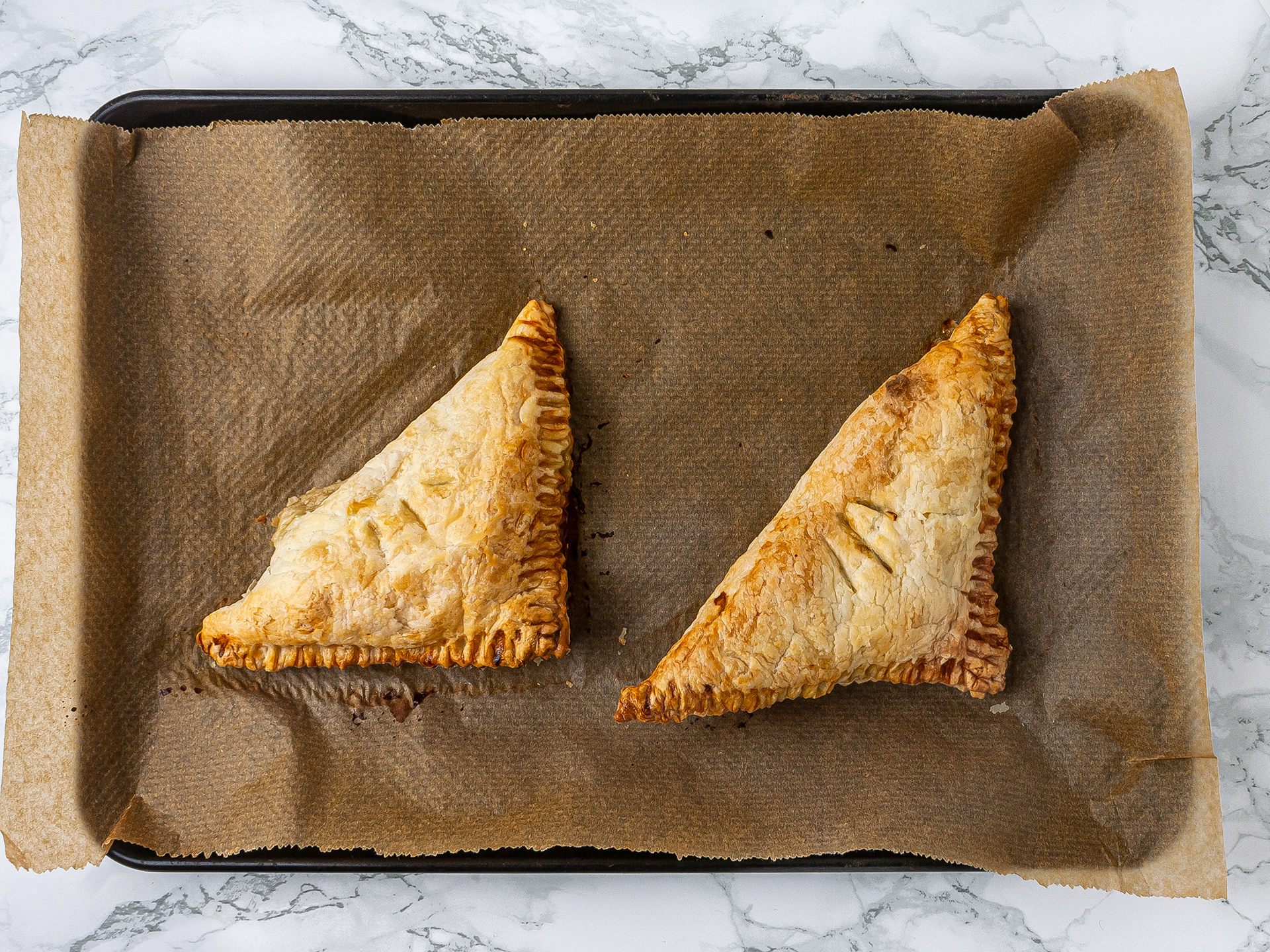 Tips
Add cocoa powder or chocolate chips to the pear filling for extra flavour.

Before serving sprinkle the pear turnovers with toasted oat flakes and dusted cinnamon.