Whether you are under a cold or flu, or simply looking to feel more vital and energetic, few things are as helpful as a nutritious immune boosting smothie.
We have developed this vegan Banana Almond Milk Smoothie with Immune Boosting Goji Berry using a combination of the healthiest and and most powerful ingredients, so that with a few sips you can shine through the daily obstacles!
Thanks to the perfect combination of vitamin-rich fruits like Goji berry, orange, this superfood smoothie has powerful antioxidants that combat inflammation and stress in the body, helping you to feel better and stronger. These include:
Vitamin C, with almost 70% of the RDA

Vitamin A, with over 100% of your RDA

Vitamin E

Vitamin B2, which helps the body break down carbohydrates, proteins, and fats to produce energy

Iron, which helps to combat fatigue and make you feel more energetic
To satisfy your sweet tooth without the fats that come with it, we've added a splash of agave nectar, a natural plant-based sweetener. We love agave nectar because it has a low glycemic index (GI) which prevents spikes in blood sugars after eating and keeps hunger at bay.
So get your blender and blitz yourself a glorious smoothie! Oh, and if you do enjoy recipes as healthy as this one, why not subscribing to our newsletter and receive two new ones every week? It's free!
Ingredients
| | |
| --- | --- |
| Goji Berry | 60 g |
| Orange | 120 g |
| Bananas | 100 g |
| Agave Nectar | 2 tsp |
| Almond Milk | 250 mL |
| Bee Pollen (optional) | 1 tsp |
Step 1
Soak the dried Goji berries (1) in water for 10 minutes until they become soft (2).
Drain the water and transfer the Goji berries in a food processor bowl.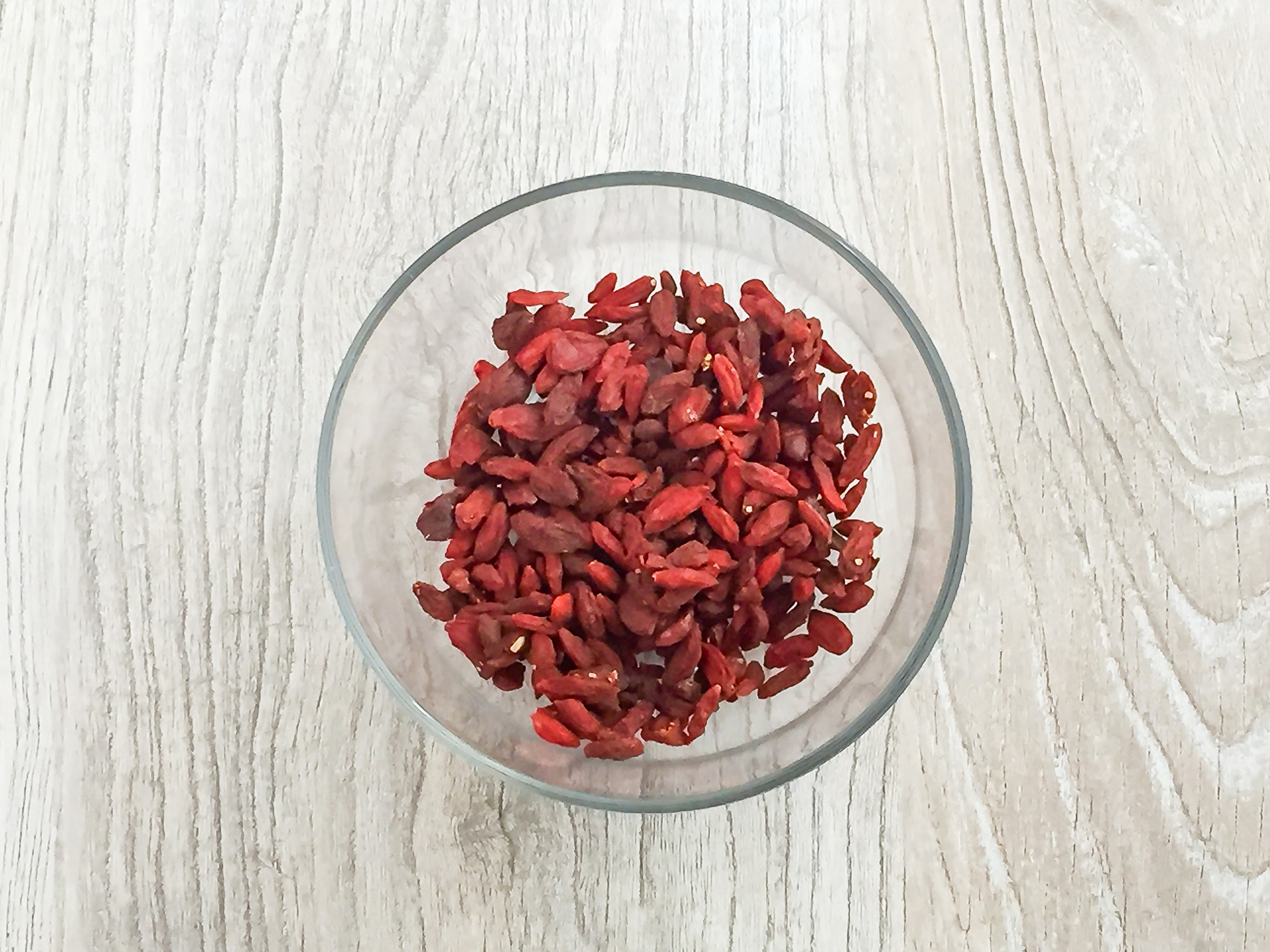 1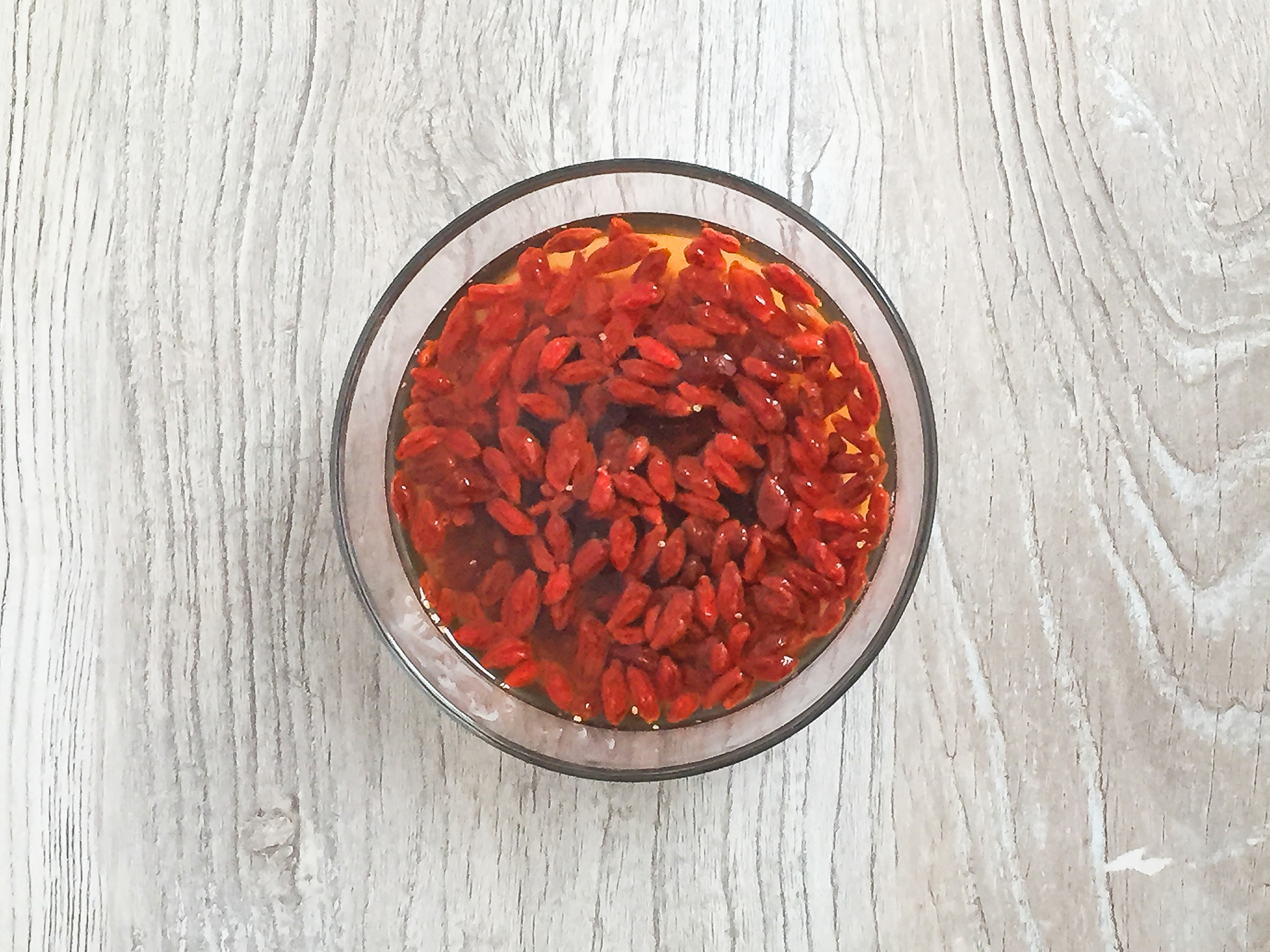 2
Step 2
Peel the oranges, removing the pith, and chop into cubes.
Peel the bananas and slice them into chips.
Add the fruit to the food processor bowl and stir in the agave nectar.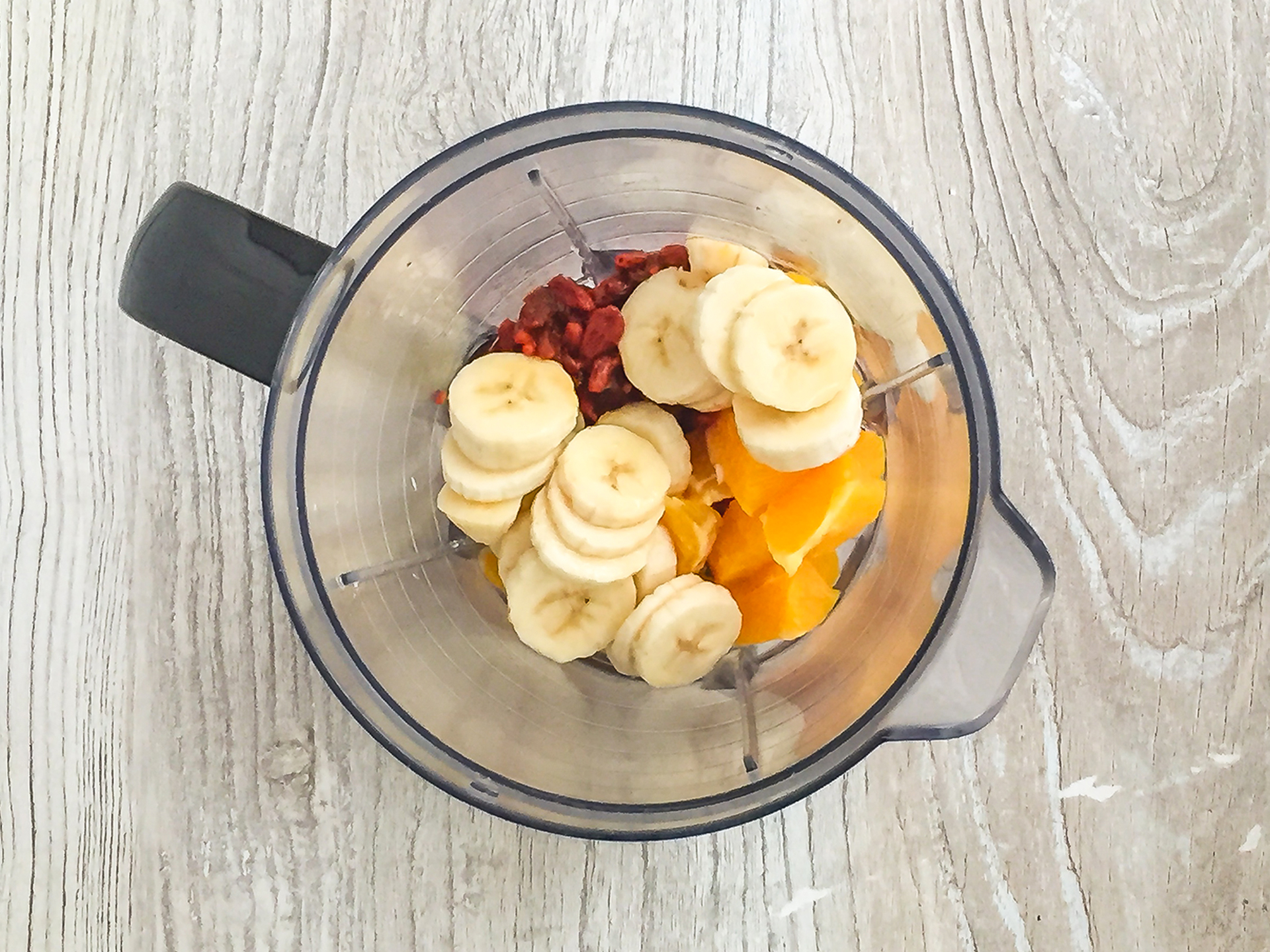 Step 3
Add the almond milk and blitz all the ingredients until smooth (1).
Pour the goji berry smoothie in a serving glass or jar and sprinkle with dried Goji berries, orange zest, and bee pollen, if desired (2).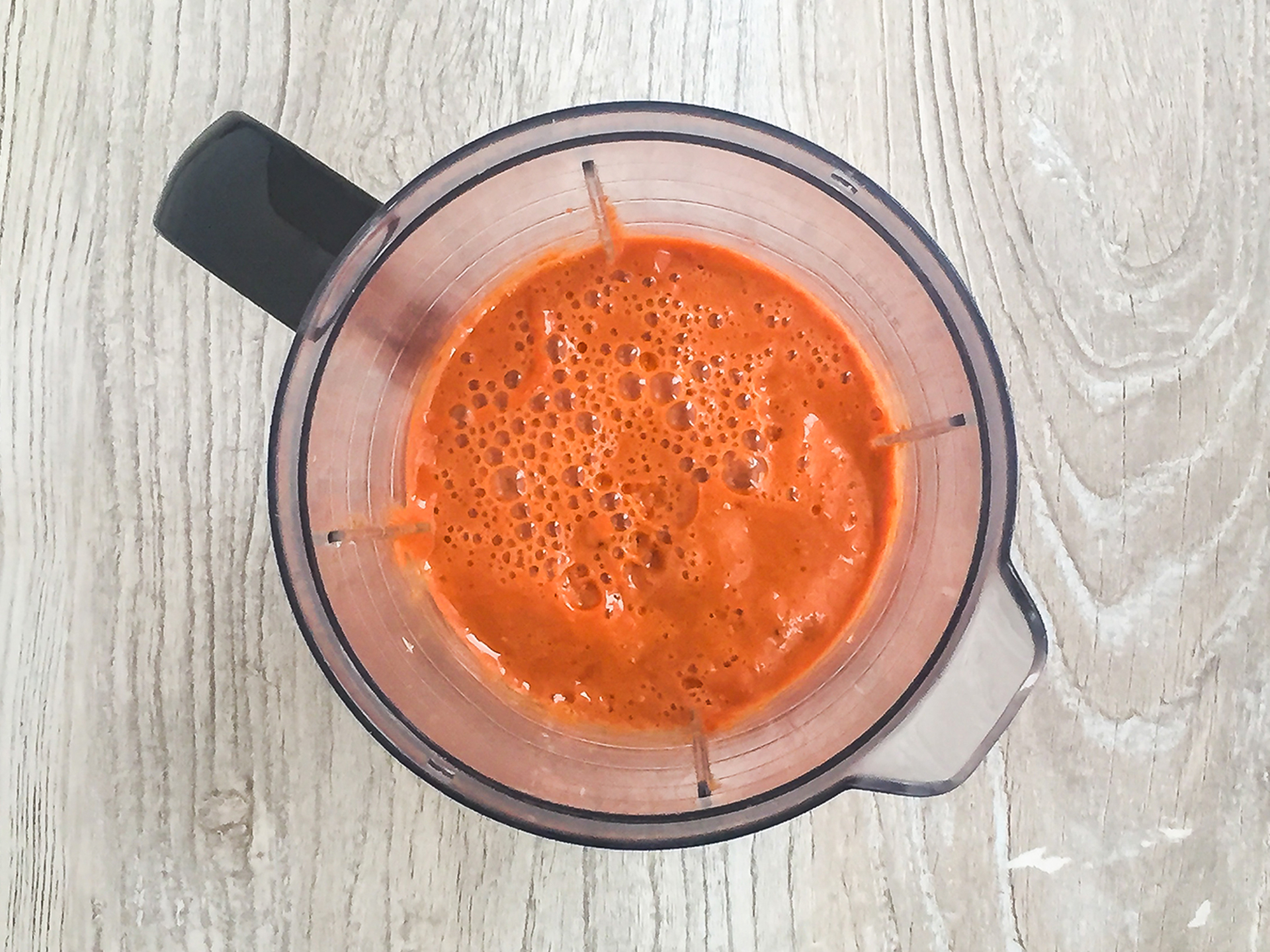 1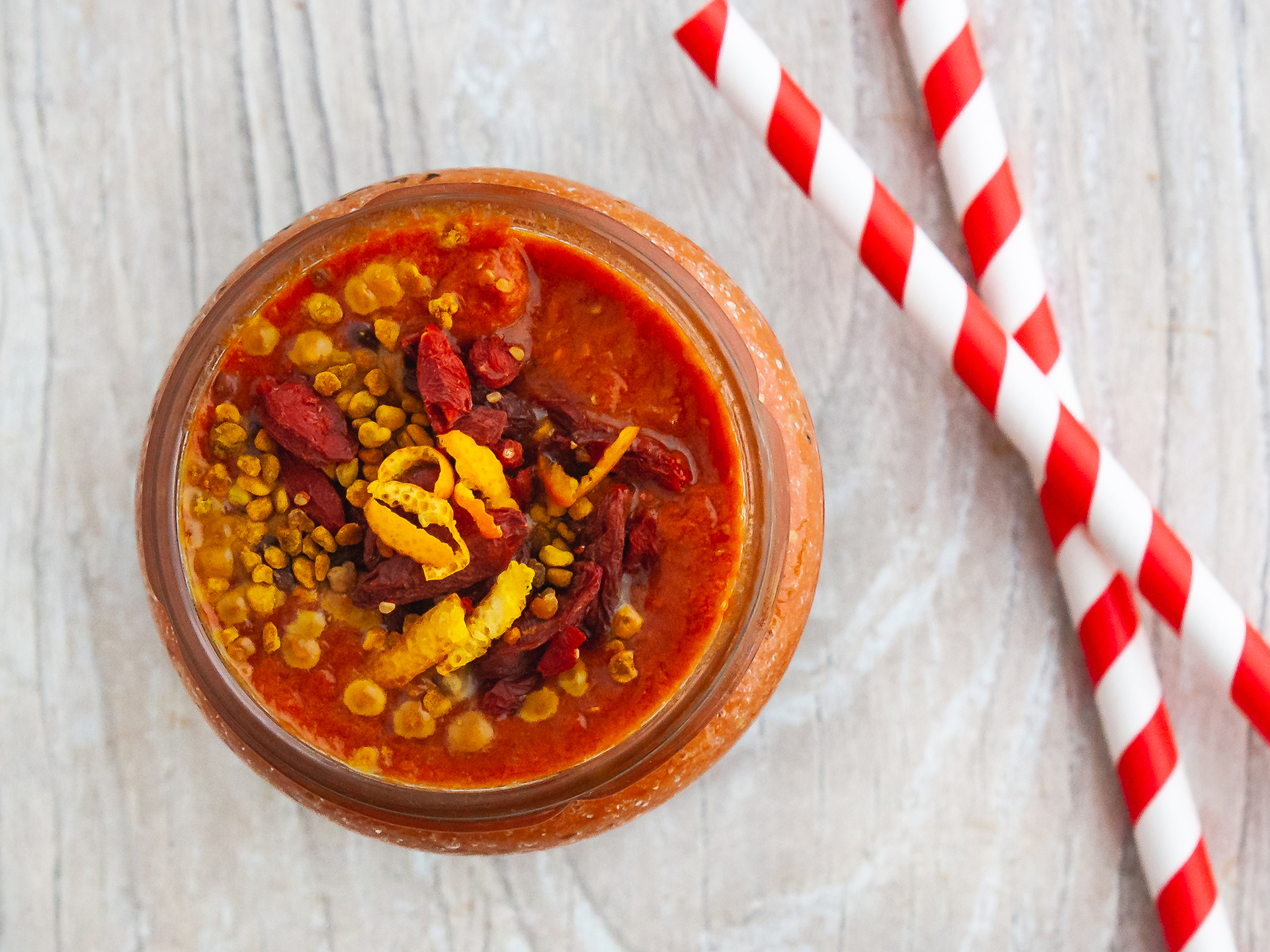 2
Tips
If you are not vegan, to boost the amount of protein in this Goji berry smoothie, replace half the almond milk with plain Greek yogurt. It will be even creamier!

For a tangy finish, add a pinch of ginger powder to the other ingredients in the food processor bowl.