If you're looking for inspiration for your next breakfast porridge, we have a brand new recipe for you: Haitian oatmeal. It's rich and creamy, with delicious tropical flavours and earthy spices. Let us show you how to do it!
To design this recipe, we started from traditional Haitian oatmeal recipes and added a few tasty ingredients used in Caribbean cuisine. This way, the porridge will be super yummy and also have the right balance of whole grains, fruit, and proteins to start the day right.
We cooked jumbo rolled oats with coconut milk drink and a mix of star anise, cinnamon, and nutmeg. Once thick and creamy, we served the oatmeal with diced papaya, toasted cashews, and a drizzle of maple syrup. The result is a delicious bowl with a unique contrast of fresh and earthy, hot and cold, soft and crunchy ingredients.
Classic Haitian oat porridge, known as labouyl avwan in Haitian Creole, usually includes whole milk, condensed milk, sugar, spices, and sometimes butter. While we kept the traditional spice blend, we decided to swap the other ingredients with healthy, plant-based alternatives.
We replaced cow's milk with coconut milk drink (not the tinned one), which is lower in fats, gives creaminess, and adds a tropical flavour that suits the recipe perfectly. Then, we omitted the butter and swapped refined white sugar with maple syrup, which has 40% fewer sugars.
Papaya and cashew nuts balance the porridge with vitamins, minerals, proteins and healthy fats. Also, they're staple ingredients in Haitian cuisine and easy to find. Now that you how tasty and healthy this porridge is, it's time to get your cutest breakfast bowl ready and get started!
Ingredients
Oatmeal
Coconut Milk Drink

380 mL

Jumbo Rolled Oats

60 g

Ground Cinnamon

1/2 tsp

Ground Nutmeg

1 pinch

Star Anise Pods

2

Toppings
Ripe Papaya

1

Toasted Cashews

20 g

Maple Syrup

to taste
Step 1
Add coconut milk drink, rolled oats, ground cinnamon, nutmeg, and star anise pods to a pot.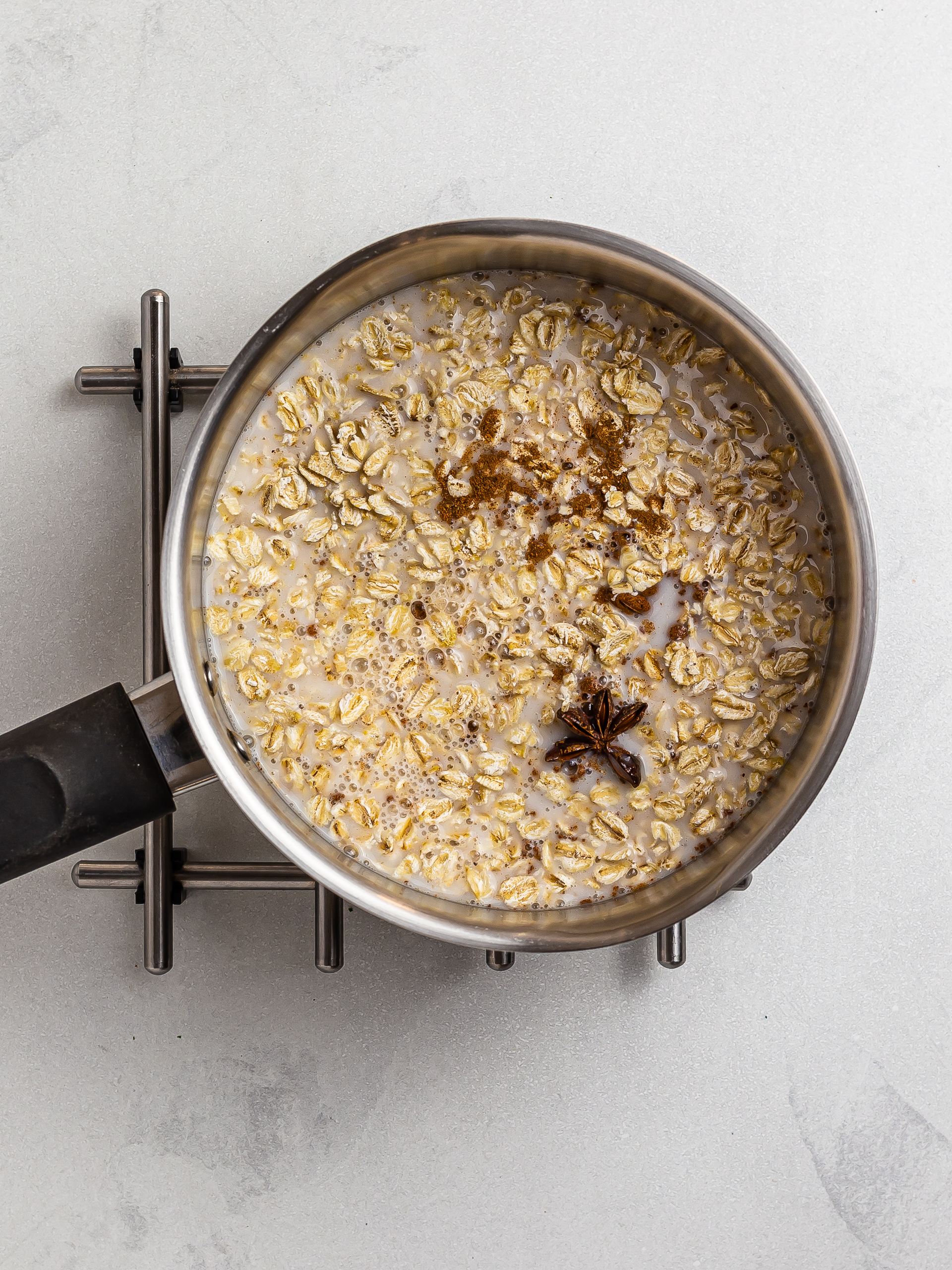 Step 2
Mix well and bring the milk to a boil.
Then, simmer the oatmeal for 5 minutes while stirring to prevent the oats from getting stuck to the bottom of the pan and burn.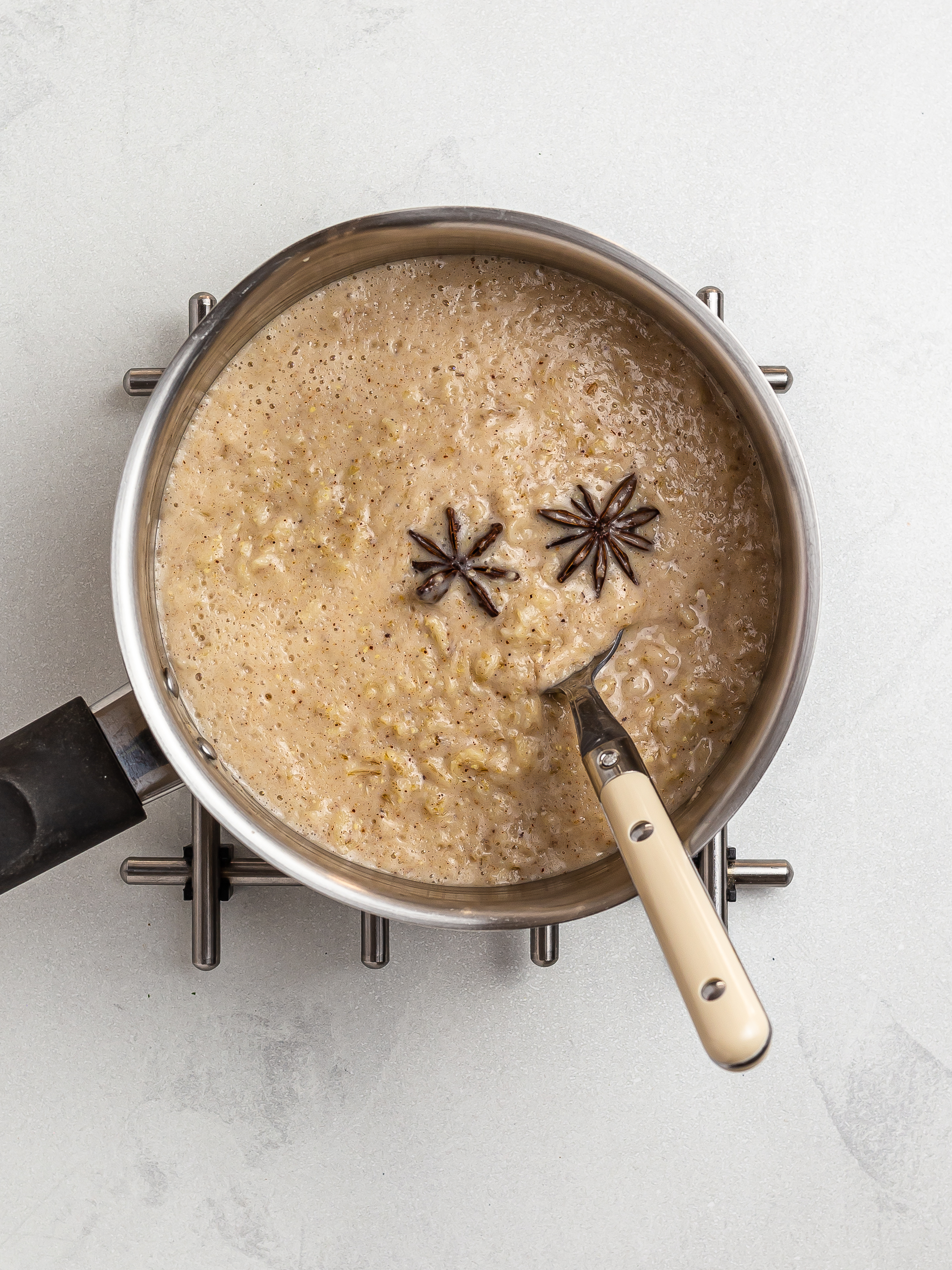 Step 3
Once the porridge is thick and creamy, remove the star anise and divide the oatmeal among serving bowls.
Top it with diced papaya, toasted cashews, and drizzled maple syrup.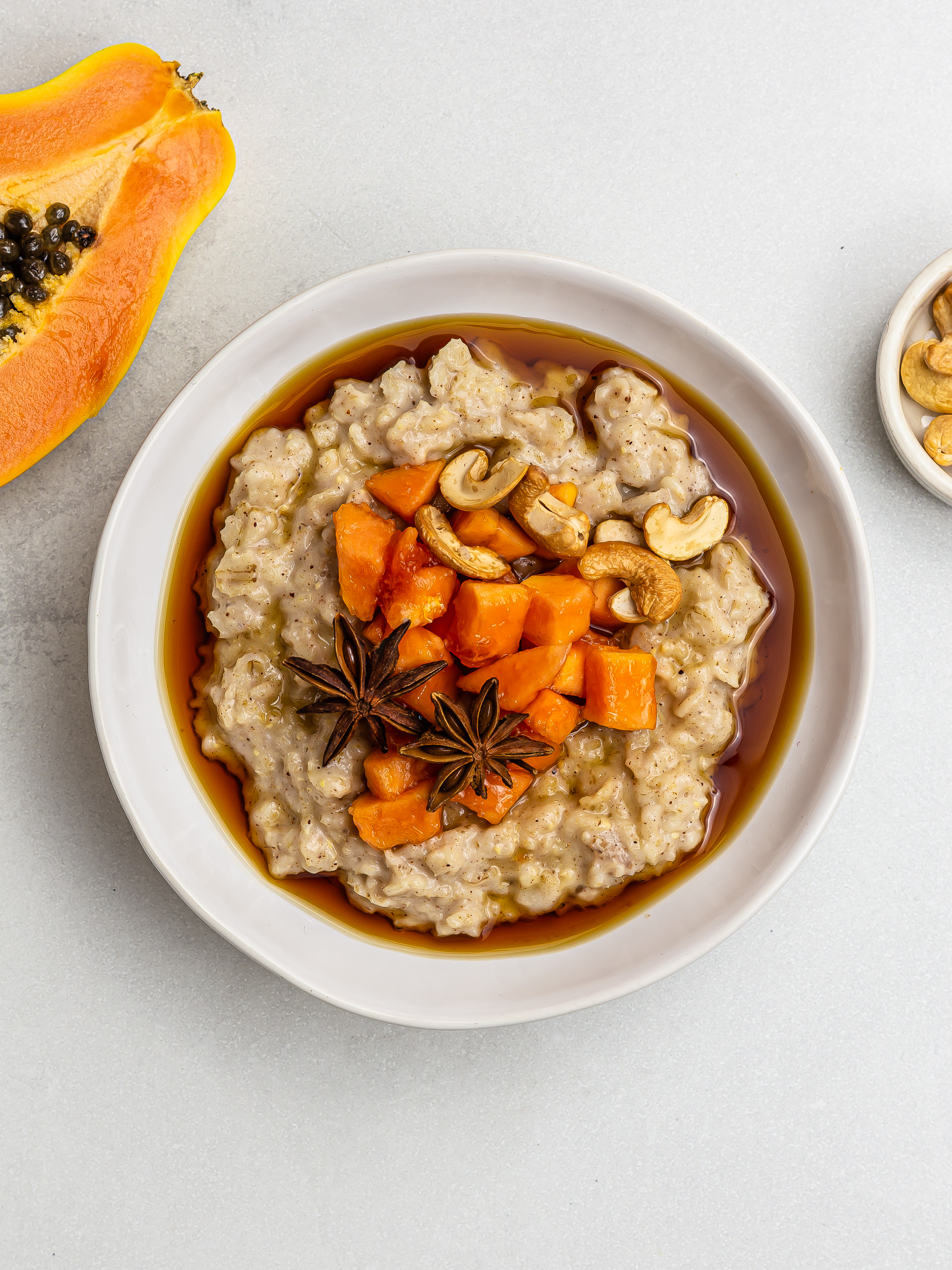 Tips
You can use oat milk, soy milk, or almond milk instead of coconut milk drink.

If you can't find papaya, you can use other Caribbean fruits like mango, passion fruit, or bananas.