Here's a super simple recipe for you: Japanese Garlic Fried Rice.
You can have it as a tasty side dish paired with other Japanese or Asian-flavoured dishes or as a main course.
In the recipe below, we'll cook rice using a technique similar to that used for sushi. Then we'll stir-fry it in a rich garlic base with tasty Japanesey ingredients, like shiitake mushrooms and edamame beans. For extra garlicky flavour, we'll top the dish with thin slices of garlic crisped to perfection.
We didn't use any butter in the stir-fry, so the recipe is fully vegan. As such, it is more suitable for a weight-loss diet, thanks to the lower fat content and a higher amount of fibres from the extra veggies.
The mushrooms and the beans add in a good amount of proteins, making this dish more nourishing than the traditional plain garlic rice. That's why if you make a bit more, you can have this as a main course.
In fact, one full bowl gives you 21% RDI for carbs, 30% RDI for fibres, and 38% RDI for proteins. Add a piece of fruit, and you've got a solid meal right there!
We had fun making this recipe, and hope you will too. Follow the instructions below and enjoy.
Frequently Asked Questions
Can fried rice be frozen?

Yes, you can surely freeze fried rice. Transfer any leftovers in freezer-friendly containers or zip-lock bags and store them for one to two months. You can divide the rice into single-serving sizes and then defrost only what you need.

When you're ready to eat, warm up the garlic rice in the microwave or a skillet.

We recommend heating it in a non-stick pan with little oil to bring back the crispiness of the fried rice. Warming it up in the microwave, instead, will yield a softer consistency.
Which ingredients are used in Japanese fried rice?

Japanese fried rice is one of those dishes meant to use up any leftovers you have in the fridge. Therefore, common ingredients include refrigerated steamed rice, eggs, ham, carrots, and chicken pieces.

The rice is then fried in a pan with simple seasonings like salt, pepper, soy sauce, and parsley.

When we designed our recipe, we wanted it to be a healthy and vegan option to the classic dish, yet full of Japanese-inspired flavours.

Thus, we paired sticky rice with meaty shiitake mushrooms and sweet edamame beans for a boost of fibres and plant-based proteins. Then, we used sesame oil, crispy garlic, soy sauce, and rice vinegar to season the rice with mouthwatering flavours.
Can fried rice be healthy?

Fried rice can be not-so-healthy when made with a lot of oil and added fats like butter, ham, and eggs.

The good news is that, when you prepare it yourself from scratch, you have complete control over the ingredients and their quantities. Therefore, you can surely transform it into a diet-friendly dish.

In our recipe, we have used just 1/2 tbsp of oil per person, and we have replaced classic ingredients with healthier options such as shiitake mushrooms and edamame beans. They're are low in fats and pack plenty of proteins and fibres. Pairing rice with beans helps to slow down the digestion and absorption of nutrients. This way, your body has more time use up the calories you have introduced rather than storing any excess as fat right away.

When you stir-fry the rice with little oil and pair it with fibre-rich ingredients, the calorie count decreases and you'll feel satiated and full for longer.
Ingredients
| | |
| --- | --- |
| Short-Grain Rice | 280 g |
| Water | 335 mL |
| Sesame Oil | 2 tbsp |
| Large Garlic Cloves | 4 |
| Edamame Beans | 320 g |
| Shiitake Mushrooms | 320 g |
| Gluten-Free Soy Sauce | 1 tbsp |
| Rice Vinegar | 1 tbsp |
| Spring Onions | to taste |
Step 1
Let's start by cooking the Japanese-style rice.
Rinse and drain the rice a few times or until the water runs clear.
Then, add it to a pot along with the given water and allow the rice to soak at room temperature for 10-20 minutes.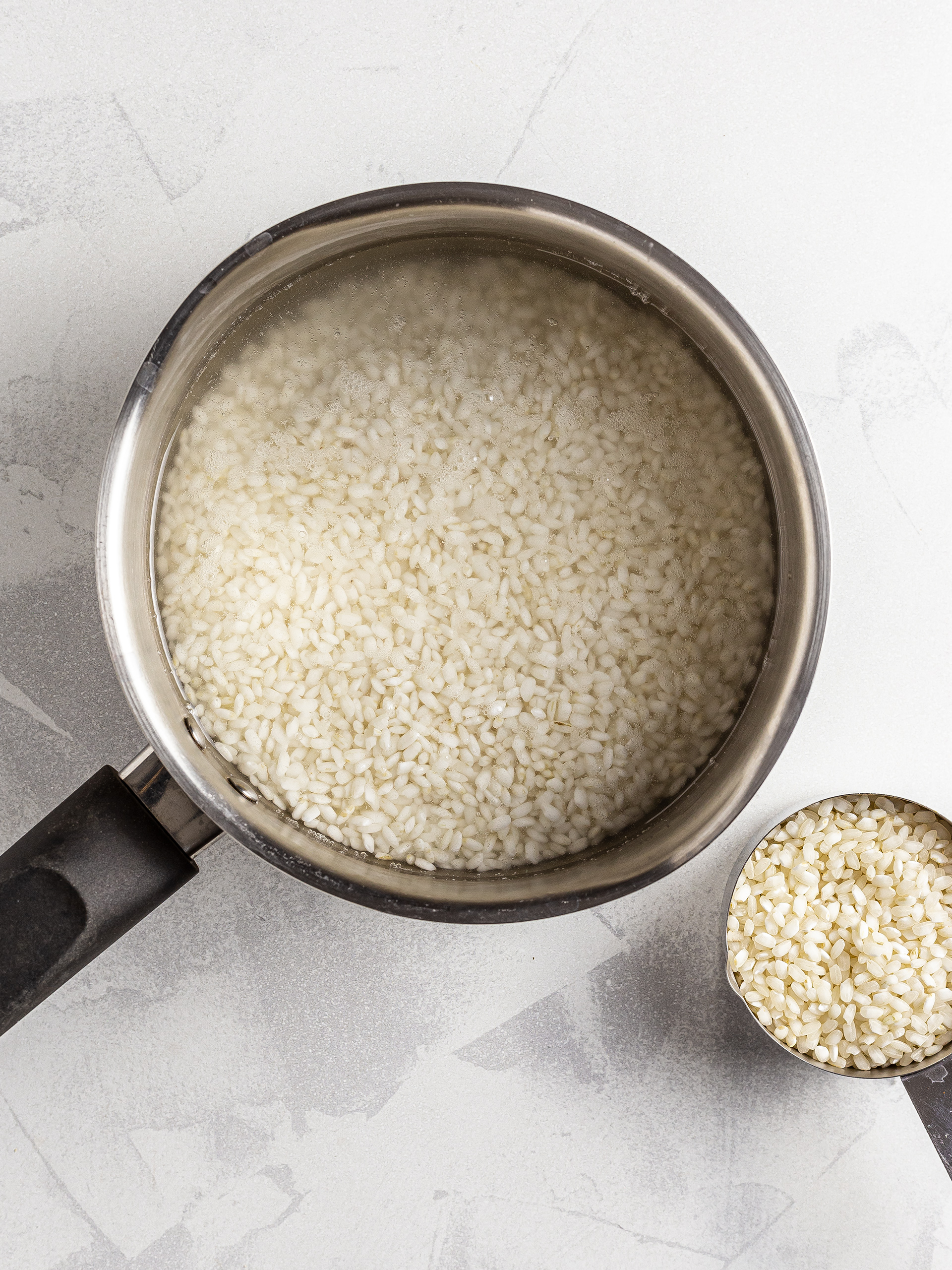 Step 2
Bring the water to boil and then simmer the rice covered for 10 minutes over low heat.
Once the water has reduced, turn off the heat.
Now, leave the rice to steam inside the pot with the lid on for a further 10 minutes.
For perfect results, make sure you always keep the lid on and avoid stirring the rice.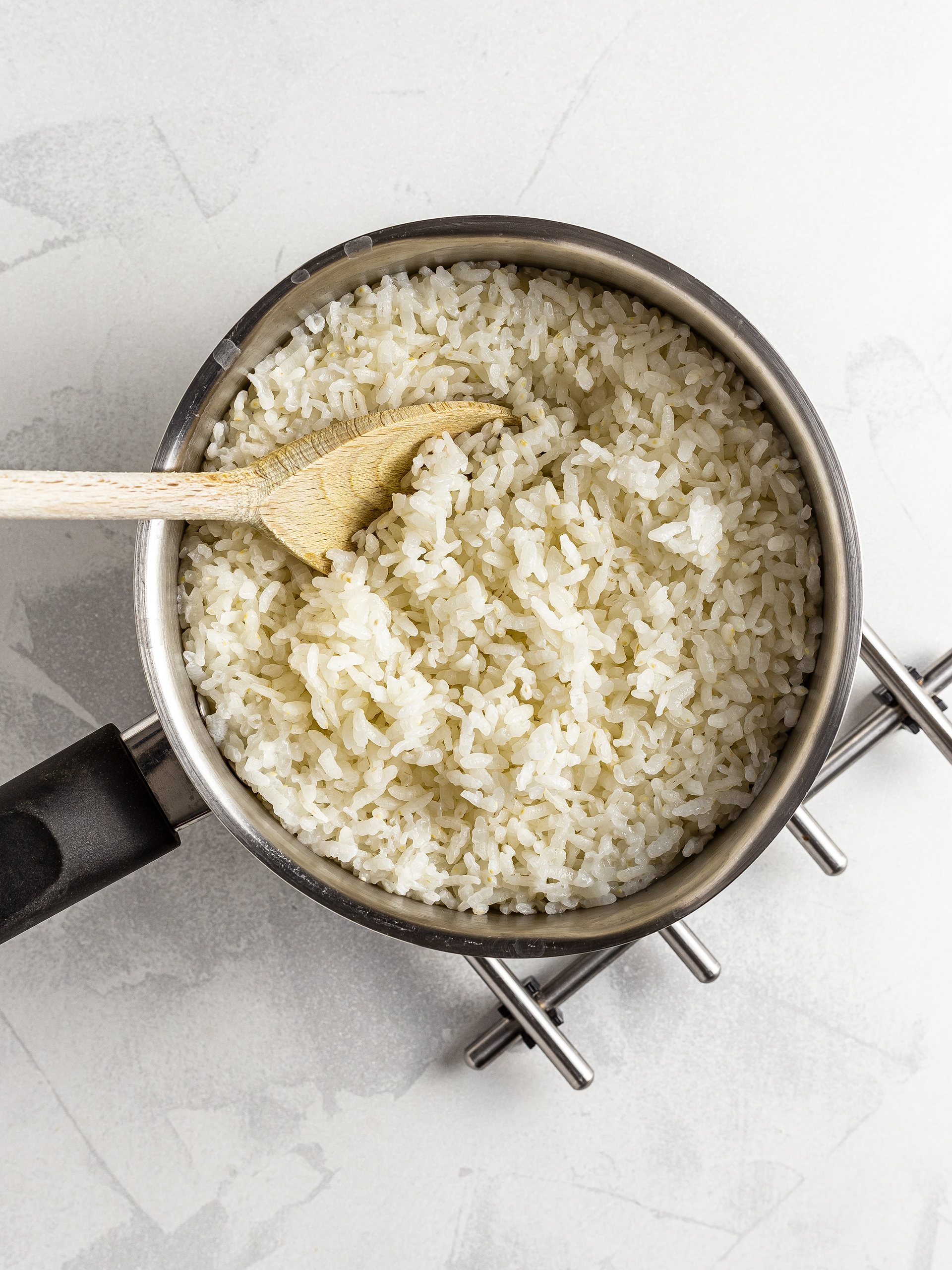 Step 3
Meanwhile, heat the sesame oil in a non-stick skillet and then add crushed garlic.
Sizzle the garlic for a minute or until it's lightly browned and fragrant (1).
At this point, you can also fry a few slices of garlic to use for garnishing. To do so, thinly slice a garlic clove and sizzle the slices in oil until golden. Then, transfer them onto a plate lined with kitchen paper to drain and crisp up.
Next, tip in diced shiitake mushrooms and edamame beans and cook them for 8-10 minutes, while stirring (2).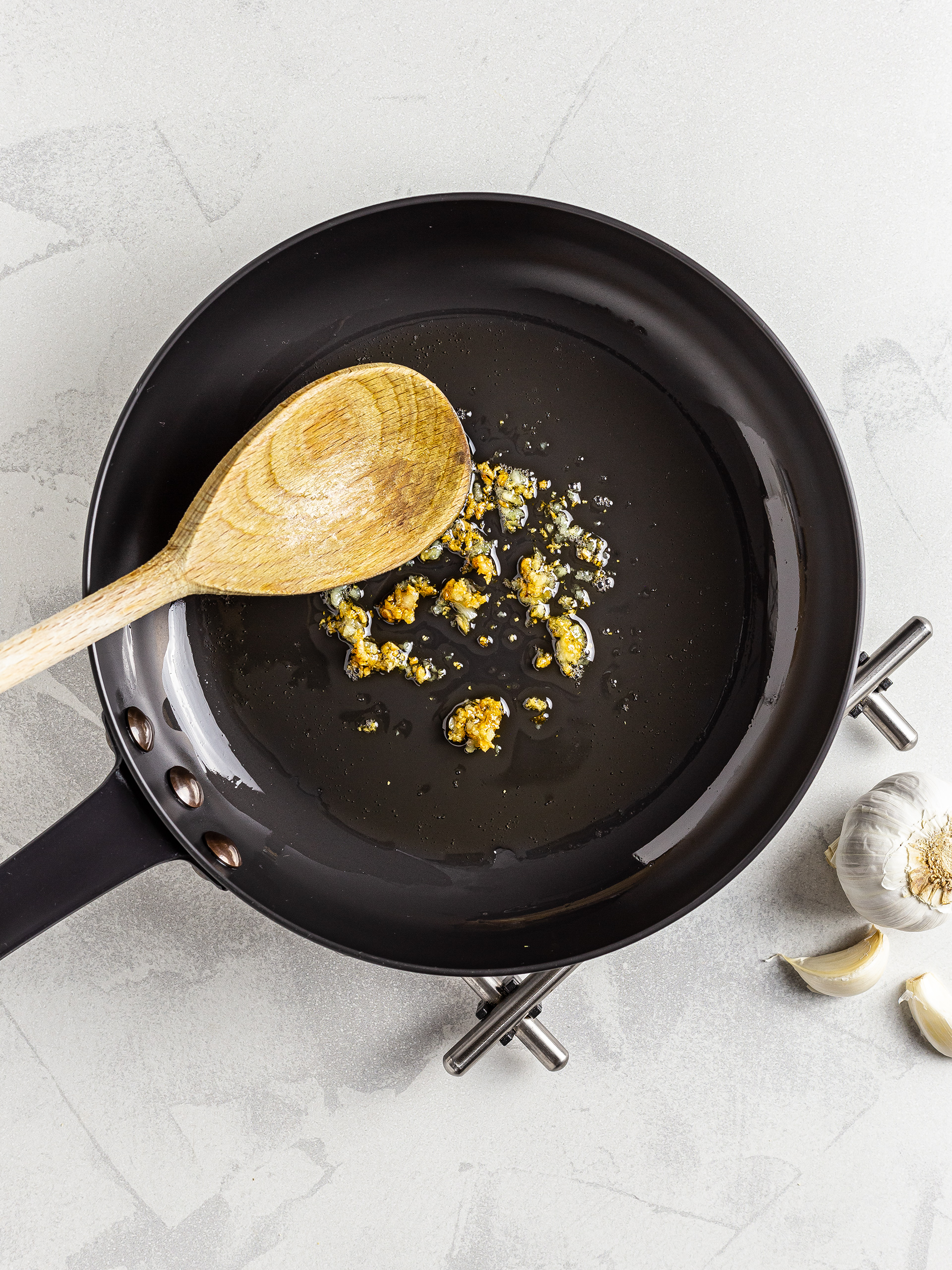 1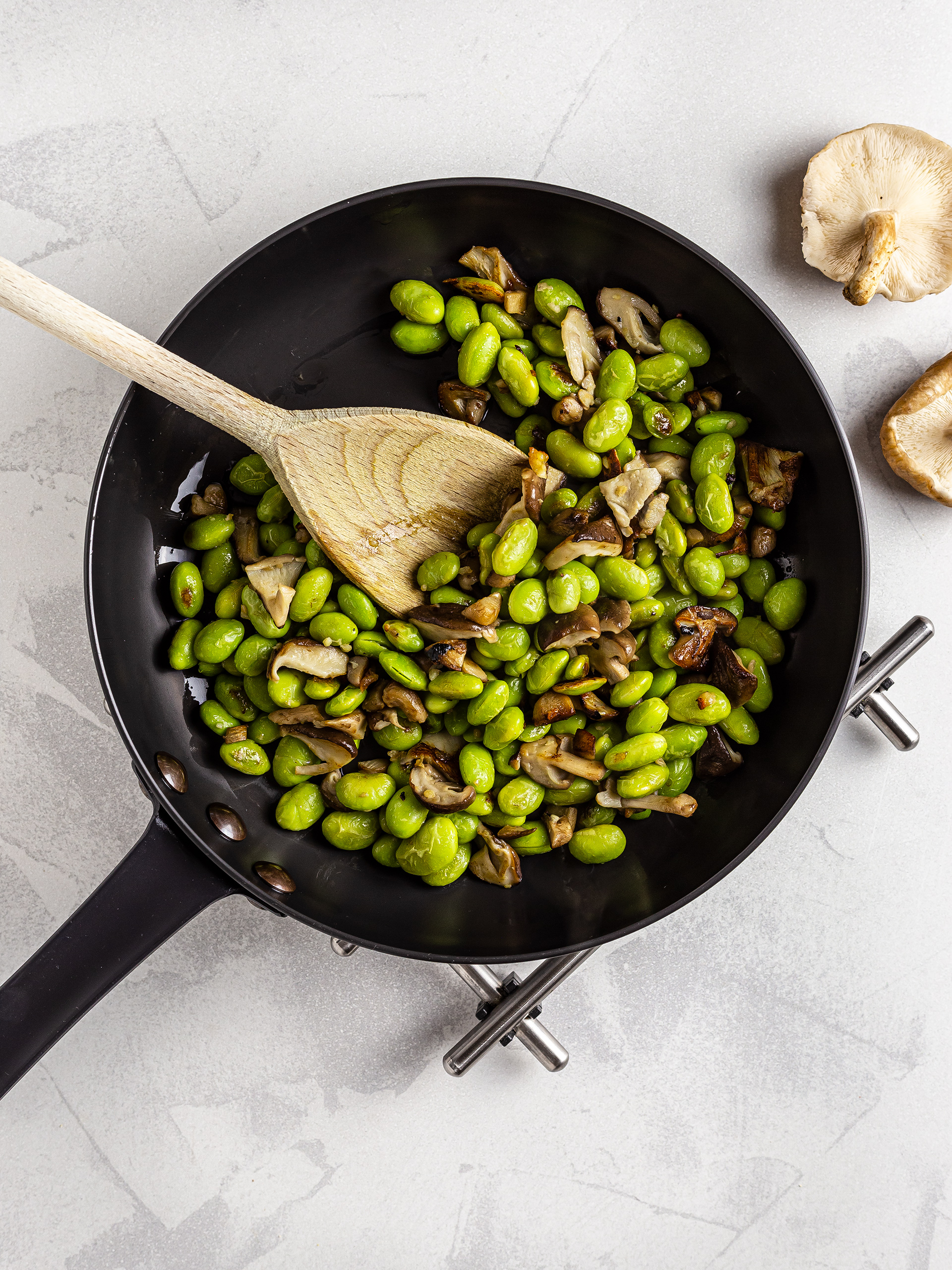 2
Step 4
When the rice is ready, briefly fluff it with a wooden spoon and then add it to the skillet with the mushrooms.
Stir-fry for 5 minutes and break down any rice lumps with a wooden spoon or spatula.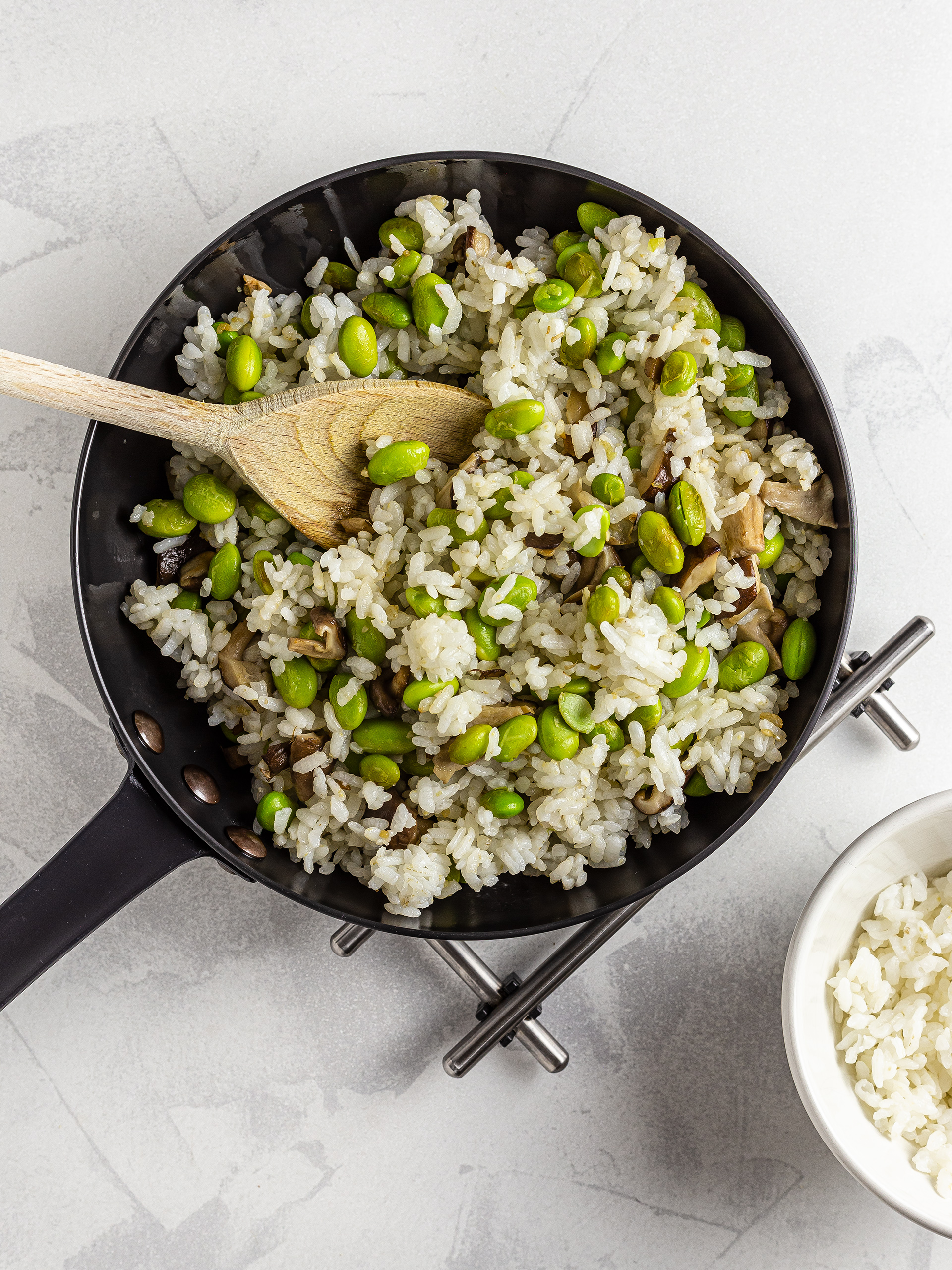 Step 5
Finally, add the soy sauce, rice vinegar, and chopped spring onions, and then season with salt and pepper to taste.
Keep frying the rice and vegetables over medium heat until the rice is evenly coated with the soy sauce.
Serve the stir-fried rice warm topped with the crispy garlic slices.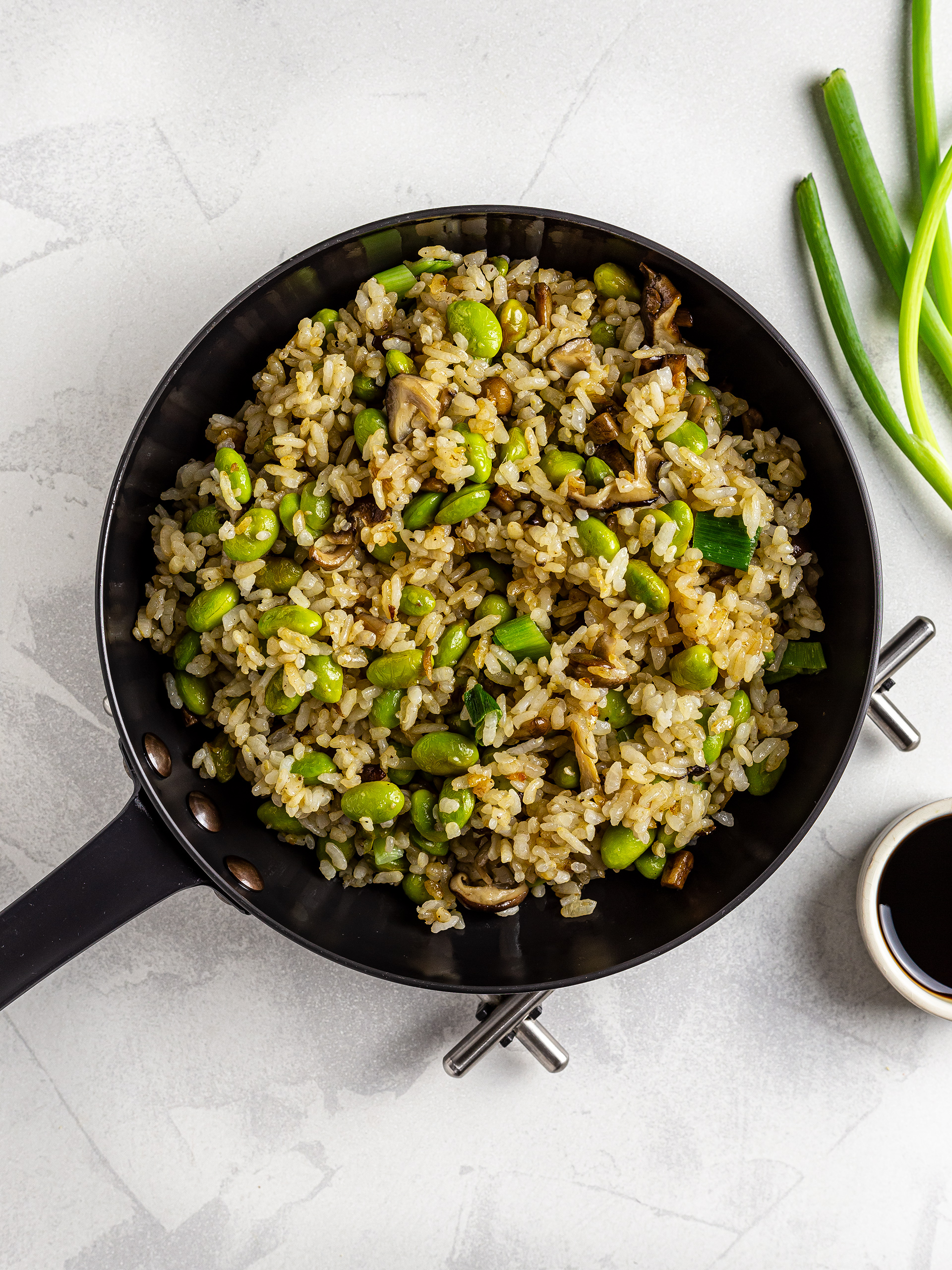 Tips
You can replace rice vinegar with apple cider vinegar or lime juice.

Store any leftover rice in an airtight container for up to 3-4 days or freeze it for one month.