Are you into blueberries and keto diet? Or maybe you want to enjoy a delicious treat that has almost zero carbs and sugars? You're in luck! In this recipe, we'll show you how to make zero-sugar blueberry scones that are both keto and vegan.
To make keto blueberry scones, we have selected some very special base ingredients:
Erythritol, a sweetener that has virtually no sugars at all.

Almond flour, for those healthy plant-based fats that are essential in a keto diet.
And because the scones don't have any eggs or butter, they are also vegan.
If you check the nutritional profile of this recipe, you'll see that a single cookie has only 4.5 grams of carbs, 2.8 grams of sugars, but a whopping 25 grams of healthy fats. This ratio of sugars to fats is ideal to help your body reach ketosis.
But you don't have to be on a keto diet to enjoy these scones. Healthy fats and zero sugars make an excellent sweet treat for anyone, especially folks with diabetes. Due to the abundance of fibres, even people on a weight-loss diet can enjoy a scone or two without guilt.
And the best thing of all? It will take you less than 40 minutes, including baking time, to start nibbling on these. Just follow our easy steps below and have fun!
Frequently Asked Questions
Can I use frozen blueberries?

Yes, of course. Replace fresh blueberries with frozen ones using them in the same amount and same way. There's no need to thaw them before adding them to scone dough mix, as they will quickly defrost once in the oven.
Which keto flour can I use other than almond meal?

To keep this recipe low-carb, we have swapped wheat flour with almond flour, which thanks to its slightly sweet flavour, is one the best keto baking flours.

Also, we have added ground flaxseeds which act both a low-carb flour and a binder for gluten-free baked goods.

Another fantastic alternative to wheat is coconut flour. With its rich flavour and high-fat content, it's perfect for preparing keto-friendly sweet treats like these biscuits.

We always recommend using a combination of flours to get the best results. So you can swap almond with coconut if you like, but slightly increase the amount the flax meal.
What can I use instead of erythrtiol to keep the scones sugar-free?

We love baking with erythritol as these natural sweetener tastes almost as sweet as refined sugar but, by not being digested, doesn't add calories and sugars to your waistline.

Instead of erythritol, you can use stevia, xylitol, or monk fruit sweetener to keep this recipe keto and diabetes-friendly.

If instead, you aren't following a special diet, you can use maple syrup or raw honey in the same amount and then adjust the liquid ingredients to get the right consistency.
How long do these vegan scones keep?

When properly stored, these sugar-free biscuits can last for up to four days.

Once baked, leave the scones to cool down completely and then transfer them to a tight-seal plastic container, or even better a glass or tin box. Then, keep them in a cool, dark place like your cupboard.

Being prepared with fresh blueberries, these scones won't keep for more than four days, as the moisture of the berries speeds up mould growth.

So, we recommend you keep out those your plan to eat over the next few days and then freeze any leftovers.
How many calories does a blueberry scone have?

We designed this recipe to be suitable for a ketogenic diet, so we have shifted the macronutrient ratios towards the fats and kept carbs and sugars to a minimum. So, each scone has 275 calories, only 4.5 grams of carbs, 2.8 grams of sugars, and 25 grams of fats.

Unlike other keto recipes, we have swapped butter and heavy cream with vegetable oil, which has much less saturated fats compared to these dairy products.

So each almond biscuit has only 2g of saturated fats compared to 14g from other keto scones. Replacing saturated fats with the unsaturated ones from nuts and seeds is key for better health.

Using oil also means that these breakfast scones are suitable for those suffering from lactose intolerance and also for those following a vegan diet.
Ingredients
| | |
| --- | --- |
| Almond Flour | 240 g |
| Xanthan Gum | 1 tsp |
| Baking Powder | 2 tsp |
| Erythritol | 80 g |
| Ground Flaxseeds | 25 g |
| Rapeseed Oil | 60 mL |
| Almond Milk | 80 mL |
| Blueberries | 120 g |
Step 1
In a mixing bowl, combine almond flour with xanthan gum, baking powder, a pinch of salt, erythritol, and ground flaxseeds.
Stir well to distribute the baking powder evenly.
Then, pour in the vegetable oil and rub it in with your fingertips, until the mixture resembles fine breadcrumbs.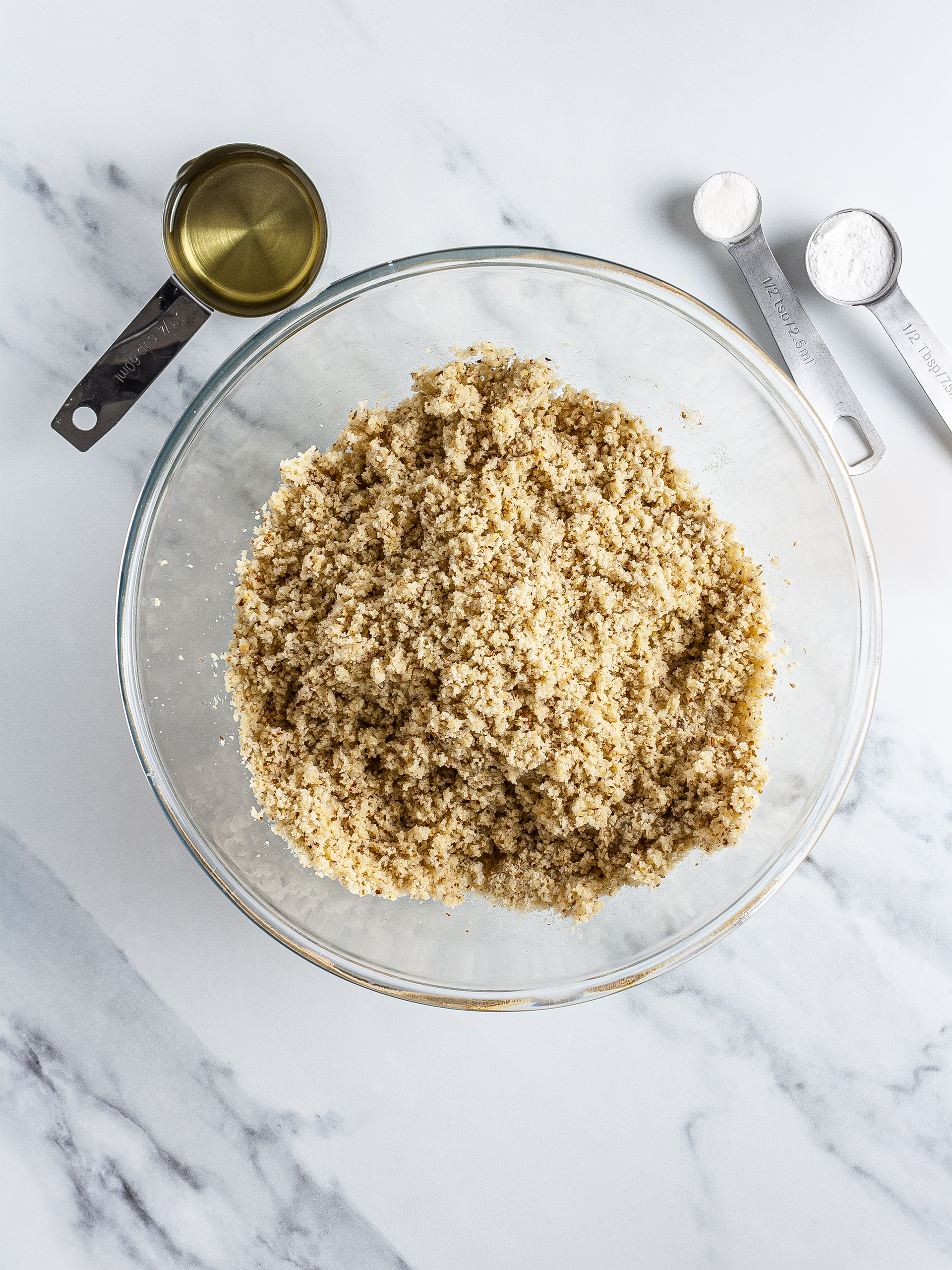 Step 2
Now, add the almond milk and blueberries and mix well with a spoon or a spatula.
Avoid over-mixing, or the scones won't rise as much.
The dough should be slightly sticky, so add more almond meal, if it's too wet, or milk, if too dry, until you get the right consistency.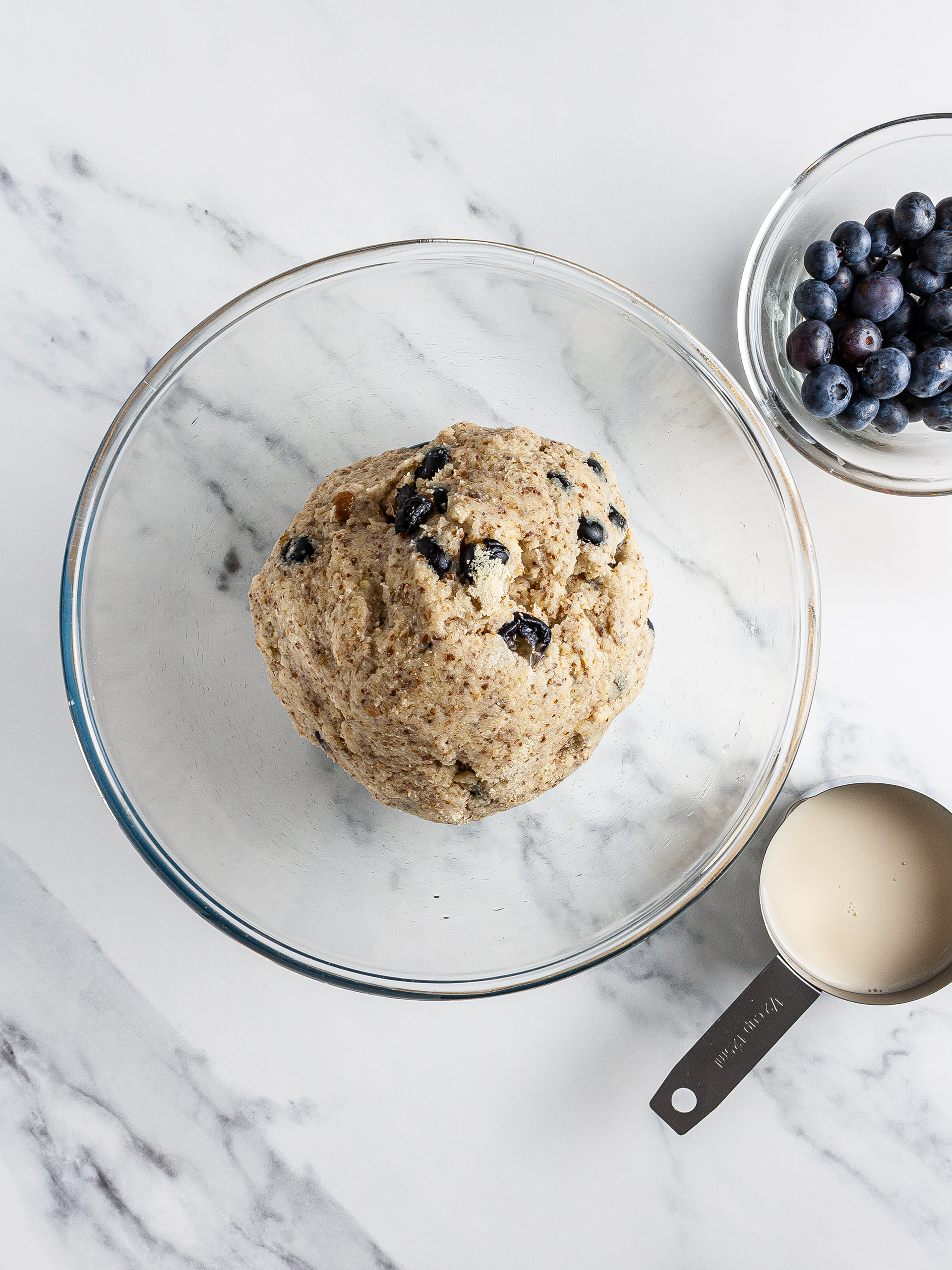 Step 3
At this point, you can refrigerate the dough for 10-15 minutes so that it will be easier to work it, or you can use it straight away.
Without pressing too much, roll out the dough in between two sheets of baking paper to a 2 cm (1 inch) thick round.
Then, use a sharp knife to cut as many triangle shapes as the number of servings.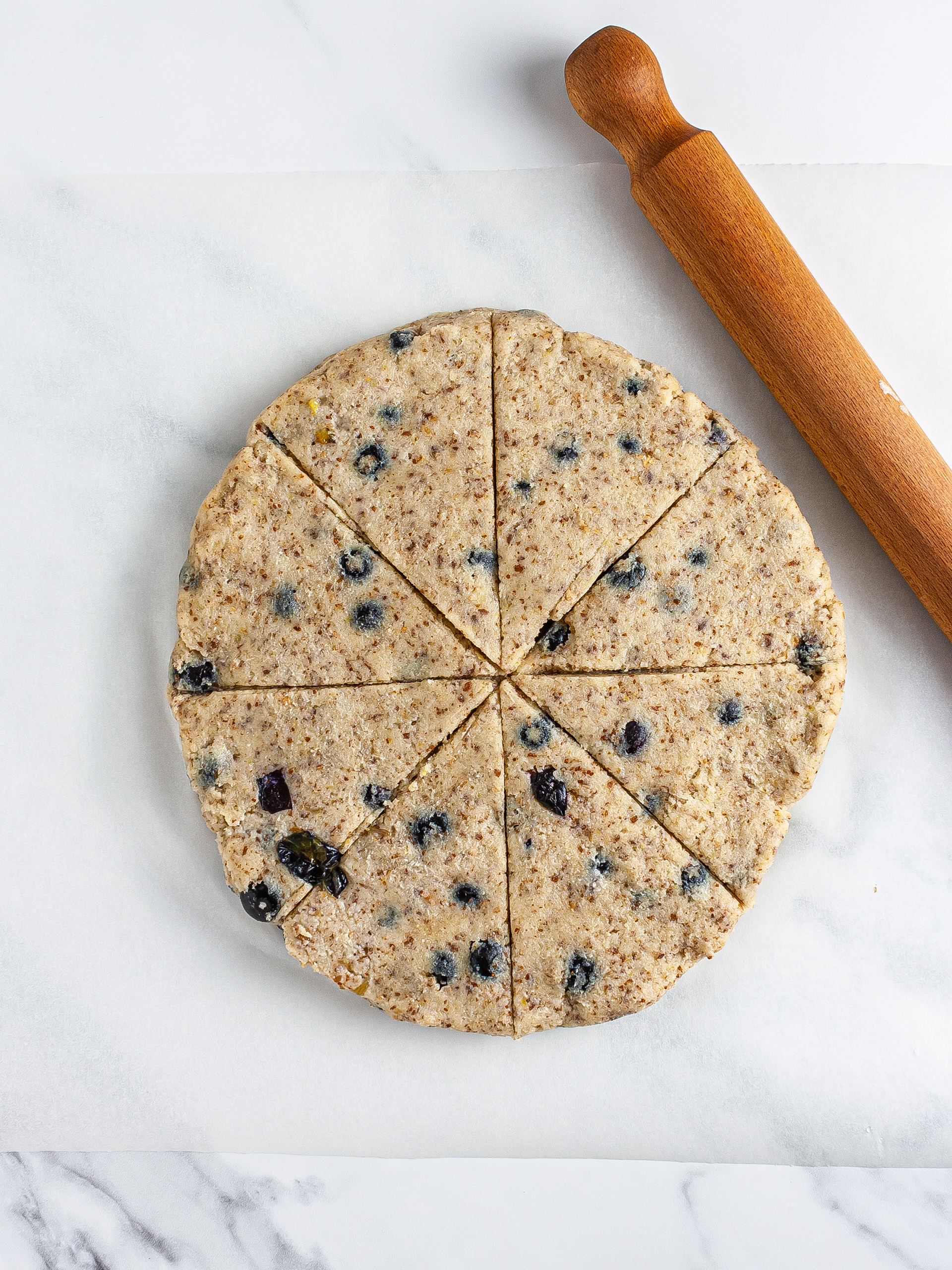 Step 4
Transfer the scones to a baking tray lined with parchment paper, leaving some space in between each biscuit (1).
Bake in the preheated oven for 25 minutes at 200°C (390°F) for static ovens or at 180°C (355°F) for fan ovens.
If, after the first 10 minutes of cooking, the scones start browning too quickly, cover them with foil to prevent them from burning.
Once the scones are nicely golden, remove them from the oven, and leave them to cool down on a wire rack (2).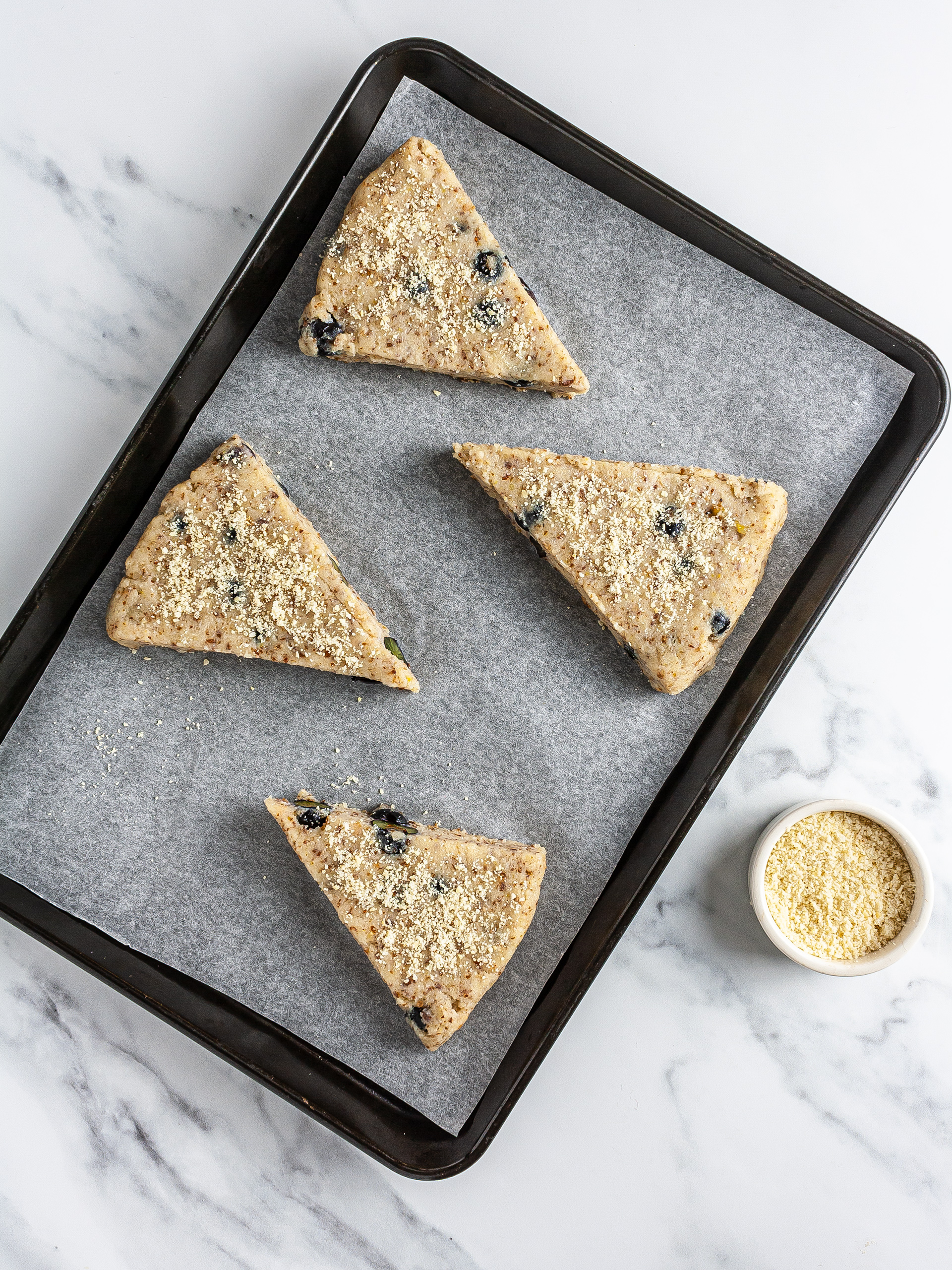 1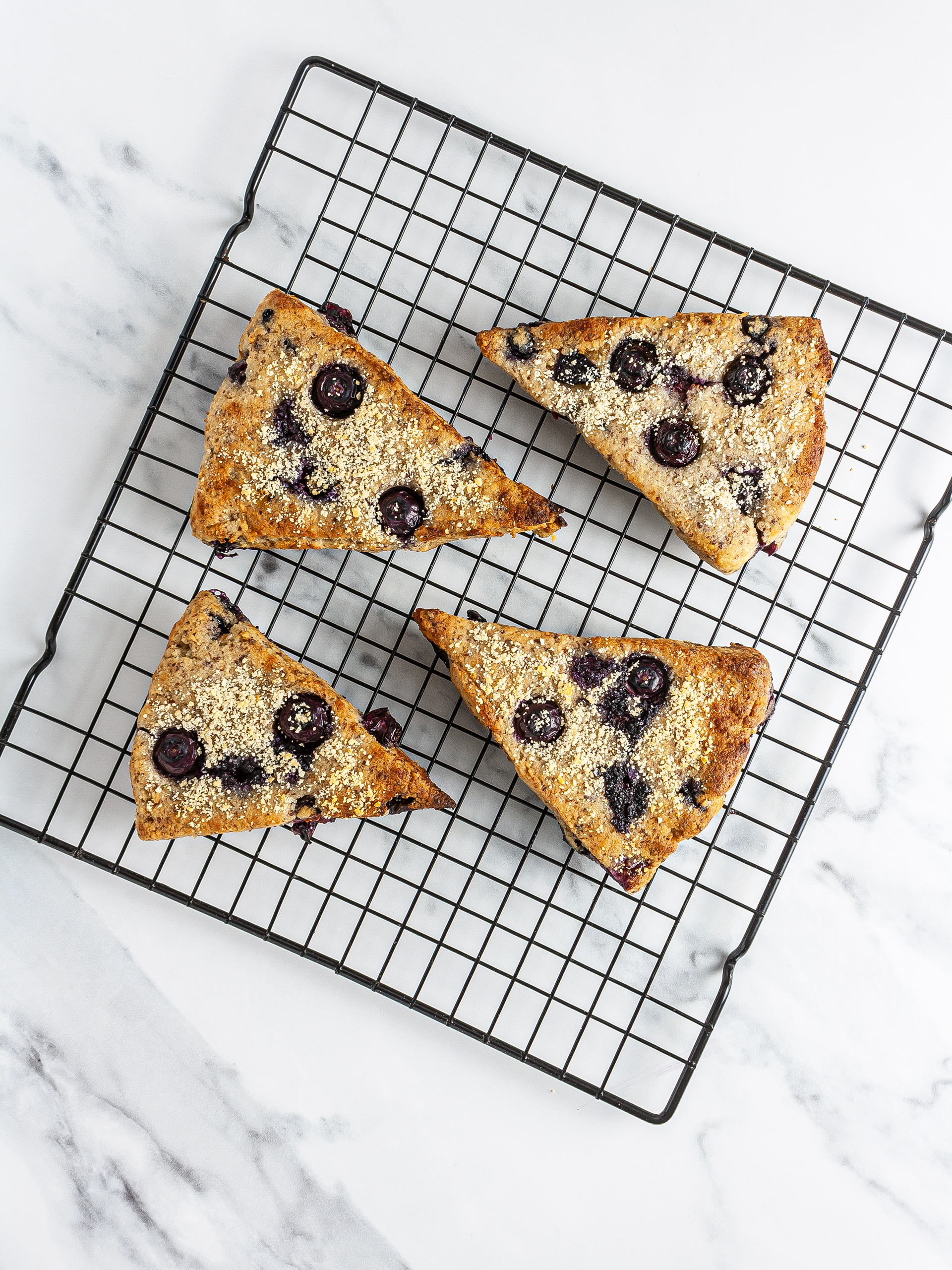 2
Tips
Add the zest of one lemon to scone dough for extra flavour.
Watch on Youtube