This mango oat smoothie is the perfect recipe for those busy mornings when you're short on time but still want a nutritious breakfast.
Just grab three simple ingredients, blitz them in your trusty blender, and enjoy the smoothie at home or on the go.
We kept this smoothie recipe short and sweet, so we used only mangoes, rolled oats, and soy milk.
Make sure the mango is very ripe, as it will taste much sweeter, helping you skip added sugars.
As for the oats, you can use either porridge oats or jumbo oats; it doesn't matter too much as you'll have to blend them anyway, so use whatever you prefer or already have at home.
We made this mango smoothie without using any bananas or yogurt. Instead, we relied on oats to give creaminess to the smoothie.
Oat flakes are rich in soluble fibres, meaning they can absorb liquids and form a thick gel. This is not only good for the smoothie but good for you too!
Fibres make you feel full for longer and slow down the stream of energy released from food, thus reducing mid-morning hunger pangs.
We balanced this oat smoothie with a source of plant-based proteins by using soy milk.
But if you have a soy allergy, you can swap it with other dairy-free alternatives, like almond, oat, or hemp milk.
Finally, we rounded up the recipe with a little turmeric, a mighty root which gives a lovely golden tone and a boost of precious antioxidants to our smoothie.
We used ground turmeric powder, but you can also opt for fresh turmeric root. It's easy to whizz in a blender, just like we did in this wellness turmeric juice or raw turmeric carrot juice.
A nice big glass of this breakfast smoothie has only 250 calories, and it covers the recommended intake of fibres, proteins, and sugars for a meal.
Each serving comes with 10 grams of proteins and 5 grams of fibres, meaning you'll feel happy and satiated all morning long — which is great news for those on a weight-loss diet too!
However you're going to have it, we hope you'll like it as much as we did!
Ingredients
| | |
| --- | --- |
| Ripe Peeled Mango | 200 g |
| Oats | 60 g |
| Soy Milk (or Oat Milk) | 400 mL |
| Ground Turmeric (optional) | 1/2 tsp |
Step 1
Make sure you're using soft and ripe mangoes as they will be tastier and sweeter.
In a blender, add chopped mango, oats, soy milk, and turmeric if you're using it.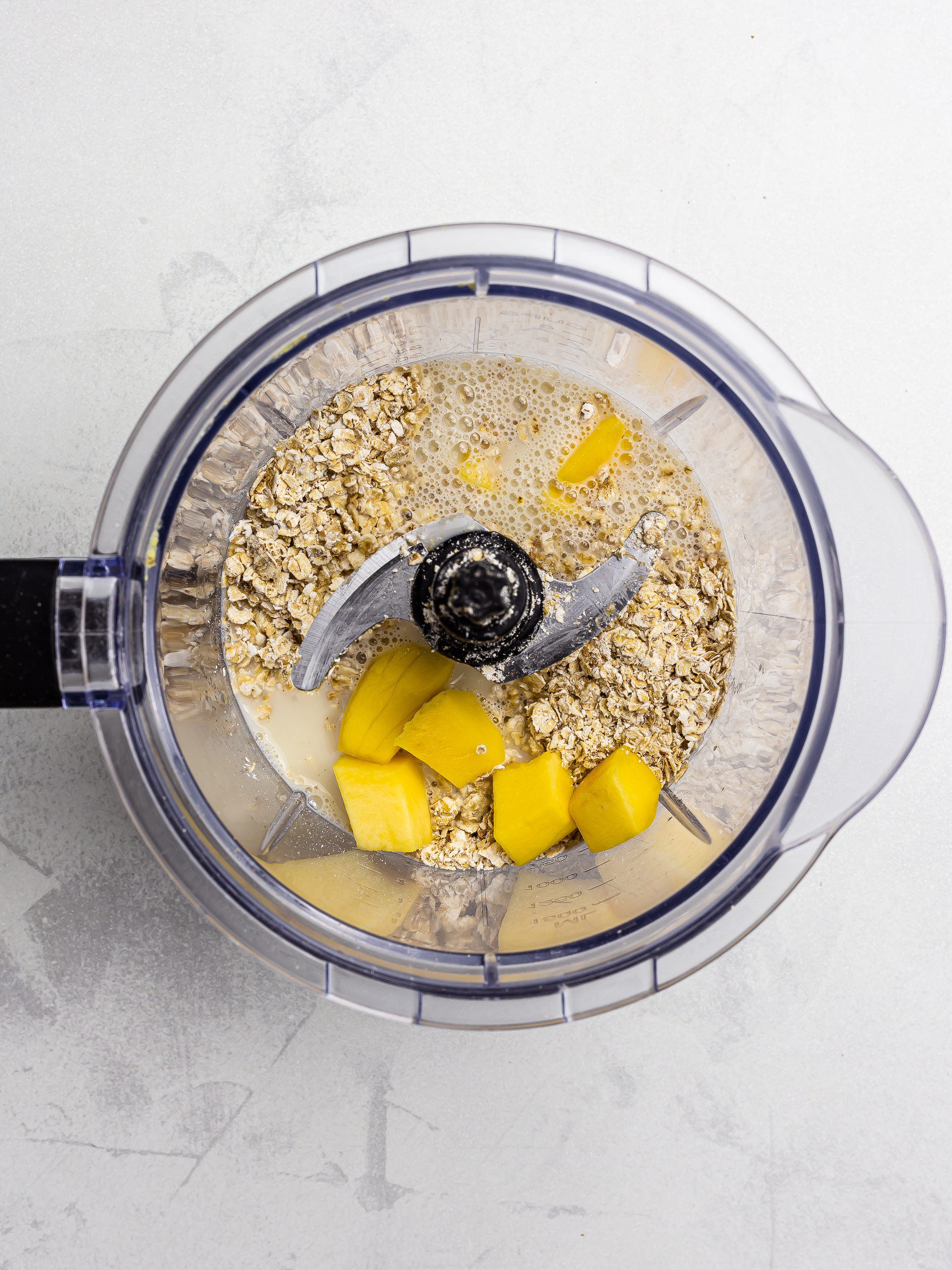 Step 2
Blitz all until smooth and creamy.
Keep in mind that the oats will soak in the milk, making the smoothie denser if you leave it in the fridge for a few hours or overnight.
So, if you like you smoothie a bit runnier, pour in extra milk to taste and pulse again.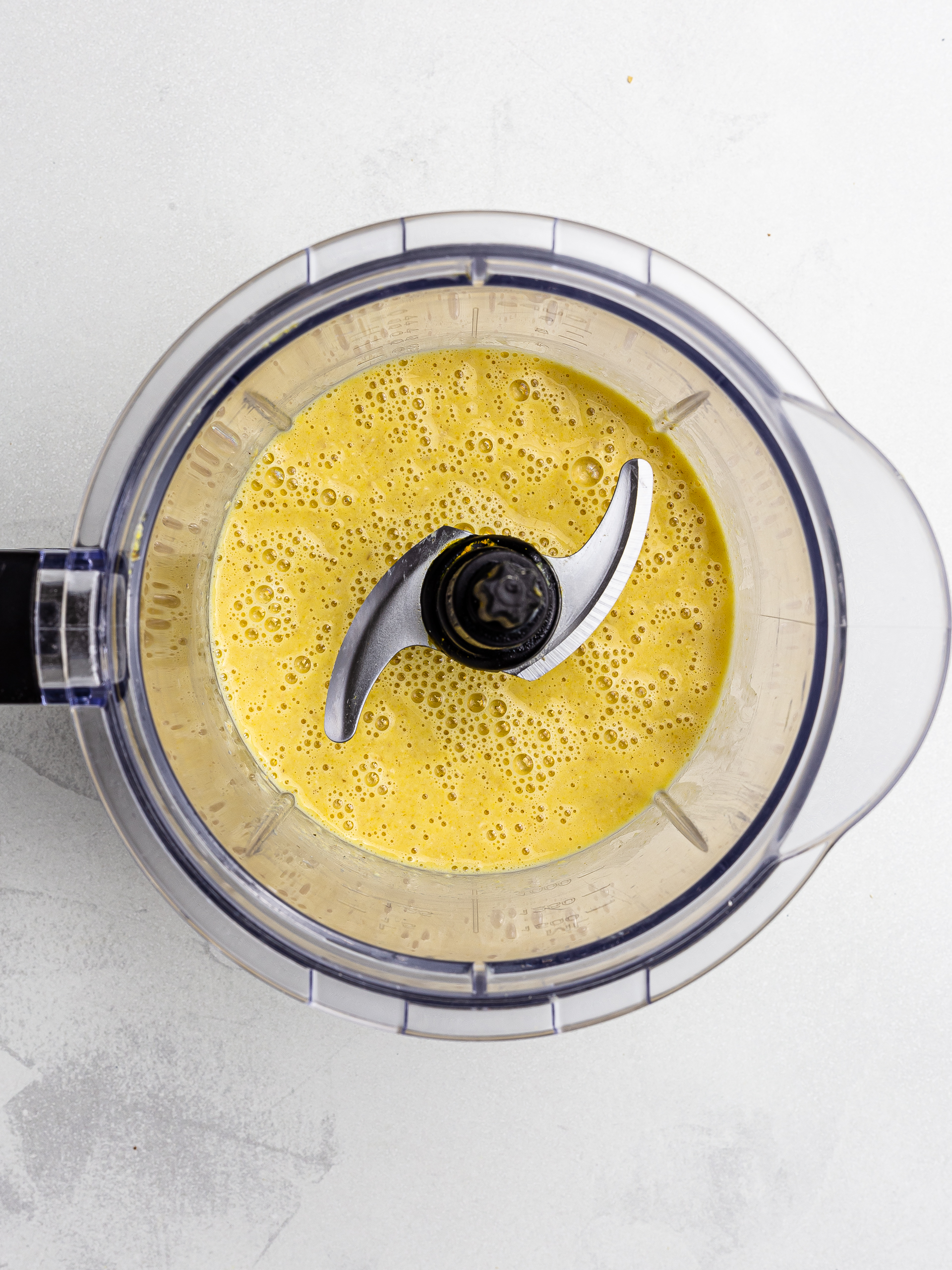 Step 3
Finally, divide the mango smoothie among serving glasses and enjoy it.
You can also keep it in the fridge in a sealed jar for up to two days.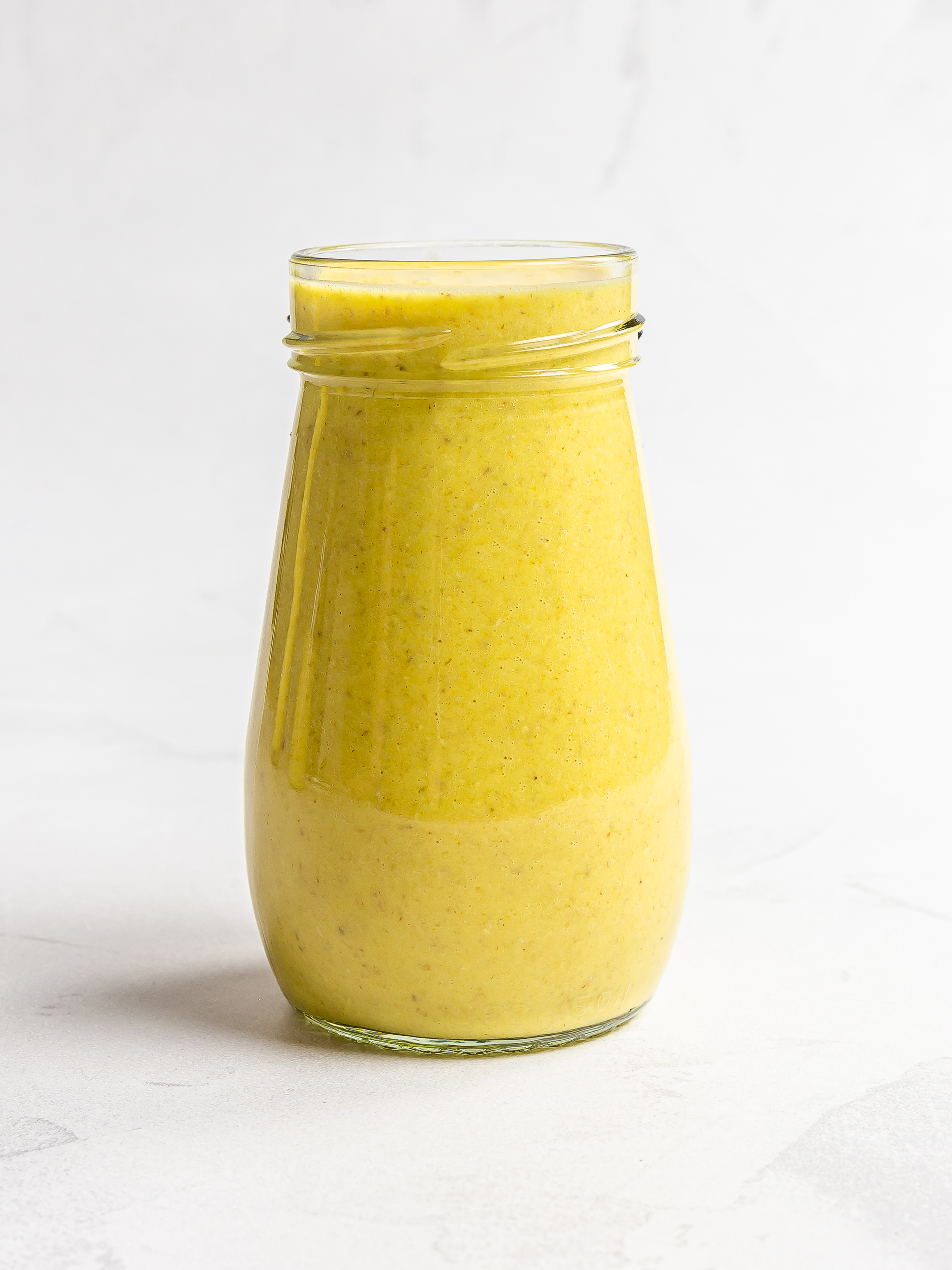 Tips
If fresh mangoes are not in season, you can also use frozen mango chunks. There's no need to thaw them first; just add them to the blender and blitz. The smoothie will be slightly denser but still delicious.

If you're using turmeric, add a pinch of black pepper to boost the absorption of curcumin, turmeric's active ingredient.

For extra proteins, fibres, and healthy fats, add one tablespoon of flaxseeds/chia seeds or nut butter (like almond, cashew, or peanut butter) per person.

Breakfast smoothie bowl idea: pour the smoothie into a small bowl and top it with whole nuts, seeds, and chopped mango.