When we are busy with work, life, family and friends, it's easy to crawl back into bad eating habits and eat uninspiring and unhealthy food. Still, some days, we need something a bit more satisfying than a salad or a bowl of quinoa, to stay sane. If today is that day for you, then you are in the right place! We will show you how to make a crumbly and flavourful minced lamb pie. It's an easy dish to prepare, but it packs all the nutrients and energy you need in a full meal.
A crispy puff pastry wraps up a mouth-watering filling made with vegetables and lamb mince sautéed in fragrant Mediterranean herbs and spices. It all sounds very appealing, doesn't it! Almost risky. That's why we have made this pie into single-serving portions: no risk to over-eat, and also convenient enough to pack in a lunch-box.
We still did our best to make this dish healthy, of course! We have included plenty of vegetables and used light pastry dough and low-fat mince. This way, we kept unhealthy fats to a strict minimum and avoided unnecessary calories.
With lots of tomatoes, carrots, and courgettes, a single portion provides almost two of your 5-a-day of vegetables and lots of fibres. Our lamb pies are also rich in proteins, with one giving half of your recommended daily intake of proteins.
If desired, you could use a leaner cut of lamb to reduce the fats further, like rump or shoulder. Any juicy lamb cut will do actually, so feel free to use any lamb leftovers you may have from roast or stew!
Finally, you may be on a no-meat diet, or have no lamb in the fridge. Worry not! The vegetables here are so tasty you will still get a delicious meal by using them alone. Just remove the lamb from the ingredients and increase the veggies accordingly. Another great option is to swap lamb mince with green lentils, for a source of plant-based proteins.
Frequently Asked Questions
What to serve with lamb pie?

Our minced lamb pie is a well-balanced meal on its own. It has around 1/4th of the daily recommended dose of calories an adult woman should have, and a 1/5th for men. It's also filled with proteins and fibres.

But if you want to make this dish the cornerstone meal of your day, we will help you choose what to have together with lamb pie.

Some great food to serve this this recipe is:

mashed potatoes

cauliflower mash

roasted sweet potatoes

green salad with feta cheese

Please keep reading to learn when it is best to have one or another of these options.

If you followed our recipe step-by-step, you got a pie with a puff pastry crust. In this case, we suggest you don't add nor pour anything over the top, to keep everything crunchy. Instead, we think it's best to serve something next to the pie.

If your goal is to eat more carbs, then consider having mashed potatoes on the side, or roasted sweet potatoes. If you like the creaminess of mashed potatoes but would like to cut on carbs, try mashed cauliflowers instead. What you lose in carbs with cauliflowers, you gain in fibres, vitamin B and antioxidants.

For a lighter option, serve lamb pie with a green salad. If you aren't intolerant to dairy, try out lettuce with crumbled feta cheese and a sprinkle of pumpkin seeds or crushed walnuts.

Now for the second option. You can prepare this minced lamb pie without using puff pastry. We go in greater detail about this alternative in the answer below. What you would do instead, is using mashed potatoes or grilled sliced potatoes as the topping. Keep reading below for more info on how to make lamb pie without puff pastry.
Can I make lamb pie without puff pastry?

You certainly can make lamb pie without puff pastry. Many pie recipes don't use any puff pastry at all and are still fabulous, like shepherd pie, while others only use it as the topping.

Using this extra ingredient for a small mono-portion pie like ours has a significant advantage: It makes it easy to carry and eat on the go, even without a fork. If this is not a major selling point for you, then we will tell you how to prepare this dish without puff pastry.

All the ingredients mentioned in our recipe above stay the same.

When you have to fill the ramekins in step three, do not line them with parchment paper. We used the baking paper to pull out the pie from the pot with ease. Without puff pastry, it's just better to eat the pie straight from the bowl.

We propose two options to use as a topping:

Mashed potatoes. Here we will cook some mashed potatoes and use them to top the ramekins. Season them with oil salt and pepper. Then proceed with baking the lamb pie in the oven as mentioned in our recipe above.

Thin slices of roasted potatoes. This option is a bit fancier and slightly more involved, but it's a guaranteed success. Start by cutting just enough potato slices to cover the ramekins. Keep the slices 2 or 3 millimetres each. You probably won't need more than a small potato for this, but it will depend on how many servings you are making. Then boil the slices for 5 minutes. Continue by topping your minced lamb pies with the sliced potatoes. Finally, cook in the oven at 200°C (390°F) using the grill program for around 10 minutes. If the potato crust is not brown enough by then, cook for another 5 minutes.
Can you freeze lamb pie?

Because our recipe gives you well-defined portions, you can easily make just enough for the day and enjoy the food fresh. But if you are meal-prepping or prefer batch cooking, the good news is that you can indeed freeze lamb pie.

We have a couple of neat tricks for you to make everything go smooth when freezing and unfreezing this tasty dish.

First, we suggest you pull out the pastry from the ramekin before freezing. We used parchment paper inside the ramekins to make this part easy. It is going to be harder to get the pies out of their respective pots once frozen, and you will undoubtedly tear off the paper when pulling.

Second, we invite you not to use the microwave oven to warm up the pastries. We don't like the way microwave makes pre-cooked food soggy. One of the best thing about these puff pastry pies is the crispiness. Instead, let them thaw at room temperature, or in the fridge overnight, and then warm them up in a preheated oven.
How to cook lamb pie?

We make lamb pies in two stages. First, we cook the filling. Then we bake the puff pastry in the oven.

In our recipe above, we have cooked the lamb and veggie filling in a skillet, over medium temperature, until creamy. We have then cooked the pastry in a fan oven at 180°C (356°F).

There are a few alternative methods to cook a lamb pie or any similar type of pie.

For example, you could use an instant pot or slow cooker to prepare the filling. The important thing here is to make sure that the mix comes out creamy. You don't want it to be dry, nor overly liquid. A dry filling would not give the oomph we want, and a runny one would make our pastry soggy. Therefore, adjust the settings and time of your cookers accordingly.

For the filling, you could use an air-fryer instead of the oven. Air-fryers excel at making food virtually as crispy as classic frying methods, without all the fatty oil.

One last thing. If you are topping this pie with mashed potatoes instead of puff pastry, then using an oven is the best way to go. Any method that requires flipping or scooping the pie out of the appliance will ruin the looks of this recipe.
Ingredients
| | |
| --- | --- |
| Extra Virgin Olive Oil | 1/2 tbsp |
| Onion | 50 g |
| Garlic Clove | 1 |
| Thyme | 1/2 tsp |
| Oregano | 1/2 tbsp |
| Rosemary | 1/2 tbsp |
| Chillies | 1/2 tsp |
| Lamb Mince (12% Fat) | 250 g |
| Carrots | 85 g |
| Courgettes | 200 g |
| Black Kalamata Olives (Pitted) | 15 g |
| Red Wine | 100 mL |
| Tomato Sauce | 200 g |
| Salt | to taste |
| Potato Starch | 8 g |
| Lemon Zest | 1 tsp |
| Low Fat Puff Pastry | 300 g |
Step 1
In a large skillet, heat the extra virgin olive oil. Sizzle finely chopped onions with garlic, thyme, oregano, rosemary, and chillies until fragrant.
You can crush the garlic with a handy garlic crusher, keeping all its flavour but preventing big garlic chunks from getting into the pie.
Next, add the lamb mince, grated carrots and courgettes, chopped black olives, and red wine. Give all a good stir and cook for 15 minutes until the wine has evaporated.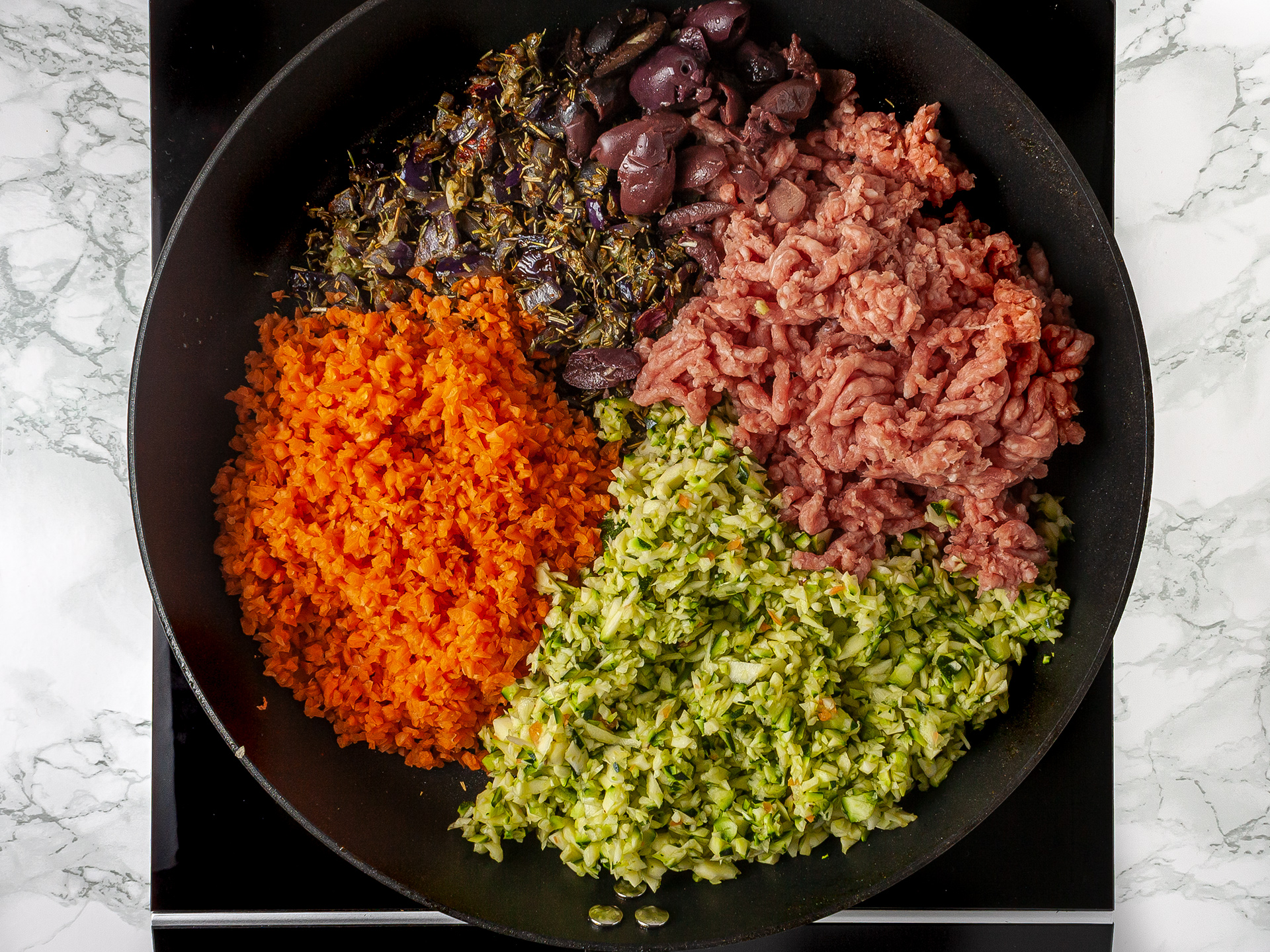 Step 2
Next, add the tomato sauce and cook for a further 20 minutes. Try your best to keep the filling moist, but not too runny. We want the inside of the pie to be oozing and juicy, but not liquid enough to make the crust soggy. So if the mixture becomes too dry, add some water.
Season with salt and sprinkle in some lemon zest.
Then, add the potato starch mixed with cold water and stir well. Keep cooking until the filling is creamy and dense.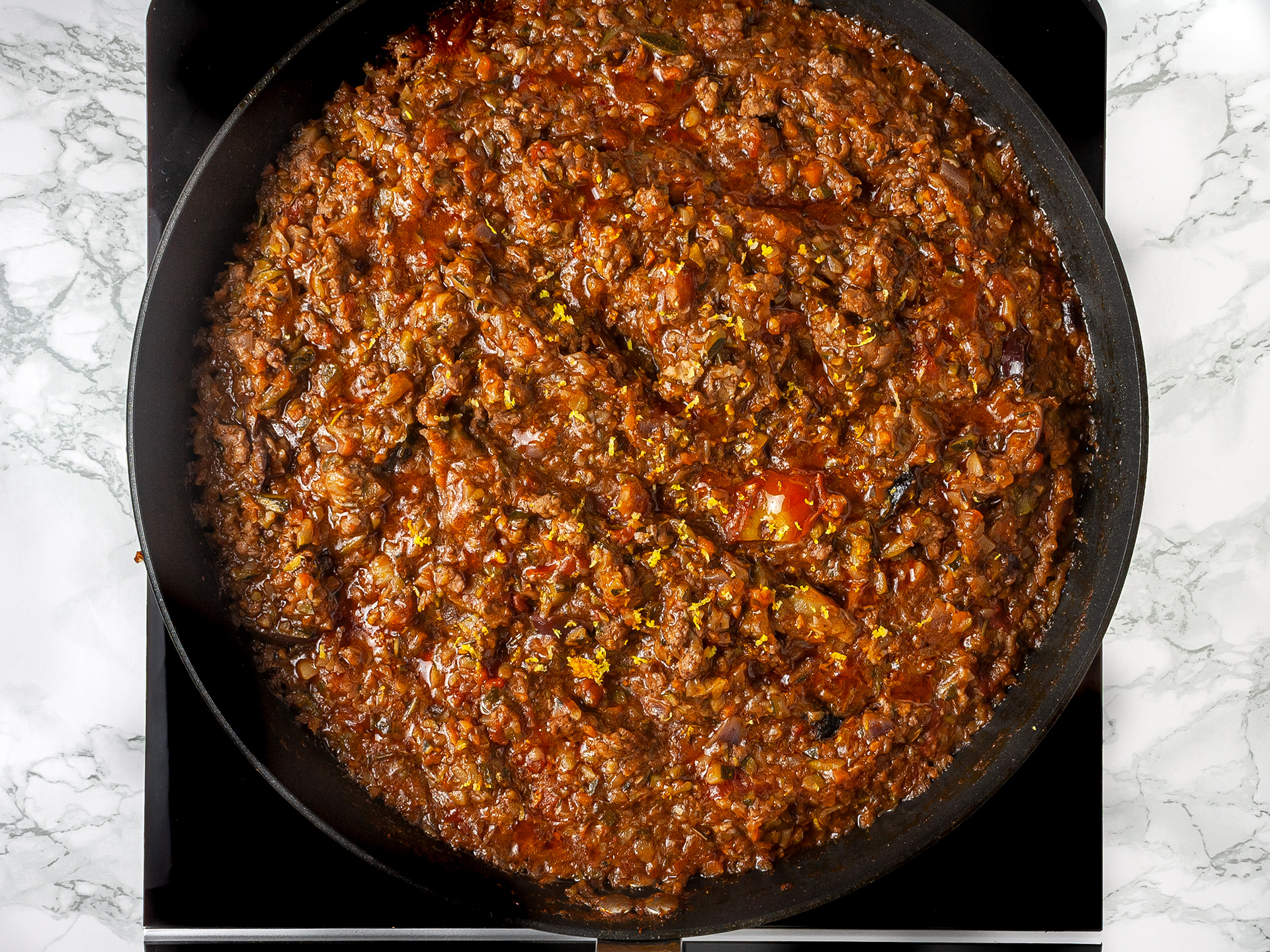 Step 3
Start by lining single-serving ramekins with parchment paper, followed by puff pastry. Save a third of the pastry for the pie lids. The paper will make it easy to pull the mini-pies out of the pots, once ready.
You can use a dough wheel cutter to portion the pastry sheet and a cookie cutter to cut out the pie covers.
Then, fill the ramekins with the cooked minced lamb and fold in the pastry dough.
Finally, cover each pie with a pastry lid and seal the edges by pressing them with the tines of a fork.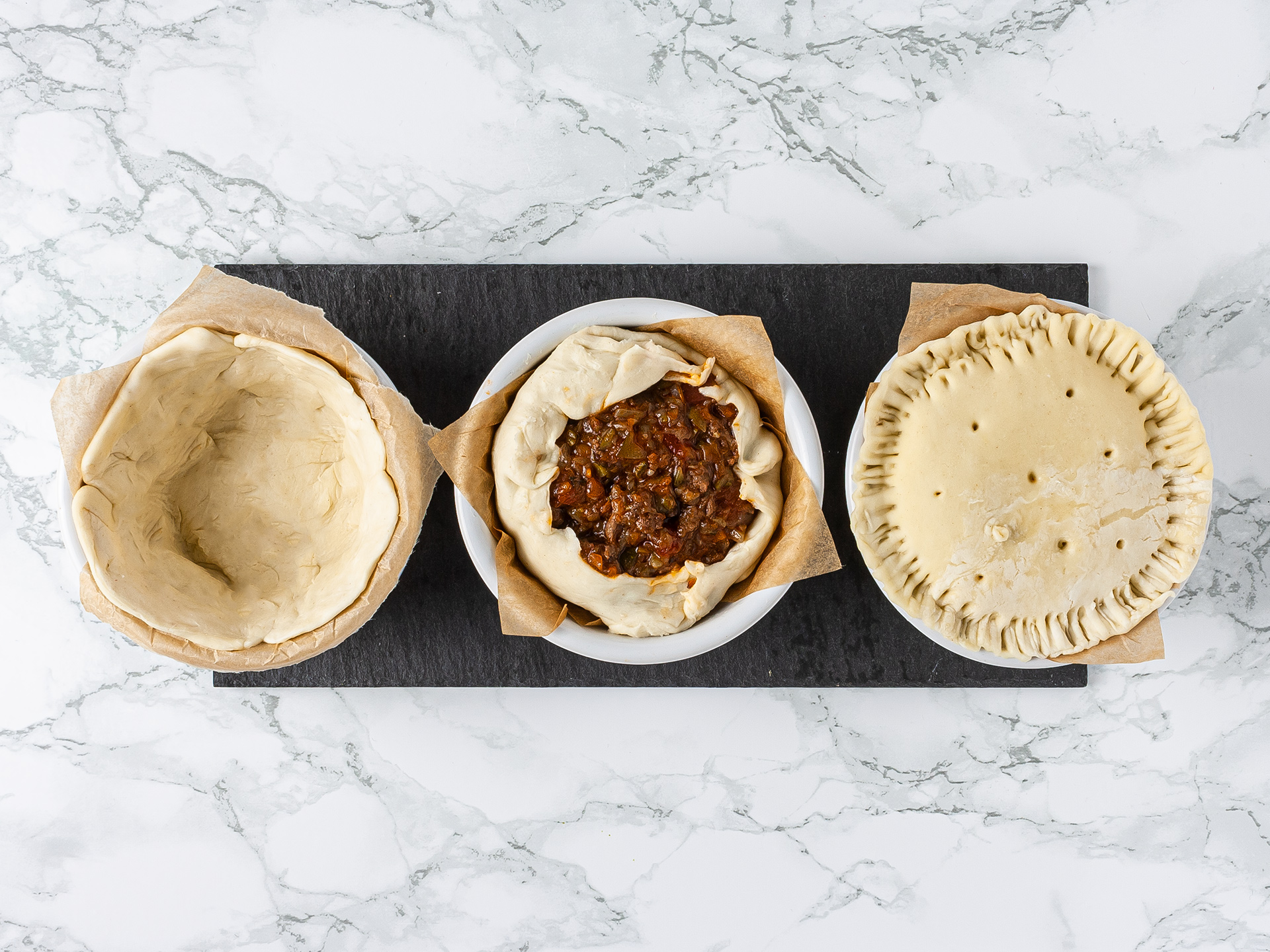 Step 4
Bake the minced lamb pies for 30-35 minutes at 200°C (390°F) for conventional ovens or 180°C (355°F) for fan ovens.
Once the pies have a crispy golden crust, remove them from the oven and let them cool down for a few minutes before serving.
Enjoy with a green side salad, or check out the FAQs below for more serving ideas!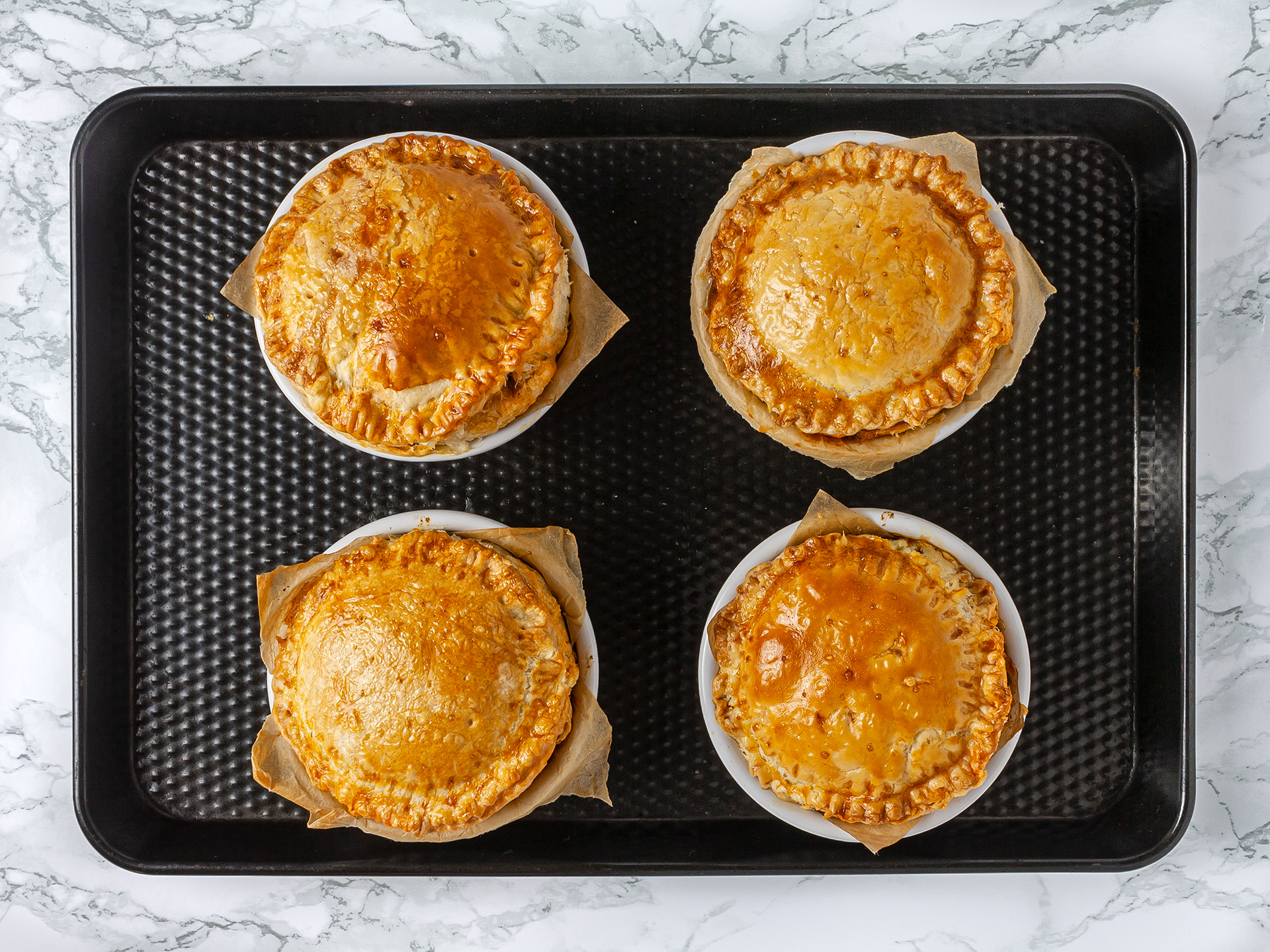 Tips
For a vegan version of these delicious mini pies, replace minced lamb with green lentils.

Store the lamb pie in an airtight container for up to 2 days.

These pies are delicious, either warm or cold. They're perfect for a next-day lunch-box or a picnic!