Digestives biscuits are a classic British recipe, perfect to dunk into afternoon tea. They were first made to aid digestion as they contain baking soda which neutralises acids, hence the name.
Most brands you find in store at your local store contain unnecessary saturated fats, mostly from butter and palm oil, and refined white sugar. We will instead show you how to make an healthier variation that will give us vegan, dairy-free, sugar-free and gluten-free digestive biscuits. A lot of "free" right? Our recipe is remarkably diet-friendly!
How did we do this? Our biscuits are prepared with rolled oat, nuts, and fruit, all nutritious ingredients which provide lots of fibres, healthy unsaturated fats, vitamins, and minerals.
Specifically, we have:
Used a homemade gluten-free flour, made from ground rolled oat and mixed nuts.

Replaced white sugar with applesauce which is made from cooked apple and is naturally sweet.

Replaced eggs with Flaxseeds (flax-egg), which are a good source of omega-3 and help make the recipe vegan.
That's it! Follow our simple steps below and you will crunching these goodies in no time. Once cooked, you can store them in an airtight container for up to 3 days.
Ingredients
| | |
| --- | --- |
| Water | 20 mL |
| Ground Flaxseeds | 1/2 tbsp |
| Apple | 1 |
| Lemon | 1/2 |
| Rolled Oat | 165 g |
| Mixed Nuts | 60 g |
| Rapeseed Oil | 1 tbsp |
| Almond Butter | 35 g |
| Baking Soda | 1/4 tbsp |
Step 1
Prepare a 'flaxegg' by combining water with ground flaxseeds in a small bowl. Allow soaking in the fridge for 15 minutes.
We will prepare the apple sauce while we wait. Just add peeled and chopped apple to a pot and squeeze in the lemon. Cover with water and simmer until the apple chunks are soft and you can mash them with a fork.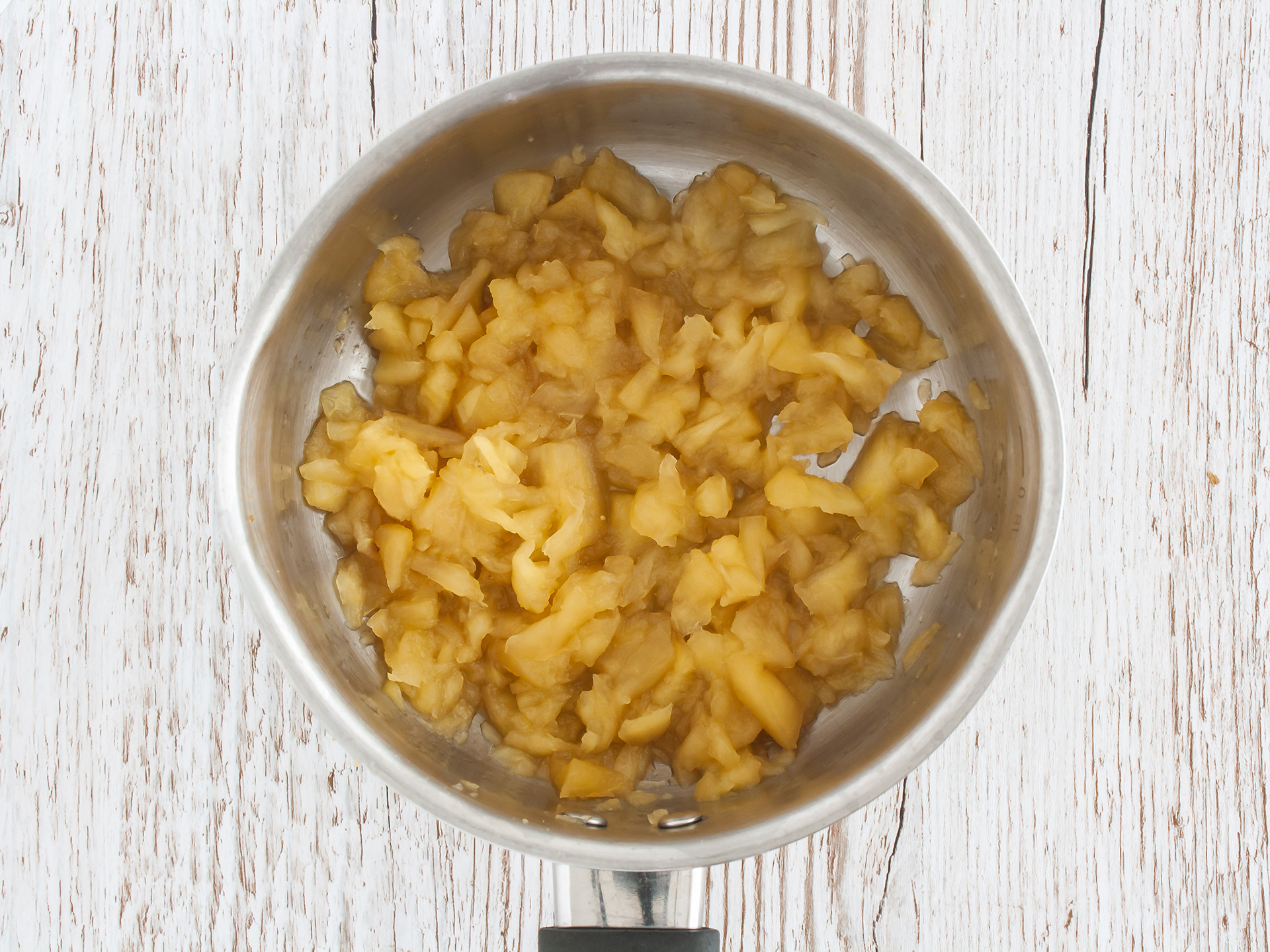 Step 2
In the blender bowl, add oat and nuts, and blitz until you have a coarse flour (1).
Then, transfer the flour into a mixing bowl and add oil, almond butter, baking soda, the applesauce, and the flaxseeds (2).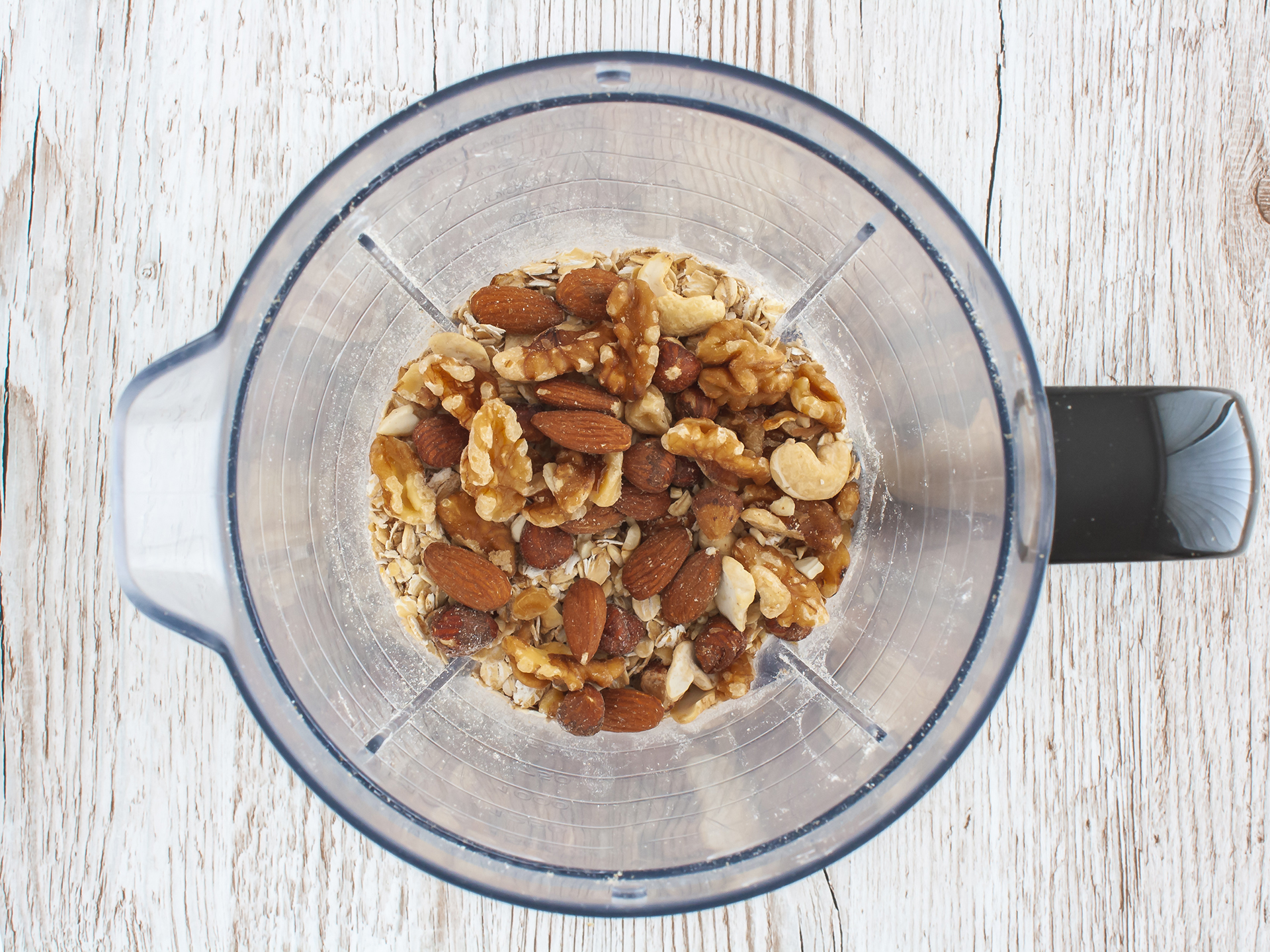 1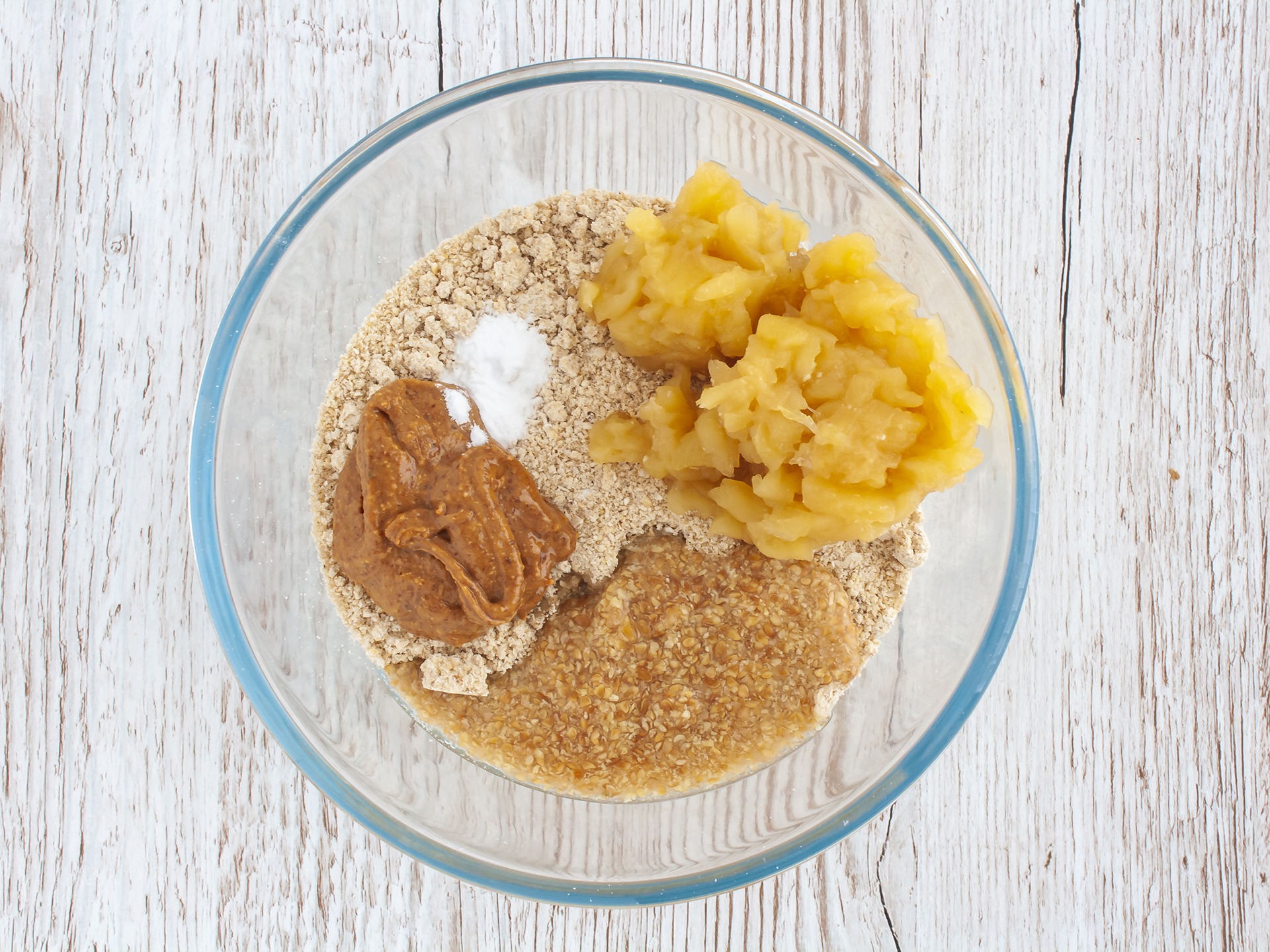 2
Step 3
Quickly incorporate the ingredients with the help of a spoon and then knead the dough with your hands.
Make sure the dough holds together and adjust the consistency with a splash of milk, if too dry, or ground oat, if too sticky.
Roll into a ball and cool in the fridge for at least 15 minutes.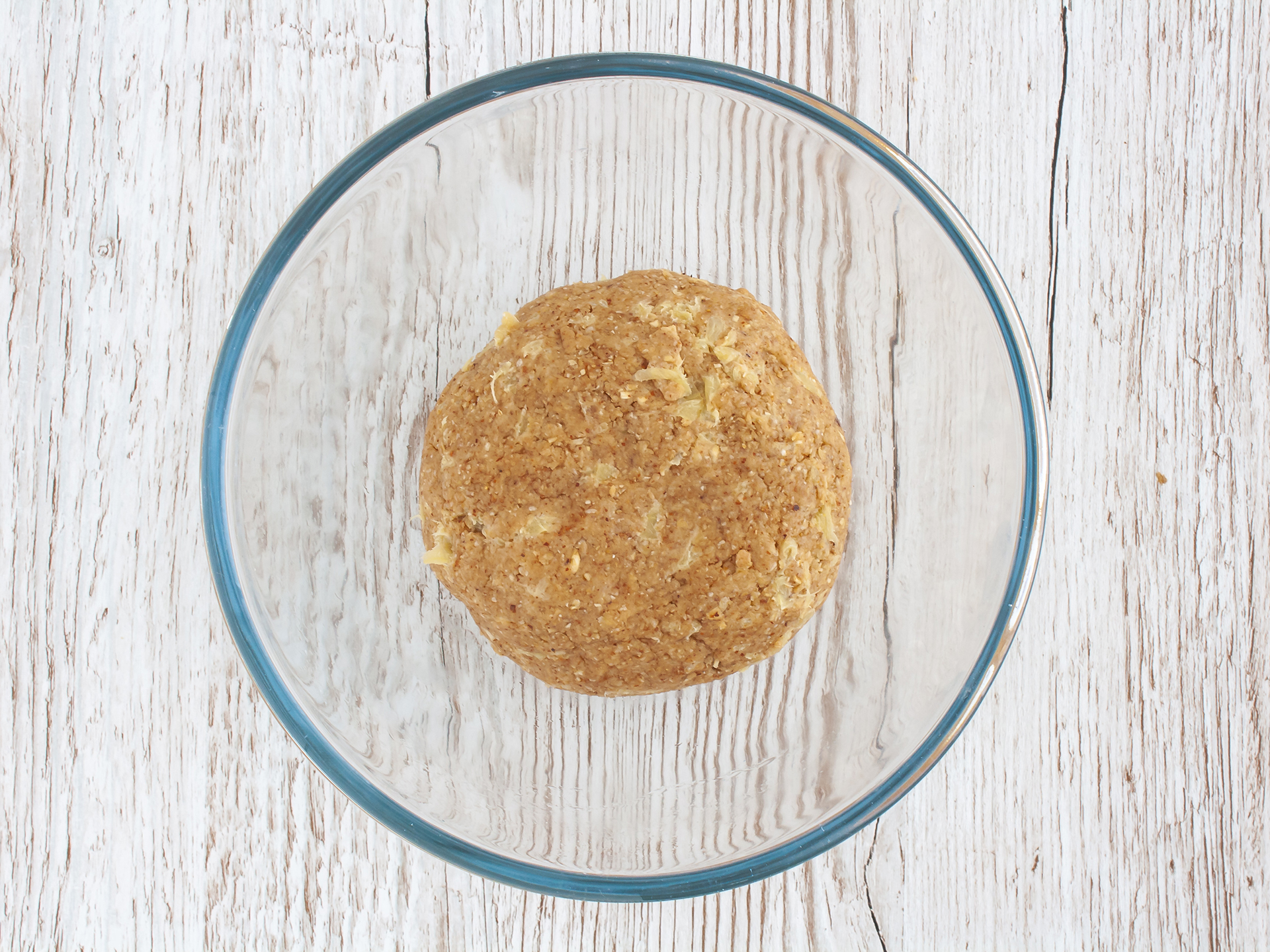 Step 4
Roll out the dough between two sheets of baking paper using a rolling pin to a 3-4mm thickness. Then, cut out the biscuits using a circular cookie cutter.
Roll the extra dough into a ball and repeat the step above.
Arrange the digestives over a baking tray lined with parchment paper (1).
Bake at 175°C (325°F) for 12-15 minutes (2).
Once cooked, transfer the biscuits to a wire rack to cool down and crisp up. Please do not ignore this step! It's ideal to get air to flow all around your bakes once ready if you want to keep them crispy.
It's tea time! Go and enjoy these crunchy goodies without a worry in the world.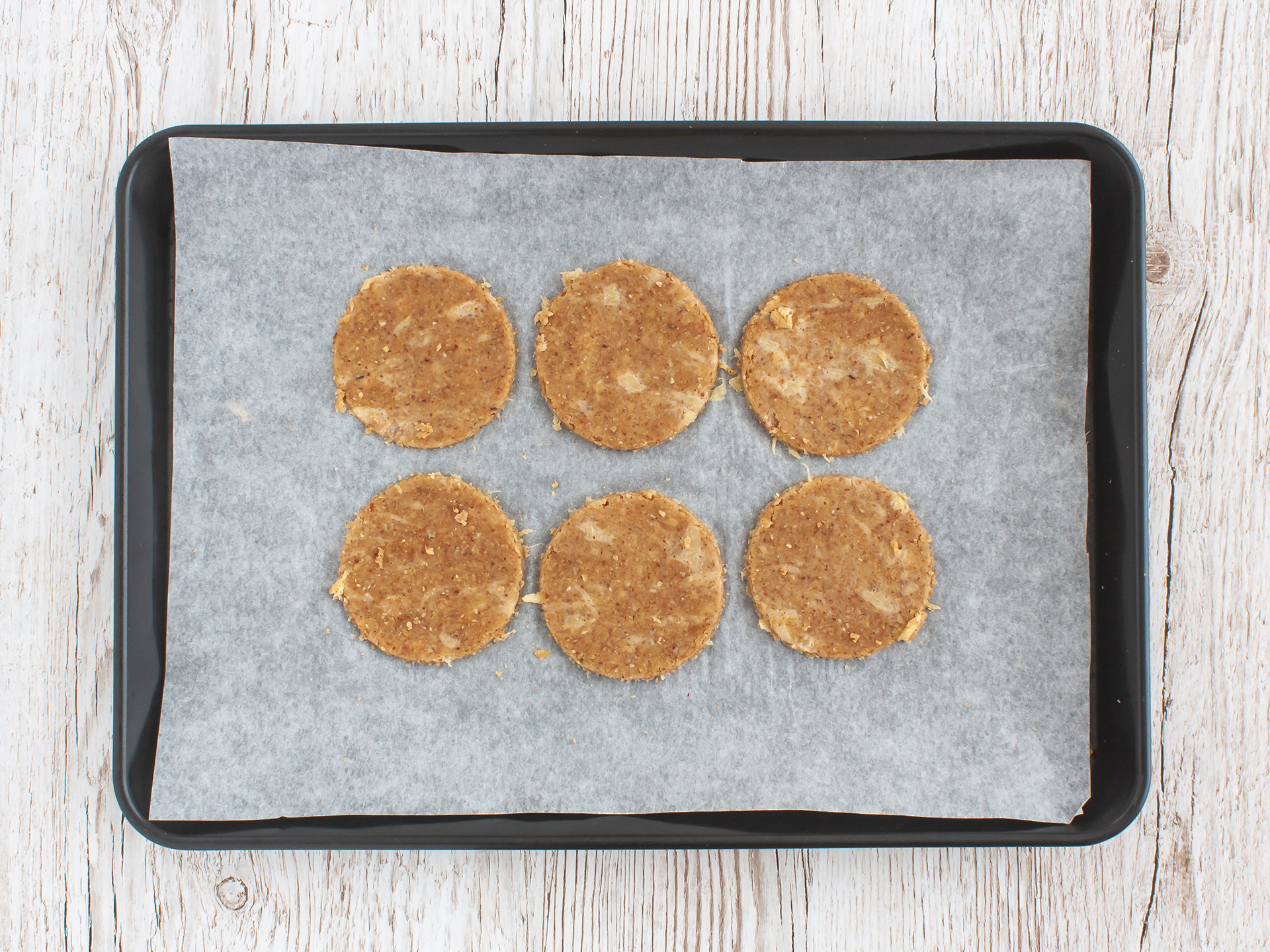 1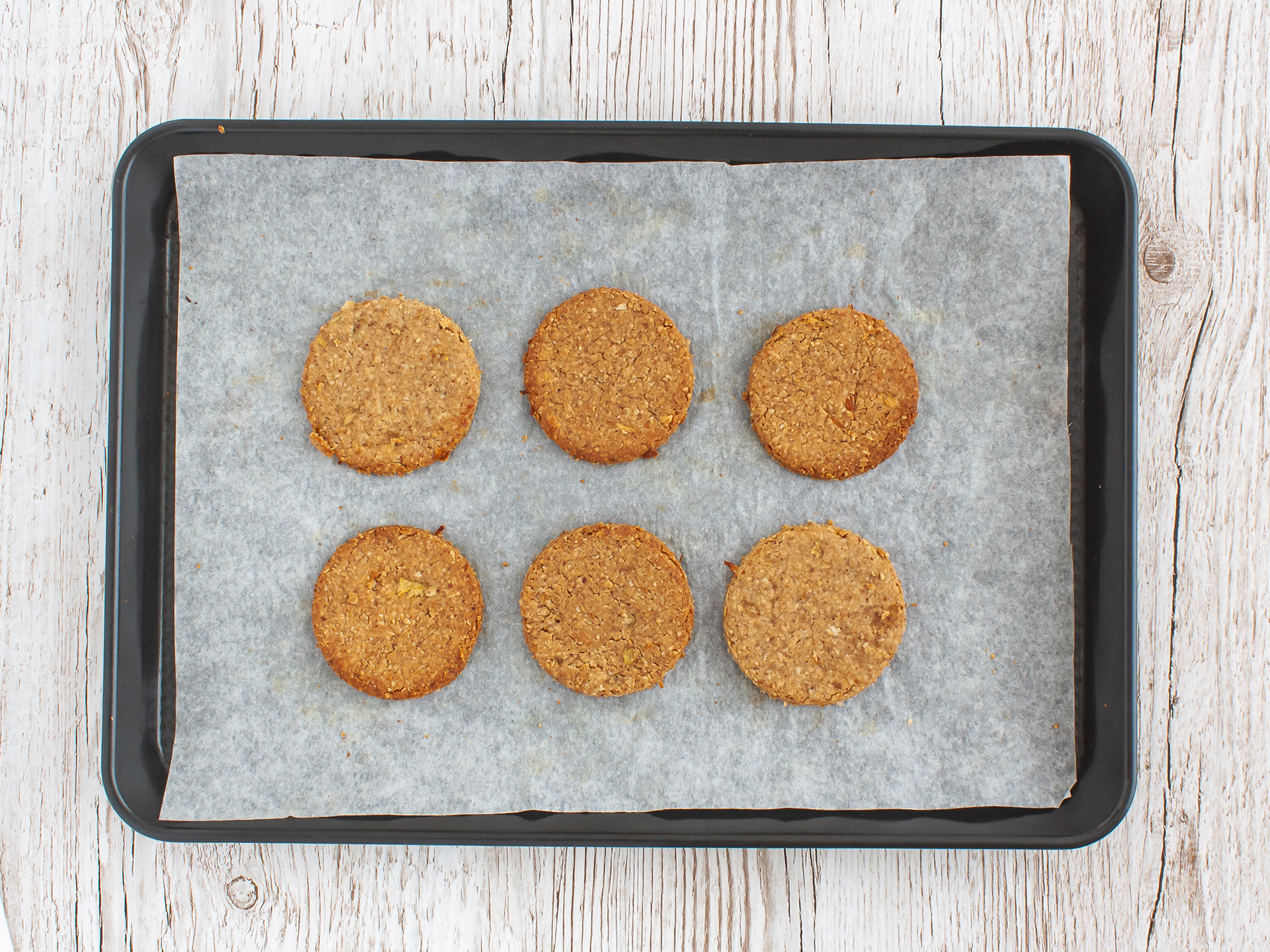 2
Tips
If you prefer a sweeter taste, just add a splash of maple syrup but increase the amount of dry ingredients accordingly.