Our vegan pastry party snacks are an easy puff pastry appetizer recipe that will have your guests begging for more, guaranteed! They are ready in 20 minutes, and use just a few basic ingredients that you likely already have at home.
If you want to prepare these mini puff pastry recipe cutting down on excess fats, make sure you buy low fat puff pastry sheets! The taste won't change much compared to using the normal sheets but the level saturated fats will be much lower.
The problem with parties is that you usually have no idea about the diets your guests are following or food allergies they may have. We have made your life simpler by making this recipe vegan (therefore dairy-free and eggs-free), nuts-free, and soy-free. It is after all our mission at Foodaciously to make recipes that everyone can love!
We strongly recommend you buy gluten-free puff pastry if you think someone may be sensitive to gluten. This way, virtually all of your guests will be able to enjoy these delicious party snacks, and you won't scramble through your cupboard looking for something suitable at the last moment!
Now just follow the easy steps below and get these crispy goodies on the table. For more diet and allergy friendly recipes, use our Smart Search, or subscribe to our newsletter.
Ingredients
| | |
| --- | --- |
| Gluten Free Puff Pastry | 175 g |
| Extra Virgin Olive Oil | 1 tbsp |
| Salt | 1 pinch |
| Basil | 1 tsp |
| Paprika | 1 tsp |
| Chillies | 1 tsp |
| Tomato | 120 g |
Step 1
Start by preheating the oven to 200°C (392°F).
Line a baking tray with parchment paper and unroll the puff pastry over it. Cut it into squares, each measuring 5 cm, using a wheel cutter.
Cut the tomatoes into thin slices and set aside.
In a small bowl mix together the chilies, paprika, salt, and oil. Brush the entire surface of the pastry sheet with the oil and spices mix.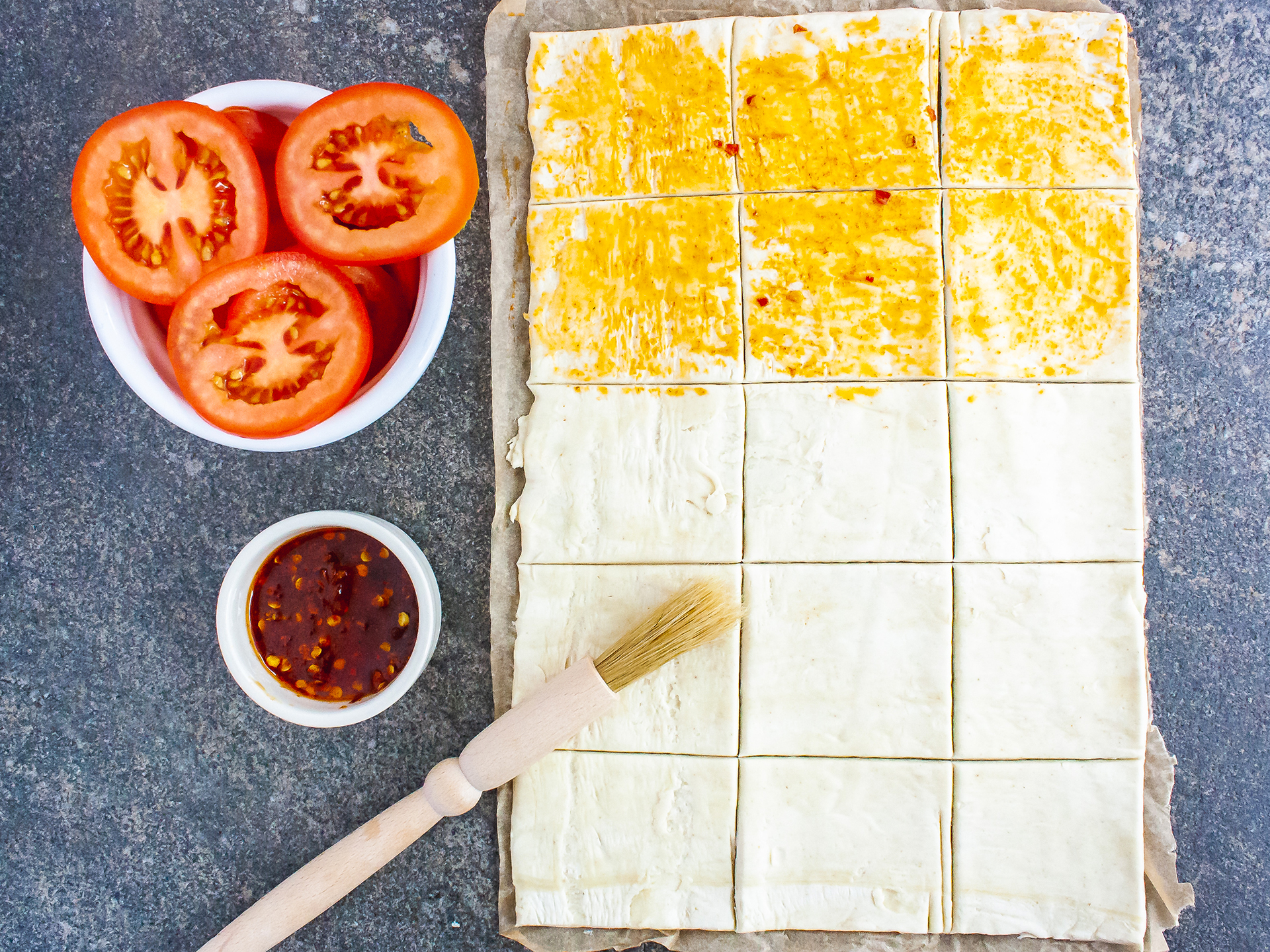 Step 2
Place a tomato slice on each of the pastry squares and sprinkle with basil.
Repeat for every square of pastry.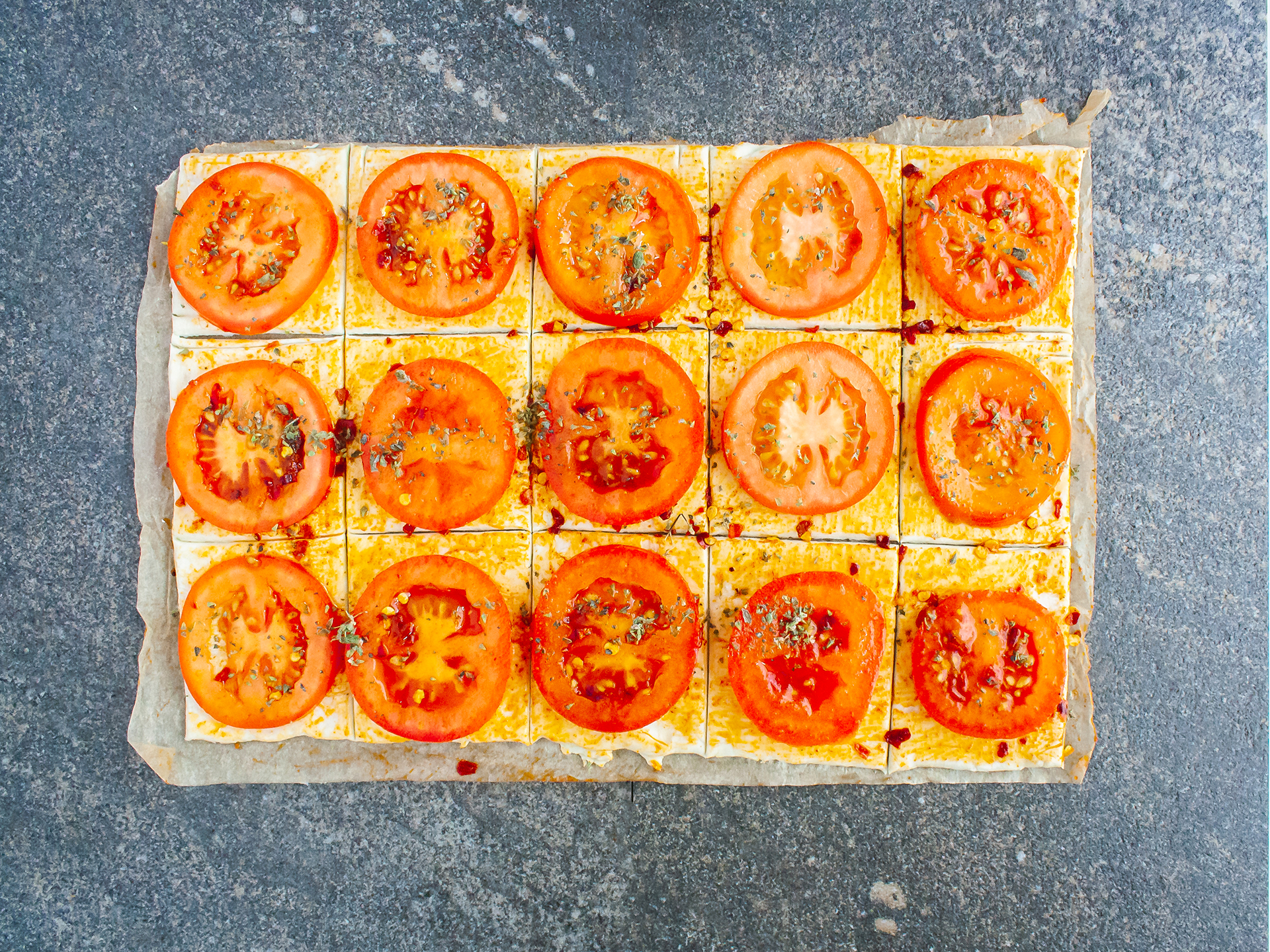 Step 3
Place the baking tray in the oven and cook for 10-15 or until the pastry has turned lightly golden.
Remove and place each square on a plate or wire rack to allow cooling down a bit before serving.
The puff pastry squares can be enjoyed hot or cold for you next dinner or party.
Enjoy!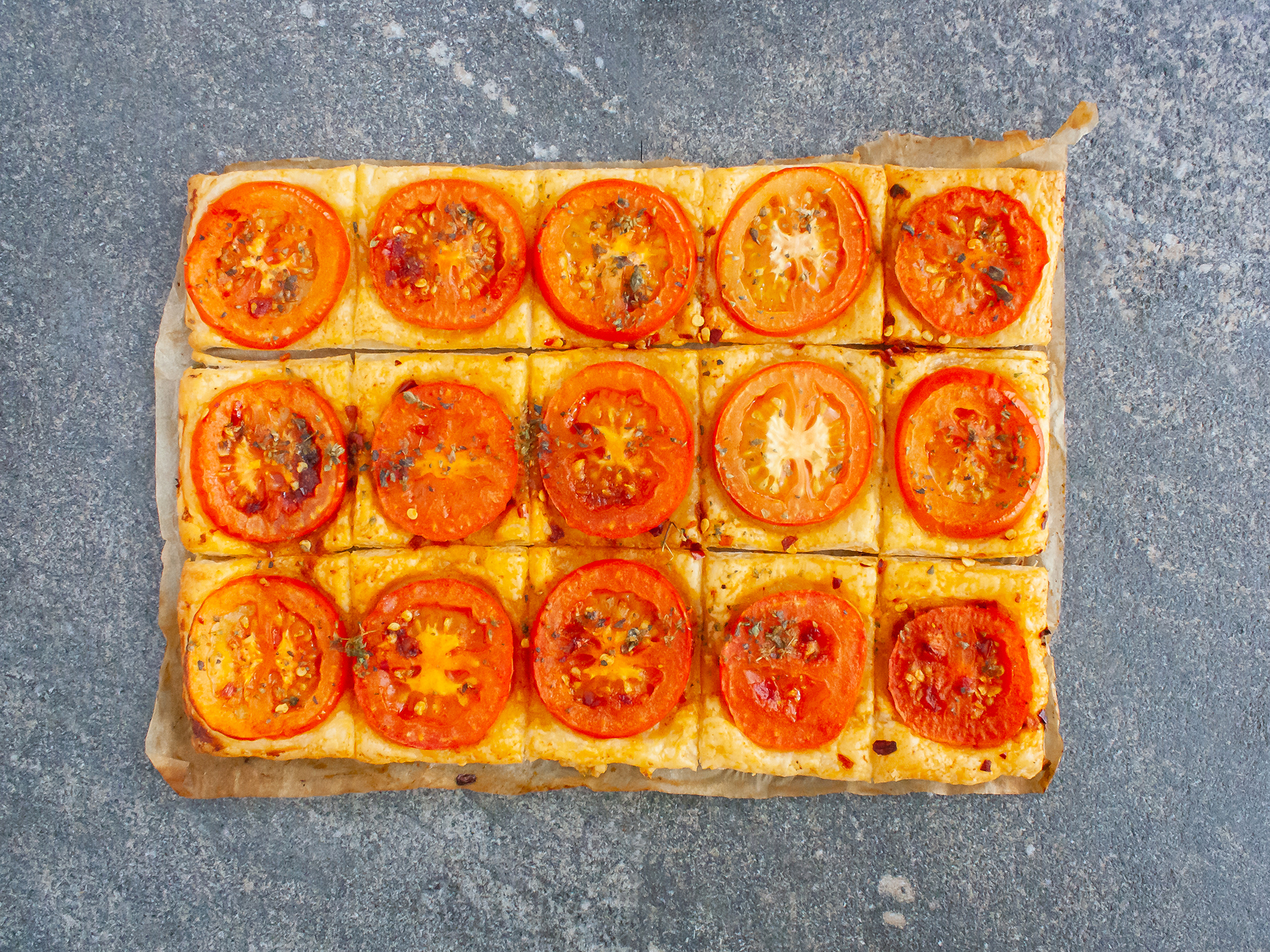 Tips
If you want to warm up these pastry squares, use a regular oven instead of a microwave to keep them crispy.