Pachadi is a yogurt-based curry served as a side dish and popular in the Southern regions of India. Most pachadi are a mix of yogurt, local herbs and spices, and vegetables, although sometimes they can contain fruit too. Today, we'll show you how to make a Kerala-style pachadi with pineapple.
We made this pineapple pachadi using dairy-free yogurt and without any curd, making this recipe suitable both for vegans and people with dairy intolerance.
The base pineapple curry is mixed with a paste made with green chillies and grated coconut. Then, we top everything with lots of tasty herbs and spices sauteed in oil. This process of cooking spices is known locally as tadka (or tarka). It's a great way to add amazing flavour to dishes with very little effort!
You can have pachadi hot as a curry, or cold as chutney; the choice is yours! We like to have it hot with a side of rice or naan, but you can also serve it with local Southern Indian snacks like idli, dosa, and pesarattu.
This recipe is so easy, and it's ready in just 30 minutes. We hope you'll enjoy it!
Ingredients
| | |
| --- | --- |
| Coconut | 50 g |
| Fresh Green Chillies | 5 |
| Pineapple | 350 g |
| Chilli Powder (or Flakes) | 1 tsp |
| Curry Powder | 1 tbsp |
| Coconut Yogurt | 150 g |
| Vegetable Oil | 1 tbsp |
| Cumin Seeds | 1 tsp |
| Fenugreek Seeds | 1 tsp |
| Yellow or Brown Mustard Seeds | 1 tsp |
| Onion | 1 |
| Fresh Ginger Root | 1 tsp |
| Garlic Clove | 1 |
Step 1
In a food processor, add the coconut meat, green chillies, and a splash of water.
Blitz the ingredients until they are finely chopped.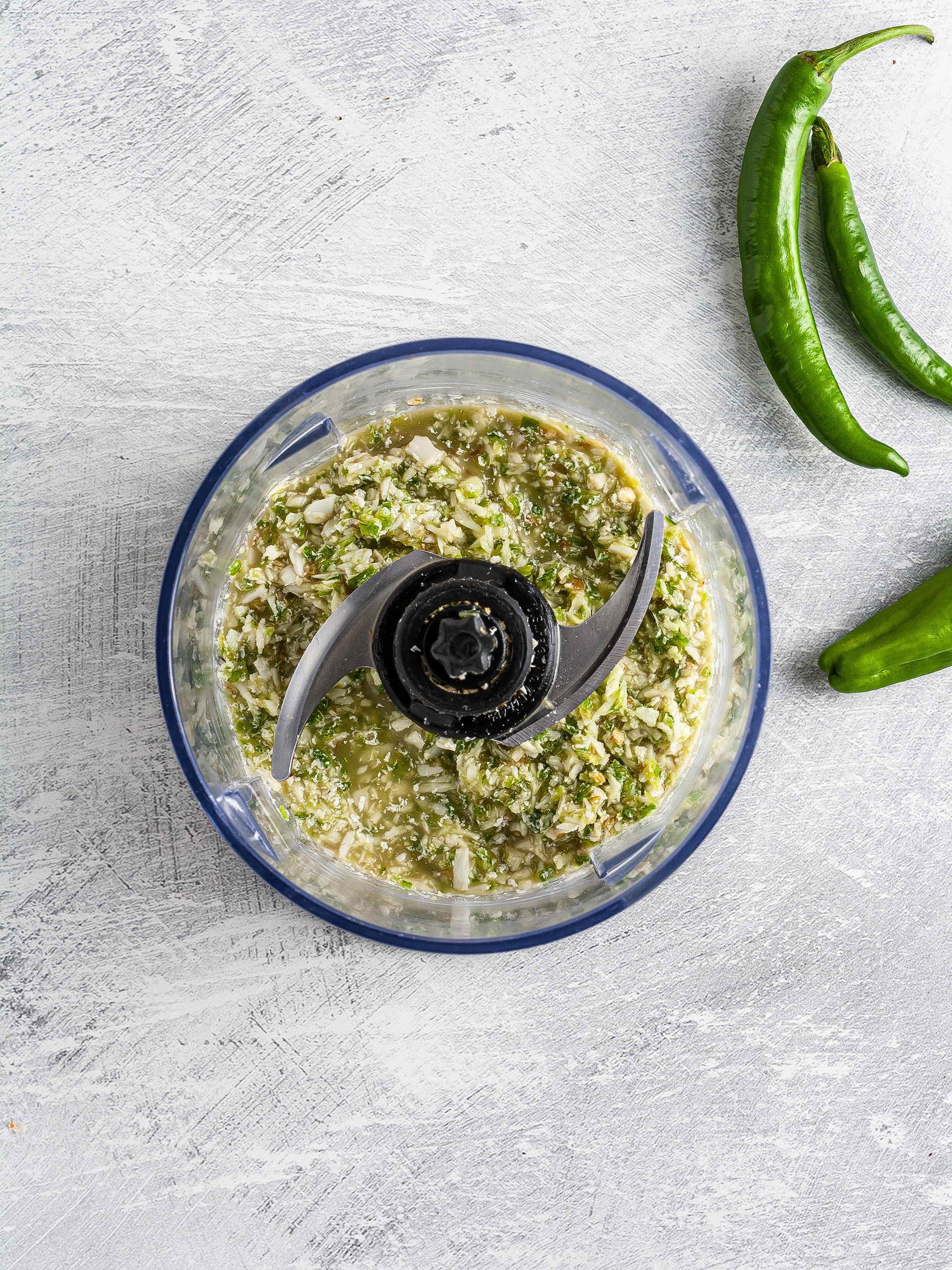 Step 2
Transfer the coconut paste to a large skillet and add the pineapple, cut into chunks.
Then, pour enough water to cover the fruit and stir in 1/2 tsp of chilli powder (or dried chilli flakes) and the curry powder.
Bring to a boil, and simmer the stew over medium heat for 15 minutes or until the pineapple has softened.
After this time, most of the water should have reduced into a creamy curry.
Then, remove from the heat and leave it to cool down for a few minutes while you prepare the sauteed spices.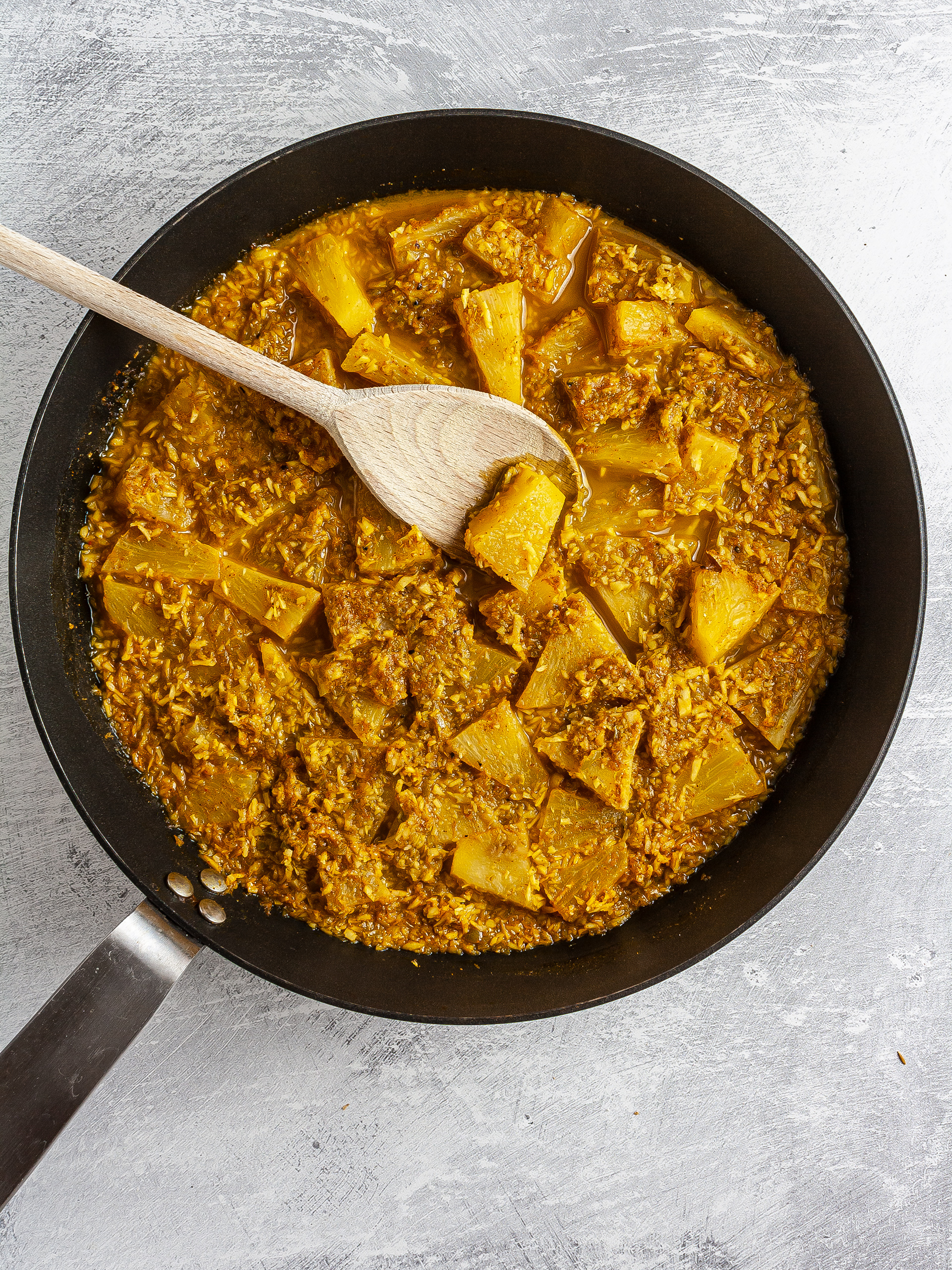 Step 3
In a clean skillet, heat the vegetable oil with cumin, fenugreek, and mustard seeds.
Sizzle until the seeds start to pop and become fragrant.
Then, add the remaining​​ 1/2 tsp of chillies, chopped onions, and thinly sliced ginger and garlic.
Sautee the ingredients until the onions become soft and translucent, and the garlic gets lightly browned.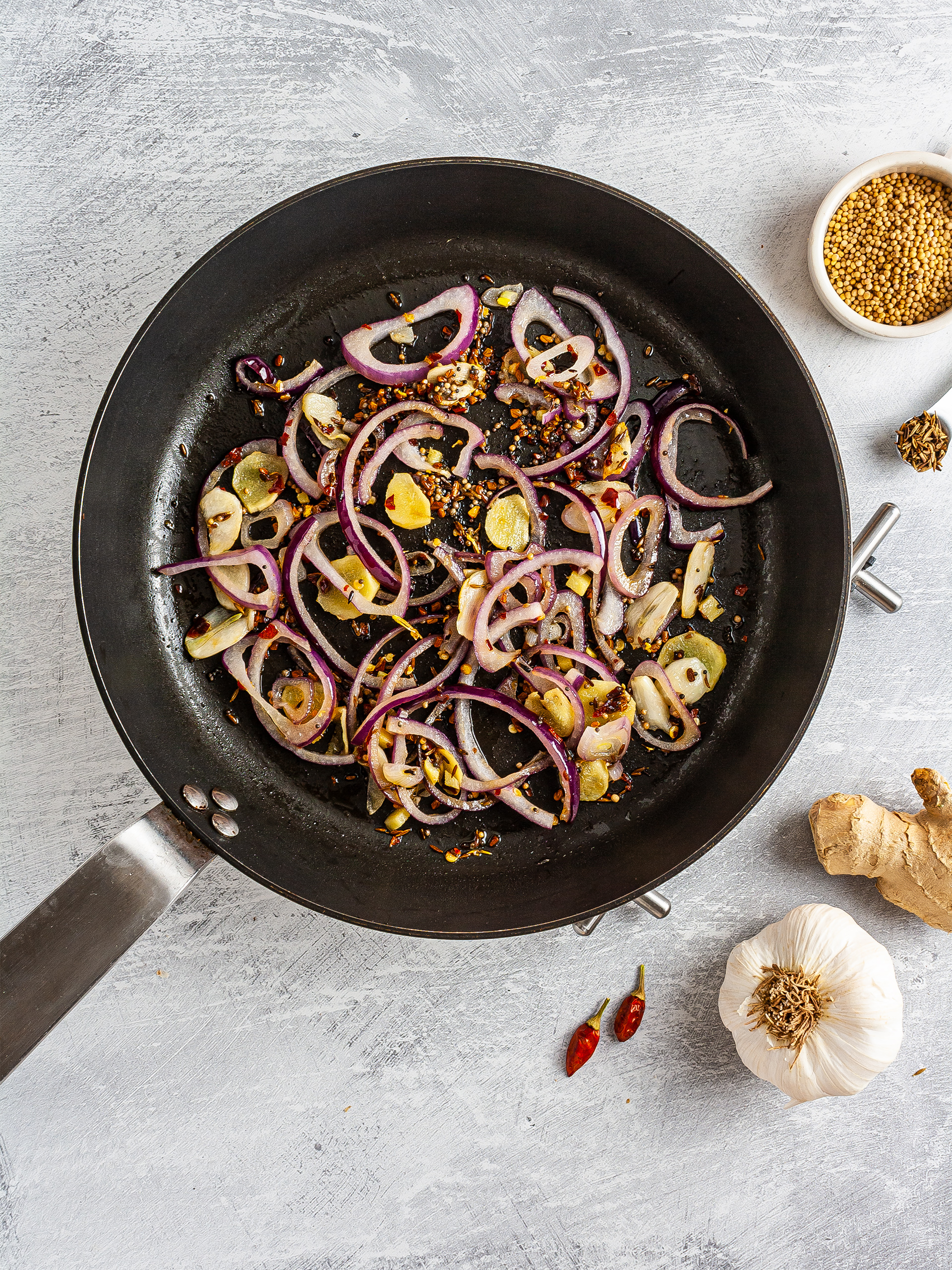 Step 4
Now that the curry has cooled down a bit, add the coconut yogurt and stir until it's well incorporated (1).
Divide the pineapple stew among serving bowls and top with the sauteed spices (2).
You can serve it with basmati rice, naan, or fibre-packed brown rice.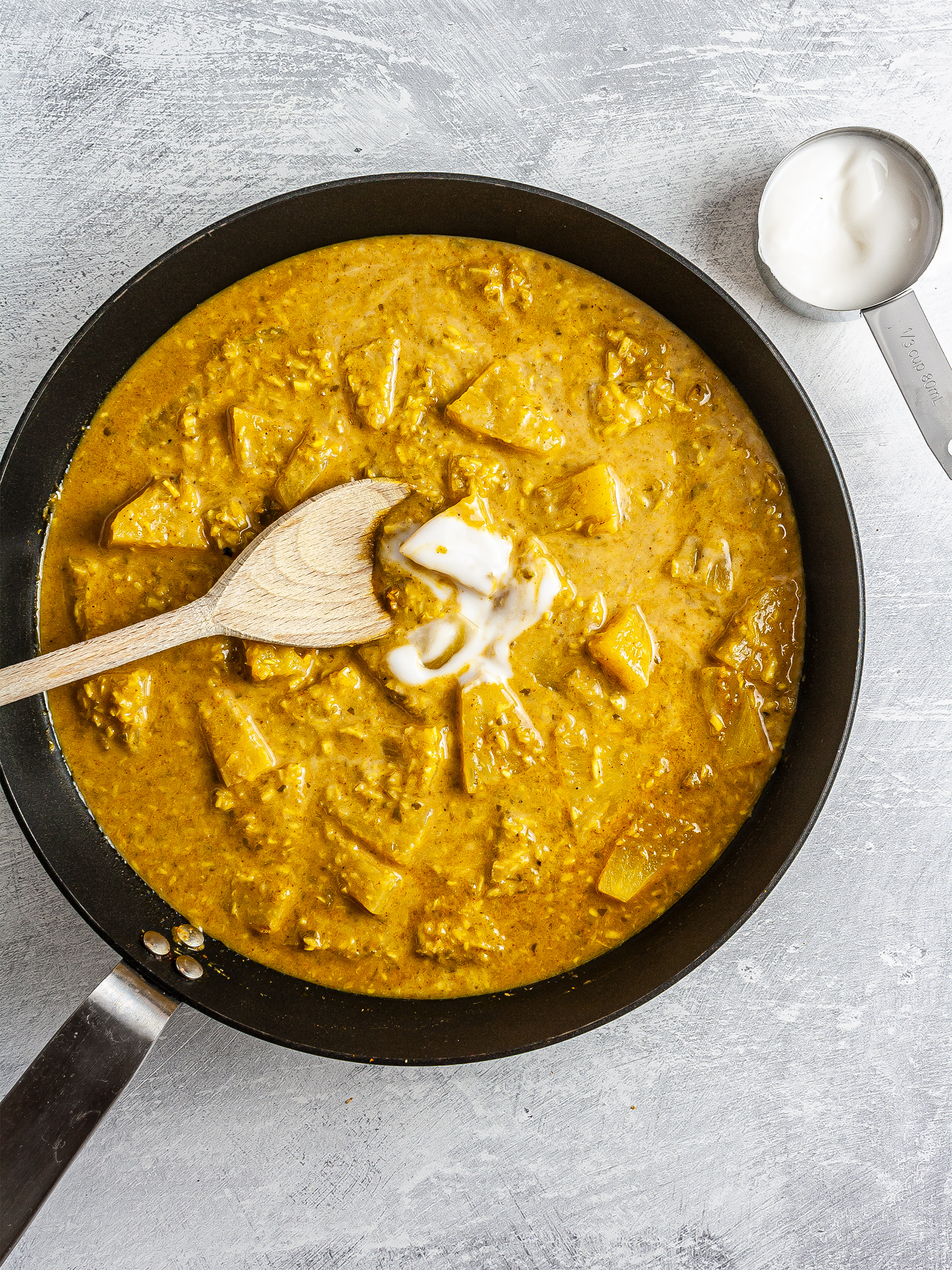 1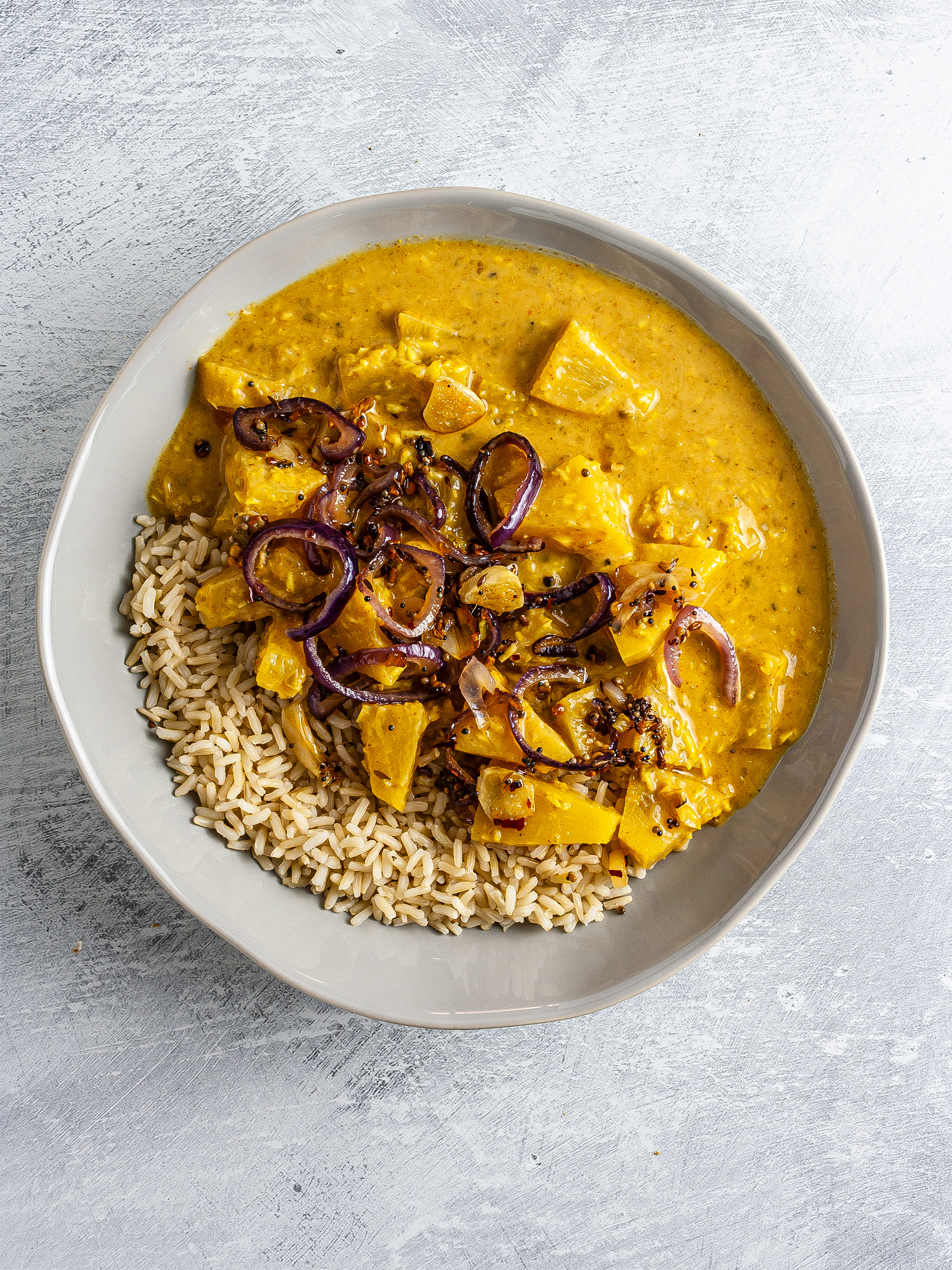 2
Tips
You can use ginger, garlic, and onion powder instead of their fresh counterparts.

Instead of the fresh one, you can use canned pineapple. Just make sure it hasn't added sugars, and drain it well before adding to the curry.