What better way to celebrate the arrival of summer than treating yourself to a big scoop of ice cream? We've got the perfect recipe for you: pistachio "nice" cream. It's super creamy and tasty yet low in fats and sugars.
If it's your first time hearing of a "nice" cream, all you need to know is that it's a healthier version of the classic gelato. Instead of being prepared with lots of sugar and double cream, it only includes frozen fruit and a few healthy add-ons. This means it's dairy-free, vegan, and sugar-free, suitable for folks on a plant-based diet, with a dairy allergy, or on a diet.
For this recipe, we used frozen bananas as a base and then added soaked pistachios. We drizzled the mix with lemon juice to prevent the bananas from browning and blended it all into a super silky pistachio ice cream. You can enjoy it right away as a soft serve or put it back in the freezer for a more scoopable consistency.
We love this recipe because it can be done without an ice cream maker. You won't have to churn the gelato for hours, but only freeze whole bananas for one or two hours and blitz them until creamy. This means your healthy homemade ice cream will be ready in very little time!
Soaking the pistachios before blending them is an important step as it makes the nuts softer and easy to blend. Also, it ensures they will release their green pigments into the bananas giving you a lovely pastel green ice cream. You have to soak them only for one hour, and you can do this while the bananas are freezing to save time.
With our recipe, you can prepare one medium-sized tub of pistachio ice cream, about 500g (1 lb). A serving of two big scoops of gelato (about 100g/3.5 oz) has just 200 calories, and it covers only 12% RDI of sugars and 6% RDI of saturated fats.
Ingredients
| | |
| --- | --- |
| Ripe Bananas (peeled weight) | 400 g |
| Shelled Pistachios | 100 g |
| Lemon | 1 |
Step 1
Before you start, make sure you're using very ripe bananas as they will taste sweeter and blend better into ice cream.
Peel the bananas and then place them on a plate, tray, or in a container. Freeze them for at least 1-2 hours or even better overnight.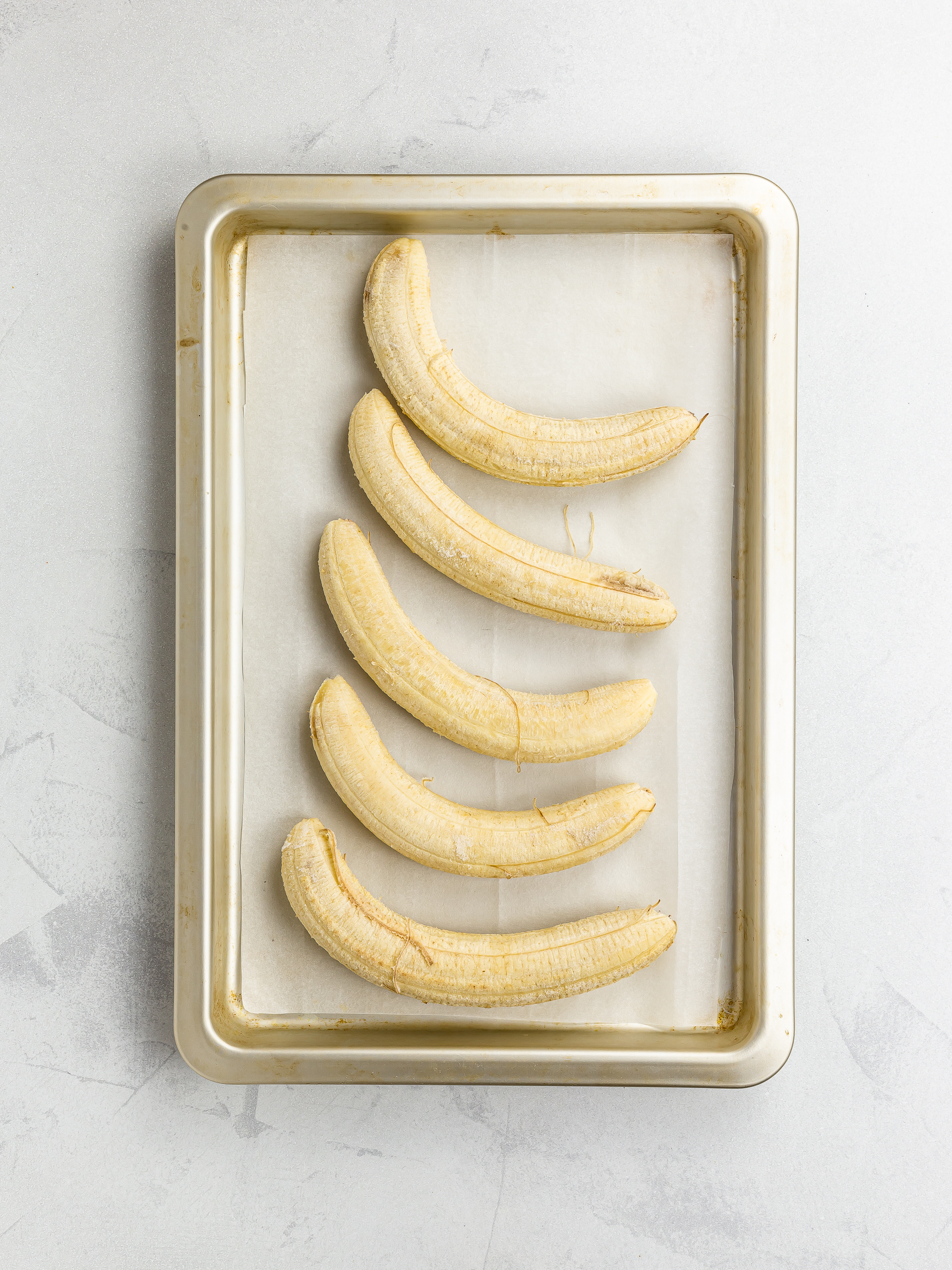 Step 2
The amount of pistachios in the ingredients is for shelled pistachios. If you're using pistachios with shells, keep in mind that you'll need almost twice the amount.
Ok, now crack the shells open and discard them.
If you want, you can spend a little extra time removing the brown peel wrapping the nuts for better final consistency and colour.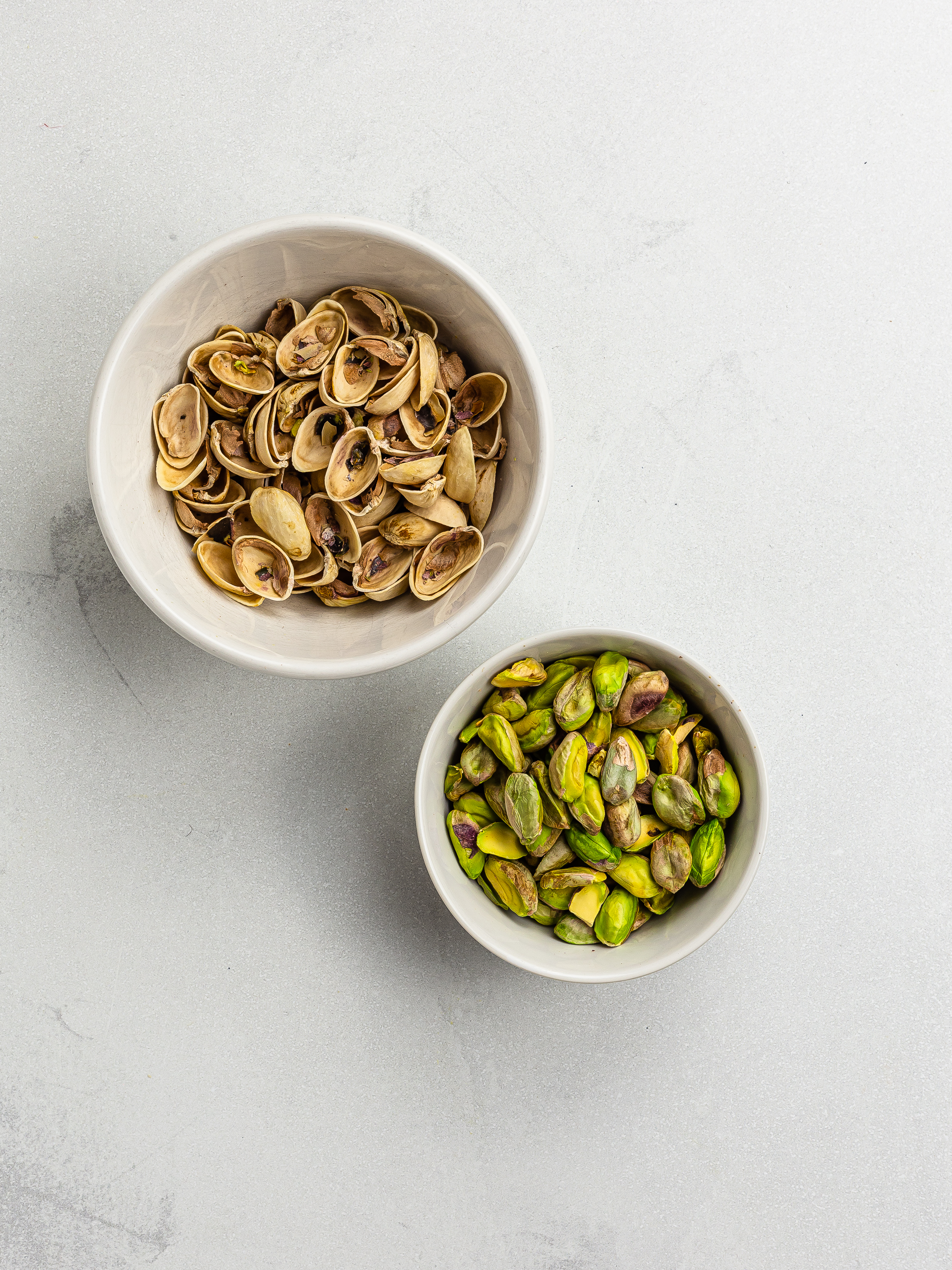 Step 3
Next, add the pistachios to a bowl and cover them with warm water.
Let them soak at room temperature for 1 hour.
By soaking in water, they will soften and give the ice cream a softer consistency and a greener colour.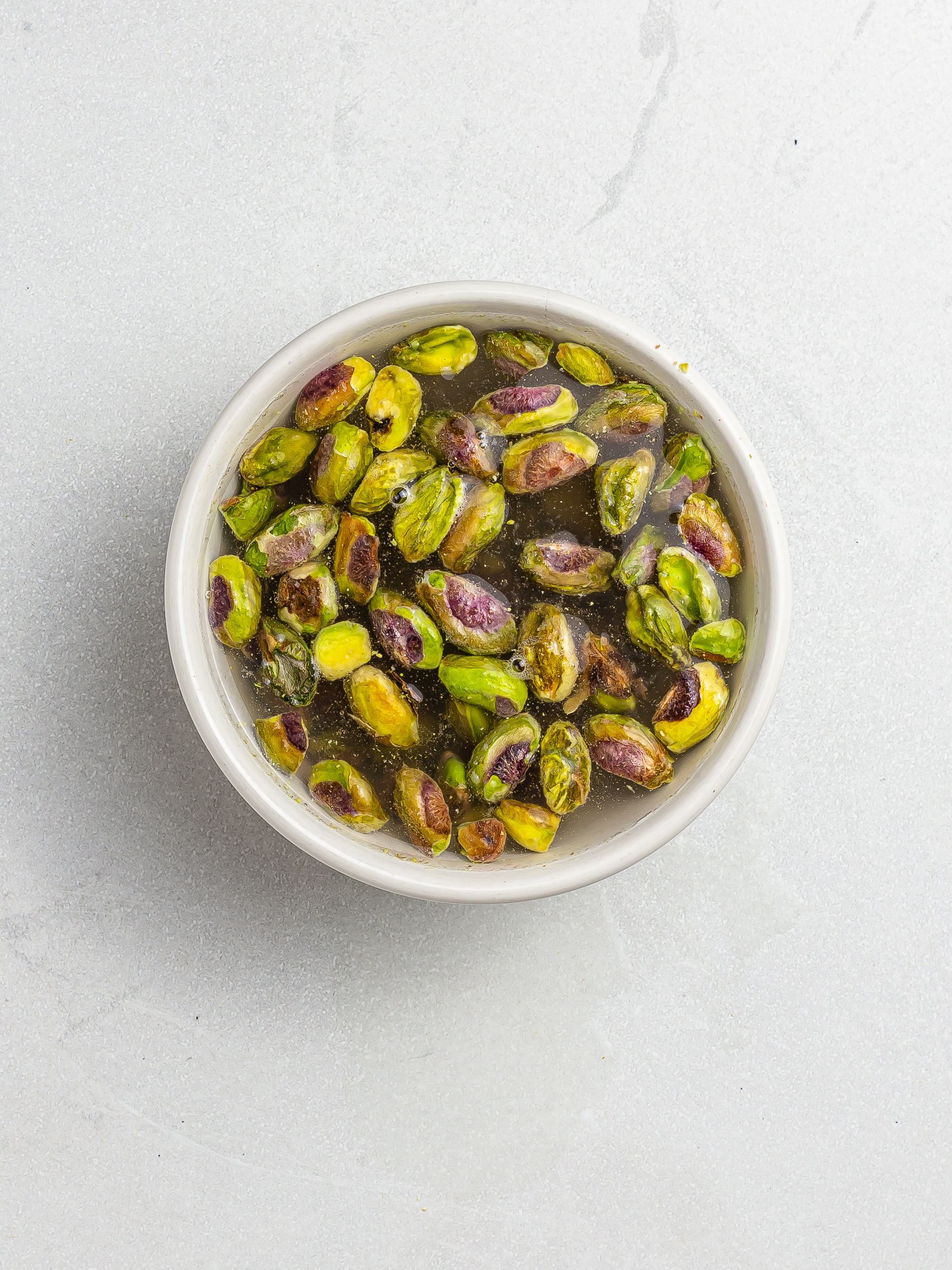 Step 4
Now, roughly chop the bananas into chunks big enough to fit your blender.
Then, drain the soaked nuts and add them to the food processor, followed by lemon juice and bananas.
Blitz all at high speed for 2 minutes until the ingredients turn into a creamy, mousse-like mixture.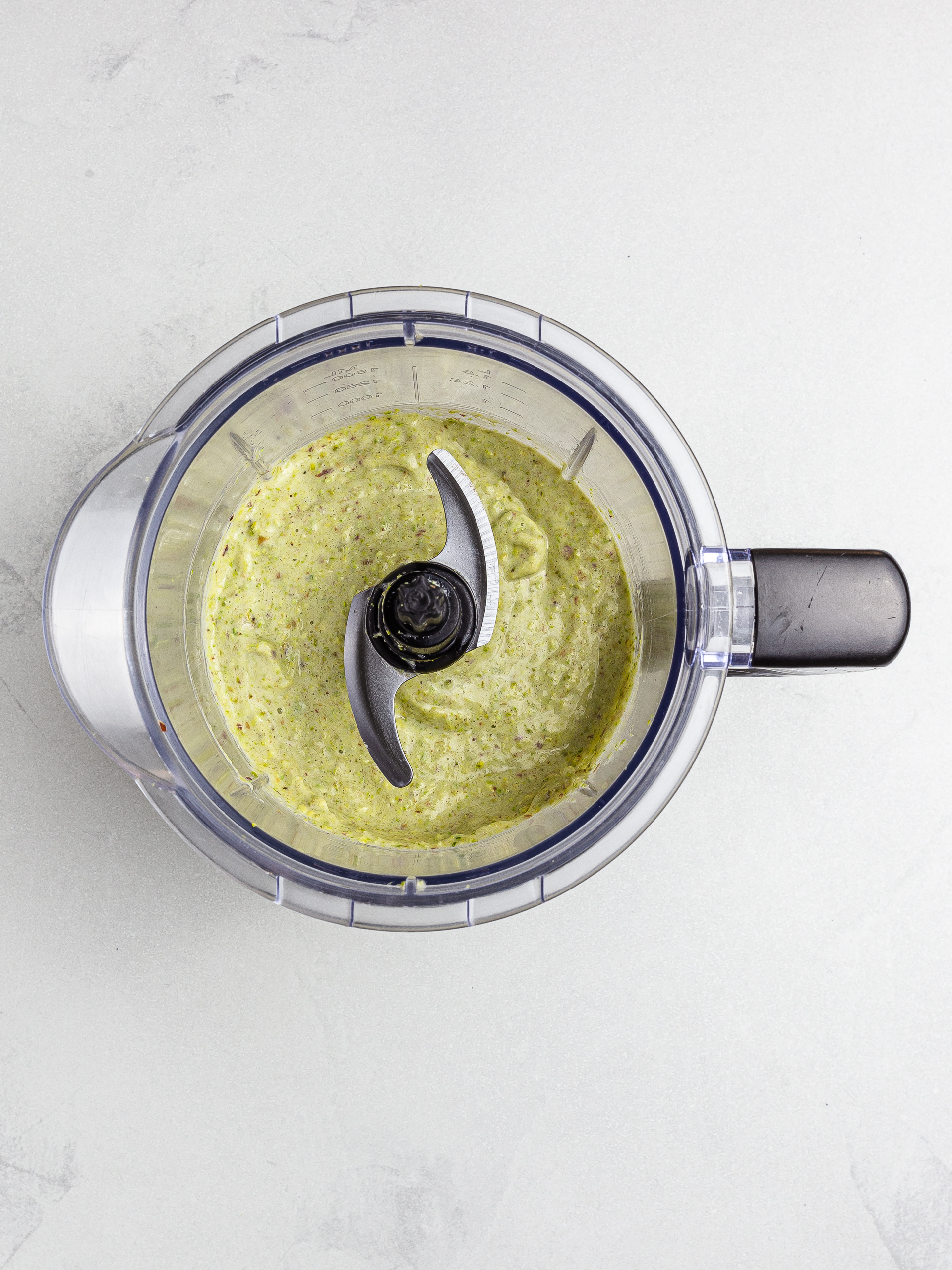 Step 5
Your vegan pistachio "nice" cream is ready.
You can enjoy it right away if you want a soft-serve ice cream (1).
If you want a more scoopable gelato instead, transfer it into a freezer-safe container and freeze it for at least 3 hours or overnight.
Then, let it soften at room temperature for 15-20 minutes and scoop it into balls (2).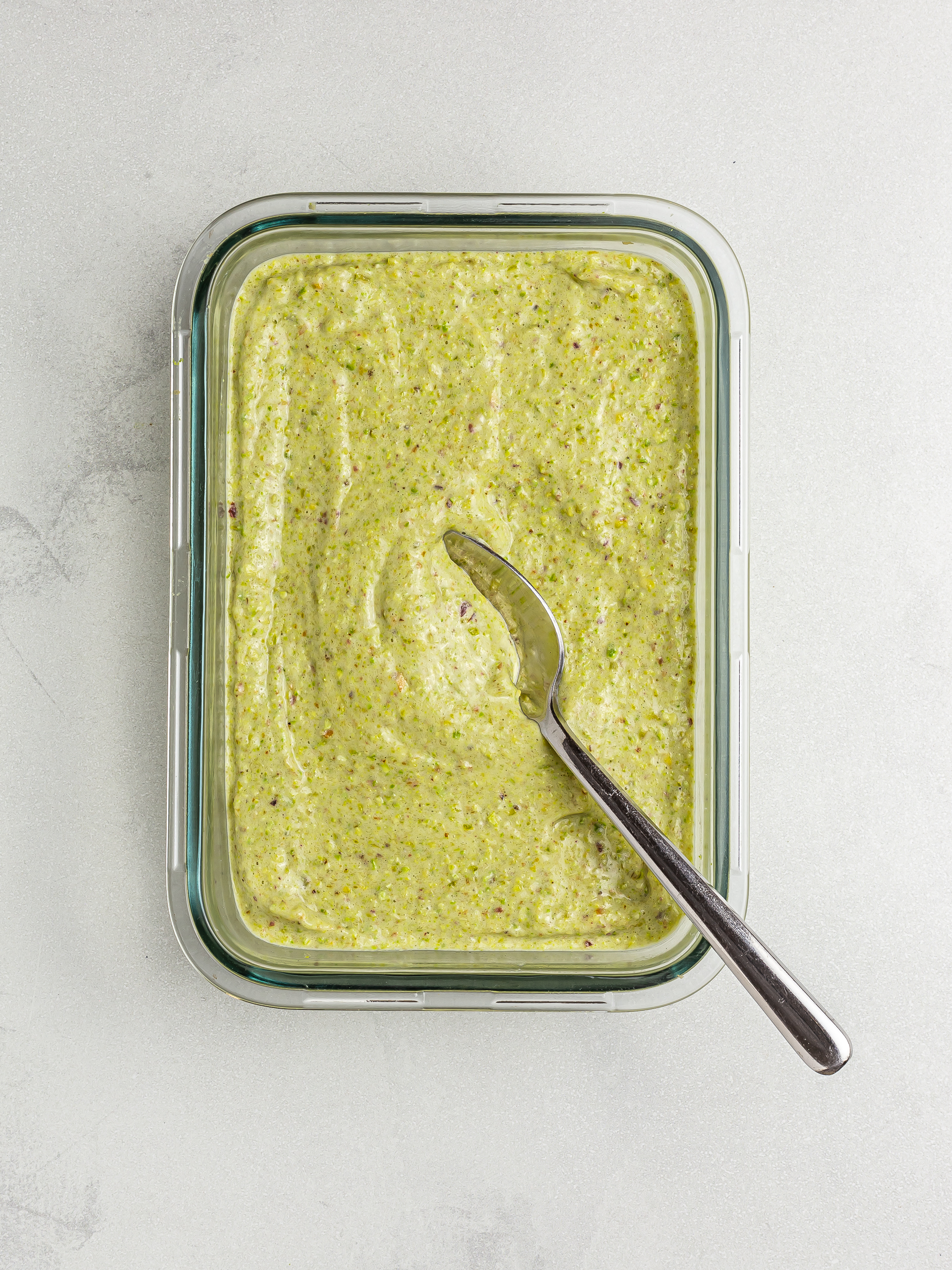 1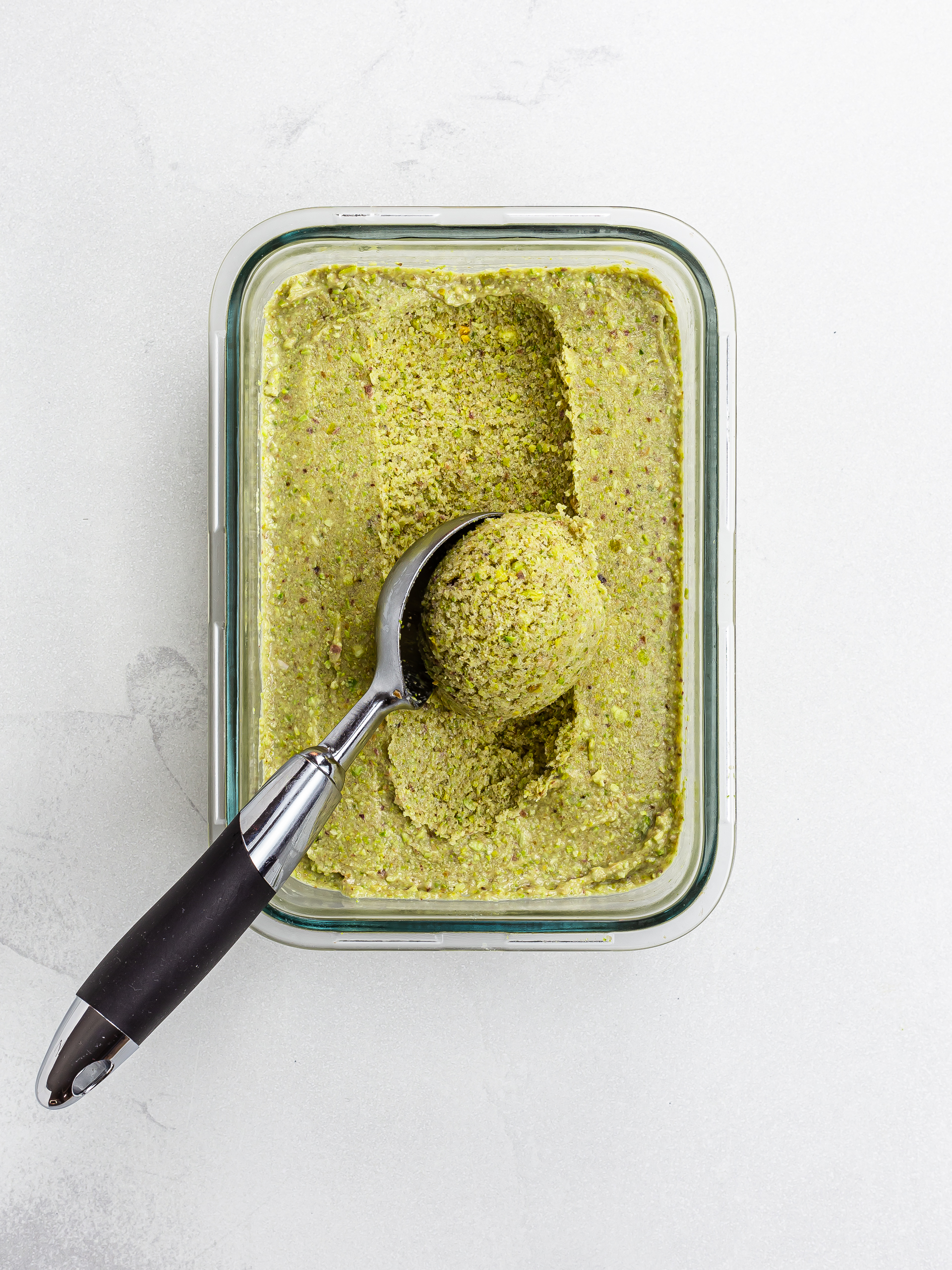 2
Tips
Lemon juice prevents the bananas from browning once chopped and blended.
Watch on Youtube