Sipping on a tall glass of plum juice is a fantastic way to quench your thirst, stay hydrated, and stock up on antioxidants all in one go. Instead of buying it, why not trying to make fresh plum juice yourself? It's easier than you think, and it tastes so much better! Let's do it!
All you need for this recipe are two simple ingredients: ripe plums and water.
Stew the chopped fruit in simmering water, blend it, filter it with a nut milk bag or a sieve, and you're done! Get ready to savour the sweetness of this delicious purple juice.
If you want to make it even more flavourful, we'll give you the option to add a few spices like cinnamon, ginger, and cardamom.
Pick your favourite (or all of them) and add it in the boiling water. Let it infuse in the juice and filter it later on along with the plum pulp.
The best thing about this recipe is that you can make the juice without using a juicer.
Juicers crush and grind fruit and vegetables, extracting their juice and leaving the pulp behind. In our recipe, instead, we used a cheesecloth bag and found that it does a great job separating the pulp from the liquid with very little effort.
If you blitz the plums with water without cooking them first, the juice won't have that beautiful dark red hue. That's because the plum purple pigments leek out from the fruit skin only in hot water.
But to avoid damaging the plum's precious nutrients, keep the water at a gentle simmer and don't cook the fruit for too long.
While many plum juice recipes out there also include added sugar, we made ours sugar-free.
To keep the juice sugar-free and yet naturally sweet, you need to use overripe plums (super soft and juicy) as they will taste sweeter.
The natural sugars found in the fruit will dissolve in the boiling water, making the juice sweet with no need for extra sugar.
However, if plums are not in season or you can't find nicely ripe plums, you can still make this juice. Feel free to add a drop of raw honey or pure maple syrup to sweeten the juice to taste.
You can also use a zero-calorie sweetener like erythritol to keep the recipe sugar-free. Simply add it to the boiling plums, stirring until dissolved.
Now, it's time to grab your basket of plums and get juicin'!
Ingredients
Juice
Overripe Plums (medium-sized)

10

Filtered Water

1.2 L

Optional Spices
Ground Ginger

1/2 tsp

Ground Cinnamon

1/2 tsp

Cardamom Pods

2
Step 1
Before you start, make sure you're using overripe plums — they should be juicy and super soft to the touch.
Ripe plums will taste much sweeter than the underripe ones, making the plum juice naturally sweet without the need for added sugar.
You can use any variety of plums with dark-purple or dark-red skin; good options include friar, black beauty, damson, santa rosa, or blood plums.
Rinse the plums well, halve them and remove the pit.
Then, chop them into chunks.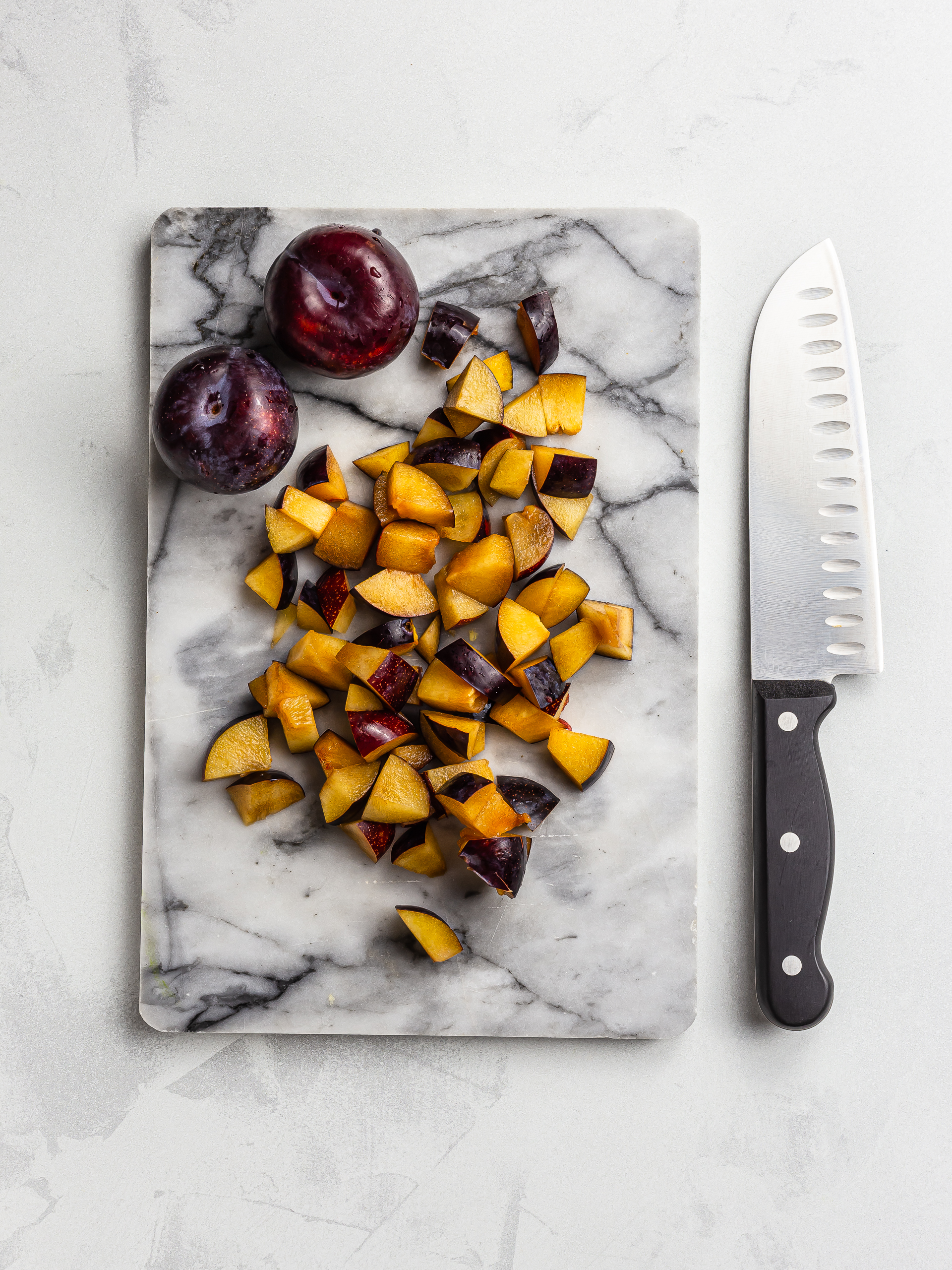 Step 2
Add the plums to a pot, followed by the given water and the spices if you're using them.
If you know the plums you're using aren't ripe and sweet, consider adding a little sugar or, even better, a zero-calorie sweetener (like erythritol).
Use about 1/4 teaspoon (or up to 1/2 teaspoon) of sweetener per serving, stirring until dissolved.
Alternatively, you can wait to taste the juice when it's ready, and then add a sweetener to taste.
Now, bring all to a boil and simmer the plums for 10 minutes over low heat.
As they cook, the plums will release their purple juices into the water.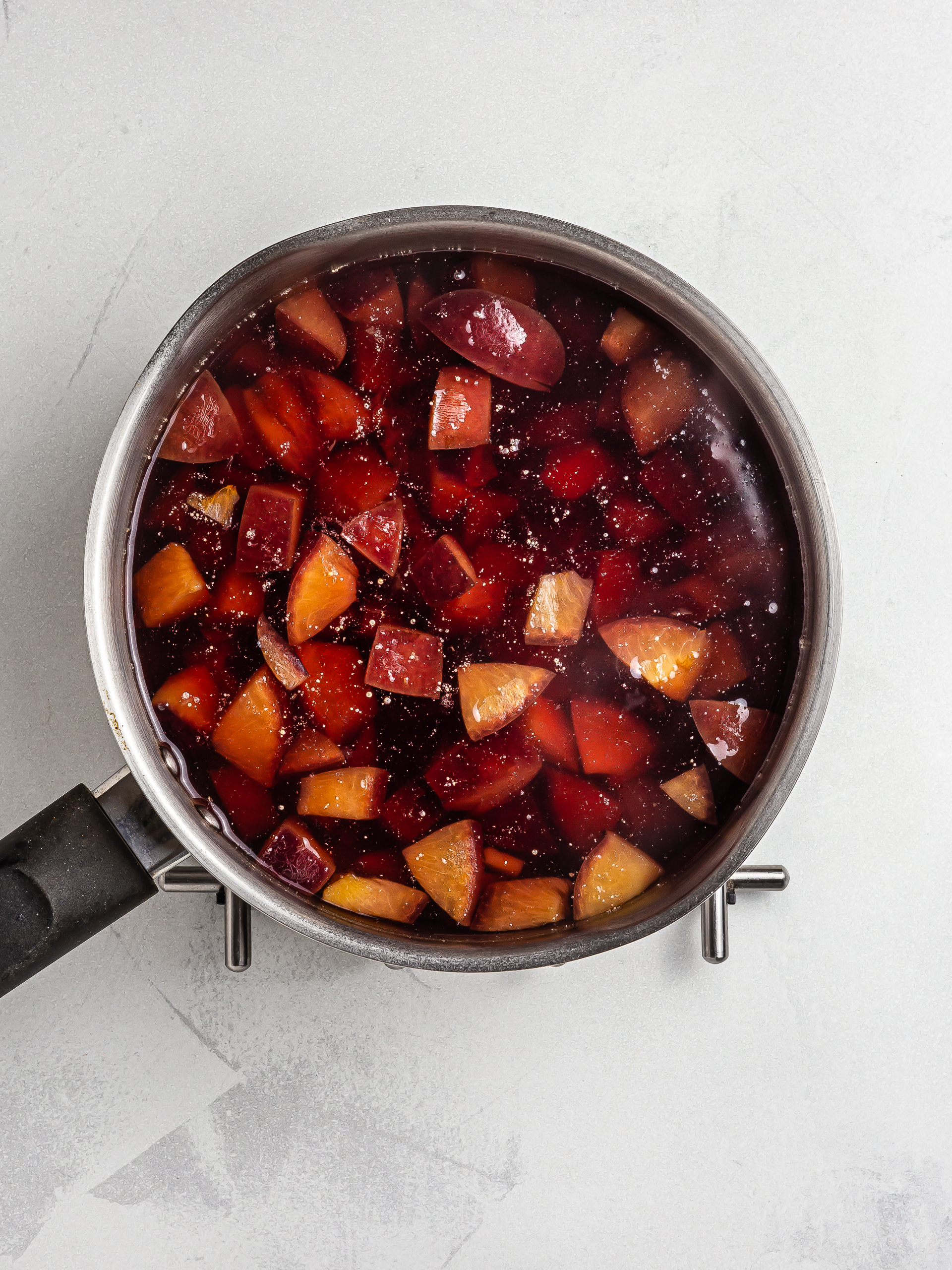 Step 3
Next, blend the plums using an immersion blender right into the pot.
Alternatively, transfer them into a food processor along with their cooking water and blitz all.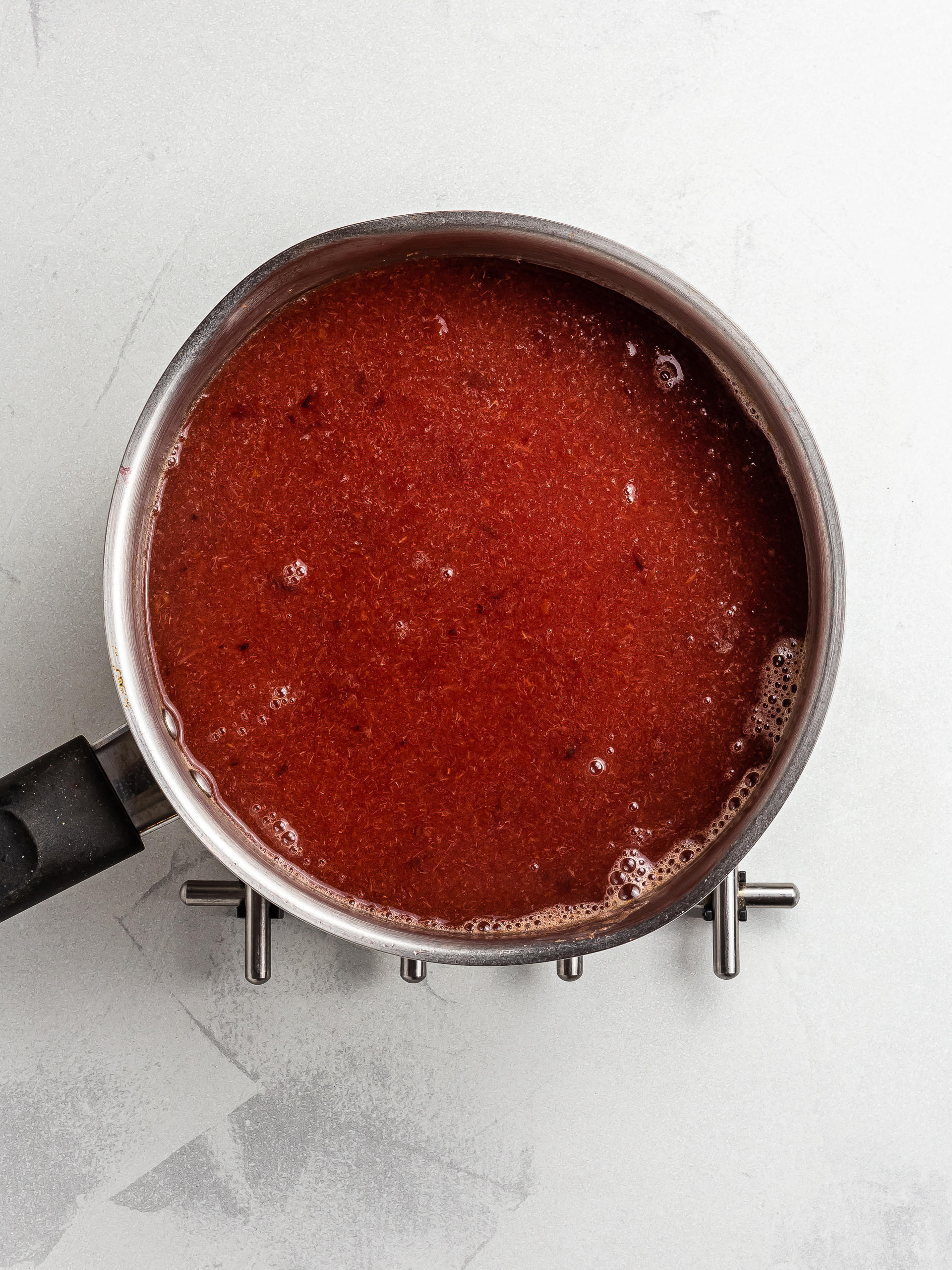 Step 4
To extract the plum juice, strain the blended plum mixture through a nut milk bag or cheesecloth.
Squeeze the pulp tightly and collect the purple juice into a bowl.
Alternatively, you can pass the plum pulp through a fine-mesh sieve, but you'll have more bits ending up into the juice.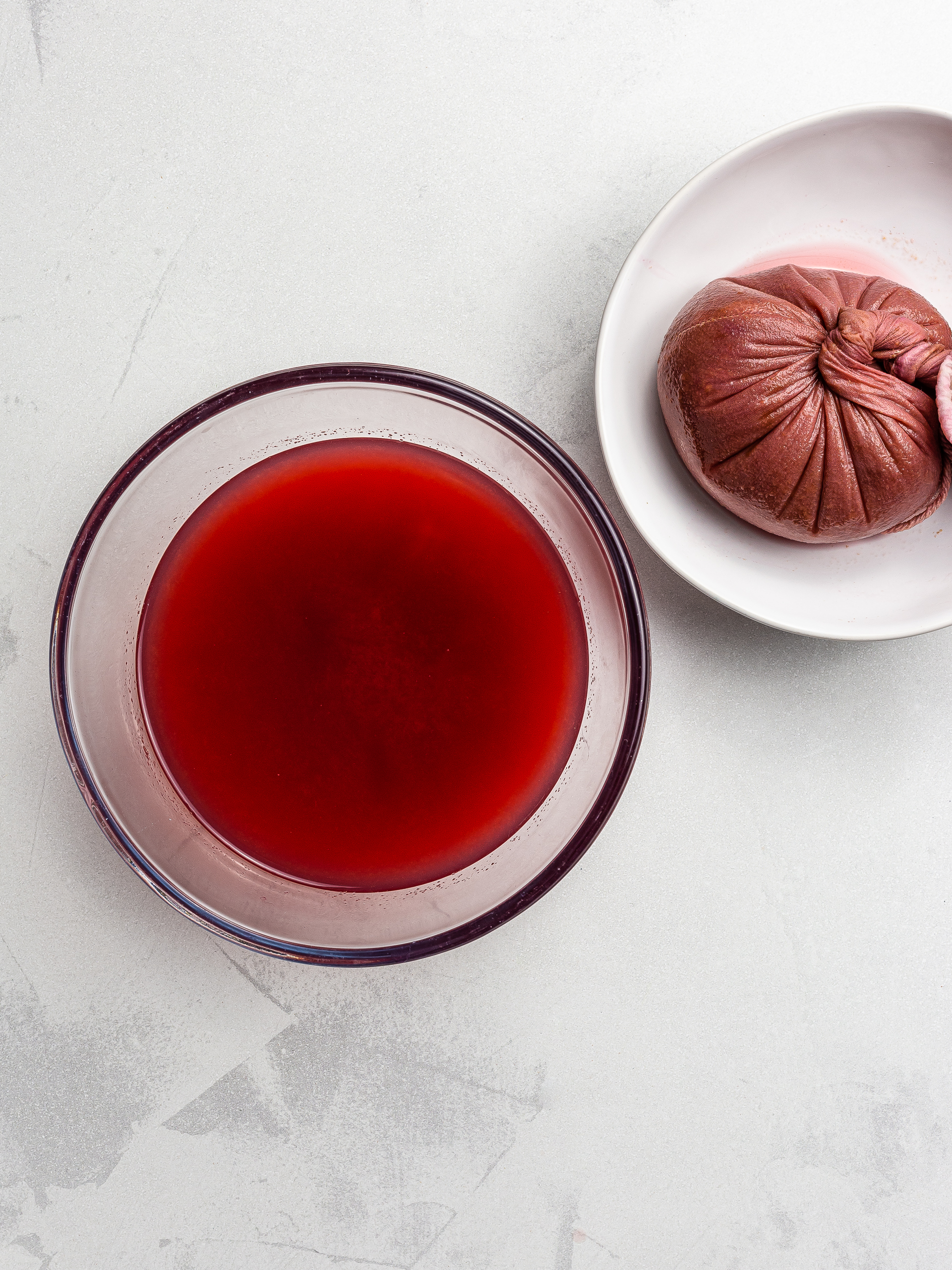 Step 5
Transfer the juice into a bottle with help of a funnel and let it cool down completely in the fridge.
Once cold, taste the plum juice: if you feel it's not sweet enough for you, you can tip in a little raw honey or maple syrup to taste.
Enjoy this refreshing plum juice with a few ice cubes and a slice of lime!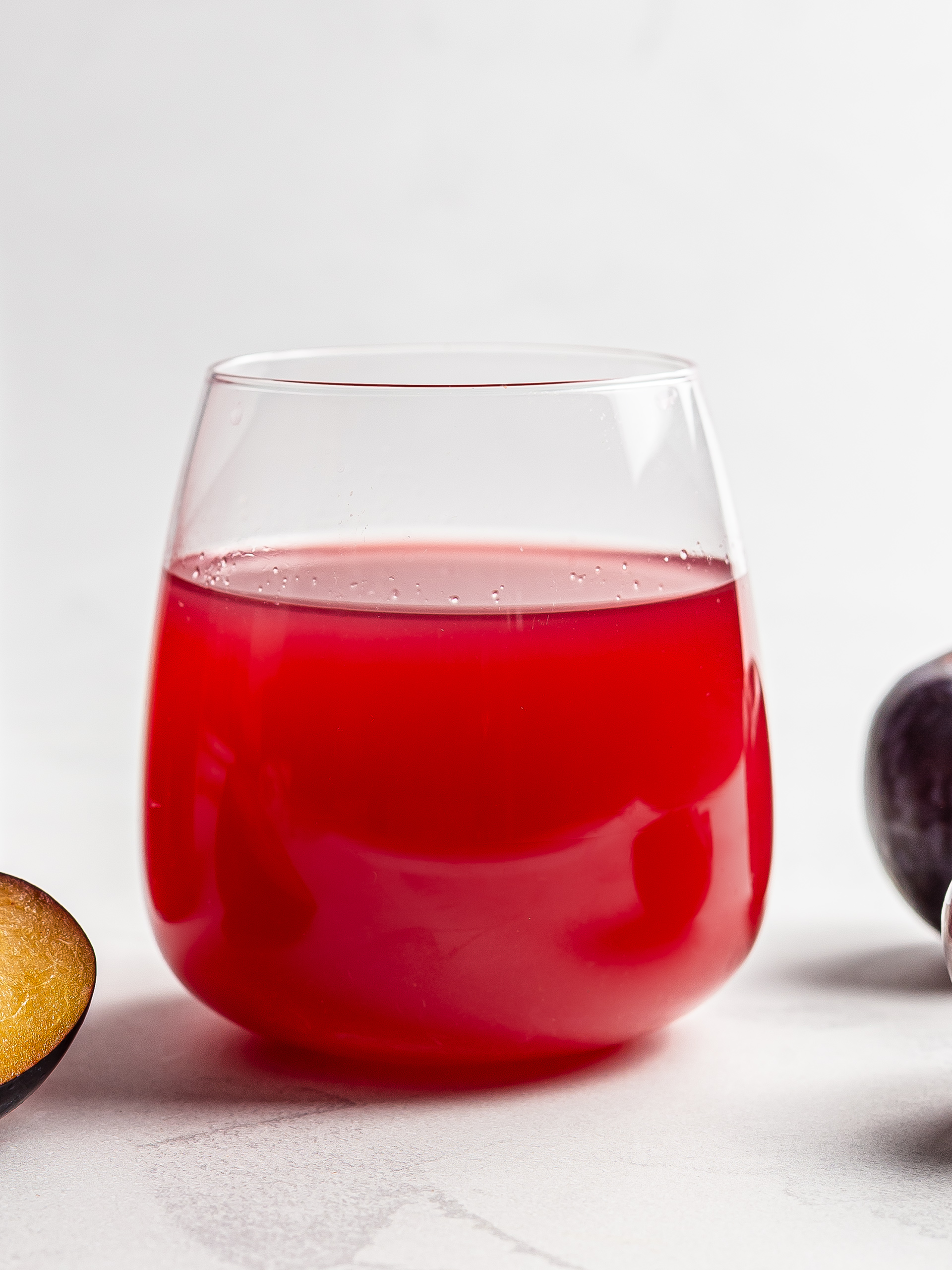 Tips
Add half a beetroot to the cooking plums for a more purple hue and extra antioxidants.