When you love two things, what's better than getting both at once? Our prawn sweet potato curry recipe borrows elements from the spicy Jamaican prawn stew and the Thai's coconut milk and prawns curry. The result? A sweet and spicy creamy curry with a delicate seafood taste.
If you would pardon the dad's joke: We caught two curries with a prawn. Ok, let's move on.
So what's great about our recipe? First of all, it's super healthy, as we included only wholesome and nourishing ingredients. A single serving will provide you with 34% of your recommended daily intake (RDI) for proteins, 22% of your RDI for fibres, and 23% of your RDI for carbs. Moreover, it's a quick and easy recipe ready in less than 30 minutes!
The foundation of our curry consists of these three wholesome ingredients:
Coconut milk

Sweet potatoes

Prawns
Coconut milk adds a tropical and exotic taste to any dish. It also provides us with healthy fats and body-energizing electrolytes. Although coconut is rich in saturated fats, these fats are different from those in animal products. Scientific evidence found that coconut milk can have a positive impact on our heart and cholesterol, and it can help us lose weight [1].
Then we have sweet potatoes, an excellent source of vitamins, minerals and precious gut-friendly fibres. The orange tubers are a low-carb alternative to plain potatoes, making them a better choice in weight-loss diets.
Finally, prawns are impressive crustaceans with very few carbs but loads of healthy omega-3 fats and antioxidants. They are also a rich source of iodine, a mineral that promotes a healthy thyroid.
Prawns are second only to salmon on our wholesomeness scale, as they can raise your cholesterol when consumed in large quantities. But we are still talking about healthy fish that will bring your real benefits when included in a balanced diet. Also, scientific research found that regular consumption of shrimps didn't increase the risk of developing heart problems [2], suggesting that the benefits from healthy fats in these crustaceans outweigh the negatives from cholesterol.
School session is over, let's get cooking! Remember to serve this curry with a bowl of rice, and you'll have a quick and satisfying pescatarian dish perfect for either lunch or dinner.
Frequently Asked Questions
Frozen vs fresh prawns: Which are better for curry?

If you can't get your hands on fresh prawns, you can still prepare seafood curry using either uncooked or pre-cooked frozen prawns.

The pros of using frozen prawns over fresh ones are price and convenience.

The cost of any frozen fish is always lower than freshly caught fish, as the latter lasts only a couple of days when stored in optimal conditions, while the former can last months. Moreover, fresh seafood is harder to source for some countries or states and impossible for others. The short life of sea produce and sourcing problems causes significant logistical hurdles to sellers, which inevitably results in higher prices.

On top of that, once you get fresh prawns, you have to clean them, which means more work for you. Frozen prawns with their shell removed instead are ready for use with little effort.

Although fresh prawns will cost you more and require extra work, they will yield a prettier and more flavoursome curry without a doubt.

You can keep a few prawns with the shell on for decoration, as these won't shrink when cooked. Moreover, fresh prawns will release all their juice when cooked, enriching the curry with a briny fragrance you simply won't get from the frozen counterparts.

Fresh prawns are also more versatile. For example, you can use the shells to make fish-stock, helping you offset the higher price.

In conclusion, if you are making this dish to make an impression, go the extra mile and get some fresh prawns. Otherwise, you can still get a delicious and satisfying meal by using frozen produce.
What vegetables go well with prawn curry?

To make prawns stand out in curry, we need to pair them with mild veggies that can complement their delicate flavour.

We like using sweet potatoes whenever we want to add creaminess to our dishes but want some other ingredient flavour to triumph. Colour is another reason why we opted for sweet potatoes. The orange from the tubers will add more depth to the yellow curry powder and give the stew a bright and earthy look.

Good alternatives to sweet potatoes are other sweet, delicate vegetables.

To stay in tone with our recipe, you could use squash or pumpkin. Butternut squash is an excellent vegetable for curries, with creamy flesh and a sweet, nutty flavour.

For an even milder curry, you could instead use courgettes. Courgettes are even milder than sweet potatoes and probably the best companion to prawns in recipes. Due to their high water content, zucchinis don't make creamy soups or curries. You can compensate for this using other ingredients, like potatoes that are good for mashes or potato starch.

Want to add more Jamaican flavour to your prawn curry? Swap sweet potatoes with eddoes and chayotes, and replace our fresh chilli peppers with scotch bonnet chilli.
Can I freeze and reheat prawn sweet potato curry?

Whether you want to make it ahead or have any leftovers, this prawn curry is perfect for freezing and reheating any time you need a quick and tasty midweek meal.

Before you store this stew in the freezer, allow to cool down for at least 30 minutes, possibly covered.

Then, transfer the stew into a freezer-friendly container, like a tight seal box or a zip lock bag, filling it at two-thirds to avoid any leaks. It's a good idea to pack it already into meal-size portions so that you'll reheat only the servings you plan to eat.

Once frozen, this sweet potato stew can last for up to 2-3 months.

To warm it up, allow thawing in the fridge for at least 8 hours. For example, you can take it out of the freezer on the night before to have it ready for lunch, or in the morning for a quick dinner fix.

If your container is suitable for microwaves, then just reheat the curry for 5 minutes at medium power. Alternatively, you can transfer this shrimp stew into a pan, add a splash of water, and cook until softened. We would recommend this option over the microwave, as it gives you better control.

However, if you're really in a hurry and don't have time to defrost it, then you can just cook it right away from the freezer.

Whatever heating method you choose, try not to overcook the prawns as they will shrink and become chewy.
What to serve with sweet potatoes and prawns curry?

To balance out this meal with a source of carbohydrates, you can serve this sweet potato prawn curry with rice, noodles, or bread.

There are many side dishes you can serve with this curry. Let's take a look at a few of them.

The traditional way to eat curry in the Indian food culture is to serve it with a type of bread called roti or naan, flatbreads which are used to scoop the curry out the bowl.

In Thai cuisine instead, curry is usually accompanied by a bowl of steamed rice. You can use long-grain basmati rice or short-grain sticky rice. For a healthier alternative you can try serving this prawn stew with brown rice, it's lower in calories and packed with fibres.

Noodles are another option. For example, rice or udon noodles are a great choice, but we like soba noodles best. They are made from buckwheat, a gluten-free grain that is well known for stabilising blood sugars.

If you're opting for either rice or noodles as a side dish to this shrimp curry, make sure you cook them separately so they won't get soggy. Then, only add them to the broth once you're ready to eat.

Another alternative is cauliflower rice which is made by blitzing or grating the raw florets into couscous-like grains. You will get a crunchy and filling rice-like side for your curry with minimal carbs.

If you're on a weight loss plan or following a low carb diet, then you can serve this dish with a leafy green salad or steamed vegetables like green beans or broccoli. Also, check out our FAQ above for more tasty ideas.
Ingredients
For the Curry
Rapeseed Oil

1 tsp

Onion

1

Garlic Clove

1

Grated Ginger Root

1 tsp

Fresh Chillies

1 tbsp

Curry Mix Powder

1 tbsp

Sweet Potatoes

250 g

Coconut Milk (canned)

200 mL

Prawns

100 g

Lime

1

Water

125 mL

To Serve
Fresh Coriander

to taste
Step 1
In a skillet, heat the vegetable oil and sizzle finely chopped onions until they get soft and translucent.
Then, add crushed garlic, grated ginger root, and sliced chillies.
Cook for a few minutes until the garlic is fragrant and then stir in the curry powder.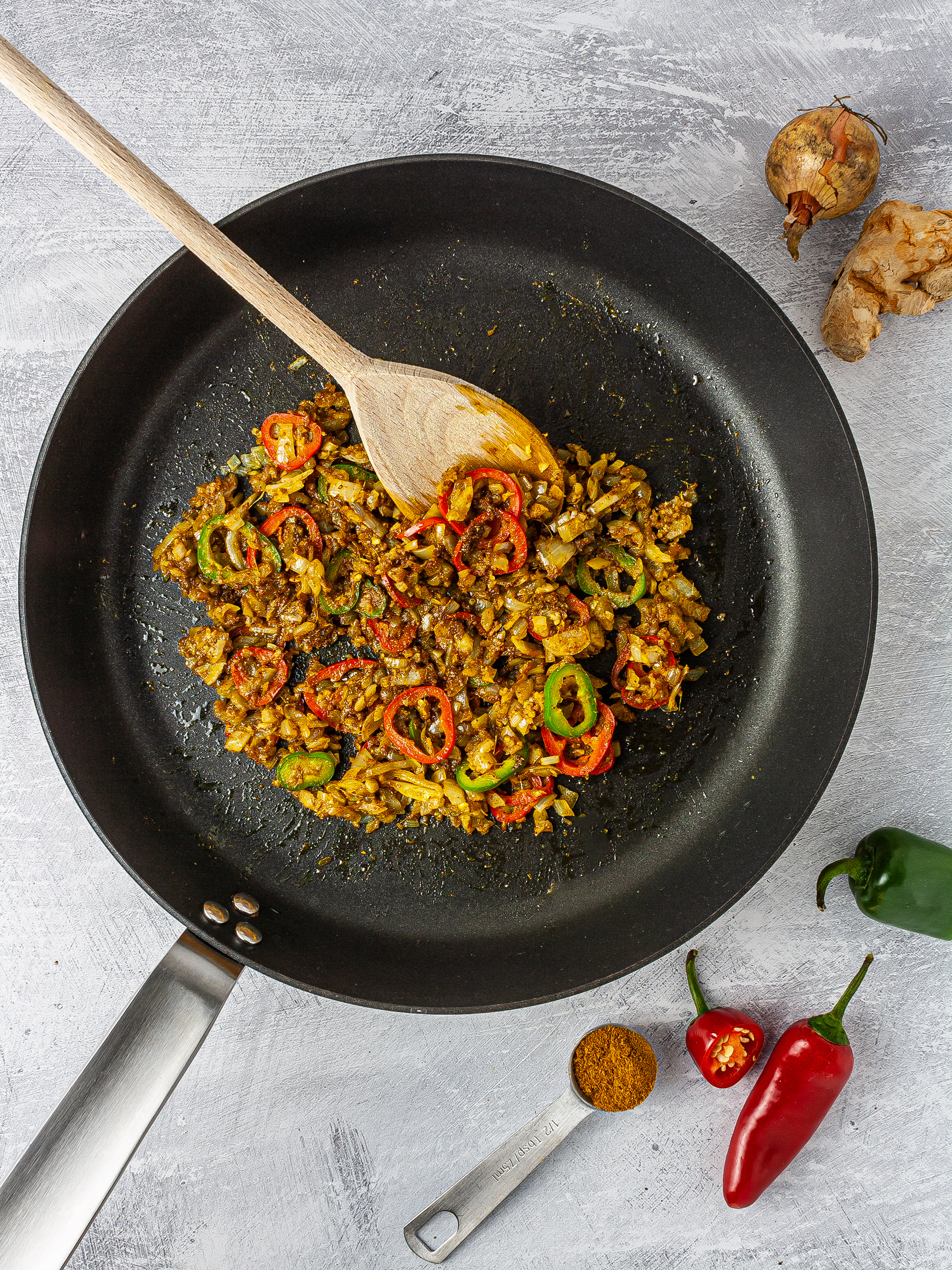 Step 2
Peel the sweet potatoes and dice them into small chunks.
Then, add the prepared vegetables to the pan with the onions, pour in the coconut milk and water, and give all a good stir. Season with salt to taste.
Simmer the stew for 10 minutes at medium heat until the sweet potatoes are soft and you can easily poke them with a fork.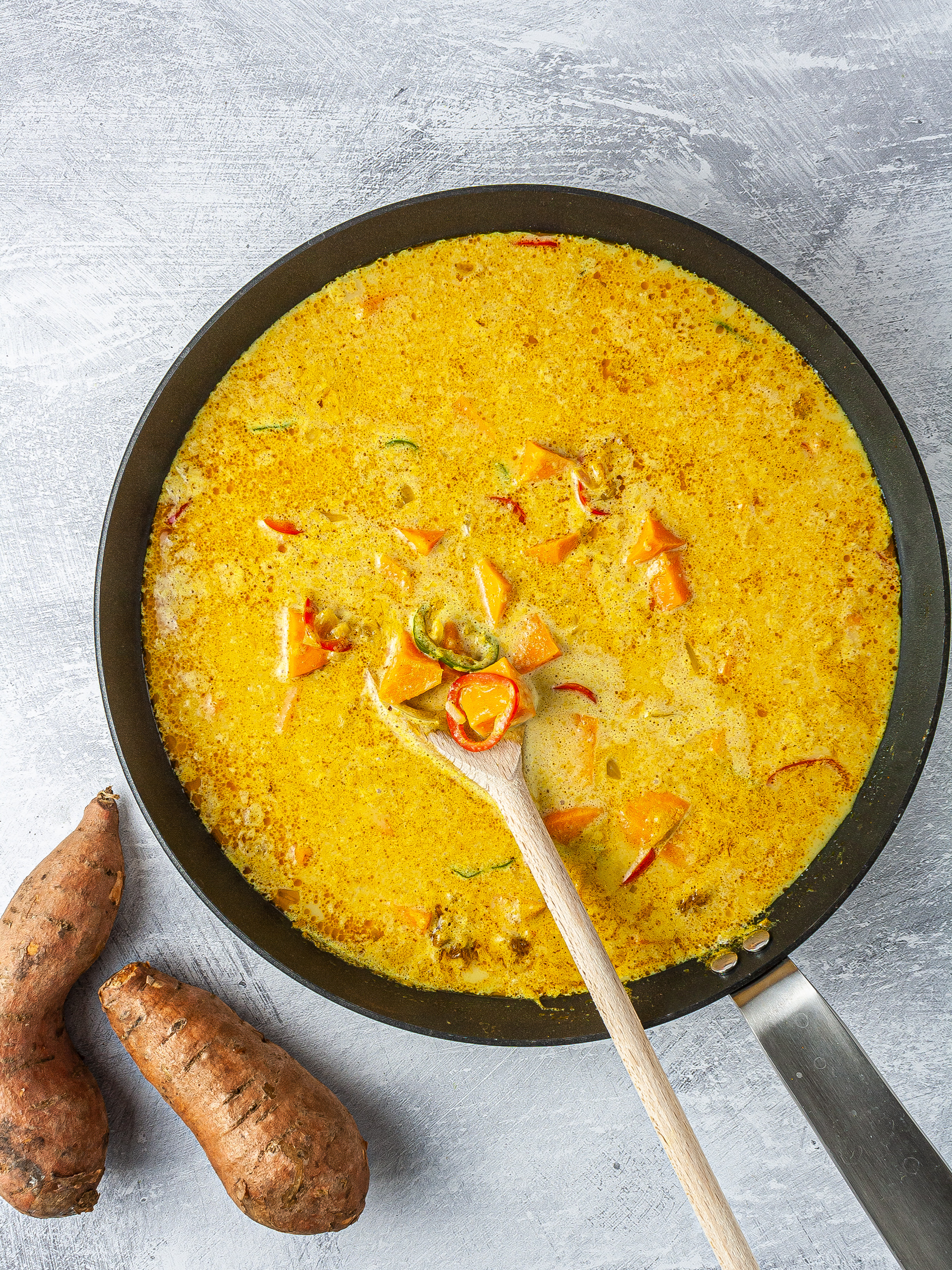 Step 3
Add the prawns and cook them for 5 minutes until they turn slightly pink.
Remove the pan from the heat, add grated lime zest and squeezed lime juice.
Finally, garnish your curry with freshly chopped coriander and serve and lime wedges.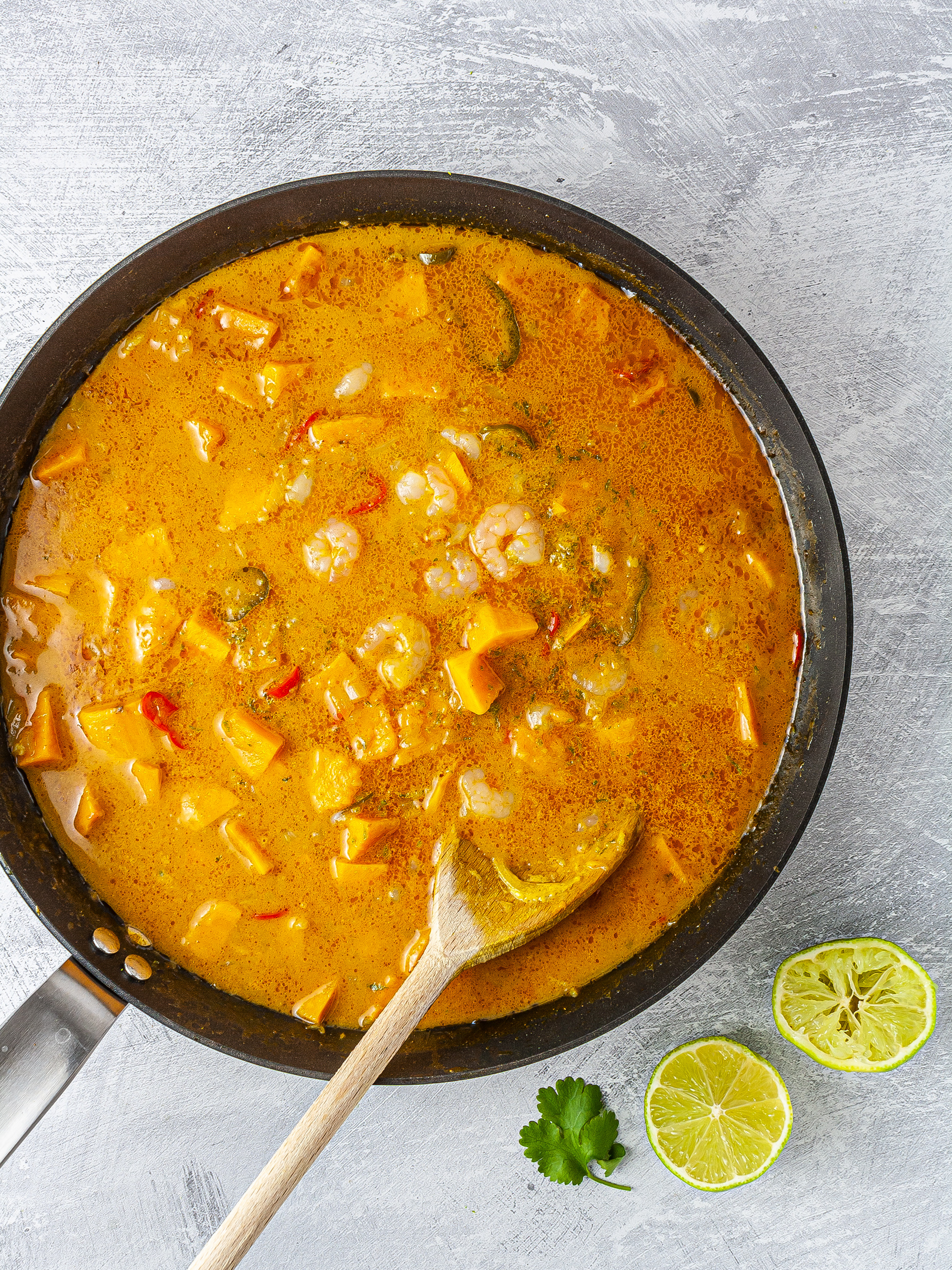 Tips
You can easily make your curry powder at home mixing ground cumin, turmeric, and ground coriander. For extra spiciness, you can also add garlic powder, ground ginger, cracked black pepper, and chilli powder.

Crush the seeds of one cardamom pod and add them to the curry spices to give a more citrusy flavour to your sweet potato stew.

Instead of water, you can use fish stock for extra flavour.