Pasta Carbonara is a staple of the Italian cuisine and among the most famous and recognizable pasta dishes in the world. Although delicious, its use of bacon, or better yet "pancetta", makes it unsuitable for those who can't eat pork or anyone who has stricter diet requirements.
One of the joys of cooking is to give a different spin to classic dishes, so today we will show you how to make a delicious carbonara made without cream that uses salmon as a substitute for bacon.
The salmon, when crisped to perfection, will have a similar consistency to crispy bacon, especially if diced into small cubes. But it will give the dish a remarkable different flavour.
Even if the classic pasta carbonara is made only with egg yolks, we have decided to include some egg whites as well. By doing so, not only the sauce is creamier, but you get more proteins too.
Don't be surprised if, by the end of this experiment, you will prefer this version to the classic, as it's super yummy and much healthier!
Frequently Asked Questions
How to cook the salmon in salmon carbonara?

There are two ways to cook the fresh salmon in this recipe:

Cut into small bits and crisped to perfection

Cut into larger chunks, then briefly seared outside, and kept medium-rare inside.

If you want to reproduce the feeling of classic bacon carbonara as much as possible, then go for the first option. Crispy bits of salmon are quite similar in consistency to crispy bacon. We love this option.

If instead, you like to bite into something soft and juicy, much like you do when eating sashimi, then go for the second option. The best thing about this option is that the flavour of medium-rare salmon is divine, and the soft centre will melt in your mouth like nothing else.
Can I make salmon carbonara using smoked salmon?

Although we prefer to use fresh salmon for this recipe and crisp it in a skillet, you can still get a delicious plate by using smoked salmon.

But it's important that if you choose this option, you do not cook the smoked salmon at all. Rather, you should break it into small bits and add it in after mixing the pasta with the eggs.
Do I need to add cream to carbonara?

No, you don't, and you shouldn't. The traditional Italian carbonara recipe doesn't use any cream. All the creaminess comes from parmesan and pecorino cheese blending with the egg mixture and the starchy water still glazing the pasta.

Why do people use cream in carbonara then? Because it's easier. You see, if the heat released by the pasta is too high, the eggs will turn into a frittata. If the pasta is too cold instead, the starch won't "activate", and the carbonara won't be as creamy.

In our "no cream" salmon carbonara recipe above, we explain how long to wait before adding in the eggs and give out a few extra tips, so that you can get the proper results with ease.
Ingredients
| | |
| --- | --- |
| Fresh Salmon | 300 g |
| Eggs | 2 |
| Egg Yolk | 1 |
| Black Pepper | to taste |
| Parmesan | 2 tbsp |
| Pecorino Cheese | 1 tbsp |
| Spaghetti Pasta | 280 g |
| Fresh Parsley | to taste |
Step 1
Dice fresh salmon fillets into small cubes and add them to a non-stick frying pan. Sear them well over medium-high heat until crispy.
As we use salmon as a bacon substitute, it has to crisp up nicely on all sides.
To achieve the best results, you can also grill the salmon bites in the air-frier or the oven.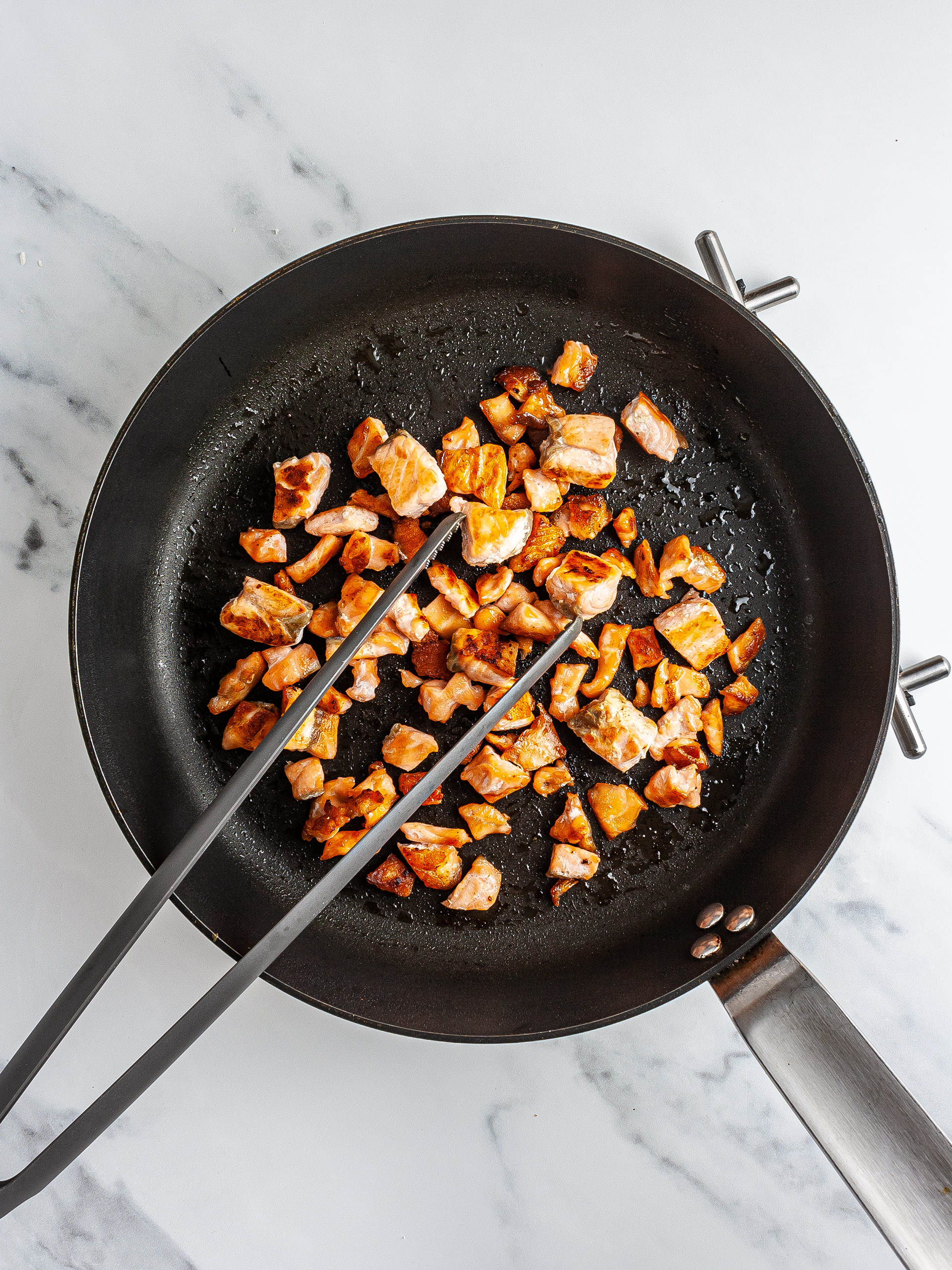 Step 2
In a mixing bowl, crack the whole eggs and add the yolk.
Whisk well and season with black pepper and salt to taste.
Then, incorporate finely grated parmesan and pecorino cheese into the beaten eggs, adding one spoon at a time, and keep whisking until you get a thick cream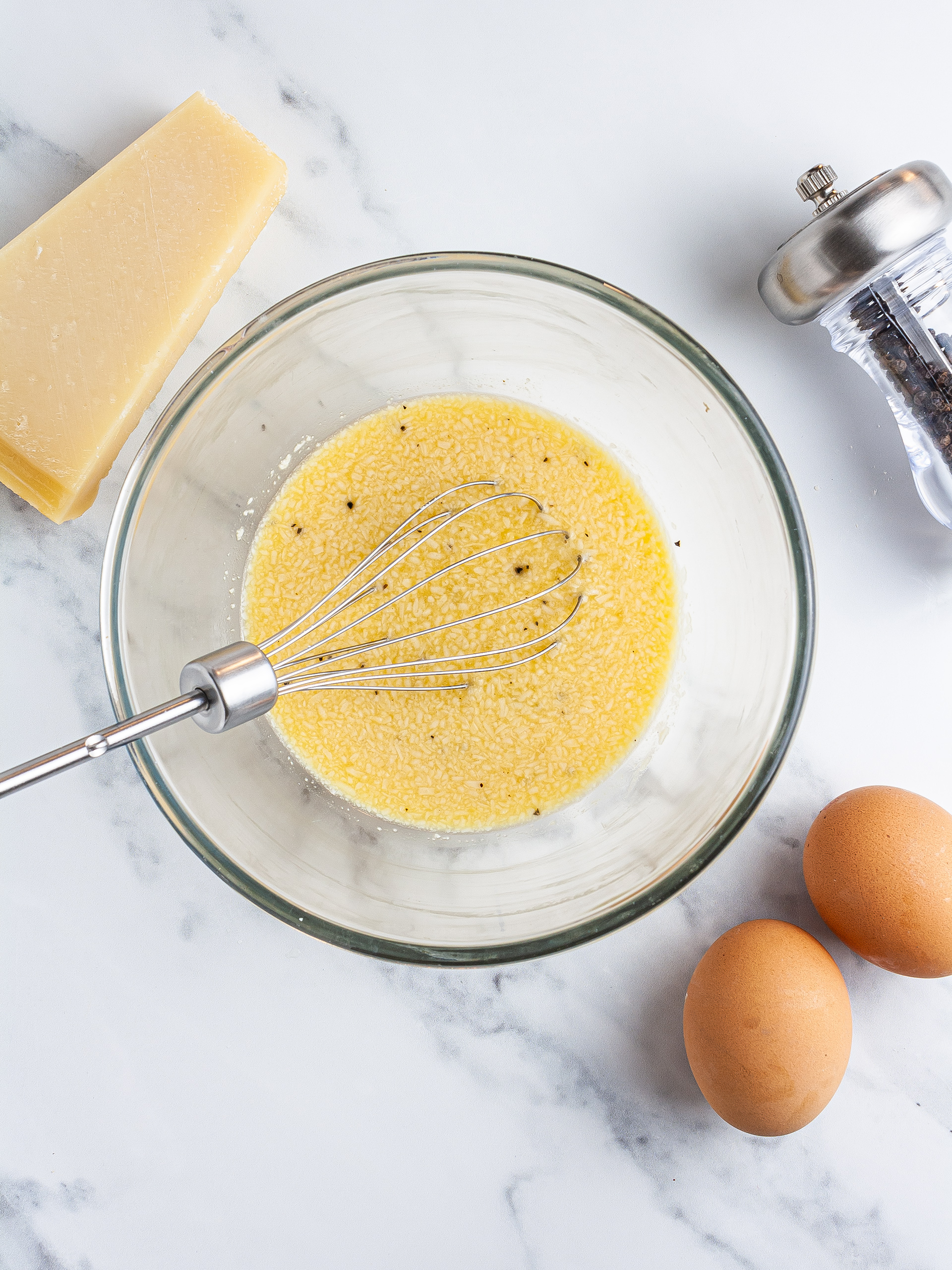 Step 3
Cook the spaghetti according to packet instructions, but before you drain it, make sure it is al dente, meaning firm to the bite.
To ensure the egg mixture won't cook into a frittata when mixed with the pasta, keep the serving bowl in the fridge.
Then, add the drained pasta and crispy salmon to the cold bowl, give all a good stir, and leave to sit a one-two minutes.
Now, pour in the beaten eggs and quickly toss the pasta until it's well coated.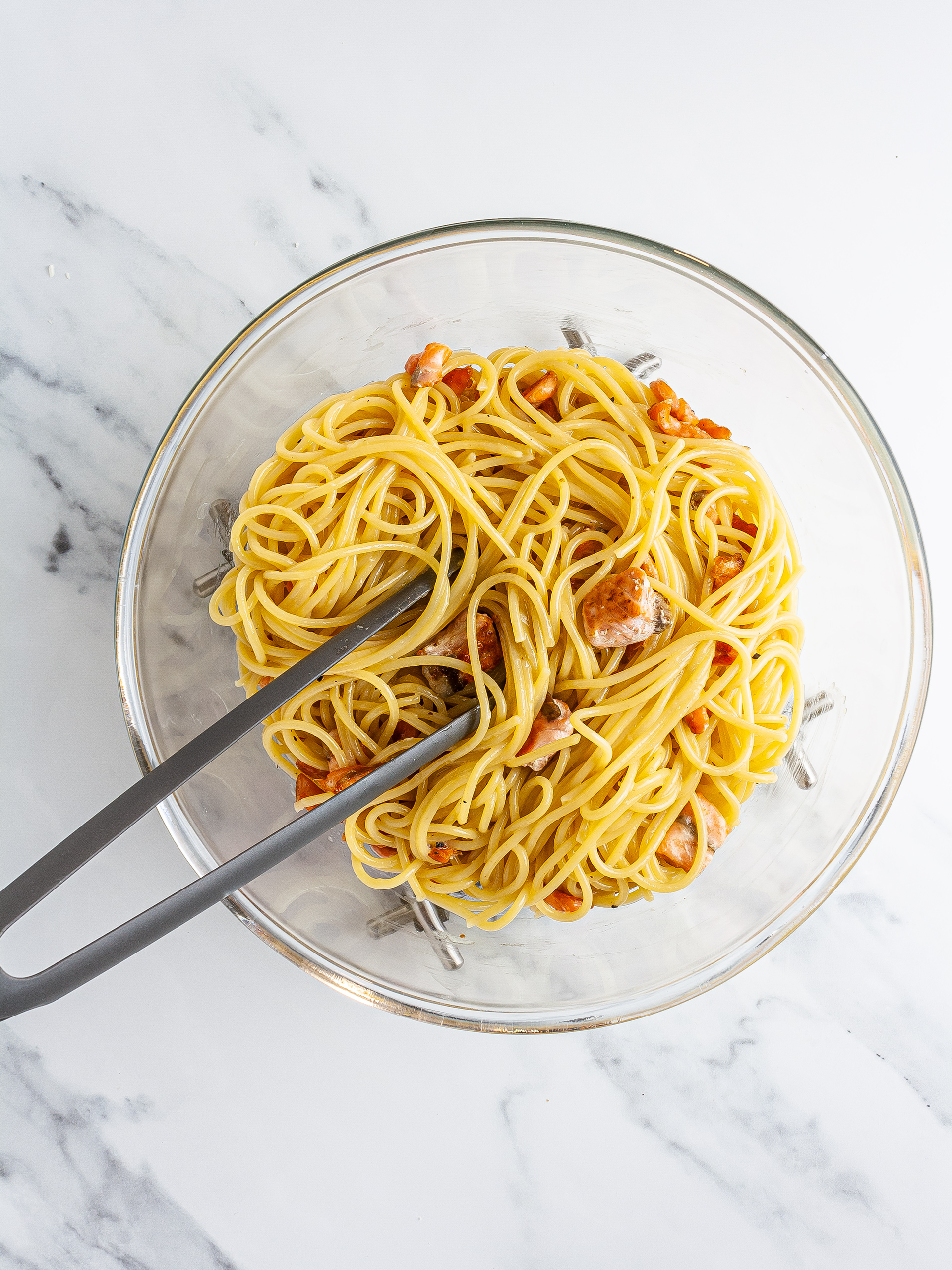 Step 4
Divide the carbonara among serving plates and garnish with chopped parsley and cracked black pepper.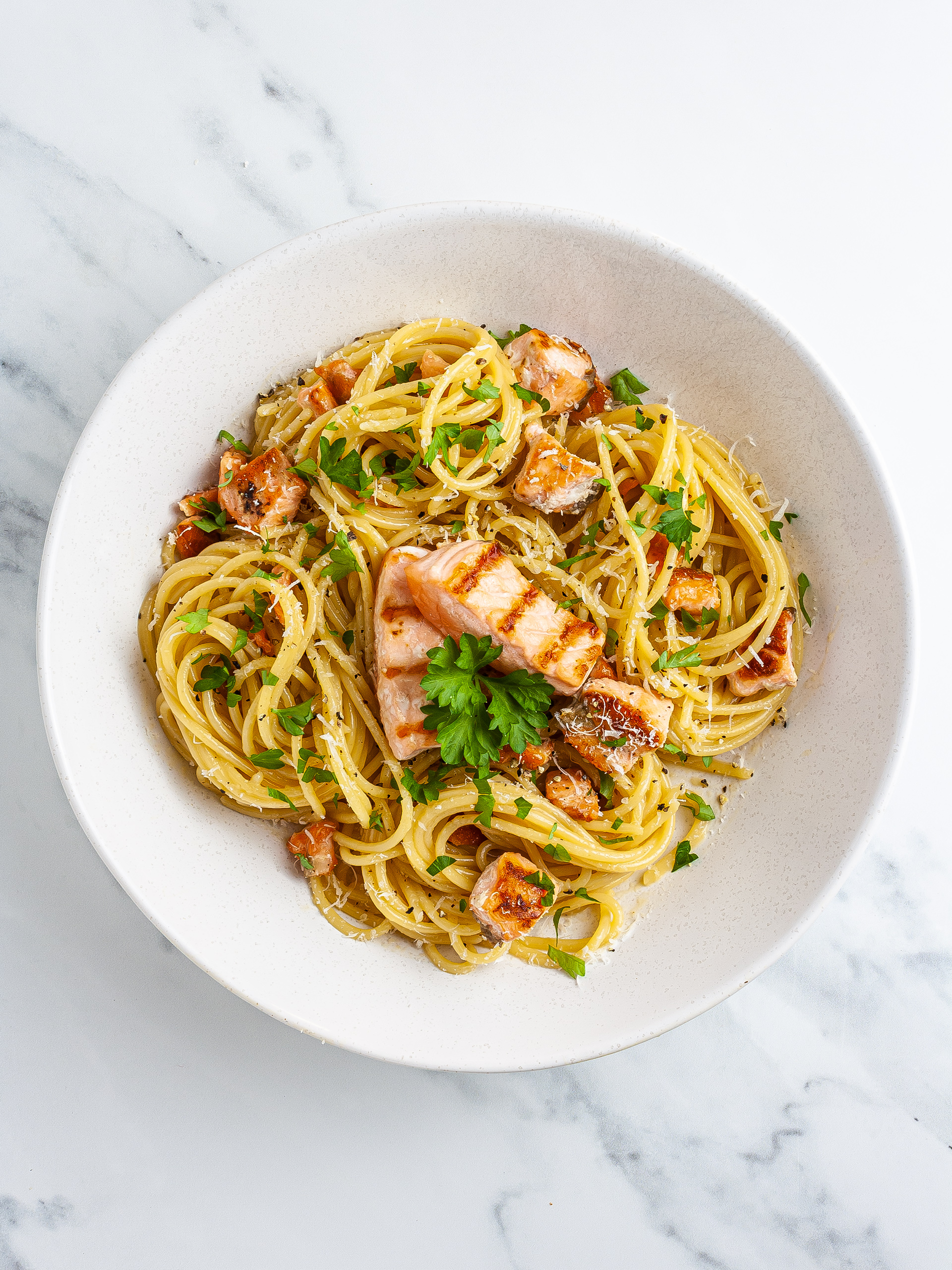 Tips
The best type of pasta for carbonara is spaghetti, especially thick spaghetti as "bucatini'" But you can also use tagliatelle or a short pasta.

It's crucial to add the egg and cheese mixture properly to get a creamy coating for the carbonara rather than a scrambled egg.

A quick mixing ensures that heat is not lost and that you don't end up with raw eggs.