Sourdough is all the rage now, and for good reasons! Making bread at home using this lively yeast is among the most satisfying things you can do. But did you know that you can use sourdough for more than just bread? In this recipe, we'll show you how to make and bake sourdough croissants from scratch.
Sourdough croissants are so much more flavourful than traditional ones and are particularly suited to savoury fillings, like cheese or ham. If you enjoy sweet and sour foods, then jam will do wonders too. Check out our selection of sugar-free jams recipes.
Making croissants is a bit involved, but we have broken down the instructions in easy to follow and well-detailed steps, so have no fear!
First of all, we assume you already have your sourdough bubbling somewhere in your kitchen. If you don't, check out this video to learn how to make it.
We have made a few modifications to the traditional croissants recipe, and made it healthier and vegan:
We have replaced active yeast with sourdough.

We have replaced butter with an oil spread; more on this below.

We have added wholewheat flour to get more healthy fibres.
Classic croissants use a lot of butter, that's why they are not very healthy and are not vegan. Even vegan recipes end up using unhealthy ingredients, like margarine, palm oil, or coconut oil.
To make our croissants dairy-free, vegan and wholesome, we have ditched all unhealthy fats and adopted a method used by Chinese pastry chefs: vegetable oil spread. By mixing vegetable oil with flour, you get a paste that resembles semi-melted butter. This spread gives us crispy and flaky croissants with a fraction of the fats found in the classic pastry.
Let's see how our vegan sourdough croissants compare with traditional ones. One of our pastries has half the fats, ten times fewer saturated fats and three times more fibres than a classic croissant. Amazing right? Then what are we waiting for? Let's do this together!
Ingredients
Dough
Plain White Flour

400 g

Wholemeal Flour

150 g

Salt

1 tsp

Maple Syrup

4 tbsp

Lukewarm Water

180 mL

Lukewarm Almond Milk

100 mL

Sourdough Starter

180 g

Rapeseed Oil

40 mL

Oil Paste
Plain White Flour

170 g

Sunflower Oil

110 mL
Step 1
Please note that it will take roughly two days to make these croissants from scratch, but il will be worth it!
Before you start, make sure you have properly fed the sourdough starter.
To make the 180g (6oz) of active sourdough you'll need for this recipe, combine 60g (2oz) of starter with 60g (2oz) of plain flour and 60ml (2 fl oz) of lukewarm water.
Leave it to ferment for at least 4 hours - or overnight - until doubled in volume.
When you see lots of bubbles on the surface, it's ready to be used.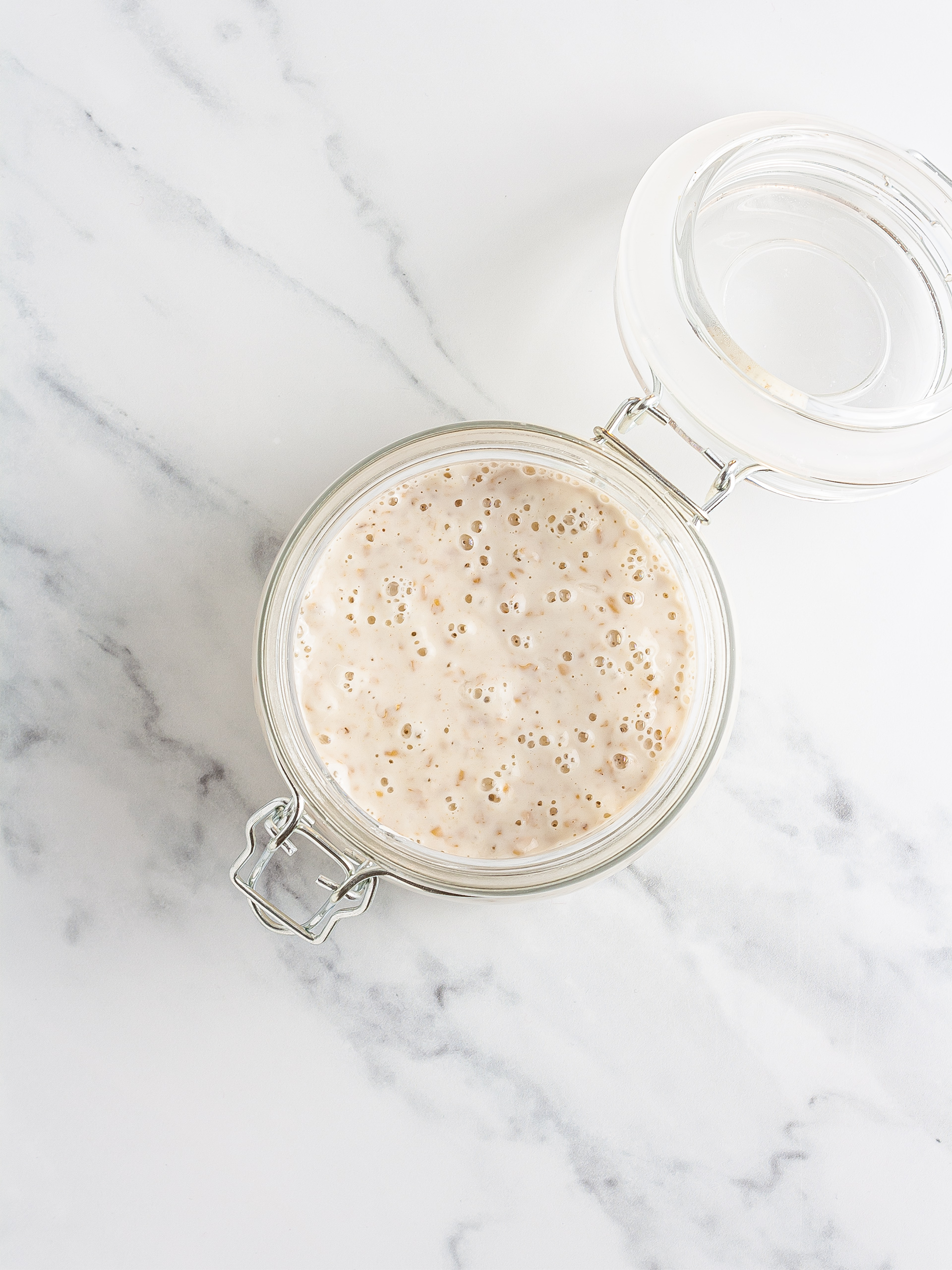 Step 2
To work the dough, you can use a stand mixer or hand mixer fitted with a dough hook.
Combine all the dough ingredients, mixing first the flours with salt and then incorporating the liquids.
Knead the mixture for 10 minutes or until you have a soft, smooth, and slightly sticky dough.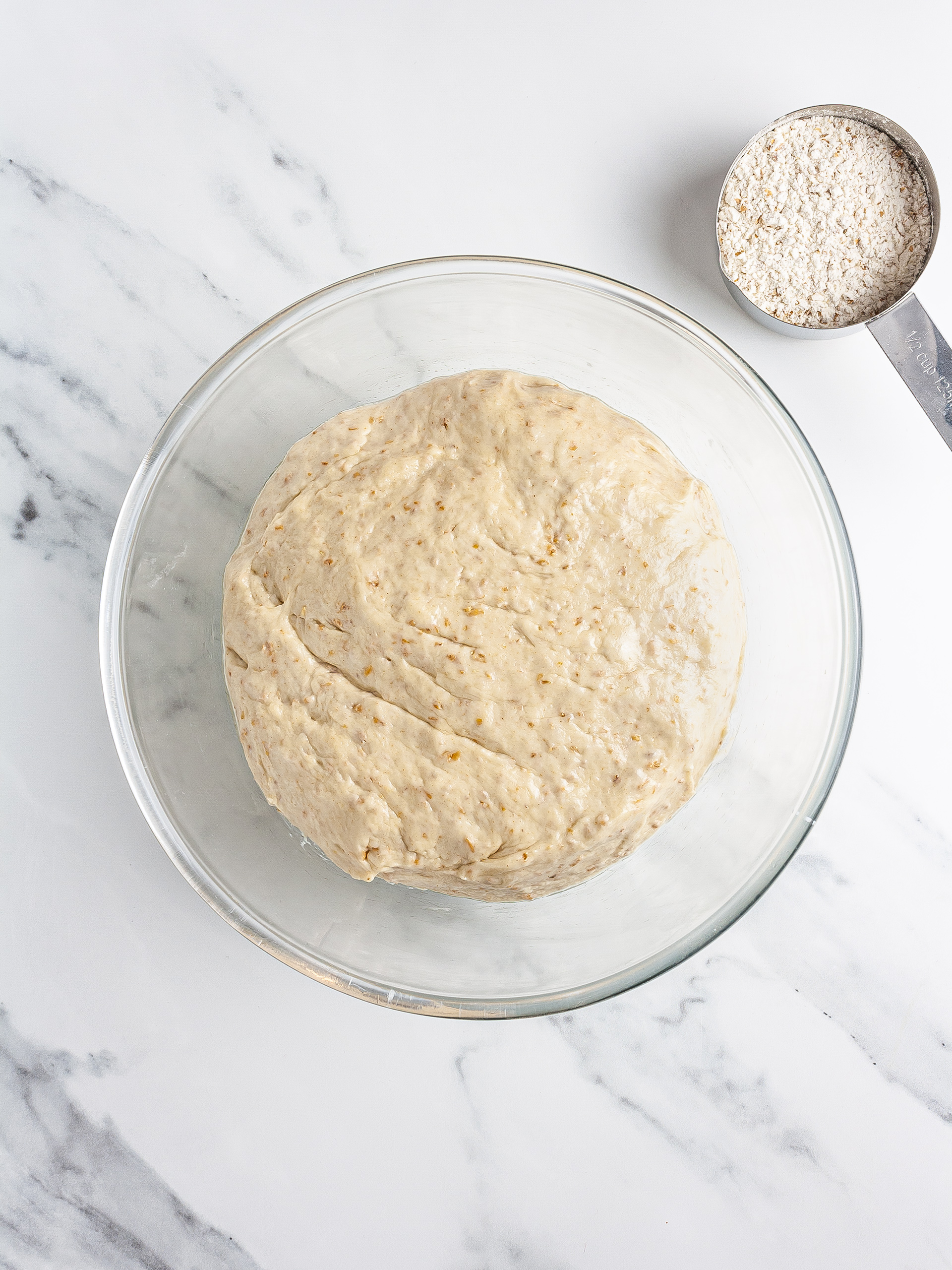 Step 3
Wrap the bowl in cling film and leave the croissant dough to prove for 4 hours at room temperature.
One doubled in size, refrigerate it for another 4 hours or even better overnight. By doing a cold rising, the dough will develop a better texture and flavour.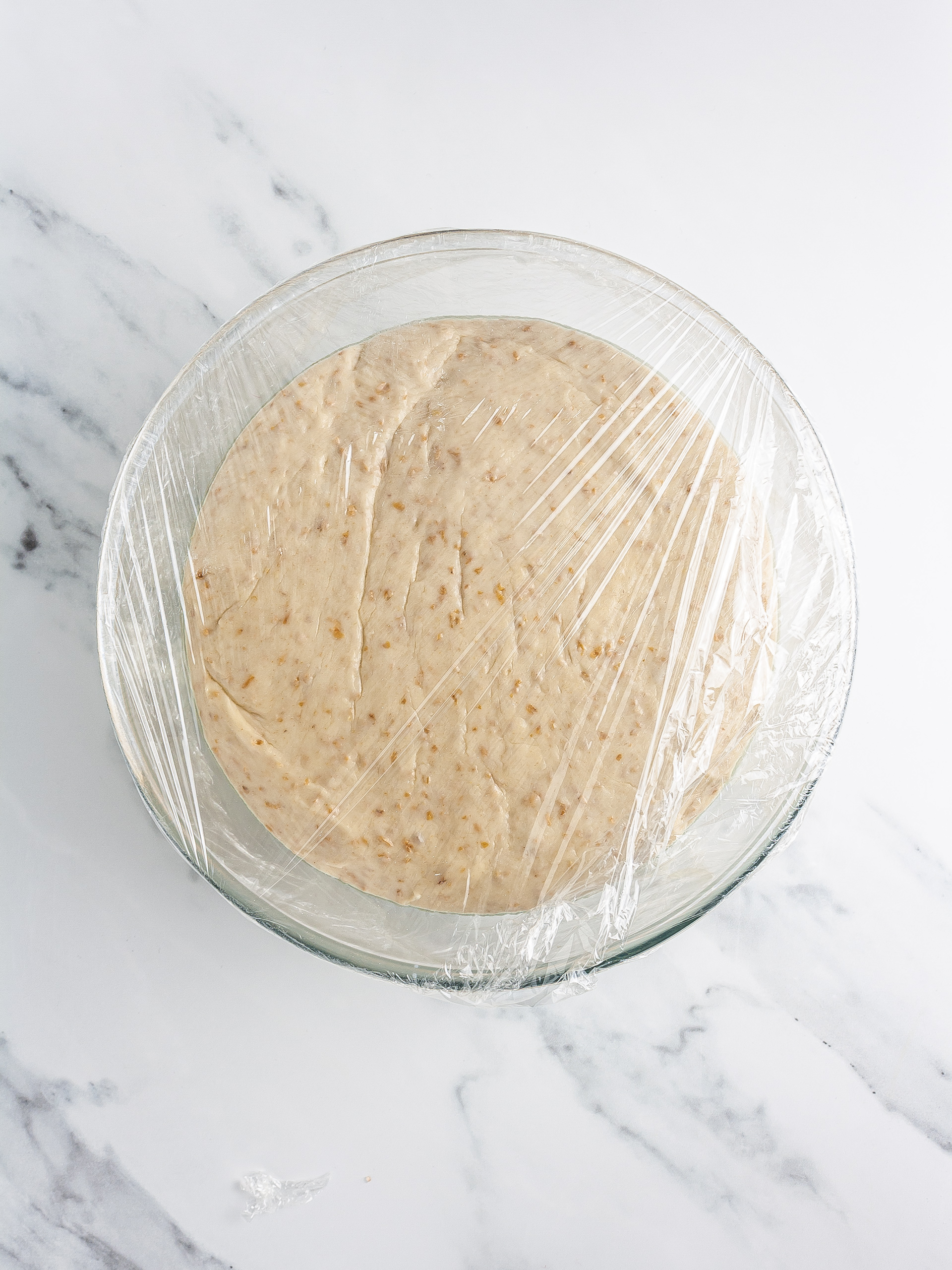 Step 4
To make the Chinese-style oil spread, whisk the vegetable oil with flour and a pinch of salt. You can add a tablespoon of maple for extra sweetness.
The mixture should feel like nut butter or softened butter, so add more flour or oil if needed, to reach the right consistency.
Then, refrigerate the spread for 20 minutes.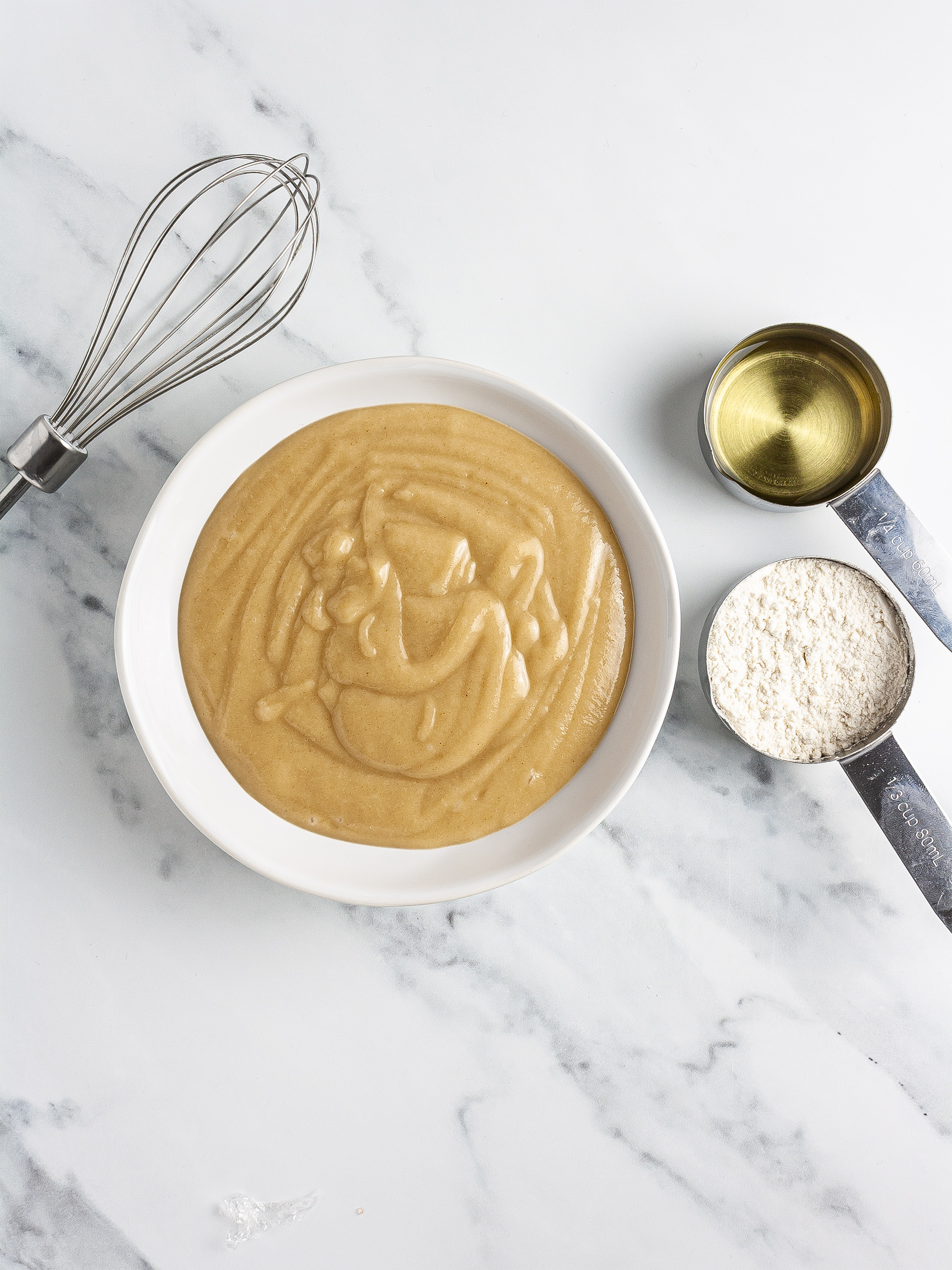 Step 5
With a rolling pin, roll out the cool dough in between two sheets of parchment paper to a large square shape.
Next, spread the oil paste in the centre of the dough and pack it up like a parcel folding in the dough edges over the spread.
Then, roll it out to a long rectangle so that the spread gets pushed in between the dough layers.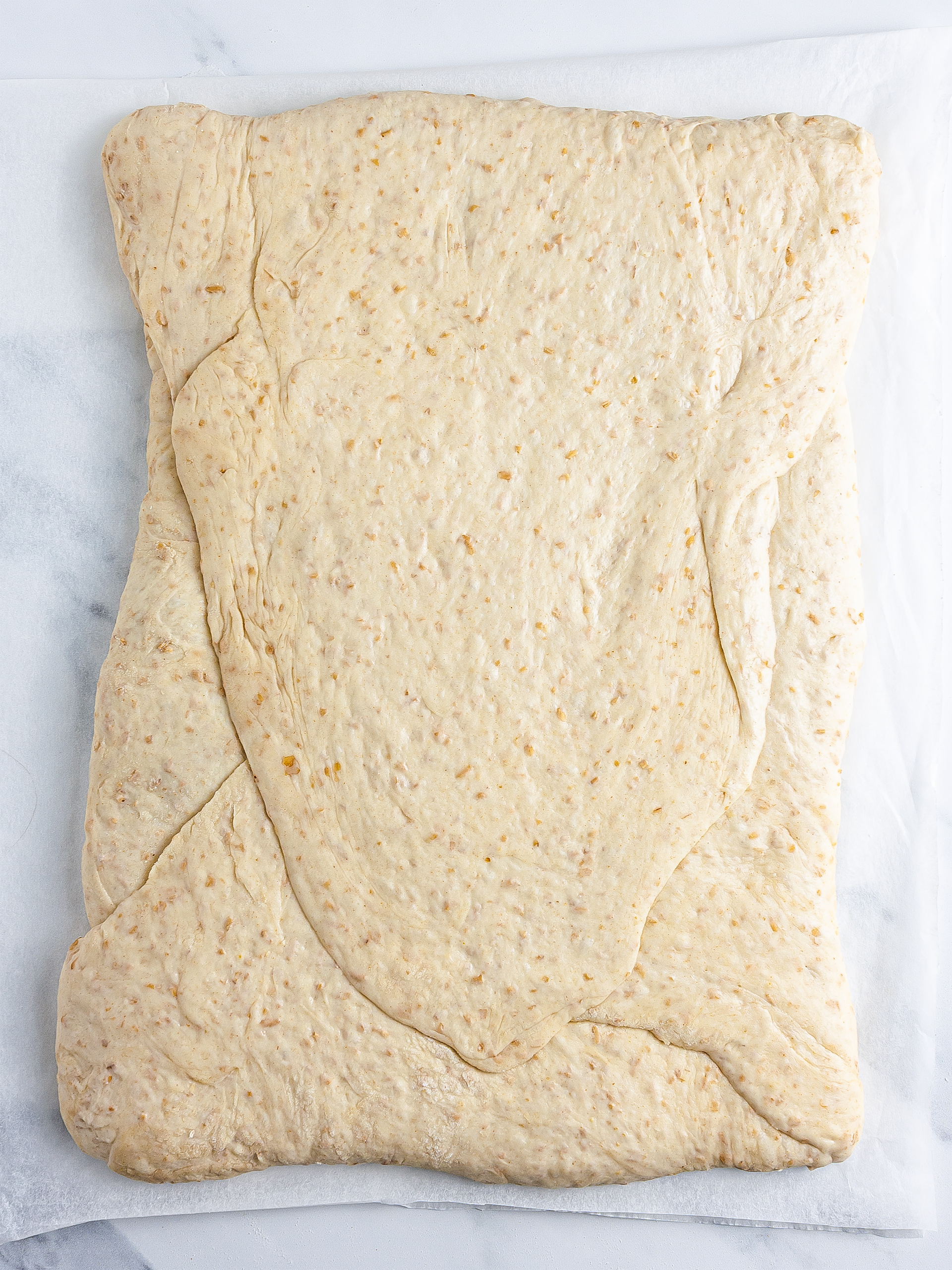 Step 6
Now it's time for the "tri-fold" sequence essential to laminate the dough and oil spread.
To do so, fold the bottom third of the dough rectangle over the centre and then the top third over the folded part, like a letter (1).
Then, roll out the dough along the long side and transfer it, seam side down, onto a tray lined with parchment paper.
Cover with a tea towel and cling film and leave to prove for 1 or 2 hours in the fridge (2).
Repeat this step twice, for a total of three folding sequences.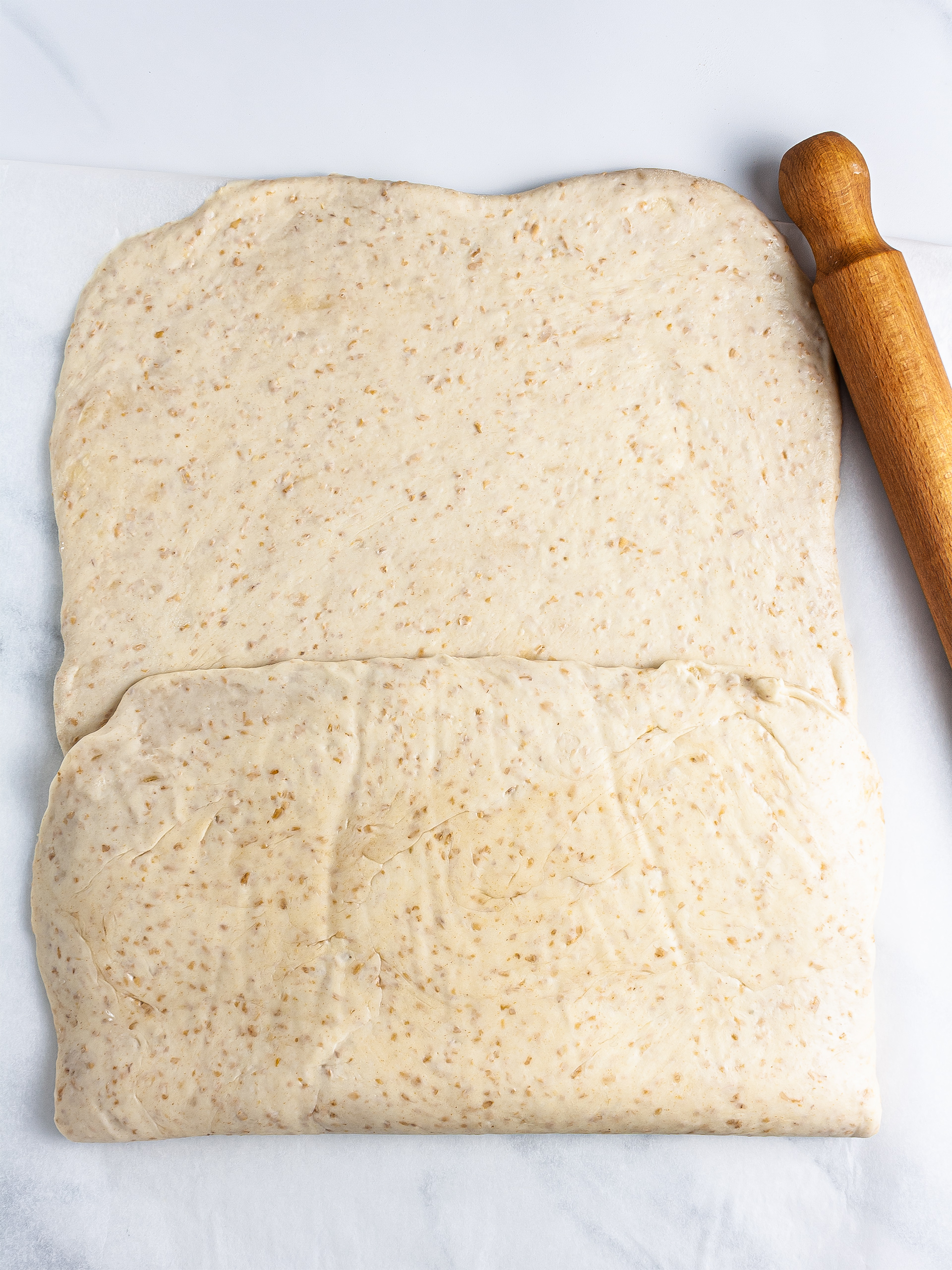 1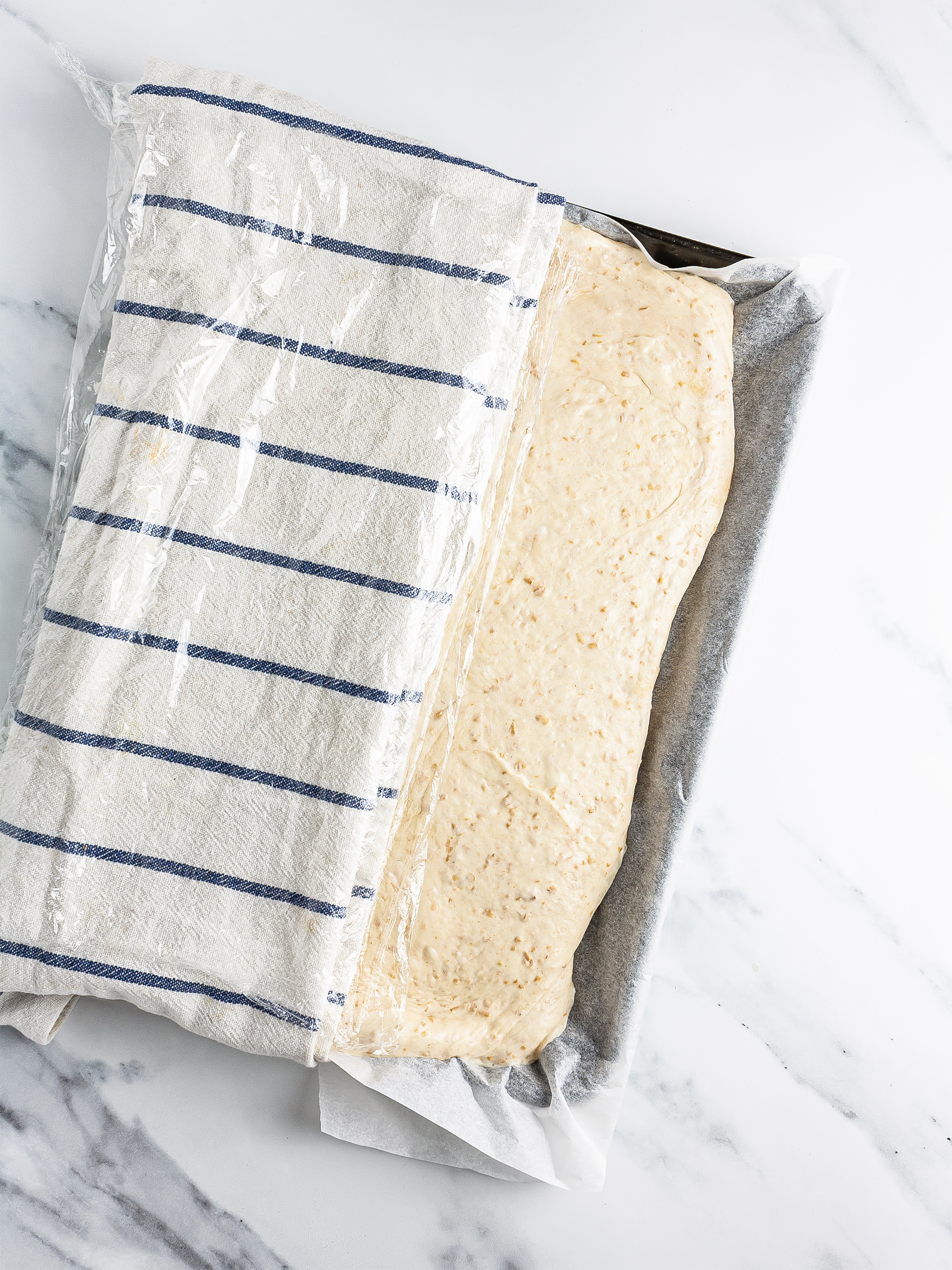 2
Step 7
Now, roll out the dough to a 5mm (1/5 inch) thick rectangle shape and use a sharp knife or dough cutter to cut out long triangles. For larger croissants, cut them 13cm (5 inches) wide and 28 cm (11 inches) long; for smaller ones, instead, you can do 10cm (4 inches) wide and 15cm (6 inches) long.
Make a notch at the bottom of each triangle, and, starting from the base, roll the dough tightly towards the tip (1).
Place each croissant on a baking tray lined with parchment paper, leaving some space in between.
Cover with a tea towel and leave to prove for 2 hours (2).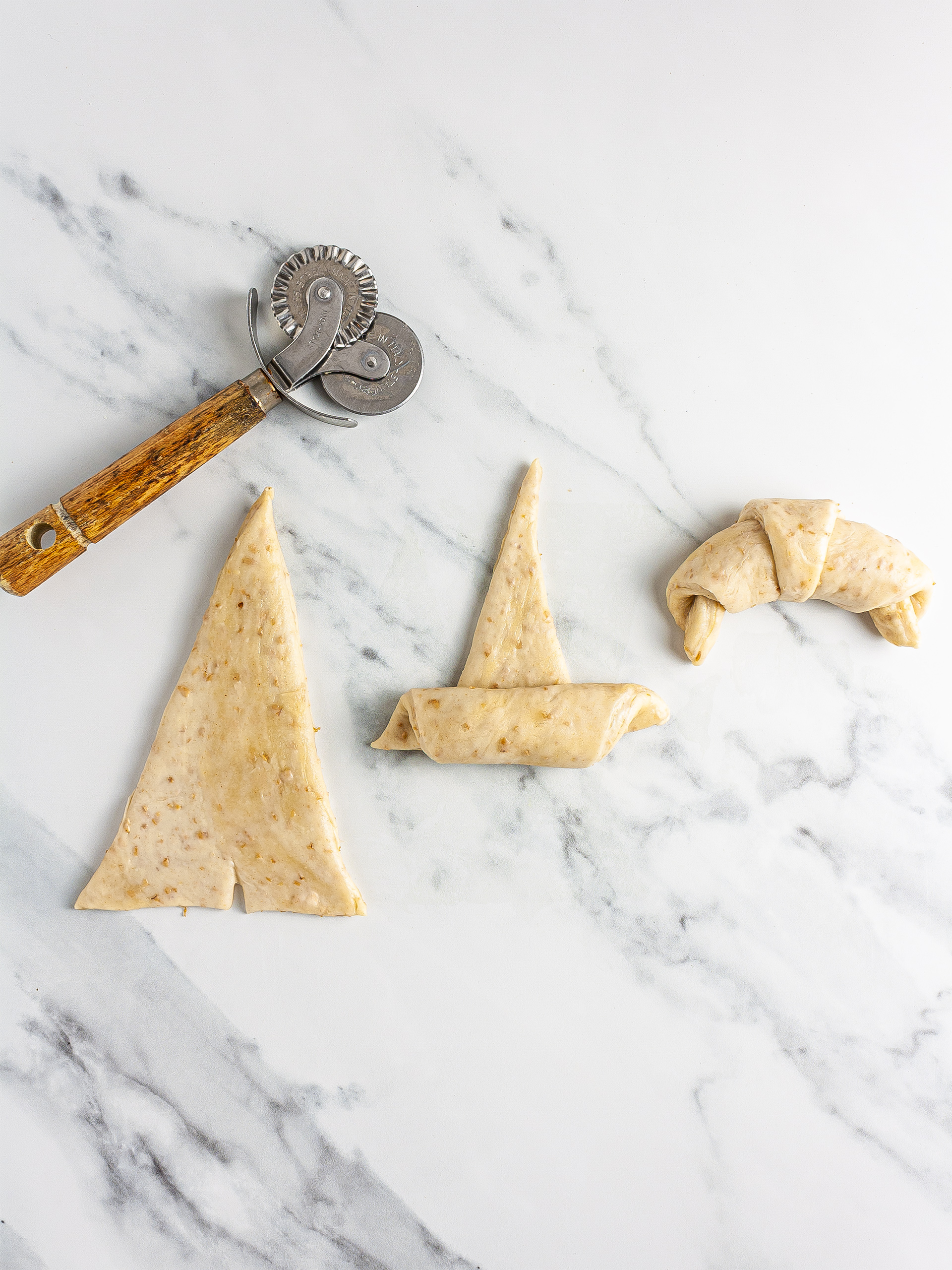 1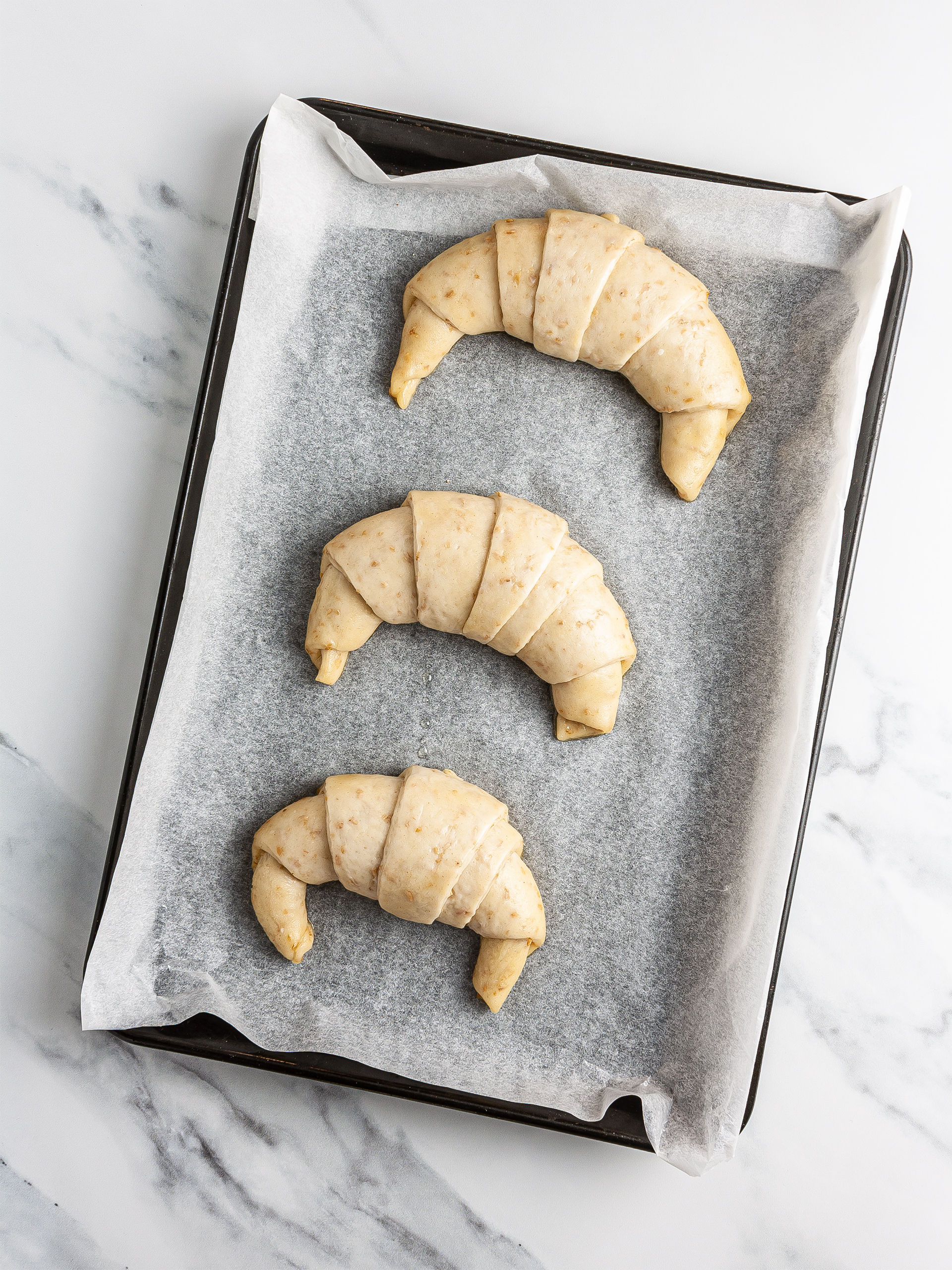 2
Step 8
Bake the sourdough croissants for 18 minutes in the preheated oven at 200°C (390°F).
Once they look nicely golden, remove the pastries from the oven and leave them to cool down on a wire rack.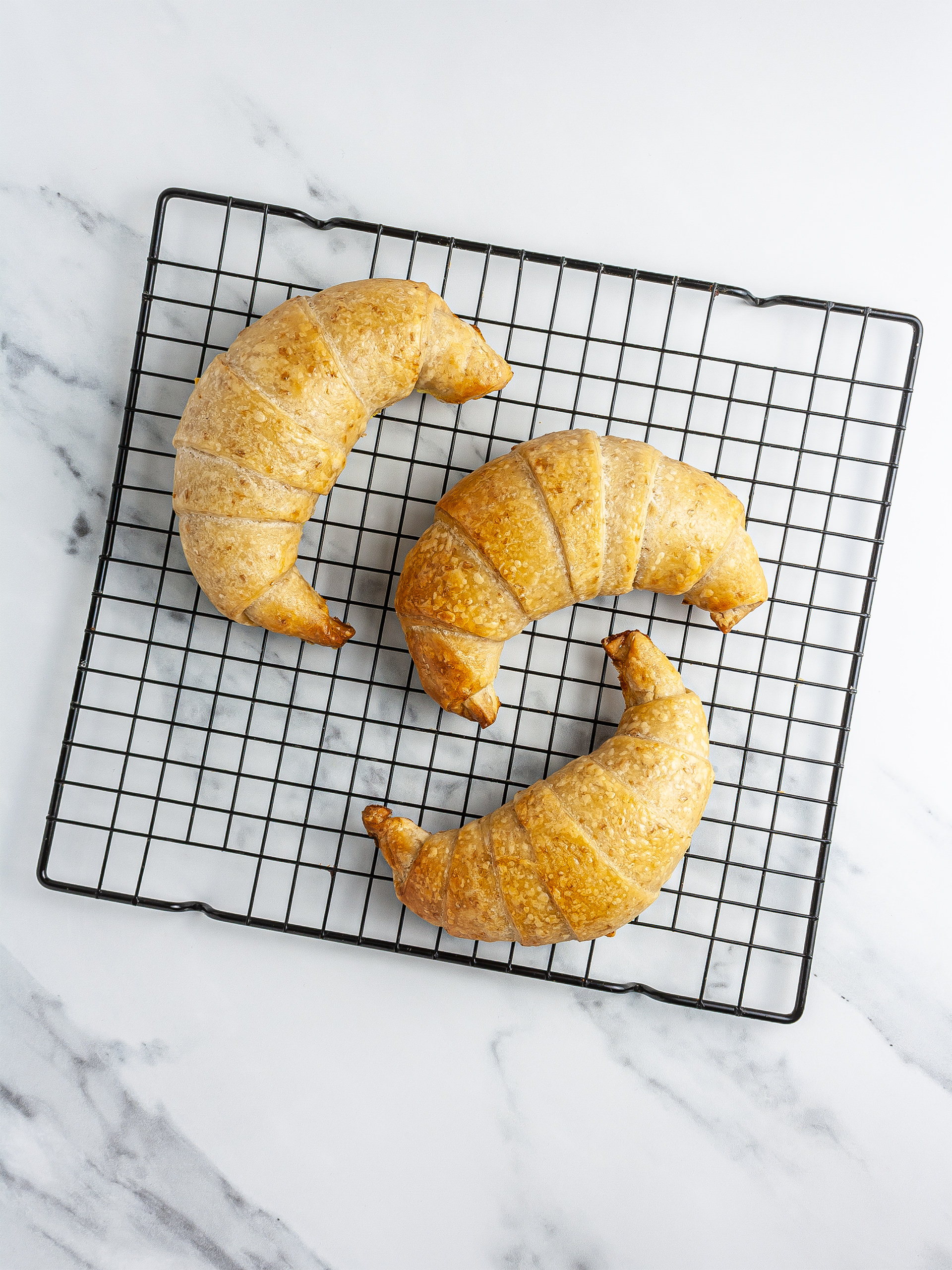 Tips
You can bake the croissants right away, but we recommend brushing them with a vegan "egg-wash" for a golden finish. To prepare it, combine a splash of almond milk with a drizzle of maple syrup in a bowl and brush the mixture over each croissant.

Homemade croissants stay fresh for about two days when stored at room temperature wrapped in foil or zip-lock bag. You can also freeze the proved bases and then bake them whenever you fancy a sweet treat.