Today we'll show you how to make a wholesome salmon and spinach lasagna with homemade dairy-free bechamel. This recipe is ideal for folks on a pescatarian or flexitarian diet, and everyone who loves salmon!
We made this lasagna without mozzarella, grated parmesan cheese, or creams loaded with saturated fats. Instead, we prepared a vegan bechamel made with cashew nuts and almond milk. What's excellent about this creamy sauce is how well the nut flavour pairs with salmon. Moreover, the almond and cashews have lots of heart-healthy fats that lower your bad cholesterol and plenty of vitamins B and E!
And of course, we are talking about the mighty salmon here! Plus, we have spinach, with all its precious antioxidants and plant-based minerals. So you can expect an excellent nutritional profile from this recipe as a whole. Keep reading to learn more about it, or scroll below for the recipe!
Salmon is a rich source of omega-3, which is the best of fats when it comes to keeping a healthy heart and lowering bad cholesterol. It is a rich source of proteins and has lots of energising vitamins B [1]. The delicate and soft flesh of salmon, coupled with tender spinach leaves and creamy bechamel sauce, turns this dish into the ultimate mouth-watering experience.
Spinach is pretty impressive too. It's one of the best sources of plant-based iron. It's also a rich source of vitamin K and A, and it includes compounds that improve eye health and reduce blood pressure[2]. Everyone, regardless of diet, should eat more of these dark-green leaves.
Overall, in one balanced one-bowl meal, our spinach and salmon lasagna recipe provides over 60% of your recommended daily intake (RDI) for proteins and only 16% for carbohydrates. Moreover, each serving has five times fewer saturated fats compared to the classic recipe. Pretty awesome right?
It is delicious both hot out of the oven, or cold the day after. So pack any leftovers in a pretty lunch-box and make your coworkers jealous!
Frequently Asked Questions
Can I use frozen spinach in spinach lasagna?

It's perfectly fine to use frozen spinach in our salmon and spinach lasagna. Even if you use fresh ones, as we did, you still have to cook them to turn them soft.

Frozen spinach are already cooked, so you save some time by using them.

Start by letting the frozen spinach thaw. Then get rid of excess water by placing the defrosted leaves in a sieve or colander. Now you can mix them with the salmon, as shown in step three of our recipe.

You can ignore the parts where we cook the fresh spinach and later use it as a topping; all other instructions stay the same.
Can I make salmon lasagna using smoked salmon?

You can use both fresh and smoked salmon to make a salmon-based lasagna. We have used fresh salmon fillets in our recipe above, and we think this is a better choice, because:

Smoked salmon is delicious when eaten "as is", but it loses a bit of that good taste when cooked. Fresh salmon doesn't have this problem.

Smoked salmon is too salty, and you would need to use a lot in this recipe. While a few slices of smoked salmon are a tasty treat on a toast, overeating it can be bad for blood pressure because of the high amounts of salt used to preserve it.

Smoked salmon is more expensive. For those of us that keep an eye on the budget, fresh salmon is a better choice as it's healthier and cheaper.

If you still want to prepare our lasagna using smoked salmon, we suggest you use only one slice per layer. Cut it into medium-sized chunks and try to cover the whole layer with that single slice. This way, you get the flavour but keep salt levels in check.

If you suffer from high blood pressure, then stay away from smoked salmon. Stick to our recipe above, and you'll be fine.
Can I freeze the leftovers?

Yes, you can. But you can also keep this fish lasagna in the fridge for a few days.

If you think you can finish any leftovers within three days, then we recommend you store the lasagna in the fridge. It will be quicker to get back on your plate, and you won't lose as much juiciness when re-heating.

But if you want to spread out the remaining lasagna over a few weeks, then the freezer is the only option. Any dish made with animal products, like fish, will spoil at least twice as fast as wholly plant-based foods. You can extend the lifespan of such dishes to at least a month if you freeze them instead.

Here's a neat tip for people that batch-cook multiple of these salmon and spinach lasagnas: cook them 15 minutes less than indicated, and freeze/refrigerate them. Then, cook the lasagna for the last 15 minutes during the thawing/re-heating process. This way, you can keep all the tasty juice that would be lost by excessive overheating!
Ingredients
Dairy-Free Bechamel
Cashew Nuts

70 g

Water

70 mL

Flour

70 g

Almond Milk

700 mL

Nutmeg

1/2 tsp

Filling
Extra Virgin Olive Oil

1 tbsp

Garlic Powder

1/2 tsp

Fresh Spinach

300 g

Salmon Fillet

480 g

Lemon

1

Others
Lasagne Sheets

320 g

Pistachios (optional)

to taste
Step 1
Let's start by making the dairy-free bechamel sauce.
Pre-soak the cashew nuts for at least 30 minutes, then drain and blitz them with water until you have a smooth paste.
In a saucepan, combine the prepared cashew cream with sifted flour. Then, pour the almond milk a bit at a time while whisking.
Turn on the heat, add nutmeg, and allow to simmer until the sauce has thickened. Stir frequently to avoid flour lumps, but don't worry if you have a few, they will loosen up when you bake the lasagna.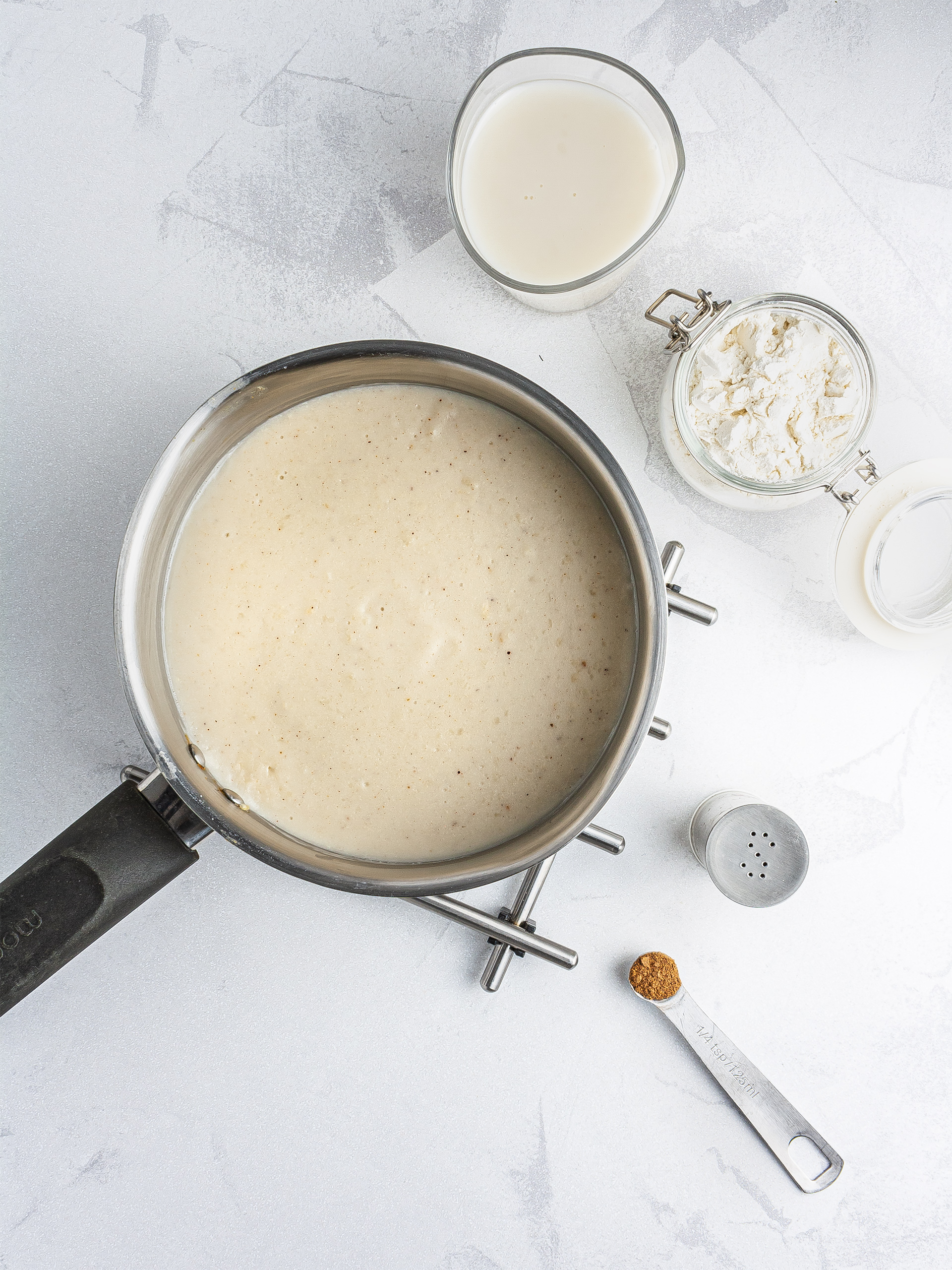 Step 2
In a skillet, heat the extra virgin olive oil with garlic, add the fresh spinach, and cook them until they have softened and lost excess water (1).
If you're using frozen spinach, check our FAQ below for extra tips.
Next, cook the fresh salmon fillets and flake them with a fork or spatula into small bits. Drizzle with lemon juice and stir well (2).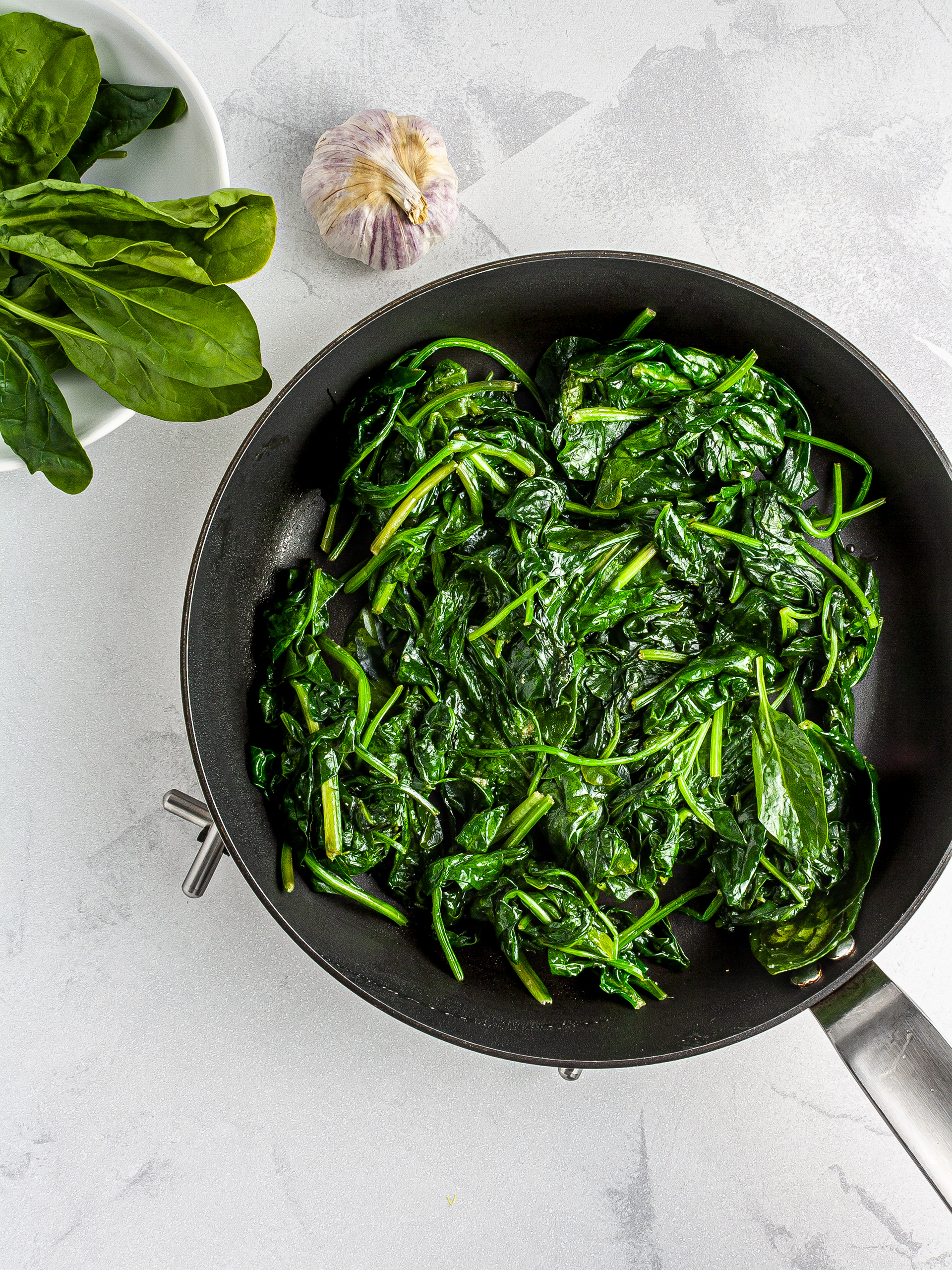 1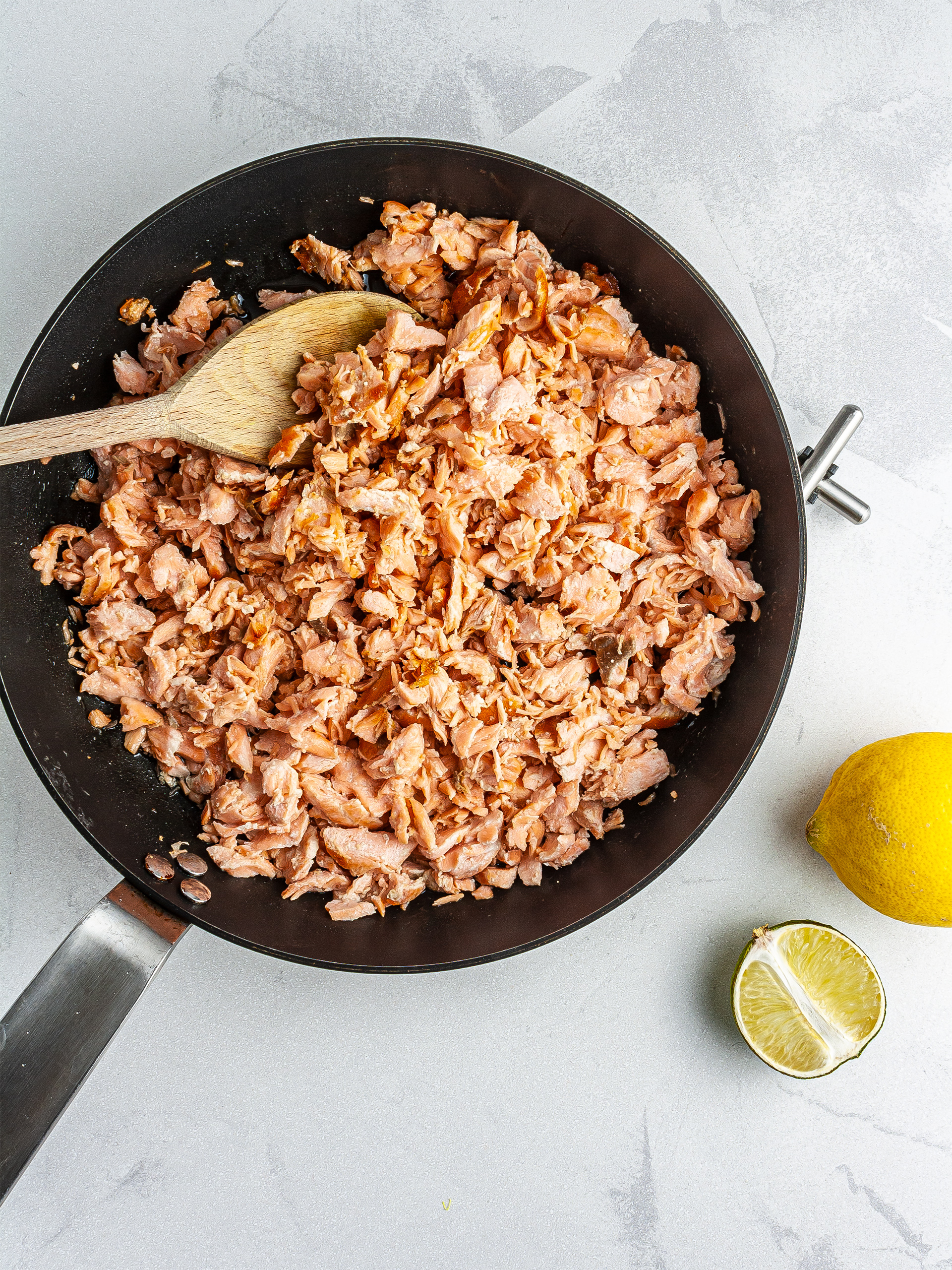 2
Step 3
In a mixing bowl, combine half of the prepared cashew bechamel with cooked spinach and salmon.
Stir until the ingredients are well incorporated.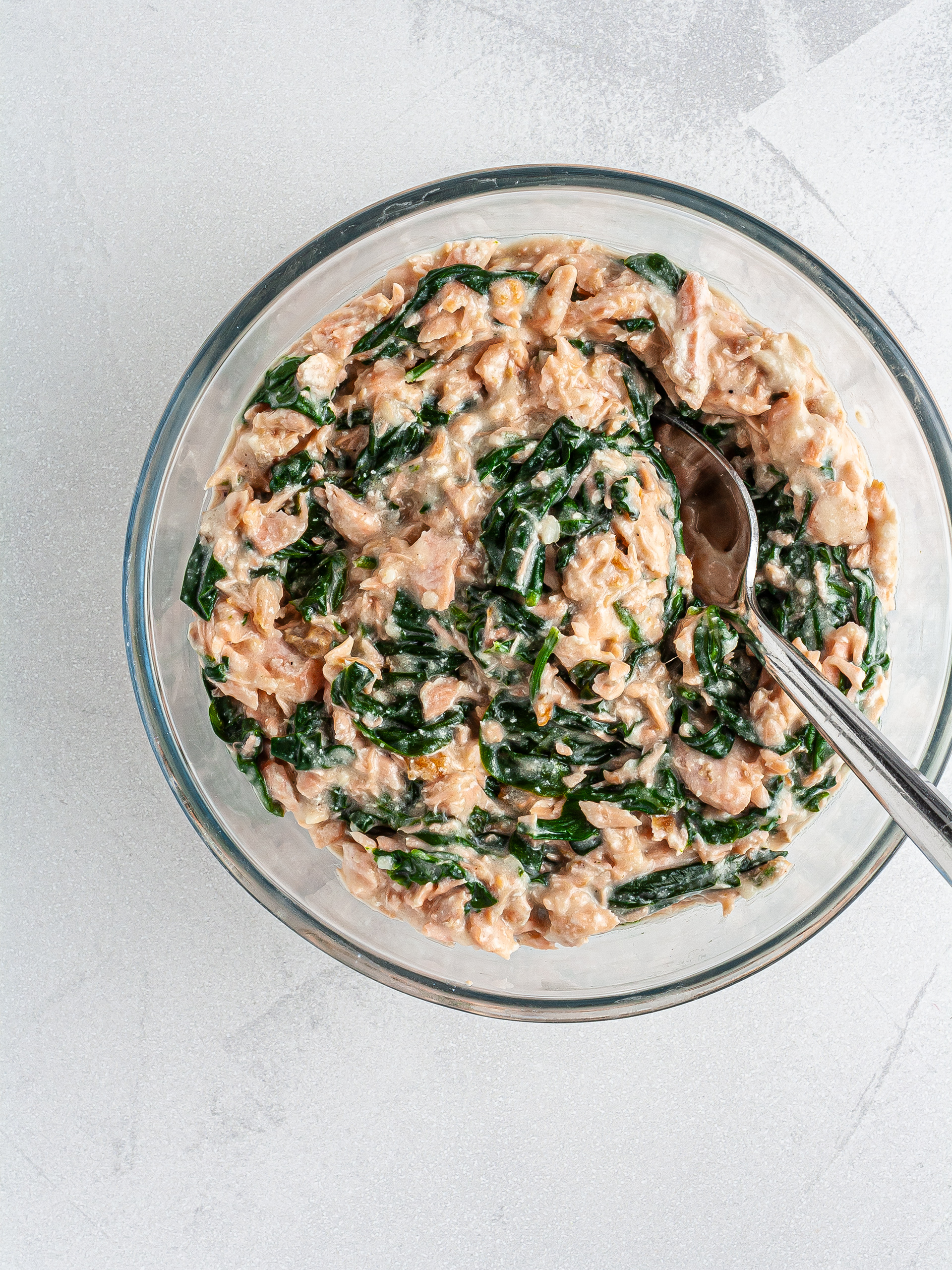 Step 4
Now it's time to assemble the lasagna.
If like us you're using dried lasagne sheets, you'll need to boil them first in salted water for 5 minutes. This way, they will soften and cook more quickly and evenly once in the oven.
Coat the bottom of an oven-proof dish with some bechamel sauce.
Then, cover with a layer of lasagne sheets, spread a few tablespoons of bechamel and salmon mix (1). Repeat until you have used all the filling and save a generous amount of white sauce for the topping.
Finish with a layer of lasagne sheets and coat it with the bechamel making sure you cover all the edges (2).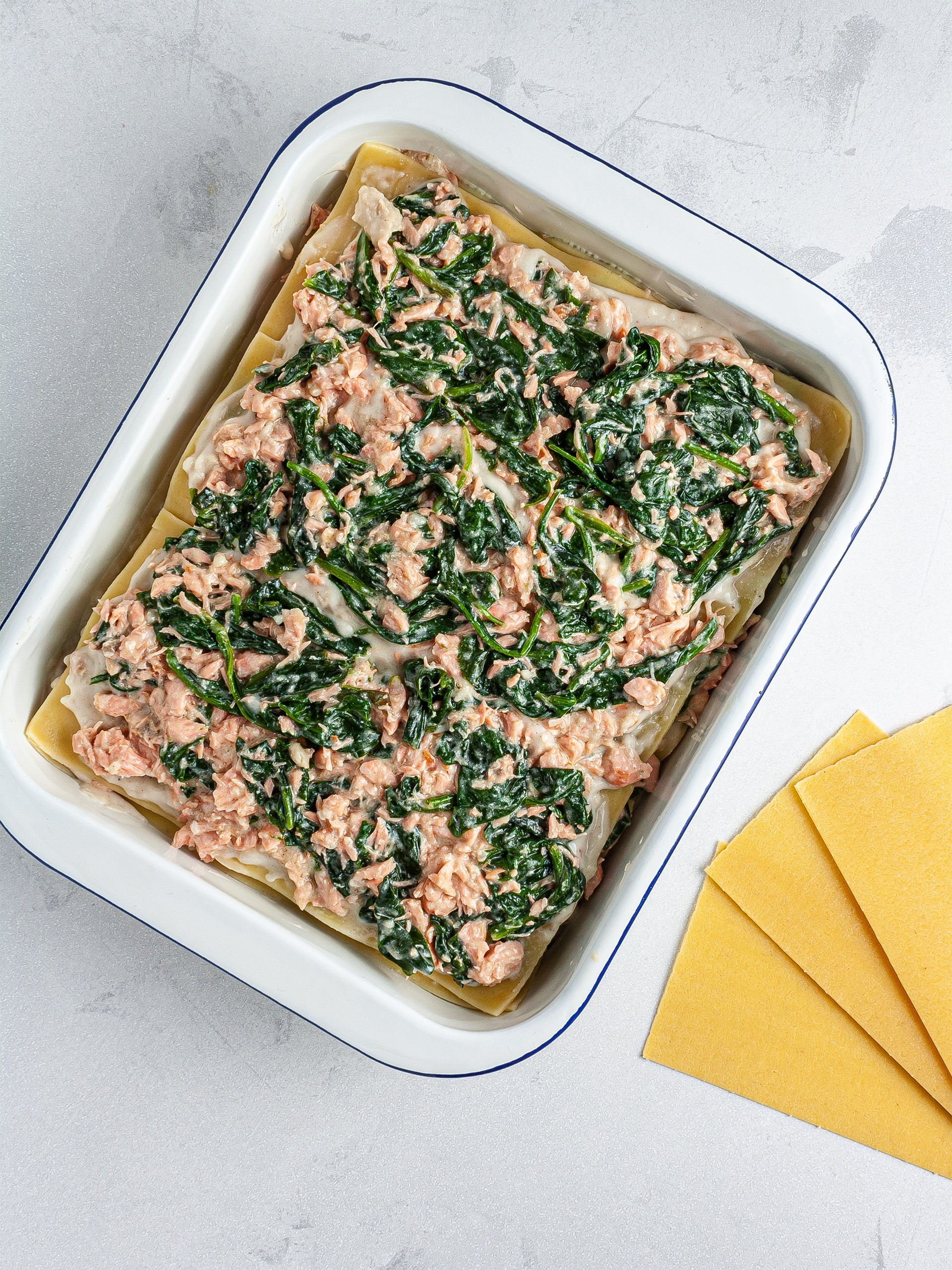 1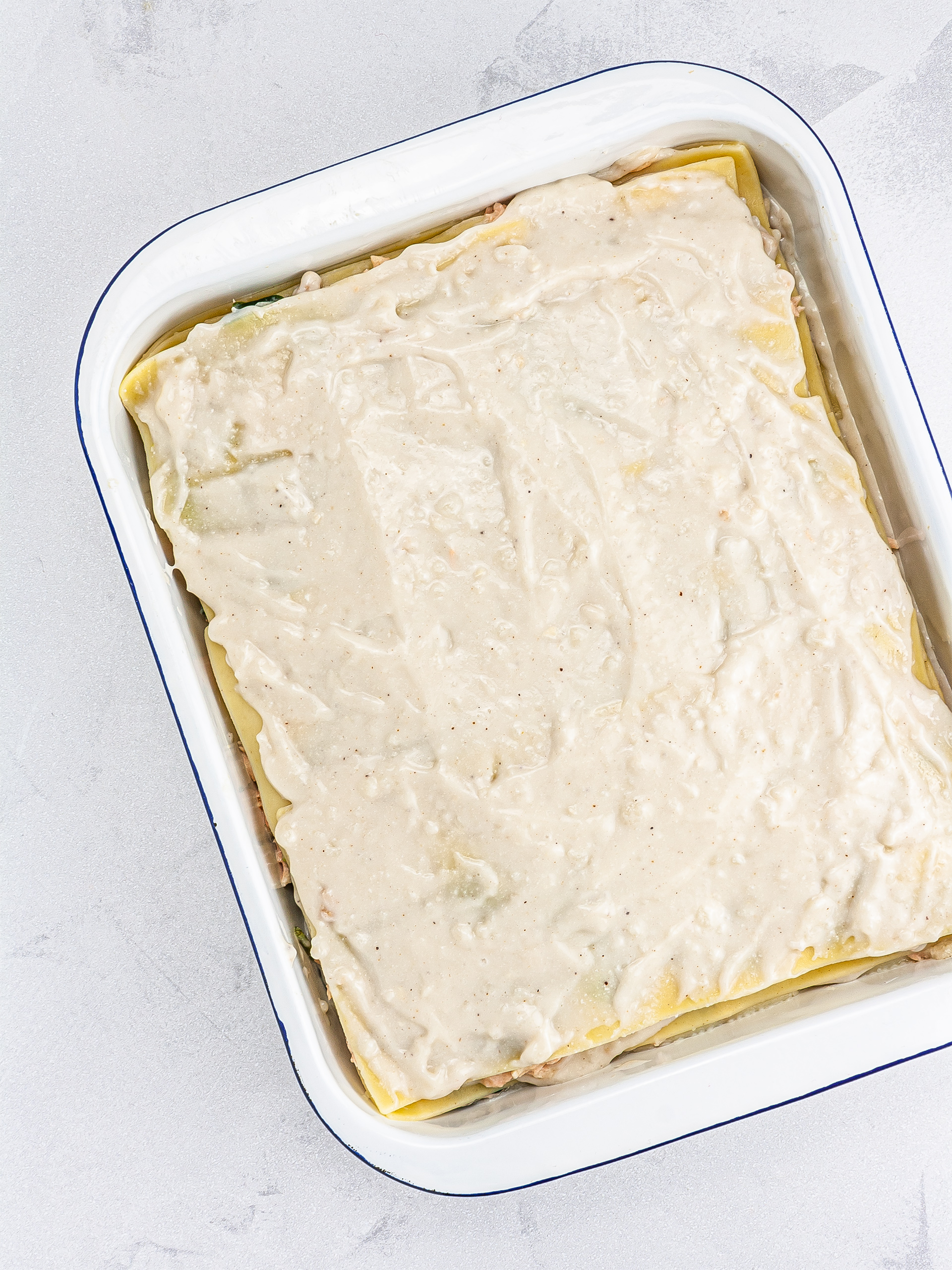 2
Step 5
Cover the lasagna with foil or a sheet of baking paper and bake in the oven for 25 minutes at 200°C (390°F) for static ovens or at 180°C (355°F) for fan ovens.
Then, remove the foil and garnish with spinach leaves and chopped pistachios, if using them.
Cook for further 10 minutes or until the pasta is cooked through and top of the lasagne is nicely browned.
Allow cooling for a few minutes before serving.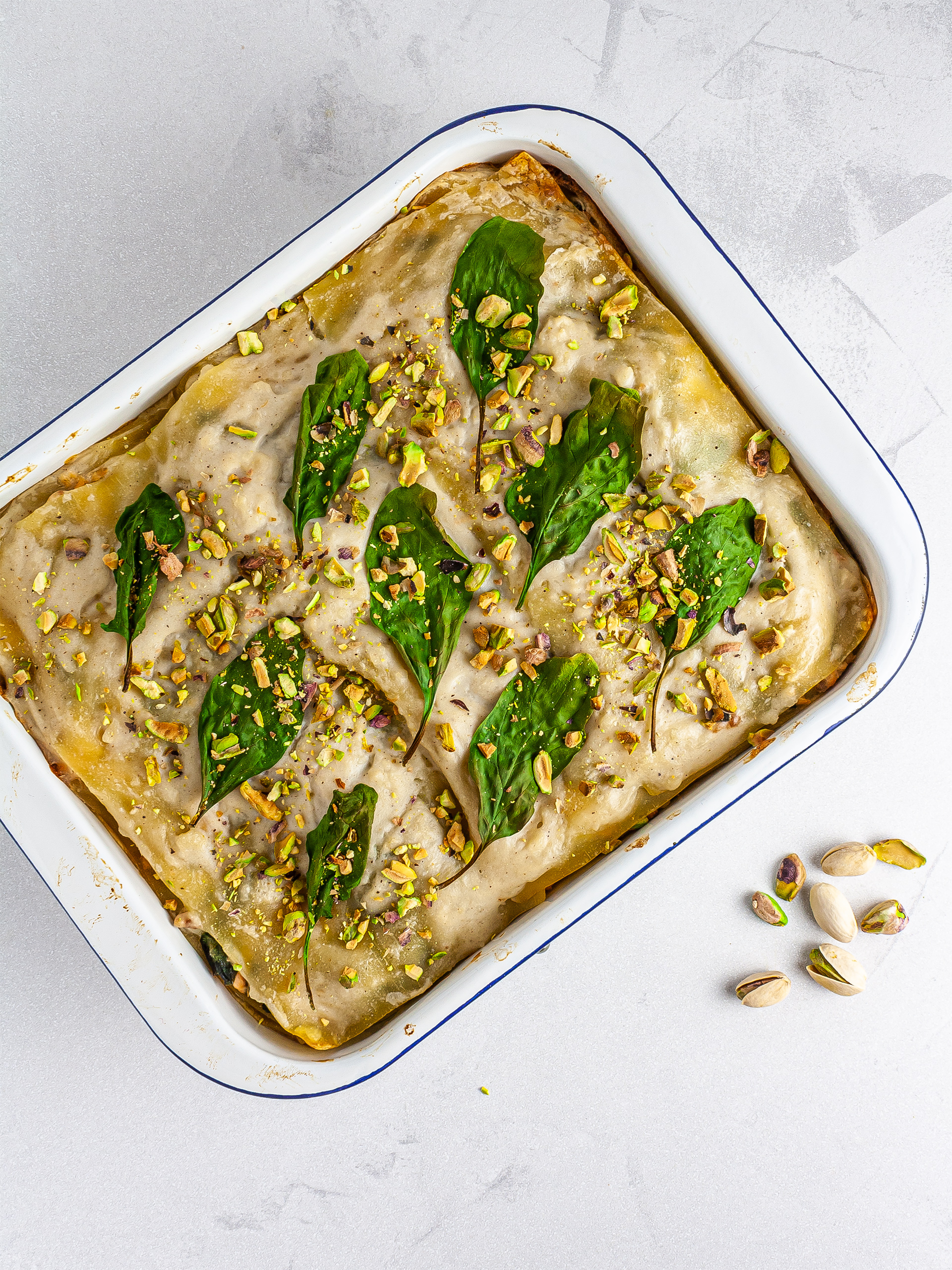 Tips
Make sure you make at least four layers of lasagne sheets - the more, the better!

Spread the fish filling and bechamel carefully on the edges to avoid the pasta from drying out and crisp up while baking.