Once we tried the chamoy sauce, we immediately knew we had to make a recipe with it. And with summer here, we thought, why not make the famous Mexican mangonada? This refreshing drink pairs mango sorbet with sweet and spicy chamoy ⁠— it's a real delight!
Also known as chamoyada or chamango, mangonada consists of four ingredients: mango sorbet, chamoy sauce, lime juice, and tajin seasoning. If you never tried it before, mangonada tastes sweet, spicy, and sour all at the same time. It's a drinkable sorbet bursting with wonderful Mexican flavours.
In our recipe, we'll show how to make the sorbet from scratch, which will take just a few minutes. You'll need frozen mango chunks, but you can also start with fresh mangos and follow our tips below. Make sure they're soft and very ripe as they'll taste sweeter.
While some mangonadas also use mango juice and added refined sugars, we kept our recipe short, simple, and healthy. All the sugars come from the naturally occurring sugars in mangos. And having a glass of our sugar-free mangonada is just like eating a medium mango.
As for the chamoy sauce, you should be able to find it at a well-stocked supermarket or online. But if you have some extra time, why not making it yourself? It's so simple and easy to make chamoy from scratch, and you'll have a healthier sauce without nasty additives.
And finally, the tajin. This fresh and spicy seasoning combines chilli powder, lime zest, and salt. Again, you can follow our homemade recipe below or use the store-bought one. And now that you have all the ingredients ready, all you have to do is layer them in a glass, get your straw ready, and get sippin'!
Ingredients
Mangonada
Frozen Mango Chunks

800 g

Juiced Limes

2

Water

300 mL

Chamoy Sauce

recipe

120 g

Tajin
Chilli Powder

1/2 tsp

Paprika

1/2 tsp

Lime Zest

2 tsp

Salt

1/4 tsp
Step 1
Before you start, make sure you're using very ripe mangoes as they'll taste sweeter.
You can swap frozen mango chunks with fresh mangoes if they're in season. Check the tips below for advice on how to use them.
Blitz the frozen mango in a food processor with lime juice and water.
You should now have a runny mango sorbet, similar to a slushy.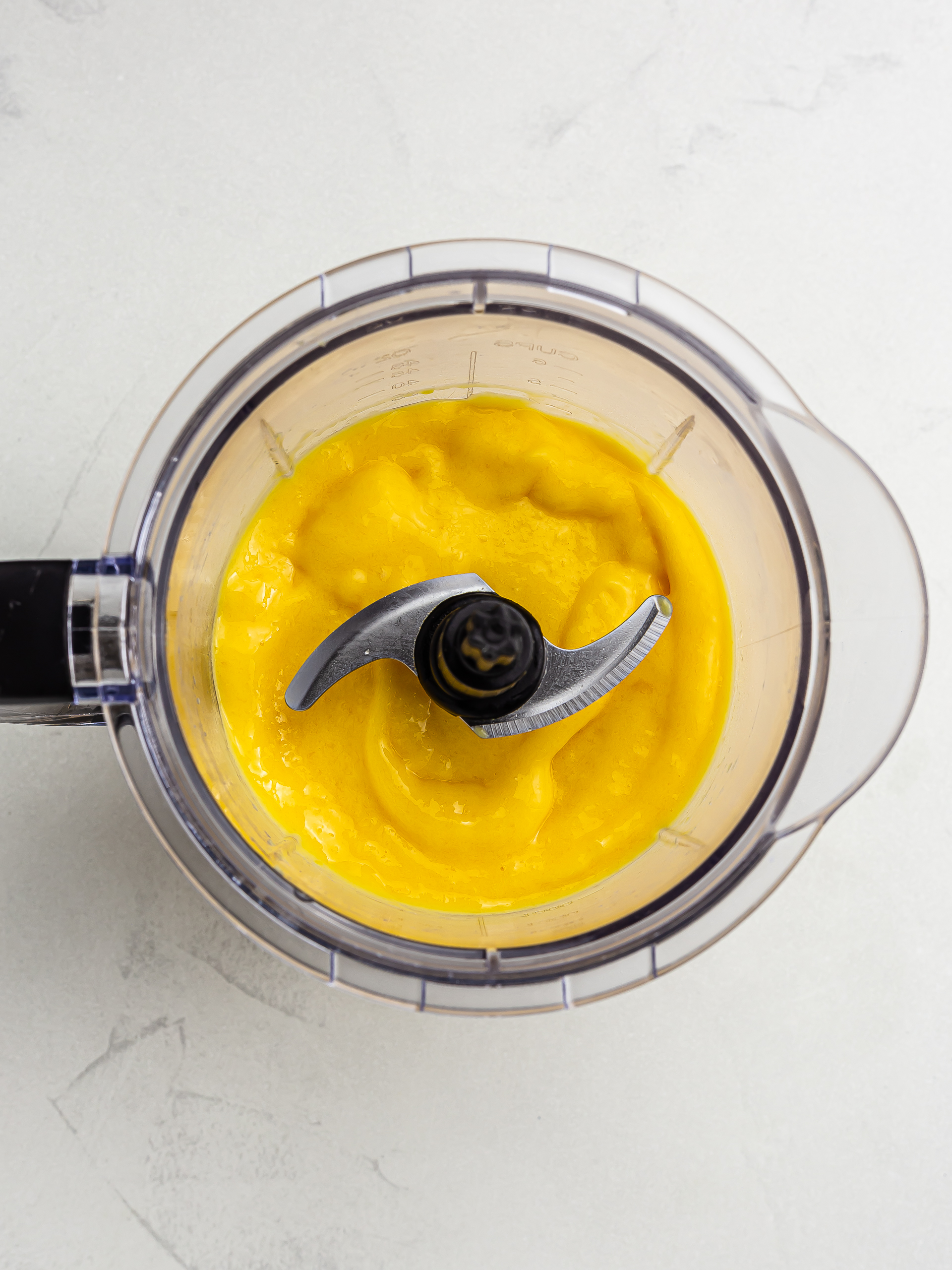 Step 2
To assemble the mangonada, alternate the mango sorbet with a tablespoon of chamoy sauce in serving glasses.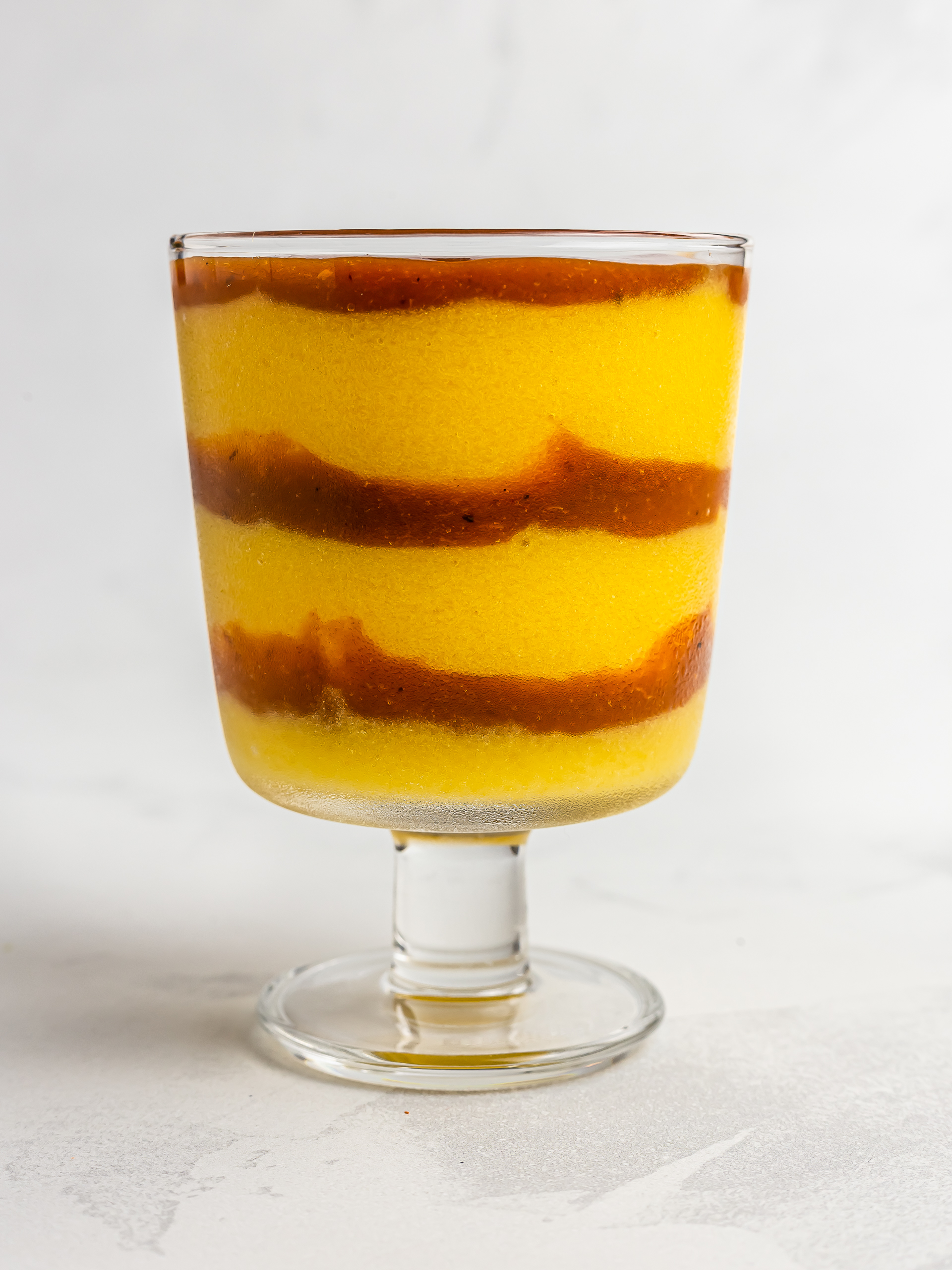 Step 3
For the homemade tajin, mix chilli powder, paprika, lime zest, and salt in a small bowl.
Finally, garnish your sugar-free mangonada with extra mango chunks and a sprinkle of tajin.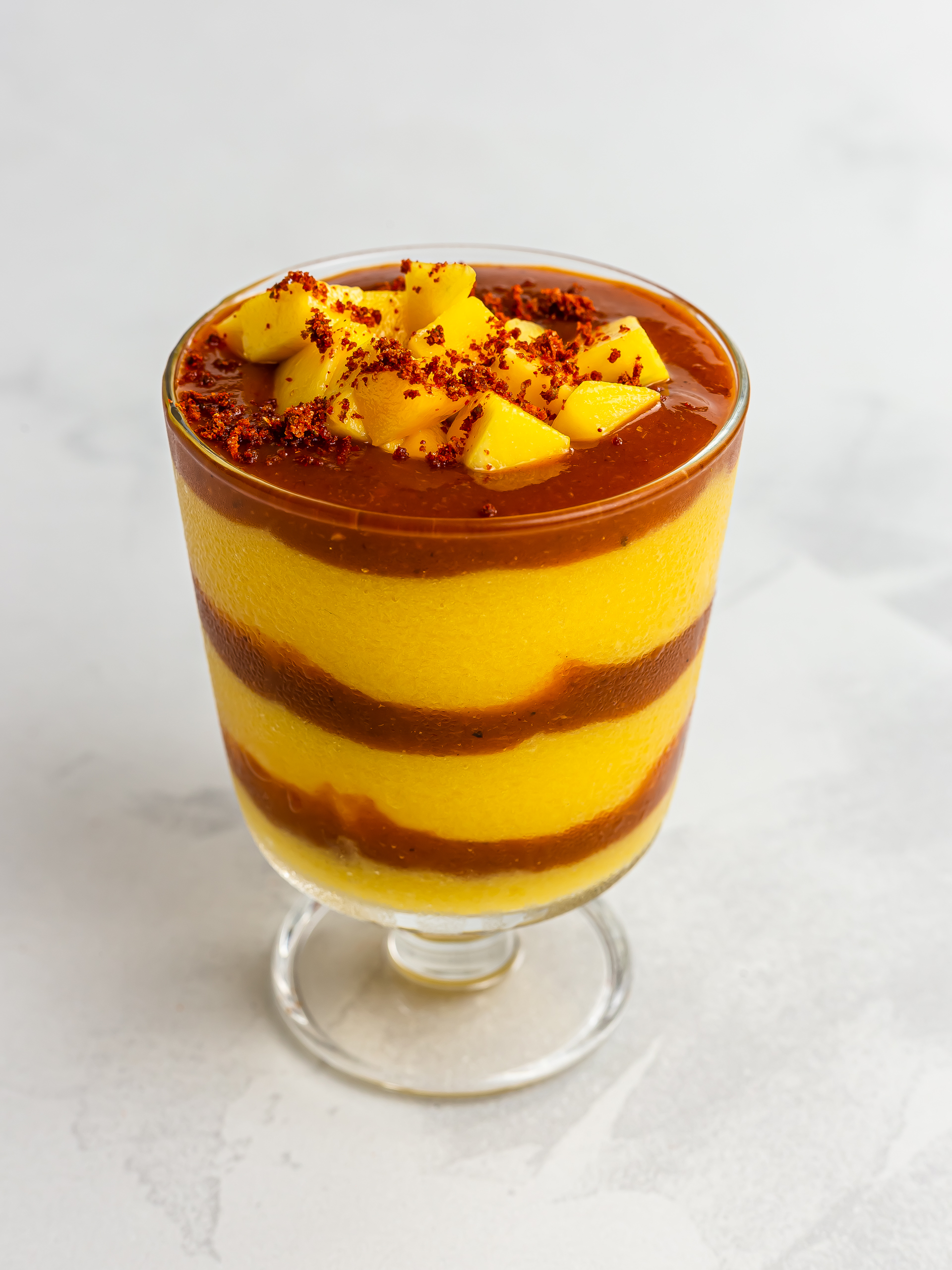 Tips
We used 3 large mangoes to get the amount of mango chunks you see in the ingredients list. Each whole mango should weigh about 380g (13 oz). To make frozen mango, peel the fruits, remove the pit, and chop them into chunks. Then, transfer the chunks into a tray lined with baking paper and freeze them for at least 6 hours, even better overnight. Then, use them in the recipe as above.

If your mangoes are not too sweet, you can replace water with mango juice to bring back the sweetness. Alternatively, add 4 tablespoons of powdered erythritol (or the equivalent of another sugar-free sweetener) to the water.

You can optionally garnish the rim of the glasses, as in our picture. To do so, prepare two plates, one with chamoy sauce and one with tajin. Grab one glass and dip the edge first in the chamoy and then in the seasoning until coated.