Dark chocolate is the drug of happiness. Did you know that when you eat dark chocolate, your brain releases serotonin, a chemical that makes you feel joy and satisfaction? It's a real mood booster. Today, we revisit one of the most beloved chocolate recipes, but with a twist. Say hi to rosemary brownies!
Is there ever a good enough excuse not to try out new brownies? We think not! And there's hardly a reason not to when they are as healthy as these. Our rosemary brownies are sugar-free, vegan and gluten-free — made without eggs, flour, butter or oil!
Compared to the traditional fudgy bites, ours have seven times more fibres, double the proteins, and three times fewer saturated fats. Guilt-free brownies, here we come!
Dark chocolate lends itself to many exciting pairings. You can have it with salted caramel, with dozens of herbs and spices, even with chillies! Rosemary is one of the best matches in our opinion, bringing an unexpected Mediterranean flair that will surprise and excite your taste buds.
This Mediterranean spice is also very healthy, and it adds an extra pinch of nutrients to this wholesome dessert. Rosemary is rich with antioxidants and anti-inflammatory agents that aid our immune system. Studies even found that the herb can prevent brain ageing and enhance memory and concentration [1].
We are so happy about our spiced brownies, and we are excited for you to try them! Follow our recipe below to make them yours and spread the word!
Frequently Asked Questions
How long do these vegan brownies last, and how to store them?

Because we have used only plant-based ingredients, without any dairy or other animal products, you can expect these rosemary brownies to last longer than the classic bake. Store them in an airtight container and enjoy them fresh for up to 7 days.

Freeze them to extend their shelf life to 3 months. Avoid stacking the brownies in the freezer — or at least use layers of parchment paper — to keep them from sticking to one another and losing their toppings.
How to make healthy, gluten-free and dairy-free brownies?

Traditional brownies are fantastic, but they aren't healthy, sadly. Nor are they vegan, gluten-free, or dairy-free. It's safe to say they aren't a friendly snack at all for anyone with food intolerances or people on a diet.

But all of this can change, and it did. Our recipe above is gluten-free, dairy-free, egg-free and vegan.

Take a look at the ingredients above, and you'll see we've only used simple plant-based ingredients and got rid of added-sugars and even oils. And the brownies are still chewy and incredibly flavourful. What magic is this? Welcome to Foodaciously! It's our mission to turn beloved foods into healthy and allergen-free meals and to design new wholesome recipes.

For our rosemary and dark chocolate brownies above, we have opted for a vegan and sugar-free dough. Here's what we have done:

We started with a base of fibre-rich oatmeal, mixed with cocoa powder.

We replaced eggs with "chia-eggs", which is nothing more than chia seeds soaked in water.

As a replacement for the unhealthy fats from butter, we used a mix of almond butter and date paste rich with nutrients and healthy fats. You can use peanut butter as well, or another nut butter.

The date paste also acted as a natural sweetener, so no refined added sugars were needed in the dough.

To minimize the use of refined sugars even further, we have used 90% dark chocolate. You can use 99% variation to cut out virtually all refined sugars in the recipe.

The results paid off. A single portion of our spiced brownies has a fraction of the fats compared to traditional brownies. Each of these chocolate bites has not only three times fewer saturated fats but also seven times more fibres and double the proteins.

Just follow our recipe above, and you can finally enjoy vegan, gluten-free brownies that are good for you.
Ingredients
| | |
| --- | --- |
| Chia Seeds | 2 tsp |
| Water | 150 mL |
| Dates | 350 g |
| Oat Flour | 200 g |
| Cocoa | 80 g |
| Baking Powder | 2 tsp |
| Salt | 1 pinch |
| Dried Rosemary | 1 tbsp |
| Almond Butter | 50 g |
| Vanilla Extract | 1 tsp |
| Almond Milk | 150 mL |
| Dark Chocolate 90% | 35 g |
Step 1
First, let's prepare the vegan chia 'egg' and the date paste.
In a bowl, stir the chia seeds with 70 mL of water and then leave them to soak for 10 minutes. The seeds will swell and form a dense gel-like mixture (1).
In the meantime, soak the dates in water until softened. Then, drain them, add them to a food processor, and pour 80 mL of water.
Pulse until you have a smooth paste (2).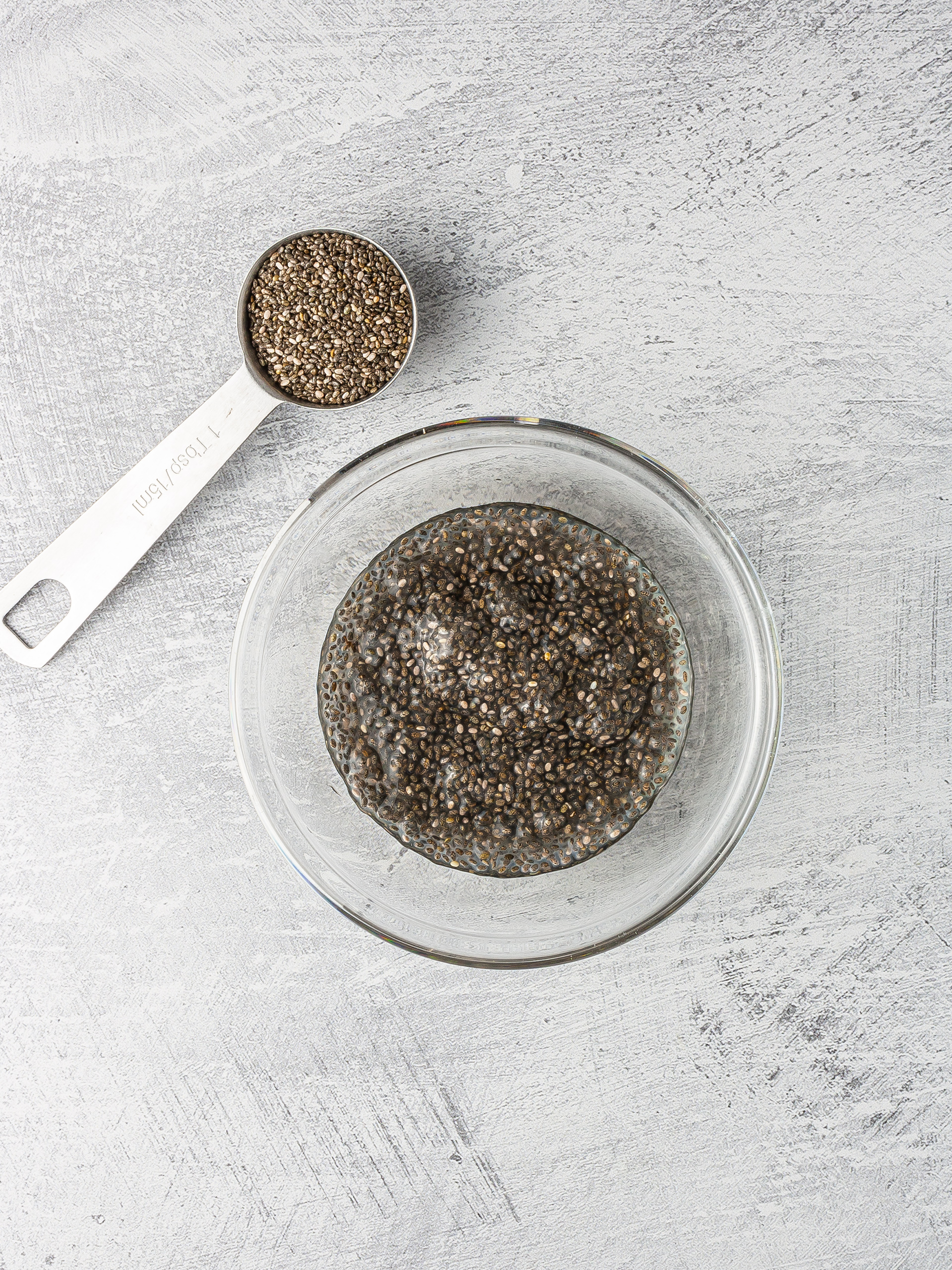 1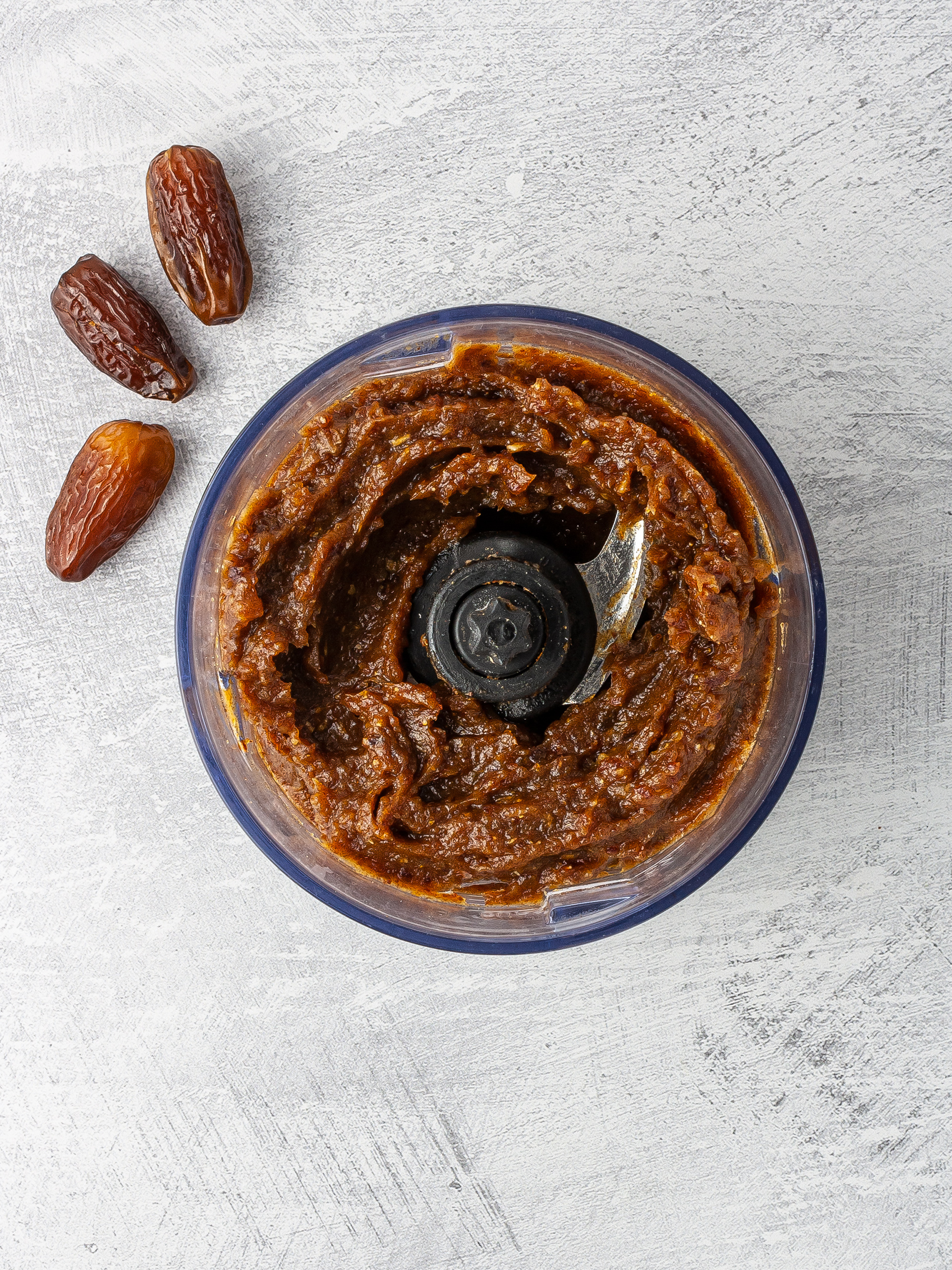 2
Step 2
You can use oat flour or make your own by blitzing oat flakes until they are finely ground.
In a mixing bowl, combine oats, cacao powder, baking powder, salt, and dried rosemary. Stir well to distribute the baking powder evenly.
Then, add the date paste, the chia seeds mixture, almond butter, and vanilla extract. Work the ingredients with a spoon or hand mixer pouring in the almond milk a bit at a time.
The brownies mixture should be denser than a cake batter and hold together well. If needed, add more oat flour or almond milk to reach the right consistency.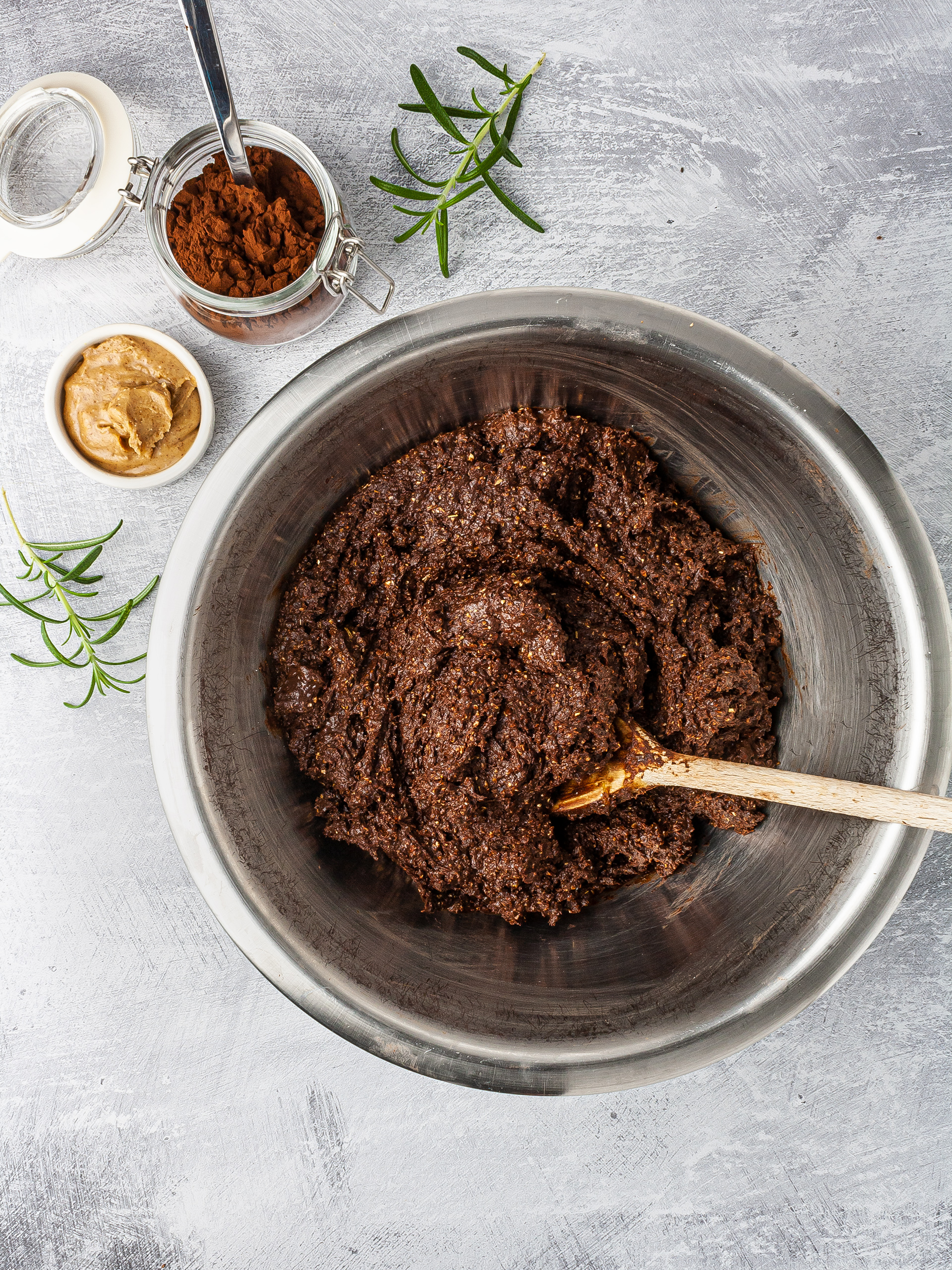 Step 3
Transfer the brownie dough to a 20 cm (8 inches) square non-stick baking tin.
Spread the batter with the back of a spoon or a spatula until level.
Garnish with dark chocolate chips and fresh rosemary leaves for a mouthful of melted spiced-chocolate (1).
Then, bake for 20 minutes at 180°C (355°F) for conventional ovens or 160°C (320°F) for fan ovens.
Leave the chocolate bake to cool over a wire rack before cutting it into single-serving brownie squares (2).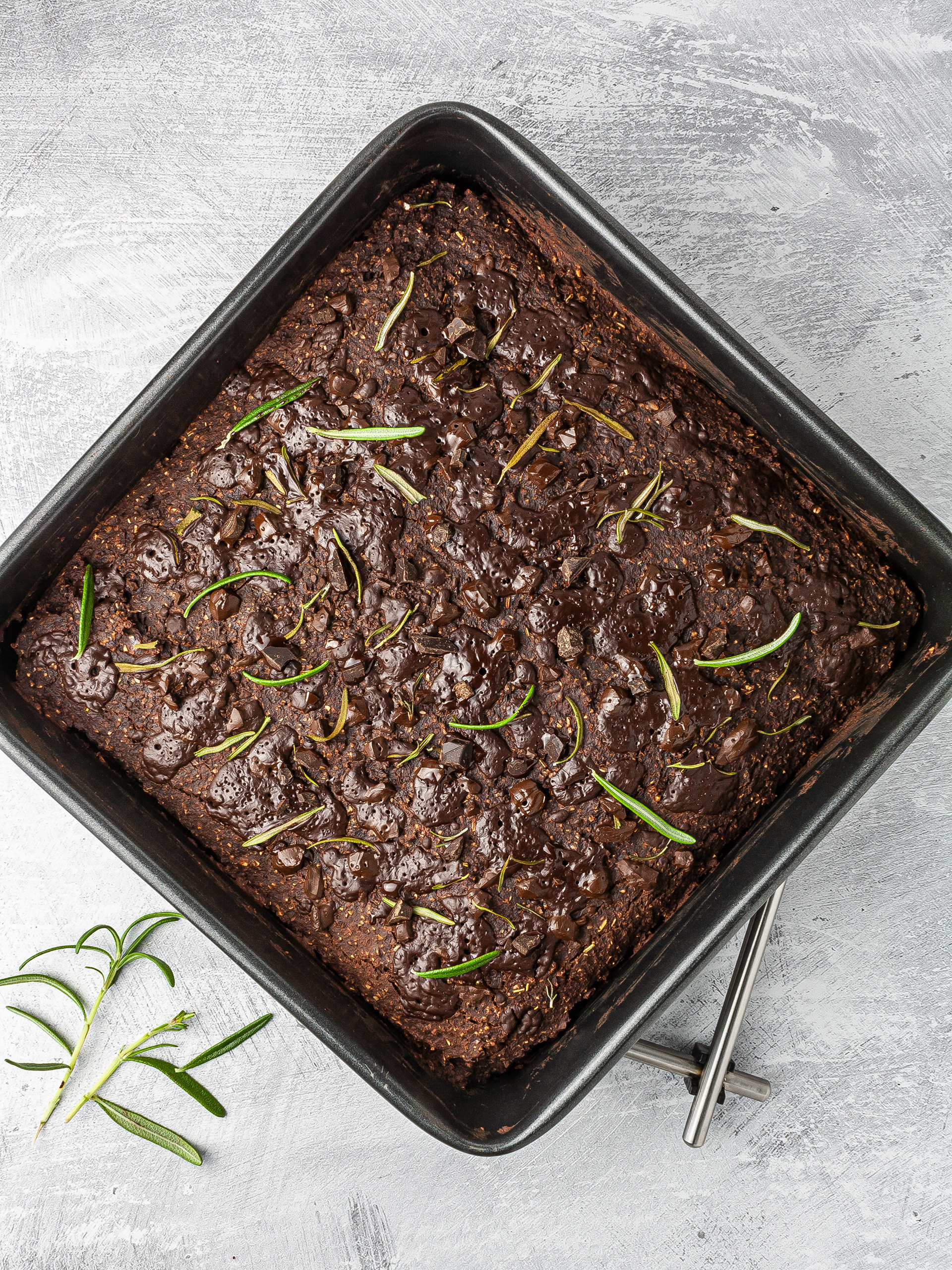 1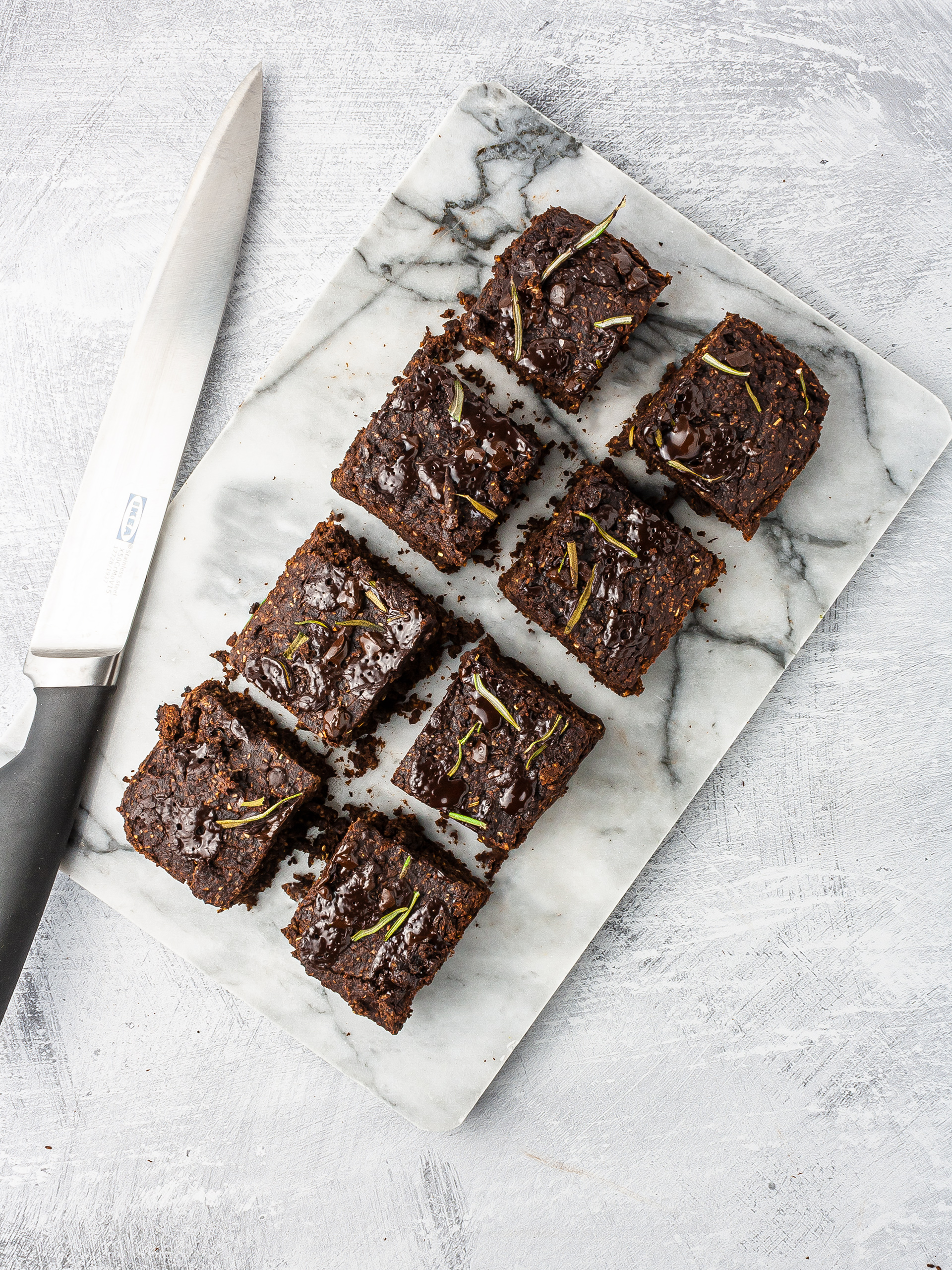 2
Tips
For extra crunchiness, you can add chopped and roasted hazelnuts to the rosemary brownies dough.

Use 99% dark chocolate, and you'll have a batch of brownies with less than 1 gram of added sugars in total! The perfect suggestion for people with diabetes.