Don't have time in the morning to fix yourself a proper breakfast or lunch? We've got you! Here is a slick recipe that is healthy and takes less than 15 minutes: Crunchy toast with turmeric mushrooms, spinach, and toasted almonds.
The recipe is vegan, and by using the right type of bread, it could be gluten-free too. We used sourdough bread instead of the classic one, but feel free to pick your favourite! You could even make it yourself with our tasty pumpkin sourdough loaf recipe.
What you'll get here is a little of everything your body needs to be happy and productive:
Fibres and carbs from whole-wheat bread to keep you energized for longer

Proteins and iron from sauteed spinach and mushrooms

Precious antioxidants and anti-inflammatory compounds from turmeric

Healthy fats and extra crunch from the almonds
You can pair the toast with a piece of fruit or a smoothie for a perfectly balanced breakfast. Check out our selection of healthy drinks for inspiration. Or store it in lunch-box and have it later; it's tasty eaten cold as well.
Ingredients
| | |
| --- | --- |
| Extra Virgin Olive Oil | 2 tsp |
| Shiitake Mushrooms | 160 g |
| Ground Turmeric | 1/2 tsp |
| Fresh Baby Spinach | 80 g |
| Seeded Sourdough Bread Slices | 4 |
| Almonds | 20 g |
| Lemon(optional) | 1/2 |
Step 1
Heat the oil in a skillet, add sliced shiitake mushrooms, and then cook them for 5-8 minutes over medium heat.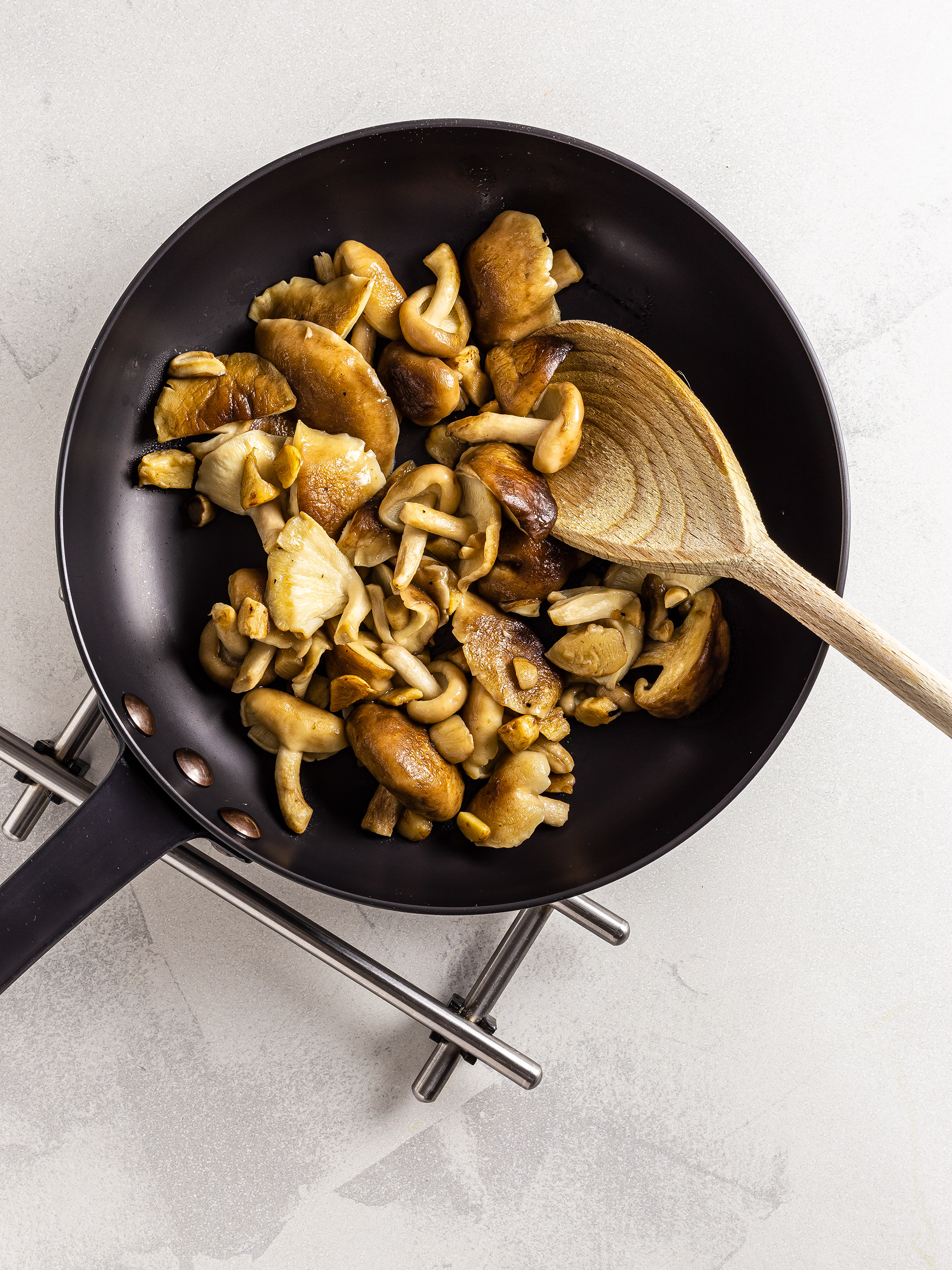 Step 2
Then, tip in the turmeric and baby spinach and season with salt and black pepper.
Sautée the ingredients for 3 more minutes or until the spinach have softened.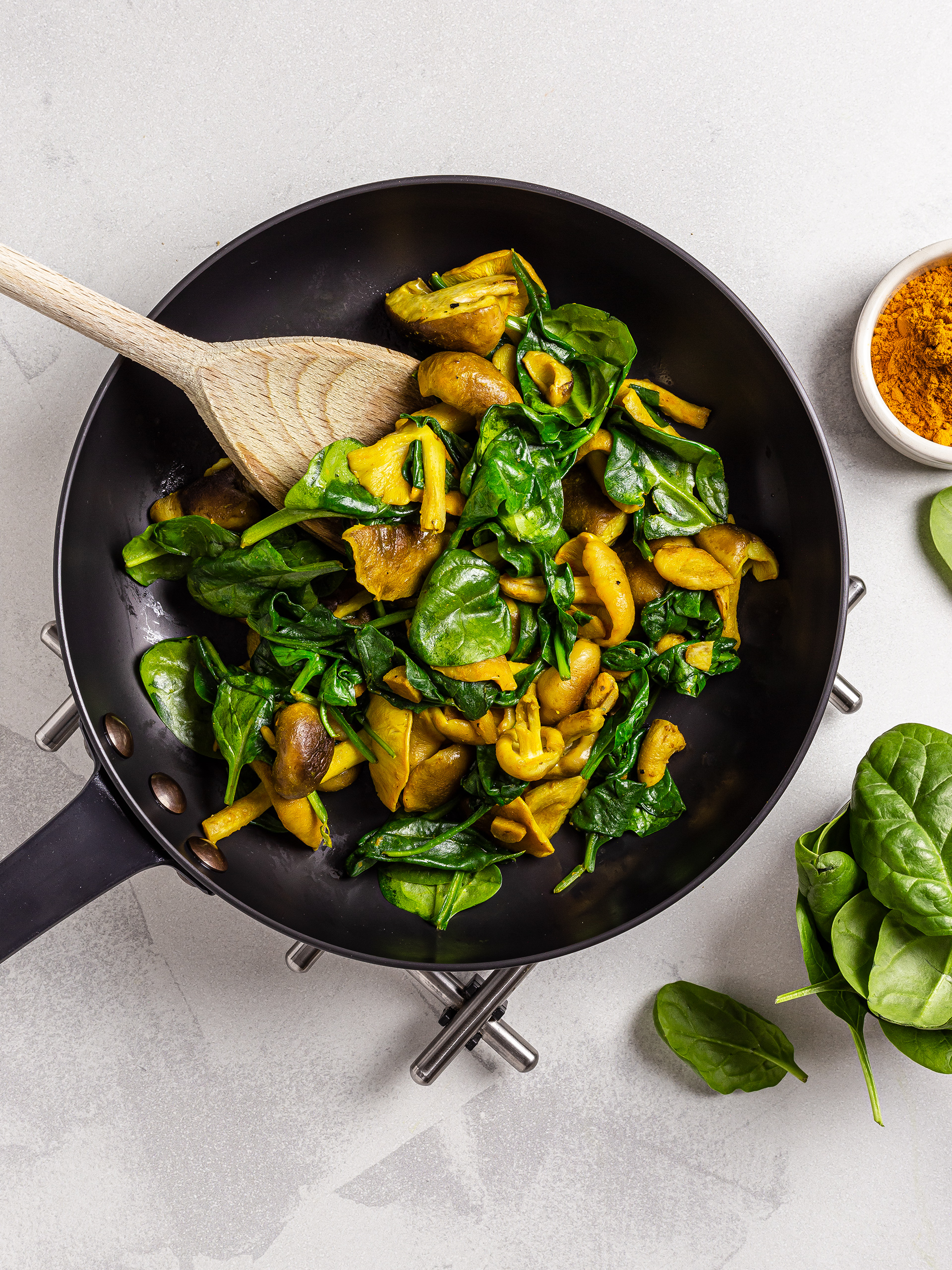 Step 3
Once ready, pile the mushrooms over toasted bread slices and sprinkle with halved almonds.
For extra flavour, you can dry toast the nuts in a clean skillet over high heat until fragrant.
Finally, drizzle the toastes with lemon juice and serve.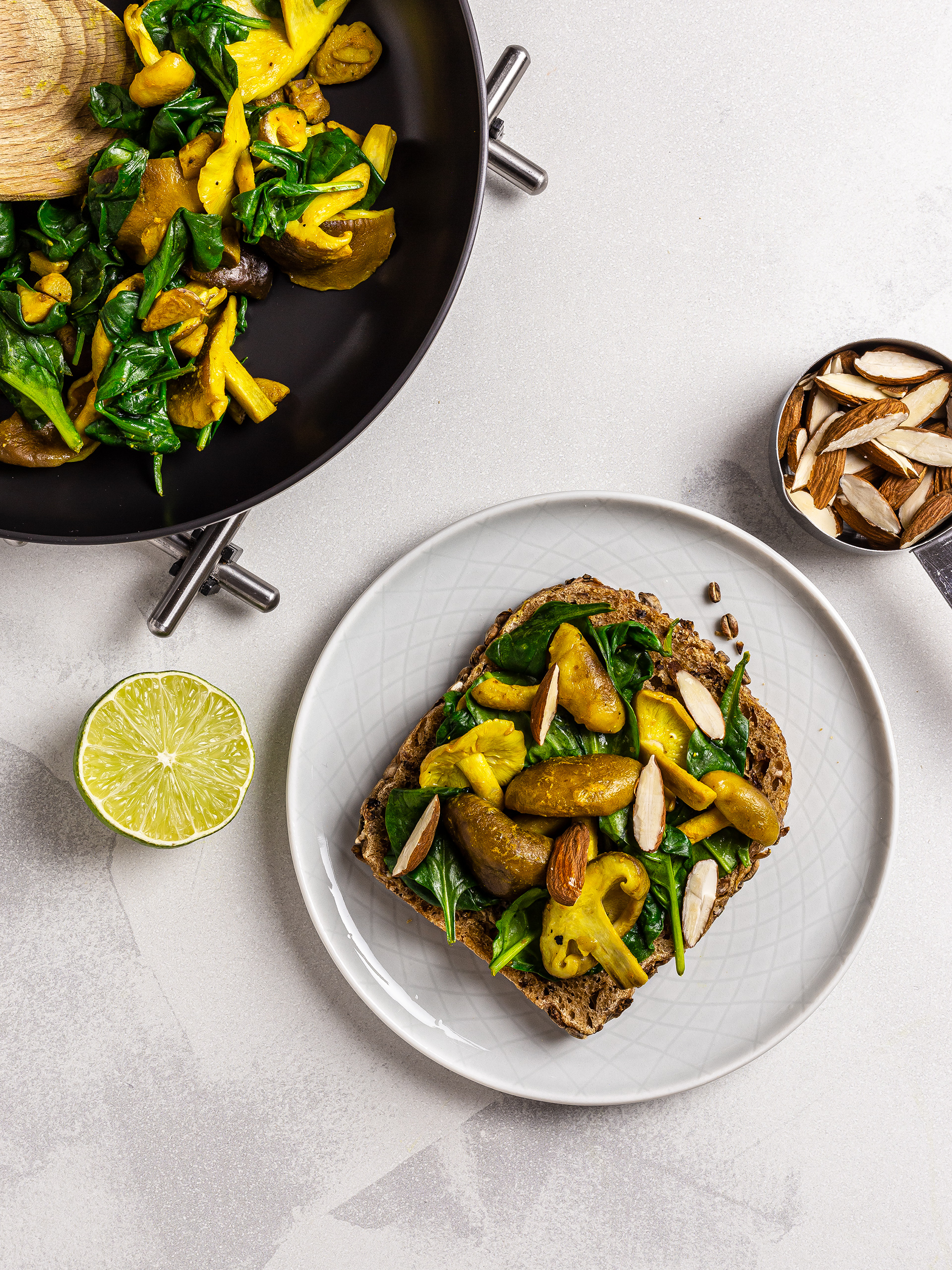 Tips
Try adding a pinch of chilli flakes to the mushrooms for a spicy kick.

We have used shiitake mushrooms for their intense flavour and meaty texture, but you can use any type of mushrooms you like. Good options include portabella, wild, or king oyster mushrooms.

Our bodies can't make the most of the awesome benefits of turmeric without a little help from black pepper. So make sure to season the mushrooms with a good sprinkle of cracked pepper. A special compound called piperine helps curcumin to get absorbed from the digestive system more easily and stay for longer in our system[1].