For today's recipe, we revisited the classic leche flan recipe and gave it a colourful Filipino spin using purple yam (aka ube). Also, we turned it into a dairy-free, egg-free, and vegan dessert, using a few simple ingredients. Keep reading and discover how we did it!
Flan or creme caramel is a famous custard dessert topped with caramel sauce, and almost every country has its own spin. For example, in the Philipines, they make it with condensed milk instead of regular milk and more egg yolks than the French version. Filipinos usually call flan leche flan, which means "milk flan" in Spanish.
In the Philipines, they also have a wonderful tuber, called ube. It's a yam with a vibrant purple flesh, and they use it to give colour and flavour to all sorts of sweets and bakes. It tastes sweet and nutty, and some even say it's reminiscent of white chocolate. And we agree!
Because both leche flan and ube are two staples in Filipino cuisine, we thought: why not make a leche flan with ube? And so, here it is! It's as beautiful as delicious — and incredibly easy to make.
To prepare it, we replaced eggs and dairy milk with vegan gelatine and plant-based oat milk. Classic flan relies on cooked eggs for structure, but the power of vegan gelatine will give you practically the same result. Then, we decreased the amount of sugar to cut down on calories, but we'll also give you the option to use zero-sugar sweetener erythritol if you want to reduce the calories even more.
As for the ube, you have two options: either use fresh purple yam like we did or buy the ube extract. You should be able to find one or the other at your local Asian food store or online. Personally, we prefer the first option. That's because most ube extracts are only purple because they contain purple food dyes. And the only thing in there that could be from ube is a bit of ube "flavouring".
If you prepare this vegan flan with fresh purple yam instead, you can use the whole vegetable. Turn it into a beautiful purple mash, mix it with some coconut oil and maple syrup, and then add it to the flan mixture. You'll get the ube flavour, colour, and nutrients all in one go.
And the great thing is about making your ube spread is that you can use it not only in this purple flan but also in many other ube sweets and bakes. Awesome!
Ingredients
Caramel Sauce

recipe

100 mL

Oat Milk

650 mL

Caster Sugar (or sugar-free erythritol)

30 g

Vegan Gelatine

3 tsp

Ube Spread

recipe

100 g
Step 1
As for the caramel, you can use any store-bought caramel sauce you like or make it from scratch with water and caster sugar.
Alternatively, you can try our no-refined sugar caramel syrup made from dates. Or, you can prepare a simple syrup by boiling maple syrup for about 10 minutes in a pot.
Once you've made the caramel sauce and it's still hot, divide it among single-serving flan tins (like pudding tins, ramekins, or silicone moulds), making a thin base layer.
Then, transfer the tins into the fridge and let the caramel harden.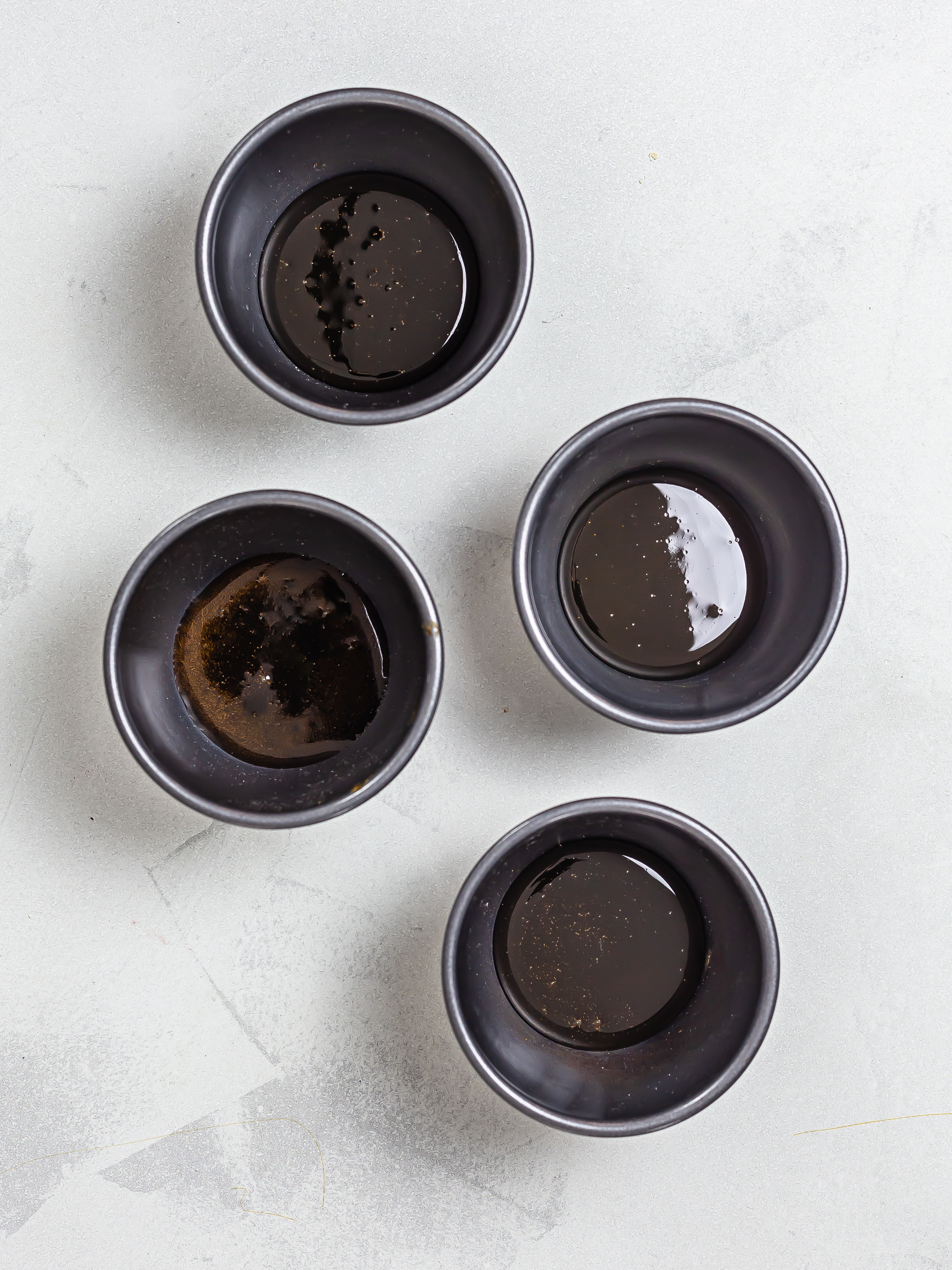 Step 2
As for the ube, we used our homemade ube spread. It's a simple recipe with purple yam (you can also make it with purple sweet potatoes), coconut oil, and a little maple syrup.
Alternatively, you can use the ready-made ube spread, called ube halaya, or use a few drops of ube extract — both available online.
Ok, now, add oat milk, caster sugar (or sugar-free erythritol), vegan gelatine powder, and ube to a pot.
Stir well until most of the ube butter is dissolved and you have purplish milk.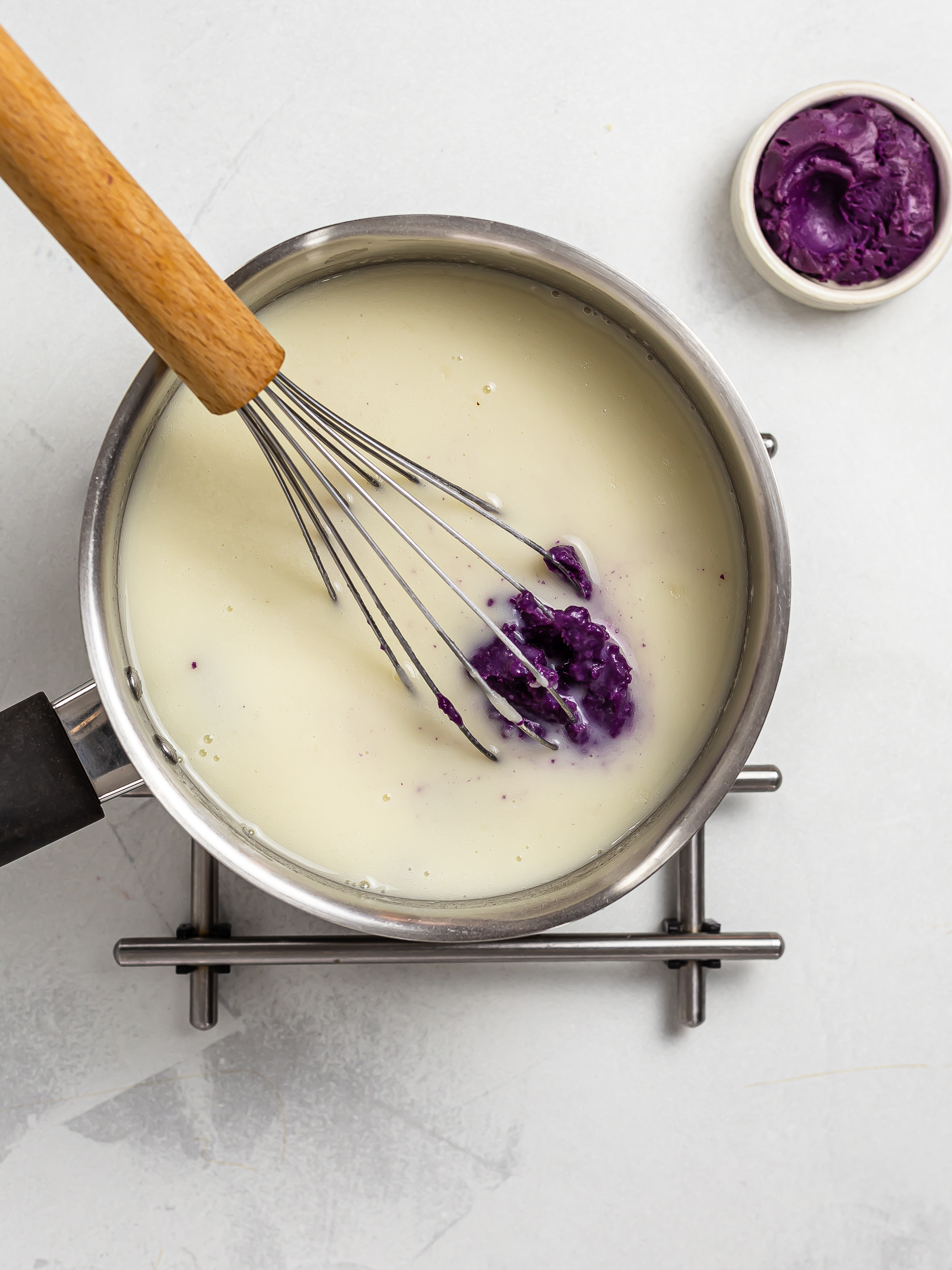 Step 3
Now, turn the heat to medium-low and warm up the ube mixture stirring it continuously with a spoon.
As soon as it starts to boil, turn off the heat, and remove the pot from the hob.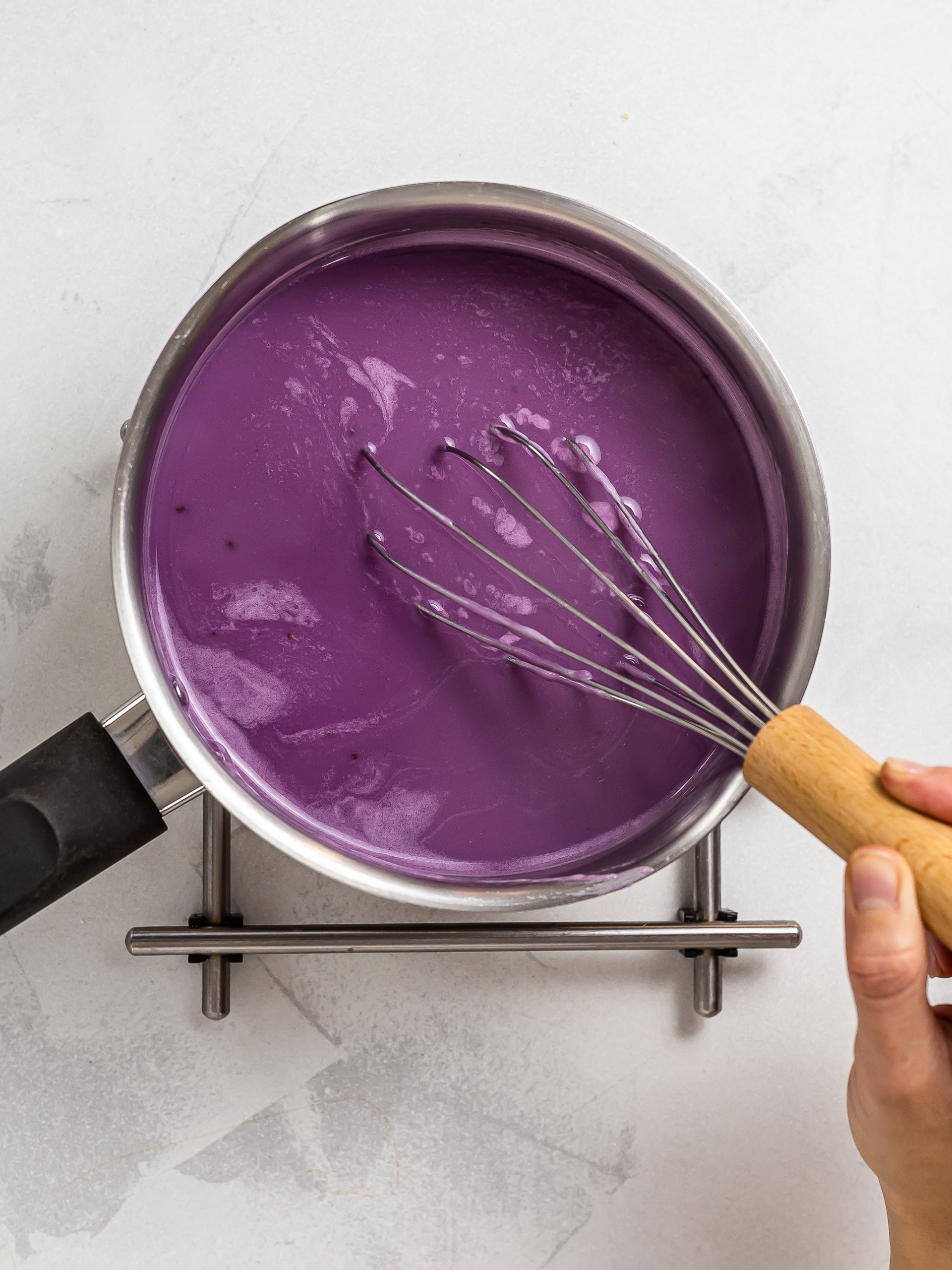 Step 4
Divide the hot ube flan mixture among the ramekins, filling them to the top.
Pour the flan mix carefully over the caramel layer, or they will get mixed; rather than splashing it over the caramel, let it trickle along the sides of the ramekin.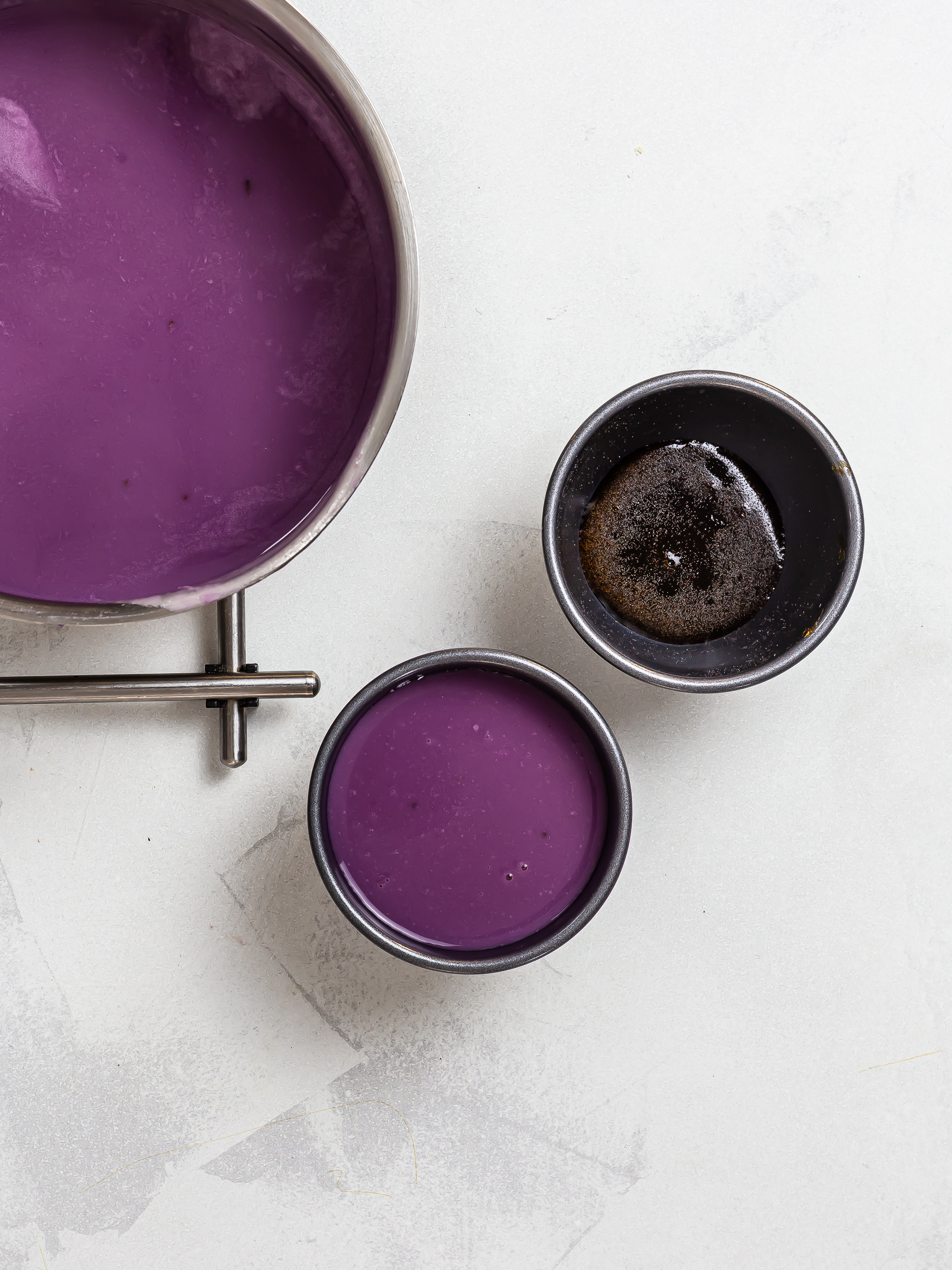 Step 5
Let the prepared ube flans cool down at room temperature for 30 minutes.
Then, transfer them into the fridge and let them harden for 1 hour.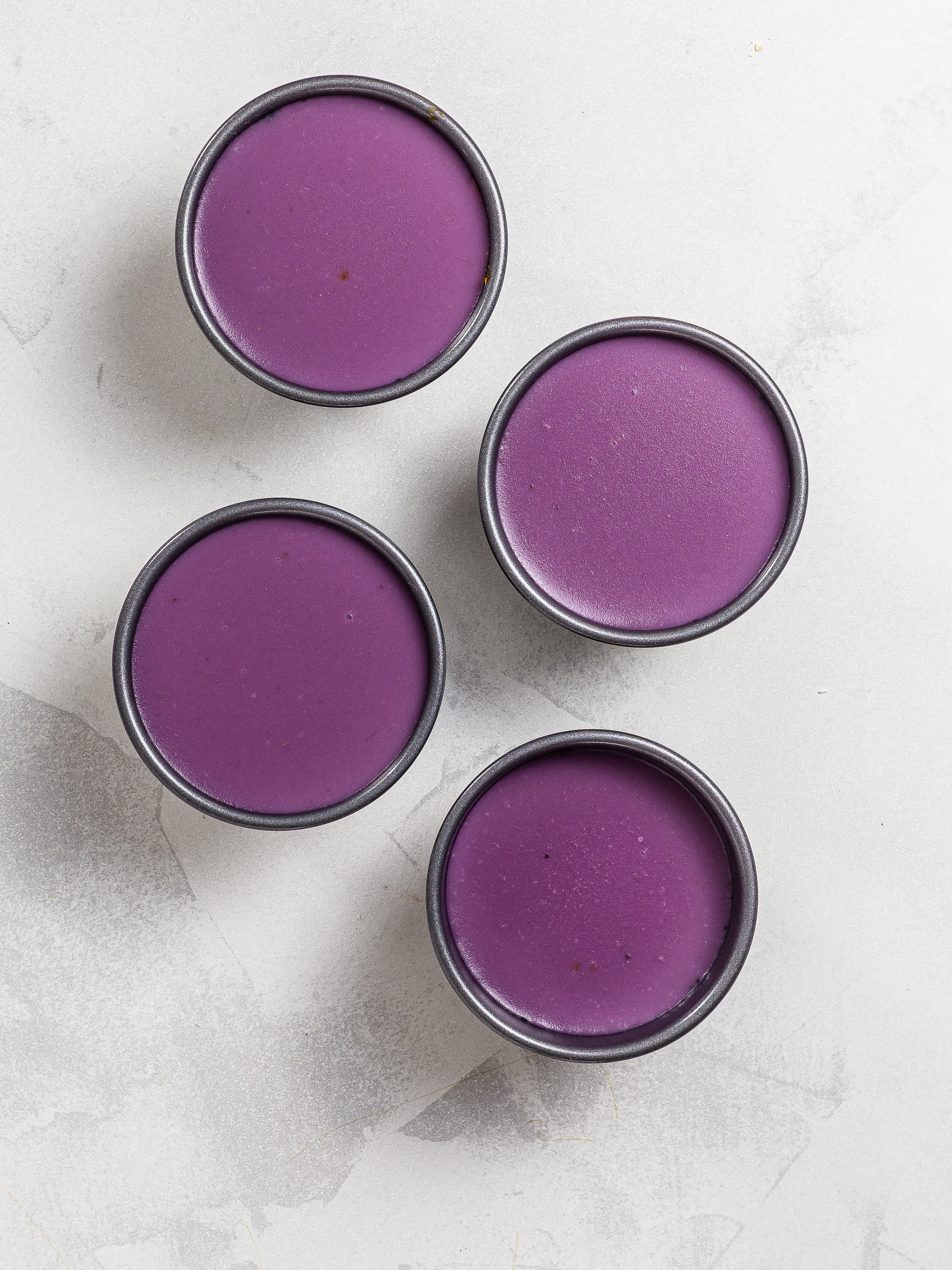 Step 6
When you're ready to serve your ube flans, run a silicone spatula along the edges of each ramekin and push it all the way down to the bottom to create an air pocket.
Finally, flip the flan on a dessert plate and, if you have any caramel left in the ramekin, scoop it out over the flan.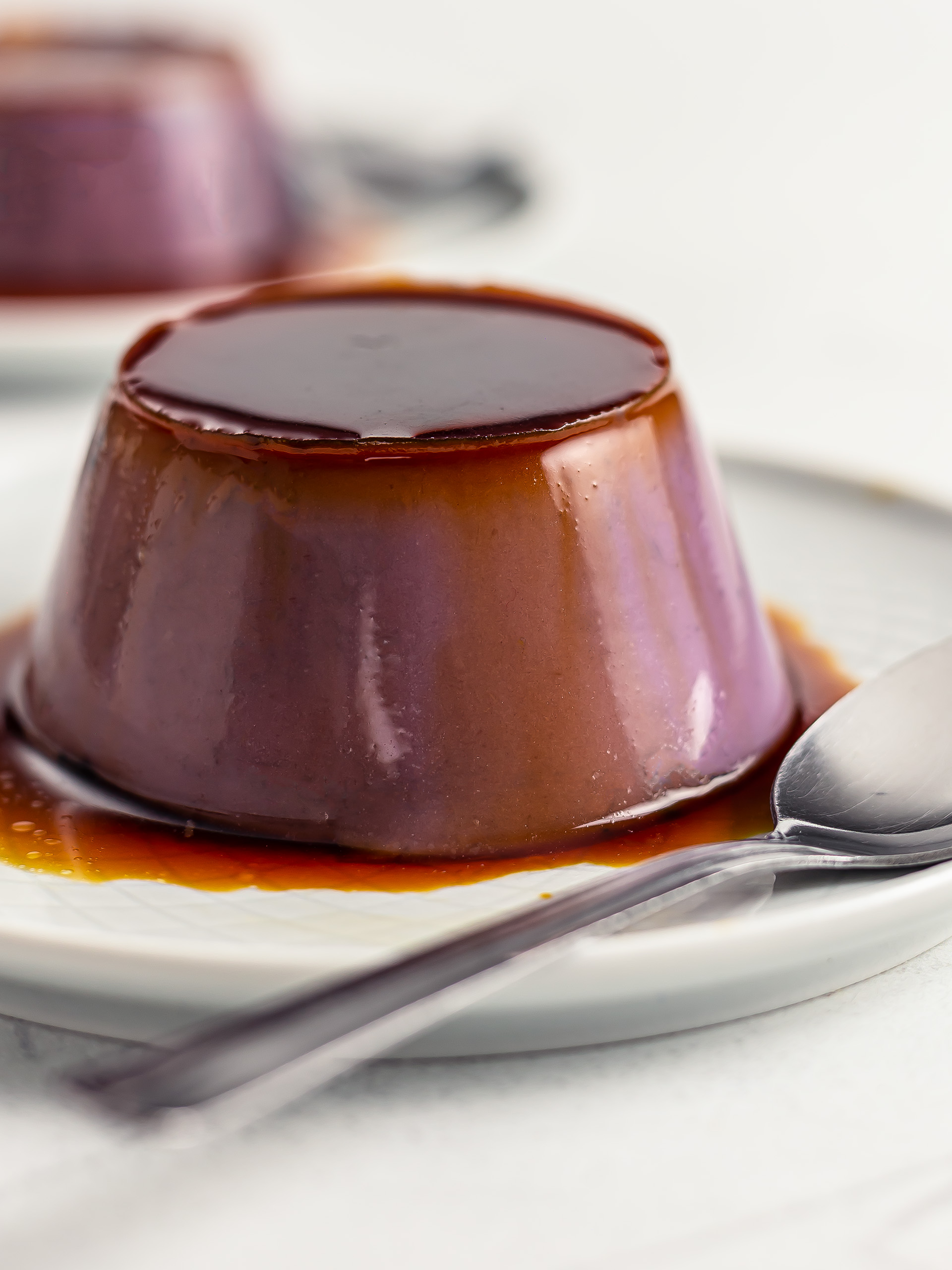 Tips
If you don't have flan tins, you can also use the cups of a muffin tray. Alternatively, use a cake tin or loaf tin and then slice the flan into small squares or rectangles.