Forget those sugar-packed all-butter muffins and start your day with these wholesome banana avocado muffins.
Prepared with just a few simple ingredients, these sweet treats are vegan, gluten-free, sugar-free, and nut-free, and thus suitable for those on special diets and weight-loss plans.
We replaced butter and sugar with blended avocado and mashed bananas.
Avocado is a fantastic substitute for butter in baked goods. You can make no-butter cookies with avocado or even vegan waffles with avocado.
Thanks to its high-fat content, avocado gives richness to these muffins while keeping the saturated fats in check.
Bananas, oats, and flax seeds are packed with fibres, a precious nutrient that fills you up and slows down digestion, for a happy gut and a slimmer waistline.
The result is an incredibly healthy breakfast muffin that comes with three times fewer sugars and five times more fibres than the traditional ones. Each serving covers only 4% of your recommended daily intake (RDI) for sugars and over 20% of your RDI for fibres. Amazing!
To keep this recipe allergen-free, we used coconut yogurt, but feel free to try other plant-based alternatives like soy yogurt, and you'll have even more proteins.
Perfect for breakfast or as a snack on-the-go, make a big batch of these banana avocado muffins, and you'll have a healthy sweet treat always at hand.
Ingredients
| | |
| --- | --- |
| Ground Flaxseeds | 2 tbsp |
| Avocado | 1 |
| Large Bananas | 1 |
| Coconut Yogurt | 250 g |
| Oats | 230 g |
| Baking Powder | 2 tsp |
| Baking Soda | 1 tsp |
| Matcha Powder (optional) | 1/2 tsp |
| Dried Cranberries (sweetened) | 80 g |
| Pumpkin Seeds | 1 tbsp |
Step 1
Let's start by preparing the "flax-egg" which replaces eggs in this vegan recipe.
In a small bowl, add ground flaxseeds and cover with water. We recommend you use a seeds to water ratio of 1 : 2 - so two tablespoons of water for every tablespoon of flaxseeds.
Leave the mixture to set in the fridge for 5 minutes or until dense and jelly-like.
Meanwhile, blitz the avocado with the bananas in a food processor, and then incorporate the coconut yogurt to make a creamy avocado batter.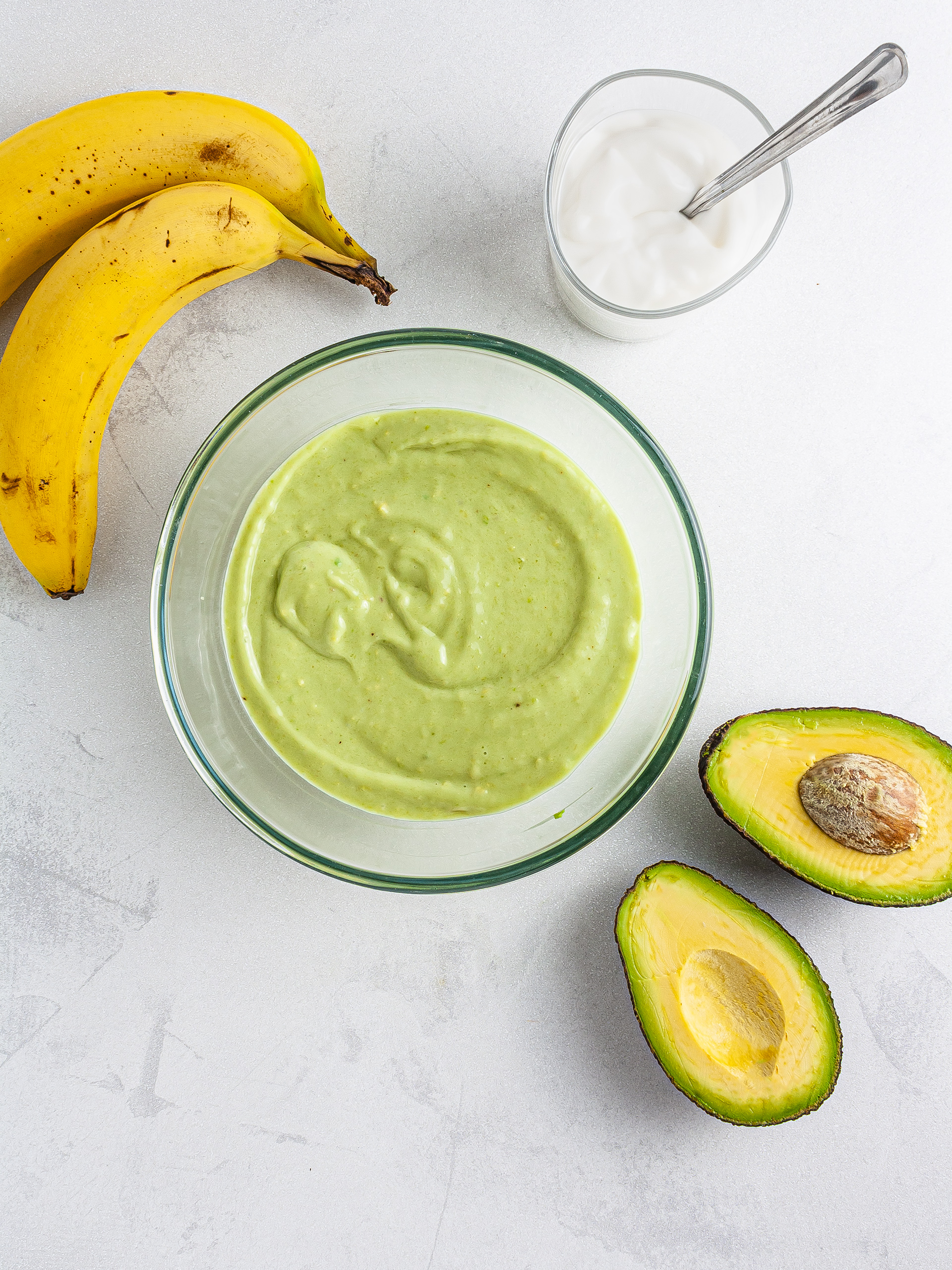 Step 2
Pulse the oats in the food processor until finely ground.
Now, add the prepared oat flour to the banana mixture and stir in the "flax-egg", baking powder, baking soda, and matcha powder.
Although optional, we recommend you use green tea powder not only for a boost of antioxidants and but also to give these avocado muffins a lovely green colour.
Next, add the dried cranberries and stir well until the ingredients are incorporated and you have a smooth and creamy muffing dough.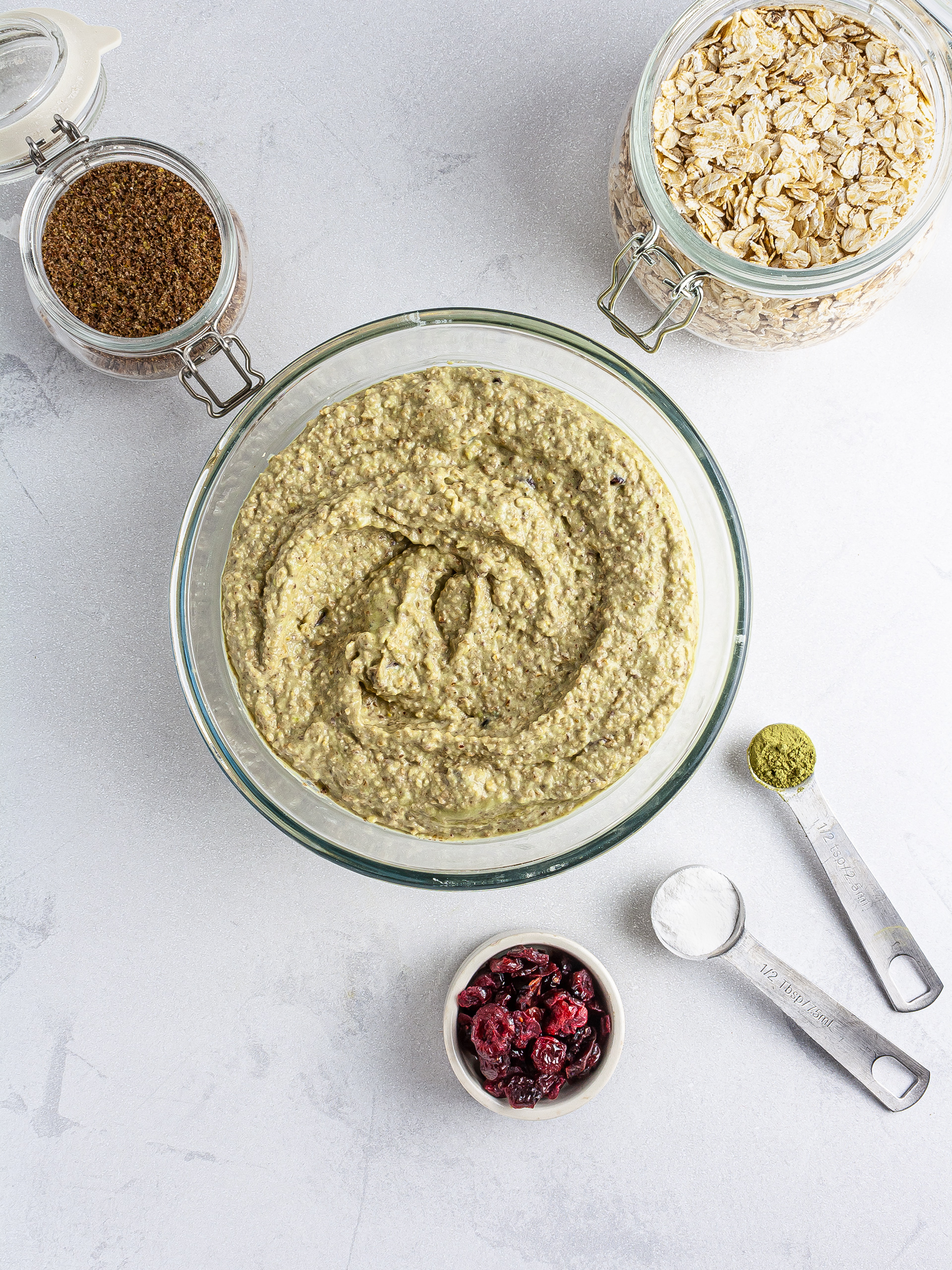 Step 3
Grease and flour a muffin tray or line it with muffin cases.
Pour two or three tablespoons of batter in each case filling it almost to the top. The muffins will expand as they bake.
Then, garnish with oat flakes, dried cranberries, and pumpkin seeds.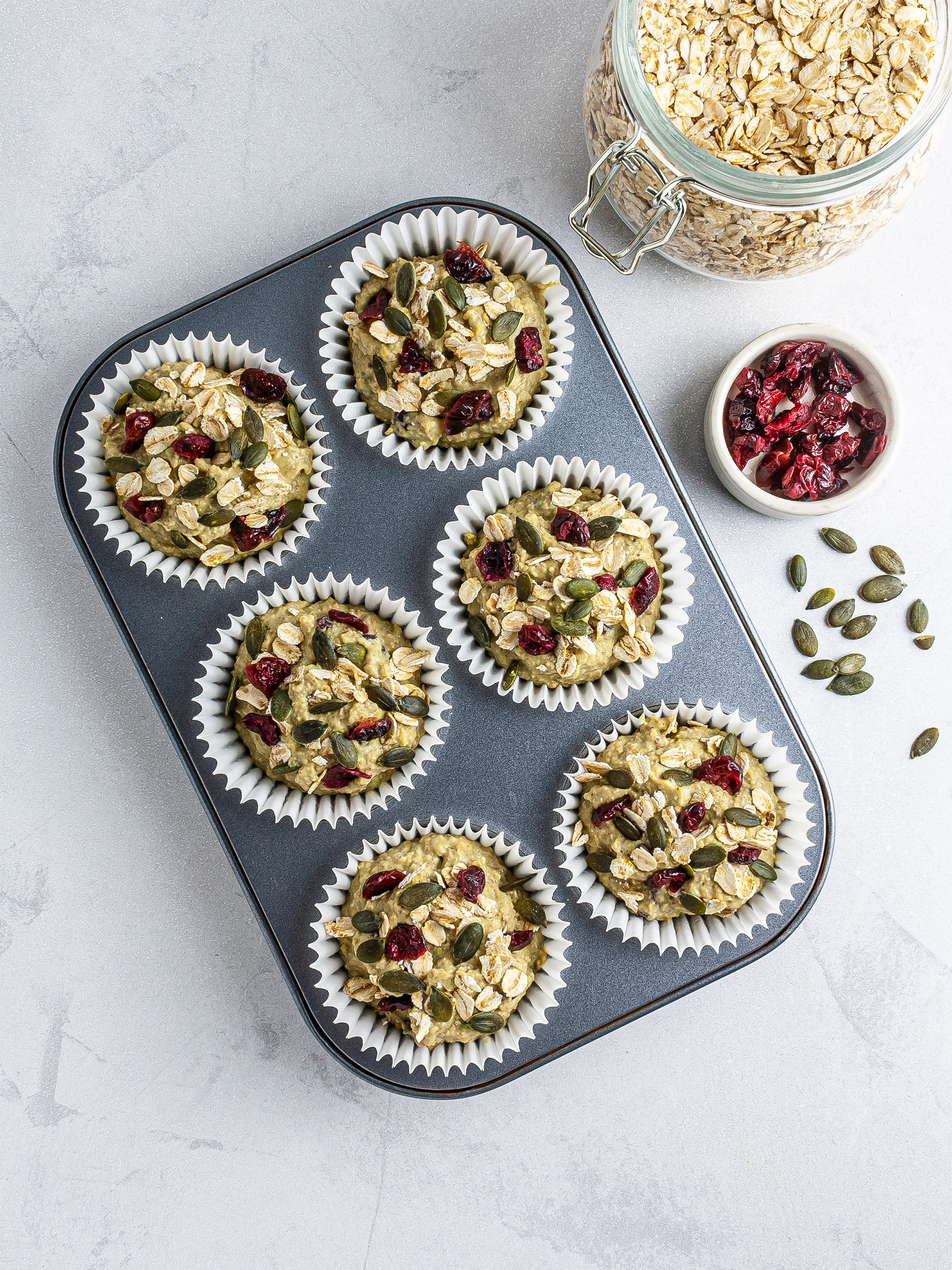 Step 4
Bake the muffins for 25 minutes at 200°C (390°F) for static ovens or at 180°C (355°F) for fan ovens.
They are ready when a skewer inserted in the centre comes out clean.
Keep the muffins in the oven - turned off - for 5 minutes after cooking time. This way, they will cool down gradually and will be less likely to collapse due to a sudden drop of temperature when taken out from the oven.
Before serving, transfer the avocado muffins onto a wire rack to cool down.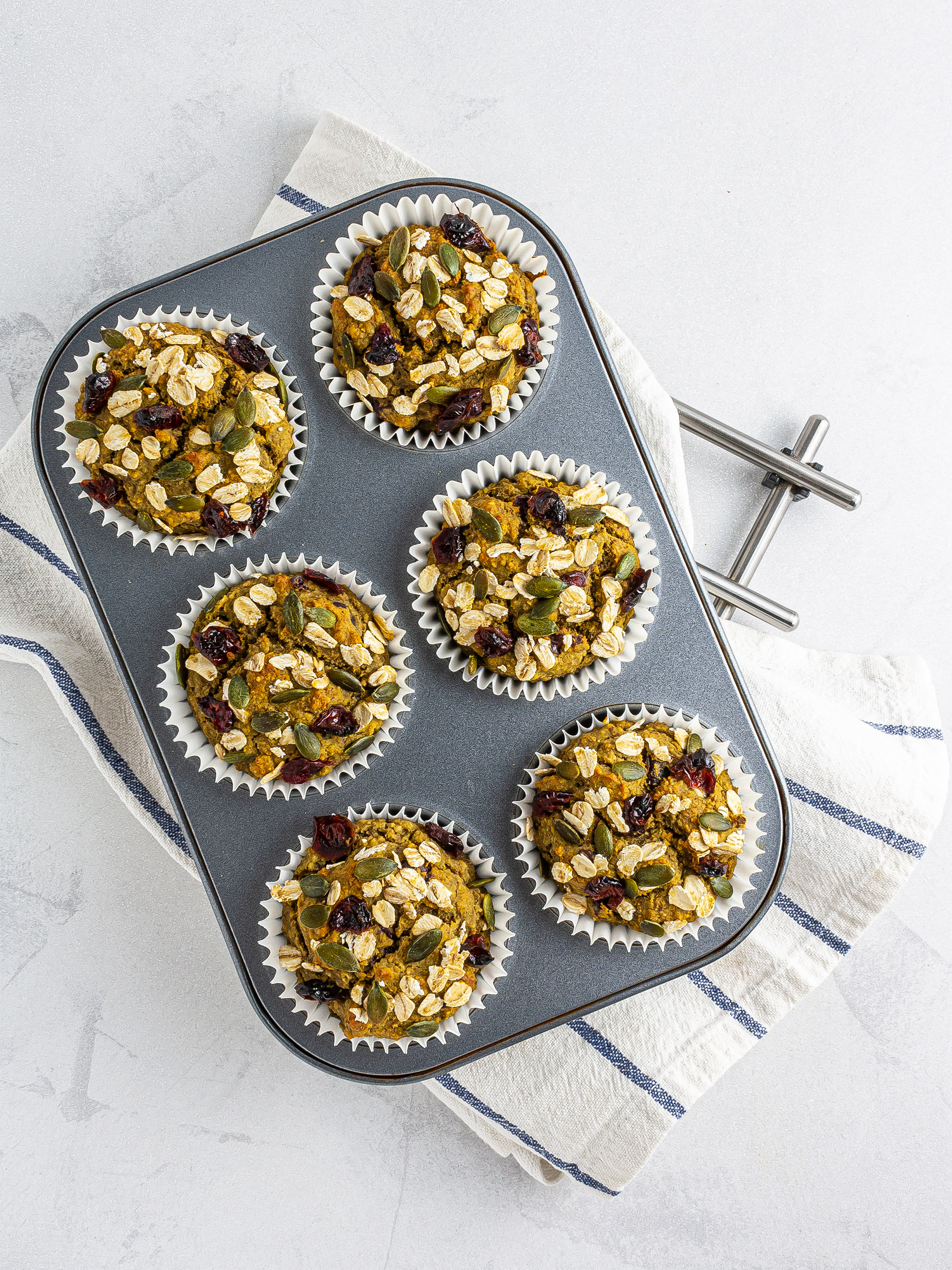 Tips
These muffins are naturally sweet thanks to mashed banana and cranberries. However, if you really have a sweet tooth then add zero-calorie natural sweetener erythritol. In these recipes, you can discover more about how to use this healthy sweetener.

We made this muffin recipe nut-free, but you can add roasted almonds or hazelnut for extra crunch and flavour.

These bakes are soft and moist as they are prepared with natural fresh ingredients, so we recommend you store them in an airtight container in the fridge for up to 3 days.