Do you know what's better than banana bread? Banana and pear bread!
Oh yes, but don't stop there. If you want to bite into utter flavour and wholesomeness, then go for a recipe that is both vegan and sugar-free, like this one right here.
We made this banana and pear loaf without eggs, butter, milk, oil or refined sugars. Only the healthiest plant-based ingredients made it into our sweet bread. Did we strike your fancy? You can keep reading to learn more or skip straight to the recipe below.
Getting a soft and spongy loaf without using butter and eggs is all about selecting the right plant-based fats. Soy yogurt is a great choice, and we have used it here. But there's a magic ingredient in this recipe that replaces both animal fats and sugars: pearsauce.
You make pearsauce just like you do applesauce: simmer pears in water until you get a creamy paste. This paste is an excellent binder for your vegan bakes, just like butter or oil but healthier. Moreover, it carries with it all the natural sweetness of pears. Pair it with ripe bananas, and there is no need to use refined sugars at all.
We love making healthy recipes that have as little allergens as possible so that all of you can enjoy them, no matter your diet. Check out the nutritional profile of this vegan banana and pear bread:
175 calories per slice

3.5% of your RDI for fats

20% of your RDI for fibres

Only 8% of sugars, which come from pear and bananas
All is left now is to roll up your sleeves and get the baking going! Have fun and enjoy this healthy loaf.
Frequently Asked Questions
What can I use instead of flaxseeds?

To make this breakfast recipe vegan, we have swapped eggs with ground flaxseeds. These awesome seeds absorb water and form a gel-like mixture perfect for binding the cake ingredients.

If you can't find them, you can replace them with chia seeds in the same amount and following the same directions.

Alternatively, you can add one extra mashed banana or about 80g (2.8 oz) of coconut yogurt.
Can I freeze this pear loaf?

Yes, of course. The cake will keep for about 4 days when stored in an airtight container, but you can also freeze it on the same day to have a healthy snack always at hand.

We suggest you interleave each slice with a sheet of baking paper or foil to easily take out only as many slices as you plan to eat.

To freshen up the banana bread, warm it in the microwave, oven, or your toaster and enjoy.
Can I use this recipe to make muffins?

This easy pear bread recipe works just as fine for any type of bake.

Follow our steps and then pour the cake batter into muffin cases filling them to the top and then bake for 20 minutes. The default ingredients should yield about 8-10 muffins depending on the size of the cases.
Is this banana bread good for diabetics?

This loaf is prepared without added sugars, and it relies on ripe bananas and fresh pears for its sweetness.

Each slice has only 7g of sugars which account for just 8% of the recommended daily intake (RDI) for this nutrient.

Unlike refined white sugar, the sugars found in fruits are locked in their cells, making it harder for your body to access them. This means that they won't raise your glucose levels and spike insulin as much as added sugar, which is great for people with diabetes and anyone following a weight-loss diet.
Can I use canned pears for this recipe?

For this banana bake, we have used fresh pears, but you can surely swap them with canned ones.

Make sure you purchase preservative-free and sugar-free tinned pears and drain them well before use. Also, as they're already cooked, skip the cooking step and just blitz them into a puree. Then, add them to the cake batter along with the other ingredients.
Ingredients
| | |
| --- | --- |
| Ripe Pears | 3 |
| Ground Flaxseeds | 2 tbsp |
| Water | 50 mL |
| Ripe Bananas | 2 |
| Wholemeal Flour | 200 g |
| Ground Oats | 100 g |
| Potato Starch | 80 g |
| Baking Powder | 16 g |
| Coconut Yogurt | 100 g |
| Vanilla Extract | 1 tsp |
Step 1
Peel and core the pears, then add them to a saucepan and cover with water. Simmer for 10 minutes or until the fruit is soft and can be poked through with a fork.
Next, blitz the cooked pears in a food processor to make a smooth and creamy pear-sauce.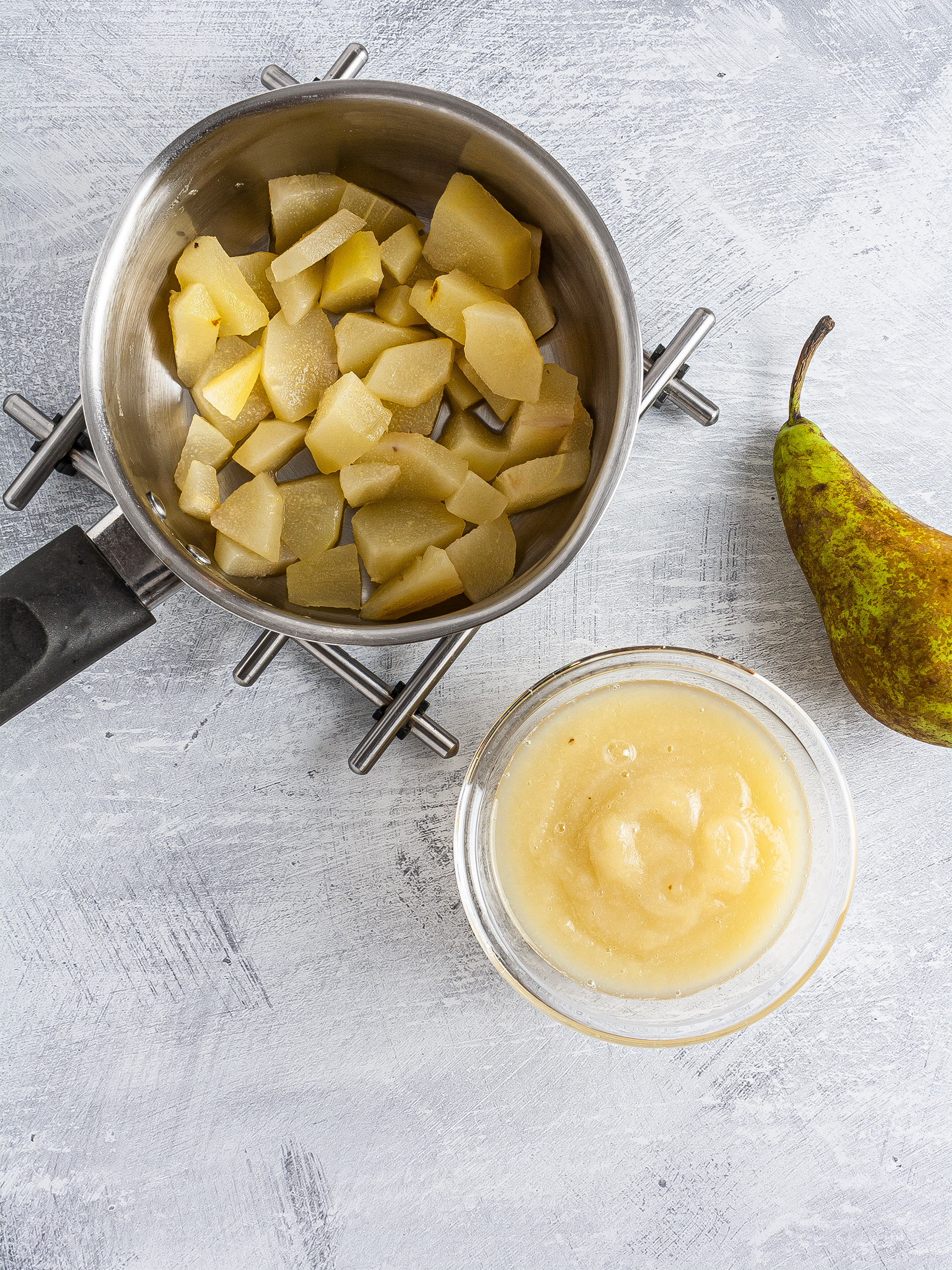 Step 2
Meanwhile, soak ground flaxseeds in water for 10 minutes or until they form a thick gel-like mixture.
Then, mash or blend 1 ripe banana.
Step 3
In a mixing bowl, combine wholemeal flour with ground oats, potato starch, baking powder, and a pinch of salt. Stir well to distribute the baking powder evenly.
Then, incorporate the pear puree along with the "flax-eggs", mashed banana, coconut yogurt, and vanilla extract.
Whisk the cake batter with a hand mixer or a spoon until it's smooth and creamy.
If needed, add more flour or more yogurt to get the right consistency.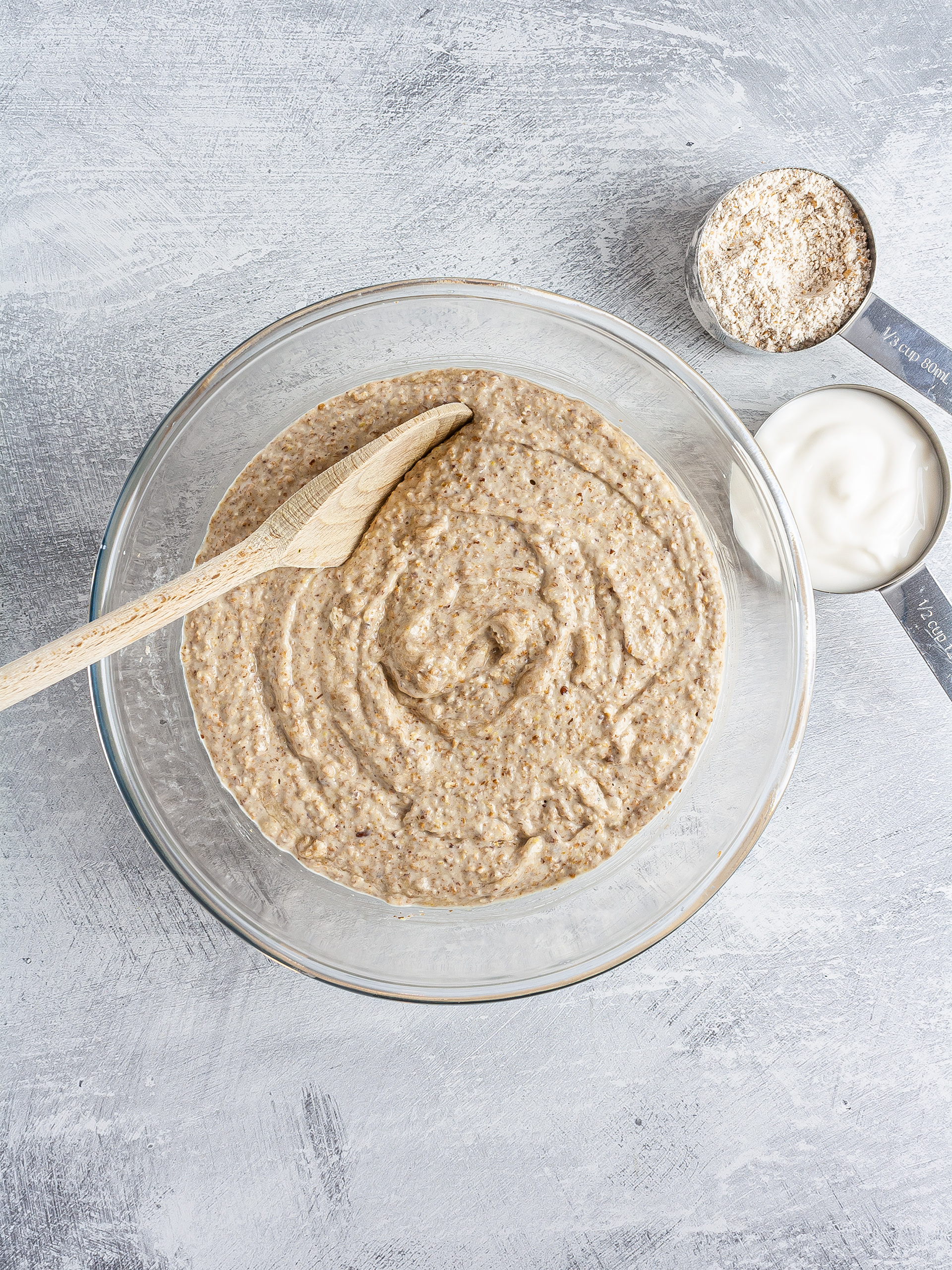 Step 4
Transfer the cake batter to a loaf tin greased and floured or lined with parchment paper.
Then, top the bread with 1 banana sliced lengthways, pressing it down onto the pear batter.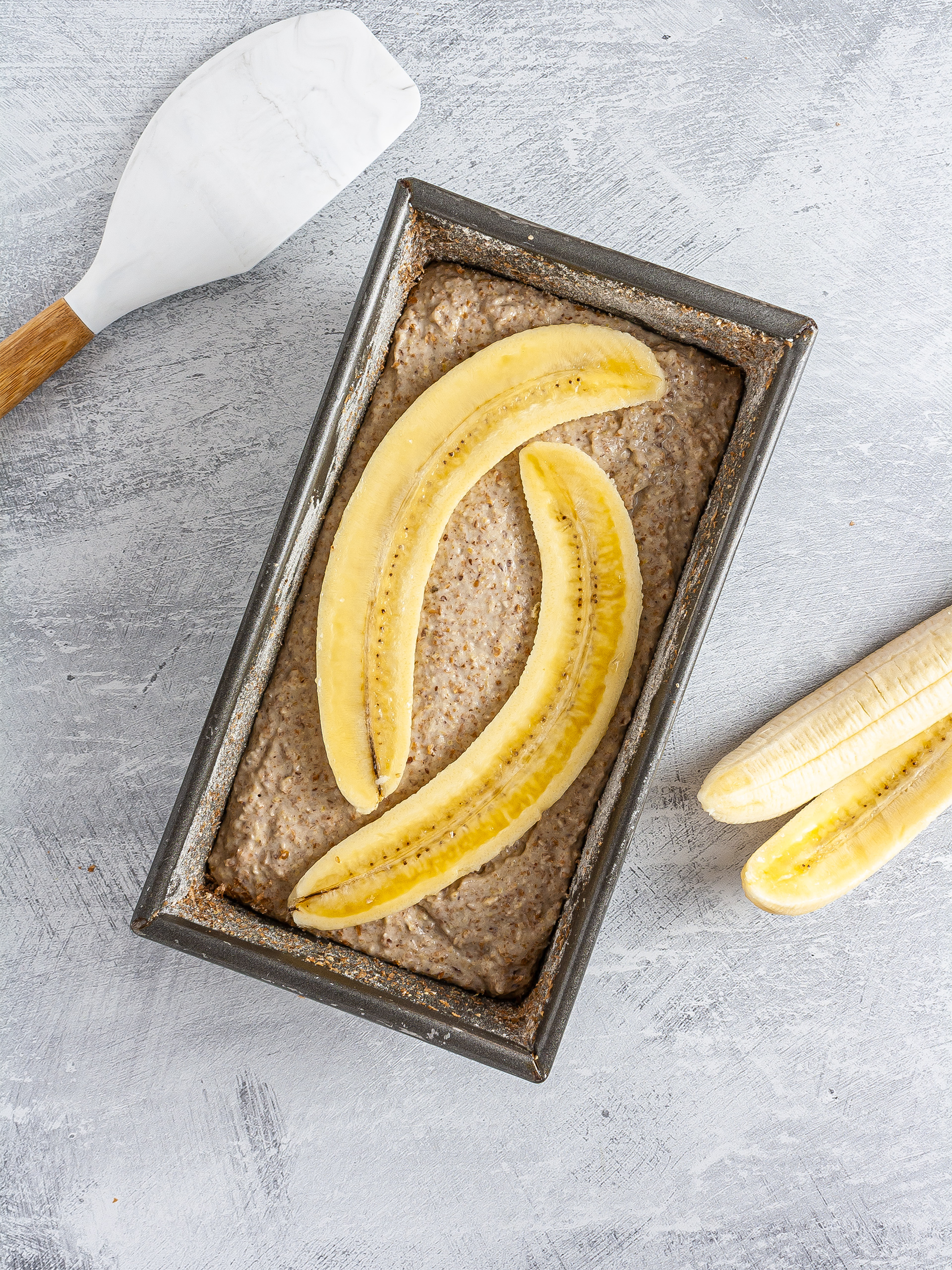 Step 5
Bake the banana bread for 20 minutes at 185°C (355°F). Then, reduce the temperature to 165°C (330°F) and cook the fruit loaf for another 30 minutes.
The cake is ready when a skewer inserted in the centre comes out clean.
Before slicing, transfer the pear dessert to a wire rack to cool down evenly.
You can brush the loaf with maple syrup for a glossy finish.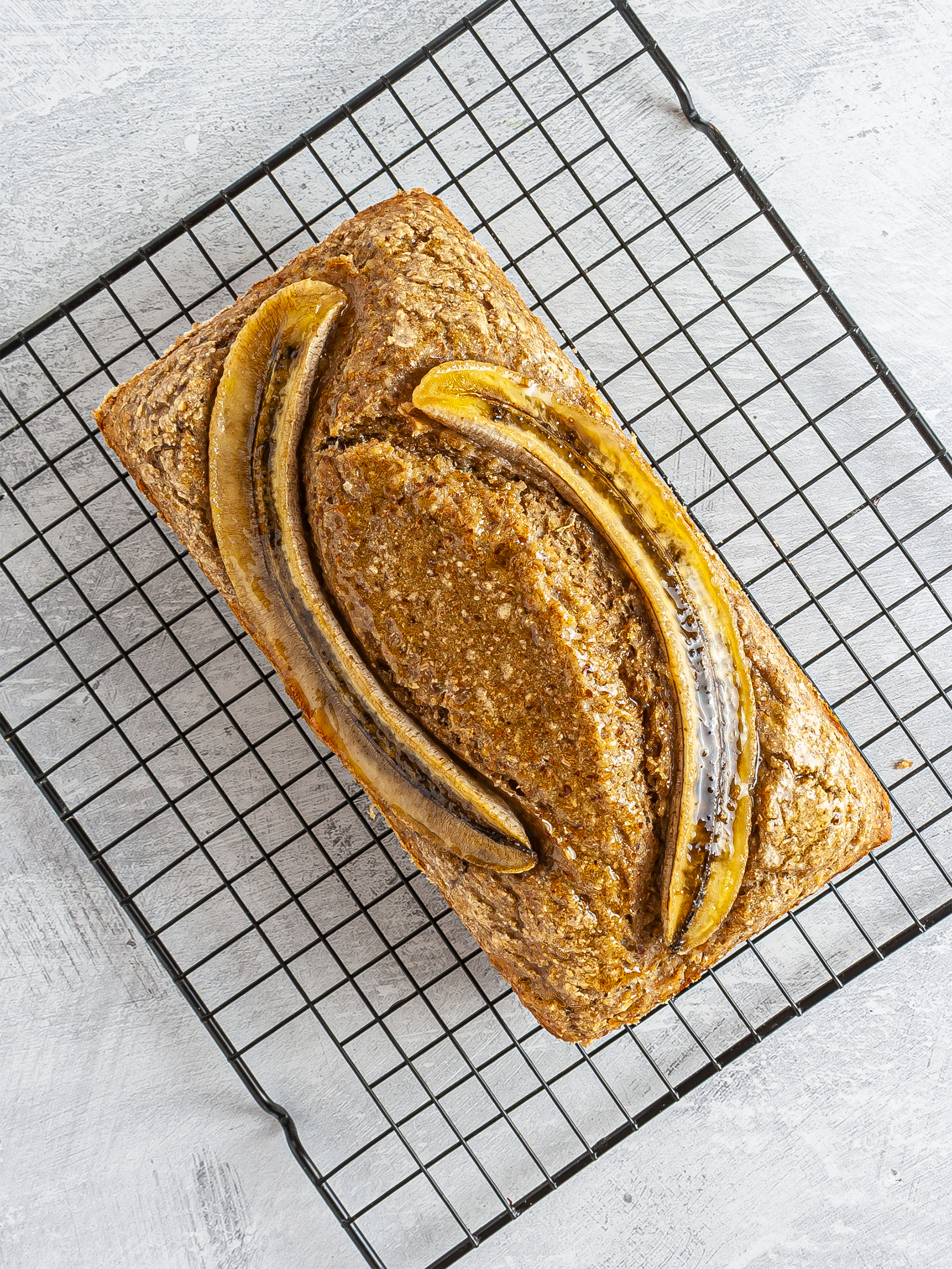 Tips
Once baked, leave the vegan cake to cool down for 10 minutes in the turned-off oven. This way, you prevent it from collapsing due to a sudden change in temperature.

Instead of coconut yogurt, you can use plain unsweetened soy yogurt.