Are you looking for a fancy yet easy vegan party nibble? Then, we have the perfect recipe for you: crispy mini-pancakes. They're a plant-based spin on the classic Vietnamese bánh khọt. Small in size but big in flavour — let us show you how to make them!
In Vietnamese, bánh refers to sweet or savoury cakes, buns, and pastries that can easily be eaten by hand or chopsticks. They can be prepared with a variety of ingredients and different cooking methods. Bánh khọt is a bite-sized morsel that consists of rice and coconut yellow pancakes fried in a special griddle pan.
The basic ingredients of the pancakes batter include rice flour for bulk, coconut milk for richness, and yellow turmeric for colour. Banh khot rice flour is usually a mix of plain rice flour and glutinous rice flour. You can find it ready-mixed in special banh khot flour packets, or you can buy the two flours separately at your local Asian food store or online.
Glutinous rice flour is made from a type of short-grain, sweet rice. It's rich in starch, which helps thicken the gluten-free pancake batter and hold it together. Banh khot batter is usually as runny as a classic breakfast pancake batter, but it's not sweet. Instead, it has a nutty and spicy flavour from coconut, turmeric, and spring onions.
The fun part about preparing these Vietnamese rice cakes is in the toppings! Banh khot is often garnished with prawns, squids, or pork mince, but you can choose pretty much anything you like. We opted for a plant-based combo of hulled split mung beans, garlic, and cherry tomatoes. Simple yet tasty!
While cooking banh khot the traditional way requires a special mini-pancake griddle pan, like an ebleskiver or takoyaki pan, our recipe works perfectly even with a humble muffin tray or bun tray. This way, you can also bake the pancakes instead of frying them keeping the fats in check. Ok, let's get started now!
Ingredients
Pancake Batter
Rice Flour

180 g

Glutinous Rice Flour

40 g

Salt

1/2 tsp

Turmeric

1 tsp

Canned Coconut Milk

150 mL

Water

150 mL

Spring Onion Stalks

2

Toppings
Peeled Split Mung Beans (Mung Dal)

50 g

Garlic Cloves

2

Spring Onions Stalks

1

Cherry Tomatoes

12

Others
Vegetable Oil (for greasing)

to taste
Step 1
Rinse the hulled split mung beans, add them to a bowl, and cover them with water.
Let them soak at room temperature for at least 2 hours or overnight.
Then, drain them well.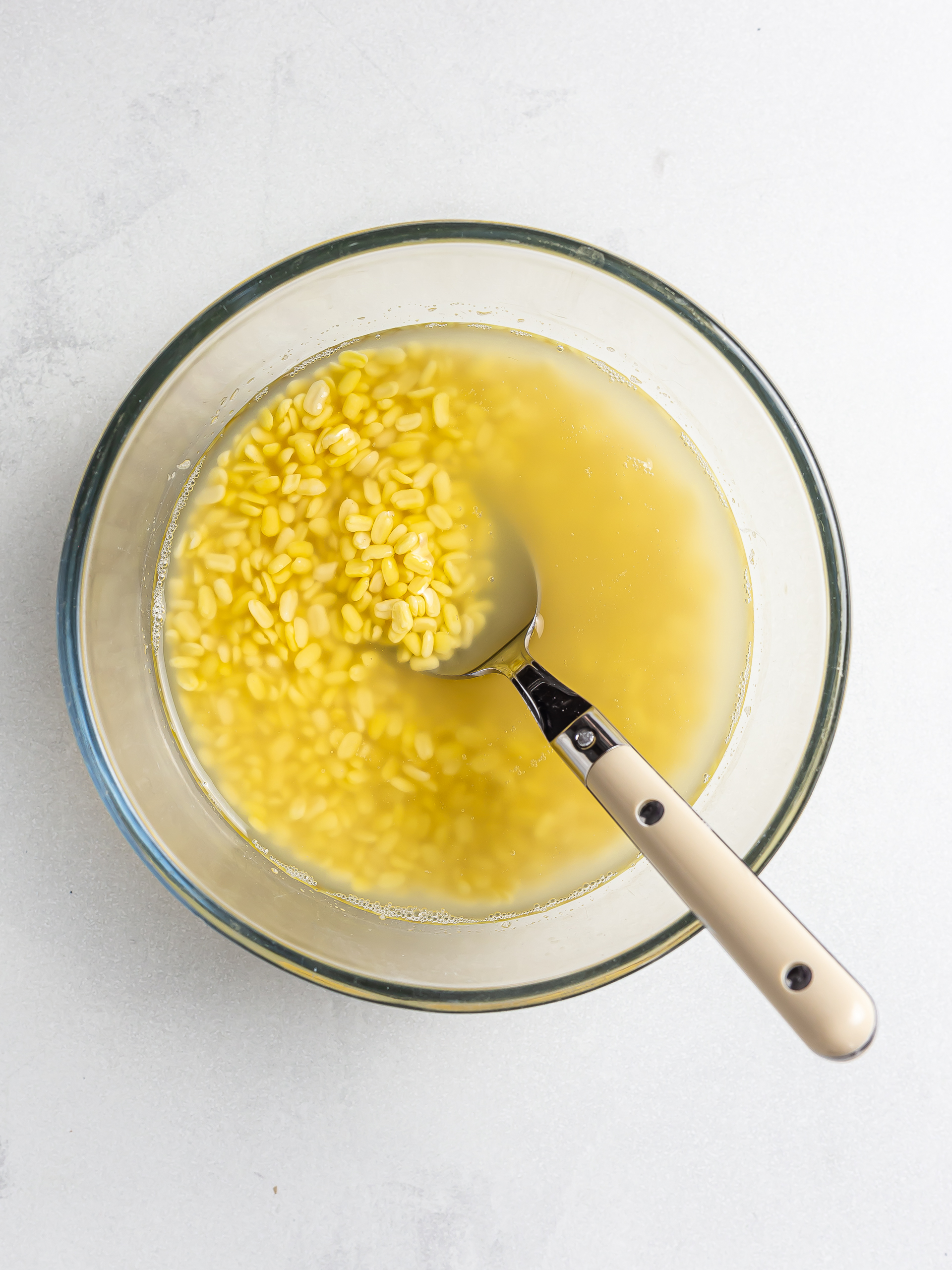 Step 2
For the pancake batter, mix rice flour, glutinous rice flour, salt, and ground turmeric in a bowl.
Then, pour in the coconut milk, water, and thinly sliced spring onions.
Whisk well until you have a smooth and runny yellow batter.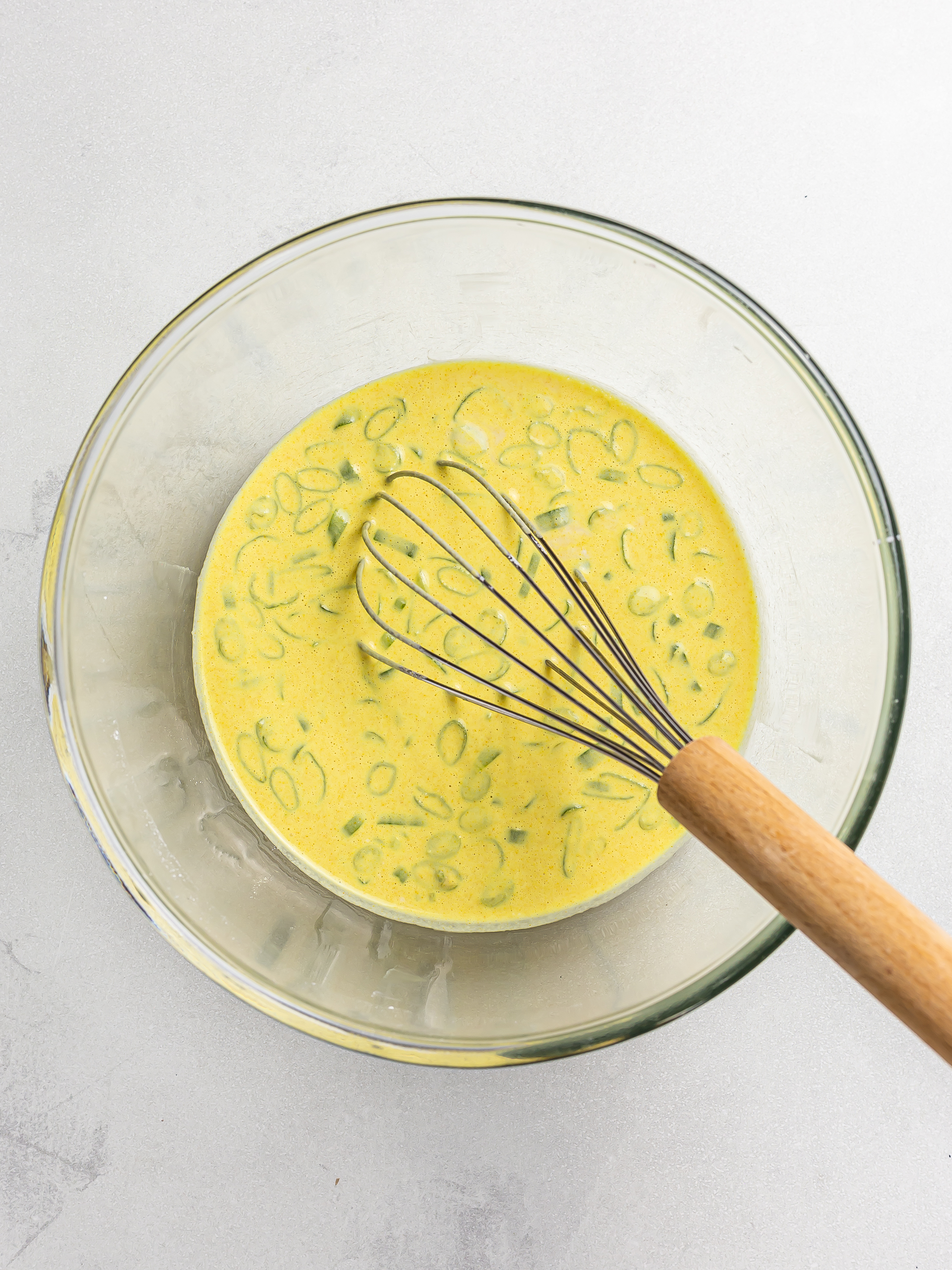 Step 3
Now, set the batter aside and let's cook the soaked mung dal.
Heat a drizzle of vegetable oil in a non-stick skillet, then tip in mung dal and minced garlic.
Sizzle for a minute, add a splash of water, and cook for 10 minutes or until the beans are soft and cooked through.
Once ready, stir in finely sliced spring onions.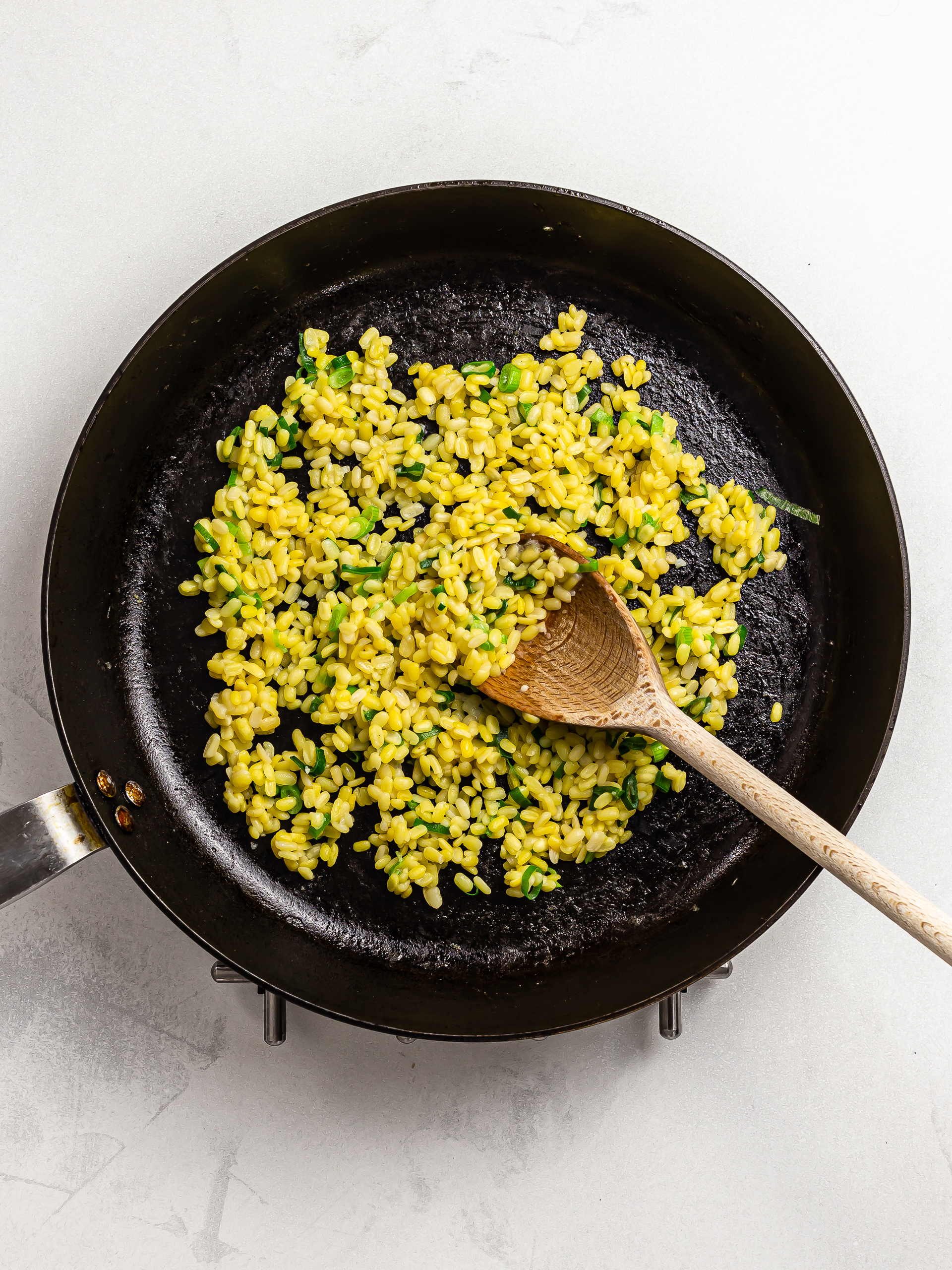 Step 4
You can cook the pancakes in the traditional way using a special mini-pancake griddle pan over the hob (like the ebleskiver or takoyaki grill pans). Alternatively, you can bake the pancakes in the oven using a muffin tray or bun tray, as we did.
For the griddle pan option, heat the pan over high heat and grease it.
For the muffin/bun tray option, grease the cups with oil.
Then, pour two tablespoons of batter in each hole/cup, top with half cherry tomato and sprinkle with mung beans.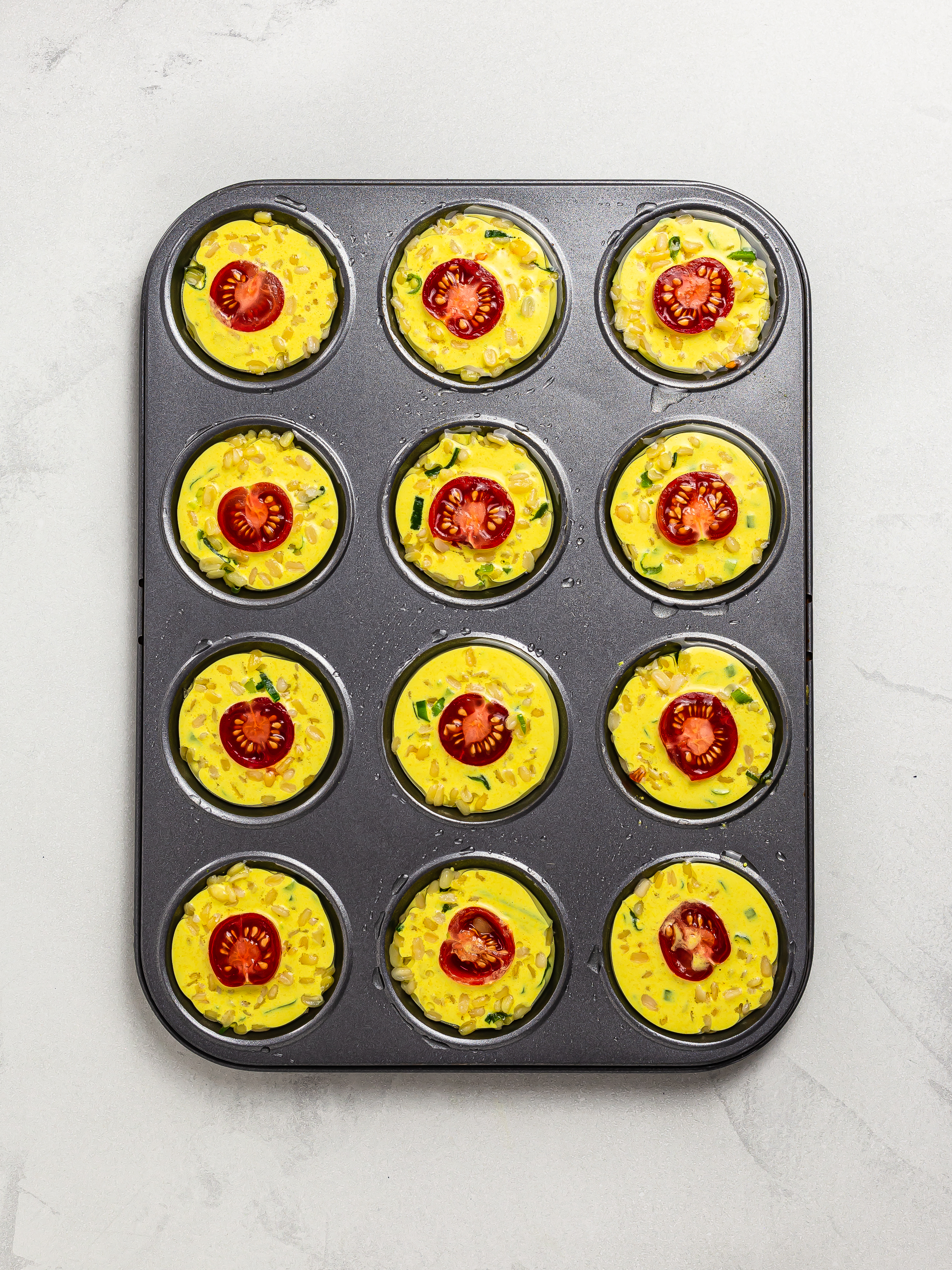 Step 5
If you're using the griddle pan, cook the banh khot covered over high heat for 10 minutes until the sides of the pancakes are crispy.
If you're using the muffin/bun tray, bake the pancakes at 180°C (355°F) for 18-20 minutes.
Enjoy your vegan banh khot pancakes warm, topped with fresh mint or coriander and rolled up into lettuce or mustard leaves.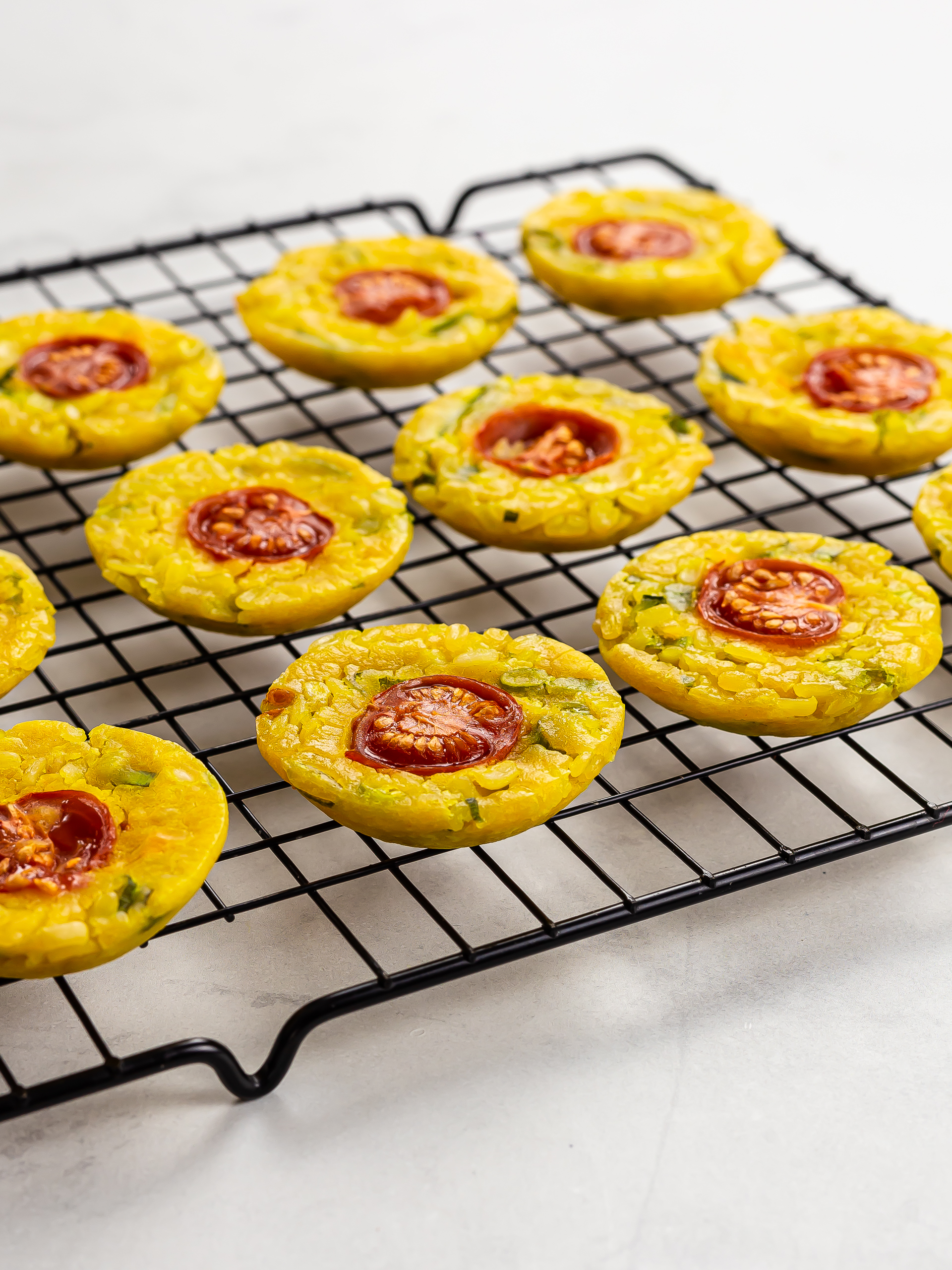 Tips
Serve these pancakes with your favourite dipping sauce. The best ones are the sweet and spicy sauces you find in Asian cuisine.