Made with beautiful blue pea flowers, this butterfly pea cheesecake is a colourful variation of the beloved summer dessert. Our no-bake, vegan recipe is perfect when you need a make-ahead dessert that will please everyone!
This blue cheesecake consists of a crunchy biscuit base and two layers of a dairy-free creamy filling, one white and one blue. It looks fancy, but it's actually super easy to make.
As for the base, you'll need crumbled dry cookies, like Digestive biscuits, plus coconut oil to hold them together. The classic cheesecake uses melted butter, but coconut oil is a great dairy-free and vegan alternative.
As for the filling, we replaced the traditional cream cheese and double cream with two clever ingredients: silken tofu and agar powder.
Silken tofu is a softer, creamier, and watery version of regular tofu, perfect for vegan desserts. In addition, it's low in fats and high in proteins, making this blue pea cheesecake not only vegan but also much healthier.
Agar powder is a plant-based gelling agent used in jellies and desserts and is usually found in the supermarket's baking section. It works like gelatine: you have to cook it to activate it, and then it will solidify in the fridge as it cools down.
Make sure you measure agar powder accurately with a scale. It's very strong: just a few grams are enough to thicken the cheesecake. If you want to use agar flakes or vegan gelatine, check our tips in the recipe below.
To make the cheesecake filling, you need to blend silken tofu until creamy and cook it with agar for a few minutes. Then, tip the butterfly pea powder into the tofu cream and stir until it's perfectly blue.
The butterfly pea, or blue pea, is an exotic deep blue flower commonly found in Southeast Asia. Because of its high concentration of blue pigments, it's used for colourful desserts, drinks, and many other dishes.
You can find butterfly pea as dried flowers or powder online or at your local Asian food store. The powder is also called "blue matcha", as the taste of butterfly pea flowers is slightly grassy, earthy, and wheaty, similar to matcha but not as bitter.
For desserts like this cheesecake, we recommend using butterfly pea powder as it's easy to incorporate into creams and batters.
If you want to use the flowers, you have to boil them in water or milk first, as we did in this blue sticky rice dessert or blue jelly. You'll find more tips on how to use them in the tips below.
You can make the whole cheesecake blue or give it a layered look as we did. Follow the steps below, and we'll show you how to do it. Once ready, garnish this super pretty blue pea cheesecake and serve it with pride!
And if you want to try another exotic cheesecake flavour, give this no-bake durian cheesecake a go!
Ingredients
Cheesecake Base
Digestive Biscuits

130 g

Coconut Oil (melted)

65 mL

Cheesecake Filling
Silken Tofu

750 g

Agar Agar Powder

4 g

Sugar-Free Erythritol (or regular sugar)

170 g

Butterfly Pea Powder
11/2 tsp
Optional
Vanilla or Almond Essence

1 tsp
Step 1
Make sure you're using a loose-bottom/springform cake tin so you'll be able to pop out the cheesecake with ease once ready.
We used a 20cm (8 inches) tin; but if you're using a bigger or smaller one, remember to scale up or down the ingredients.
To make the cheesecake base, crush the digestive cookies in a plastic food bag using a rolling pin.
Alternatively, pulse the cookies in a blender until ground.
Then, transfer the cookie crumbs to a bowl, tip in melted coconut oil, and mix well.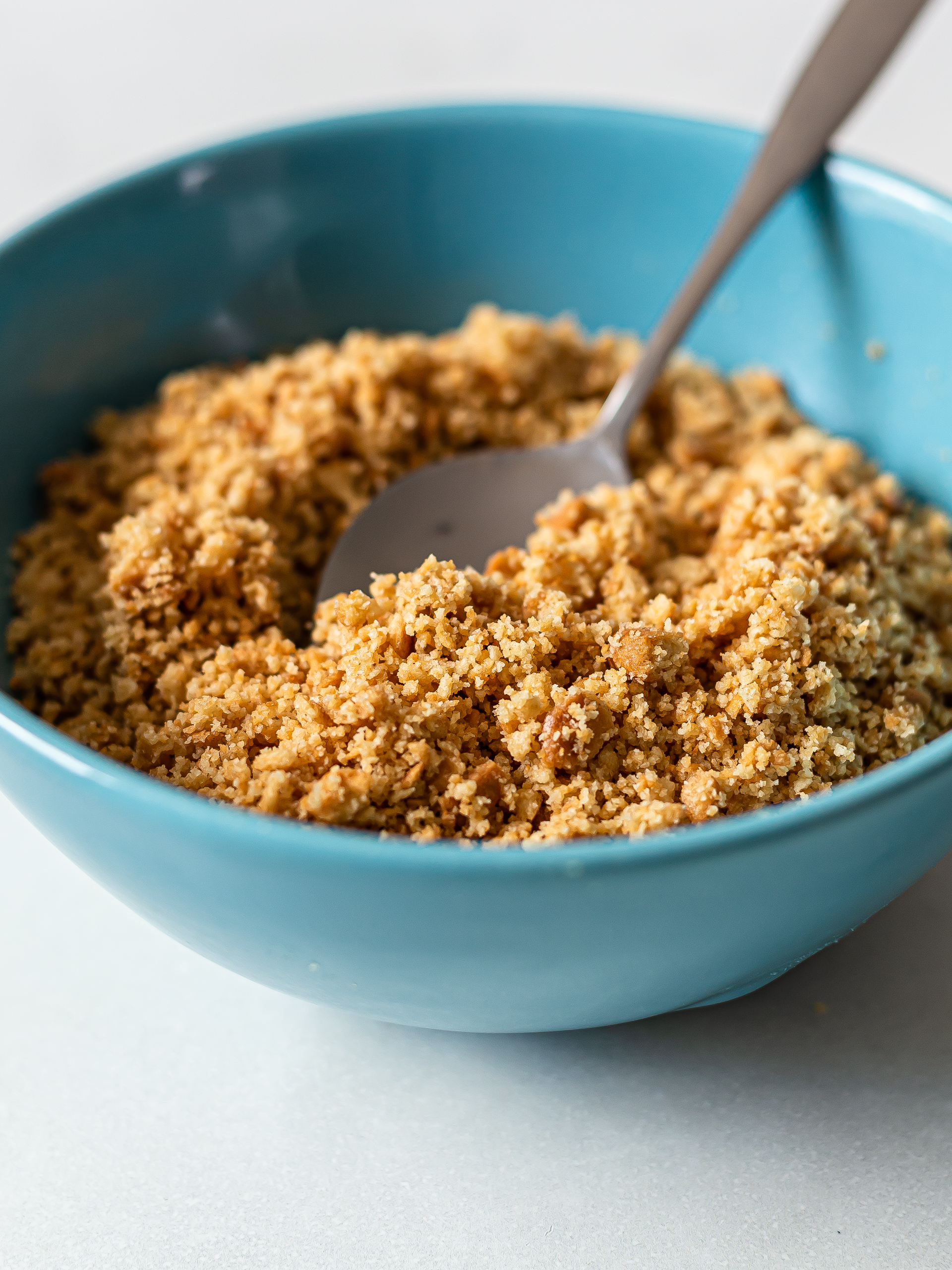 Step 2
Transfer the cookie mixture into the cheesecake tin.
Press the crumbs firmly with the back of a spoon down into the base to compact them and create an even layer.
Then, chill it in the fridge for one hour or freeze for 30 minutes until the cookie base has set and hardened.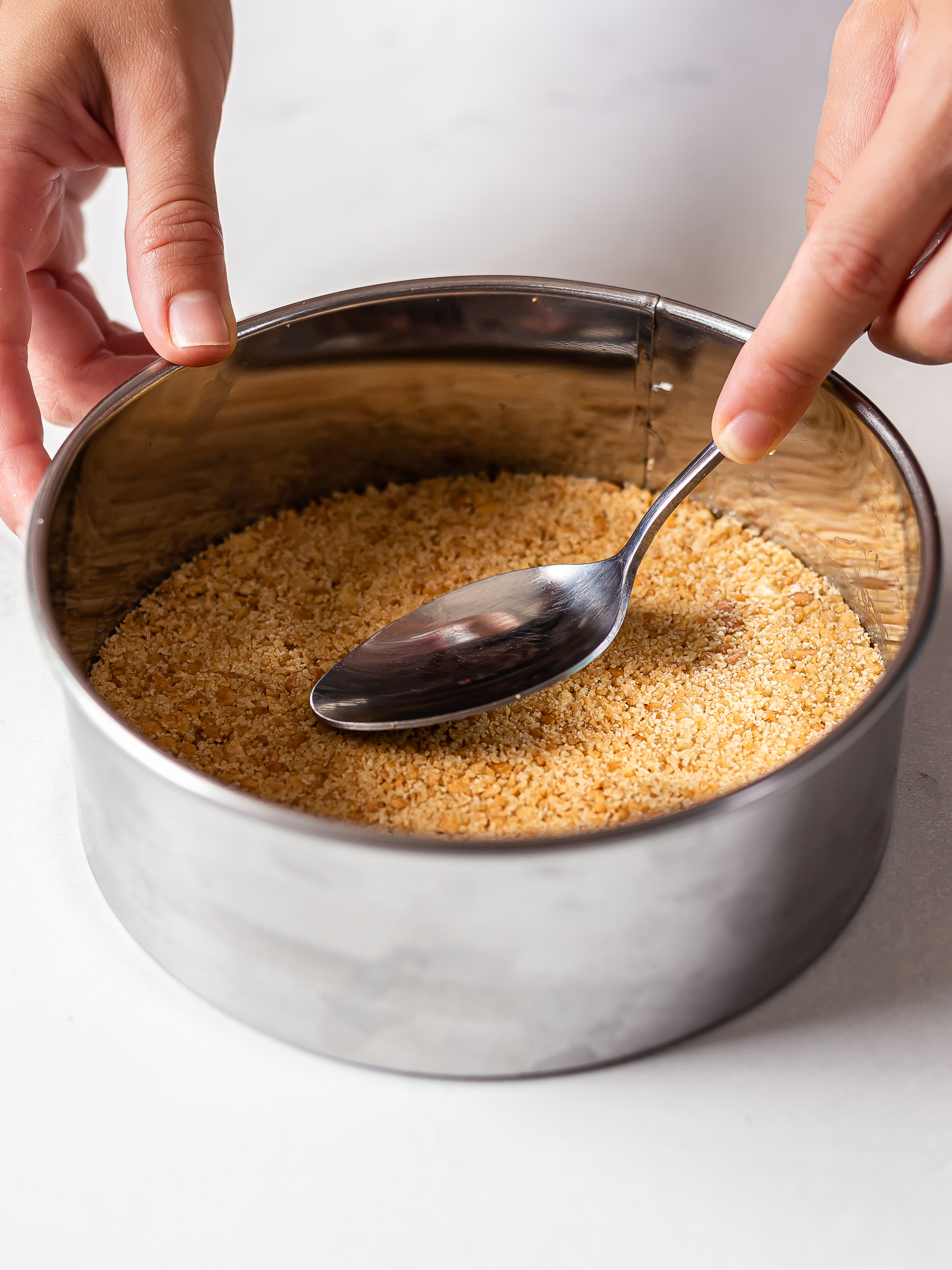 Step 3
Meanwhile, rinse and drain the silken tofu to remove the brine water.
Make sure you're using silken tofu and not firm tofu, or the recipe won't work.
Slice the tofu block into cubes, tip them into a food processor, and blitz until smooth and creamy.
Blended silken tofu should look like thick yoghurt.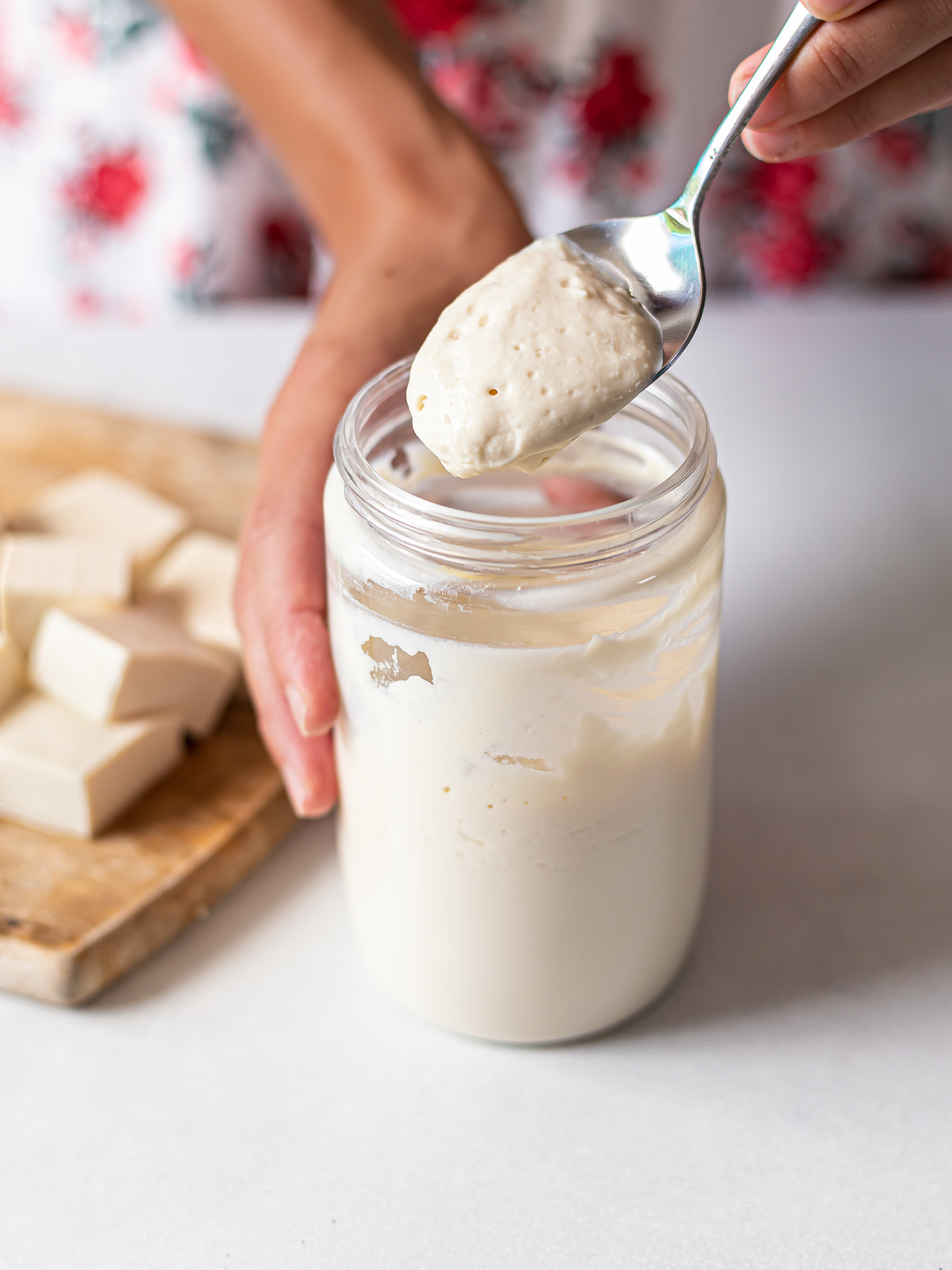 Step 4
Transfer the blended tofu into a pot and tip in the agar powder a bit at a time to avoid lumps, stirring until it's incorporated.
You must weigh the agar accurately as even a small difference can affect the final result.
You can swap agar powder with the same amount of vegan gelatine or with double the amount of agar flakes (but always check the package instructions first).
Then, stir in the sugar or erythritol sweetener for a low-sugar option, followed by the almond or vanilla essence if you're using it.
Bring the tofu mixture to a gentle boil and simmer it over low heat for 3 minutes to activate the agar.
Stir the mix while it cooks to prevent it from sticking to the bottom of the pan and burning.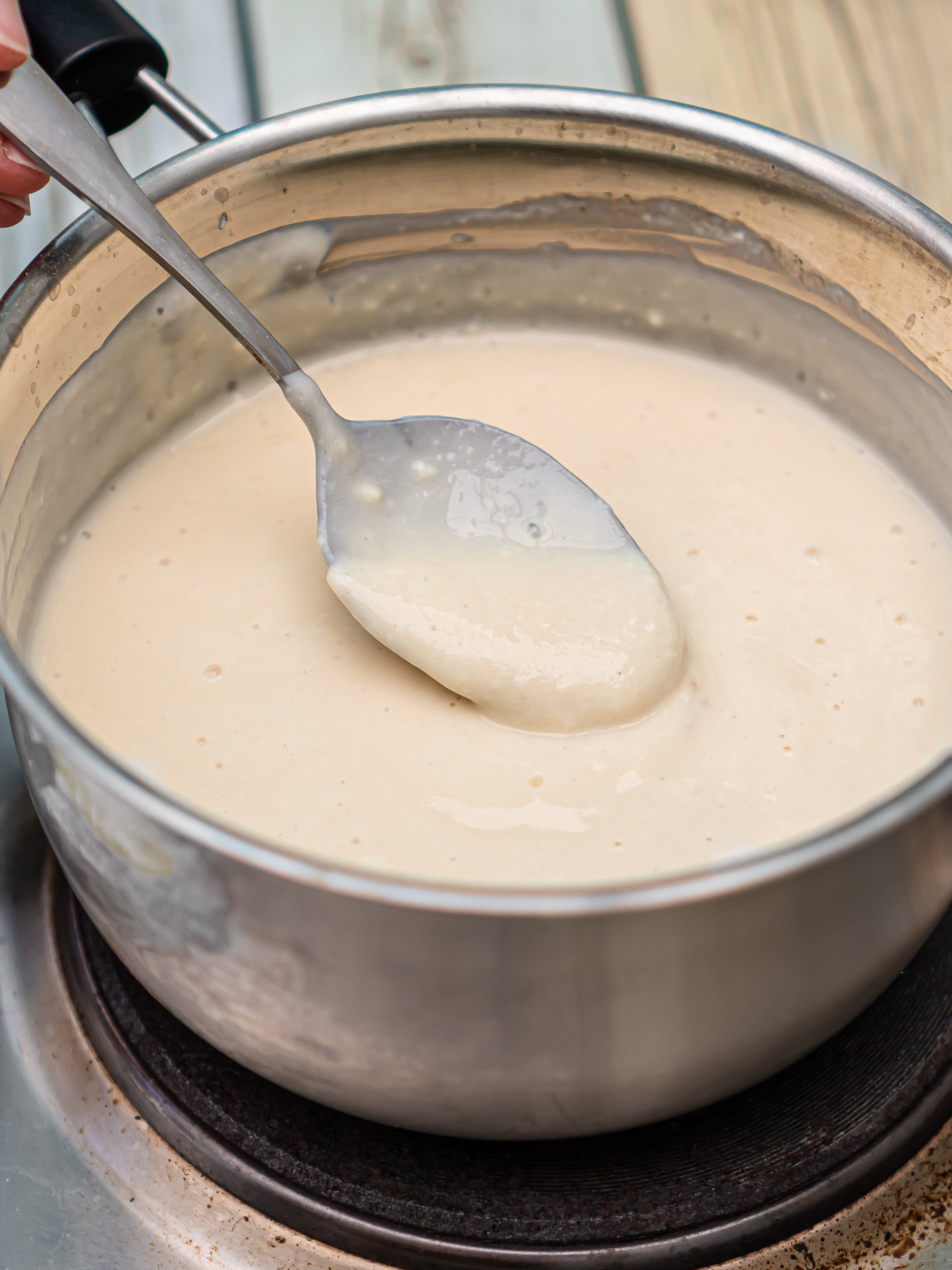 Step 5
Next, spoon one-third of the tofu cream over the cold biscuit base.
Tap the cake tin on the worktop to remove air bubbles and level the tofu filling with a spatula or the back of a spoon.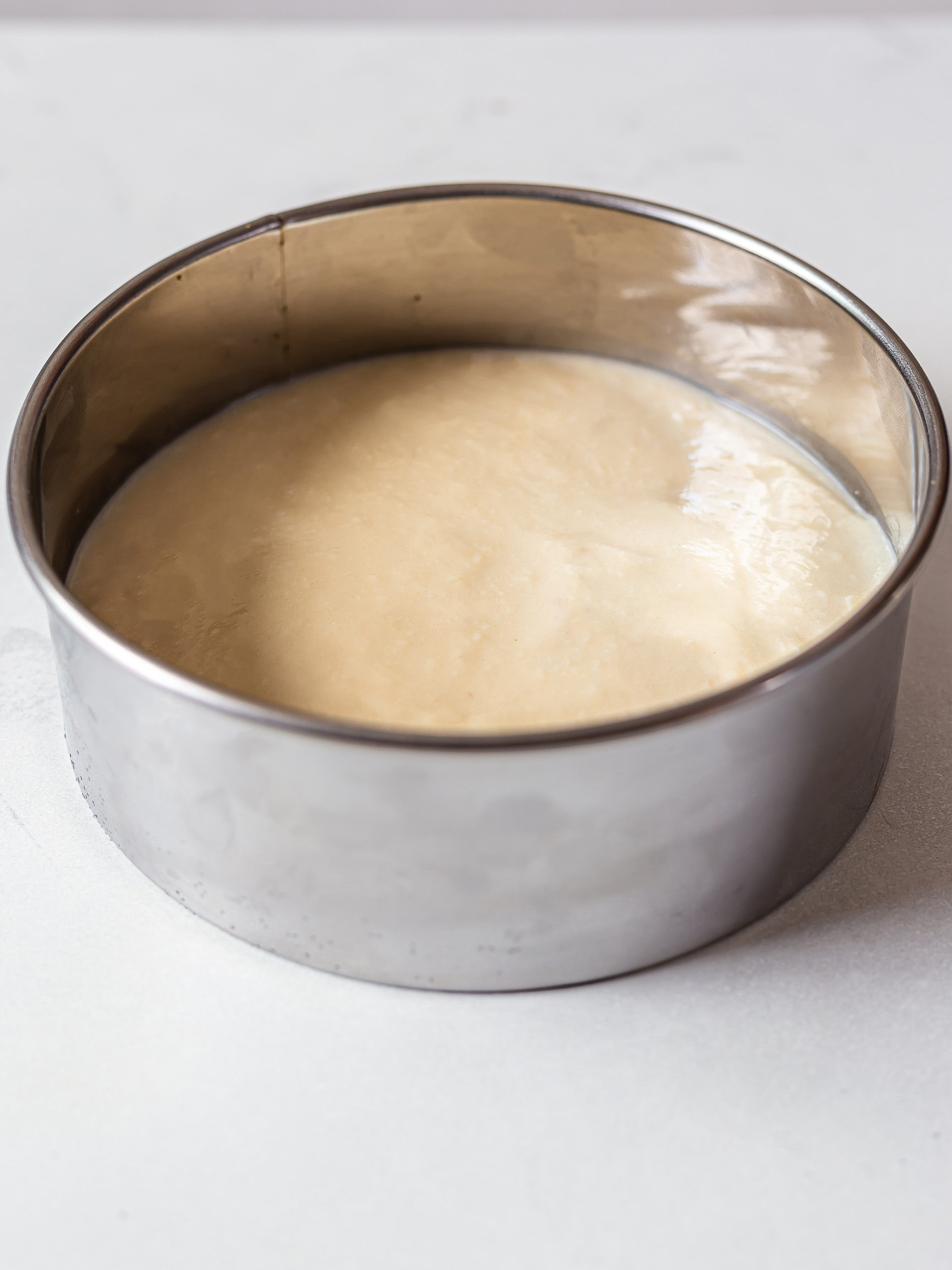 Step 6
In a small cup, dissolve the butterfly pea powder in little tofu cream until you have no lumps.
If you want to use dried butterfly pea flowers instead of the powder, check the tips section below.
Then, incorporate the blue pea mix into the remaining two-thirds of the tofu cream.
Stir well until you have a uniform blue cheesecake cream.
If the cream doesn't look too uniform and you have small bits of white tofu cream, blend all into a food processor until smooth.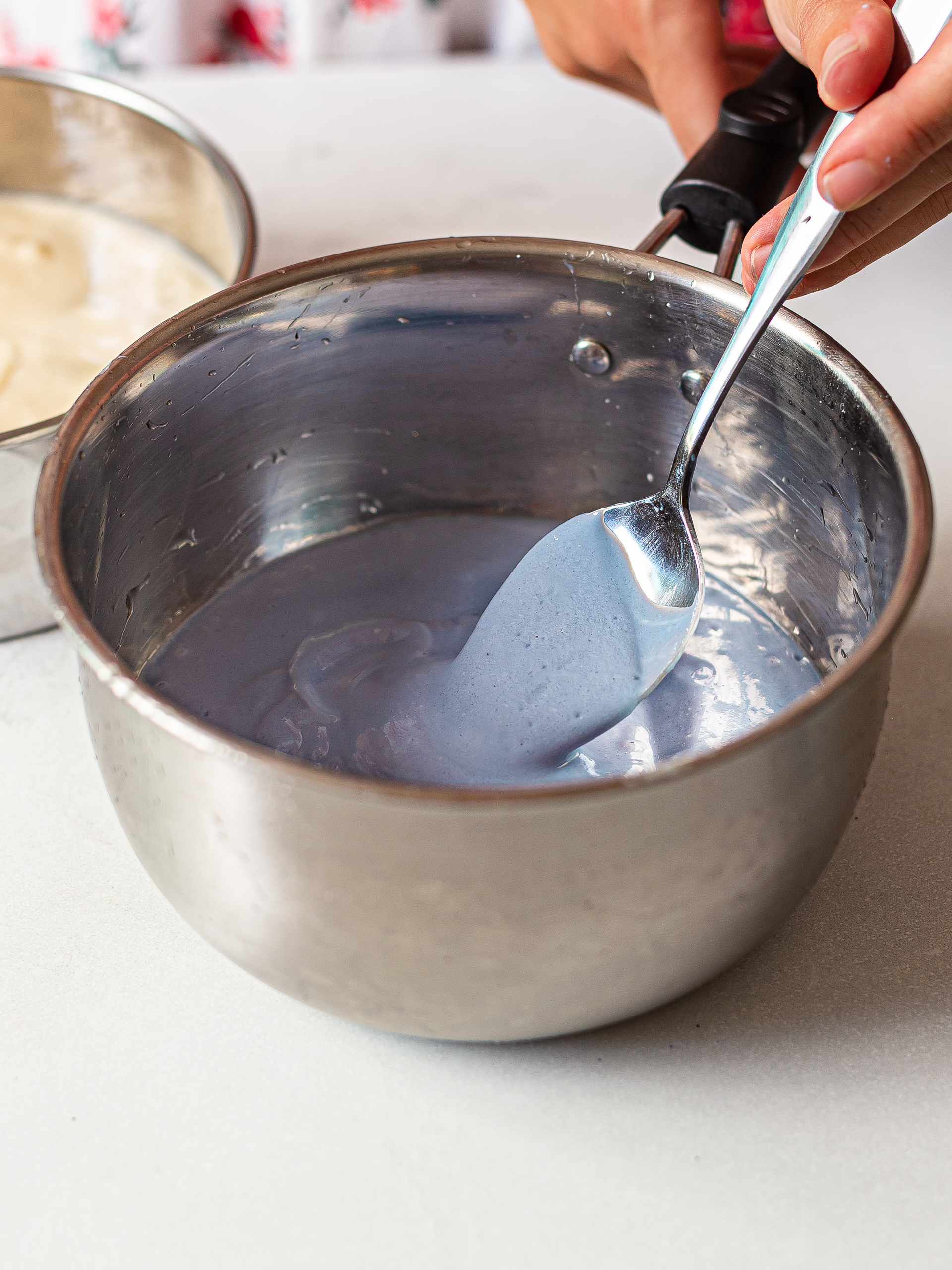 Step 7
Carefully pour the blue tofu cream over the white tofu layer.
Again, tap the cake tin on the worktop to remove air bubbles and level the blue tofu filling with a spatula or the back of a spoon.
Wrap the tin with cling film and refrigerate the butterfly pea cheesecake for 2-3 hours or until the filling is set.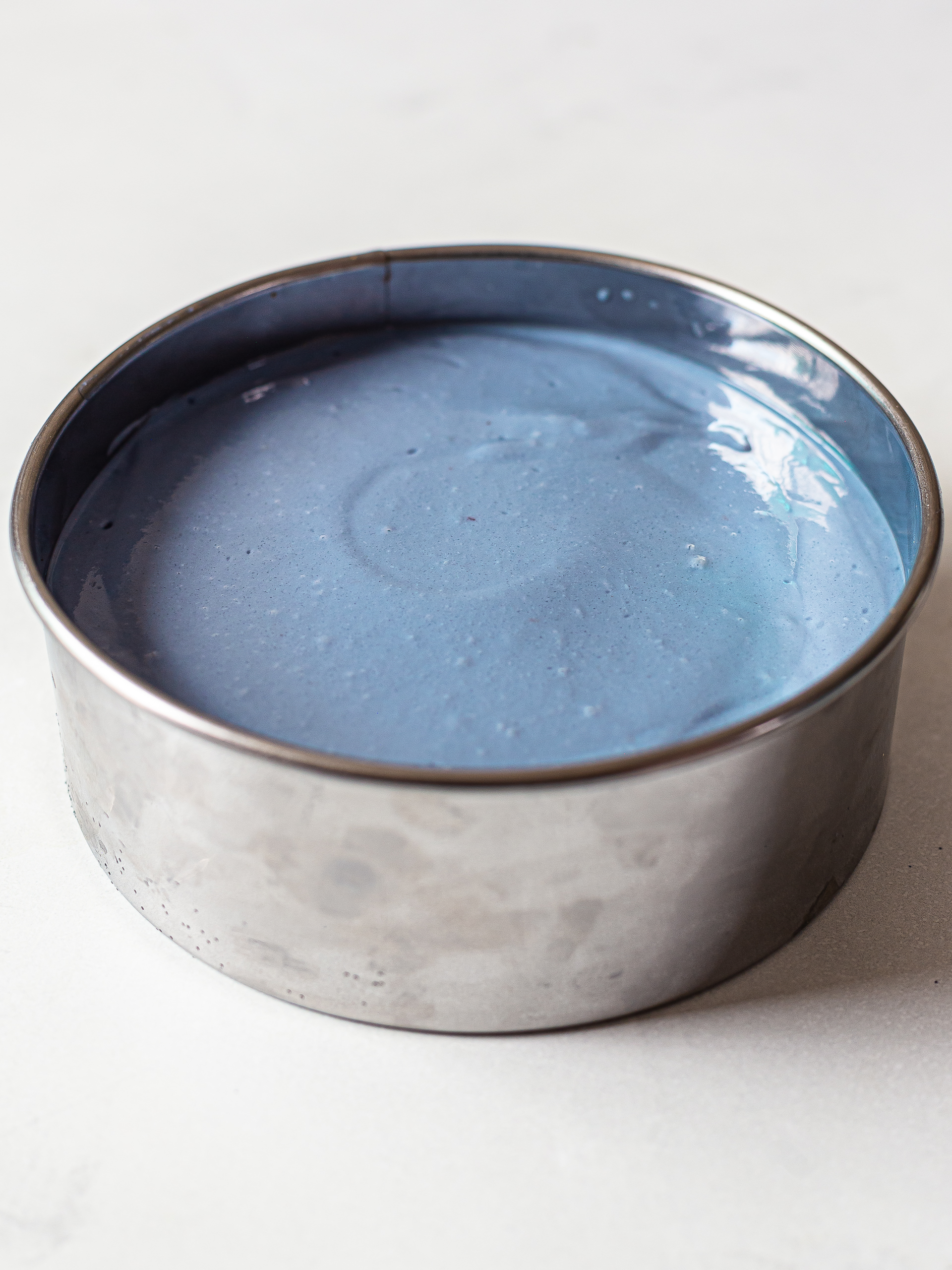 Step 8
If you are using a spring-form or loose-bottom tin popping out the cheesecake is easy:
Place the tin on a tall glass, unlock or loosen the cake tin ring, and carefully slide it downward.
Once freed, transfer the butterfly pea cheesecake onto a serving plate, remove the cake tin base (if possible), and garnish the cake to your liking.
You can top it with fresh or dried flowers, crumbled cookies, fresh fruit, or coconut flakes.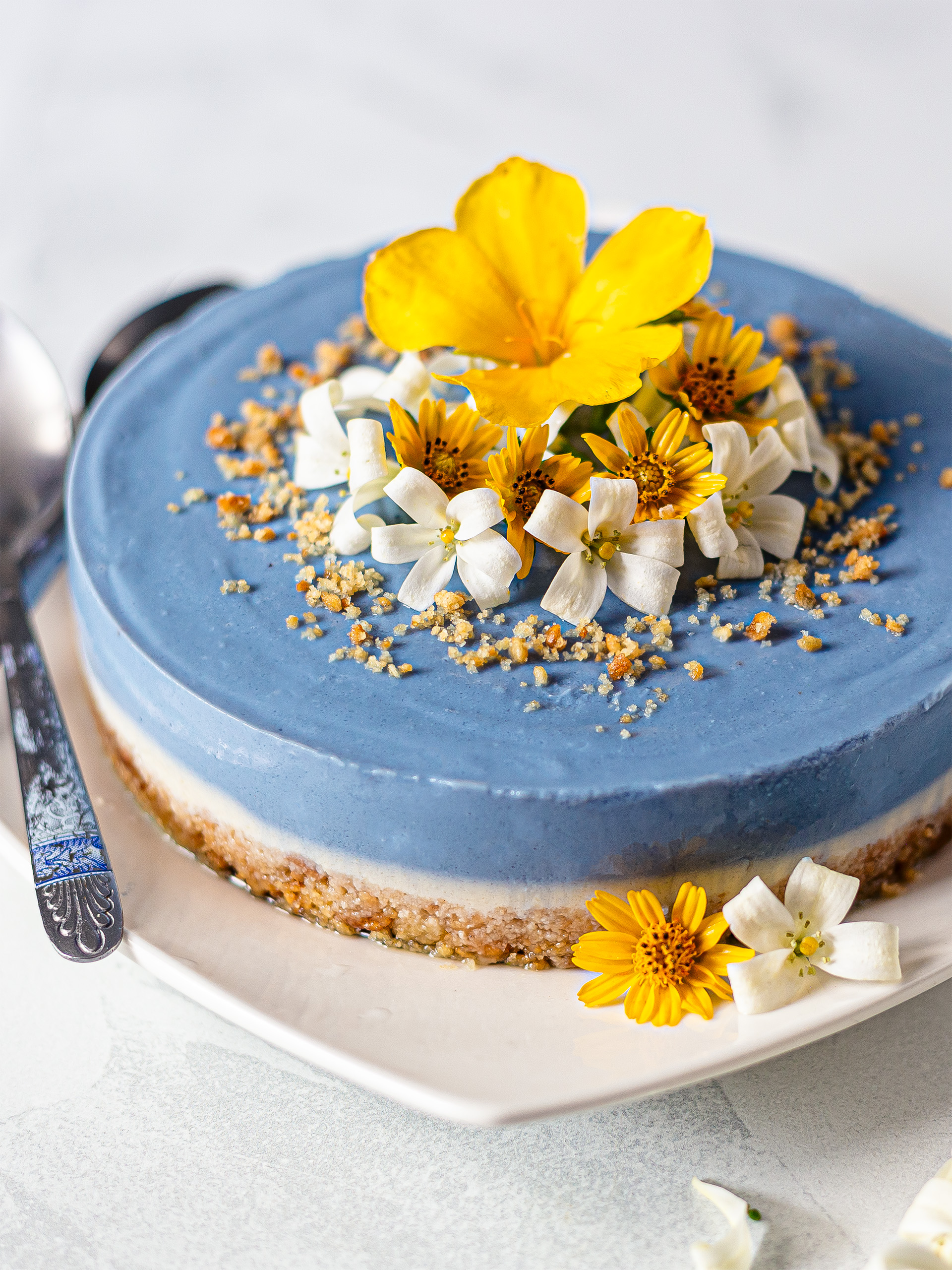 Tips
If you want to use dried butterfly pea flowers instead of the powder, replace 1.5 teaspoons of powder with 4 tablespoons of dried flowers. Boil them in a little water or milk (about 100ml/3.4 fl oz) until they release their blue colour and then filter them out. Add extra 2 grams of agar powder to the tofu cream before you cook it to make up for the added liquid. Finally, stir the blue water/milk into the cooked silken tofu.

If you have any leftovers, cut the blue cheesecake into portions and freeze them for 1 to 2 months. The cake tastes very good frozen as well, almost like an ice cream!