We made this colourful cauliflower scramble to help you start the day with a healthy breakfast. With as little as 100 calories per serving, you'll get a nice boost of fibres and antioxidants - and you won't believe it tastes so good too!
All you need is a head of cauliflower, a pinch of garlic powder, golden turmeric, and a trusty skillet to pan-fry everything. Add a spoonful of nutritional yeast for extra nutrients and finish off with freshly grated black pepper. Your quick breakfast scramble is ready for slurping!
Scrambled eggs are a world-famous breakfast classic, made with eggs, cream, butter, all stirred over a frying pan. Many plant-based alternatives include tofu or chickpea flour as an egg replacement. For this recipe, instead, we wanted to make a light vegetable scramble that is both vegan and soy-free.
Pan-frying grated cauliflower is a quick way of preparing this vegetable and make it taste good too. Cauliflowers are rich in fibres, vitamins, and much-needed antioxidants. Pairing them with turmeric means you'll stock up on even more antioxidants and give a golden tone to the scramble as well.
Serve this cauliflower scramble with roasted mushrooms, tomatoes, baked beans, and toast. You'll have a balanced and delicious breakfast in no time. It will keep you full and satisfied all morning without energy crashes. You could even use the scramble as a stuffing for a breakfast burrito or an avocado sandwich to enjoy on the go.
Small in size but big on flavour, each serving provides almost 5 grams of fibres and 8 grams of proteins. This translate into nearly 20% RDI of these precious nutrients, all with very few fats. Oh, and did we mention it's ready in just 10 minutes? Super!
Ingredients
| | |
| --- | --- |
| Raw Cauliflower Florets | 400 g |
| Extra Virgin Olive Oil | 2 tbsp |
| Garlic Powder | 1/2 tsp |
| Turmeric | 1 tsp |
| Nutritional Yeast (optional) | 4 tbsp |
Step 1
Grate the cauliflower florets using the largest shredding holes of a box grater.
Alternatively, add them to a food processor and pulse in short bursts.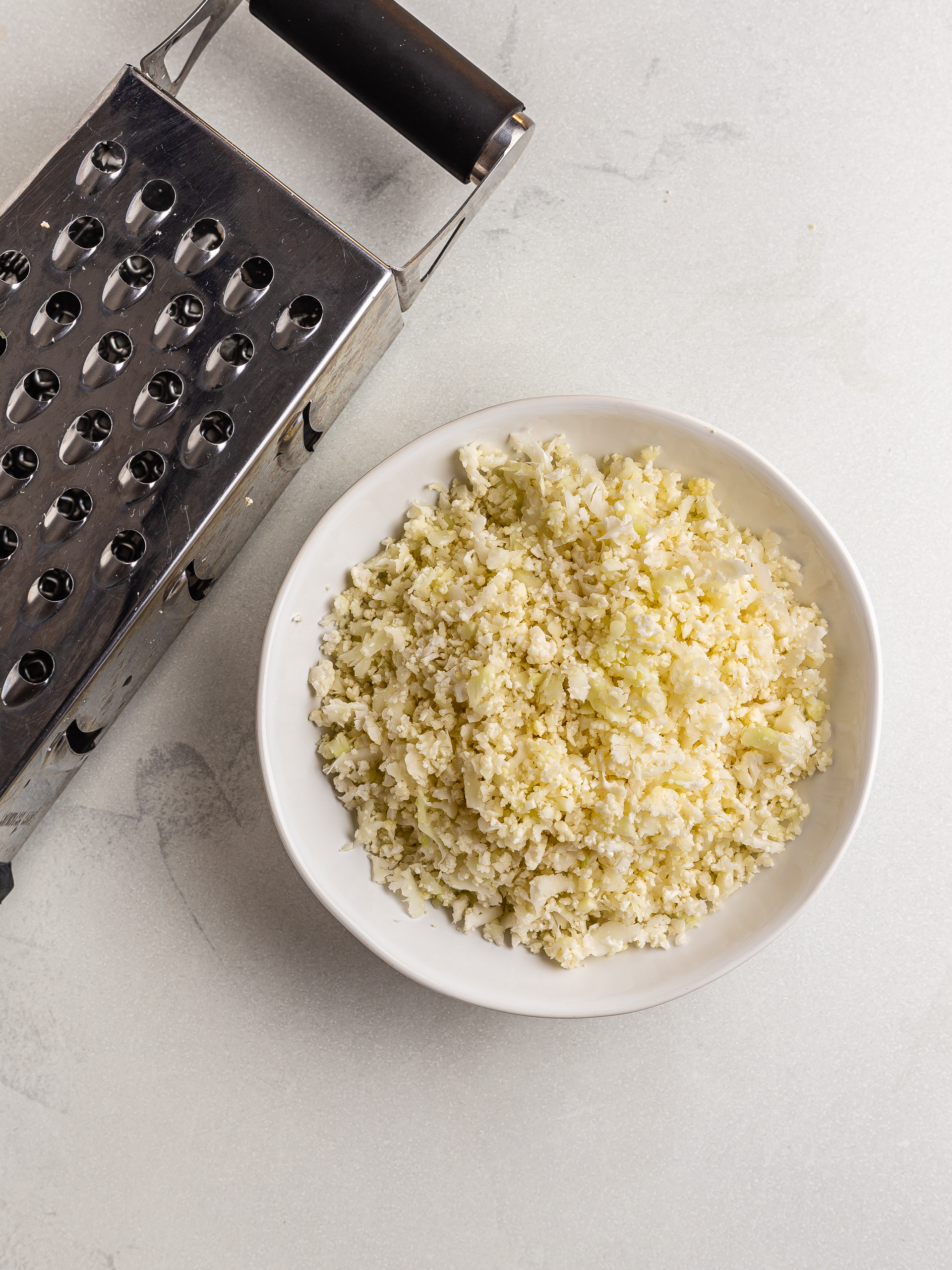 Step 2
Next, heat the oil in a skillet and tip in the prepared cauliflowers, followed by the garlic powder.
Pan-fry the cauliflowers over high heat for 2 minutes, stirring occasionally.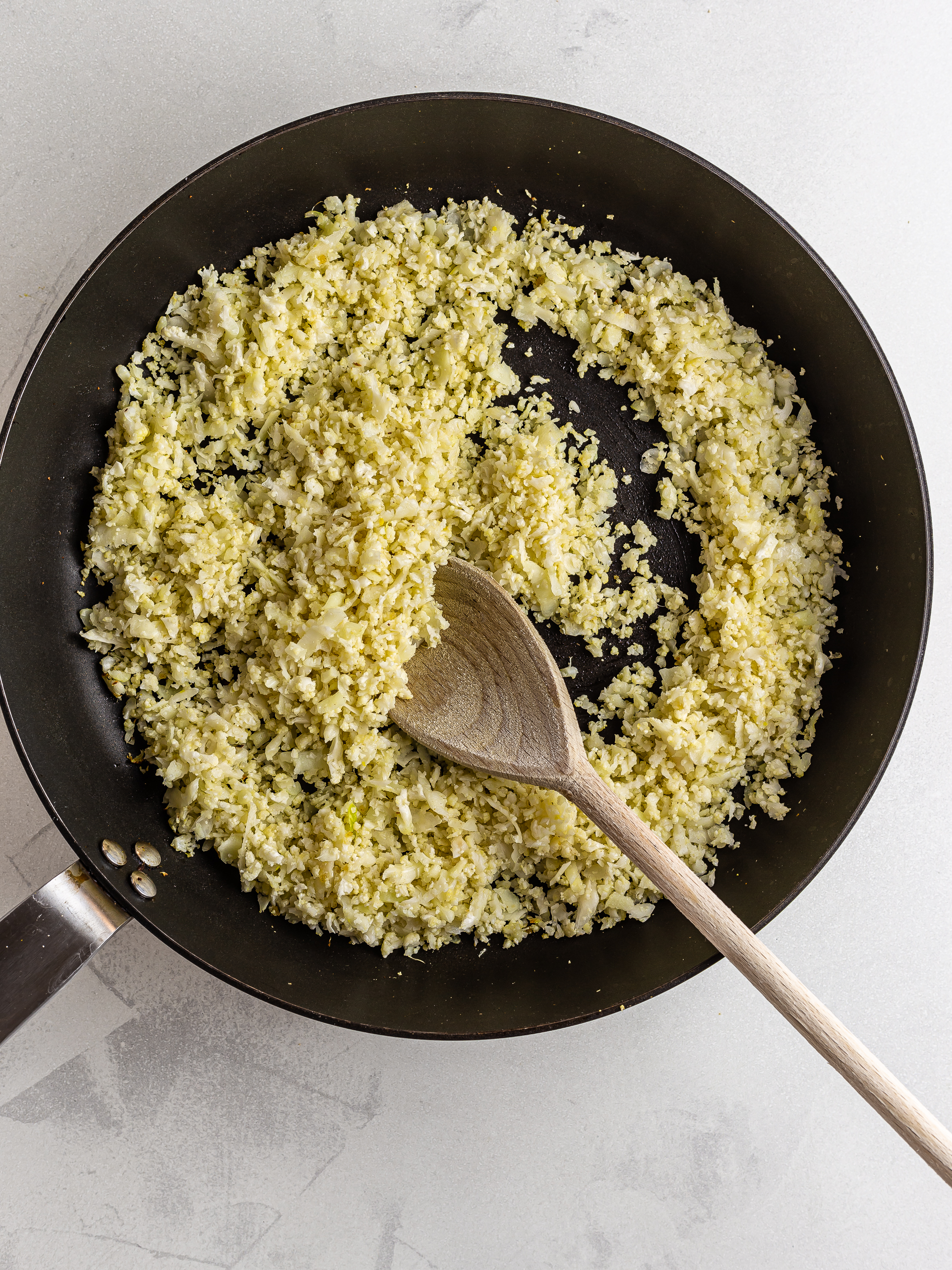 Step 3
Now, stir the ground turmeric and season with salt and pepper to taste.
Keep cooking the cauliflower scramble for 5 more minutes while stirring.
Finally, remove it from the heat and toss it with nutritional yeast flakes.
Enjoy your vegan scramble with roasted tomatoes, mushrooms, toasted bread, and baked beans for a fully balanced breakfast.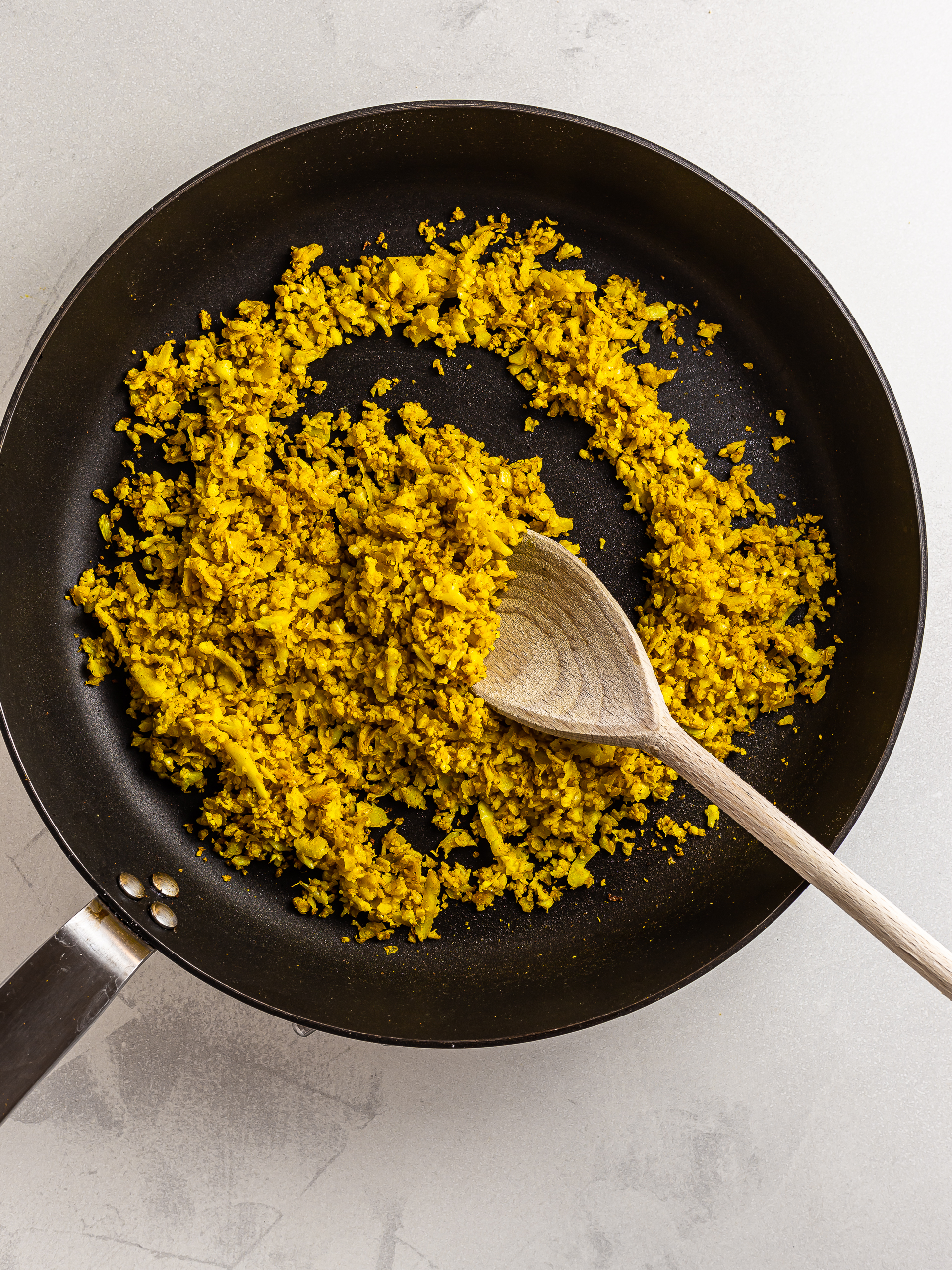 Tips
Don't forget to season the scramble with black pepper to boost turmeric absorption in your body.

Add a half a teaspoon of onion powder for extra flavour.