Everyone loves that crunchy sugary feel from breakfast cereals, and even more so, if they burst with a warm cinnamon flavour. Cinnamon Toast Crunch is a true breakfast favourite when it comes to cereal brands.
The good news is that preparing a homemade version of these cinnamon crunch squares is very easy. And we'll show you how to make them vegan and sugar-free too. This way, you can enjoy a healthier breakfast bowl where you have complete control over the ingredients and thus the calories, fats, and sugars.
We kept most of the classic cinnamon crunch toast ingredients including whole wheat flour, rice flour, vegetable oil, and cinnamon, but we ditched those added sugars, syrups, preservatives, and additives.
Instead, we used only zero-calorie erythritol, a natural sweetener that tastes almost as sweet sugar. However, it doesn't get digested, and thus it doesn't affect your blood sugar levels or your calorie count.
While other homemade recipes include buttermilk and butter both in the dough and in the cereal coating, we made our cinnamon toast crunch dairy-free and 100% plant-based relying only of rapeseed oil.
While preparing the dough is incredibly easy, cutting it into bite-sized squares is somewhat more time-consuming, but it won't take more than 10 minutes - promised! We recommend making a big batch of these cinnamon toasties in one go to have a steady supply of wholesome cereals for the whole week. NOTE: The default ingredients yield about 500g (1.1 pounds) of cinnamon crunch squares and one serving consists of 60g (2oz) of cereals.
Frequently Asked Questions
Are cinnamon toast crunch cereals vegan?

The branded version of cinnamon toast crunch cereals that you find on the supermarket shelves is vegan. The list of ingredients includes wheat flour, rice flour, sugar, cinnamon, salt, and other additives and preservatives.

However, many of the recipes for preparing the homemade version have buttermilk and butter as an ingredient. Therefore, they are not suitable for those following a plant-based diet.
Can I make cinnamon crunch gluten-free?

Of course you can, all you have to do is swapping whole wheat flour with a gluten-free alternative.

You can use any ready-made mix that you can find at the supermarket, but make sure it contains a binder like xanthan gum. If not, add it yourself, using the ratio 1 tsp for every 500g (1.1 pounds) of flour.

We also tried making these cinnamon crunch cereals with a combination of oat and almond flour. For every 100g (3.5oz) of almond flour use 200g (7oz) of ground oats, and then adjust the liquid ingredients to get the right dough consistency. Also, remember to bake them for a bit longer and at a lower temperature as the dough will be denser and moister.
How can I keep these vegan cinnamon cereals crunchy?

After taking them out of the oven, immediately transfer the cinnamon toast squares onto a wire rack and leave them to cool down completely. By doing so, they will get super crispy and won't become soggy at the bottom as the moisture can escape through the cooling rack. In fact, when food is cold, it doesn't get as mushy as when it's warm.

Once they've cooled down, transfer them into an airtight container or zip-lock bag and add a sheet of kitchen towel to absorb any moisture. Then, seal and store the cereals away in a dry, cool place, like you kitchen cupboard.

We found that storing these cereals in a glass container is the best way to keep them crunchier for longer.
Ingredients
| | |
| --- | --- |
| Wholemeal Flour | 200 g |
| Rice Flour | 100 g |
| Potato Starch | 2 tbsp |
| Baking Powder | 1 tsp |
| Cinnamon | 11/2 tbsp |
| Erythritol | 110 g |
| Rapeseed Oil | 50 mL |
| Almond Milk | 180 mL |
Step 1
In a mixing bowl, add wholemeal flour, rice flour, potato starch, baking powder, 80 g of erythritol, 1 tbsp of cinnamon, and a pinch of salt.
Give all a good stir to make sure the baking powder is evenly distributed.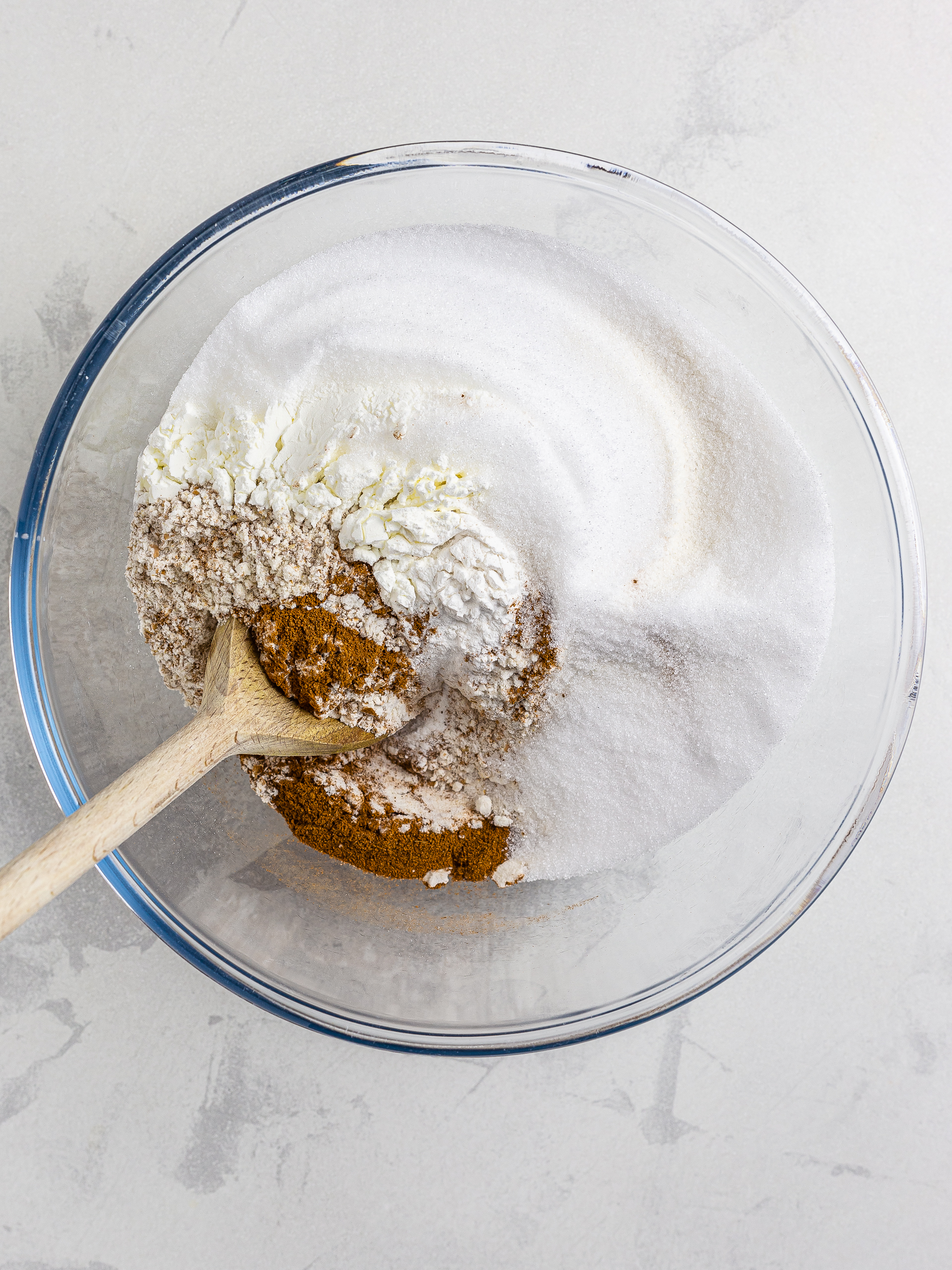 Step 2
Next, pour in the vegetable oil and almond milk and work all into a compact and pliable dough.
If it feels too sticky, add more flour, or it too crumbly, pour in more milk.
You'll want your dough to be similar to pie dough.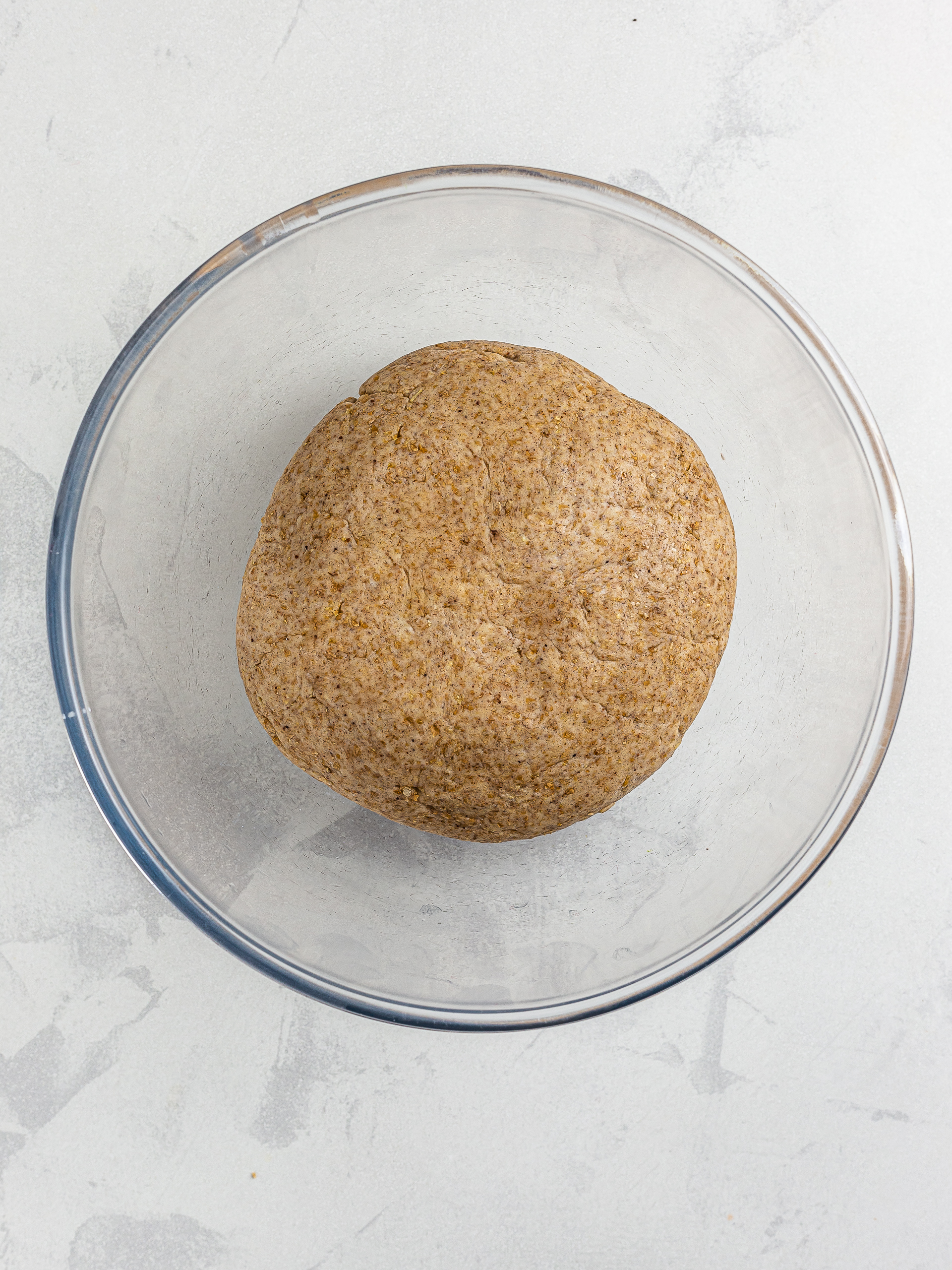 Step 3
Now, roll out the dough in between two sheets of parchment paper as thin as you can.
The thinner you roll out the dough, the crunchier your cereals will be once baked.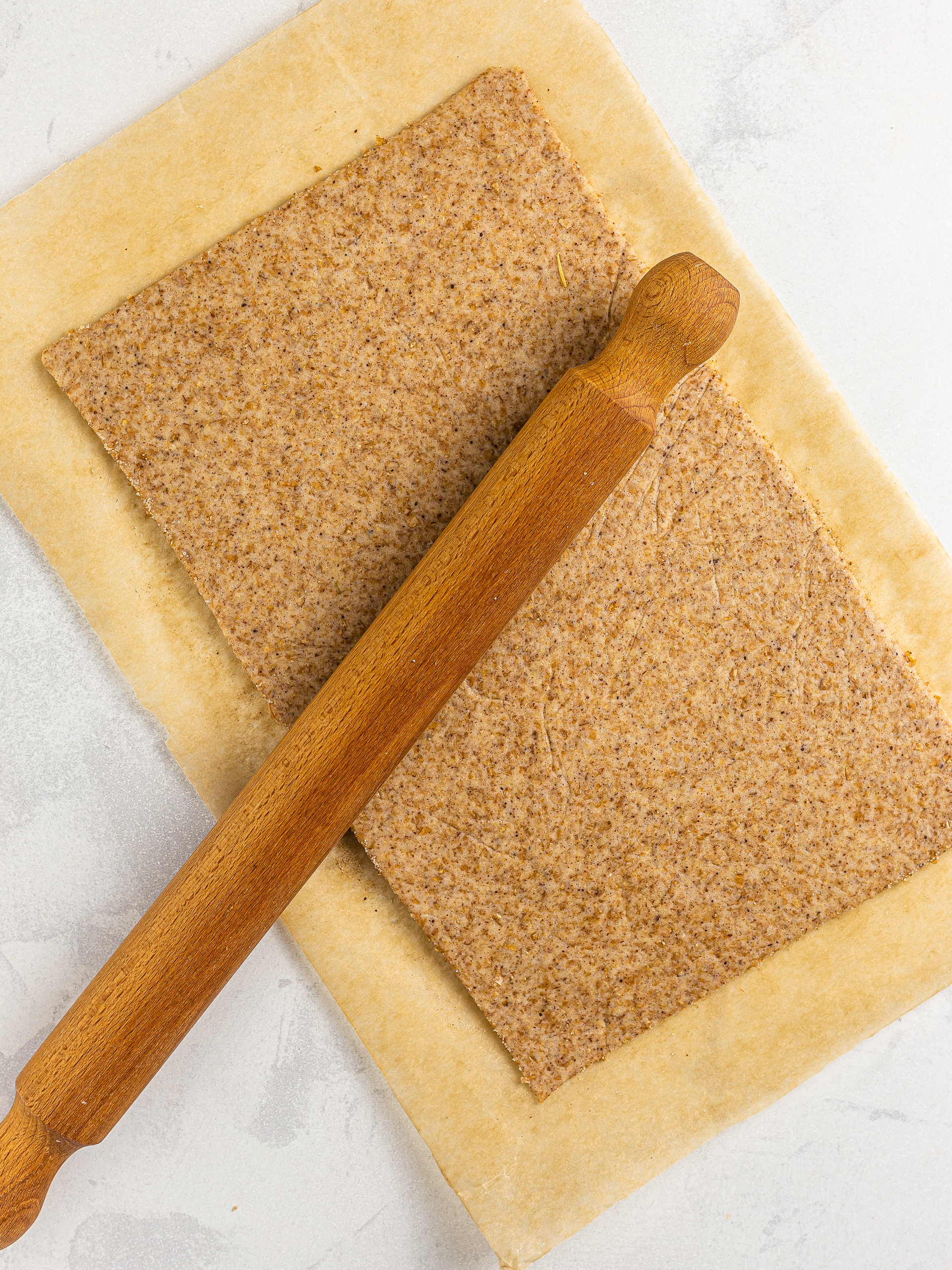 Step 4
Combine the remaining 30 g of erythritol with 1/2 tbsp of cinnamon in a bowl.
Then, brush the dough slab with a little vegetable oil, and sprinkle it with the prepared cinnamon "sugar".
Flip the dough and repeat this step on the other side, pressing down to make sure the coating sticks to the dough.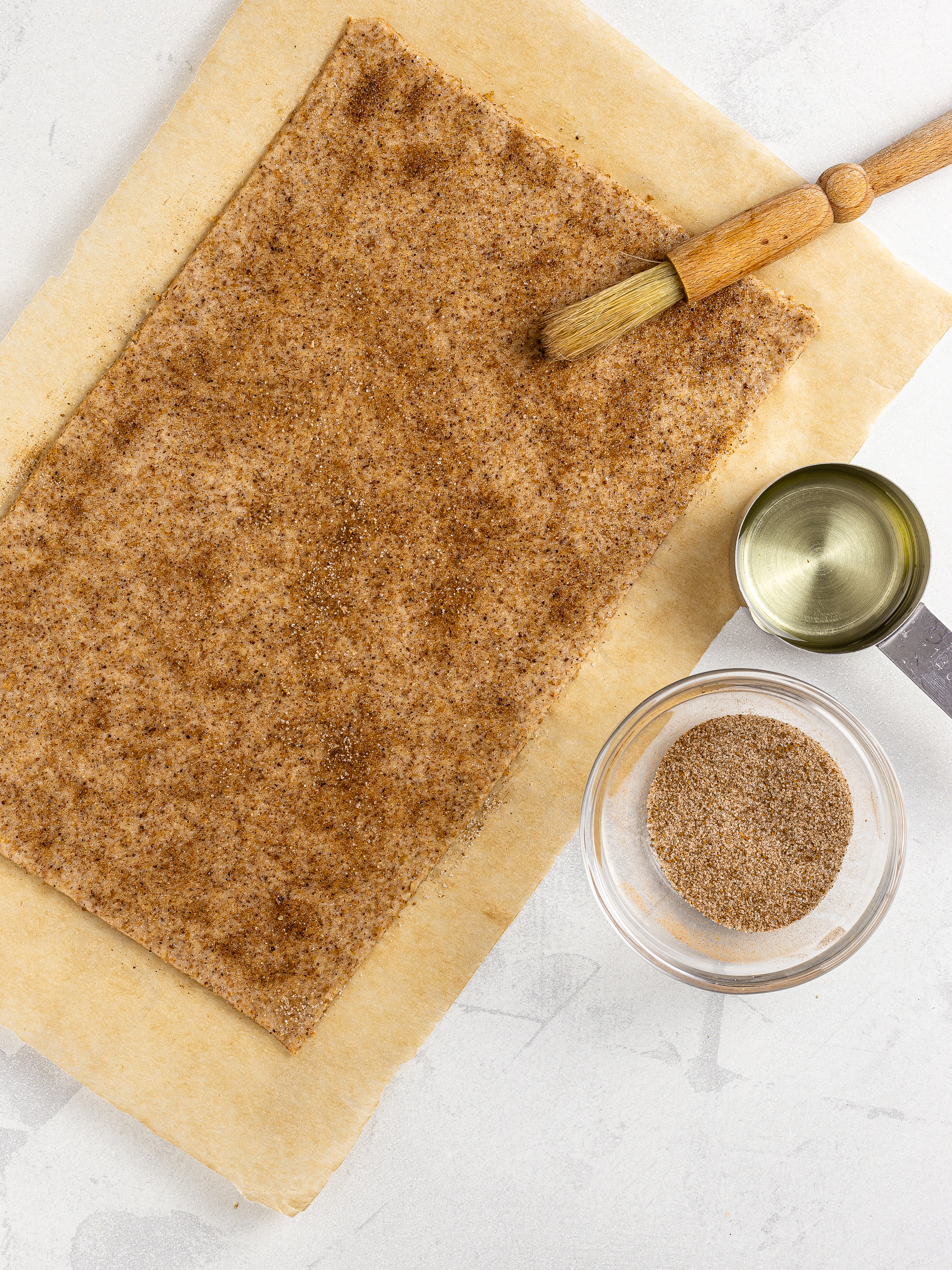 Step 5
Using a wheel cutter or sharp knife, cut the dough into small squares about 2 cm x 2 cm (0.7 x 0.7 inches).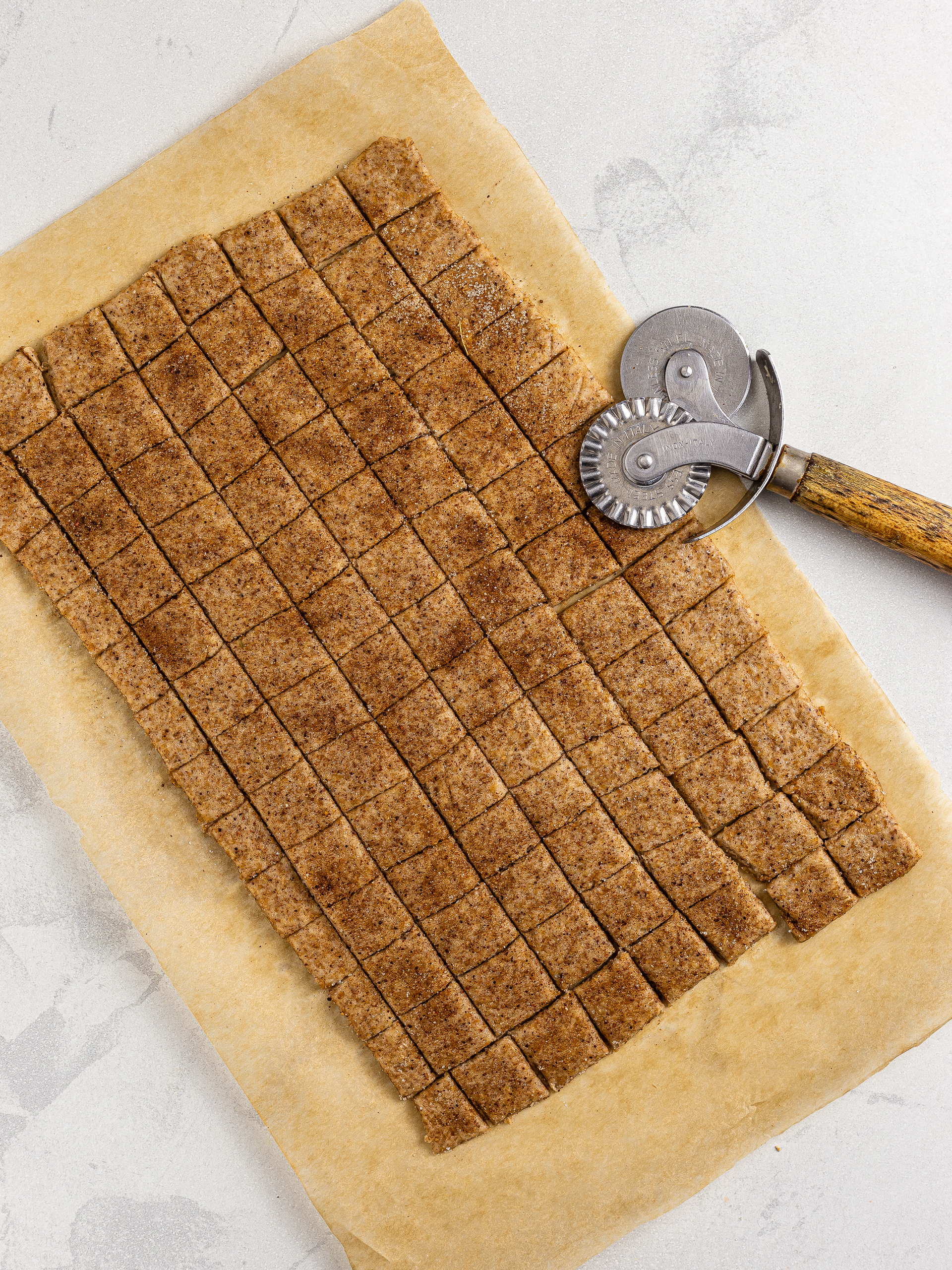 Step 6
Transfer the cinnamon toast crunch squares onto a baking tray, spacing them out.
Then, bake them for 20 minutes at 190°C (375°F) for static ovens or at 170°C (340°F) for fan ovens.
Once ready, transfer them onto a wire rack to cool down completely and crisp up.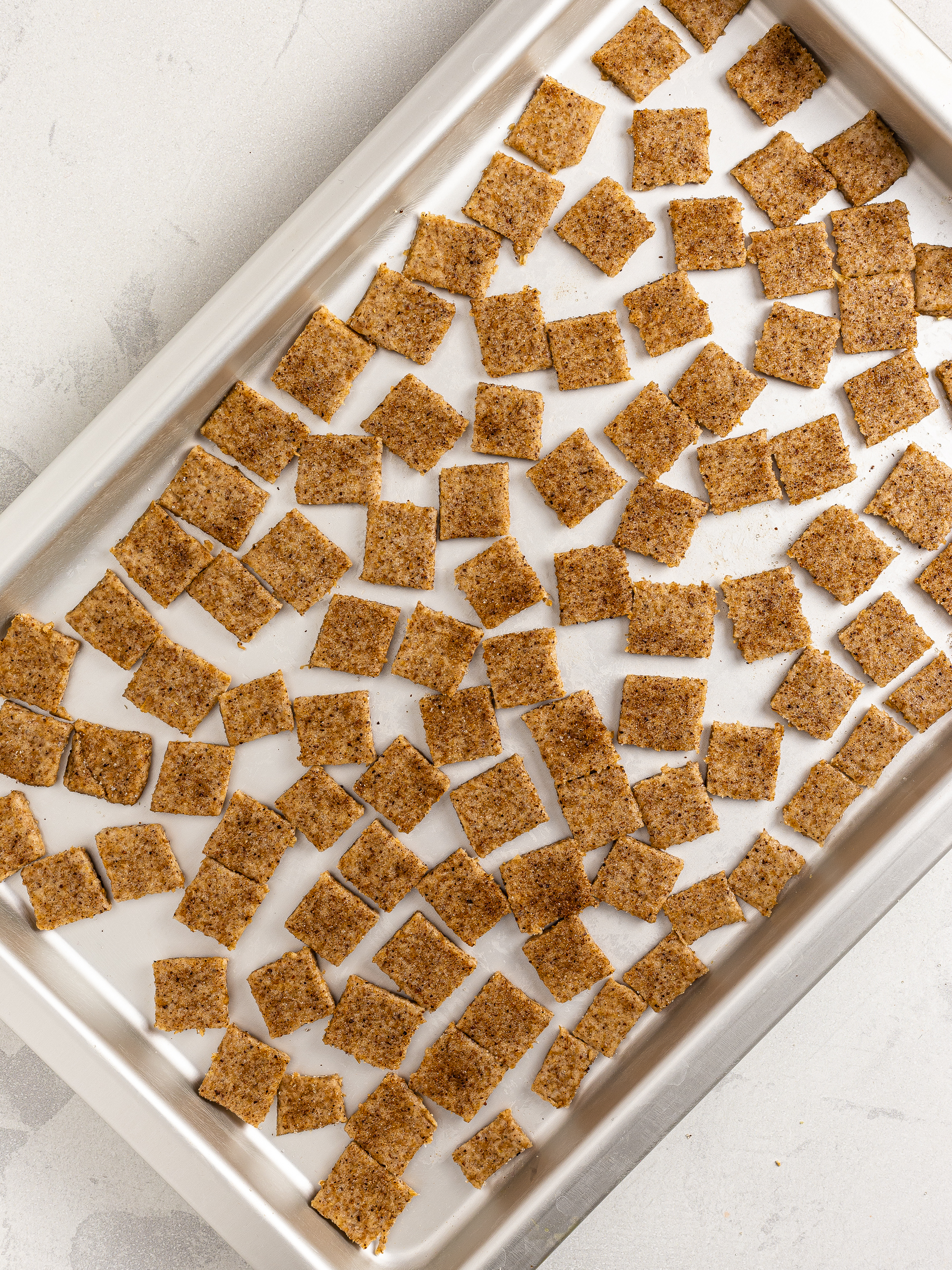 Tips
Don't worry if the cereals don't feel crispy once you remove them from the oven. As long as you keep them on a wire rack and ensure even airflow, they will harden as they cool down, becoming really crunchy. By doing so, the toast crunch squares won't get soggy on the bottom as well.