Today we revisit the famous coronation chicken, a historic recipe here in the United Kingdom, and make it vegan. Our plant-based version is also super easy and quick to prepare, ready in just 15 minutes. Let us show you how to do it!
Coronation chicken is a British dish created for the banquet of the coronation of Queen Elizabeth II on the 2nd of June 1953. The recipe combined cold roasted chicken with "exotic" Indian flavours like curry and mango. Since then, the coronation chicken has become a huge hit, and it's now a traditional dish in the UK, found in many flavourful variations.
The classic recipe consists of cooked shredded chicken coated with a rich curry dressing. The coronation sauce is made by mixing a thick syrupy mix of sauteed butter, chillies, onions, curry powder, tomato puree, chicken stock, and apricot jam with mayonnaise and creme fraiche. Finally, the dish is topped with chopped mango, fresh coriander and almonds, and served on a bed of lettuce.
As the name implies, the coronation chicken recipe is not vegan: it contains chicken, dairy from butter and creme fraiche, and eggs from mayonnaise. So, we decided to make a plant-based, dairy-free, and egg-free version of this famous dish, perfect for everyone to enjoy without worries. And it's just as tasty as the classic one!
We used canned green jackfruit instead of chicken, cooked it with seasonings, and pulled it into chicken-like shreds. Then, we replaced regular mayo with our homemade vegan cashew mayo, but you can also use store-bought one. We also simplified the recipe to include as few ingredients as possible, and we swapped jam with whole dried apricots and raisins for a sweet chewy finish.
The result is a speedy vegan chicken salad, sweet, spicy, and crunchy, with a delicious combo of exciting flavours. And the good news is one serving has just 180 calories and 11 grams of fats, which translates into half the calories and three times fewer fats than the non-vegan one. So go ahead and make a big batch of it and use it to top a salad bowl, stuff a jacket potato, or fill a lunch sandwich. Yum!
Ingredients
Canned Jackfruit in Water

400 g

Extra Virgin Olive Oil

1 tbsp

Red Onions

1

Fresh Red Chillies

2

Vegan Mayo

recipe

4 tbsp

Curry

2 tsp

Raisins

20 g

Dried Apricots

4

Fresh Coriander

to taste

Flaked Almonds

40 g
Step 1
Let's start by prepping the jackfruit.
Drain the canned jackfruit chunks and rinse them well to wash away the brine water.
Then, squeeze the chunks tightly to remove excess water.
Some jackfruit chunks may hold a hard seed. If you see any, remove them along with the brownish membrane that holds the seed in place.
Jackfruit meat has two components: a hard, dense flesh (usually the tip of the canned chunks) and a soft, stringy flesh (usually the bottom of the chunks).
What you want to do is trim off the firm part, and only keep the flesh with the threads. You'll "pull" them into shreds later, just as you would do with cooked chicken meat.
Don't throw away the hard jackfruit trimmings! You can use the leftovers to make delicious vegan jackfruit burgers or vegan jackfruit nuggets.
Heat the olive oil in a skillet and add finely chopped onions and chillies.
Sizzle for a minute until fragrant, tip in the prepared jackfruit, and cook over medium heat for 10 minutes.
When the jackfruit meat is cooked enough, it will be much softer. At that point, use a spatula or two forks to tear and "pull" apart the jackfruit strands — so they will look like shredded chicken.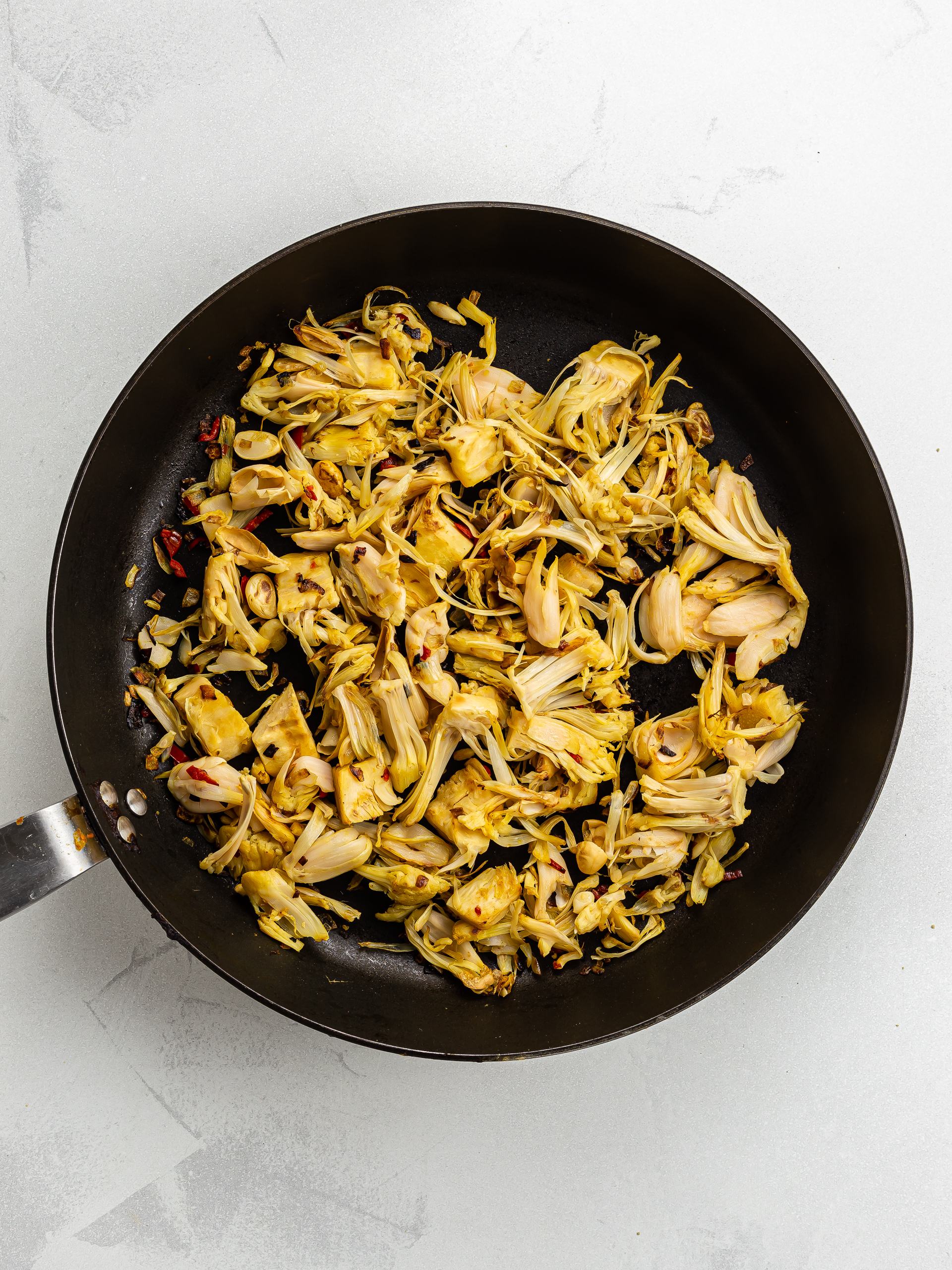 Step 2
Next, transfer the cooked jackfruit to a bowl and tip in the vegan mayo and curry powder.
Mix well with a spoon until the jackfruit shreds are coated evenly, and then season all with salt and pepper to taste.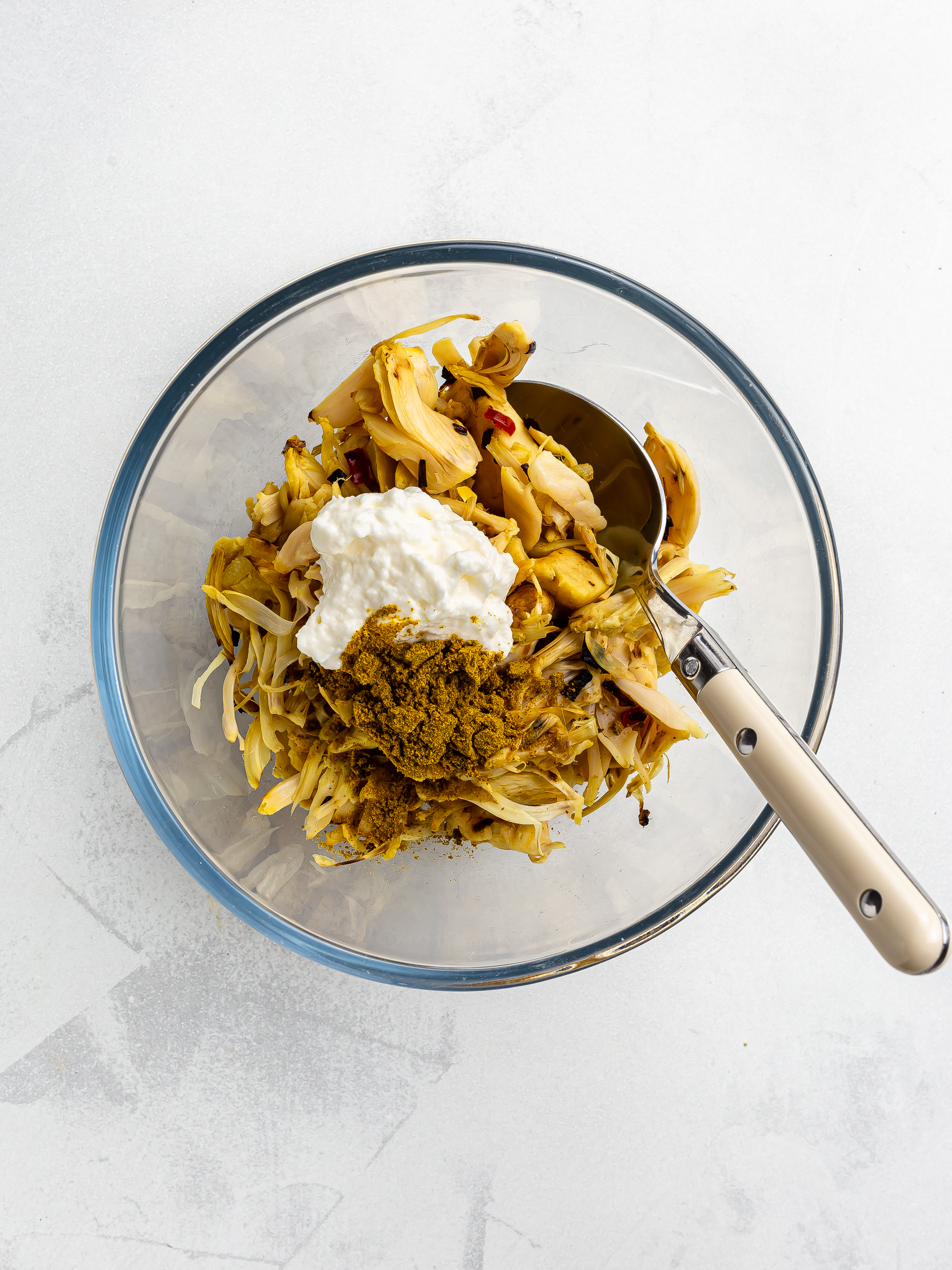 Step 3
Finally, toss the jackfruit with raisins, chopped dried apricots, fresh coriander and toasted almonds flakes.
Enjoy your vegan coronation chicken with a side salad, like our tangerine zucchini salad, or stuff it into a sandwich.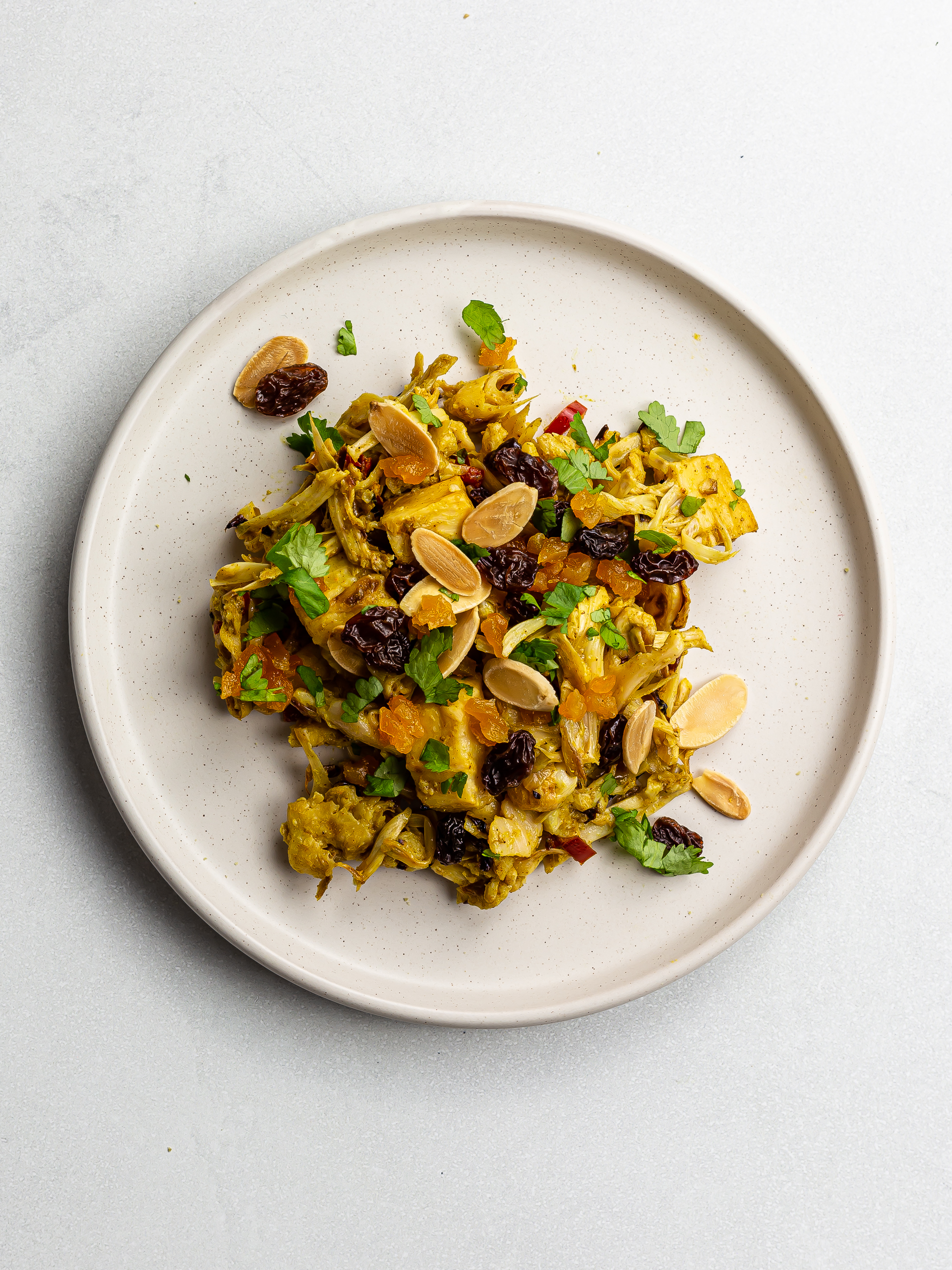 Tips
You can use store-bought mayo or prepare a healthy vegan mayo with cashews following our simple recipe.

You can replace dried apricots with dried mango or use apricot jam/mango chutney.

To toast the almonds, spread them flat onto a baking tray and roast them at 180°C (350°F) for 8 minutes while you cook the jackfruit.