Kolaches are Czech pastries made of puffy dough shaped like a half doughnut and filled with either fruit, jams, or cottage cheese. The traditional recipe is delicious, but it's not suitable for people with dairy or gluten intolerances. Today we change this!
Our blueberry-compote kolaches are both vegan and gluten-free, as we have prepared them without eggs, butter, and wheat flour. Our recipe is also low in sugars. We used zero refined sugars, opting instead for naturally sweet ingredients.
To make this kolaches recipe easy for you to follow, we have written in-depth, step-by-step instructions below. You can scroll straight to the recipe, or keep reading a bit more to learn how we have made these kolaches wholesome and allergy-free!
For a vegan kolaches dough, we have replaced butter with applesauce - an excellent plant-based alternative to both fats and refined sugars.
Flaxseeds mixed with a splash of water replace the egg, in what is known as a flax egg. You can use chia seeds as well and follow the same procedure shown below.
Instead of wheat flour, we used a mix of oats, buckwheat and a little potato starch, to make these pastries gluten-free. We love using oatmeal in our gluten-free recipes. This cereal is not just a rich source of fibres, but also many essential minerals, B vitamins, and antioxidants[1].
Finally, to keep sugars in our recipe low, we used another naturally sweet ingredient: maple. Maple has 30% less sugar than white sugar, but it's much tastier and can also act as a binder. If you want to cut carbs even further check out the tips at the bottom of the page.
Overall, two of our healthy kolaches - a portion - has 290 calories, 6g of fibres, 4g of fats, and 9g of sugars. Compare this with traditional kolaches, and our recipe has half the fats, half the sugars and three times more fibres! The only thing left to do now is baking these out! Let's jump into it.
Frequently Asked Questions
Are kolaches vegan?

The traditional kolaches aren't vegan, as they use eggs, milk, and butter to make the dough. Our kolaches instead are 100% plant-based and vegan.

We have used flax-eggs and applesauce, to replace eggs and butter respectively. Our recipe is therefore suitable to people with egg or dairy intolerances. For more vegan sweet treats, check out this link.
How many kolaches per person?

To decide how many kolaches should make up a portion, one has to look at the nutritional properties of the pastry.

The traditional recipe has eggs, butter and added sugars, so you shouldn't have too many, possibly just one. But our blueberry kolaches are 100% plant-based, made only with wholesome ingredients, and no added refined sugars.

We reckon you could have 2 or 3 of our pastries per day. Each of our healthy kolaches will give you:

145 calories; 7% of your RDI

4.5 sugars; 5% of your RDI

3 fibres; 12 % of your RDI

4 proteins; 8% of your RDI

2 fats; 3 % of your RDI

As you can see, these are good nutritional values, considering that this is a sweet treat.
How long will the kolaches last?

If you store these pastries well, you can expect them to last up to 5 days.

Because our kolaches don't use any animal product, they last a bit longer. But they still require to be sealed in an air-tight container, to retain all their puffiness and flavour. We suggest you store them in a zip-tight plastic bag, or one of those food boxes with rubber-sealed lids.

Before storing them away, remember to let them cool on a rack until the bottom and the jam filling are cold. Placing a warm bake in an air-tight container will make it soggy, due to condensation.
Ingredients
Dough
Ground Flaxseeds

2 tbsp

Water

4 tbsp

Oat

220 g

Buckwheat Flour

200 g

Potato Starch

80 g

Salt

1/2 tsp

Dry Yeast

7 g

Lemon Zest

1 tsp

Oat Milk

280 mL

Sugar-Free Applesauce

180 g

Maple Syrup

50 g

Filling
Blueberries

120 g

Lemon Juice

2 tbsp
Step 1
In a small bowl, soak the flaxseeds with water for 10 minutes or until they form a thick gel-like mixture. Then, blitz the oat flakes in a food processor until finely ground.
In a mixing bowl, combine the prepared oat flour with buckwheat flour, potato starch, salt, yeast, and lemon zest. Stir well to make sure the yeast is evenly distributed.
Now, add lukewarm milk, applesauce, maple syrup, and the prepared "flax-egg" (1).
Work the ingredients until they come together into a soft and smooth dough and leave it to prove covered for 30 minutes, in a warm place (2).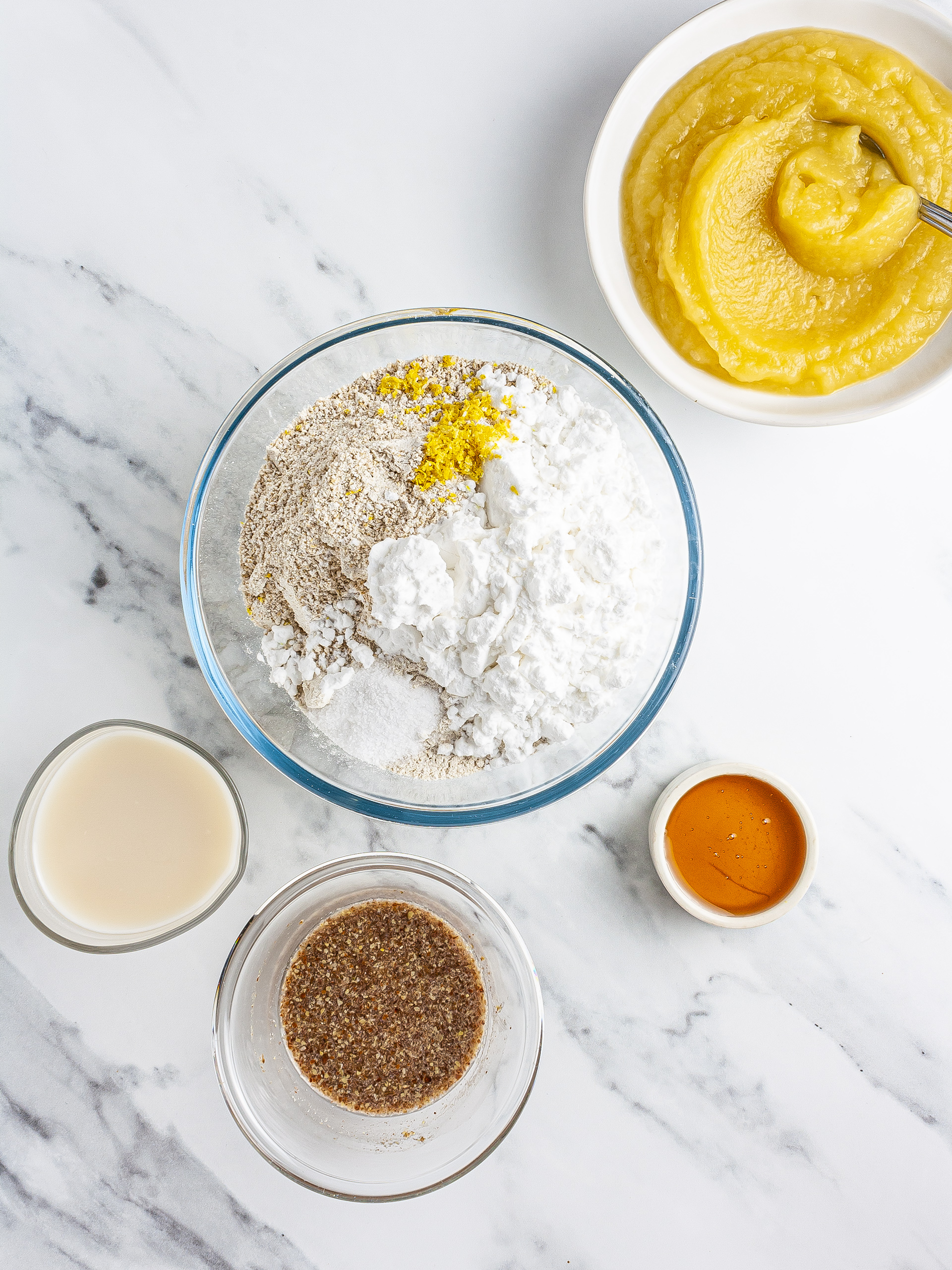 1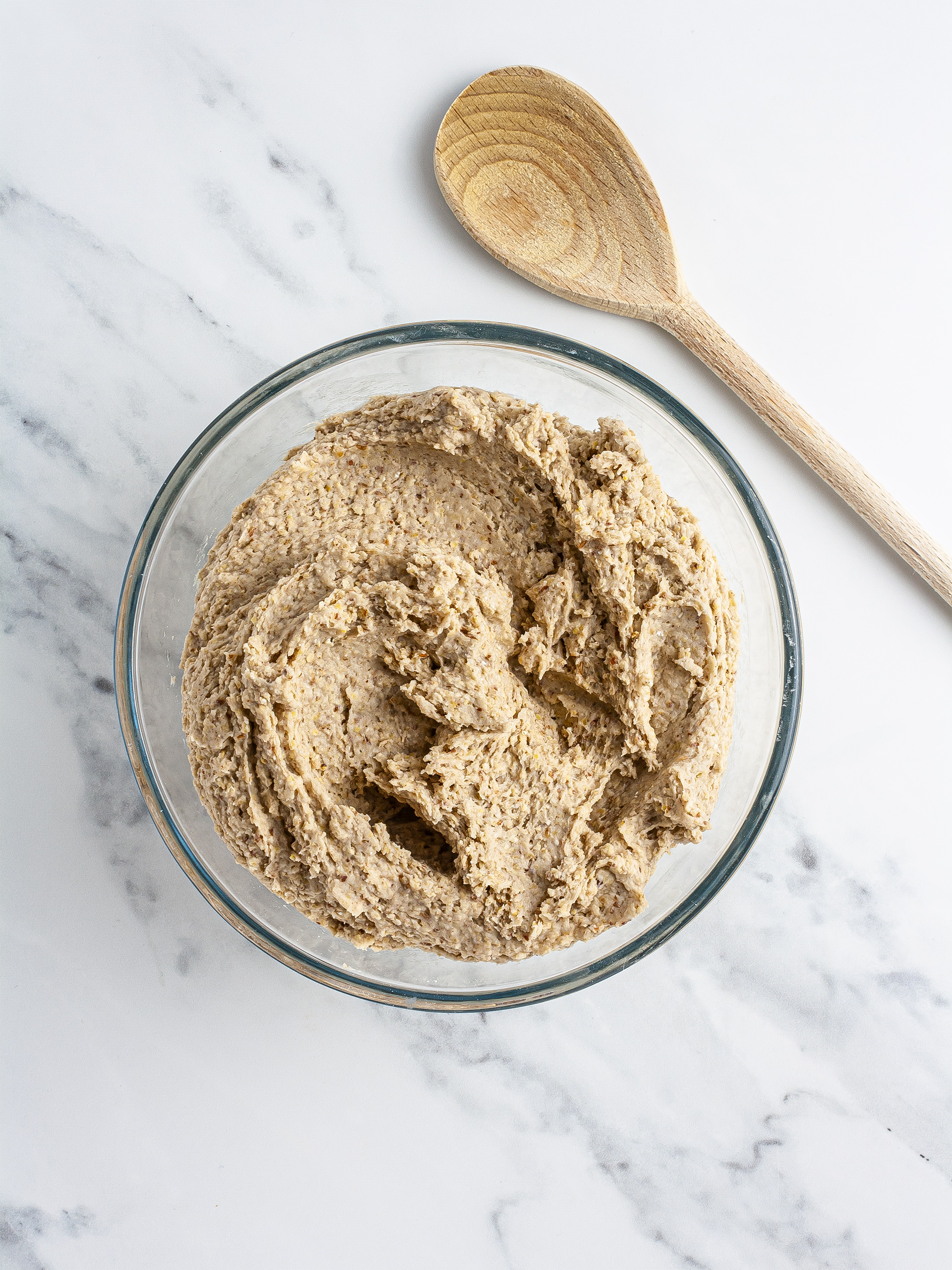 2
Step 2
Being gluten-free, the kolach dough won't rise as much as a wheat flour dough, but still it should feel soft when you handle it.
Now, roll out the dough to a 1 cm (1/2 inch) thickness with the help of a rolling pin.
Use an 8 cm (3 inches) cookie cutter to cut out rounded shapes.
Transfer the kolaches onto a baking tray lined with parchment paper, cover with a kitchen towel and leave them to prove for further 15 minutes.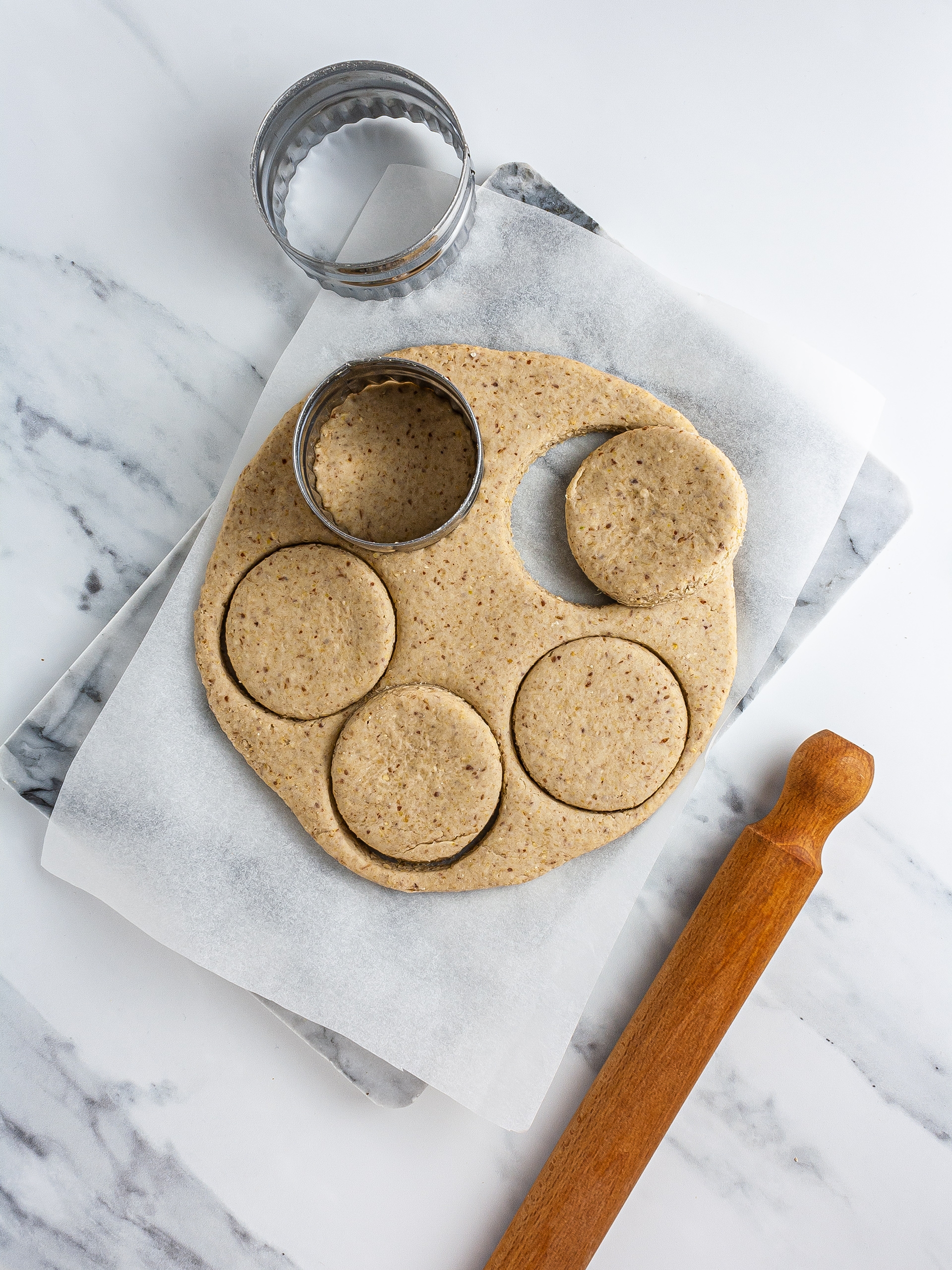 Step 3
Meanwhile, prepare the blueberry compote.
In a saucepan, add fresh blueberries, lemon juice, and a splash of water.
Simmer at low heat until the berries start to release their juice and then set aside.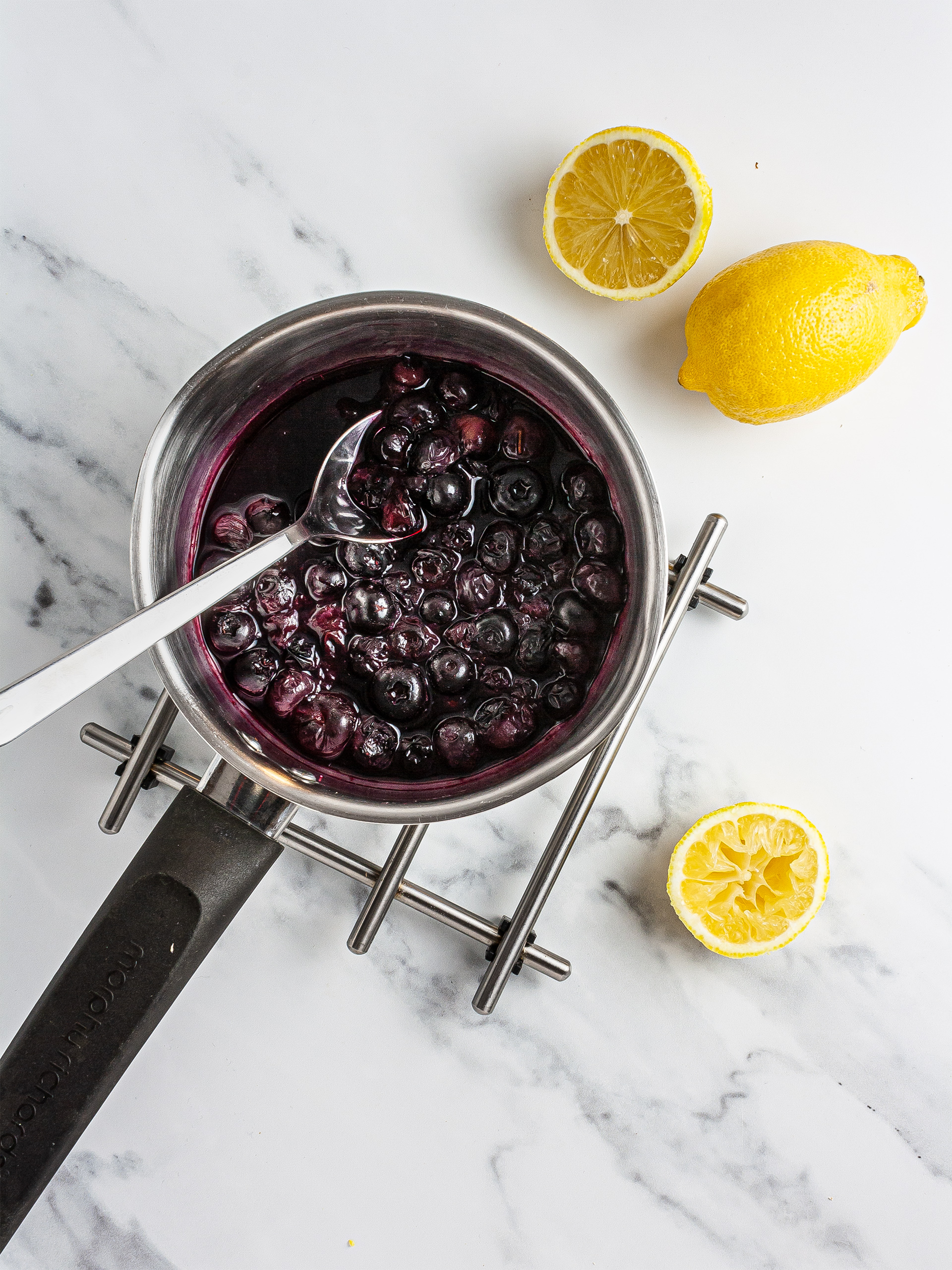 Step 4
Press down in the centre of each kolach with your fingertips or the back of a spoon to make a hole that will hold the filling.
Then, pour in the blueberry compote over the indentation trying to cover as much surface as possible.
The gluten-free dough per se isn't too flavourful, but when covered with the berry syrup, it will taste delicious.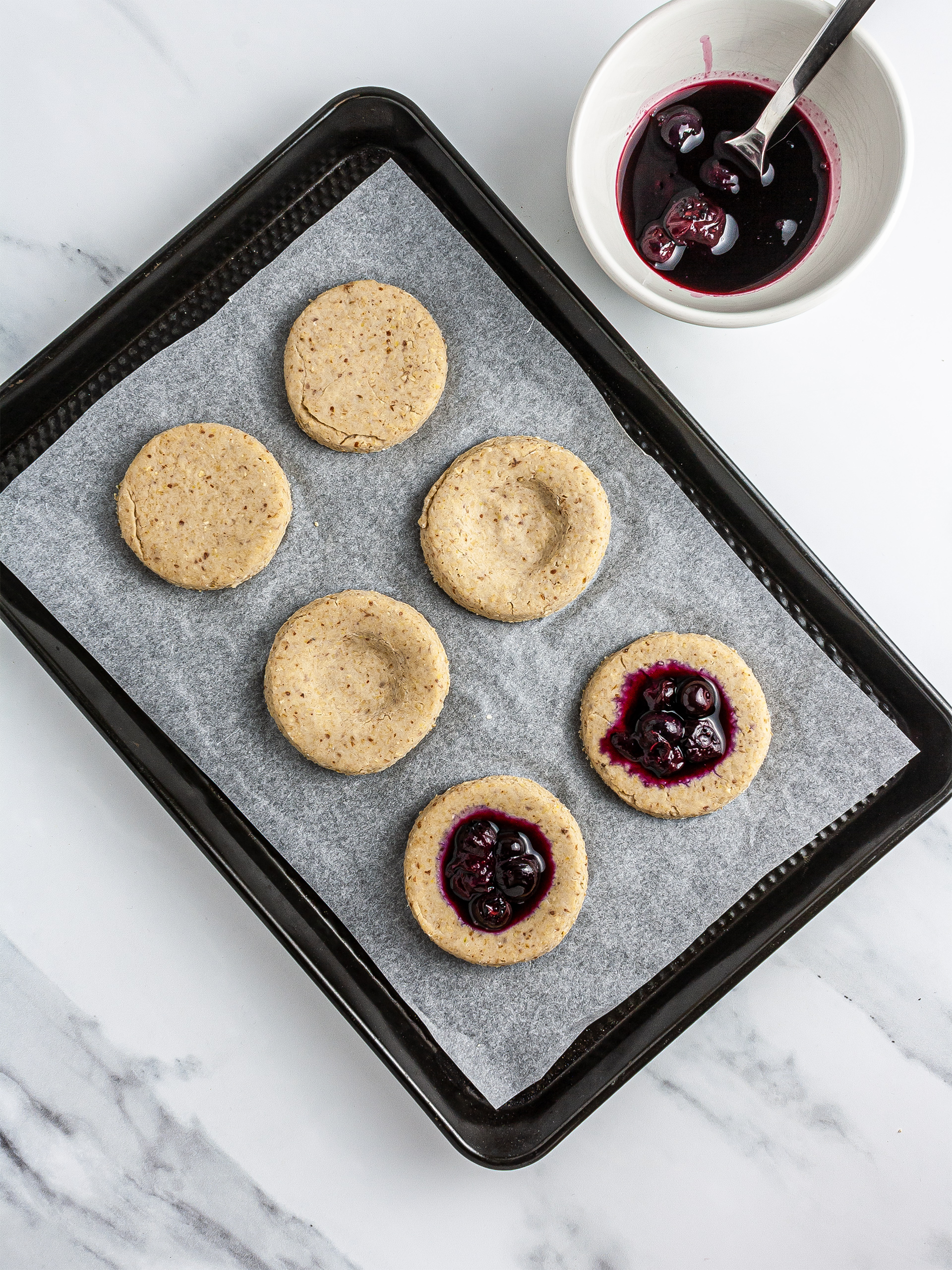 Step 5
Bake the pastries for 15 minutes at 190°C (375°F) for static ovens or at 170°C (340°F) for fan ovens.
When they're lightly golden, remove the kolaches from the oven and leave them cool down on a wire rack.
You can brush them with a little maple syrup for a glossy finish and extra sweetness.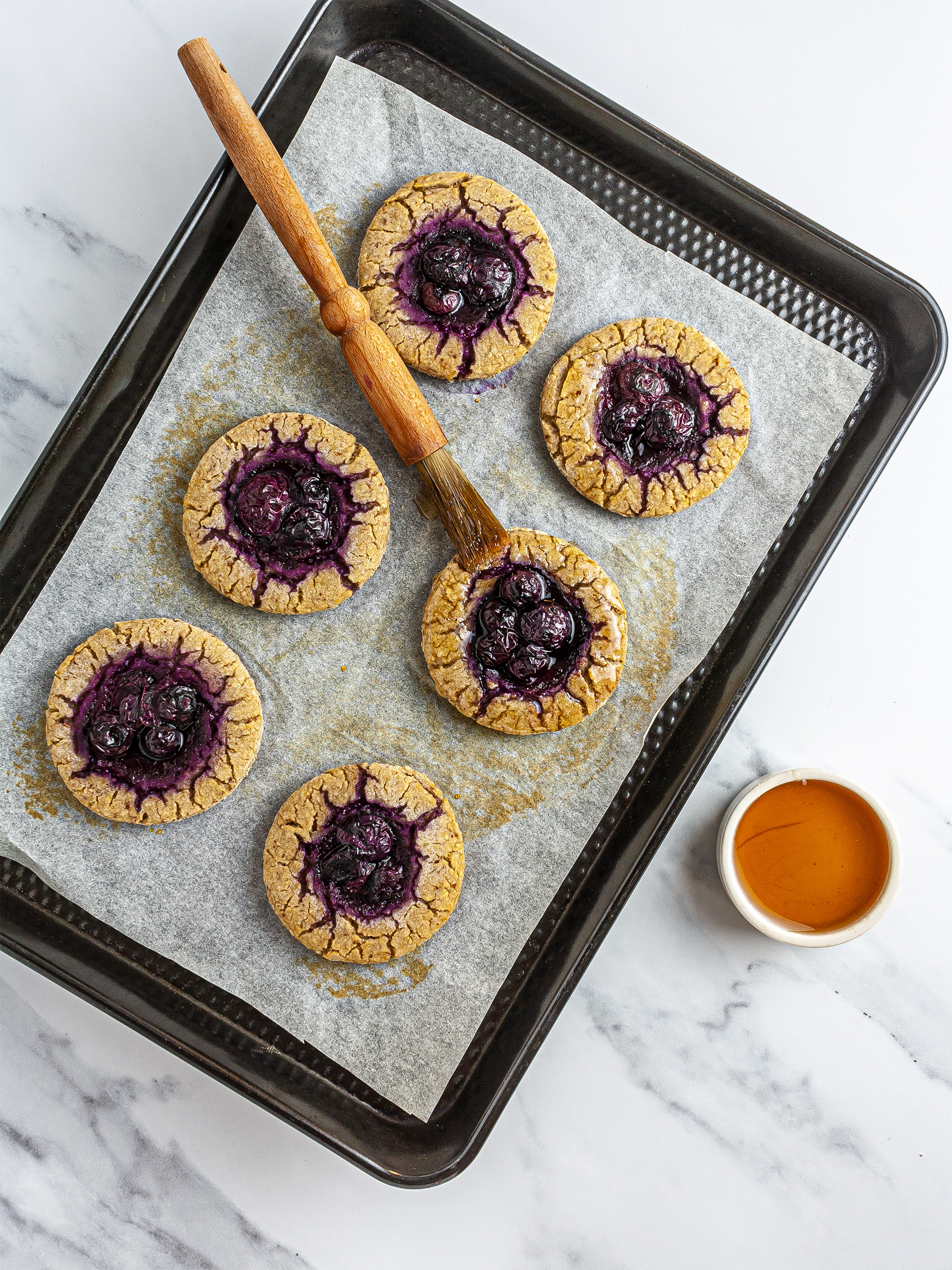 Tips
To make these pastries 100% sugar-free, you can swap maple syrup with erythritol, a natural zero-calorie sweetener. Use it in a ratio 1 : 1.3 - for example swap 50g of maple with 65g of erythritol. You might need to adjust the amount of liquids such as oat milk or applesauce to get the right dough consistency.

You can swap oat milk with other plant-based alternatives, including soy milk, almond milk, and coconut milk.

Beside applesauce, pumpkin puree and mashed bananas make other great substitutes for butter in vegan recipes.