When you cook with puff pastry, you know that something irresistibly crispy awaits you. And today, we want to show you how you can use it to make super crusty, savoury pastries with a Caribbean spin. Inspired by the classic Haitian pate kode, these generous patties are spicy and full of flavour, stuffed with a tasty vegetable filling.
Pâté kòde is a beloved snack food in Haitian culinary traditions. It's a fried patty usually filled with beef, chicken, or herring; it's rich, indulgent, and with bold flavours. In our healthier plant-based version, we swapped meat with beans and oven-baked the pastries instead of frying them.
Preparing these vegan patties is super easy, as you can use a ready-made dairy-free pastry instead of preparing the dough from scratch. Just cut it into rectangles, add the veggie filling, and shape them into patties. All is left to do is to bake them until puffed and crusty. We bet they won't last long once out of the oven (ours definitely didn't)!
Haitian cuisine is a Creole cuisine based on a fusion of French, African, and Spanish culinary traditions. To honour this rich history, we used only ingredients that are common in Haiti, like bell peppers, Scotch bonnet chillies, red beans, and other local spices.
We chose to replace meat with red kidney beans as they add proteins, flavour and texture to the veggie filling. They also have very little fat and plenty of fibres. If you want to swap them with other beans, check out our tips below for suggestions.
One of these Haitian patties comes in just a little over 200 calories, and it makes a satisfying snack when you crave a crunchy and exciting nibble. You can make the pastries ahead of time, bring them to a party or pack them for an outdoor lunch — they taste great hot or cold.
Ingredients
| | |
| --- | --- |
| Vegetable Oil (olive oil or rapeseed) | 1/2 tbsp |
| Red Onions | 1/2 |
| Garlic Cloves | 1 |
| Scotch Bonnet Chillies | 1 |
| Canned Red Kidney Beans | 120 g |
| Peppers (mixed colours) | 100 g |
| Dried Thyme | 1/2 tsp |
| Dried Parsley | 1/2 tsp |
| Puff Pastry (low-fat and dairy-free) | 300 g |
Step 1
Let's start by preparing the vegetable filling.
Heat the oil in a skillet and add finely chopped onions, crushed garlic, and thinly sliced Scotch bonnet chillies.
Sizzle all for 5 minutes until the onion is soft and garlic is fragrant.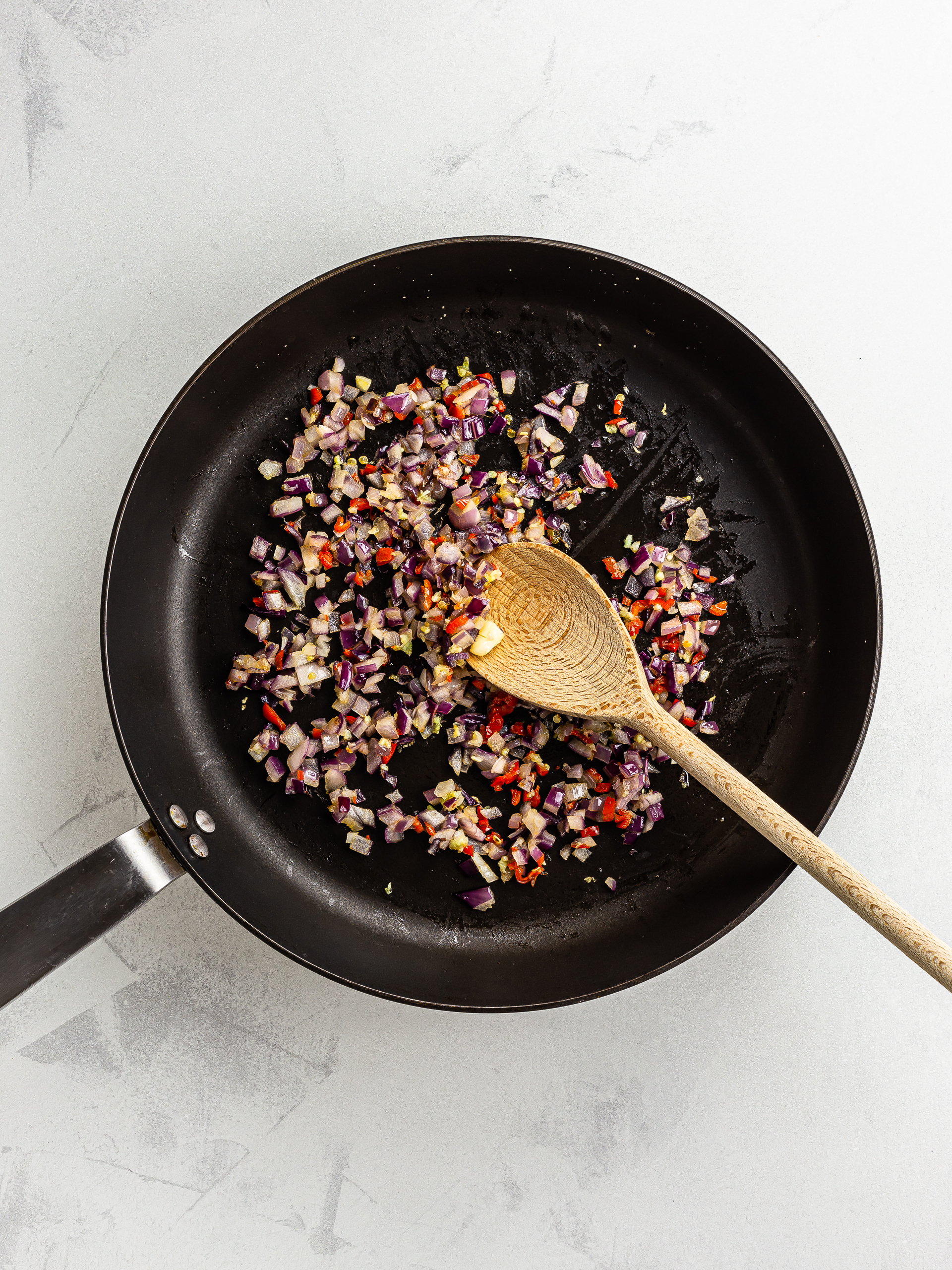 Step 2
Next, add in drained beans, finely diced peppers, thyme and parsley.
Cook covered over medium heat for 15 minutes, stirring occasionally.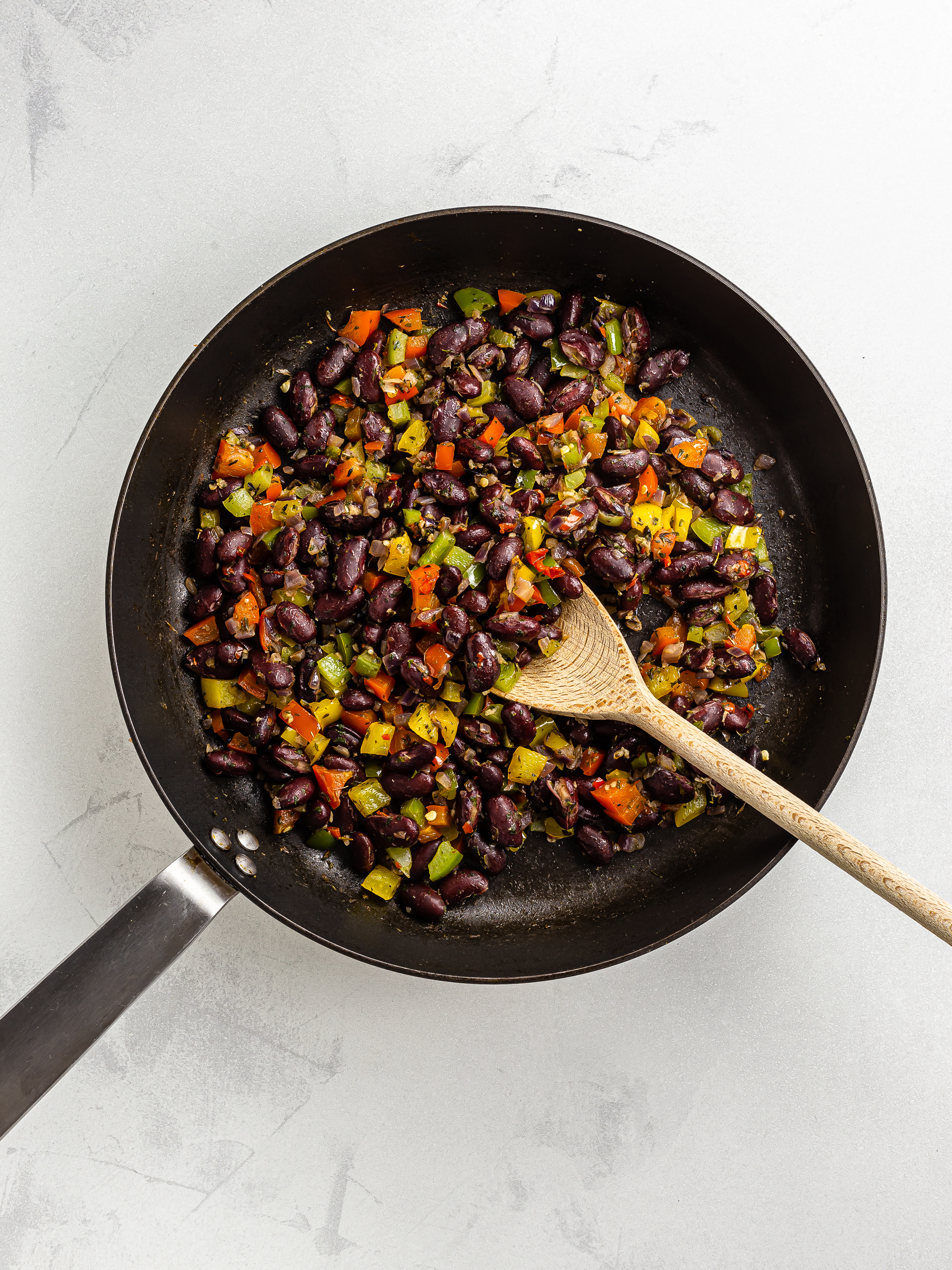 Step 3
Roll out the puff pastry sheet and cut it into rectangles. We made ours 18cm x 7.5cm (7 inches x 3 inches), but you can make yours bigger or smaller if you prefer.
Then, pile up one tablespoonful of vegetable filling over one half of each pastry rectangle.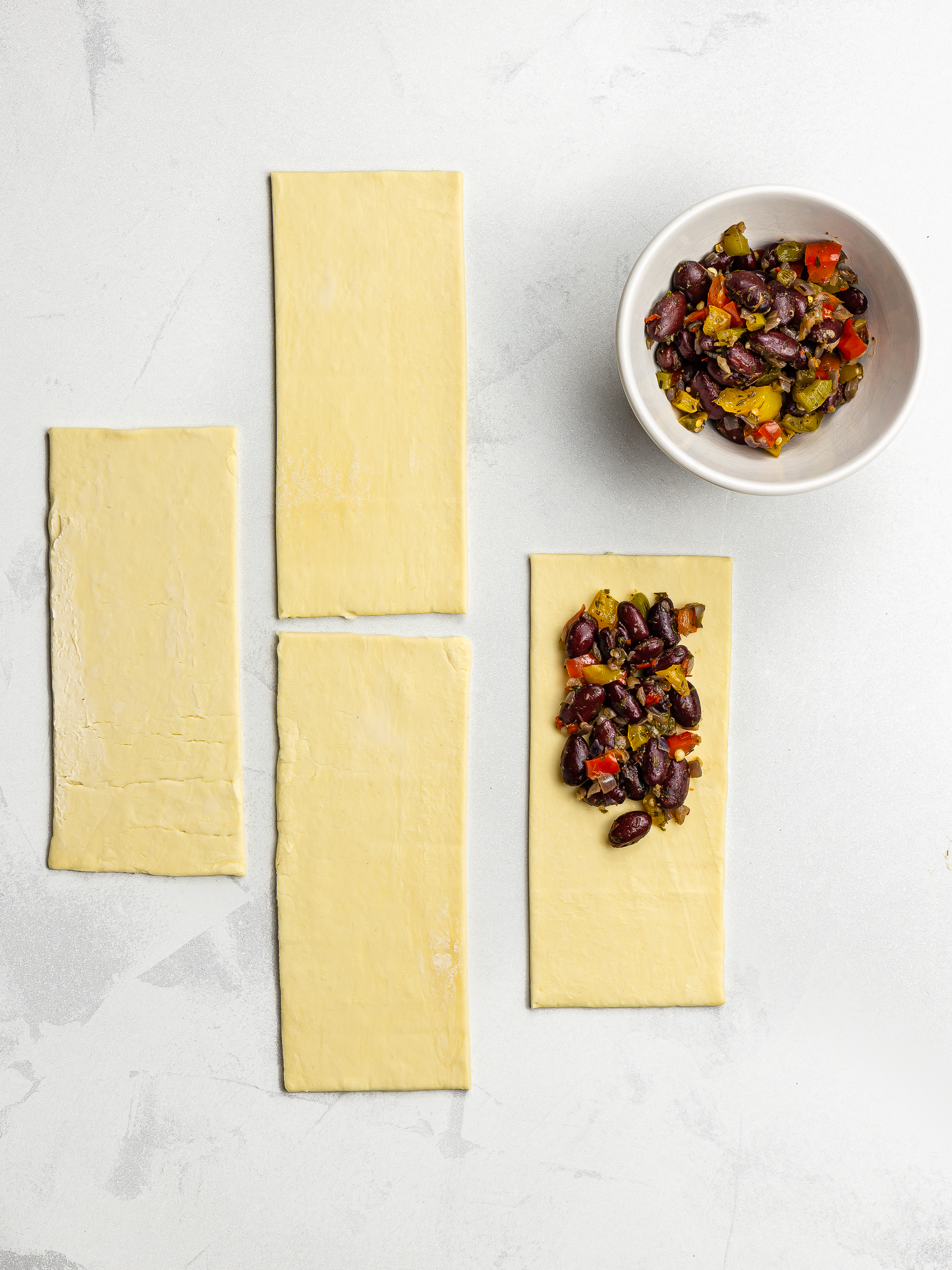 Step 4
Now, wet the edges of the pastry rubbing them with wet a finger or a wet brush.
This step will help the two pastry halves stick one to another when folded.
Next, fold the empty half of the pastry over the filling to meet the opposite end and press it lightly.
You should now have a square patty filled with vegetables.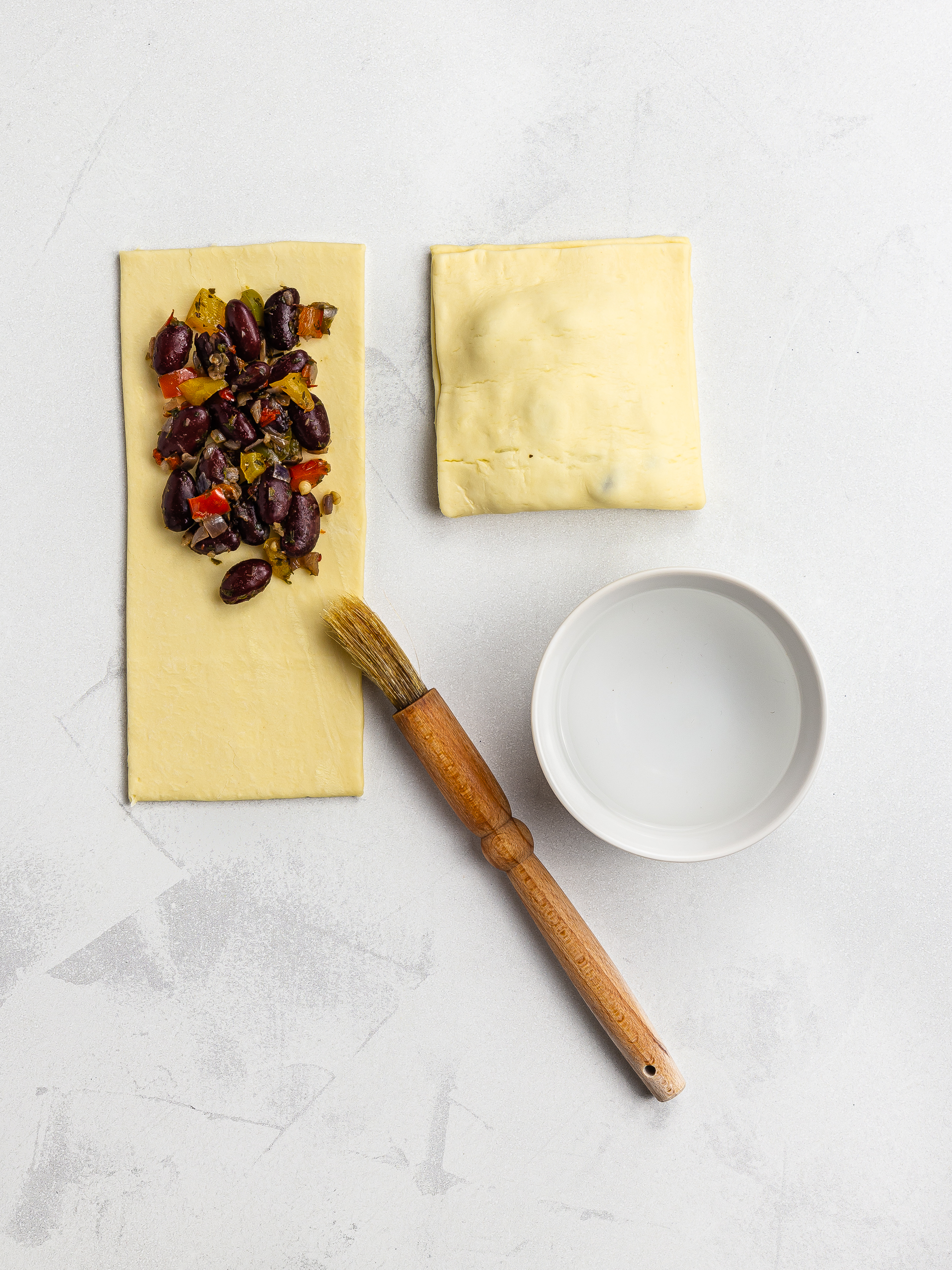 Step 5
Now, use a fork to seal and crimp the pastry edges together so that the filling won't leak out during baking.
Before baking, you can optionally brush the surface of the patty with a little vegetable oil for extra browning.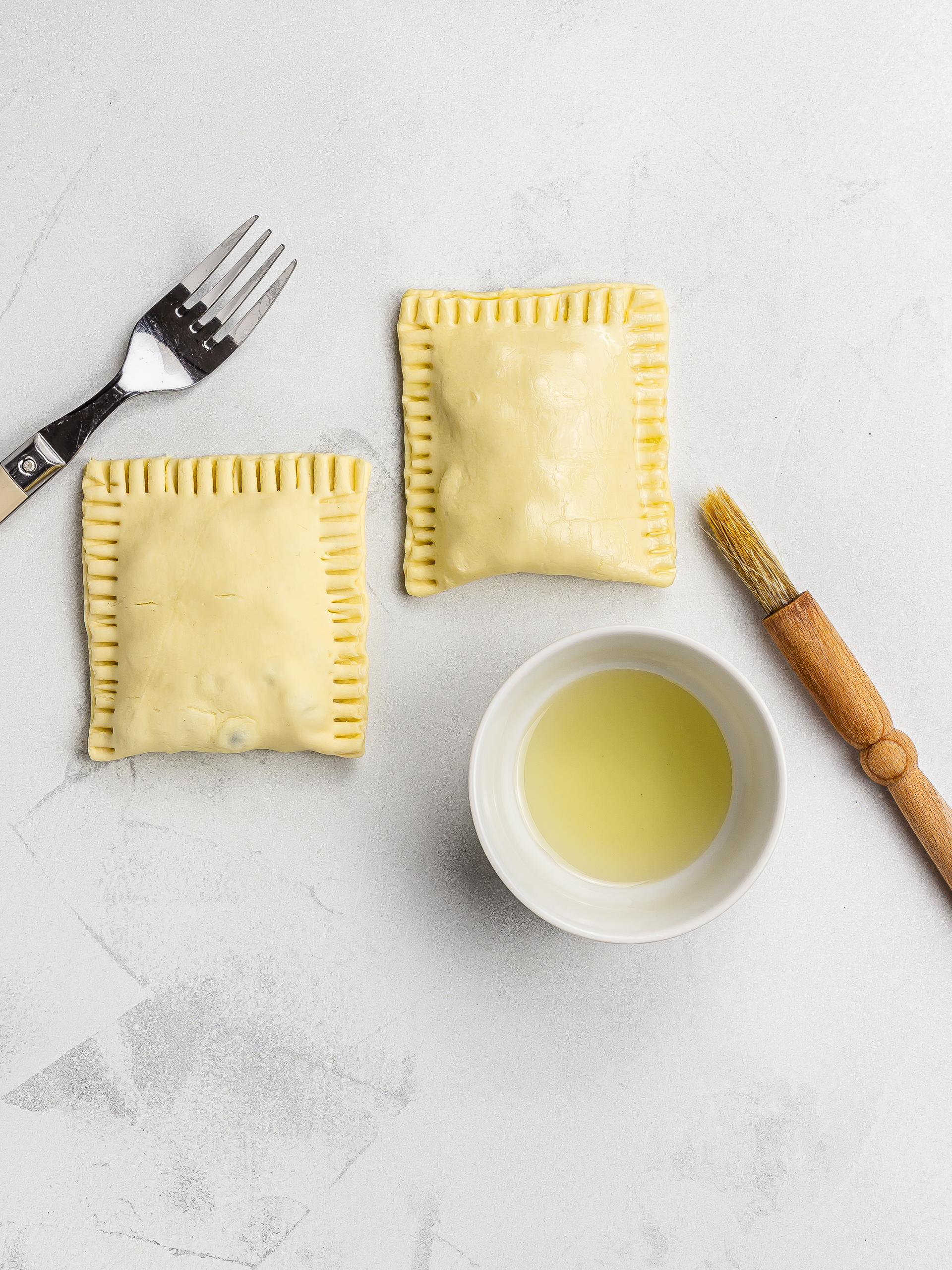 Step 6
Place the patties on a baking tray lined with parchment paper, leaving some space for them to puff up.
Bake them at 200°C (400°F) for 25 minutes or until they're puffy and crusty.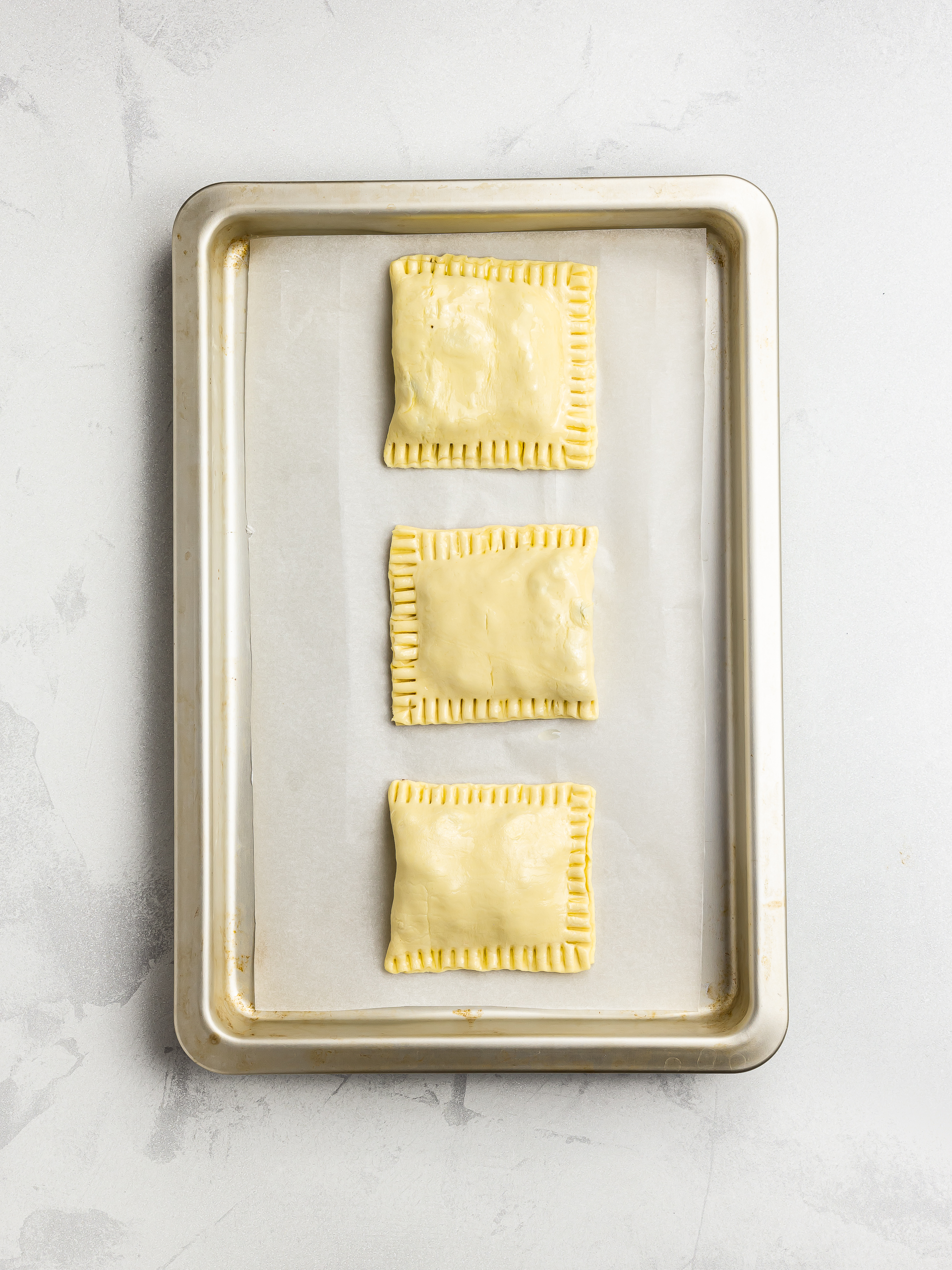 Step 7
Once ready, transfer the baked patties on a wire rack to cool down.
You can now enjoy these Haitian pate kode pastries warm or cold as a snack or light lunch.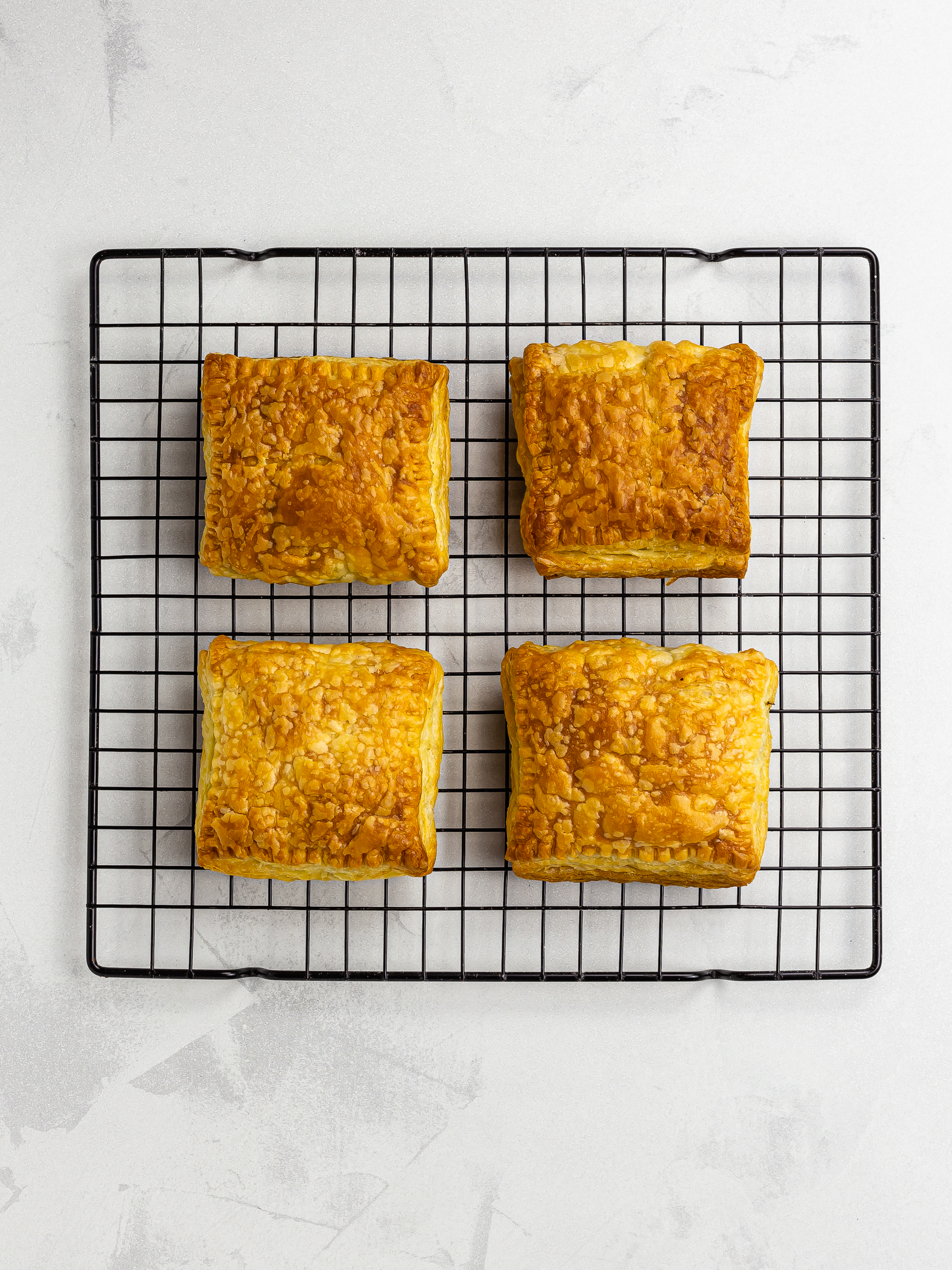 Tips
Scotch bonnets are very spicy; if you think you can't handle them, use half or remove the seeds before chopping them.

You can swap red kidney beans with black beans, chickpeas, pinto beans, or pigeon peas. They are all commonly used in Haitian cuisine.

For a richer filling, add a few spoonfuls of tomato paste to the vegetable mix.