Today, we want to share our easy recipe for stuffed zucchini cups, a fun appetiser perfect for a glamorous dinner or as a party nibble. And what's so great about them is that they're also vegan and low-carb — and they will make everyone happy!
You usually find stuffed zucchini carved out like small boats or hollow cylinders, but we opted for a fancier look here. We sliced thick courgettes into pieces and scooped out the pulp to make mini-cups. They're super cute — and quite practical too! They're easy to move around once stuffed, and being closed at the bottom, they can hold the filling without leaks.
As for the filling, we chose a delicate yet savoury combo of cauliflower rice, shiitake mushrooms, and fresh basil. We designed our recipe to be both vegan and low in carbs, meaning the stuffing can have neither legumes nor meat mince. But we definitely didn't give up on flavour!
Cauliflower rice is an awesome low-carb alternative to white rice, often used in ketogenic recipes. You can easily make it from fresh cauliflower florets, either using a food processor or a box grater. It won't take more than a couple of minutes.
Shiitake mushrooms add lots of flavour to our plant-based filling and give it an amazingly "meaty" texture. You can also use king oyster mushrooms if you like — they're equally awesome! Once ready, bring the filling ingredients together and have fun stuffing the zucchini.
Finally, bake the prepared cups until tender and serve these beauties with pride! We hope you'll like them as much as we did! And we bet you'll be happy to know that each tasty morsel comes with less than 50 calories and 2 grams of net carbs. Super!
Ingredients
| | |
| --- | --- |
| Large Zucchini | 3 |
| Cauliflower Florets | 200 g |
| Extra Virgin Olive Oil | 2 tbsp |
| Garlic Cloves | 1 |
| Small Shallots | 1 |
| Shiitake Mushrooms | 160 g |
| Chopped Basil | 2 tbsp |
| Walnuts (or cashews) | 25 g |
Step 1
Trim off the ends of the zucchini and cut 5cm (2 inches)-thick slices.
Then, scoop out the pulp with a teaspoon, leaving about 0.5 cm (1/4 inches) of flesh on the sides and base.
Save one-third of the zucchini pulp and chop it into small bits as you'll need it later for the filling.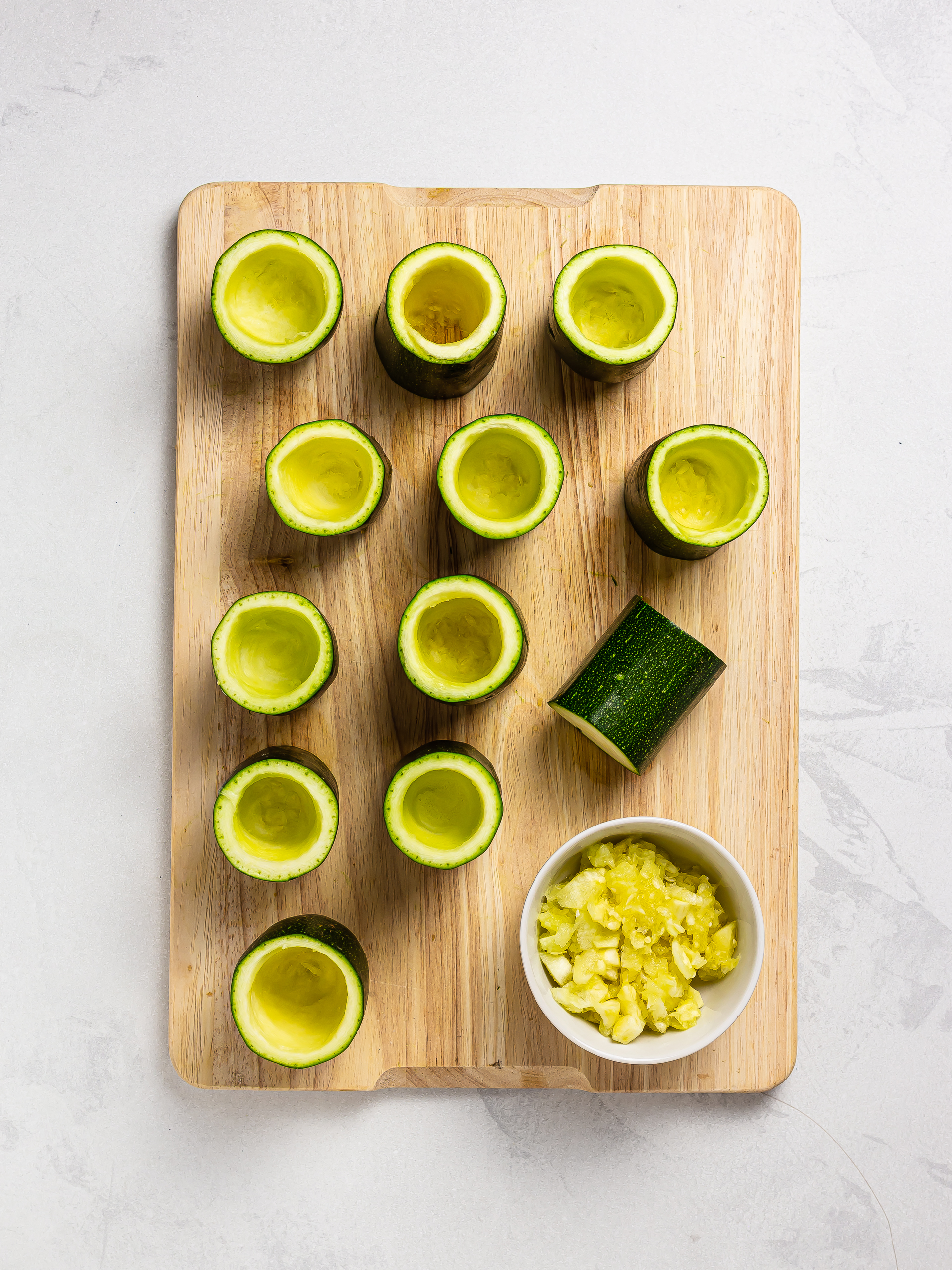 Step 2
Grate cauliflower florets with the large side of a box grater or blitz them in a food processor into small bits, pulsing them in short bursts (1).
Next, heat 1 tbsp of oil in a skillet with minced garlic and sizzle for a minute.
Then, stir in the prepared cauliflower "rice" and fry it for 5 minutes over high heat, stirring it occasionally (2).
Season with salt and pepper to taste and set it aside.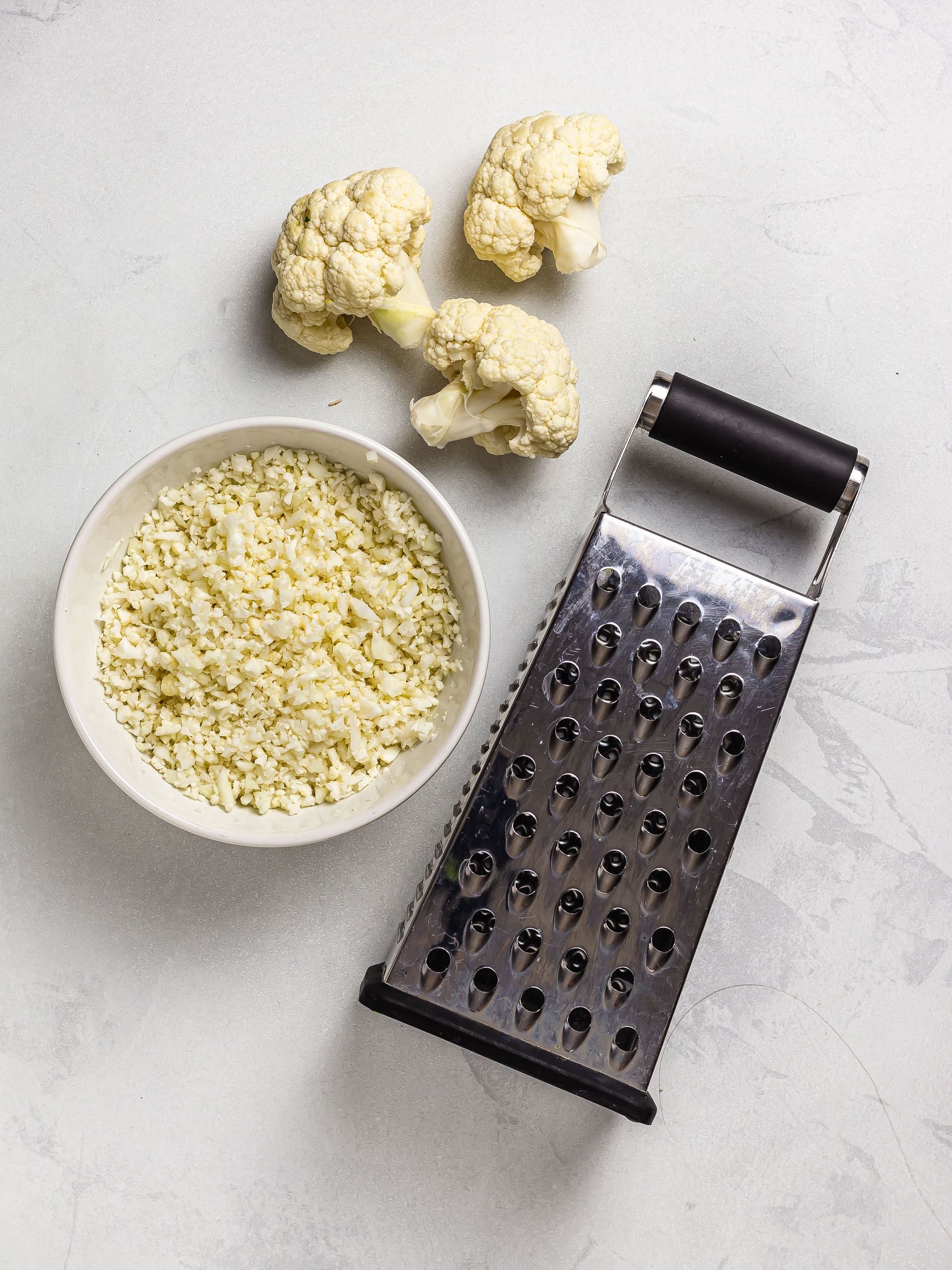 1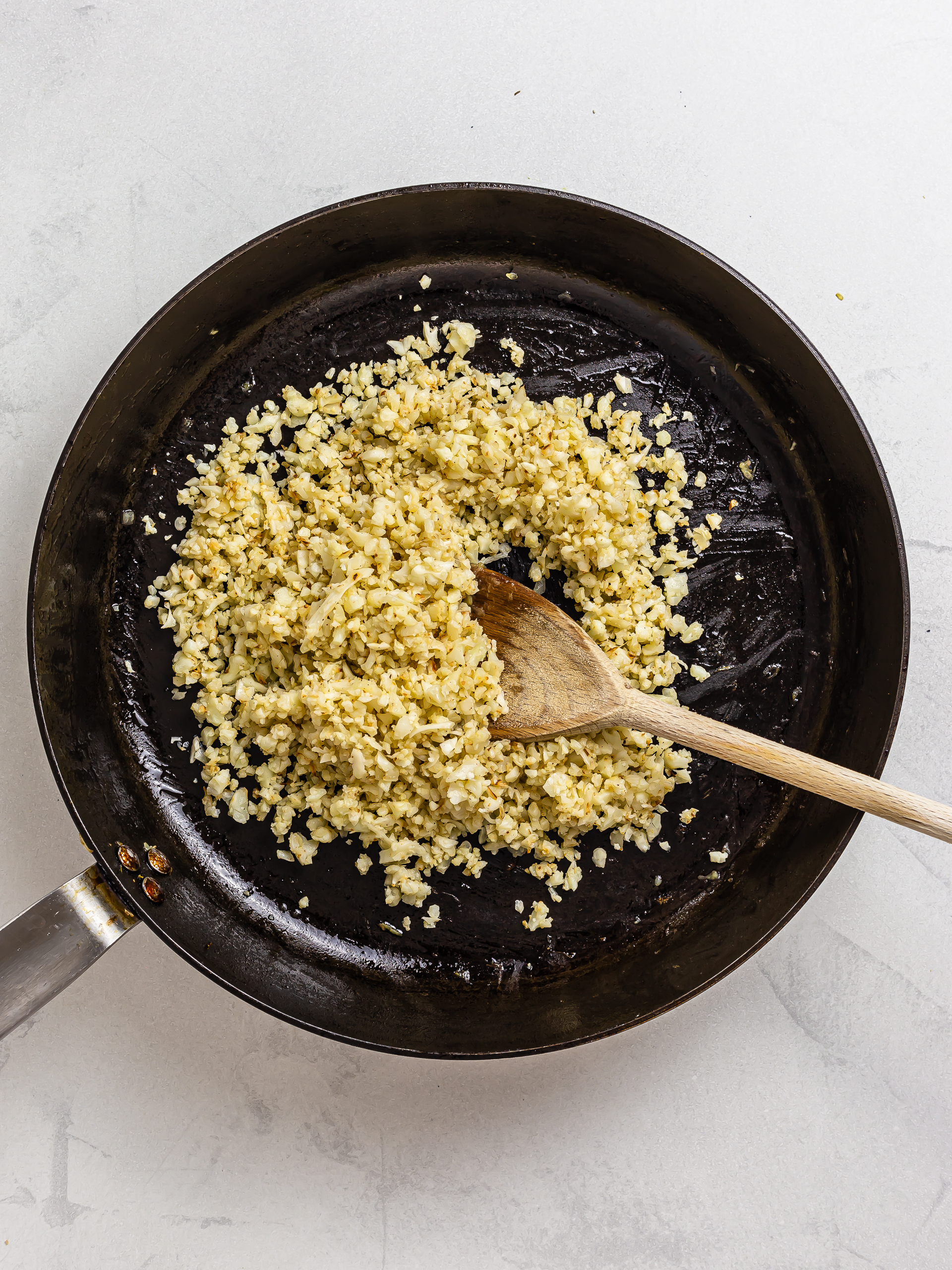 2
Step 3
In a clean skillet, sizzle the remaining 1 tbsp of olive oil with finely chopped shallots.
Add thinly chopped shiitake mushrooms and the zucchini pulp you saved earlier.
Season with salt and pepper to taste and cook for 5-10 minutes until all the water has evaporated.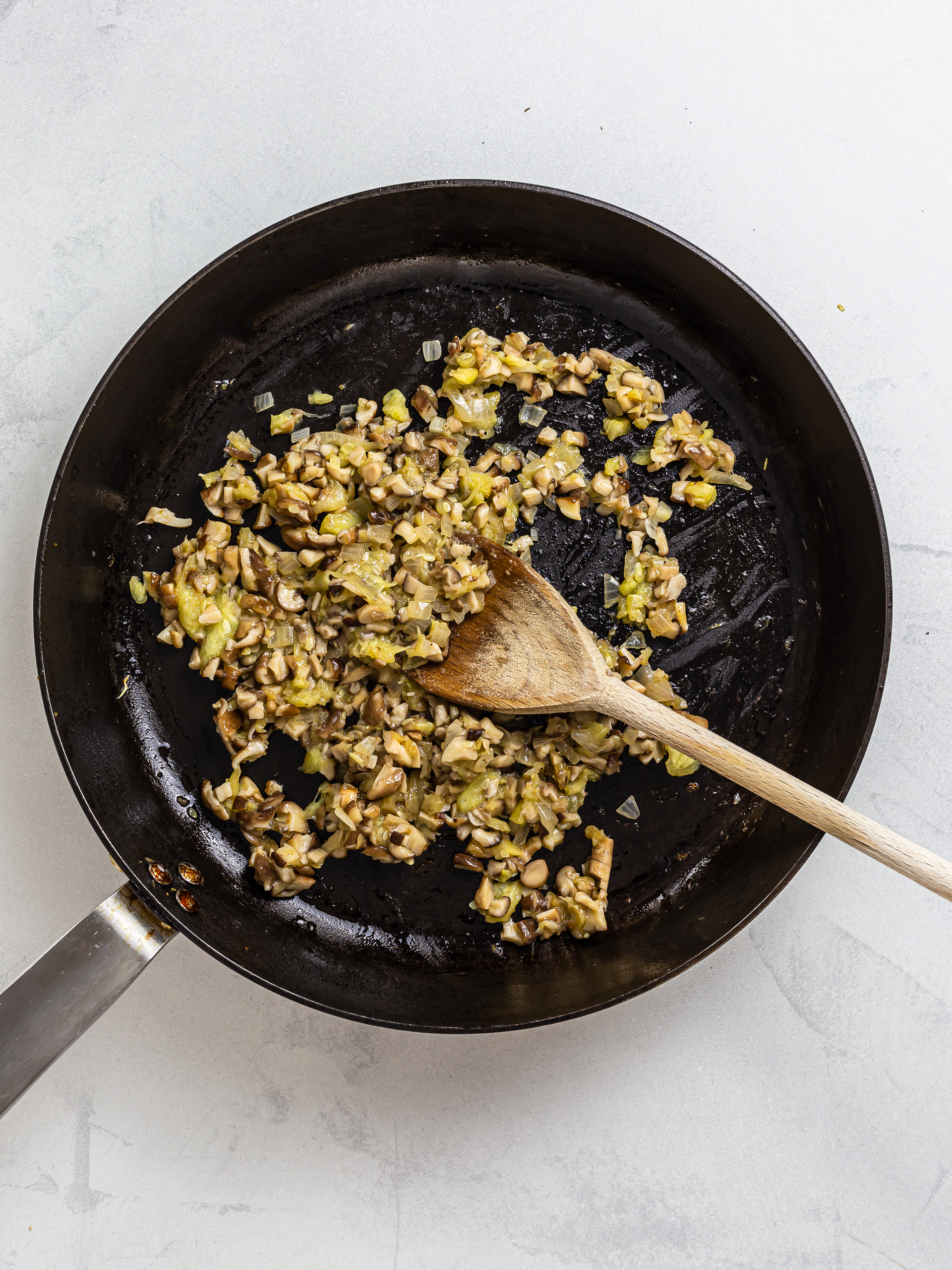 Step 4
Combine the mushroom zucchini mix with the cauliflower rice and chopped basil in a bowl.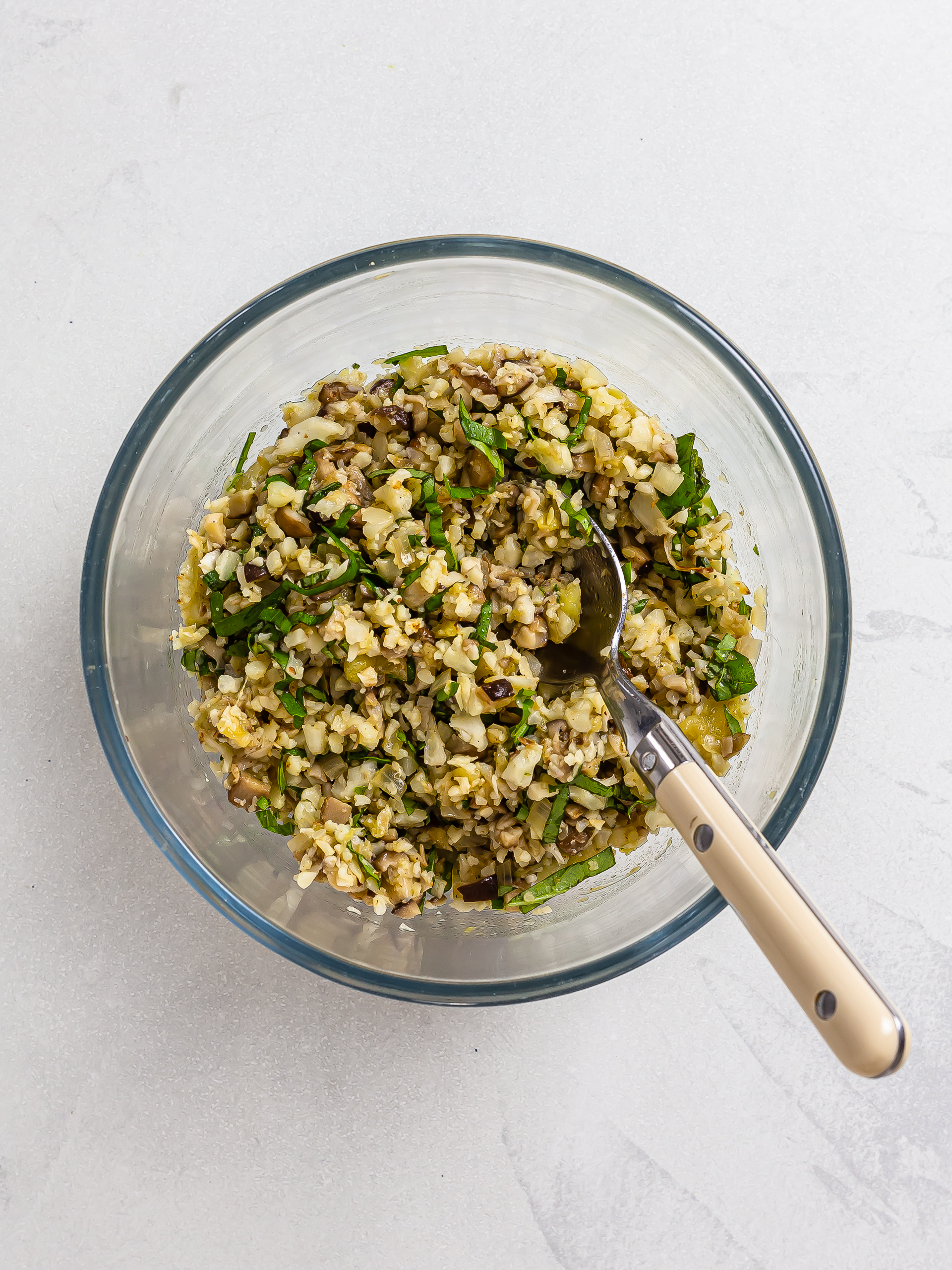 Step 5
Place the prepared zucchini cups on a greased baking tray and season them with salt and pepper.
Then, use a teaspoon to stuff them with the mushroom mix, filling them to the brim.
Garnish with chopped walnuts or cashews for a crunchy finish.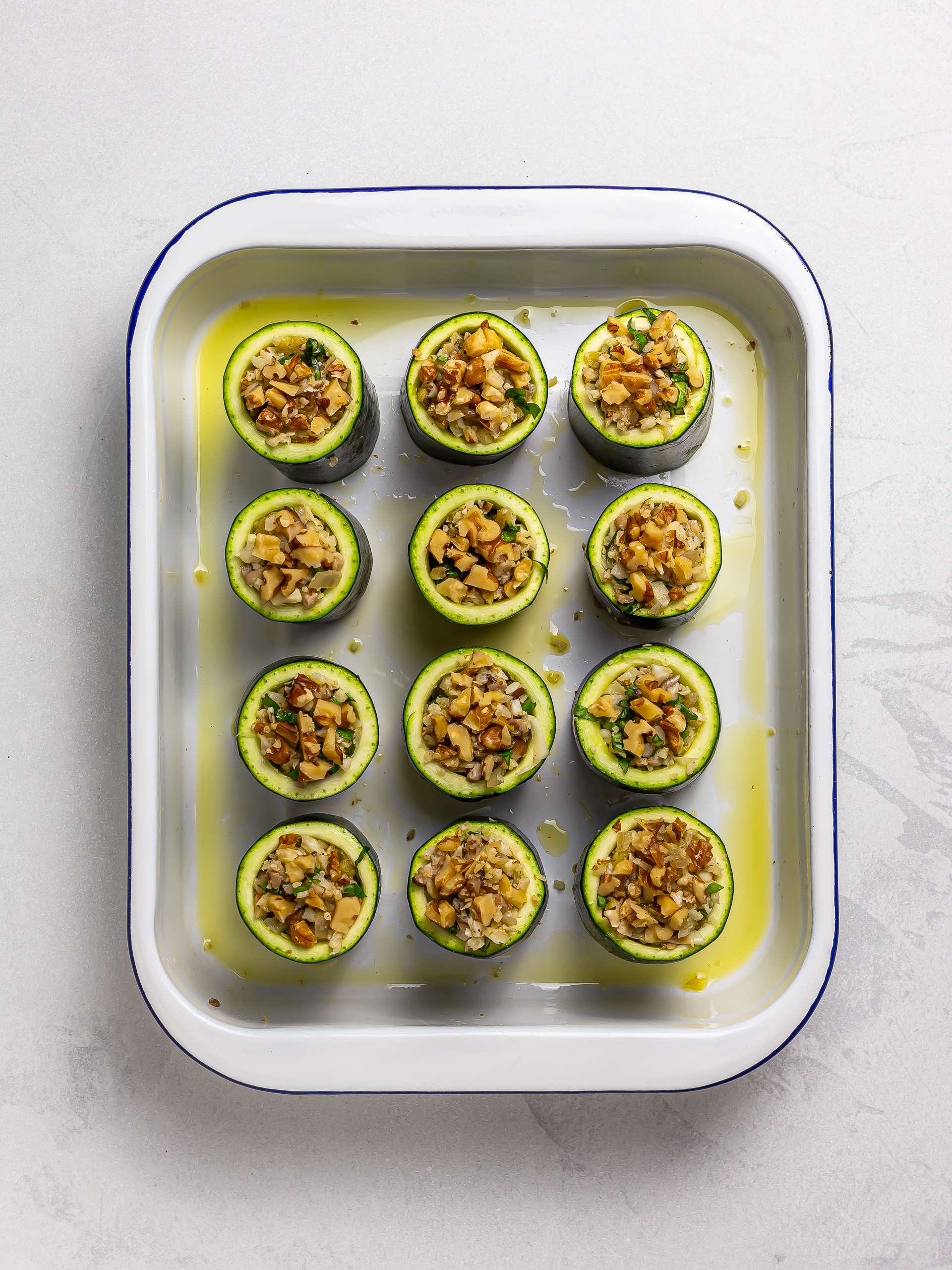 Step 6
Bake them at 180°C (355°F) for 35-40 minutes until the zucchini cups are soft and cooked through, and the nuts are crunchy.
Enjoy your vegan low-carb stuffed zucchini cups hot or cold, as a starter or a side.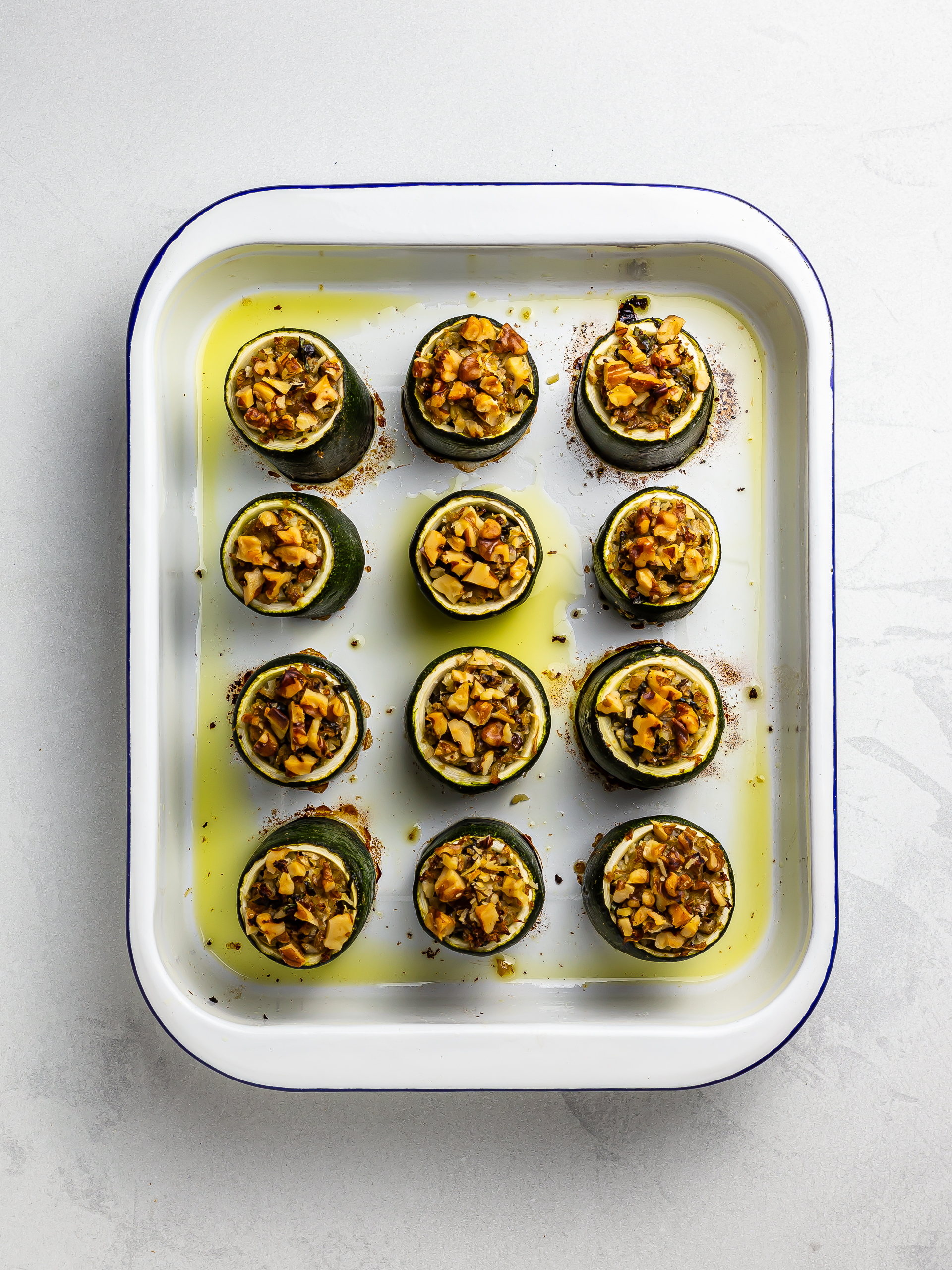 Tips
You can swap fresh basil with other aromatic herbs like thyme or mint.
Watch on Youtube