Inspired by the classic Greek manitaropita recipe, this delicious savoury pie combines a crunchy crust of filo pastry with a tasty mushroom filling. Dairy-free and vegan, it's the perfect recipe to prepare for a big family gathering. It will make everyone happy!
Manitaropita literally translates into mushroom (μανιτάρι, manitári) pie (πίτα, píta). It's a traditional recipe that belongs to Macedonian cuisine in northern Greece. As the name says, it's a phyllo pastry pie stuffed with sautèed mushroom and crumbled feta. Caramelised onions and fresh herbs like thyme and mint complement the dish with sweet and fragrant notes.
In our cheese-free version, we kept all the classic ingredients but swapped feta with firm tofu. Tofu is high in proteins, low in fats, and can be easily crumbled just like feta, making the perfect vegan replacement. In addition, we briefly seared tofu cubes with olive oil, garlic, and seasoning before adding them to mushrooms for extra flavour.
Filo pastry is a versatile ingredient, and just like puff pastry, it can be used in sweet or savoury recipes. But unlike puff pastry, it's naturally vegan and low-fat, prepared with just flour and water. For this Greek pie, we'll show you how to layer the filo sheets and how to give the pie a fancy ruffled look.
What's great about this recipe is that you can even prepare it ahead of time, perfect if you have guests over. And if you have any pie leftovers, just pack them in the fridge and reheat them in the oven the next day. The pastry will still be nice and crunchy!
A big slice of this vegan manitaropita has only 200 calories, yet it provides 10g of proteins, covering over 20% RDI of this nutrient, and covers two of your five a day. Awesome!
Ingredients
| | |
| --- | --- |
| Firm Tofu | 300 g |
| Extra Virgin Olive Oil | 2 tbsp |
| Garlic Cloves | 2 |
| Medium Red Onions | 2 |
| Mushrooms (portobello) | 400 g |
| Paprika | 2 tsp |
| Fresh Mint (chopped) | 2 tbsp |
| Fresh Thyme (chopped) | 2 tbsp |
| Filo Pastry Sheets | 10 |
| Vegetable Oil (for greasing) | to taste |
Step 1
Remove the tofu block from its packaging, rinse it under cold water, and squeeze it well to remove excess water.
Then, pat it dry with kitchen paper and dice it into bite-sized cubes.
Next, sizzle crushed garlic with 1 tbsp of oil in a skillet until fragrant, add in the prepared tofu, and season it with salt and pepper.
Cook the tofu for 5-8 minutes until it's nicely seared, remove it from the pan, and set it aside.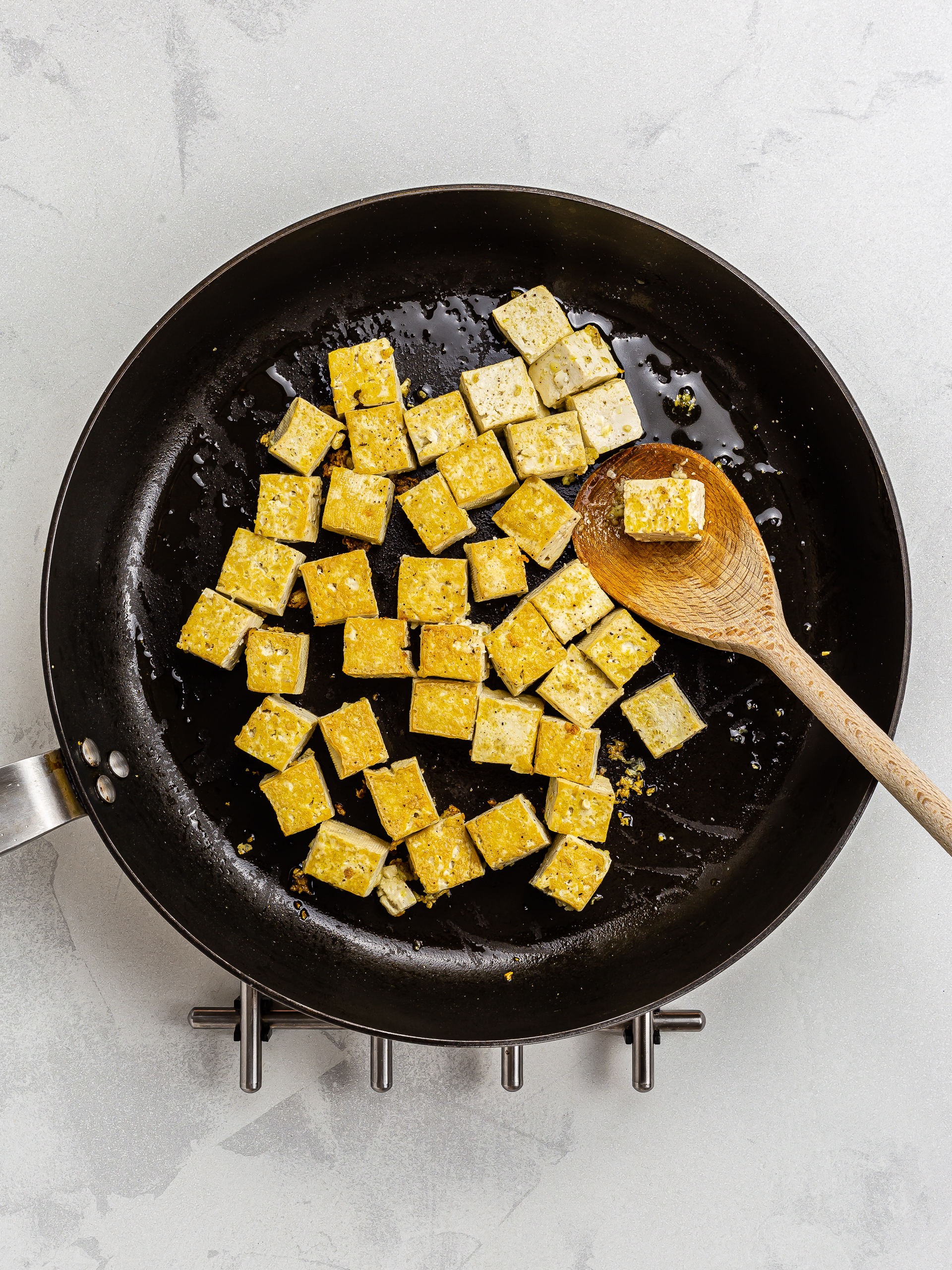 Step 2
In the same skillet, heat the remaining 1 tbsp of olive oil and add in finely diced onions.
Sauteé for 10 minutes until the onions are soft and caramelised (1).
Then, add chopped mushrooms, paprika, mint and thyme.
Season with salt and pepper and cook all for 15 minutes until all the liquids have reduced (2).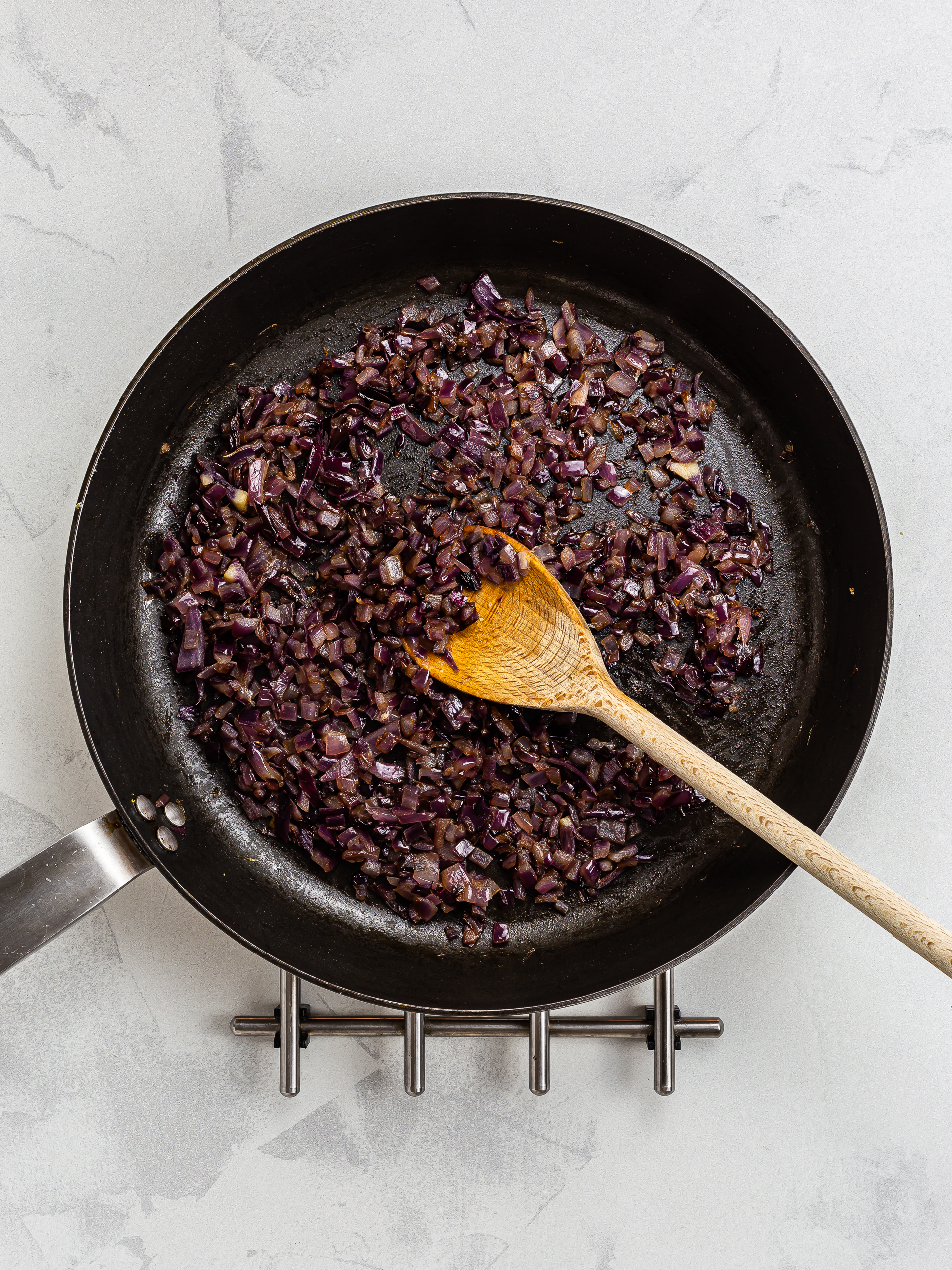 1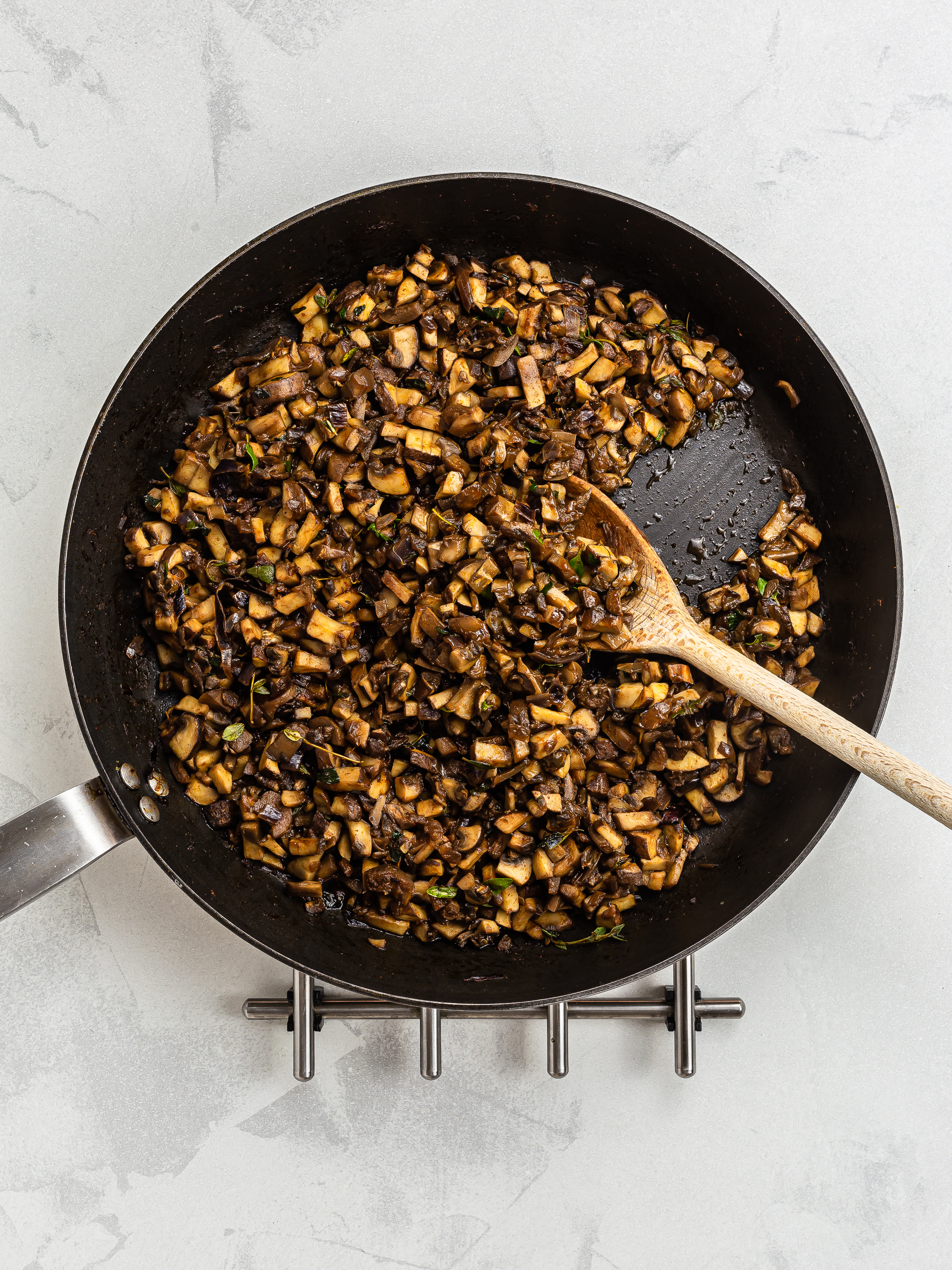 2
Step 3
Remove the pan from the heat and add in the seared tofu cubes crumbling them with your fingers.
Then, stir well and set the filling aside while you prepare the pastry.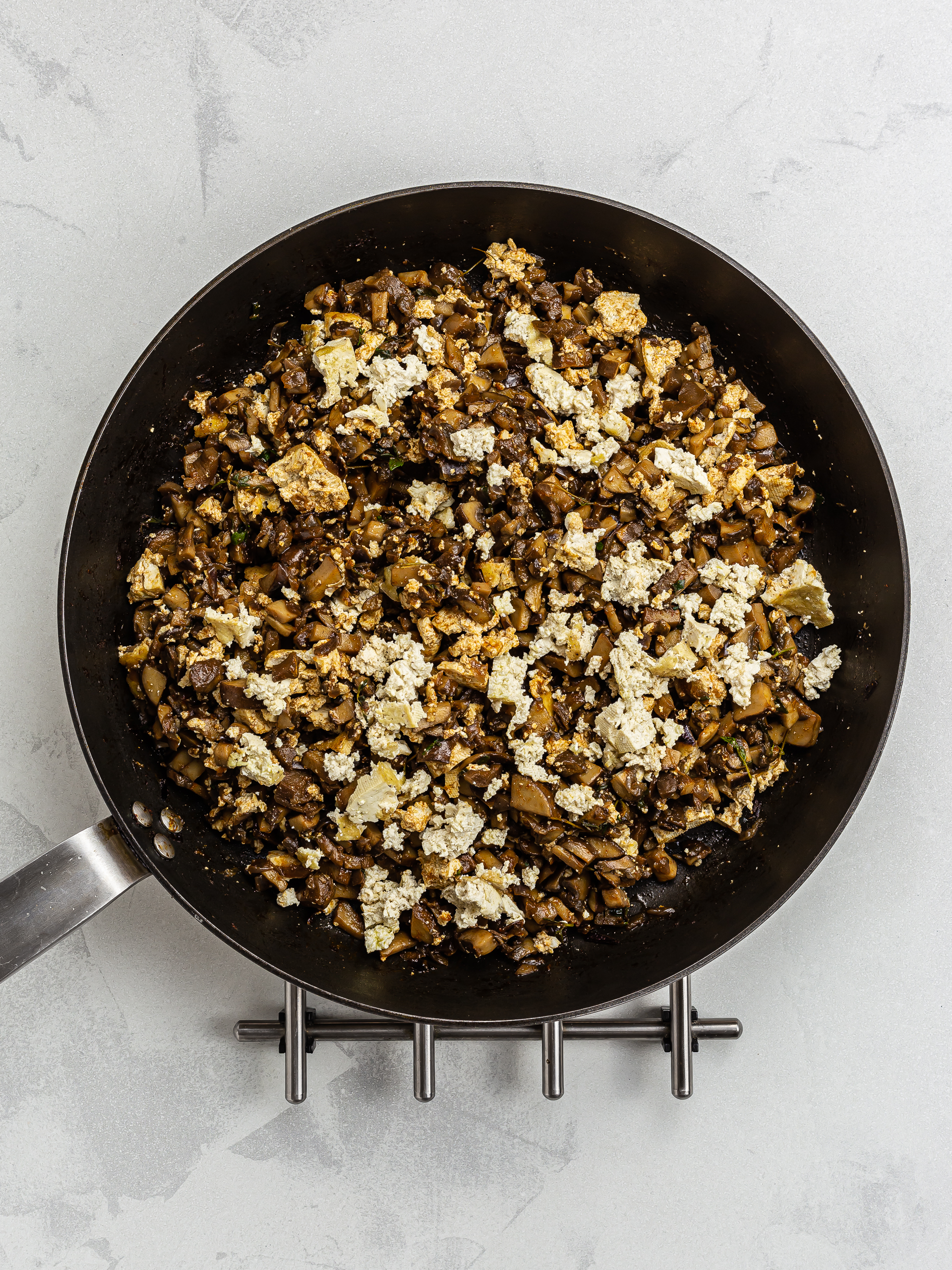 Step 4
Now, let's assemble the pie.
We recommend using a springform cake tin, as it will make it easier to remove the pie once baked.
Set the oven to 170°C (340°F) and grease the tin with vegetable oil. Unroll the filo pastry, take one sheet, and brush it thoroughly with oil. Cover the other sheets under a damp cloth to prevent them from drying out.
Now, line the bottom of the tin with the greased pastry sheet, laying it so that the edges hang over the sides of the tin.
Then, repeat the greasing and lining with another sheet, this time laying it perpendicular to the first.
Repeat with two more sheets, placing them like an X, and finish off with one more sheet horizontally.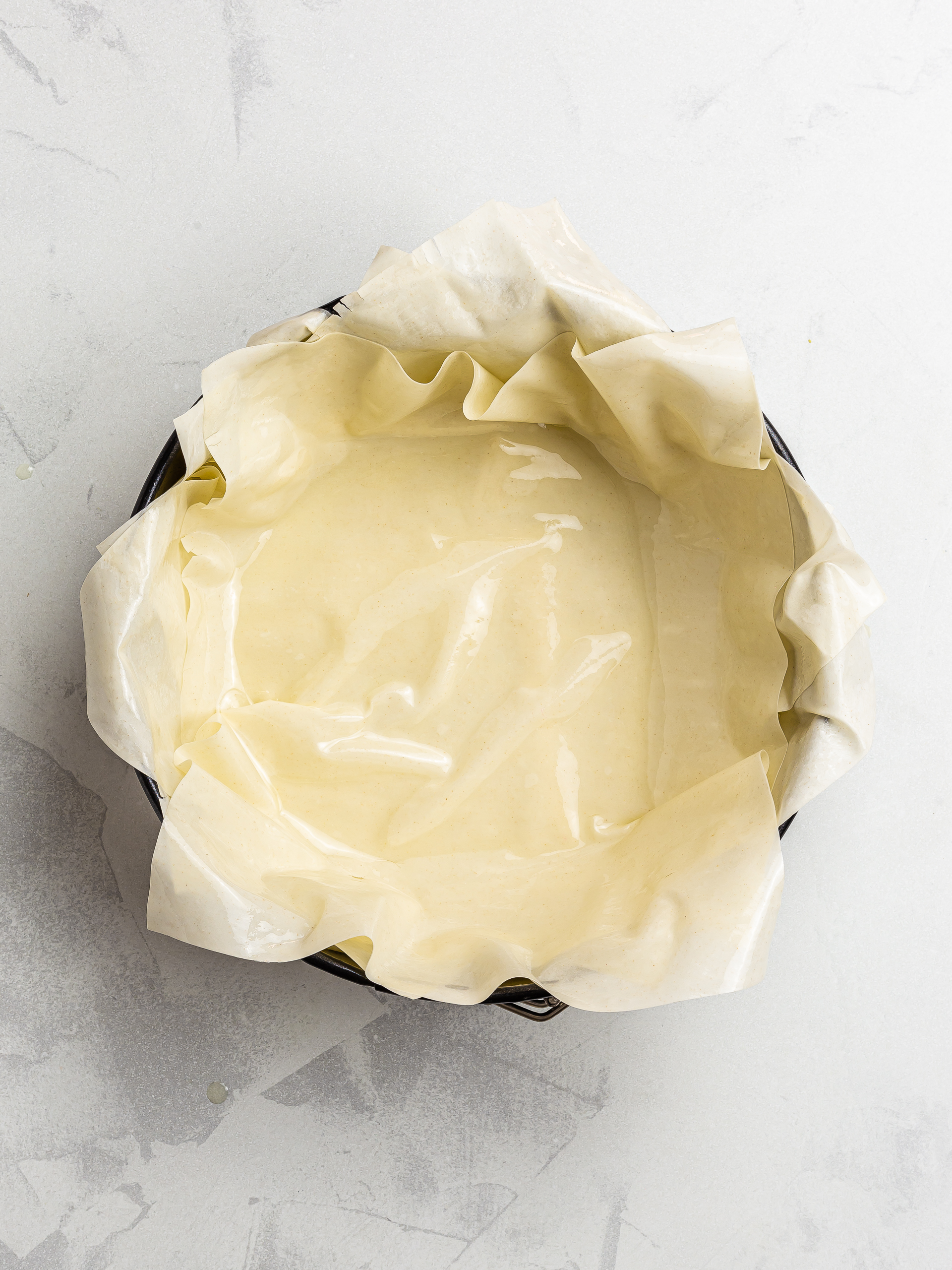 Step 5
Next, spoon the mushroom tofu filling into the lined tin and flatten it down so there are no air pockets.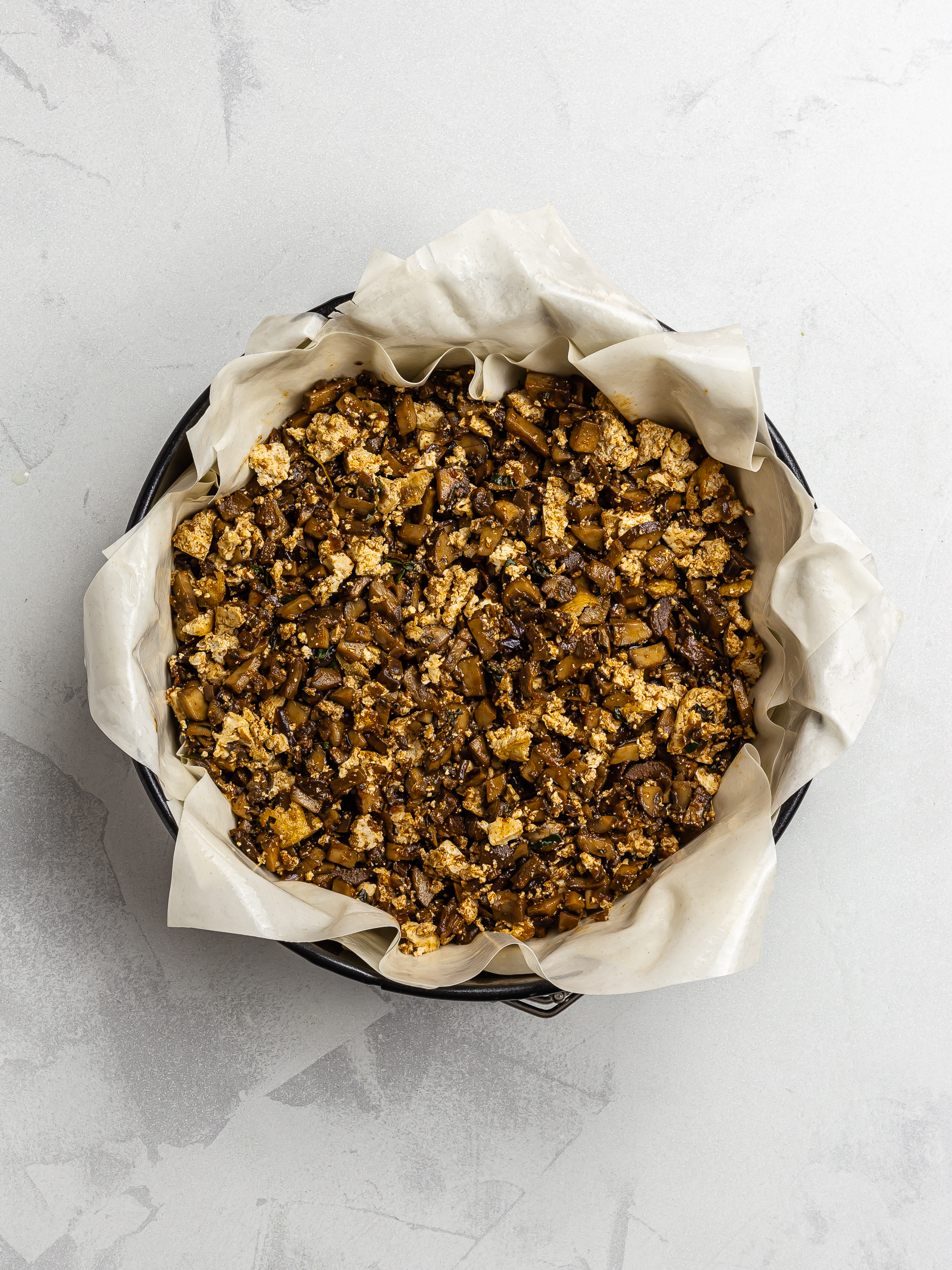 Step 6
Now, cover the filling with two more sheets of oiled pastry, laying them perpendicular to each other.
Grease the remaining three sheets and crumple them, as one would do with a sheet of paper. Then, arrange them onto the lined pie covering the entire surface.
Fold the overhanging sheets inward, crumpling them slightly.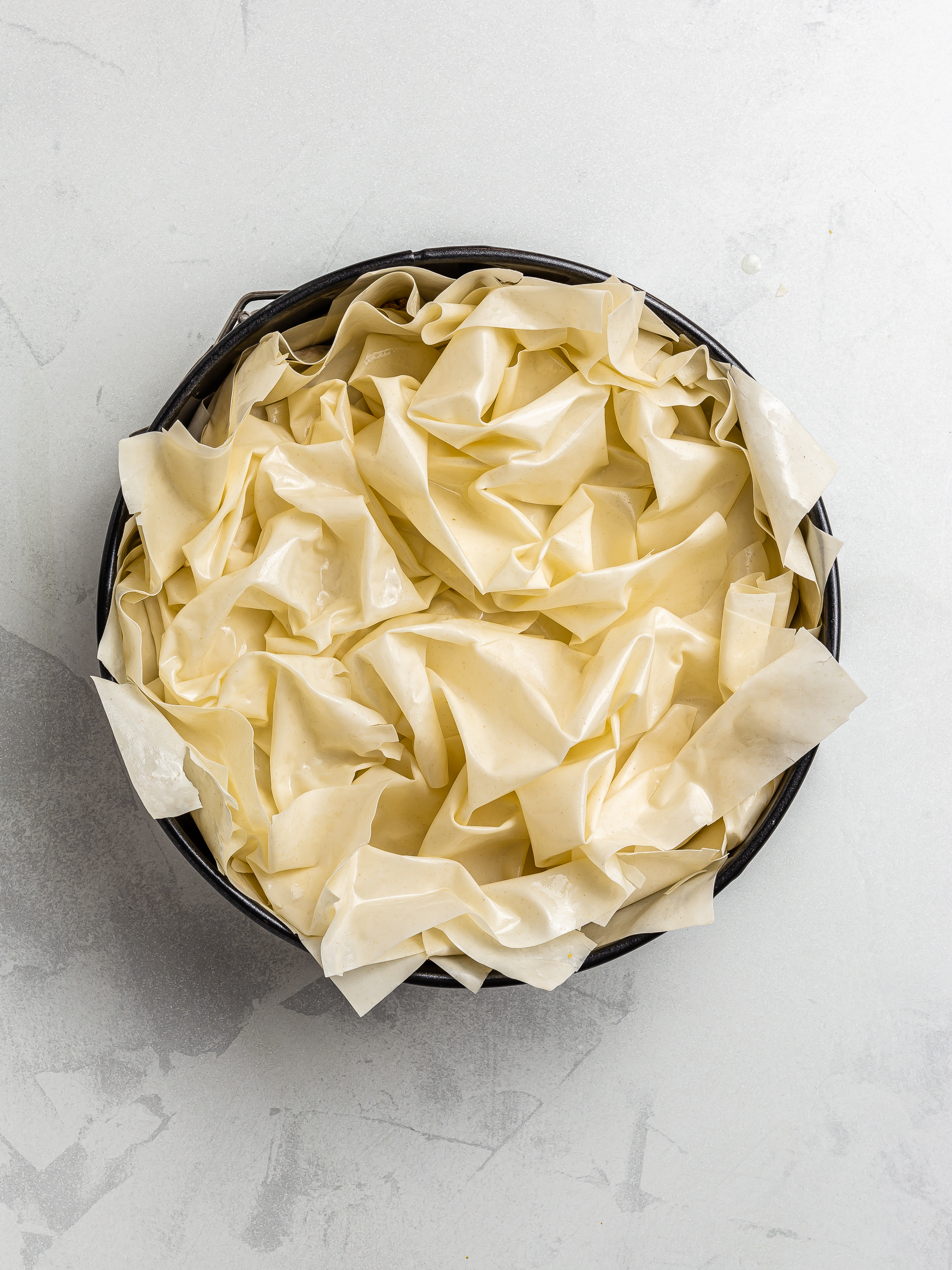 Step 7
Finally, bake the filo pie for 35 minutes or until the pastry is golden brown.
You can cover the pie with foil towards the end of cooking time if the pastry turns too brown.
Once ready, sprinkle the mushroom pie with fresh thyme, slice it, and enjoy it warm.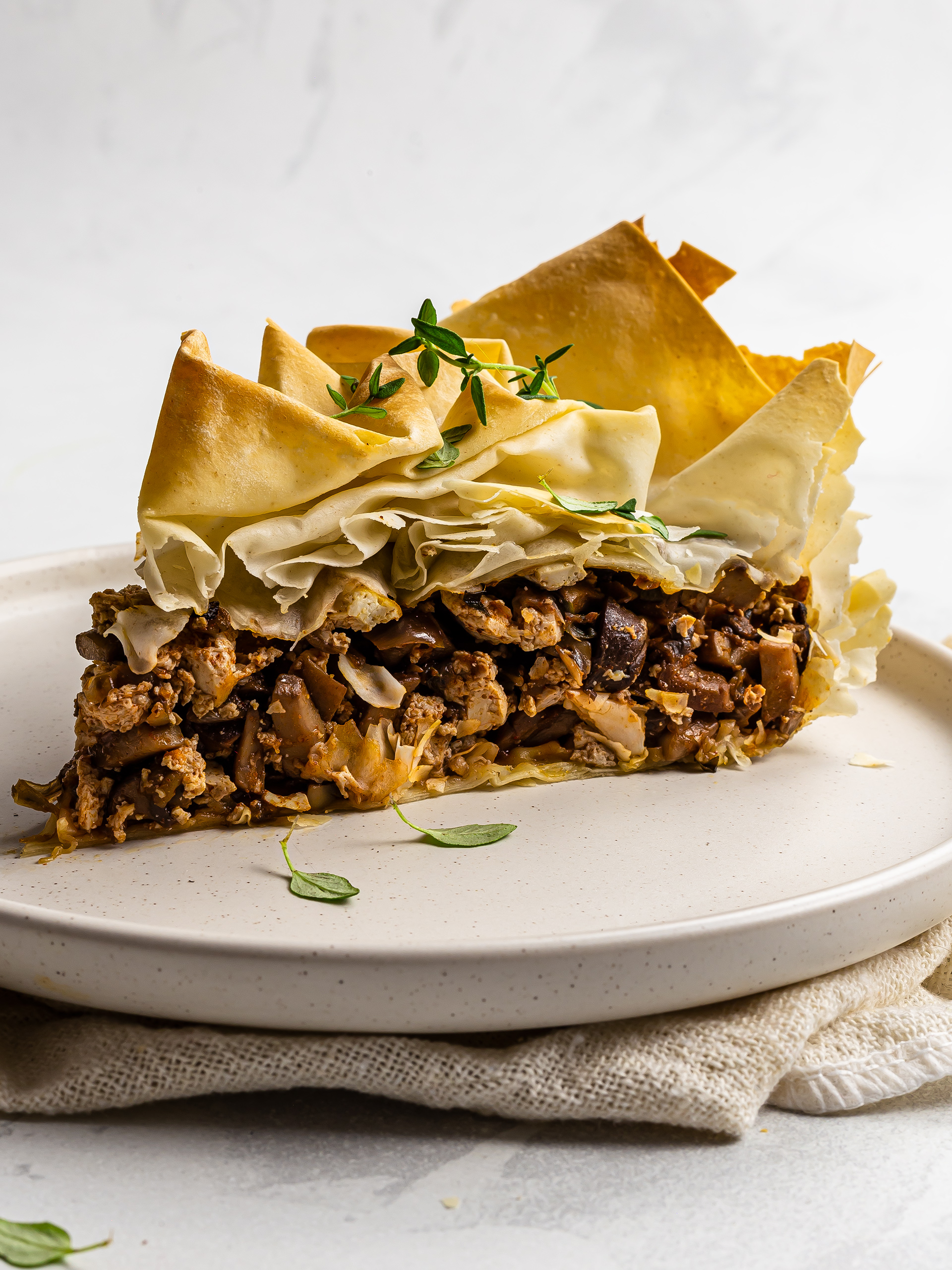 Tips
You can add chopped tomatoes and olives to the filling for extra flavour.