This vegan mille-feuille is a delicious dessert recipe, perfect for impressing your guests on a special occasion. You'll only need a few simple ingredients: puff pastry, creme patisserie, and berries. That's it!
Not only it's super easy to make, but you won't believe it's also vegan and gluten-free.
We have replaced classic all-butter puff pastry, with a gluten-free and vegan pastry sheet. Nowadays, you can find it easily at your local supermarket, and it makes a huge difference in terms of calories and fats.
As a low-calorie alternative to the classic creme patisserie, we have used our homemade eggless almond cream. It's also refined sugar-free, prepared with just honey. If you're strictly vegan, replace honey with maple syrup, and you'll get the same delicious result.
If you liked this recipe, make sure to subscribe to our newsletter, and you'll get our newest recipes sent right into your inbox every week, plus our free ebook!
Frequently Asked Questions
Is Mille-Feuille Gluten-Free?

Our Mille-Feuille recipe above is gluten-free, but the classic one is likely not. Let's take a closer look at the ingredients to understand how to make sure this pastry is gluten-free.

The ingredients used in the classic recipe are puff pastry, some form of cream, sugar and various berries. As you can see, the two components that could likely contain gluten are the puff pastry and the double cream.

Double cream made from cow milk is pretty much guaranteed to be gluten-free. In our recipe, we used a homemade almond cream which is not only vegan but also gluten-free. So far, so good. A word of advice, though. Some double creams add glutenous starch and flour for flavour and consistency. They aren't as standard, but make sure you don't use one of those.

Puff pastry is likely to be the problem. Most recipes out there and the majority of patisseries use classic puff pastry made with butter and wheat flour. Luckily it is easy nowadays to find puff pastry made without gluten, even at non-specialised stores. We have used one with a mixture of rice flour and buckwheat flour, both gluten-free. Moreover, the one we selected is also dairy-free and egg-free, making it vegan as well.

So to conclude, if you are making Mille-Feuille at home and you are intolerant to gluten follow our recipe above. If you are getting it in a store, know that is likely not gluten-free, and you should enquire before buying it.
Mille-Feuille vs Napoleon Pastry

Mille-Feuille and Napoleon pastry are quite similar. Some people even consider them to be the same. Let's take a further look!

First of all, what does Mille-Feuille mean? The answer is in the simple translation of the name from French to English: A Thousand Sheets. Crispy sheets of puff pastry interleaved with cream bring a delicate contrast of crispiness and softness.

Napoleon pastry has an identical structure to Mille-Feuille, hence why many use the terms interchangeably. But are they the same? Online sources differ on the origin and definition of this delicacy. Some attribute the pastry to French and Russia, while others ascribe it to Italian chefs from the city of Naples.

Due to the lack of precise sources, we ended up observing the differences in methodology and ingredients used by online publications and aggregated the results to form a conclusion. So geeky!

Because the two pastries are very similar and the Mille-Feuille is without a doubt French, we followed the France/Russia theory presented above.

We found two often-mentioned styles of Napolean pastry: French Napoleon and Russian Napoleon.

When googling "French Napoleon pastry", most results yielded recipes that are equivalent to the classic Mille Feuille. The one little difference is that Mille-Feuille recipes use berries more often than Napoleons'.

When searching for "Russian Napoleon pastry" instead, we got more diverse results. It is taller than the Mille-Feuille and often comes in the shape of a rounded cake, instead of a square. Although the main ingredients are mostly the same, the methodology differs. The Russian 'Mille-Feuille' uses more puff sheets and more cream, which results in a taller stack and a softer core. Moreover, most Russian Napoleon recipes don't add berries between the layers, contrary to the French Mille-Feuille.

There we have it then. Mille-Feuille and French Napoleon pastry are almost the same, with the latter often using fewer berries. The Russian Napoleon pastry/cake instead has more layers, fewer to no berries, more cream and it's softer inside.
How many calories in mille-feuille?

Classic mille-feuille is a high-calorie dessert that you should enjoy with moderation on special occasions. But we have made it lighter by using healthier ingredients. Let's see how!

The classic recipe is prepared with all-butter puff pastry and creme patisserie, which contains eggs, sugar, milk, and sometimes double cream.

A serving can have as much as 600 calories and provide about 20g of saturated fats, covering almost all the saturated fats allowed in a day.

Now let's take a look at our recipe.

One serving of our mille-feuille has 390 calories and 7g of saturated fats - which covers 37% of your recommended daily intake (RDI).

Not only it's lower in calories and fats, but it's also vegan and gluten-free.

We have used vegan puff pastry which has fewer calories as it uses vegetable oils. Unlike butter, these oils are lower in fats and saturated fats, making a healthier alternative.

For the creme patisserie, we have used this eggless almond cream. This pastry filling includes just almond milk, unrefined sweetener (like honey or maple), and little starch as a thickener. Therefore, sugar and fat content is much lower than the classic filling.

Although still higher in calories and fats than other desserts, by tweaking its ingredients we have made this mille-feuille less caloric and suitable for special diets.

Did you know you can filter our recipes according to diet, calories, and nutrients? We have an easy-to-use Smart Search tool for you. Make sure to check it out!
Can you make mille-feuille in advance?

You can prepare this dessert in advance and eat in within a few days. But we encourage you to have it the same day if possible.

The best thing about mille-feuille for us is the contrast between crunchy puff pastry and soft cream. If you leave the dessert overnight or for a few days in the fridge, the cream will soak the puff pastry and turn it soggy. By all means, you can still eat this, as long as you don't wait long enough for the cream to spoil. But we recommend you enjoy it on the go or by the end of day at most.

Do you still want to make this ahead? The ingredients we selected for our recipe maximize the number of days you can keep the pastry in the fridge.

Foods containing dairy products or eggs don't keep well in the fridge as much as plant-based ones. We have used a homemade vegan almond cream instead of the classic double cream. Moreover, the puff pastry we used doesn't have any butter either, and there are no eggs in this recipe. Therefore, you can store this dessert in the fridge for up to 5 days at most, compared to 3 days for a classic mille-feuille.
Ingredients
Gluten Free Puff Pastry

320 g

Icing Sugar

to taste

Almond Cream

recipe

500 g

Blueberries

160 g

Raspberries

160 g
Step 1
Prepare the almond cream first as you'll need time to cool it down before filling the mille-feuille. Find our easy recipe for almond pastry cream with honey here. If you're strictly vegan, replace honey with maple syrup in the cream recipe.
Roll out the puff pastry sheet to a 3 mm thickness, the thinner, the better.
Cut it out into 15 cm x 5 cm (6 in x 2 in) rectangles with the help of a wheel cutter and transfer them onto a baking tray lined with parchment paper.
Then, poke them with a fork, making sure you pierce the pastry all the way through, and dust with little icing sugar.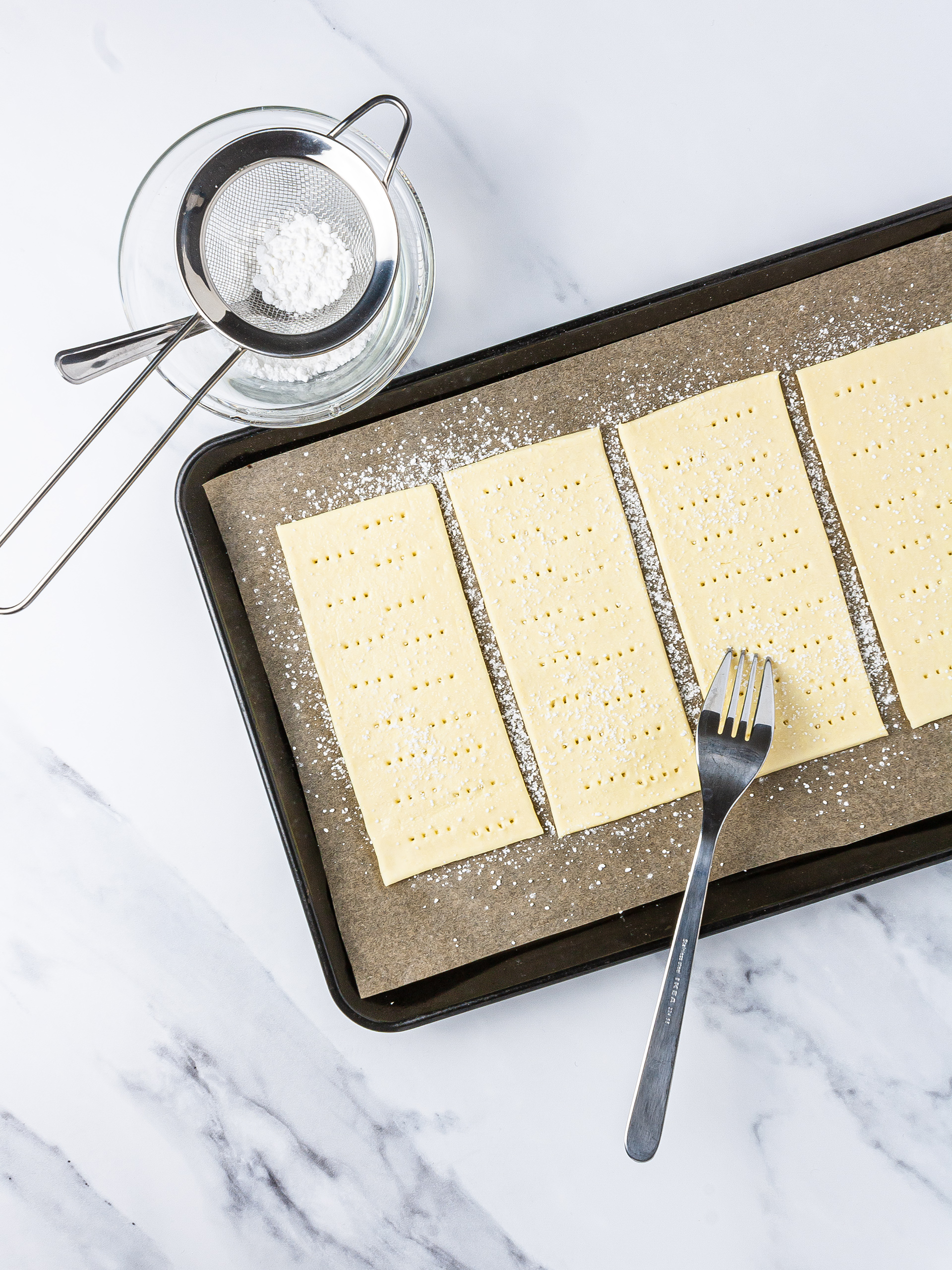 Step 2
Bake the pastry layers for 15-20 minutes at 200°C (390°F) or 180°C (355°F) for fan-operated ovens.
Make sure the pastry is evenly browned and crispy.
Then, remove from the oven and allow cooling down on a wire rack. You'll prevent the bottom of the mille-feuille from getting soggy.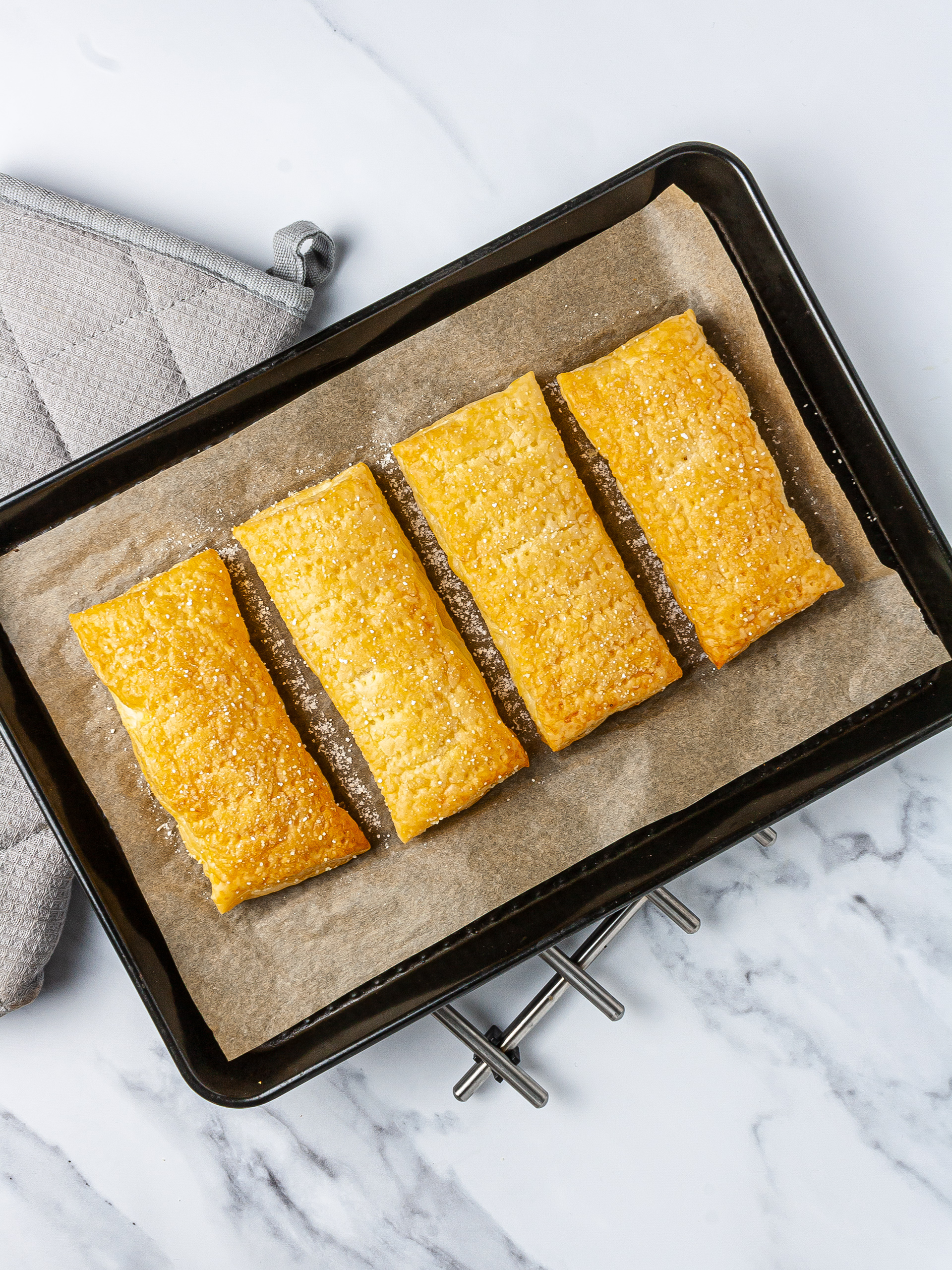 Step 3
If the baked pastry layers look unevenly sized, you can trim the edges with a sharp knife.
You'll need three layers of pastry for each mille-feuille serving.
Once the almond cream is completely cool, pipe it over one layer of pastry. You can also use a spatula to spread the almond creme patisserie. Then, sprinkle with blueberries and raspberries.
Next, top with a second layer of pastry, gently pressing it down. Pipe more almond cream and garnish with berries.
Finally, top with a third layer of baked pastry, again gently pressing it down so that it adheres to the filling below.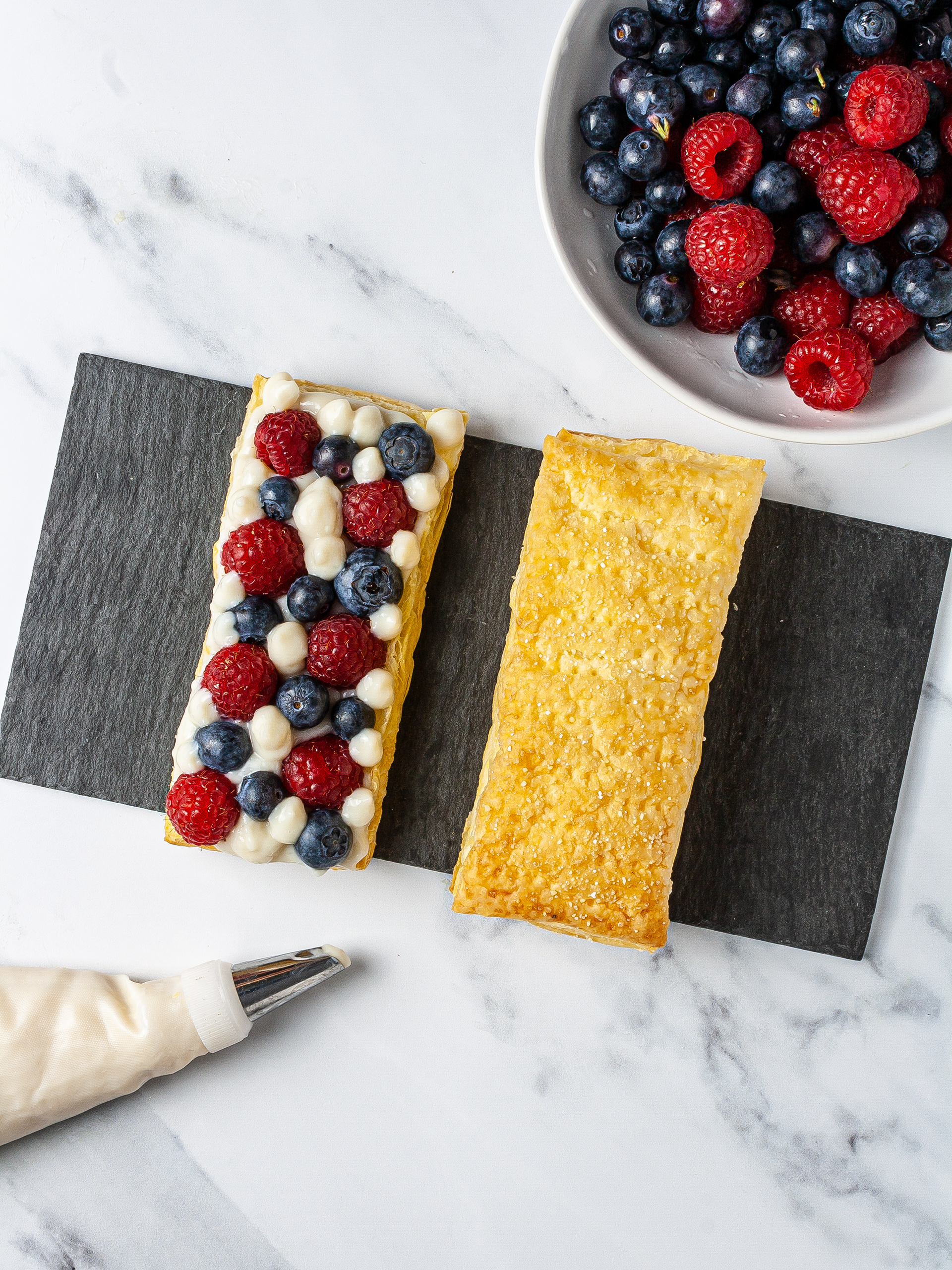 Step 4
Dust the top layer of the mille-feuille with icing sugar.
You can also garnish it with more blueberries and raspberries or with almond flakes.
Transfer each serving onto a serving dish and keep refrigerated.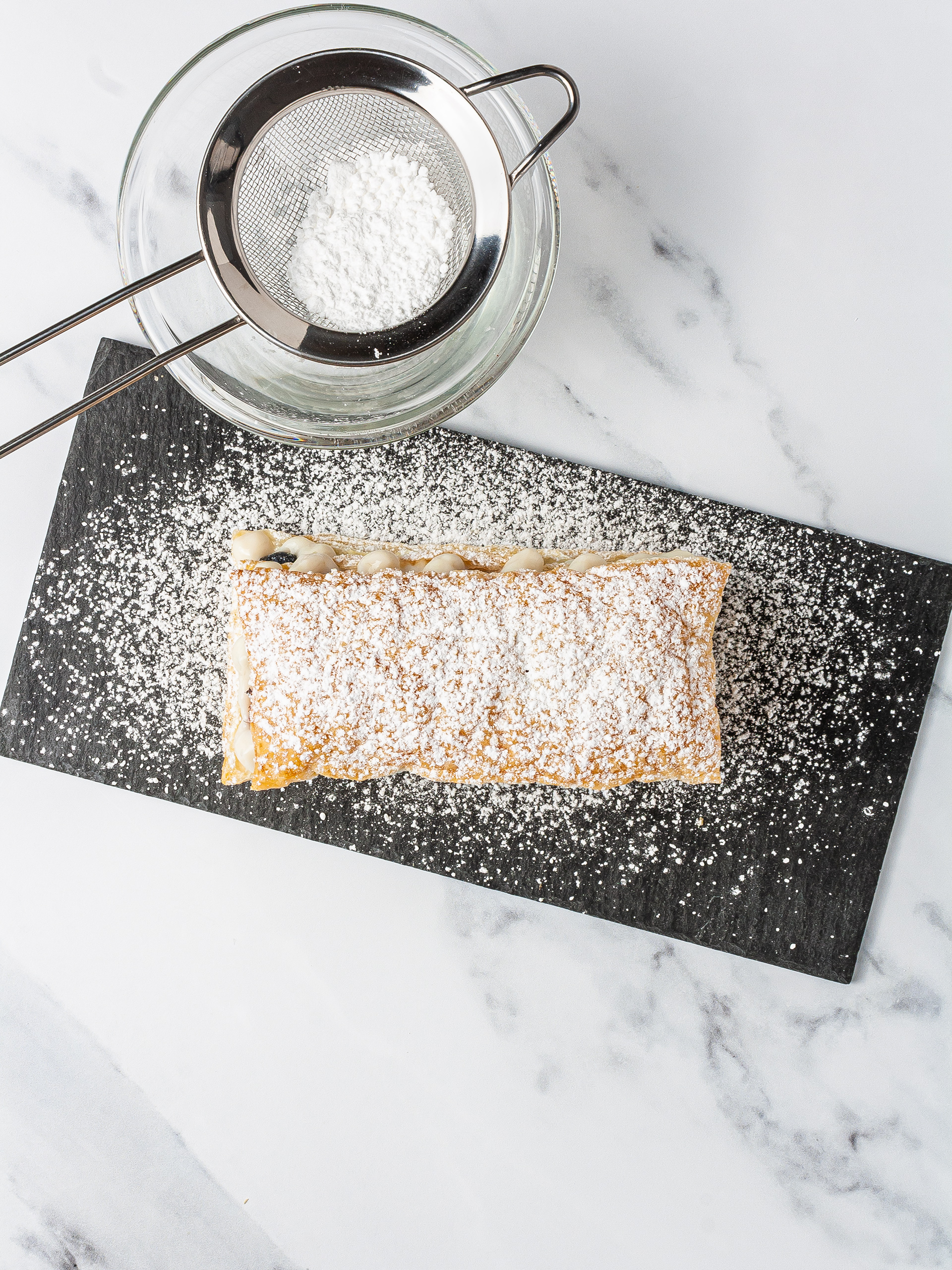 Tips
We recommend you store this vegan mille-feuille in the fridge for no more than two days. The longer it stays in the refrigerator, the soggier it will get.

Add dark chocolate chips to the almond creme patisserie for extra goodness.