This vegan mug brownie is perfect whenever you want a small treat but don't feel like baking an entire cake. Within just a few minutes, you could be digging in a fudgy and chocolaty dessert. Maximum satisfaction guaranteed!
In this recipe, we made a smaller variation of the classic "cake in a mug", where we used a small coffee cup rather than a big mug. Also, we opted for a more gooey batter consistency, similar to that of a brownie.
All you have to do is add the ingredients directly to the cup and mix them well. Sprinkle the batter with some dark chocolate chips and let the microwave do the rest for you. Your single-serving mug brownie will be ready in less than a minute. Easy!
If you're on a plant-based diet, have dairy or egg allergy, you can enjoy this sweet treat without worries as our recipe is both vegan and sugar-free. How did we do it? We swapped butter and eggs with cashew nut butter, cow milk with oat milk, and refined sugars with maple syrup. Also, we used dark chocolate chips to keep the sugars low.
Although the classic mug cake is meant to be cooked in the microwave, we'll also give you the option to bake it in the oven. This can come in handy if you don't have a microwave or if you want to bake two or more cups at the same time. Make sure you're using ceramic or stoneware mugs without prints and let them cool down in the turned-off oven for 10 minutes before taking them out.
Savour your delicious mug brownie while still warm, topped with fresh berries or toasted nuts for an indulgent treat. Time to get your cutest mugs out of the cabinet and get baking!
Ingredients
| | |
| --- | --- |
| Oat Milk | 30 mL |
| Cashew Butter | 1 tbsp |
| Maple Syrup | 2 tbsp |
| Vanilla Extract | 1/2 tsp |
| Plain Flour | 20 g |
| Cocoa Powder | 1/2 tbsp |
| Baking Powder | 1/4 tsp |
| Dark Chocolate Chips | 1 tsp |
Step 1
You'll need one small coffee cup per person; make sure it's microwave-safe.
If you want to bake the brownies in the oven, then use a thick cup made of ceramic or stoneware so it won't crack at high temperature. Also, make sure it doesn't have prints or other decorations.
For each cup, add in the oat milk, followed by the nut butter, maple syrup, and vanilla essence.
Stir until well combined.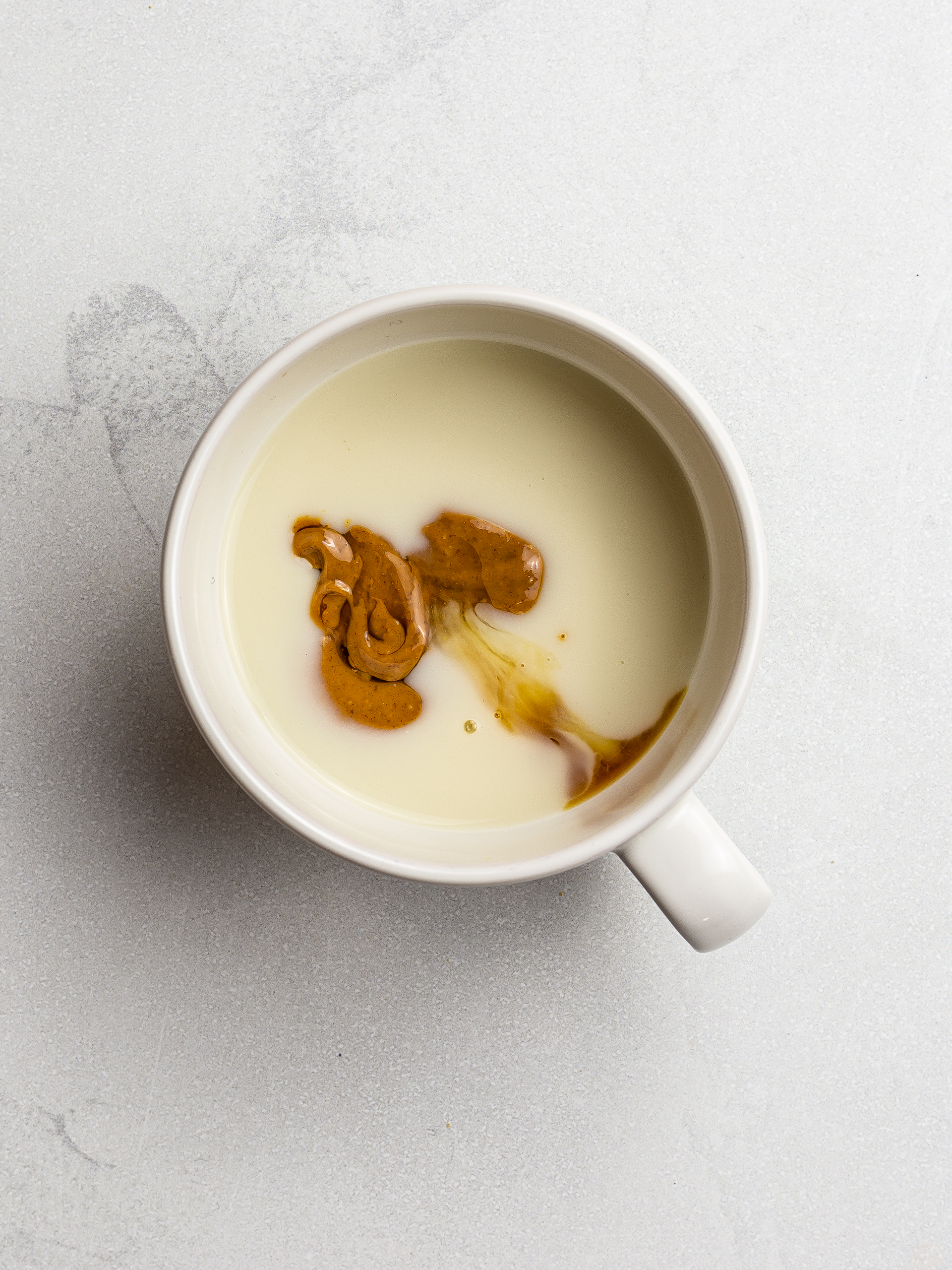 Step 2
Next, tip in the plain flour, cocoa powder, baking powder, and a pinch of salt.
Whisk well to incorporate the ingredients until you have a smooth and creamy batter.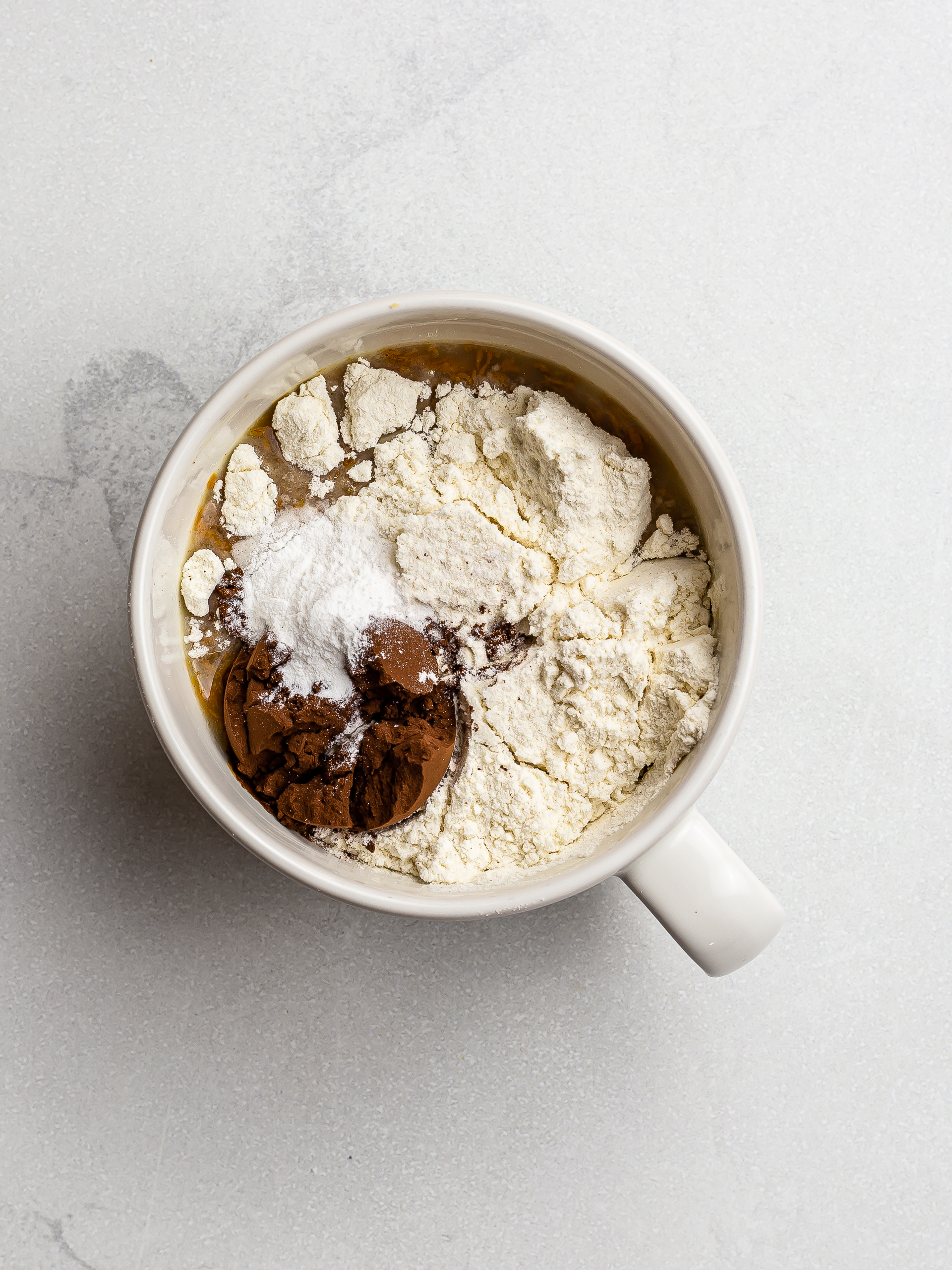 Step 3
Sprinkle the chocolate chips over the brownie batter.
Cook the mug brownie in the microwave on high for 40 seconds or until the brownie is firm to the touch.
Alternatively, place the cup on a baking tray and bake the brownie at 170°C (340°F) for 15 minutes.
As it cooks, it will puff up a bit and rise in the mug.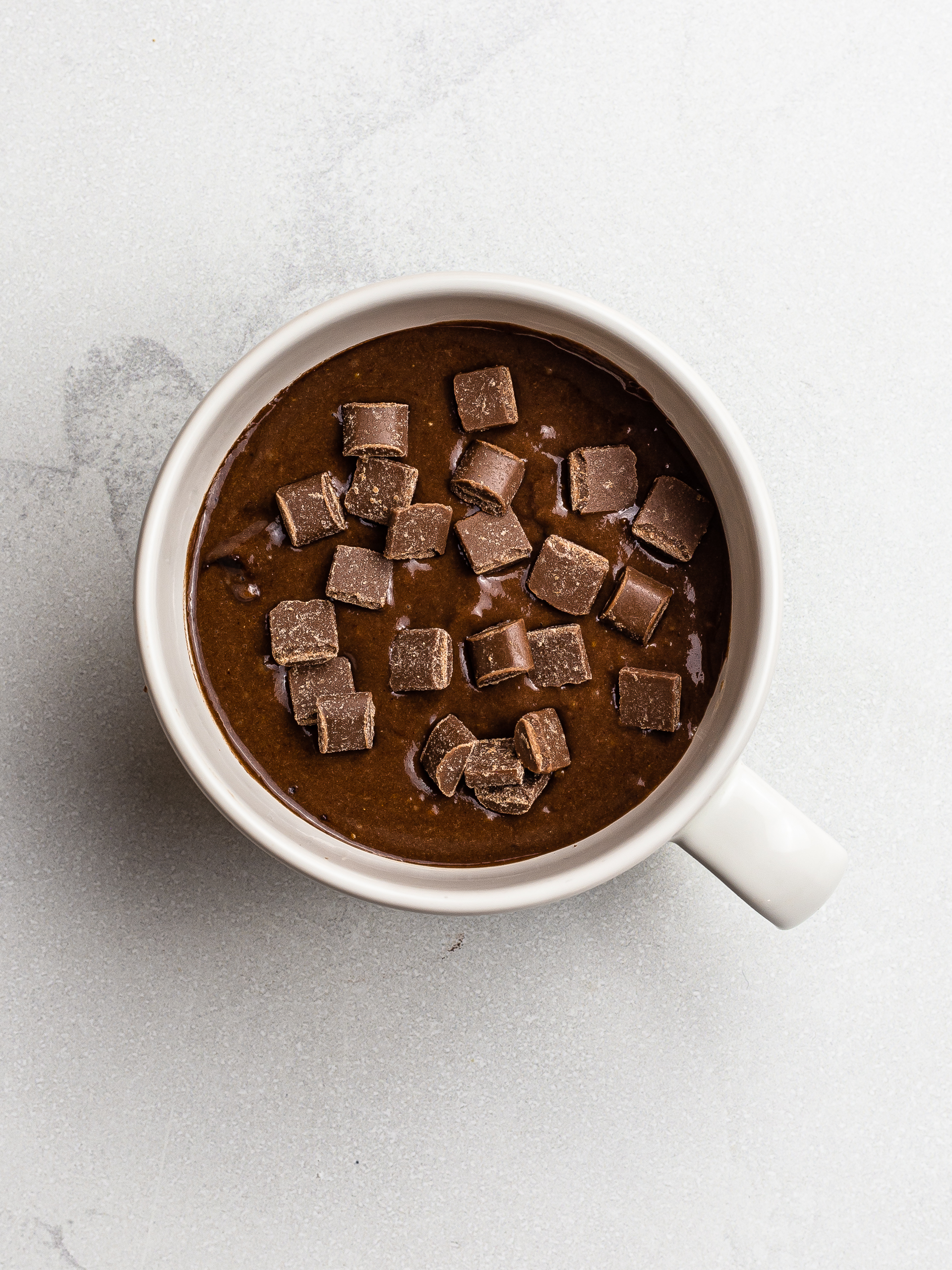 Step 4
If you cooked it in the oven, let the cup sit for 10 minutes in the tuned-off oven to cool down and prevent cracks.
Enjoy your delicious vegan brownie while still warm right from the cup, scooping it with a teaspoon.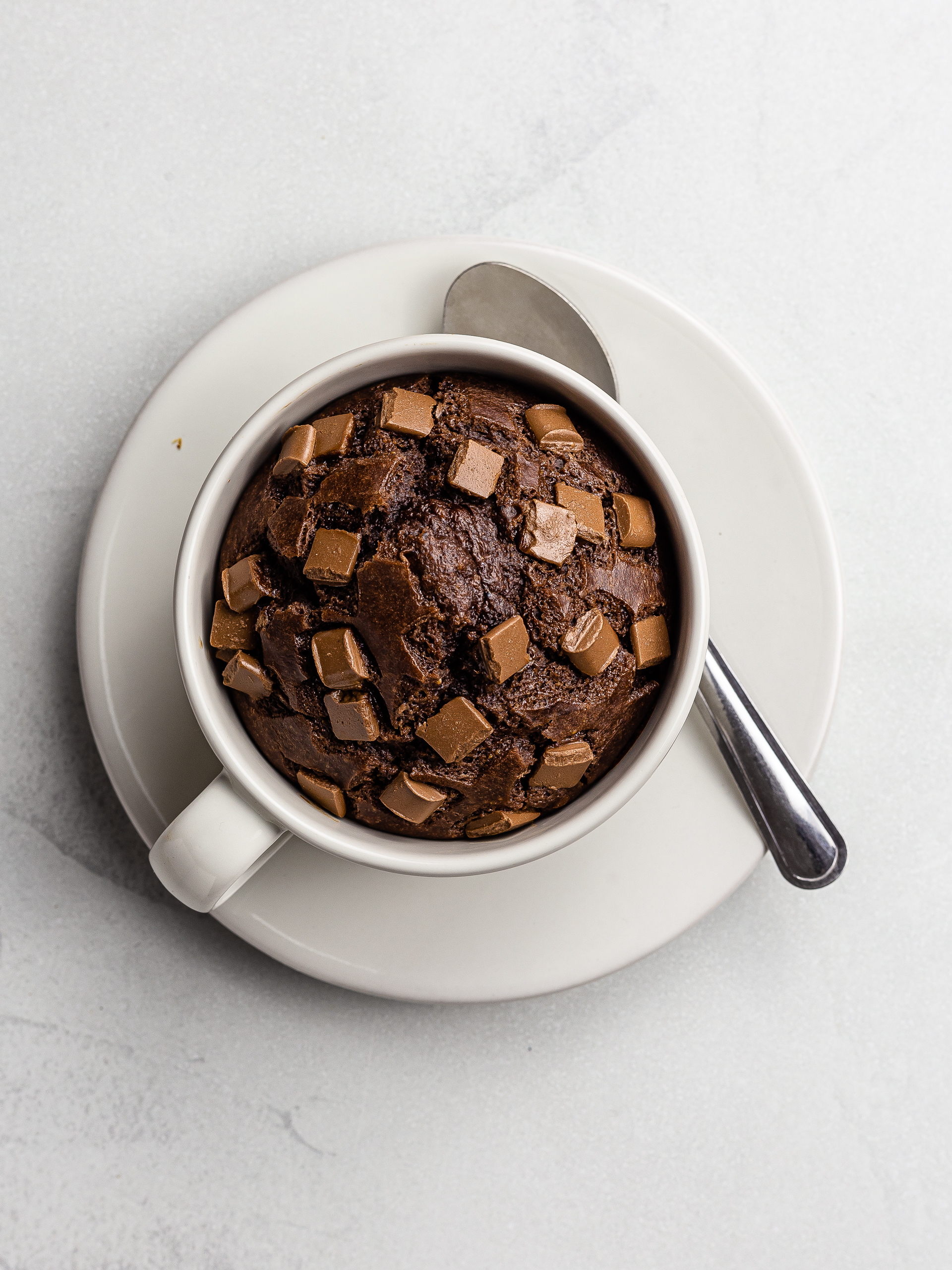 Tips
Add half a teaspoon of soluble coffee to the batter ingredients to give the chocolate brownie a deeper flavour.