Hi there, it's Marta here, the nutritionist and recipe developer at Foodaciously. If you feel like venturing into the wonderful world of pastry dough, I'll show you how to prepare a mouthwatering vegan pain au chocolat with step-by-step pictures. It will require a bit of work, but it will definitely be worth it!
But first: what is pain au chocolate? Put simply, it's a chocolate-filled pastry roll. Pain au chocolate translates into "chocolate bread" in French, and it's also known as petit pain in eastern and northern France or chocolatine in southwestern France and Quebec. This classic French pastry is made of a yeast-leavened dough that gets laminated with butter through a process of repeated folding and rolling.
This layered dough is used in many French bakery products, like croissants. But unlike croissants, pain au chocolat is filled with one or two pieces of chocolate, and it's shaped like a roll instead of a half-moon. It's rich and flaky, with an indulgent melted chocolate core. And not surprisingly, it's my husband Edward's favourite breakfast treat (and he's a real connoisseur when it comes to chocolate)!
Turning pain au chocolate into a vegan-friendly pastry is super easy as the only ingredient in our way is butter. Luckily for us, vegan butter made with coconut oil is now readily available, and with my experience so far, I got pretty good results in terms of texture and flavour. As for the chocolate, I recommend choosing the darkest variety you can tolerate to keep the sugars low; 70% is a good start, but why not be audacious and try 85% or more?
If preparing pastry dough from scratch sounds a bit daunting, I broke down the whole process into manageable steps, with pictures and tips to help you. You'll be surprised to see that it doesn't actually take too much effort. All you need is a good dough hook, a large tray, and a bit of time!
But of course, you can also take a fast shortcut and use store-bought dairy-free puff pastry. If so, start the recipe at step 9 where I'll show you how to cut the dough, fill it with chocolate, and roll it into a beautiful and plump pain au chocolat! Ok, put your on kitchen apron and let's get started!
Ingredients
| | |
| --- | --- |
| All-Purpose Flour | 250 g |
| Salt | 1/2 tsp |
| Instant Dry Yeast | 1/2 tbsp |
| Cold Oat Milk | 180 mL |
| Maple Syrup | 20 mL |
| Vegan Butter | 180 g |
| Dark Chocolate 85% | 60 g |
Step 1
We recommend starting the recipe the day before, in the late morning. Complete the steps up to the shaping of the pastries, and then let them rest in the fridge overnight. The following morning, they're ready for baking right in time for breakfast.
Ok, let's start making the vegan dough.
Mix plain flour, salt, and instant yeast in a large bowl, then add in 30 g of vegan butter, softened at room temperature. Work the ingredients until the butter is crumbly.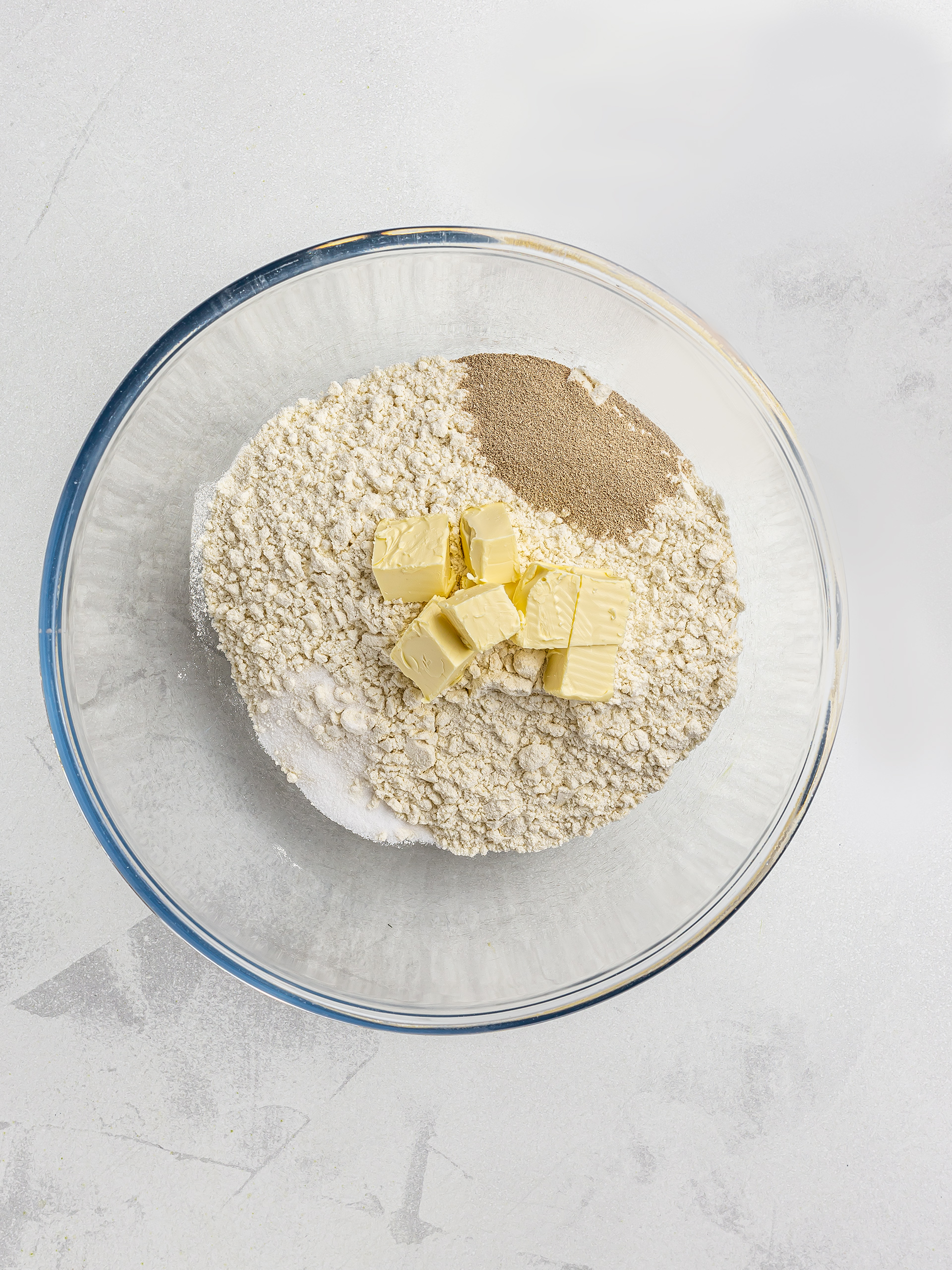 Step 2
We now recommend working the dough with a mixer fitted with dough hooks. Alternatively, you can use a spatula; the dough will be too sticky to knead by hand.
Slowly pour in the cold milk and maple syrup while the mixer is running.
Then, keep kneading the dough for 5-10 minutes; you'll know it's ready if it pulls away from the sides of the bowl.
It's very important to knead the dough thoroughly here, or it won't have the right elasticity for shaping the pastries.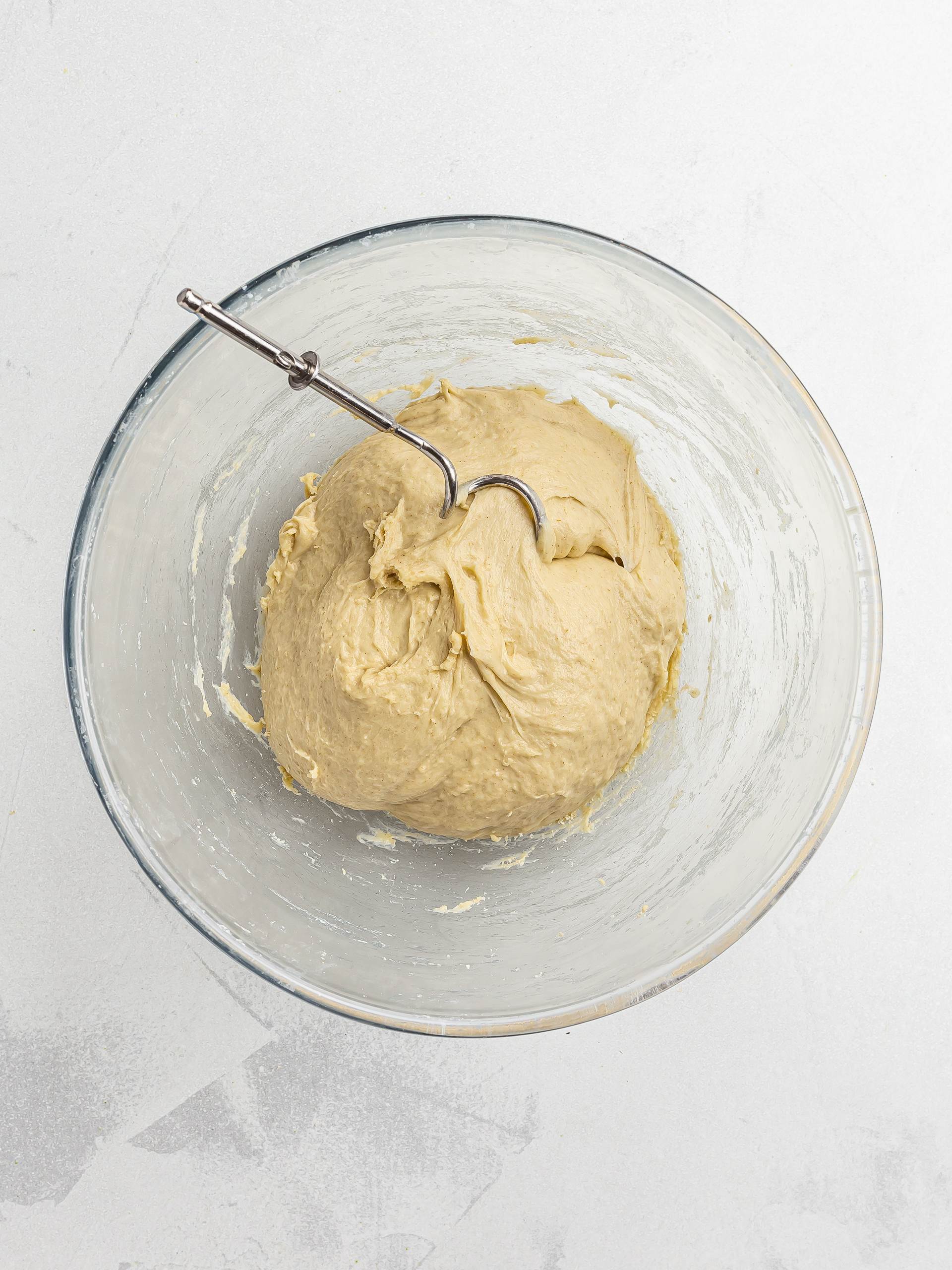 Step 3
Next, line a baking tray with parchment paper or a baking mat, and lightly dust it with flour.
Transfer the dough onto the tray and roughly spread it into a rectangle (grease your fingertips with oil so the dough won't stick).
Then, wrap the tray with cling film and let the dough rest in the fridge for 30 minutes.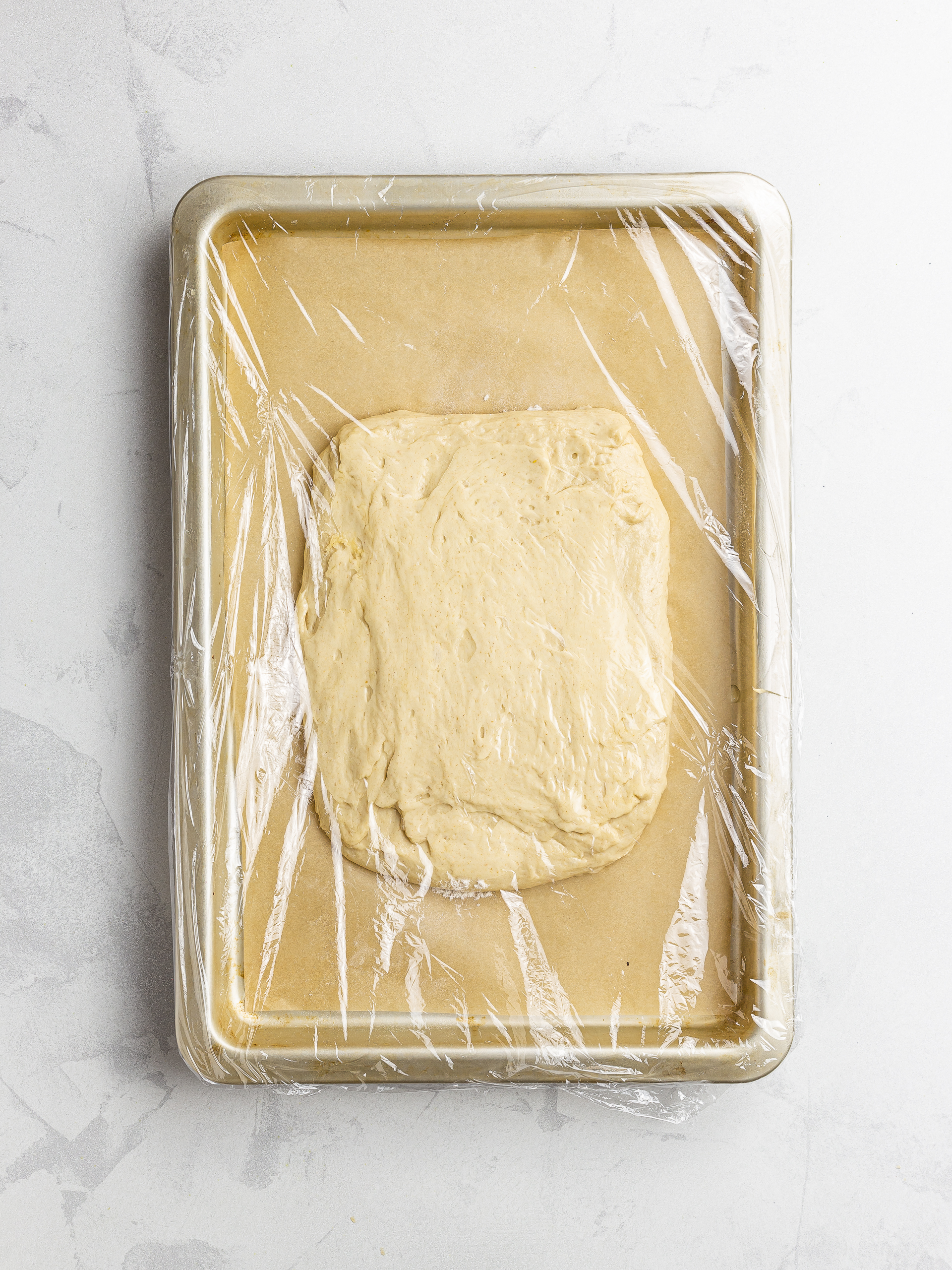 Step 4
Now that the dough has rested and set a bit, it will be easier to roll out.
Keeping the dough onto the baking paper, roll it out into a rectangle, 25cm (10 inches) long and 15cm (6 inches) wide.
Place it back onto the tray, wrap it with film, and let it prove in the fridge for 4 hours or overnight (but no more than 24 hours).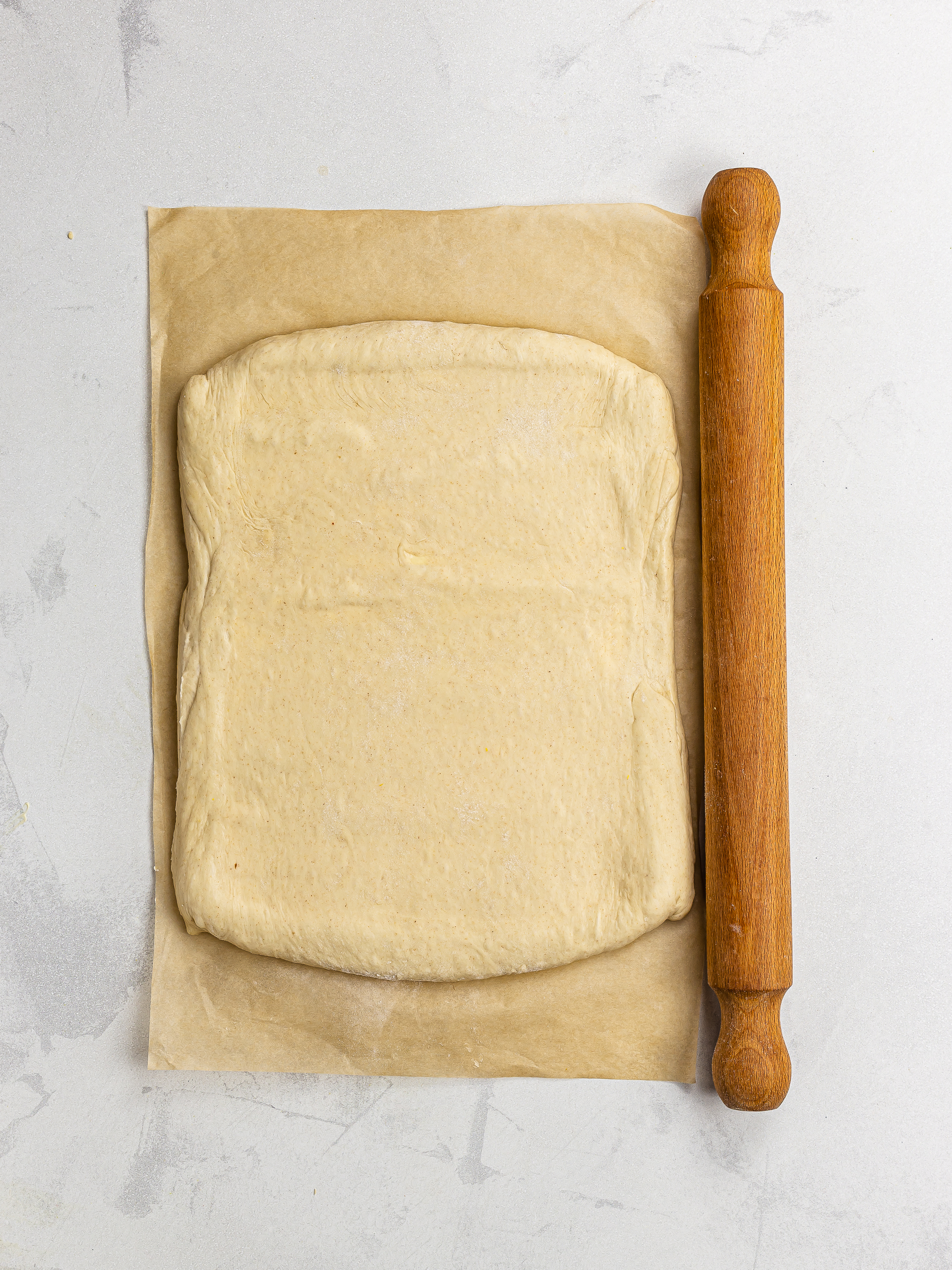 Step 5
Thirty minutes before the end of proving time, make the butter layer.
To do so, roll out 150 g of vegan butter, softened at room temperature, between two sheets of baking paper.
Give it a rectangular shape, 12 cm x 15 cm (5 x 6 inches) — the same width as the rolled out dough.
Then, keep it in the paper and refrigerate it for 30 minutes.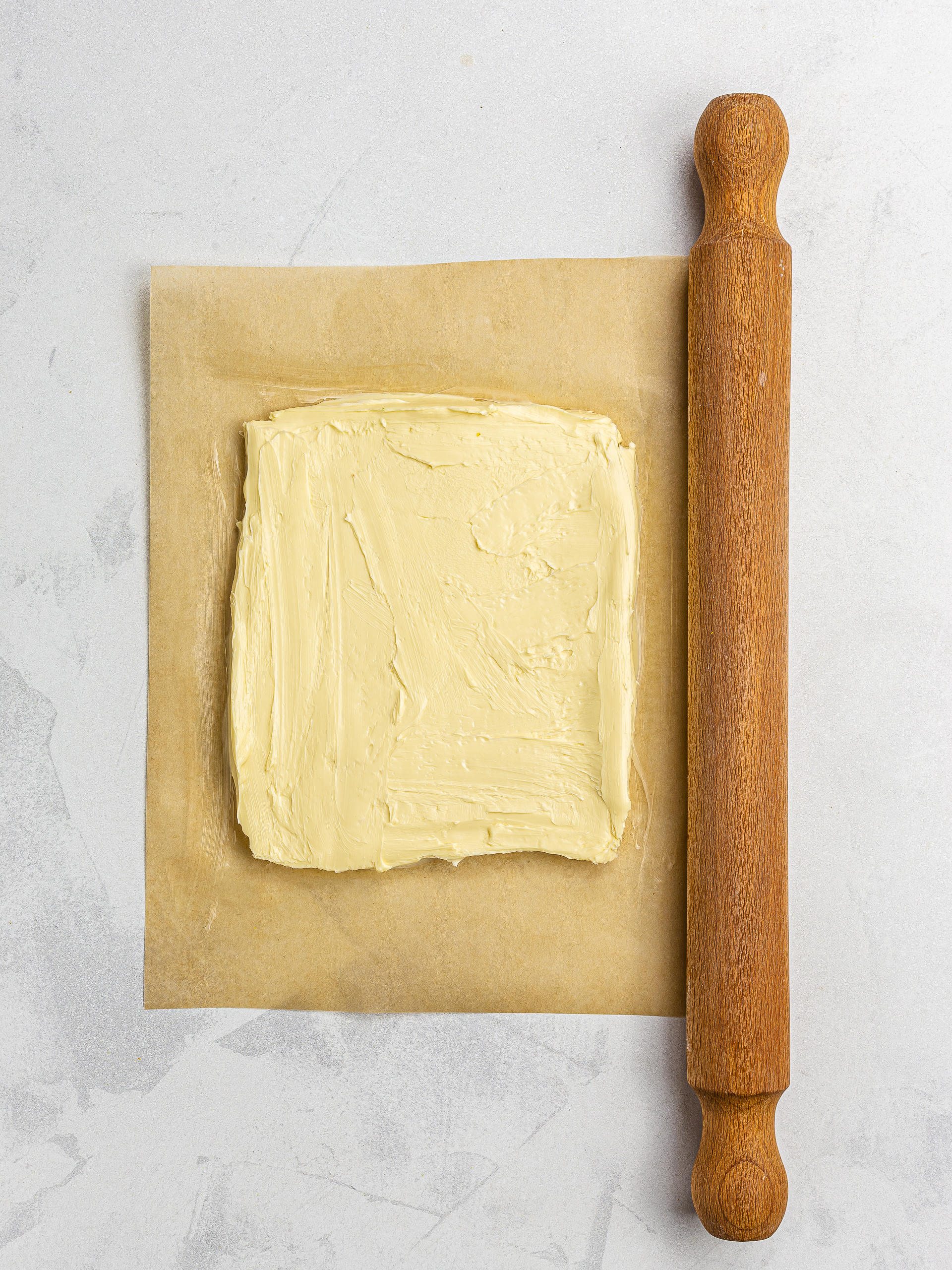 Step 6
Now it's time to laminate the dough with vegan butter.
Keeping the dough onto the baking paper, transfer it onto your worktop.
Then, unwrap the butter layer and place it in the centre of the dough.
Then, fold each end of the dough over the butter like a letter and seal the dough edges, pinching them with your fingers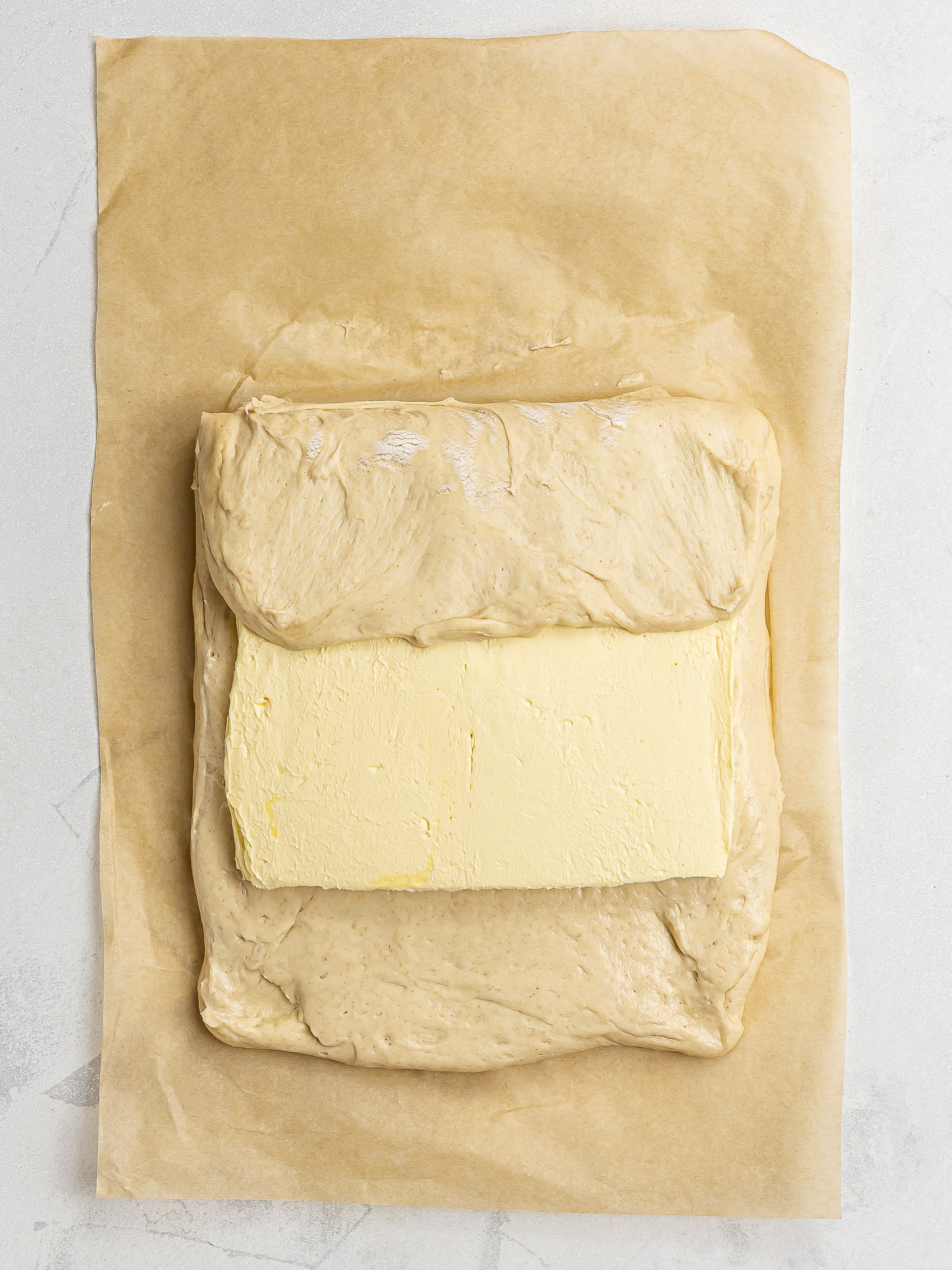 Step 7
Now, you'll have to repeat the following folding sequence three times, chilling the dough in the fridge at each turn.
To do so, turn the folded dough vertically and roll it out to a 25cm x 15 cm (10 x 6 inches) rectangle (1).
Then, fold the top third of the dough rectangle over the centre (2) and then the bottom third over the folded part, like a letter (3).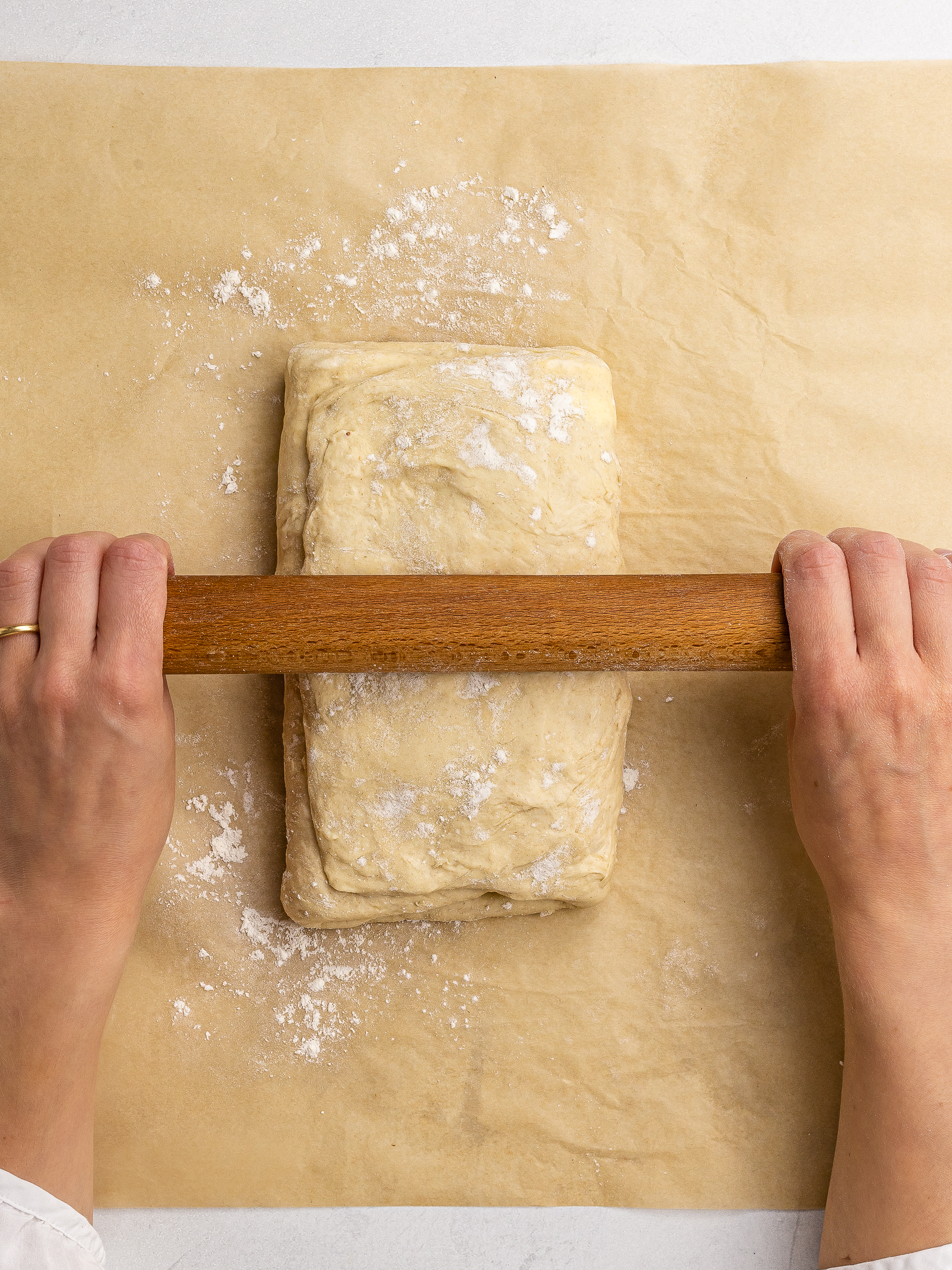 1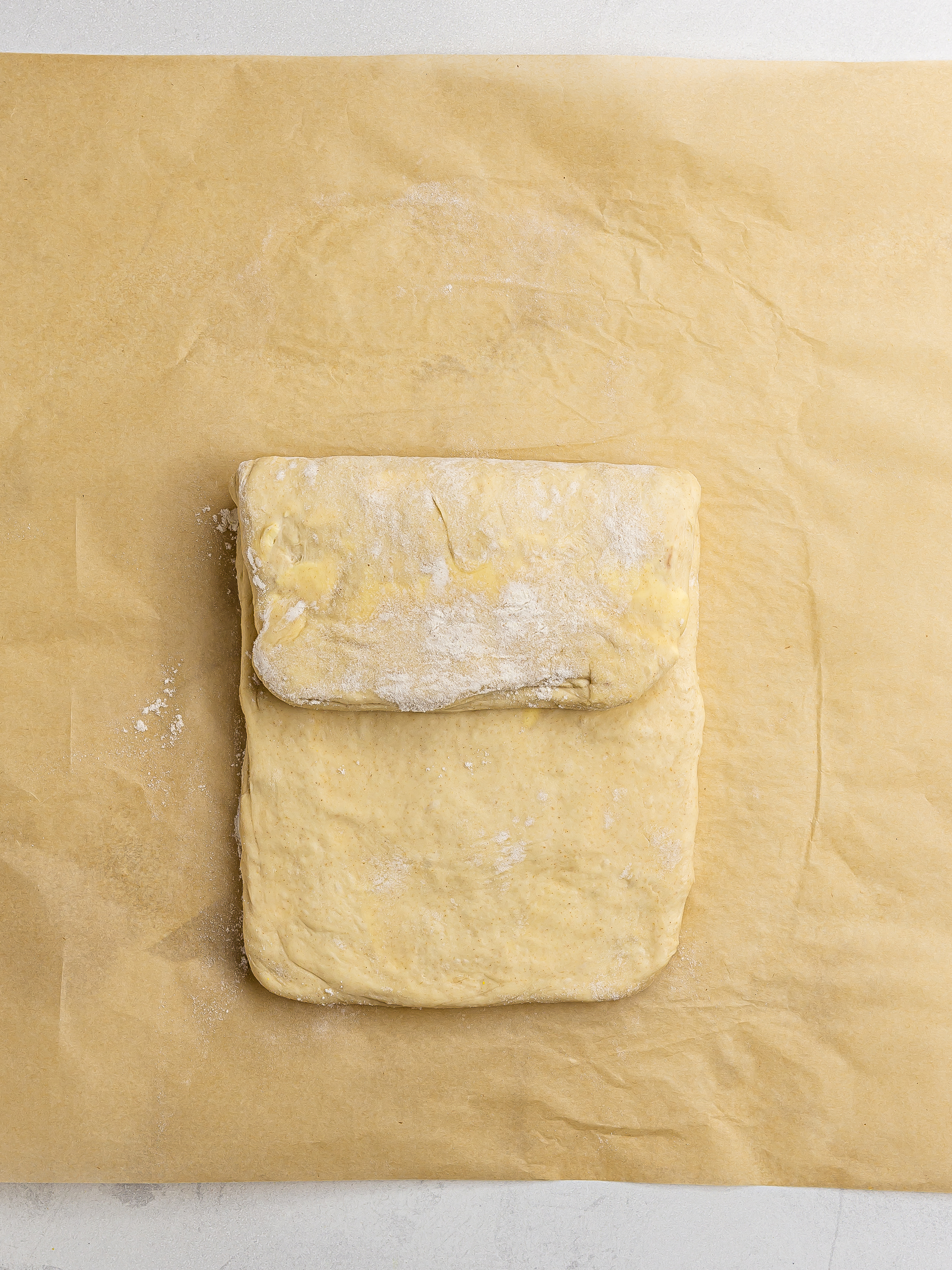 2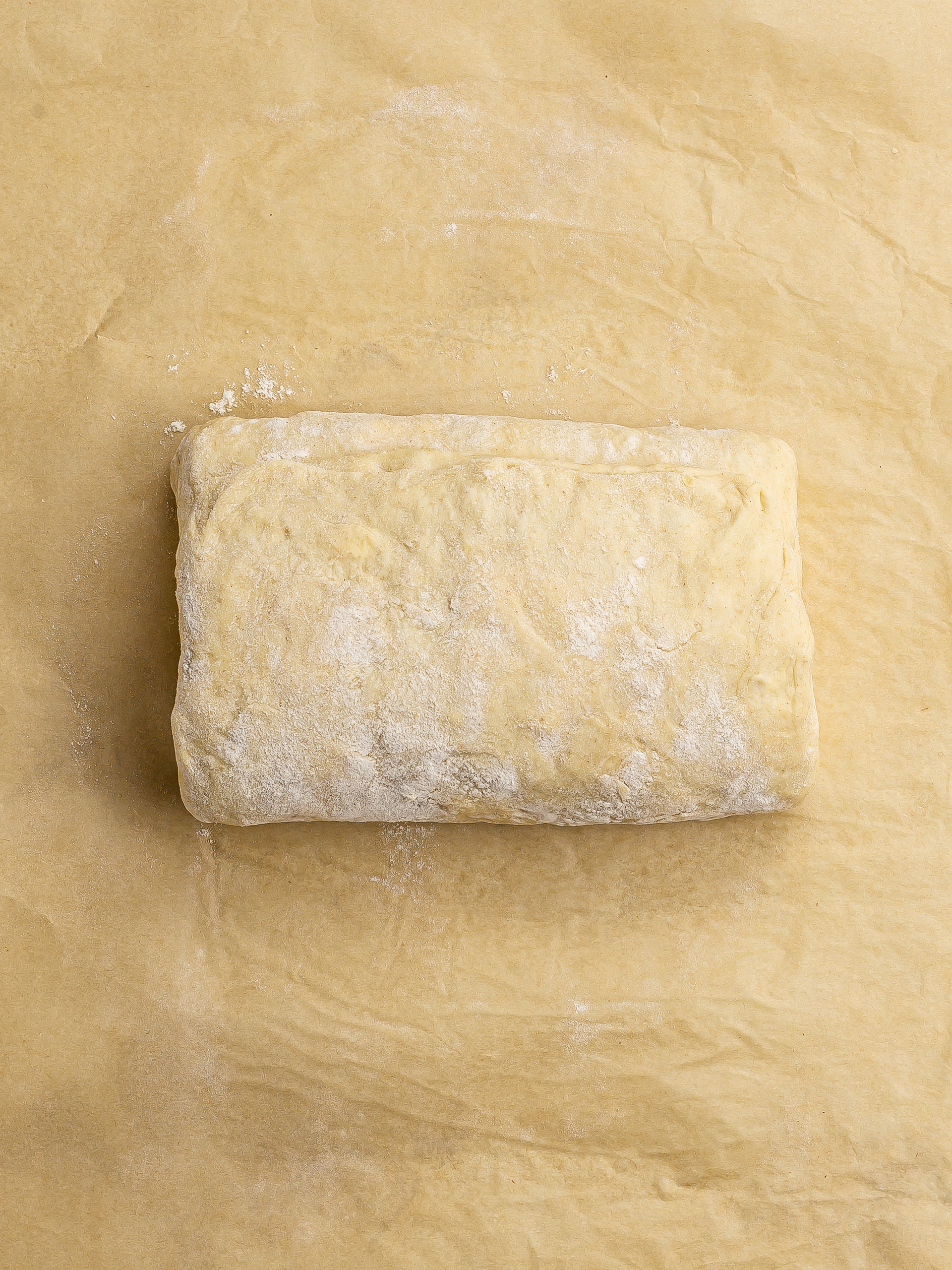 3
Step 8
Transfer the dough, seam side down, onto the baking tray lined with paper and lightly dusted with flour.
Wrap the dough with cling film and refrigerate it for 30 minutes.
Repeat steps 7 and 8 two more times for a total of three folding sequences.
Then, refrigerate the dough for 4 hours or overnight (but no more than 24 hours).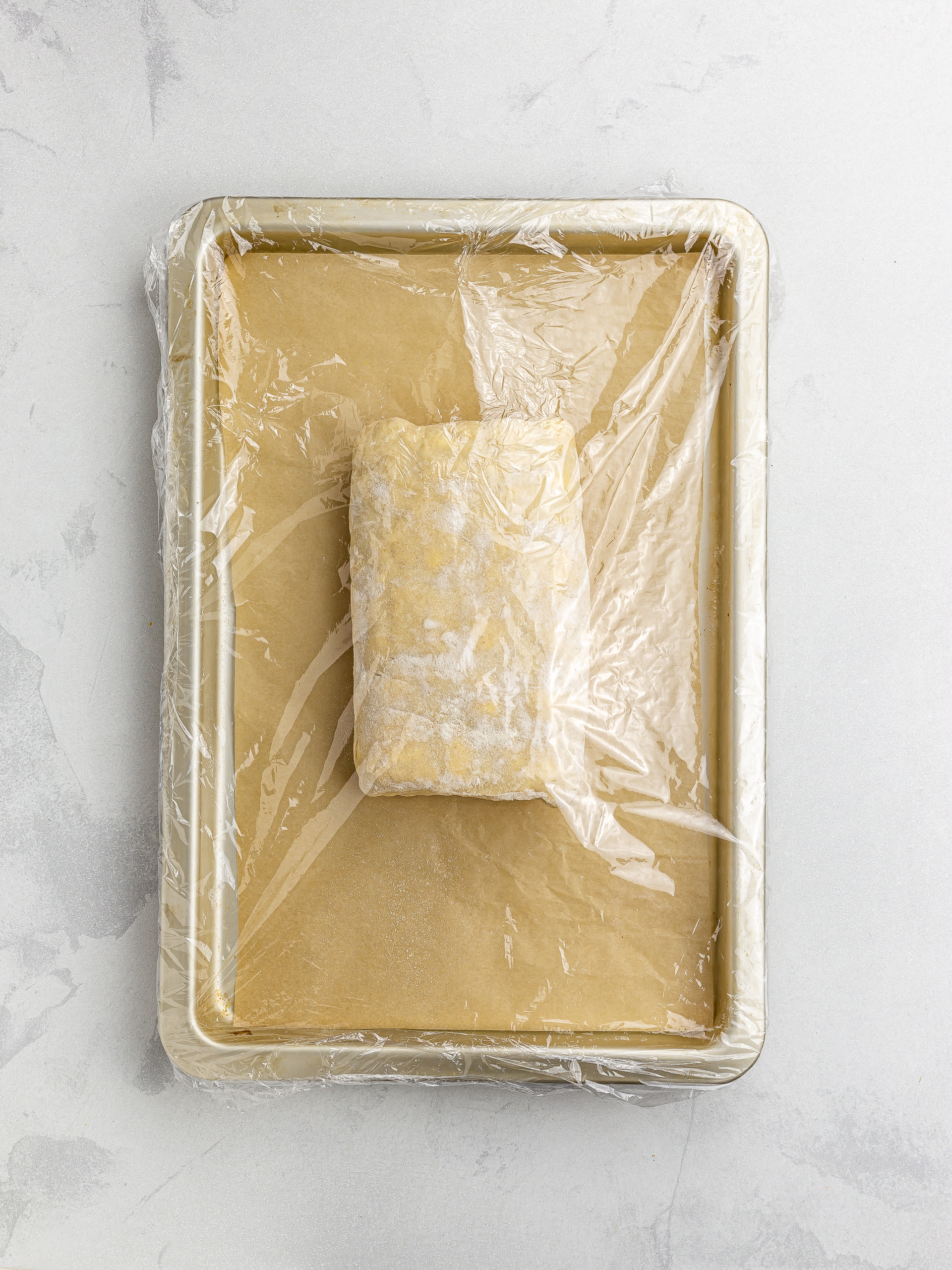 Step 9
Now, it's time to shape the pain au chocolat pastries.
Transfer the chilled dough onto a sheet of paper dusted with flour.
Roll it into a rectangle, 24cm x 20cm (9.5 x 8 inches).
Then, cut out eight rectangles, 12cm x 5cm (5 x 2 inches).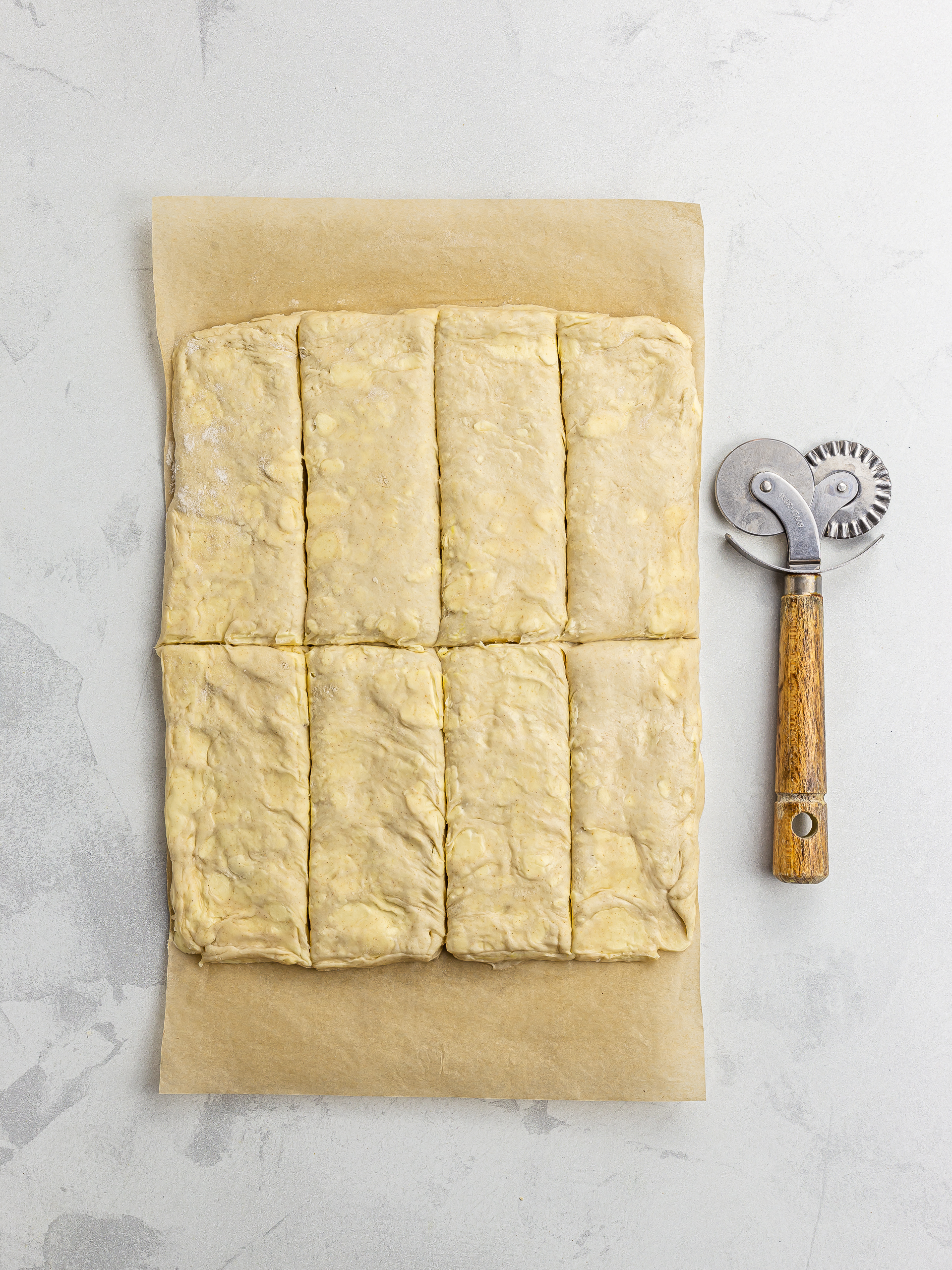 Step 10
Take one rectangle and stretch it to be 20 cm (8 inches) long using a rolling pin.
Now, place a few small pieces of dark chocolate in a single layer at the bottom end of the dough (1).
Wrap the dough around the chocolate and roll it tightly all the way to the other end.
Place the shaped pain au chocolate seam side down onto a baking tray lined with parchment paper (2).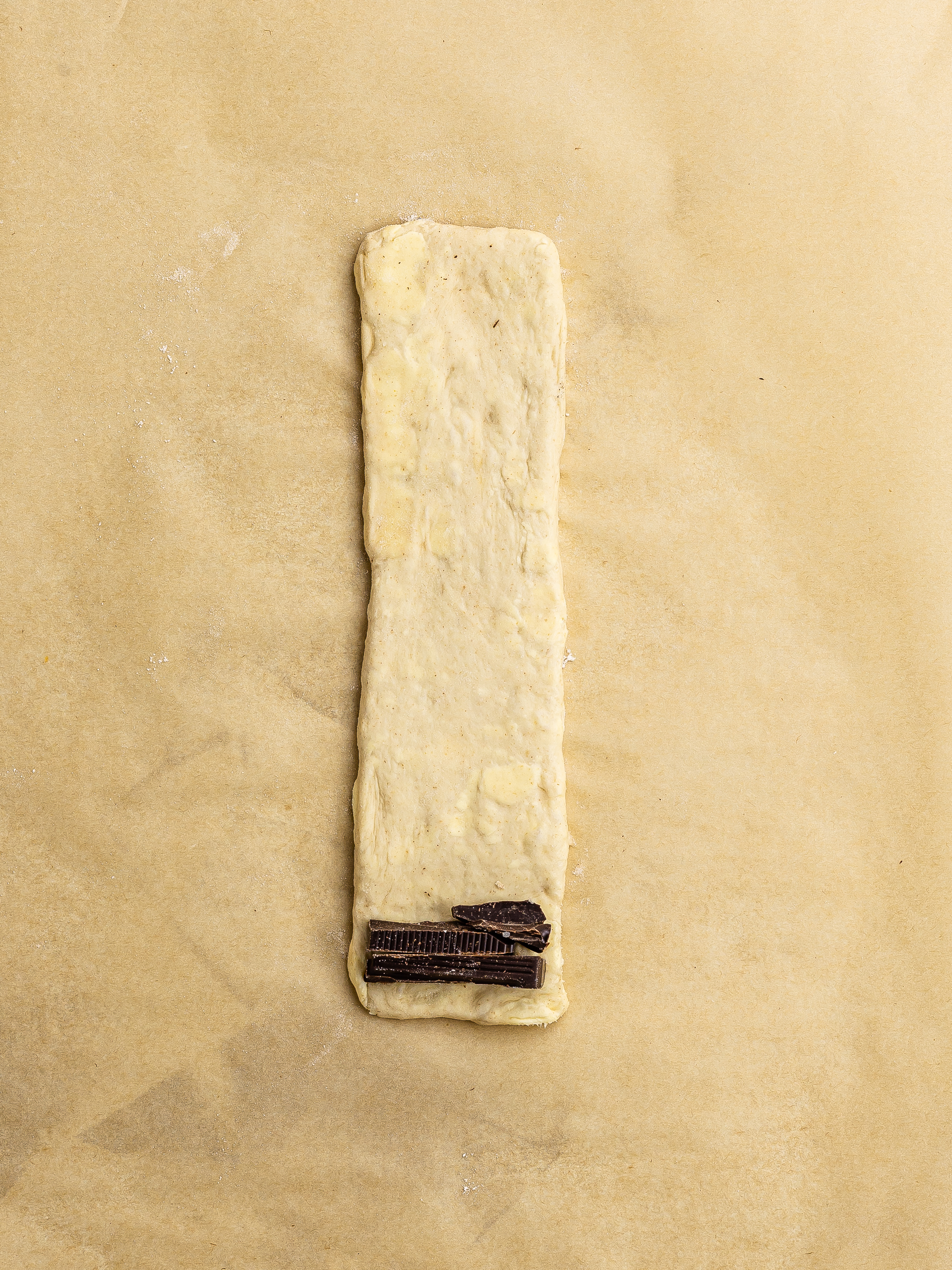 1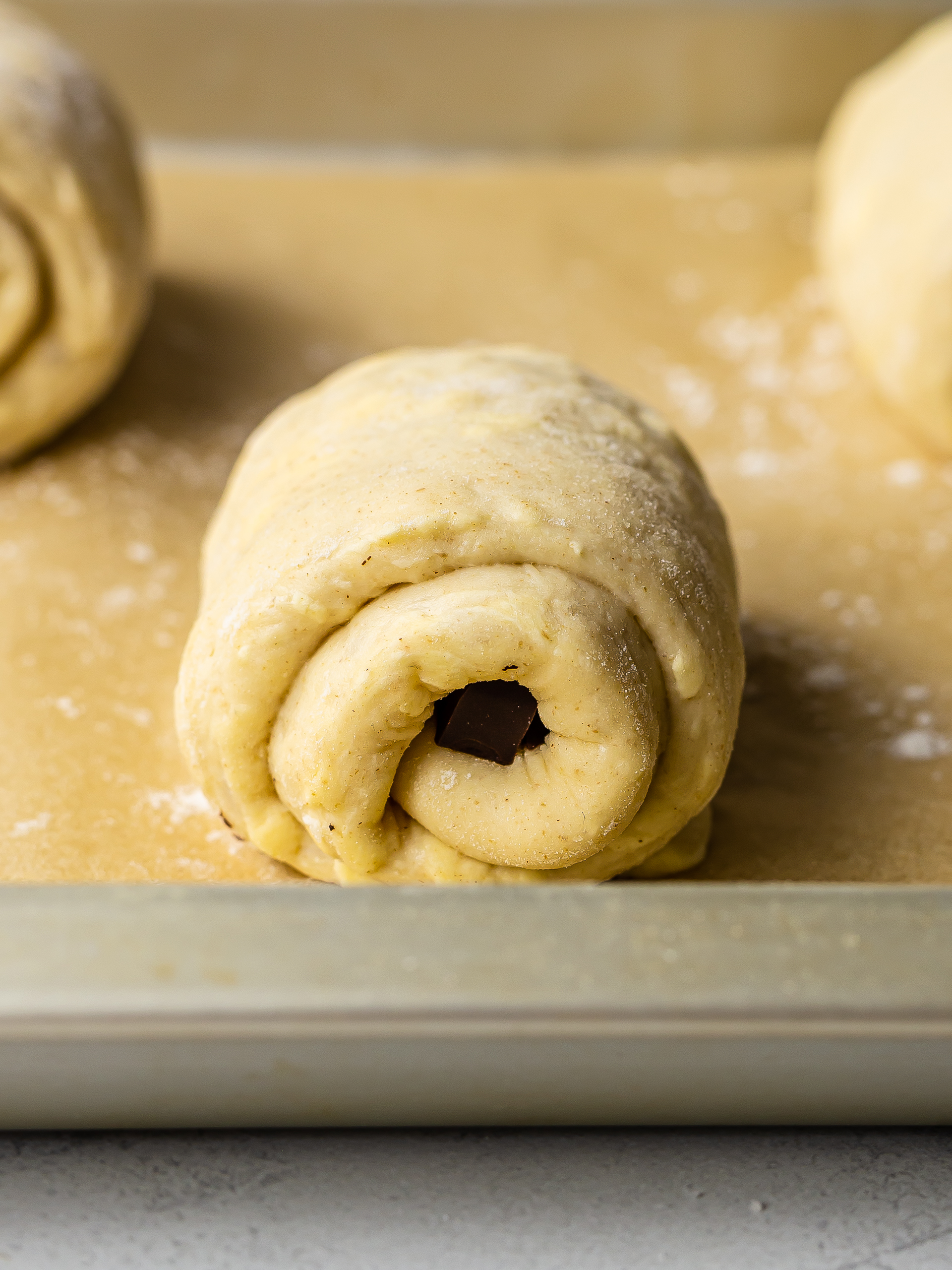 2
Step 11
Repeat step 10 until you have used all the dough rectangles and keep the pastries well distanced from one another on the tray.
We used a small tray for pictures se we could only fit four pastries. But you can fit up to eight pastries with a regular oven-sized tray.
Now, cover the pain au chocolat with cling film and let it prove for 1 hour at room temperature.
Then, transfer the tray to the fridge and let it sit for 1 more hour before baking.
At this point, you can also leave the pastries in the fridge overnight, ready for baking the next morning; alternatively, freeze them for another time.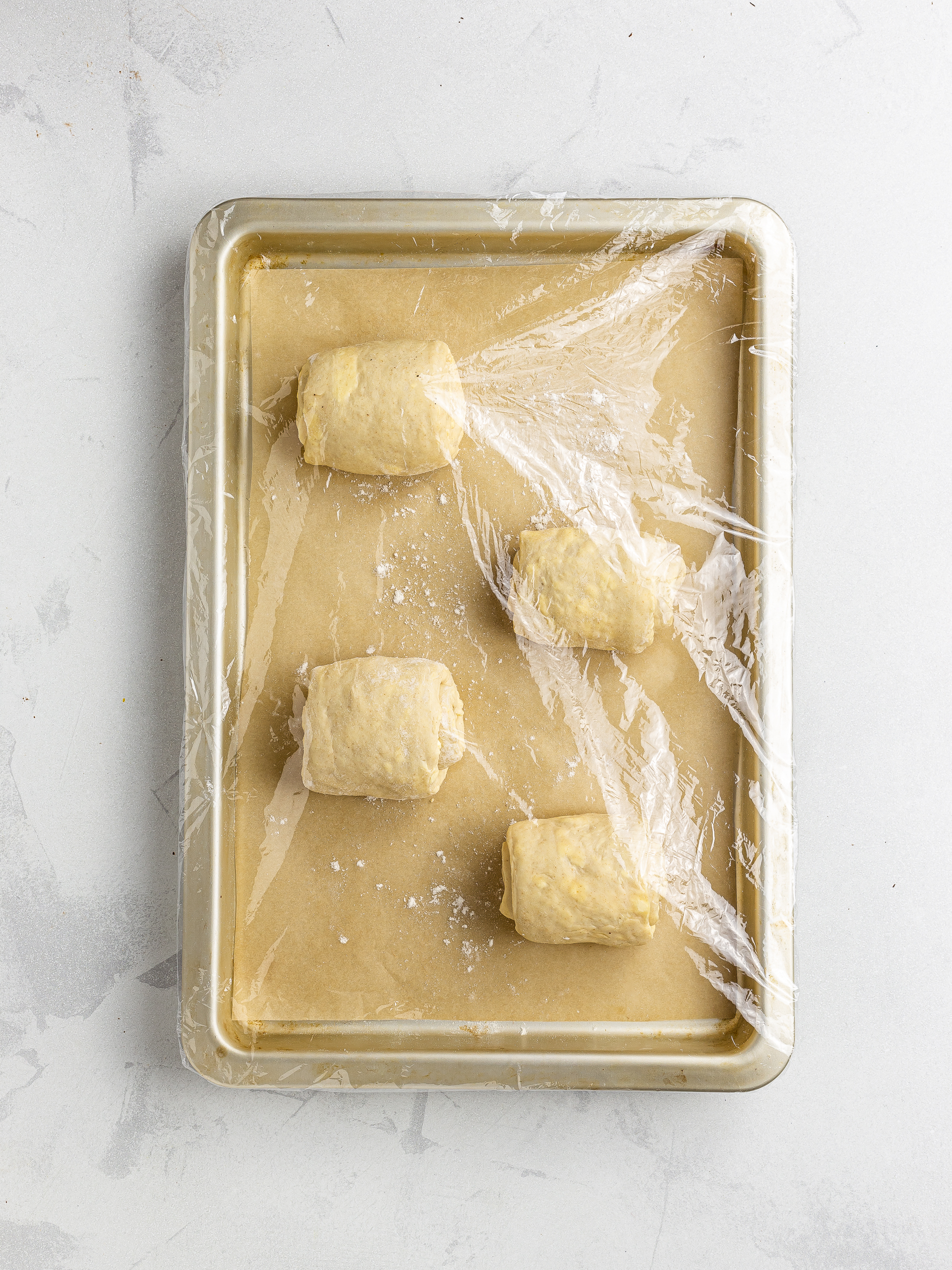 Step 12
Remove the pastries from the fridge and let them sit at room temperature while you heat the oven to 200°C (400°F).
Before baking, you can optionally brush them with vegan egg wash.
We used maple syrup for a caramelised finish, but you can also use a mix of vegetable oil, maple syrup, and oat milk.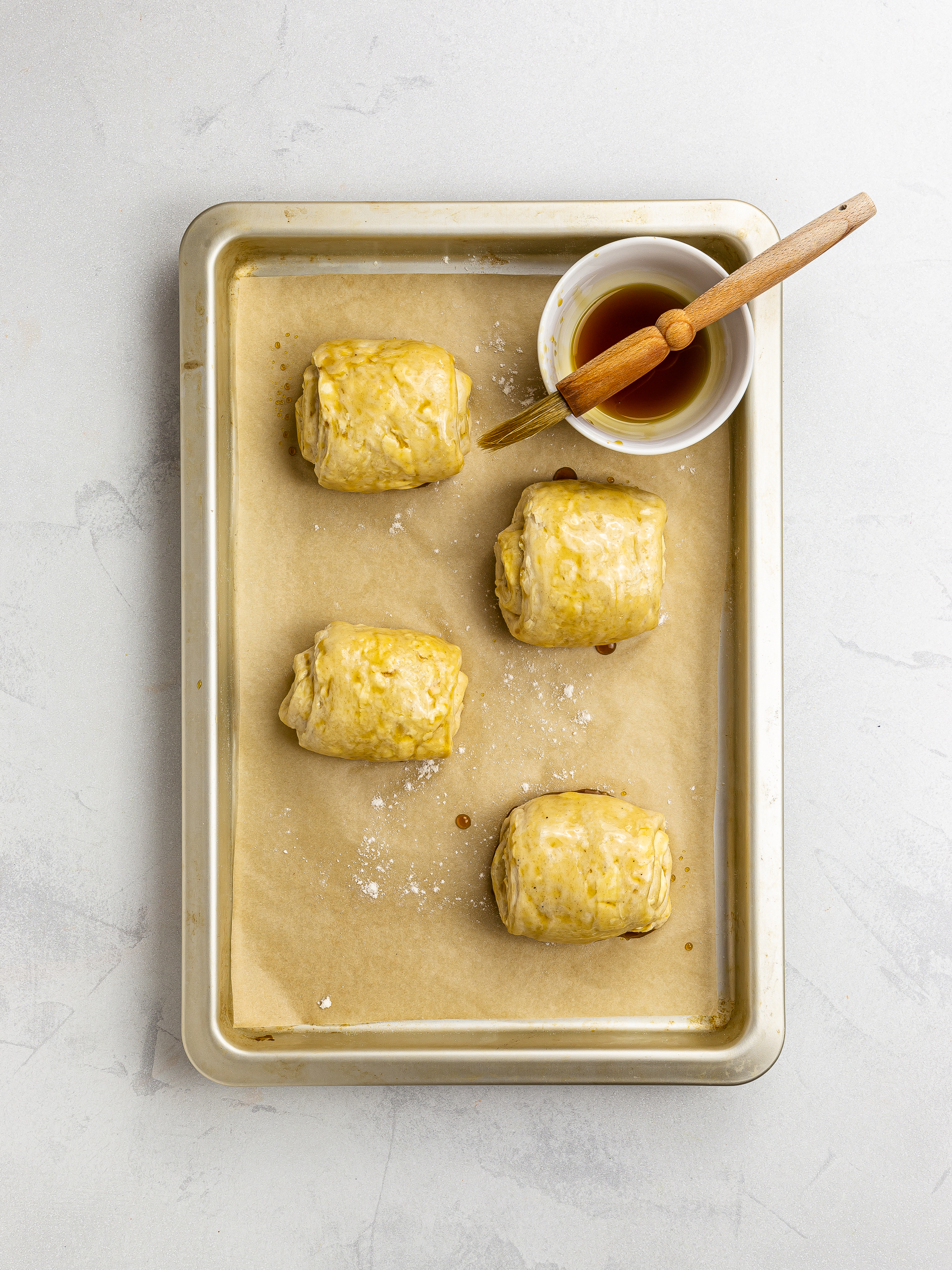 Step 13
Bake the pastries for 20 minutes until golden and slightly crusty, and then let them cool down for a few minutes on a wire rack.
Enjoy your delicious vegan pain au chocolat while still warm.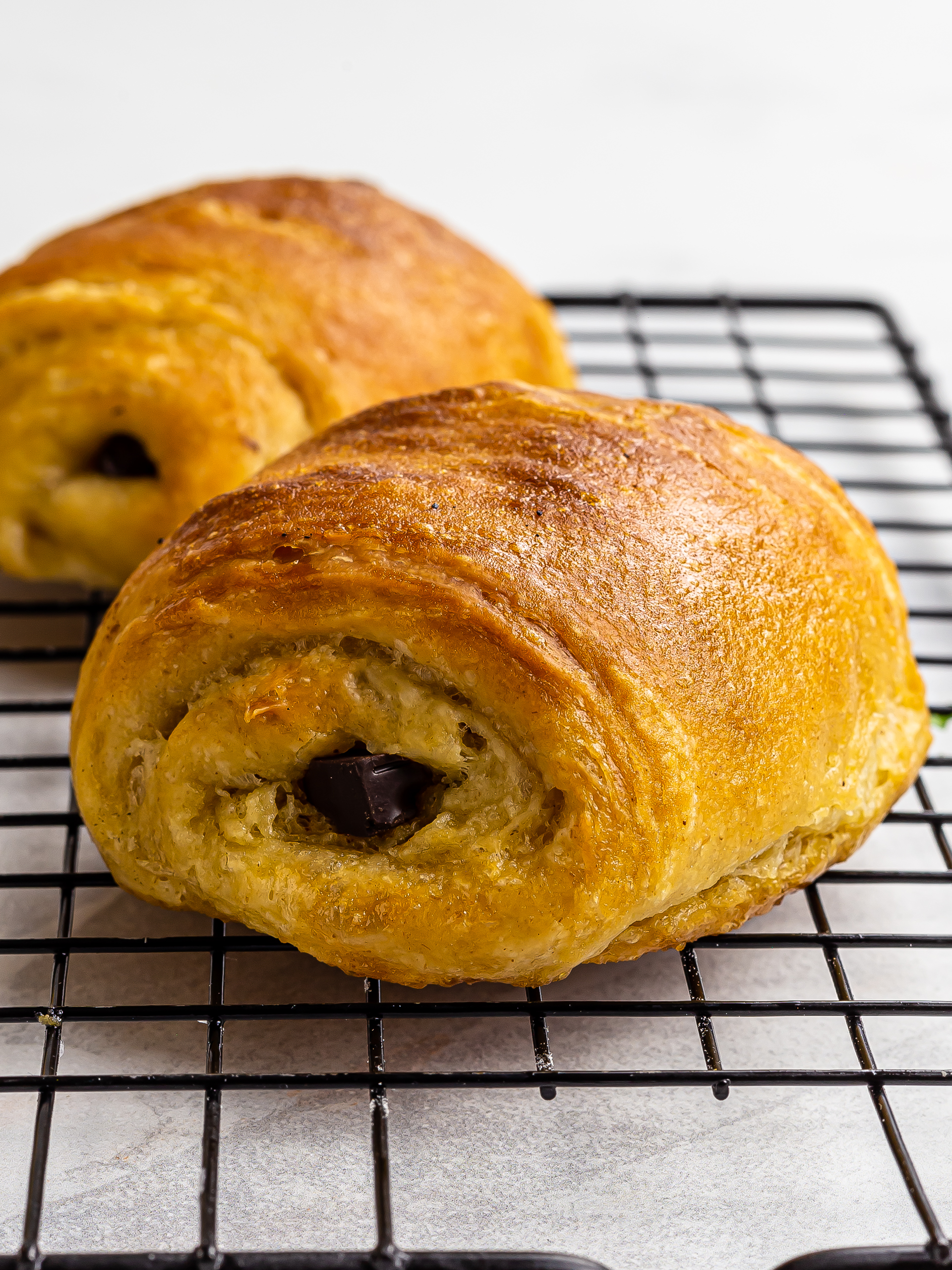 Tips
These chocolate pastries taste best on the same day. If you have any leftovers, keep them in a paper bag and store them at room temperature for 2-3 days. Then, warm them up in the oven before serving.

If you're celiac, you can use our recipe for gluten-free pastry.

If you want to make this recipe without vegan butter or if you want to try it out with sourdough, then check out our sourdough croissants.