Although quite tasty, American-style pigs in a blanket are not very healthy and definitely unsuitable for vegans. With our meat-free recipe, you can now make this evergreen party snack 100% plant-based and worry-free.
The classic pigs in a blanket recipe usually consists of a hot dog or sausage wrapped in buttery puff pastry. With the right ingredients, you can easily convert this meat-based recipe into a vegan option that tastes even better.
We turned carrots and parsnips into small sticks and then used them as a filling for the pastry bites. Then, we replaced all-butter pastry with a dairy-free, low-fat alternative, and job done!
If like us you can get hold of rainbow carrots, you'll have a gorgeous and colourful combo. Red carrots, in particular, will look exactly like pork sausages when cooked. Your guests will hardly notice the difference!
We first roasted these root veggie sticks with a yummy seasoning of garlic, thyme, and parsley. Then, we wrapped them in small rectangles of puff sheet and coated them with sesame seeds before baking.
These vegan pigs in a blanket are so incredibly flavourful you won't believe they have less than 70 calories per pastry. And the good news is they're great both warm and cold, which is perfect if you want to make them ahead of time and bring them over to a party.
Ingredients
| | |
| --- | --- |
| Carrots (Rainbow Carrots) | 6 |
| Parsnips | 4 |
| Extra Virgin Olive Oil | 1/2 tbsp |
| Garlic Powder | 1/2 tsp |
| Dried Thyme | 1/2 tsp |
| Dried Parsley | 1/2 tsp |
| Low-Fat Puff Pastry (Dairy-Free) | 320 g |
| Sesame Seeds (optional) | 20 g |
Step 1
We used a combination of red, yellow and orange carrots, and parsnips. If you can't find rainbow carrots, you can use just the normal orange ones. You can also replace parsnips with more carrots, or other non-starchy root veggies.
Peel the carrots and parsnips and then chop them into sticks, 6 cm (2.4 in) long and 2 cm (0.8 in) thick.
To make each veggie stick with the same thickness, you can use a vegetable peeler to shave off any excess and taper the ends.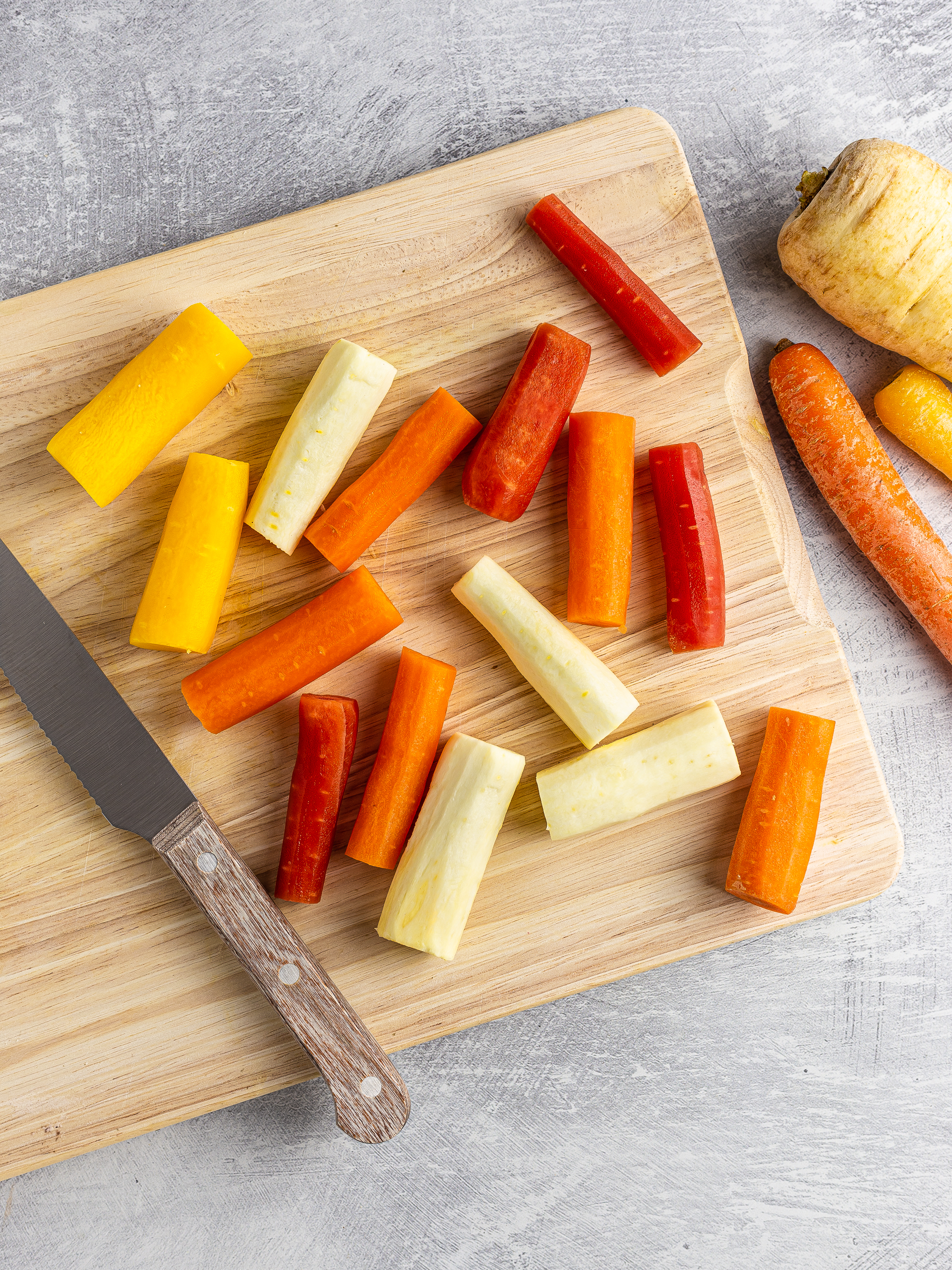 Step 2
Transfer the prepared veggies onto a baking tray lined with parchment paper and season them with oil, garlic powder, thyme, parsley, and salt.
Then, roast them for 15 minutes at 200 °C (390 °F) in static mode.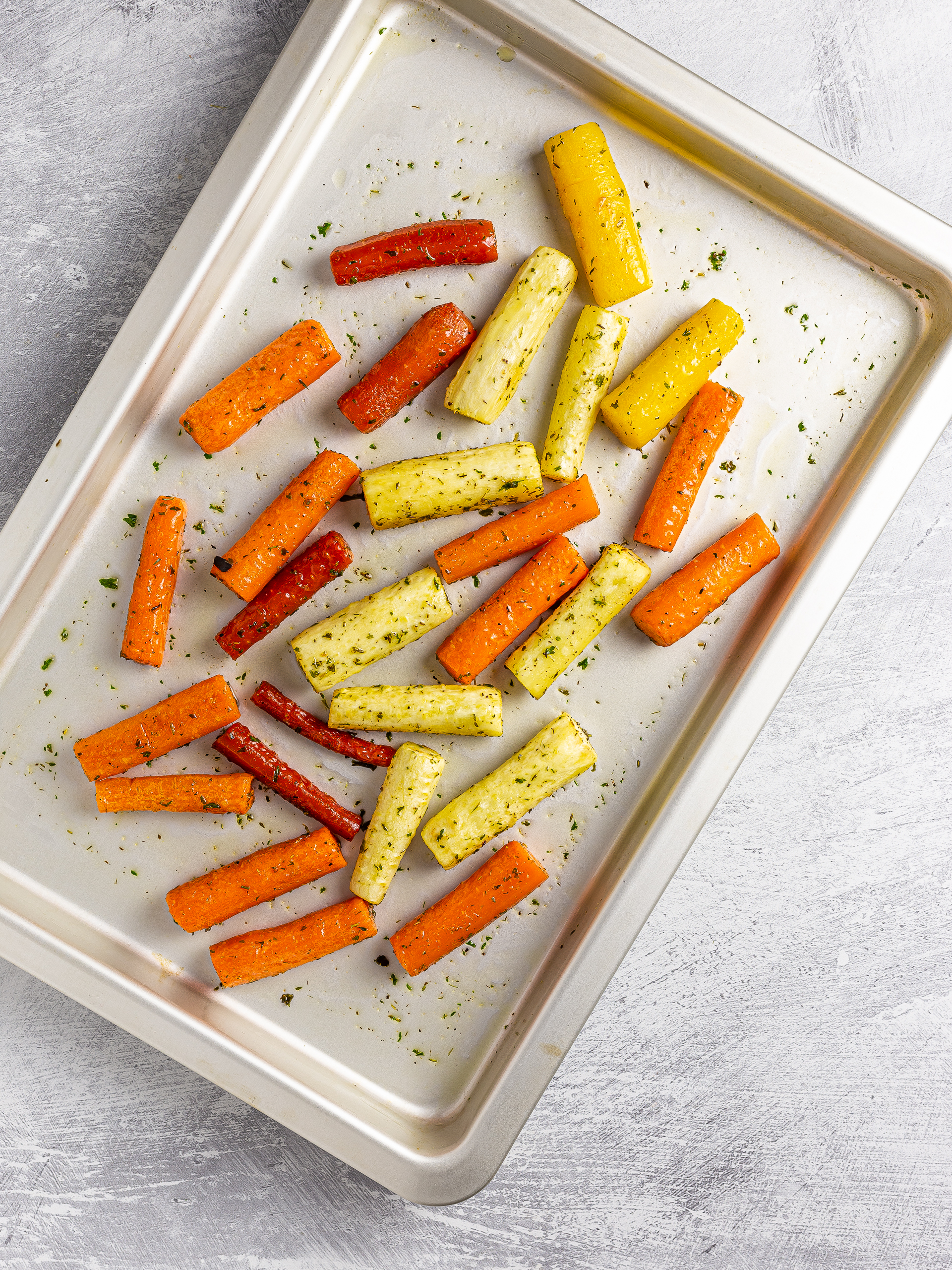 Step 3
Now, roll out the pastry sheet and cut it into 4 cm x 6 cm (1.5 in x 2.5 in) rectangles.
For each pig in a blanket, wrap one pastry rectangle around one veggie stick. Then, seal the roll by pressing the pastry where the rectangle ends overlap.
Repeat this step until you have used all the veggies and pastry.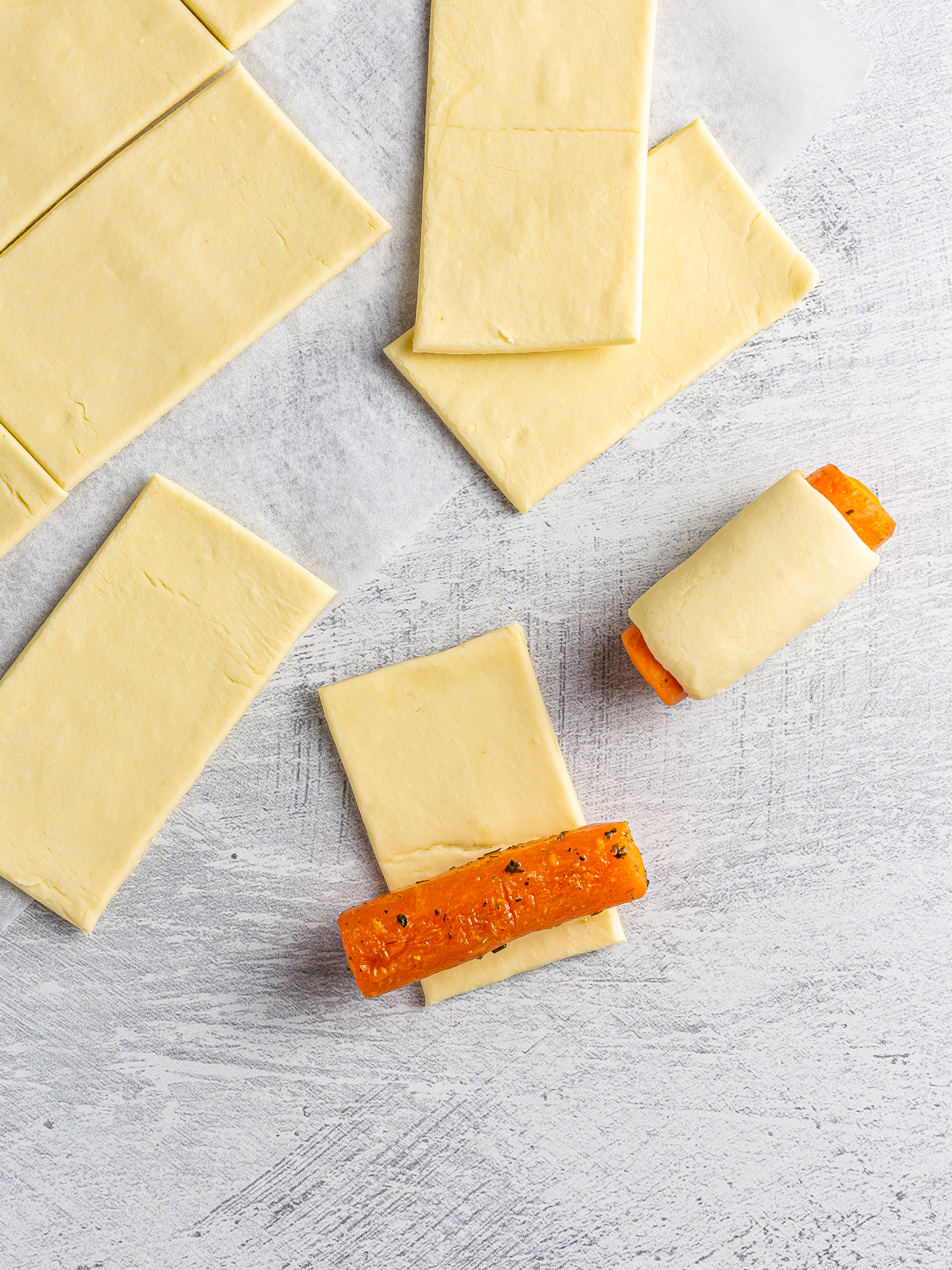 Step 4
For the sesame coating, brush each pig in a blanket with cold water and sprinkle it with sesame seeds. Then, roll it under your palm, pressing the seeds into the pastry.
Place the prepared pastries seam-side down onto a baking tray and bake them for 12 minutes at 220 °C (430 °F) in static mode.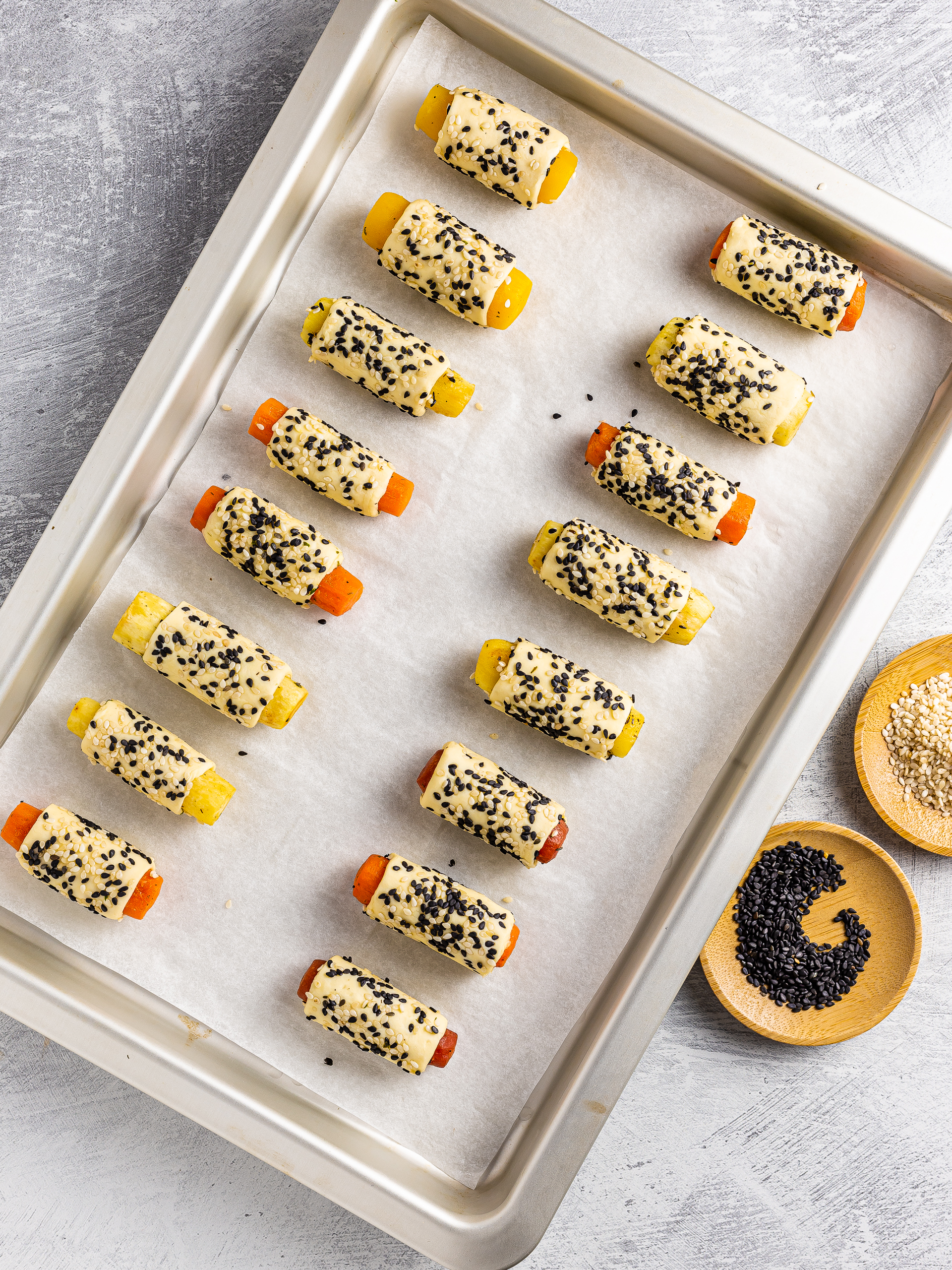 Step 5
Once the pigs in a blanket are golden and crispy, transfer them onto a wire rack to cool down. This way, they won't get soggy on the bottom from trapped moisture.
Enjoy warm or cold!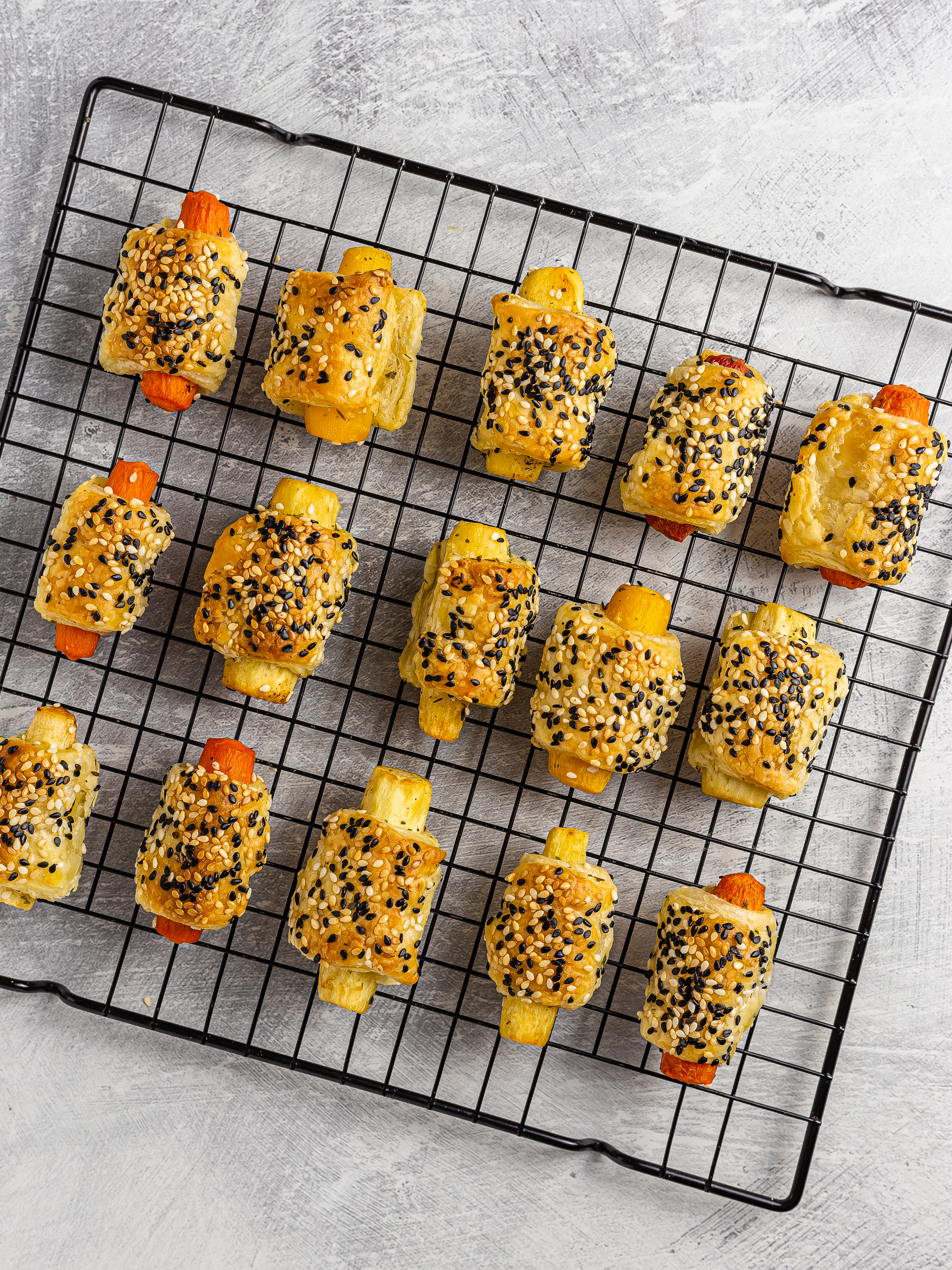 Tips
You can use poppy or chia seeds instead of sesame seeds.