Today we show you how to make moist pumpkin bread with chocolate chips that will fill your palate with flavour and joy. And yes, this recipe is vegan and sugar-free, so you can enjoy it without a shred of guilt. You can keep reading to learn how we turned the classic pumpkin loaf into a healthy treat, or skip straight to the recipe below!
We have used 100% plant-based ingredients, so our pumpkin loaf is both eggless and dairy-free. We replaced eggs with flaxseeds mixed with water (flax-egg) and swapped butter with soy yogurt. Pumpkin puree is quite moist, but yogurt gives the cake that extra layer of softness, and it helps to bind the ingredients together.
But we didn't stop there. Our pumpkin cake is also low-fat and made without any added sugars. Apart from not using butter or milk, we also set aside vegetable oils, so this recipe is 100% oil-free. Similarly, we relied uniquely on the natural sweetness of pumpkin and ripe bananas, with no need for unhealthy white sugars.
For extra flavour and a bit of excitement, we scattered in some chocolate chips. We suggest you use dark chocolate, which has little to no sugars.
All of this makes a delicious vegan pumpkin bread that has only 4% of your RDI for sugars and 10% of your RDI for fats, but bursts with 23% of your RDI for fibres for each slice. The cake is perfect for people on a weight-loss diet, as well as anyone who likes wholesome bakes. If you want to make this gluten-free, please read the tips at the bottom of the page.
Frequently Asked Questions
Can pumpkin bread be made into muffins/cupcakes casings?

The recipe is indeed called "bread" or "loaf", but you can choose whichever cake moulding you like to make this recipe, including muffin casings!

There is one little tip that we can give you if you opt for a casing smaller than a loaf tin, i.e. a muffin's. Because muffin casings can house less dough than a loaf tin, it will take less time for the centre of the cake to cook. To avoid losing that yummy moisture that defines the pumpkin bread recipe, you should reduce the baking time to 15-20 minutes.
Is pumpkin bread suitable for weight-loss and keto diets?

Our vegan chocolate chips pumpkin bread is super wholesome and made without any refined sugars. In fact, the only sugars present are those naturally available in pumpkin and bananas. So this recipe is suitable for people with diabetes, folks on a weight-loss diet, and of course, vegans.

But can people on a ketogenic diet have a slice of this cake? In theory, no. Although we haven't used any sugars, the recipe has both wheat and bananas, which are not allowed on a keto diet. Moreover, we minimized fats in this recipe, which instead are staple in this type of diet.

The good news is that we have lots of recipes designed for the keto diet; check them out!
Which fruits can I add to pumpkin bread?

Pumpkin bread can be plain or strewn with all sort of tasty ingredients. In our recipe, we have added in dark chocolate chips, but there are other things you can use, like dry fruit.

Here are a few ideas of fruits that go well with pumpkin bread:

raisins

dry figs

dry mango chunks

dry apricots

fresh blueberries
Homemade vs canned pumpkin puree: which should I use?

Pumpkin bread requires the use of canned puree. You can either make your own or buy it ready-made in a store. If you have an extra 15 minutes at hand, we suggest you make it at home, to cut back on unnecessary preservatives.

Making pumpkin puree yourself is straightforward. Buy either butternut squash or sugar pie pumpkin. Then chop it and boil it. For extra flavour, you may also roast it. Once cooked, you blitz it with a food processor, until it turns into a creamy paste. That's all it takes to make pumpkin puree from scratch!
Ingredients
| | |
| --- | --- |
| Ground Flaxseeds | 2 tbsp |
| Water | 50 mL |
| Bananas | 2 |
| Wholemeal Flour | 350 g |
| Baking Soda | 1 tsp |
| Pumpkin Pie Spice Mix | 2 tsp |
| Pumpkin Puree | 350 g |
| Soy Yogurt | 80 g |
| Dark Chocolate Chips | 100 g |
| Cocoa | 4 tbsp |
Step 1
Let's start by preparing the vegan "flax egg". In a bowl, stir the ground flaxseeds with water and leave them to soak for 10 minutes. They will form a gel-like mixture.
Meanwhile, blitz the bananas in a food processor into a smooth and dense mash.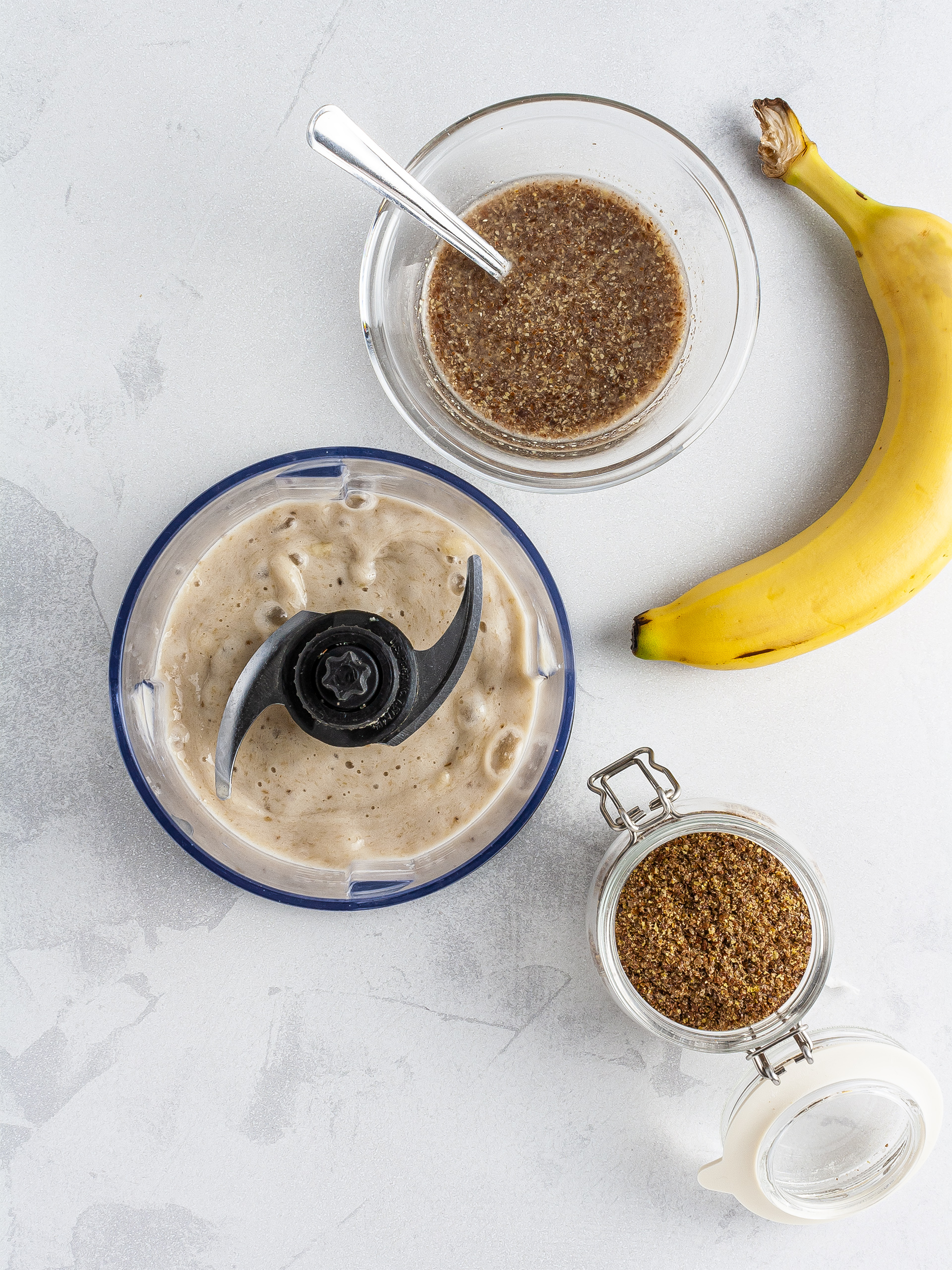 Step 2
In a mixing bowl, combine the wholemeal flour with baking soda, pumpkin pie spice mix, and a pinch of salt.
Then, add the prepared "flax-egg", mashed bananas, pumpkin puree, and soy yogurt.
Give a good stir until the ingredients are well incorporated into a smooth batter. However, avoid over-mixing as this can make the dough stiff and your loaf cake chewy.
Depending on how watery your pumpkin puree is, you might have to adjust the ingredients to get the right consistency. If the mixture is too dense, then add a splash of water, milk, or orange juice. If it's too wet, then stir in some more flour.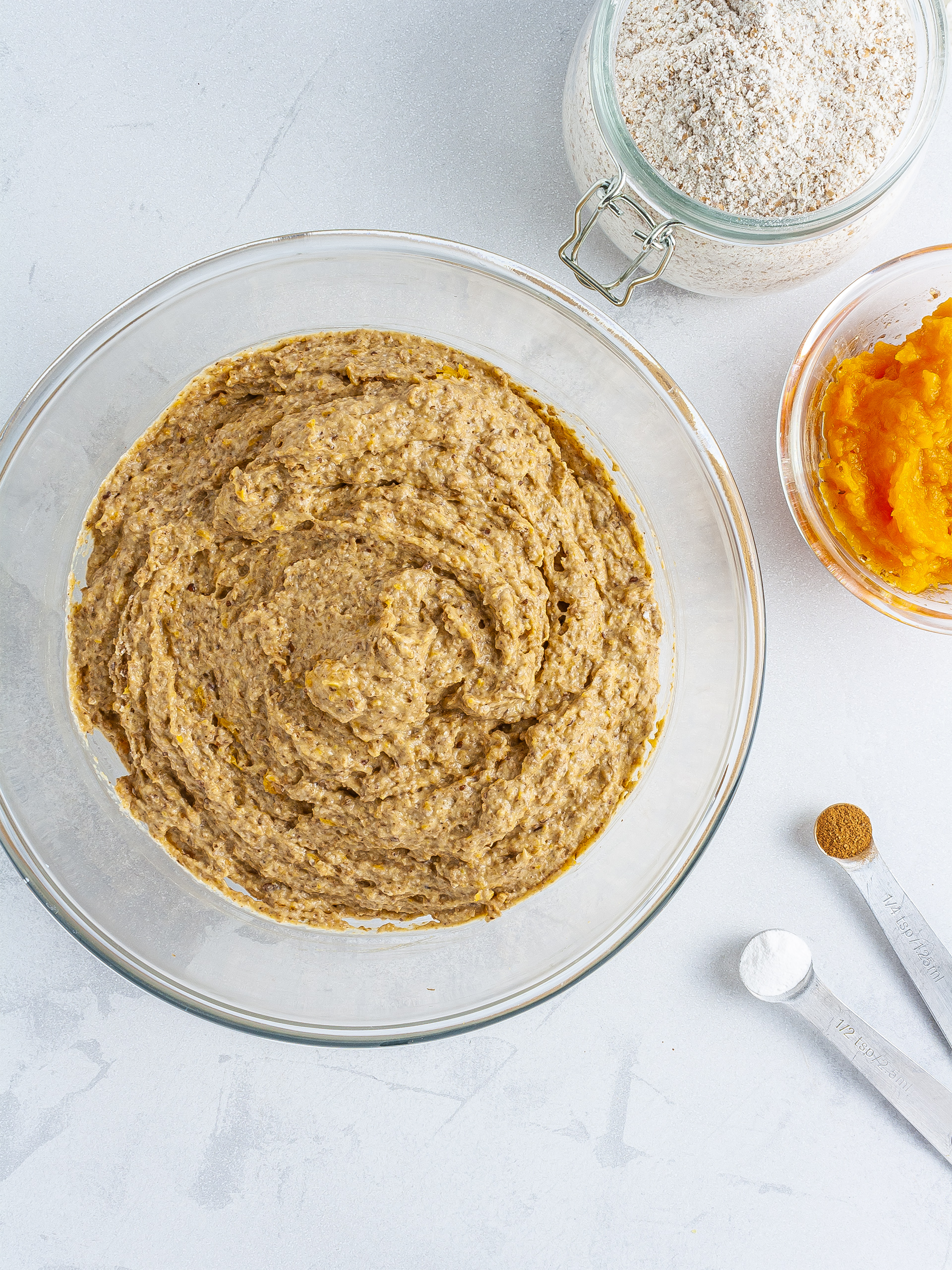 Step 3
Now, add 50 g of dark chocolate chips to the cake batter.
Then, transfer half of the mixture to a clean bowl and stir in the cocoa powder.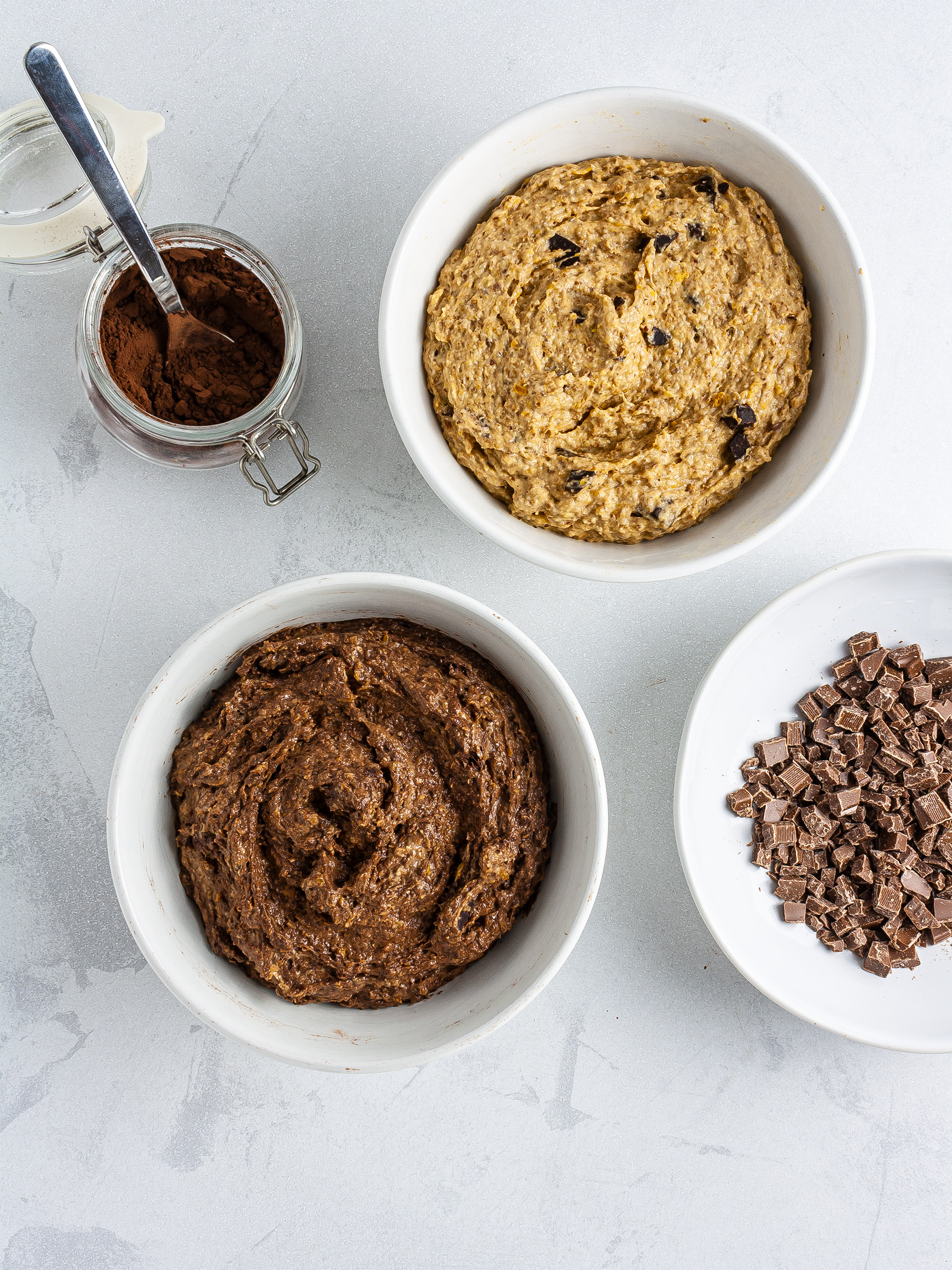 Step 4
Grease and flour a loaf tin and line it with a strip of parchment paper hanging out from the side to help you remove the cake more easily once baked.
Next, layer the cake batter into the tin alternating the chocolate mixture with the orange one. Then, swirl a knife through to create a marble effect.
Sprinkle the top layer with the remaining 50 g of dark chocolate chips.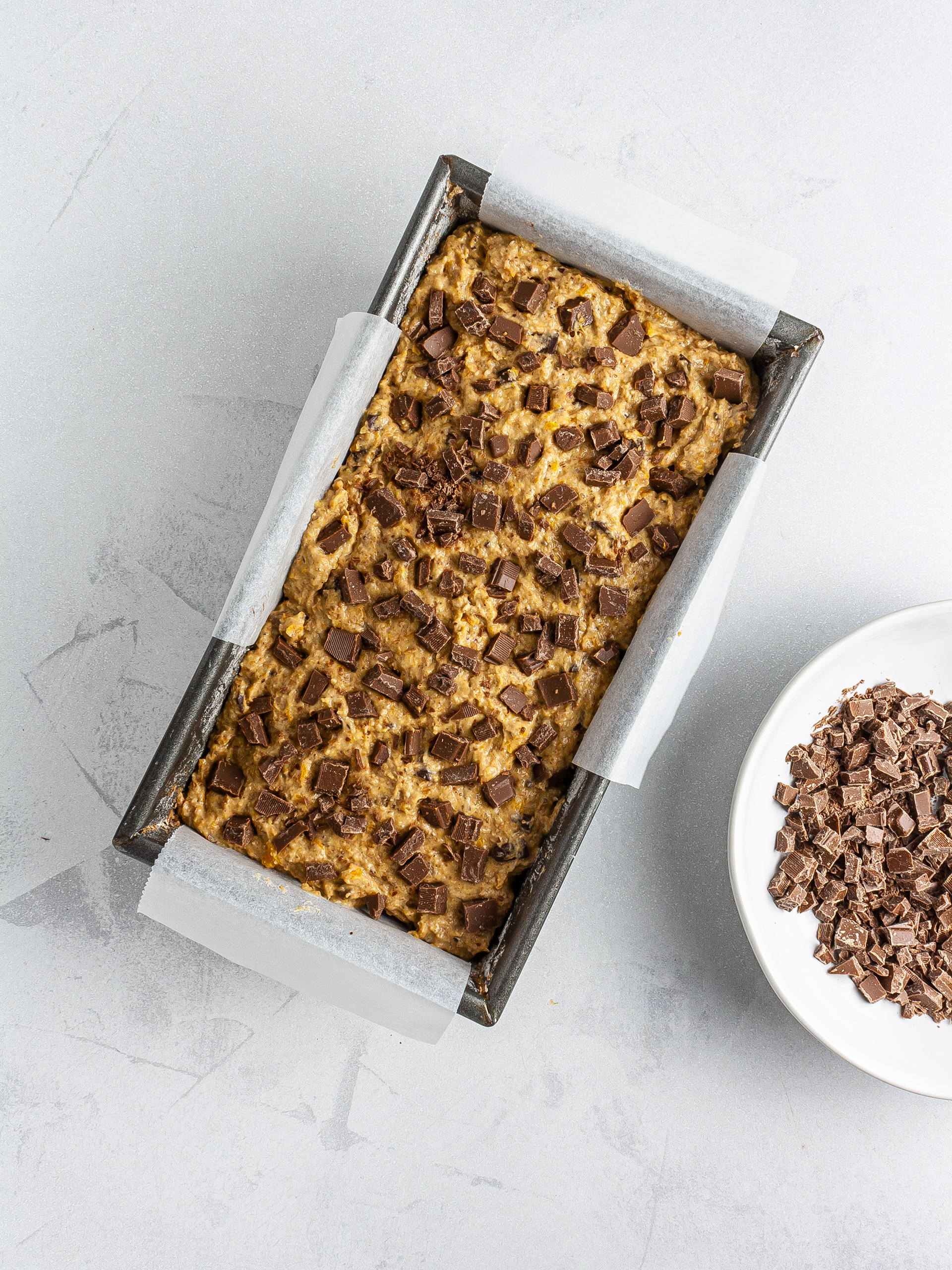 Step 5
Bake the pumpkin bread for 35-45 minutes at 170°C (340°F) for static ovens or at 150°C (300°F) for fan ovens.
The cake is ready when a skewer inserted in the centre comes out clean.
Leave the tin for a further 5-10 minutes in the oven turned off. This way, it will cool down more gradually.
Then, remove the chocolate bread from the oven, pull the cake out of the tin, and leave it to cool on a wire rack before slicing it.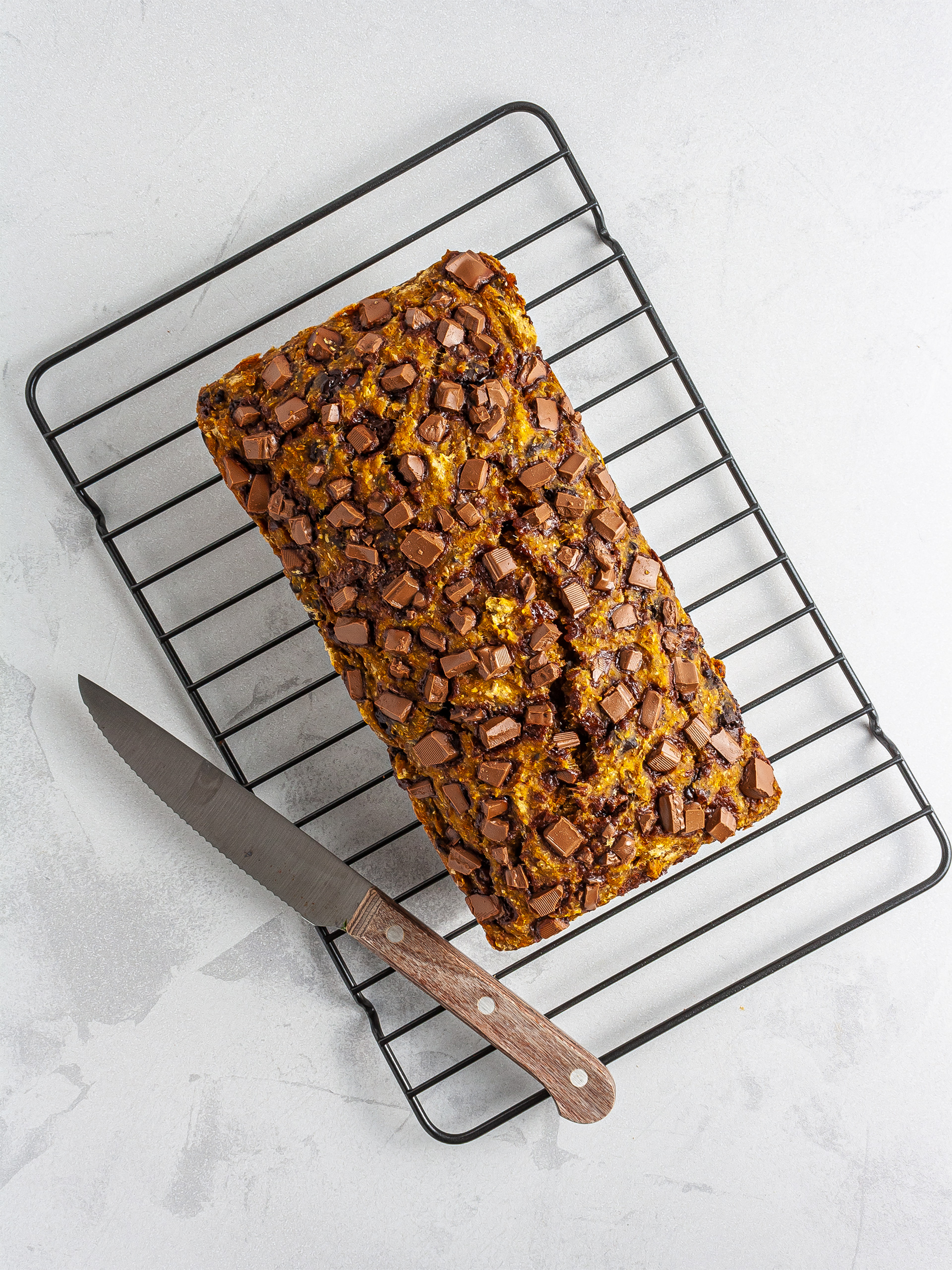 Tips
Add chopped walnuts to the pumpkin bread batter or sprinkle them on top before baking for extra flavour.

To make the cake gluten-free, replace wholemeal flour with oat flour, almond flour, or coconut flour.