Today, we have a wonderful pasta recipe that celebrates the harvest of the autumn season: homemade ravioli with pumpkin mushroom filling. They're delicious, fun to prepare, and 100% vegan!
If you've never tried pumpkin and mushrooms together, they're absolutely fantastic — perfect as a ravioli filling.
You'll have a delicious contrast of sweet and savoury notes, all made even tastier with roasted thyme and garlic.
All you have to do is roast the vegetables in the oven until soft and then whizz them into creamy pureé.
You can use sweet pumpkins (also called sugar pumpkins or pie pumpkins) or butternut squash, depending on what you can find.
As for the mushrooms, we choose chestnut mushrooms but can also opt for wild mushrooms, shiitake or king oyster mushrooms for more depth of flavour.
Most Italian ravioli recipes include some type of cheese in the filling, usually ricotta or parmesan. So, to keep our recipe vegan, we swapped cheese with nutritional yeast (aka nooch).
These yellow flakes of inactivated yeast look like grated parmesan and taste almost like it but have no dairy.
Classic fresh pasta also contains eggs, which give flavour, colour, and elasticity to the dough. But here, we replaced them with a mix of olive oil, water, and yellow turmeric for perfect egg-free pasta dough.
Ok, now, if you've never made pasta dough at home, the most important thing is to roll it as thinly as you can. You want to almost see through it.
If you own a pasta machine, that's quite easy to do. But for those who don't have it, the good ol' rolling pin will get the job done. No worries!
Once you have the filling ready and the pasta dough rolled out, then the fun begins! Grab a cookie cutter and cut out your ravioli. You can give them any shape you like, make them small or large, it's up to you.
You can serve these pumpkin mushroom ravioli just boiled and drizzled with extra virgin olive oil.
But, if you save some of the filling, you can turn it into a delicious ravioli sauce, ready in just a few minutes. Follow our recipe below to discover how!
Ingredients
Filling
Pumpkin (peeled and deseeded)

250 g

Extra Virgin Olive Oil

1 tbsp

Mushrooms (chestnut, shiitake, or king oyster)

150 g

Fresh Thyme Sprigs

5

Garlic Cloves (unpeeled)

2

Nutritional Yeast

2 tbsp

Pasta Dough
Super-fine "00" Pasta Flour

200 g

Salt

1/2 tsp

Extra Virgin Olive Oil

1 tbsp

Water

120 mL

To Serve
Hazelnuts or Walnuts (toasted and chopped)

20 g
Step 1
Dice the pumpkin or butternut squash into small chunks.
Then, toss them with a drizzle of olive oil in a roasting tin and season them with salt and pepper to taste.
Roast for 25 minutes at 180°C (355°F).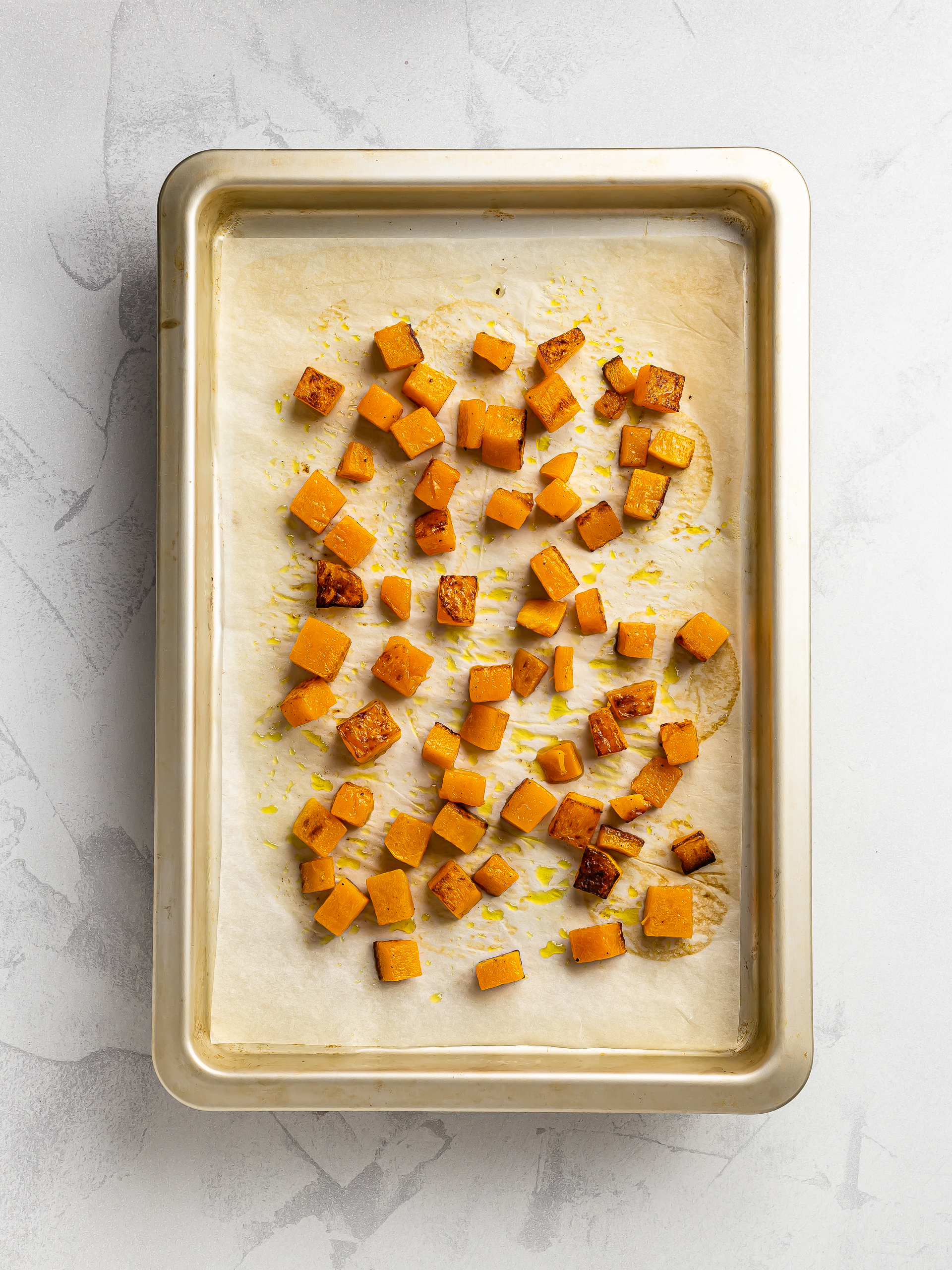 Step 2
Meanwhile, prepare the egg-free ravioli dough.
Mix flour with salt in a bowl, add olive oil and water and mix all into a dough.
If you want to give it a yellow colour like we did, tip in two pinches of ground turmeric and mix well.
Then, transfer the dough into a worktop and knead it for 5 minutes.
The dough will be sticky at first, but it will become smooth and elastic as you knead.
If you can, refrain from adding any flour to the dough, or it will get stiff; try to keep pasta dough soft and pliable.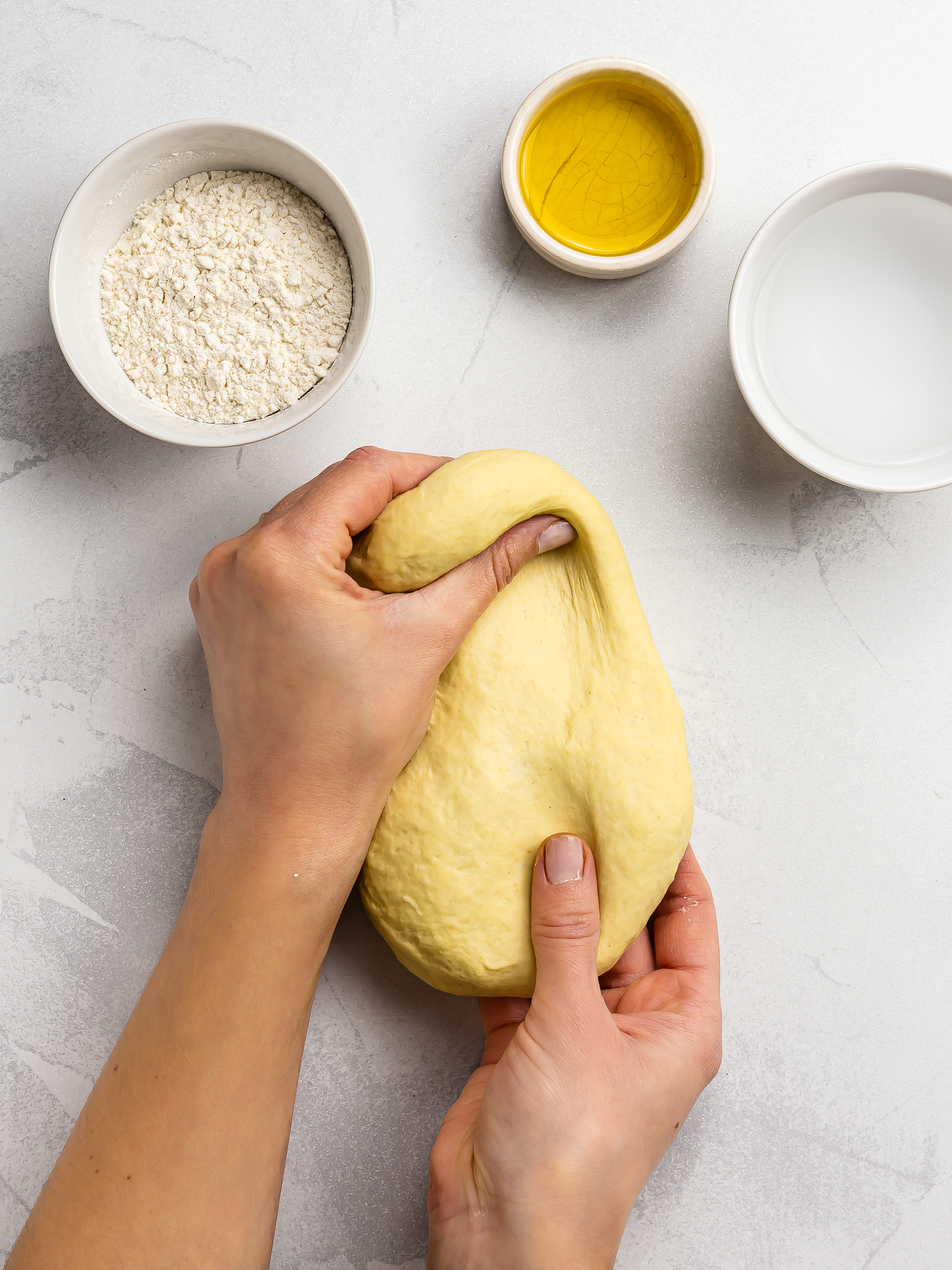 Step 3
Now, roll the ravioli dough into a ball, wrap it in cling film, and let it rest at room temperature for 30 minutes (up to 3 hours).
This step is essential to allow the dough to "relax" and make it easier to stretch it later.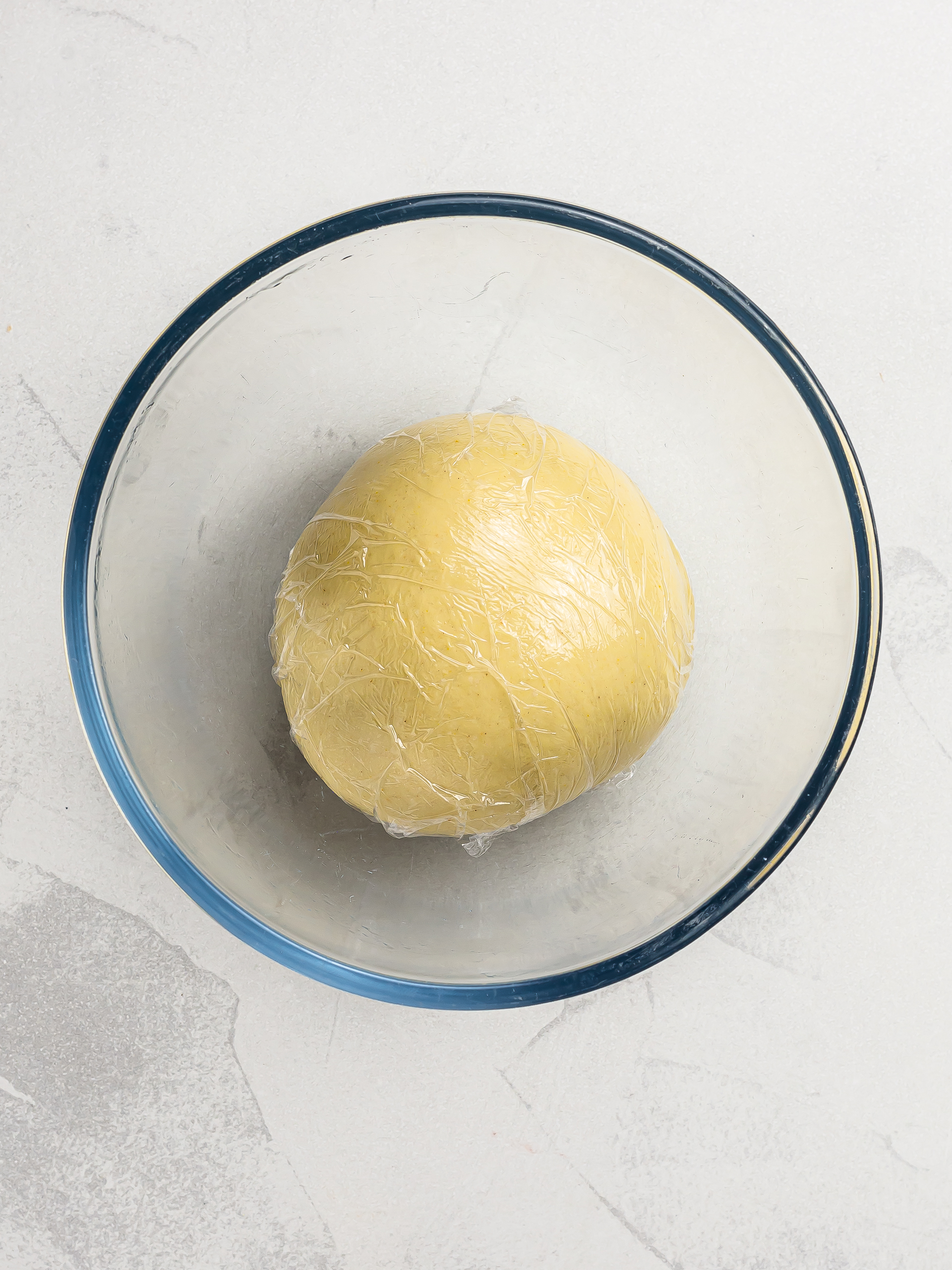 Step 4
While the dough rest, finish preparing the ravioli filling.
Remove the roasted pumpkin from the oven, add in sliced mushrooms, thyme sprigs, and skin-on garlic cloves.
Put the tin back in the oven and roast all for 15 more minutes.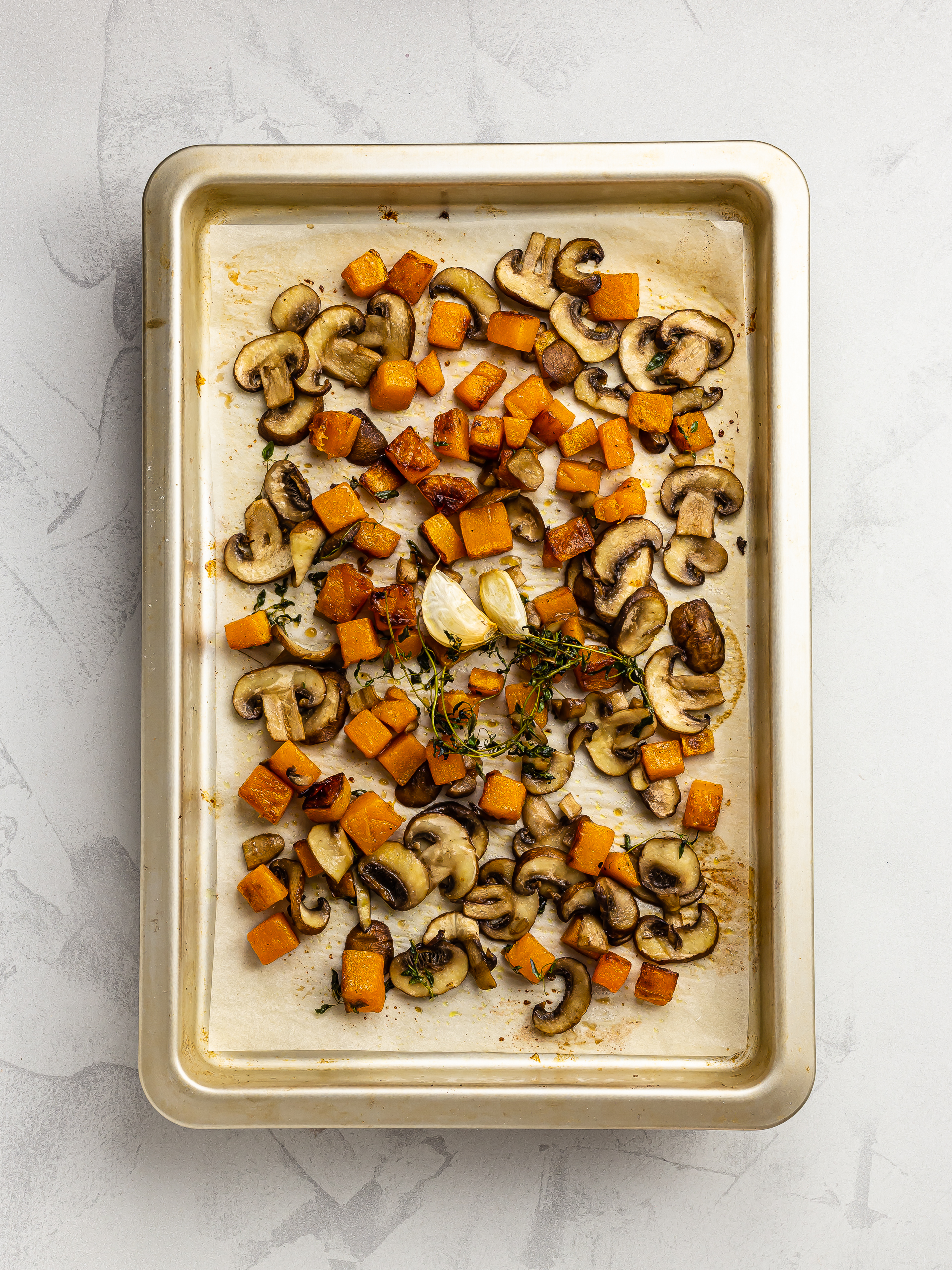 Step 5
Once tender and cooked through, transfer the pumpkin and mushrooms into a food processor, reserving a few veggies to make the sauce and garnish the ravioli later.
Squeeze the roasted garlic cloves out of their peel and add them to the blender along with the nutritional yeast.
Blitz all into a smooth and creamy pureè and set it aside.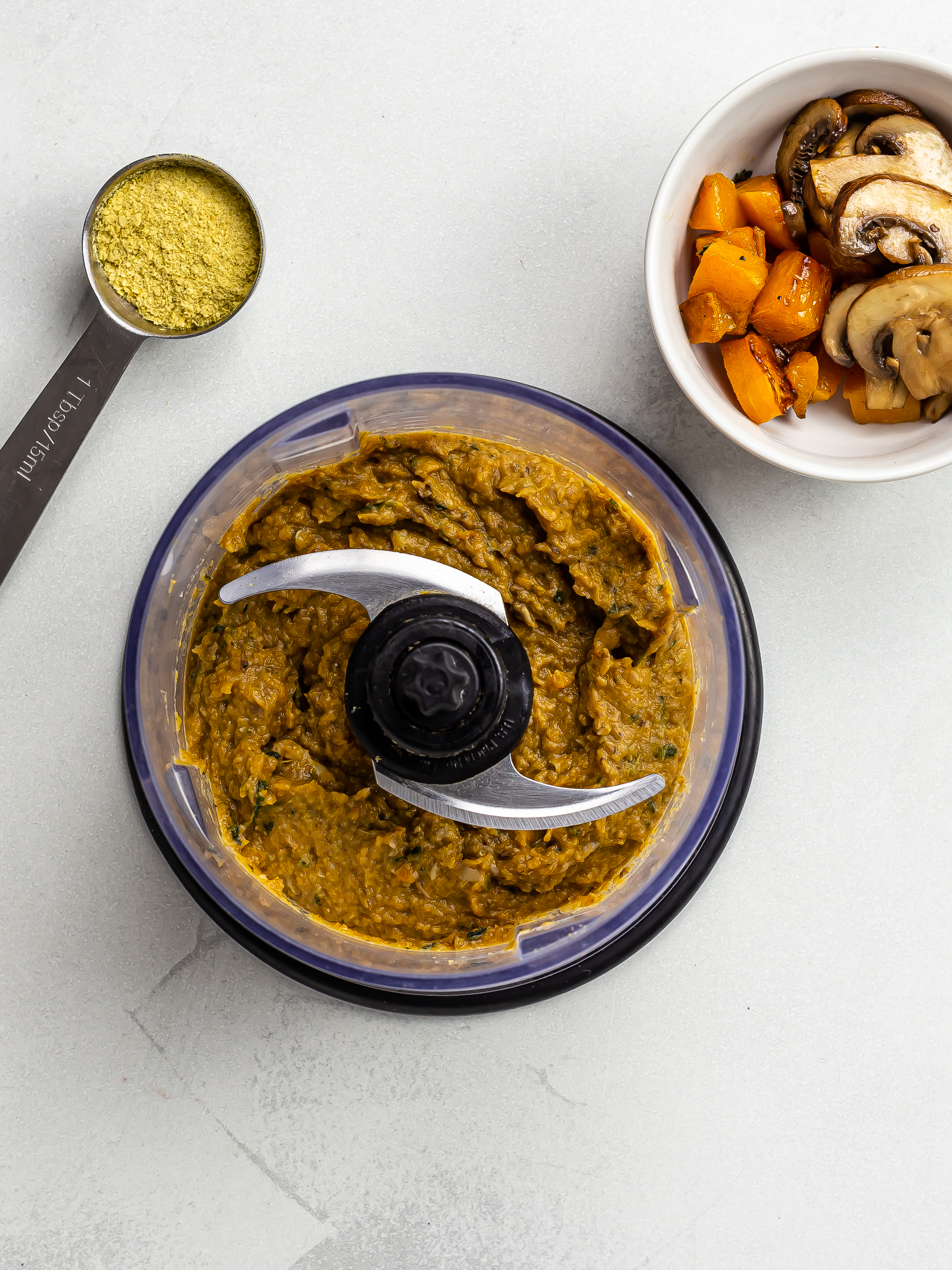 Step 6
Divide the pasta dough in half, and keep on half wrapped in the film so it won't dry out.
Working on a flat surface without adding any flour, use a rolling pin or a pasta machine to stretch out one dough half into a very thin sheet.
You should be able to almost see through the pasta sheet if you hold it against the light.
If at any point the dough gets too stiff and recoils back while you try to roll it out, stop, cover it with a cloth, and let it rest for a few minutes before continuing.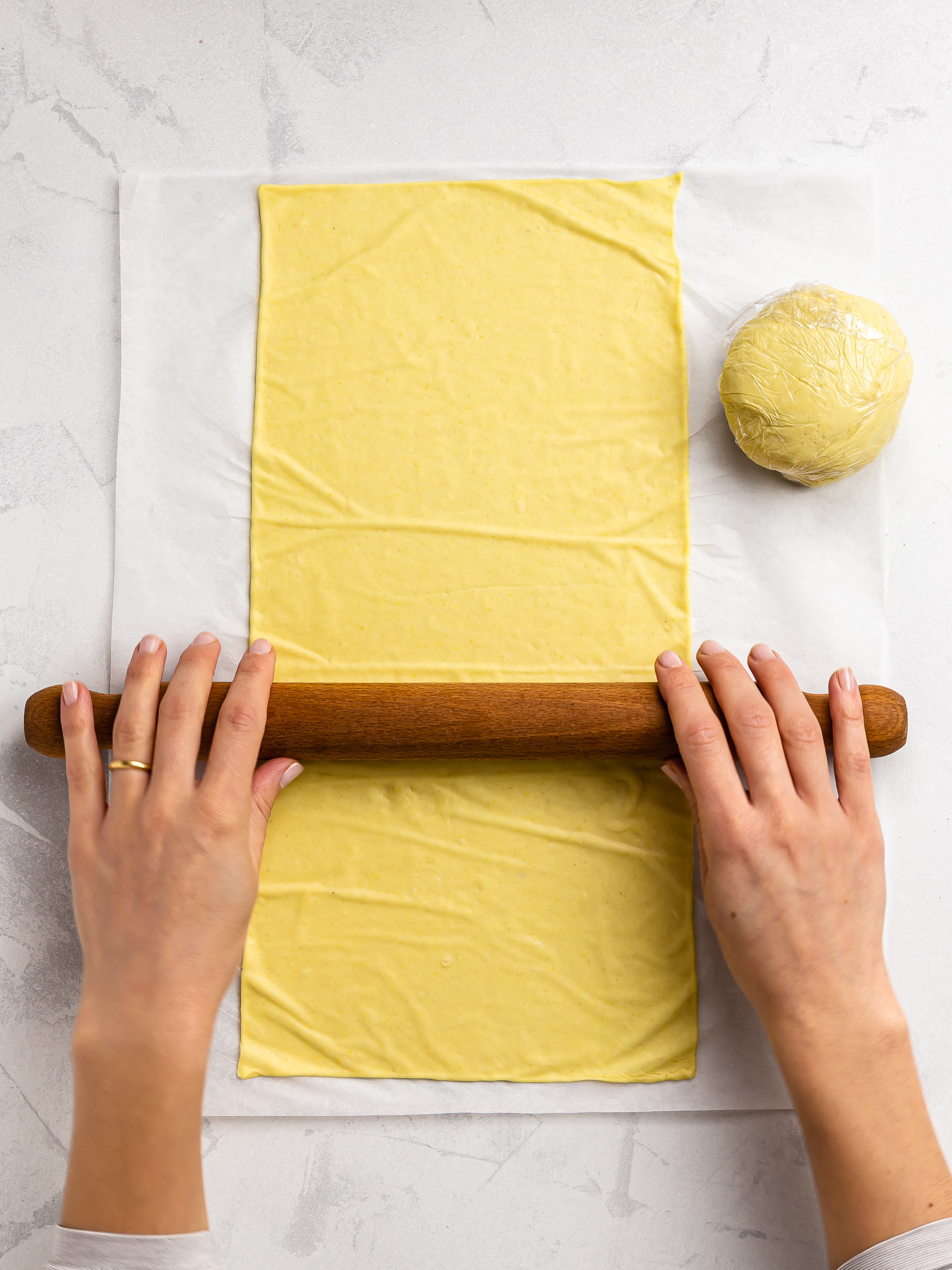 Step 7
Now, lightly dust a sheet of baking paper with flour and lay the prepared pasta sheet on it.
Use a 6cm (2.5 inches) cookie cutter to mark circles on the pasta sheet without cutting through the dough.
Then, put one heaped teaspoon of pumpkin pureé in the centre of each circle and wet the edges with a little bit of water.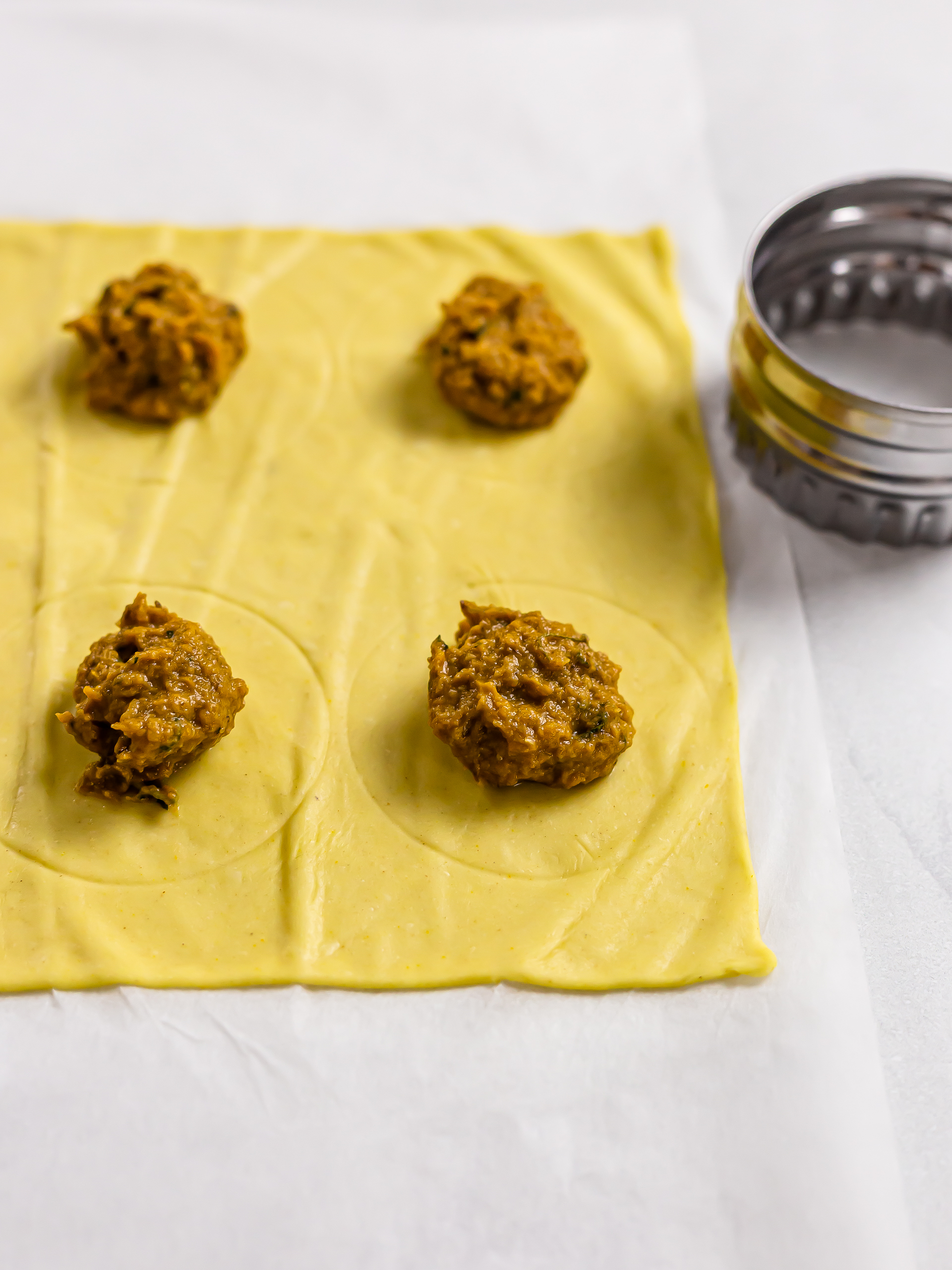 Step 8
Unwrap the other dough half from the cling film and roll it into a very thin pasta sheet, as you did for the first dough half in step 6.
Now, lift this second pasta sheet and drape it over the first to cover the filling (1).
Smooth the dough around the filling, using your fingertips to remove any air bubbles and pressing down to seal the two sheets together.
Now, use the same cookie cutter to cut out the ravioli discs (2).
1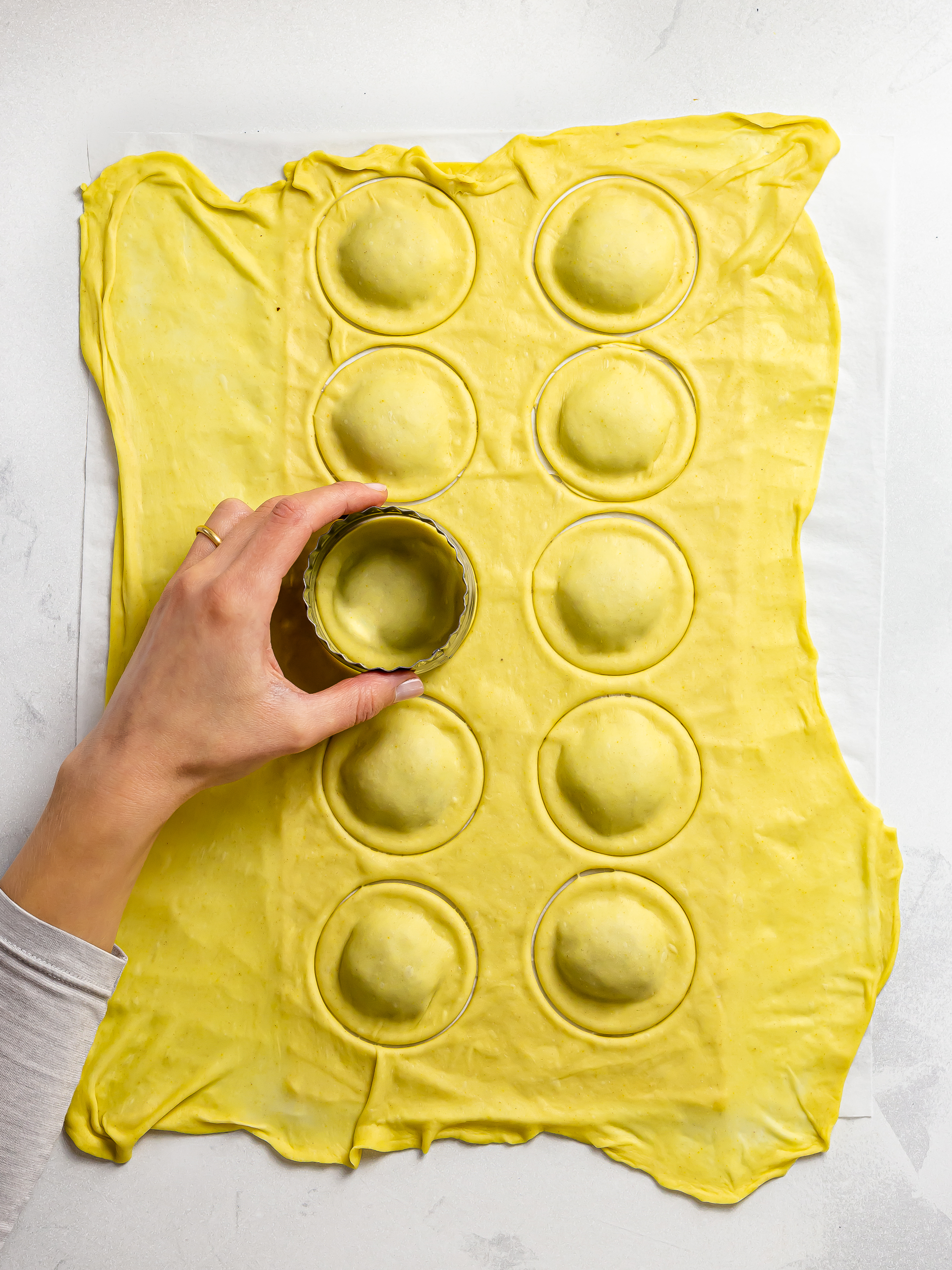 2
Step 9
Gently strip off the excess dough around the ravioli and roll it back into a ball.
Repeat steps 6-8 until you have used all the dough and pumpkin filling.
Place the prepared ravioli on a tray lined with parchment paper and cover them with a towel.
If the ravioli are too soft and get stuck to the paper, transfer them into the fridge or freezer. Let them harden until you can peel them off of the baking paper with ease.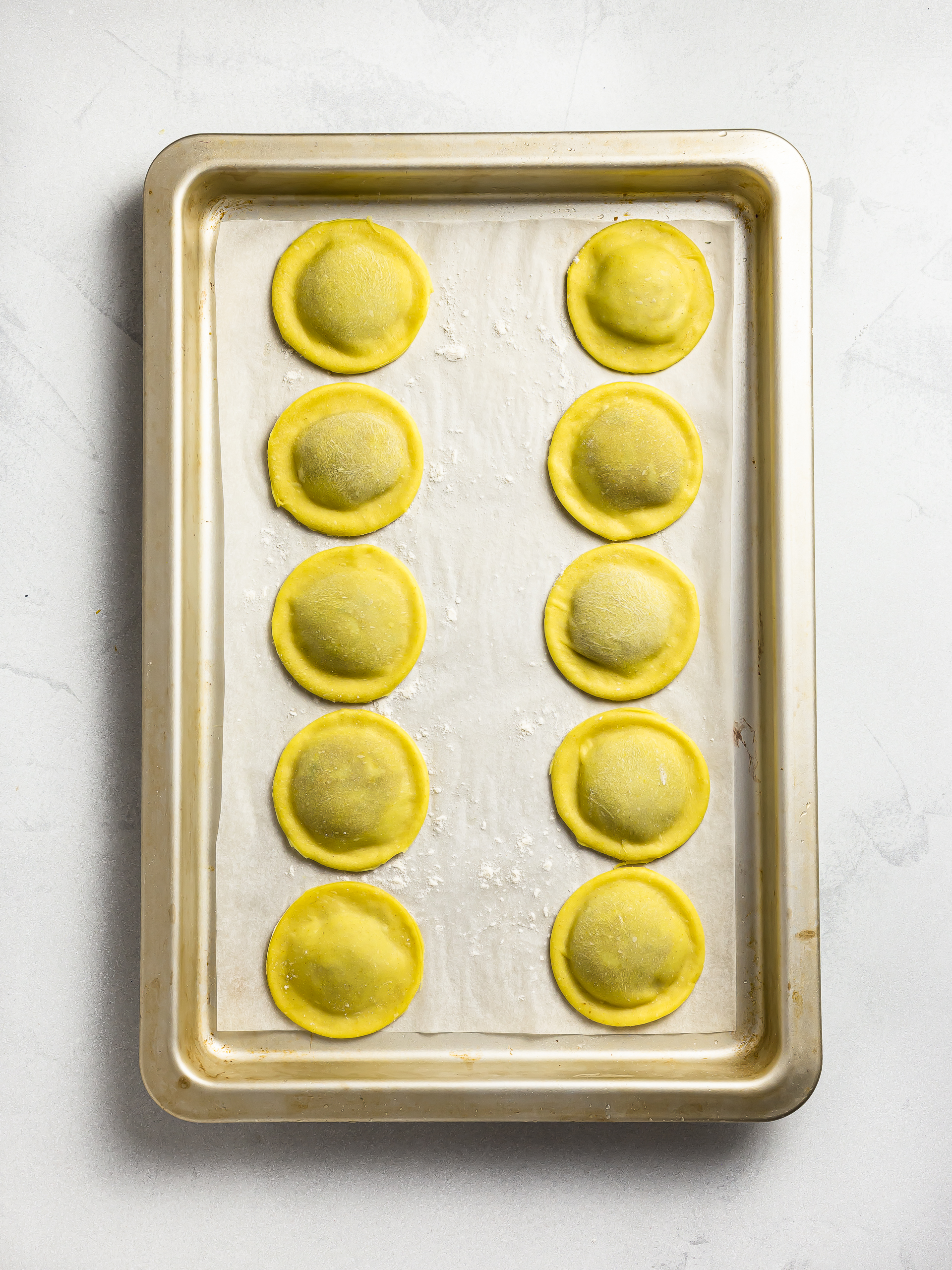 Step 10
Bring a large pot of salted water to a boil, add the ravioli and cook them for 2-3 minutes.
They are ready when they float to the surface, and they're al dente, meaning cooked through but firm to the bite.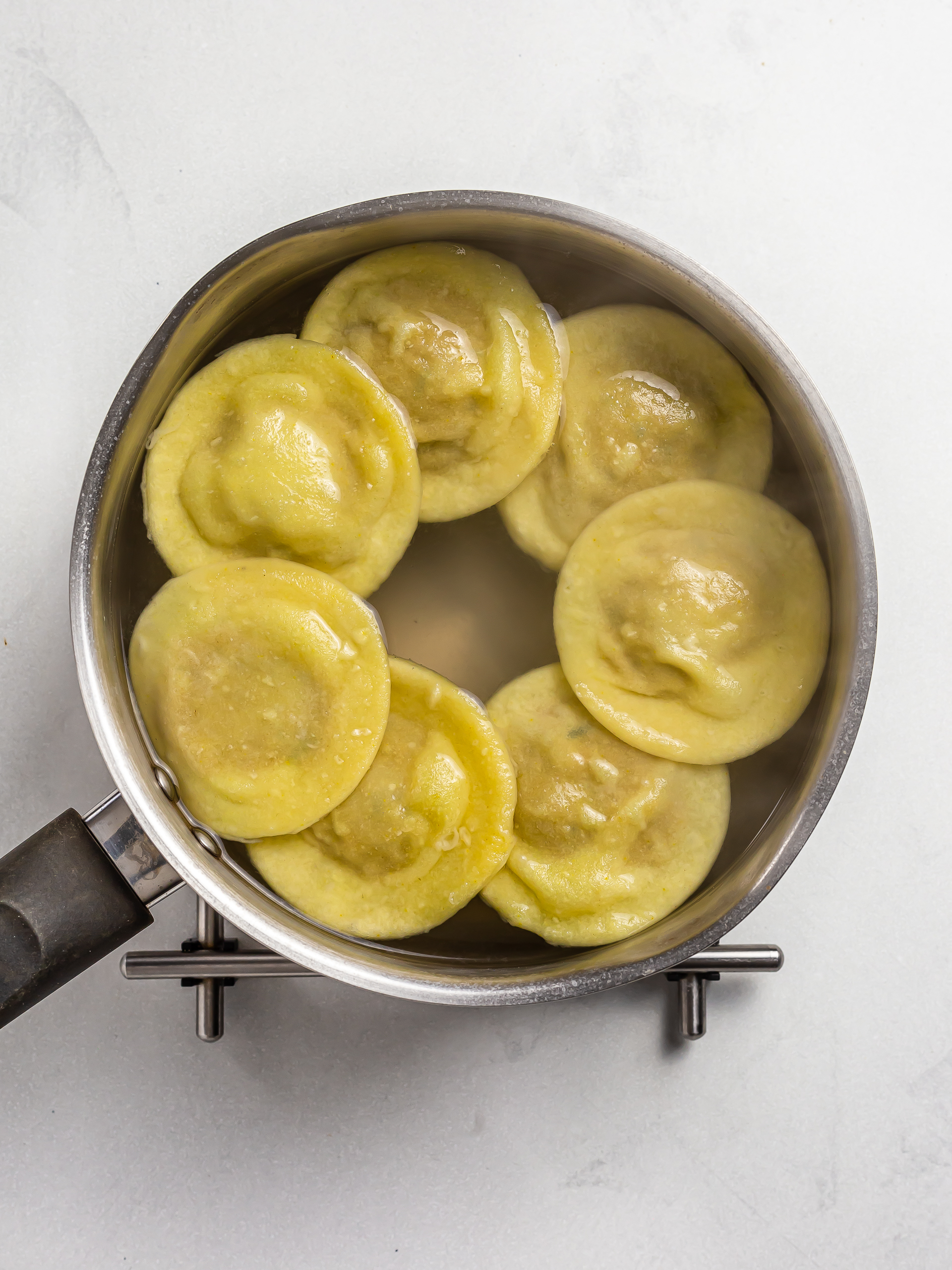 Step 11
To serve, heat a drizzle of olive oil in a pot, add chopped hazelnut and the reserved pumpkin, mashed it into a puree (1).
Sizzle all for a minute and then drizzle the sauce over the ravioli.
Garnish your pumpkin mushrooms ravioli with roasted mushrooms, fresh thyme, nutritional yeast and cracked pepper (2).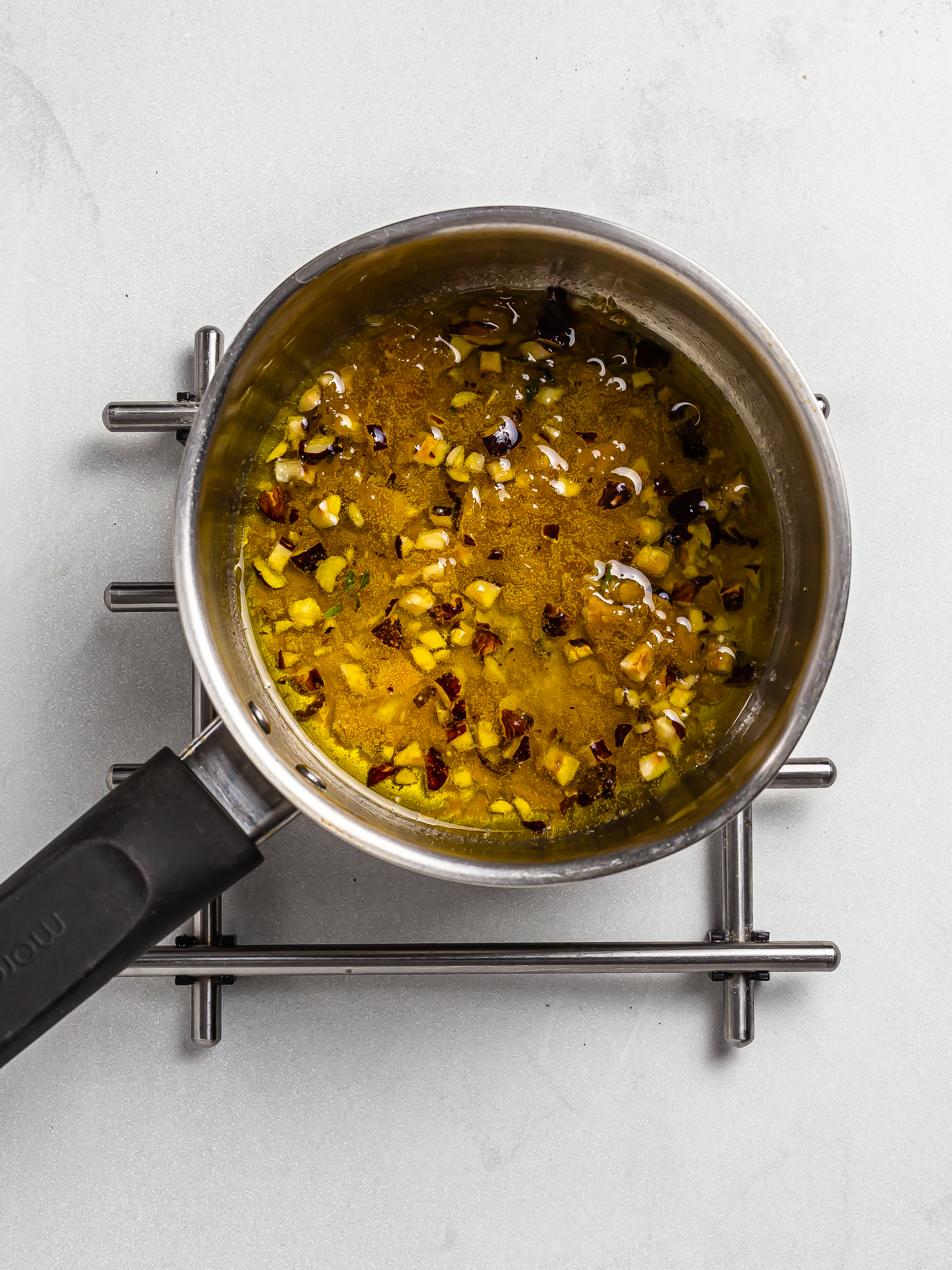 1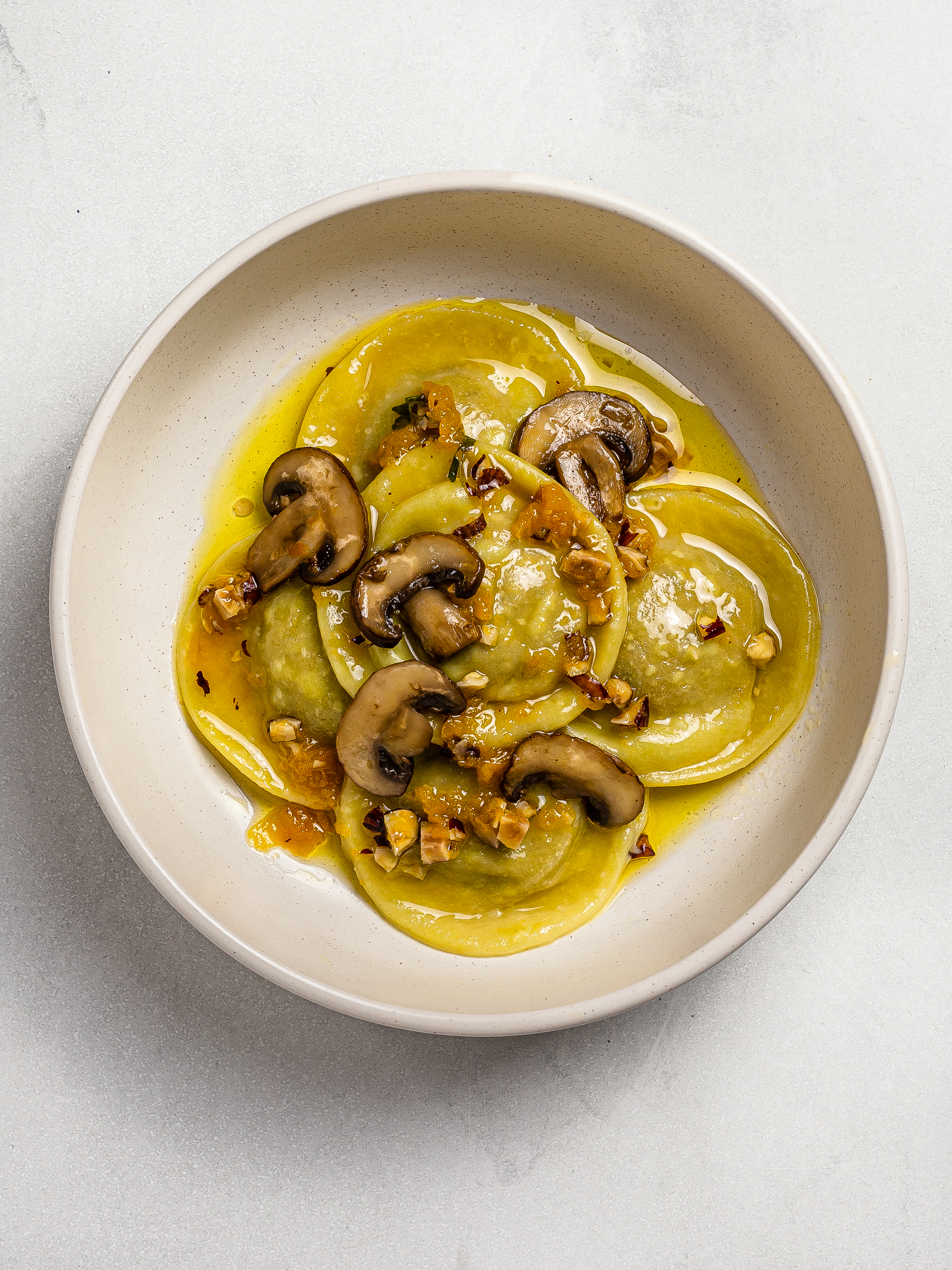 2
Tips
You can swap thyme with sage or rosemary.

If you want to prepare the ravioli in advance and cook them another time, transfer the uncooked ravioli in a container or tray lined with parchment paper, arranging them in a single layer. Freeze the ravioli, and when you're ready to eat them, add them to the pot of boiling water without letting them thaw first.