For today's recipe, we revisited the famous Thai cashew chicken stir-fry and turned it vegan using tofu. It's a quick and delicious meal that will take just 20 minutes to put together. And we promise it's as delicious as the classic one!
Stir-fries with cashews are a favourite across Asia, and the Chinese and Thai versions are probably the most famous. The two are very similar, but the Thai spin is less saucy, so the flavours are more concentrated.
Cashew chicken stir-fry is known as gai pad med mamuang in Thai. It's an incredibly popular dish in restaurants and a takeaway favourite.
And for a good reason!
The classic dish is made by stir-frying chicken, chillies, garlic, peppers, and onions with a rich, savoury sauce. Crunchy, roasted cashews and fresh spring onions round up the dish with extra flavour and texture.
Cashew stir-fry is so good we think everyone should be able to enjoy it, no matter their diet.
And that's why we redesigned the recipe to be fully plant-based, and a little healthier too.
How did we do it?
First, we replaced chicken with tofu.
Tofu is a staple food across Asia and simply perfect in vegan stir-fries. Make sure you get firm tofu, not silken tofu. And if you can, opt for medium-firm tofu as it's a little spongier.
Then, we had to work on the stir-fry sauce.
The cashew sauce is usually a mix of fish sauce, oyster sauce, dark soy sauce, and often Thai chilli paste. It's sweet, spicy, and salty — it makes all the difference in this dish!
To make the sauce vegan and a little lower in sugars, we used a combo of light soy sauce and vegan Thai chilli paste.
The original Thai chilli paste contains shrimps, so it's not vegan. But some brands make a vegetarian version (which is effectively also vegan) using shiitake mushrooms for that umami flavour.
You should be able to find it at large supermarkets, at your local Asian food store, or online. But if you can't get it, we'll tell you how to swap it in the tips at the bottom of the recipe.
Once all the ingredients are sorted, all is left to do is get the wok hot and get cookin'. Your delicious vegan tofu pad med mamuang is just a few minutes away!
And if you liked this recipe, why not try another spicy tofu seasoning next time? We think you'll love this Chinese firecracker sauce for tofu or this Asian sweet and spicy tofu glaze with honey.
Ingredients
| | |
| --- | --- |
| Tofu Block (firm or medium-firm) | 400 g |
| Soy Sauce | 4 tbsp |
| Water | 90 mL |
| Sesame Oil | 1/2 tbsp |
| Vegan Thai Chilli Paste | 2 tbsp |
| Vegetable Oil | 1/2 tbsp |
| Small Garlic Cloves | 4 |
| Fresh Thai Red Chillies | 4 |
| Red Peppers | 2 |
| Large Onion | 1 |
| Spring Onion Stalks | 4 |
| Roasted Cashew Nuts | 80 g |
Step 1
If you're using unroasted cashews, you can quickly toast them in a dry skillet over medium heat until they're lightly brown.
Toss them around every now and then so they'll get roasted evenly without burning.
Then, set them aside to cool down and crunch up.
Now, let's prepare the tofu for the stir-fry.
Make sure you're using firm tofu, not silken tofu.
If you can, get the medium-firm tofu block as it's a little spongier and will work better for this recipe.
Rinse and drain the tofu block, then dice it into bite-sized cubes.
Add them to a bowl, followed by 2 tbsp of soy sauce and 40 mL of water. Mix well to coat the tofu cubes with the soy marinade, and let them soak for 15 minutes.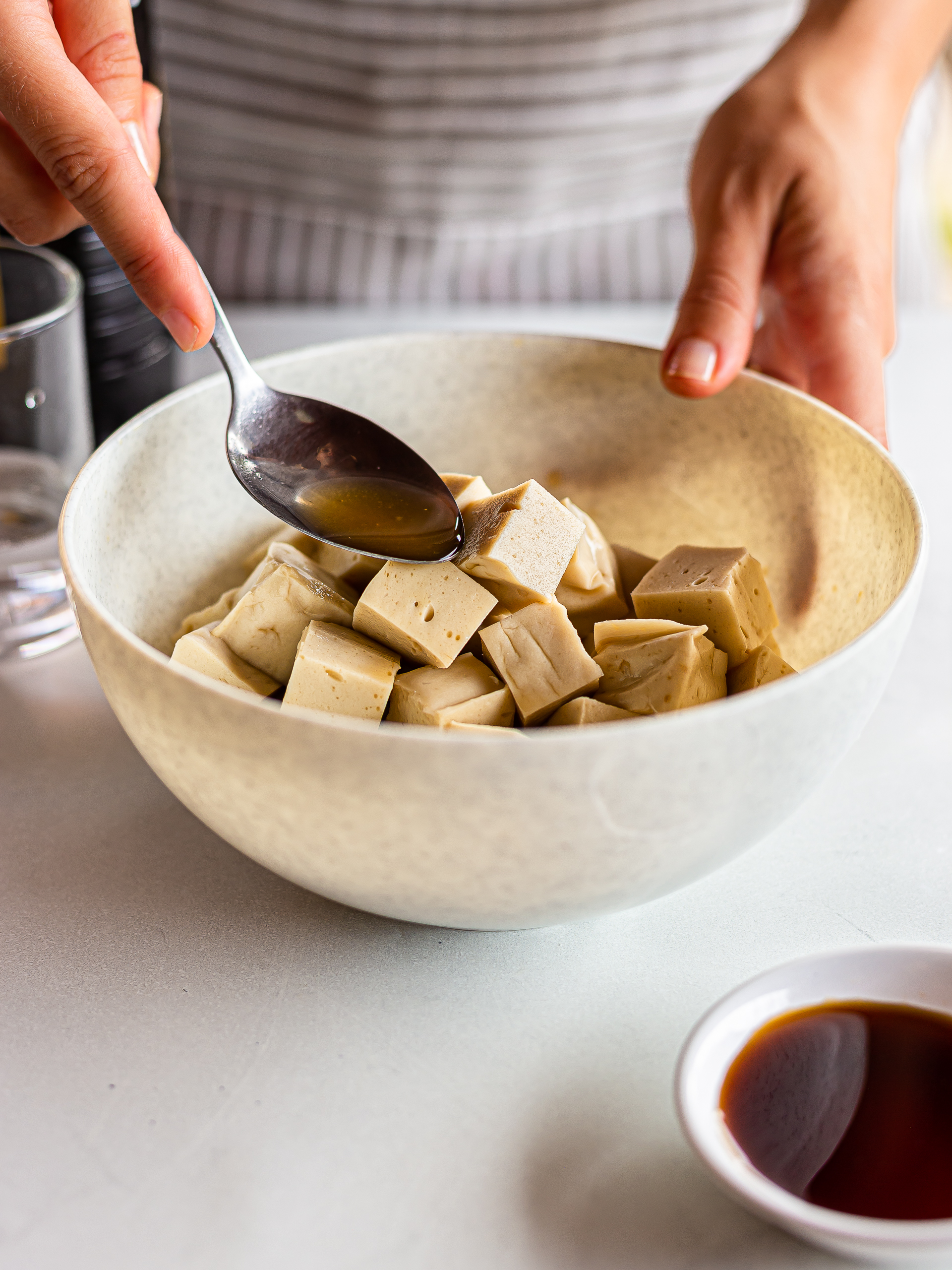 Step 2
Meanwhile, prepare the cashew stir-fry sauce.
The sauce is usually made with Thai chilli paste, which contains shrimp paste.
But you should be able to find the vegan Thai chilli paste made with shitake mushrooms (sometimes called vegetarian Thai chilli paste) at the supermarket or Asian food stores.
If you can't, we'll tell you how to substitute it in the tips at the bottom of the page.
To make the stir-fry sauce, mix the sesame oil with the Thai chilli paste and the remaining 2 tbsp of soy sauce and 50 mL of water in a cup.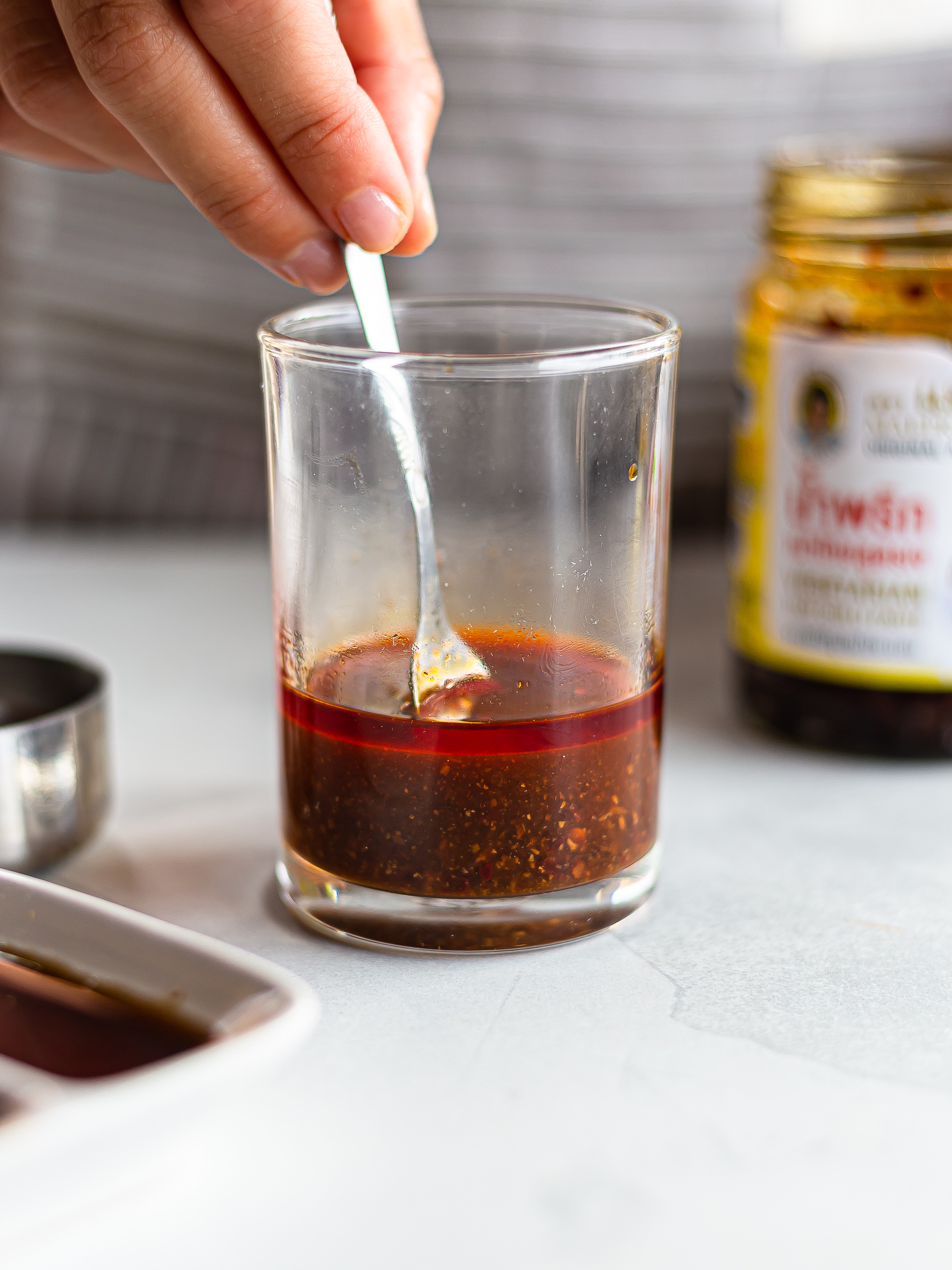 Step 3
Now, let's make the tofu stir-fry.
Use a wok if you have it for the best results. But a cast iron pan, non-stick skillet, or stainless steel pan will also work.
Heat the vegetable oil over medium heat.
Then add thinly sliced garlic and Thai red chillies, cut in half lengthwise, and sizzle them for a minute until fragrant.
Thai chillies are quite spicy, so you can leave them whole if you prefer a milder stir-fry.
If you can't find fresh red chillies, you can also use the dried ones.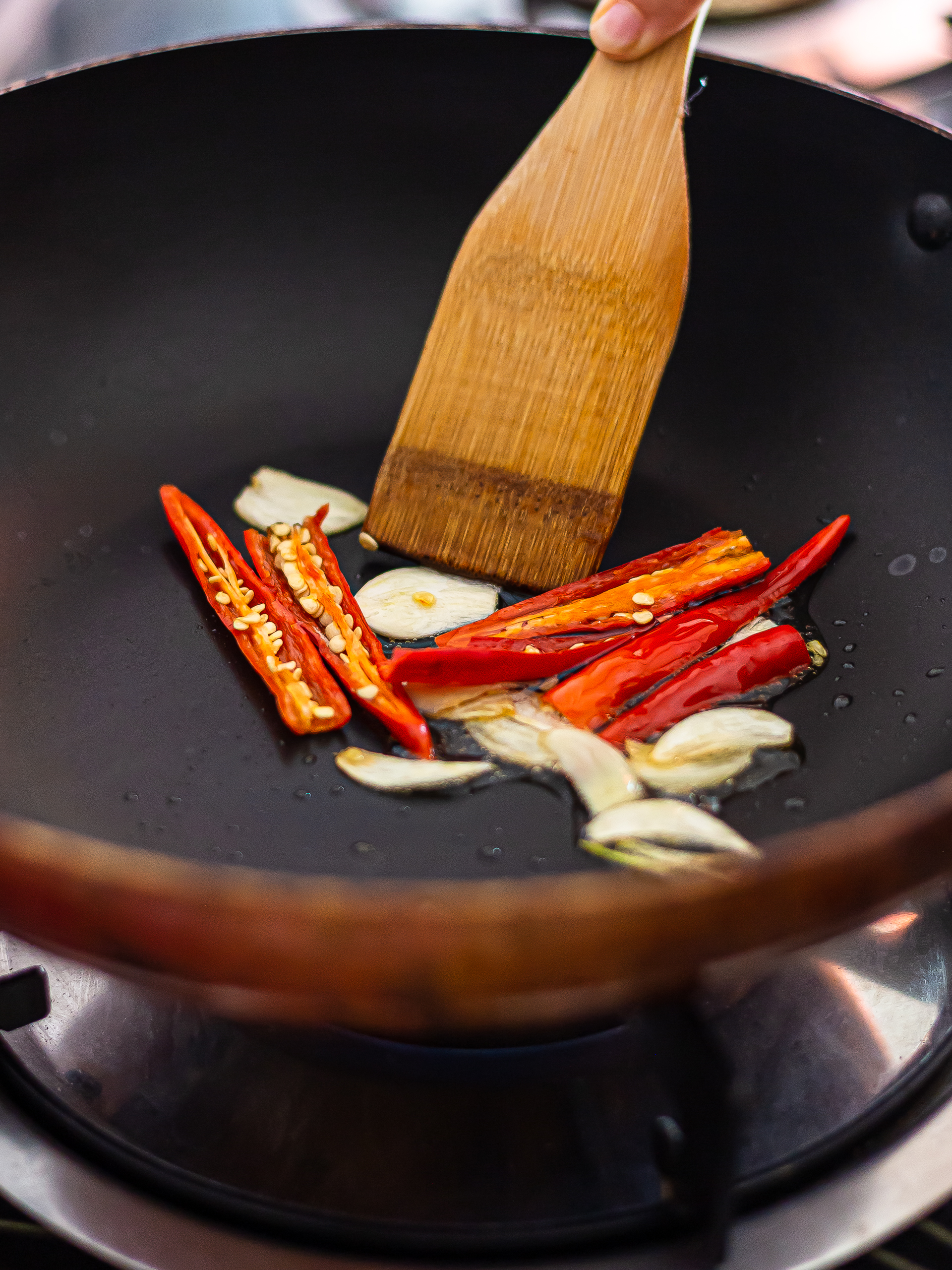 Step 4
Next, add the marinated tofu cubes, leaving the excess soy sauce behind in the bowl.
Cook them over medium-high heat until the liquids have evaporated.
Then, sear the tofu cubes until they're lightly browned, tossing them around the pan to char them nicely on all sides.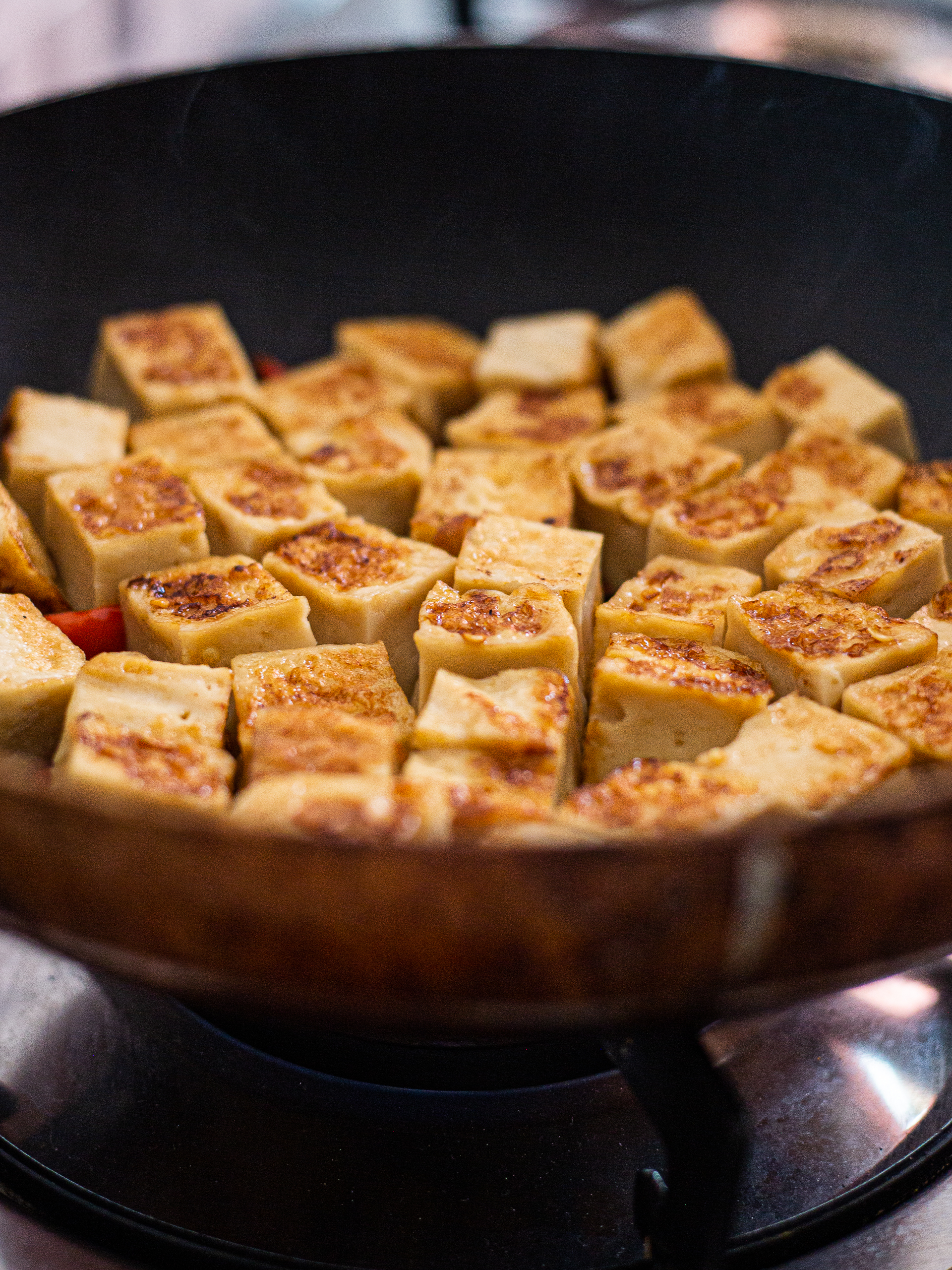 Step 5
Now, turn the heat to high and tip in the prepared Thai chilli sauce, followed by diced red peppers and wedged onions.
Stir-fry all until the onions have softened slightly.
You want the veggies to be a little tender but still somewhat crunchy.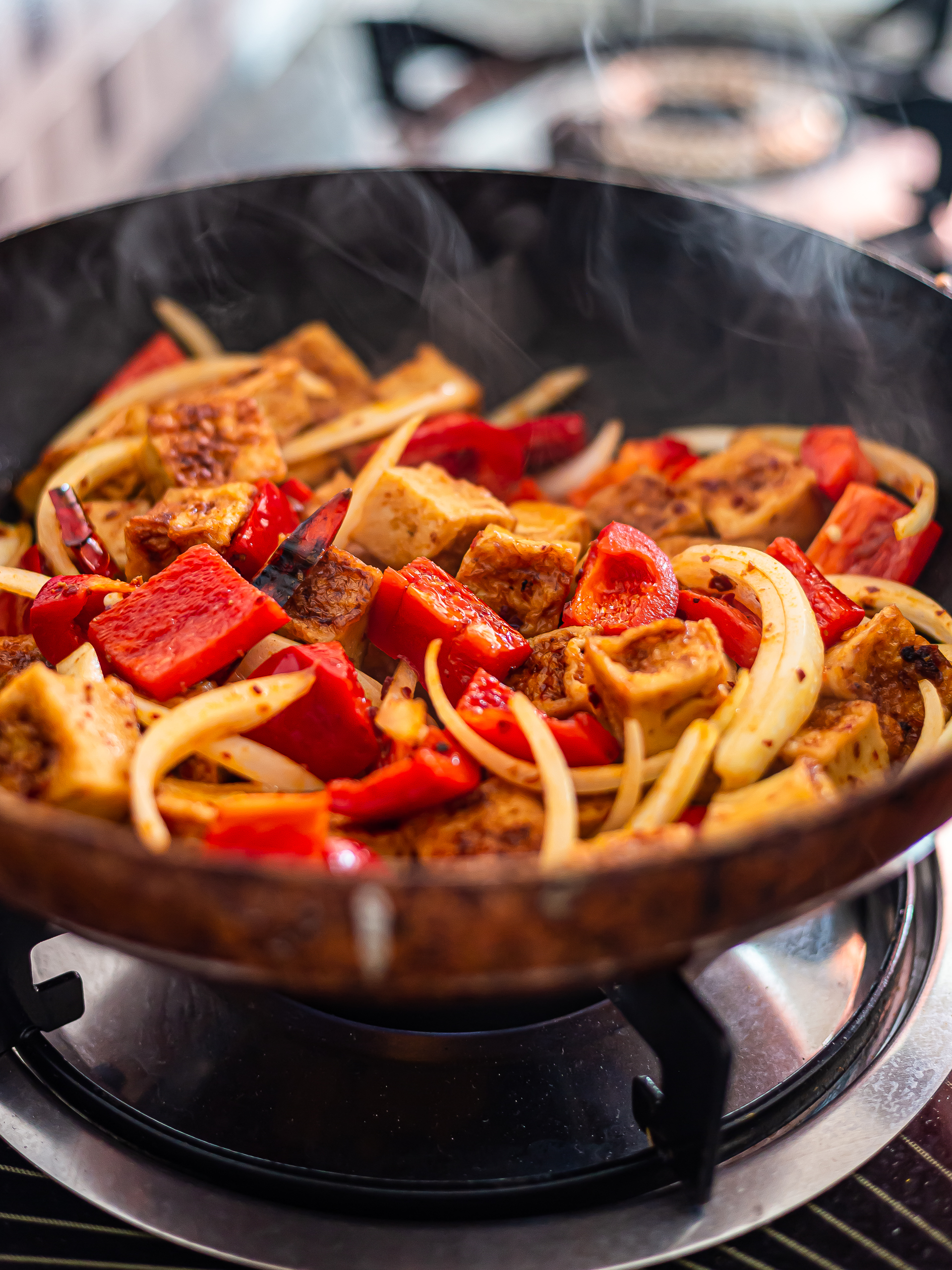 Step 6
Finally, add chopped spring onions and roasted cashews.
Give all a final stir and remove the pan from the heat.
Serve your delicious vegan Thai cashew "chicken" right away with a side of steamed jasmine rice, lime wedges, and stir-fried greens like this Thai morning glory.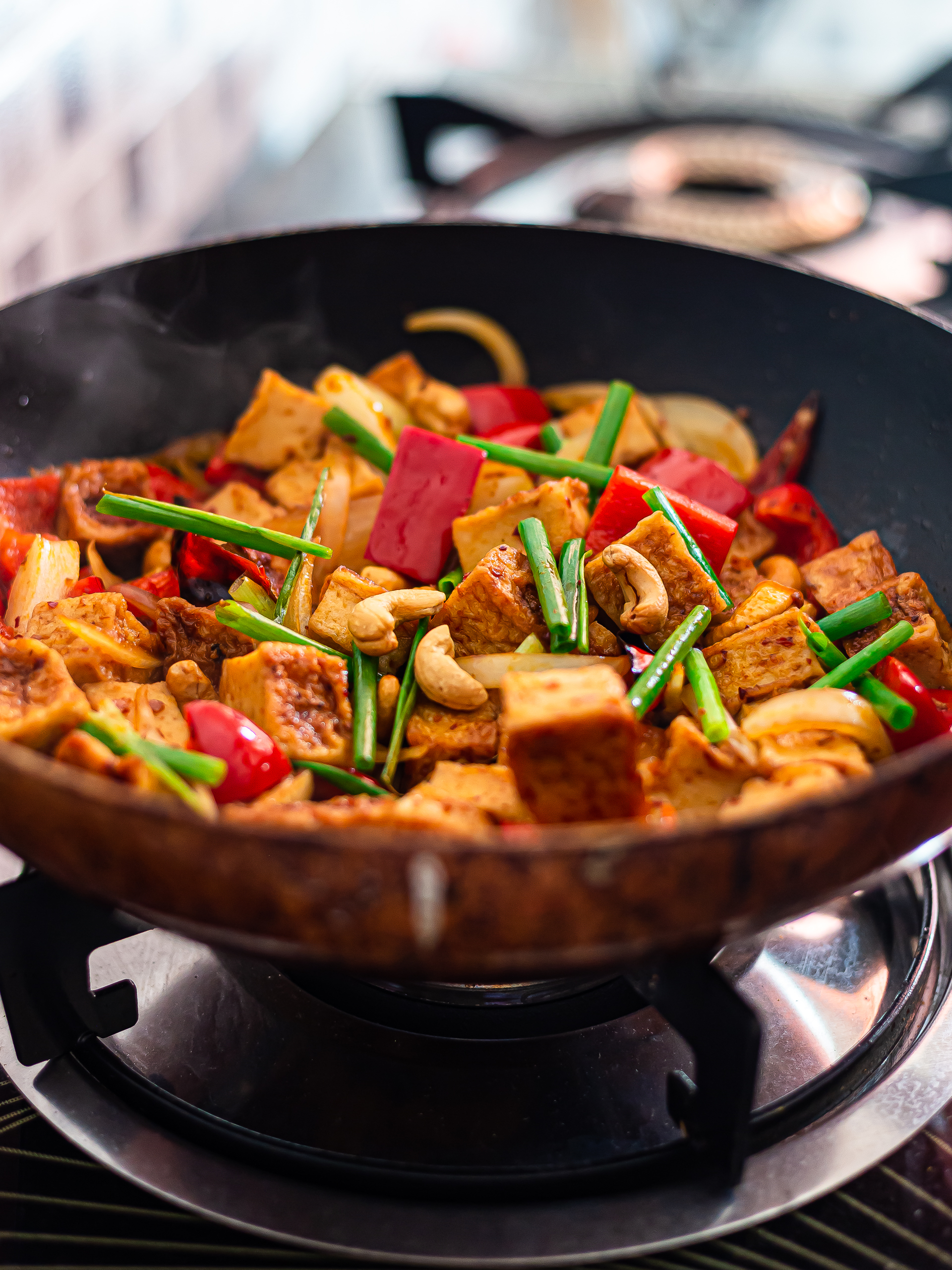 Tips
Don't overcook the peppers and onions, or they'll get too soft. The secret to a great stir-fry is in the crunchiness of its veggies.

The classic Thai cashew stir-fry is not as saucy as the Chinese version. But, if you like it saucier, you can double up the sauce ingredients and add an extra splash of water.

Only add the cashews if you know you'll eat the stir-fry immediately, or they will get soggy.

If you can't find vegan/vegetarian Thai chilli paste, you can make it from scratch. In a food processor, blend 2 fresh red chillies (or 1/2 teaspoon of chilli powder) with 1 tablespoon of vegetable oil, 1 tablespoon of soy sauce, 2 teaspoons of sugar, and 2 teaspoons of tamarind sauce.