Curry puffs are very famous snacks throughout Asia, and they come in many different variations.
In the classic recipe, pastry shells are stuffed with a filling of curry powder, potatoes, and chicken, and are then deep-fried.
For our recipe, we wanted to experiment with Thailand-inspired flavours and make these pasties as healthy as possible. So today, we show you how to make Thai curry puffs that are vegan and oven-baked.
In Thailand, these bites are also known as "karipap", and they share similarities with the Portuguese pastel.
In our recipe, we swapped chicken with mung beans, traditional legumes in the Thai cuisine. Also, instead of using the classic curry powder, we prepared a fresh Thai curry paste with green chillies, lemongrass, and coriander.
For the stuffing, we added pak choi, sweet potatoes, and beansprouts. They often feature in Thai cuisine and give us extra flavour, texture, and nutrients.
Finally, instead of deep-frying the puffs, we oven-baked them until golden and crispy. This allows keeping the fat content low, considering the pastry itself already contains quite a few fats.
Enjoy these flaky puffs warm from the oven and serve them as an appetiser or party food. Let's get started!
NOTE: The default ingredients yield 24 puffs and one serving consists of 2 pastries.
Frequently Asked Questions
Are the classic curry puffs vegan?

The traditional Asian pastries usually include chicken or minced beef in the filling. Therefore, they are not suitable for those following a plat-based diet.

Our recipe, instead, is vegan as we swapped animal products with mung beans, a type of pulse often used in Thai cuisine.
What can I use instead of mung beans?

Mung beans are also known as green gram, and they're often used in Indian and South-East Asian cuisine.

If you can't find them, you can replace these legumes with green lentils, which are very similar both in taste and appearance. Also, you can try using other pulses like split peas or red lentils.
Can I reheat the pastries?

These curry puffs are best enjoyed warm from the oven as they will be cripsy and flaky.

However, if you have any leftovers, you can also eat them cold, they're still delicious.

You can even reheat the curry puffs in the oven for 10 minutes to bring back their crispiness.
What type of pastry is best for these Thai pastels?

We have tried making them with both types of pastry, puff pastry and shortcrust, and they were equally delicious.

Puff pastry is thinner and flakier, but it also has a stronger taste. Shortcrust is a bit denser, but we felt it covered the filling flavours less. So, it's really up to what you prefer and what you can find at your local store.

You can also make the pastry dough yourself from scratch, but we wanted to keep this recipe as simple and quick as possible.
What other vegetables can I use fo the curry filling?

The classic puffs are prepared with a filling of potatoes, onions, and curry powder.

As we wanted to give this recipe a more Thai-inspired flavour and make something new at the same time, we used sweet potatoes, mung beans, pak choi, beansprouts, and green curry.

They are staple foods in the Thai cusine and, when combined, they give a unique, delicious flavour to our pastries.

However, you can also try swapping them with other ingredients, like:

Eggplants

Carrots

Cabbages

Lentils

Tofu
Ingredients
Filling
Raw Mung Beans

100 g

Pak Choi (Chinese Cabbage)

100 g

Sweet Potatoes

250 g

Beansprouts

100 g

Thai Green Curry
Fresh Ginger Root

10 g

Fresh Green Chillies

4

Lemongrass Stalks

1

Shallot

1

Fresh Coriander

2 tbsp

Garlic Clove

1

Zested Lime

1

Rapeseed Oil

1 tbsp

Water

30 mL

Others
Dairy-Free Puff Pastry Sheets

2
Step 1
Pre-soak the raw mung beans in a bowl of cold water for at least 3 hours or, even better, overnight.
Then, drain and rinse the beans and add them to a pot.
Cover them with water, bring to a boil, and simmer for 15 minutes.
If you're using already cooked, tinned beans, then you can skip this step.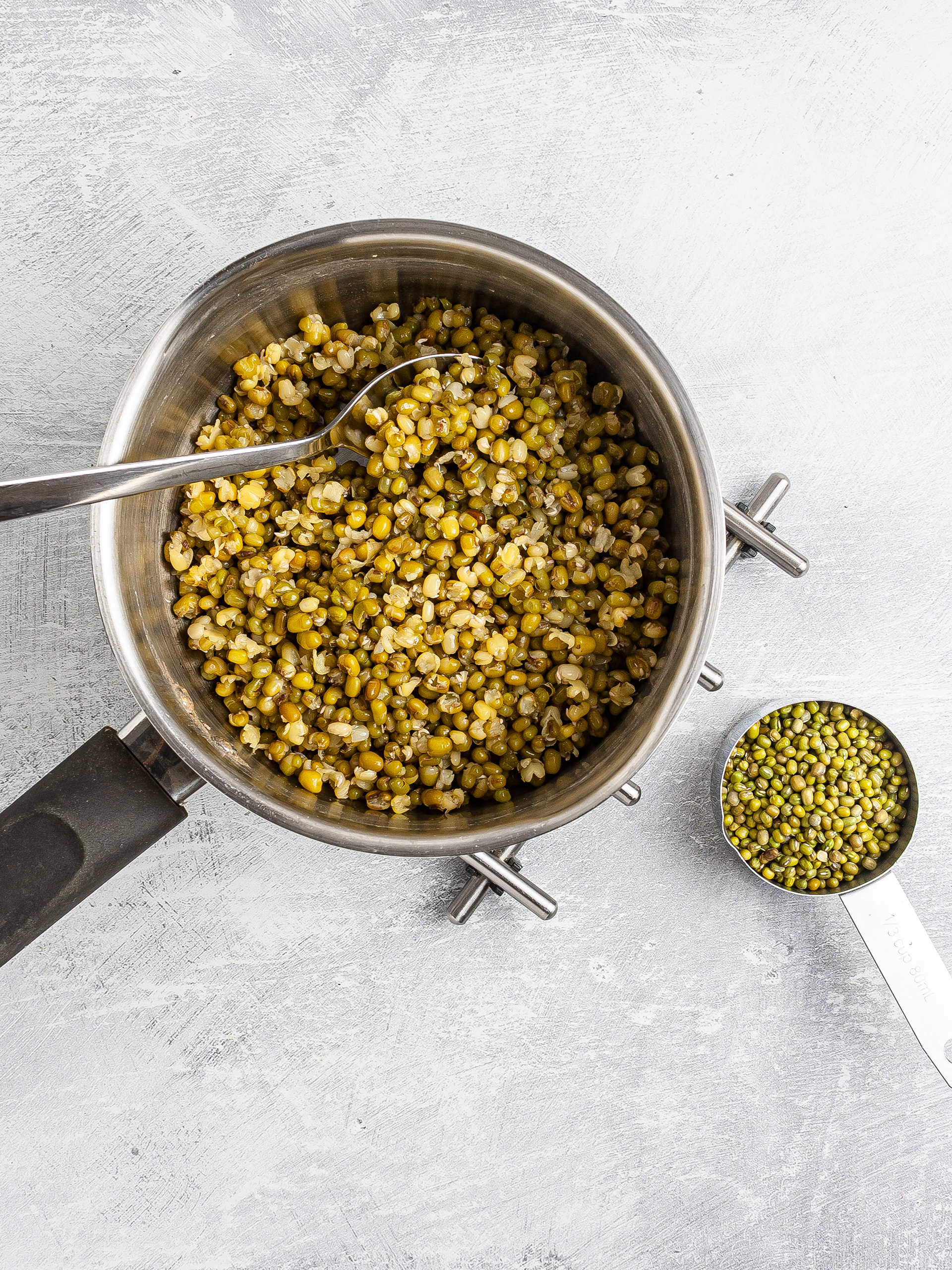 Step 2
In the meantime, let's prepare the Thai green curry paste.
Peel and dice the ginger root, slice the green chillies and lemongrass, and finely chop the onions.
Then, add the prepared vegetables to a food processor along with coriander, lime zest, minced garlic, oil, and water.
Blitz all into a smooth and creamy paste.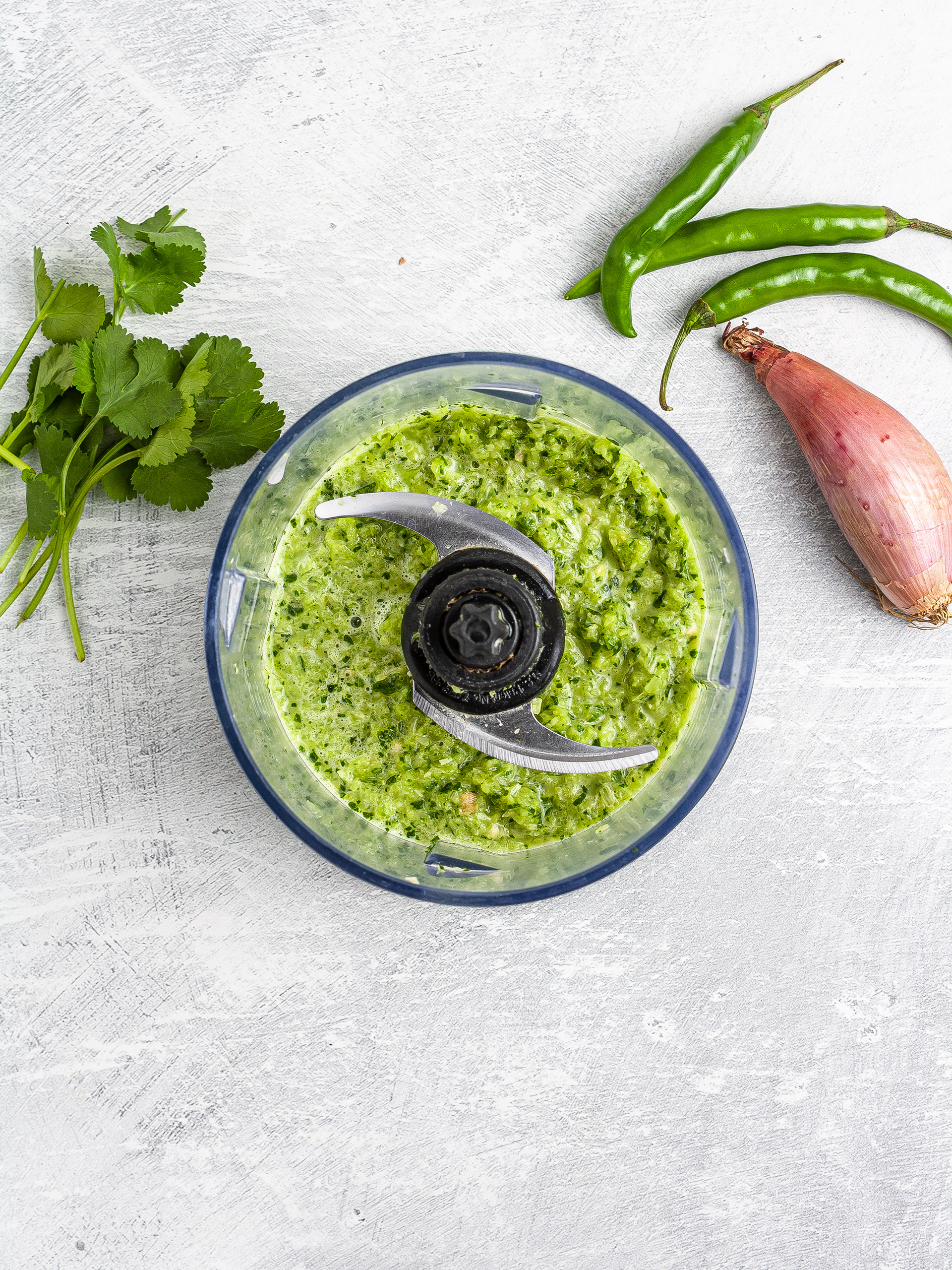 Step 3
Now, let's make the pastry filling.
Shred the pak choi, and diced peeled sweet potatoes.
Add the green curry and drained beans to a skillet. Then, tip in the vegetables and the beansprouts.
Stir fry the ingredients for 10-15 minutes, adding a bit of water to help with the cooking.
Season with salt and pepper to taste.
Make sure the vegetable filling isn't watery, or it will make the puffs soggy.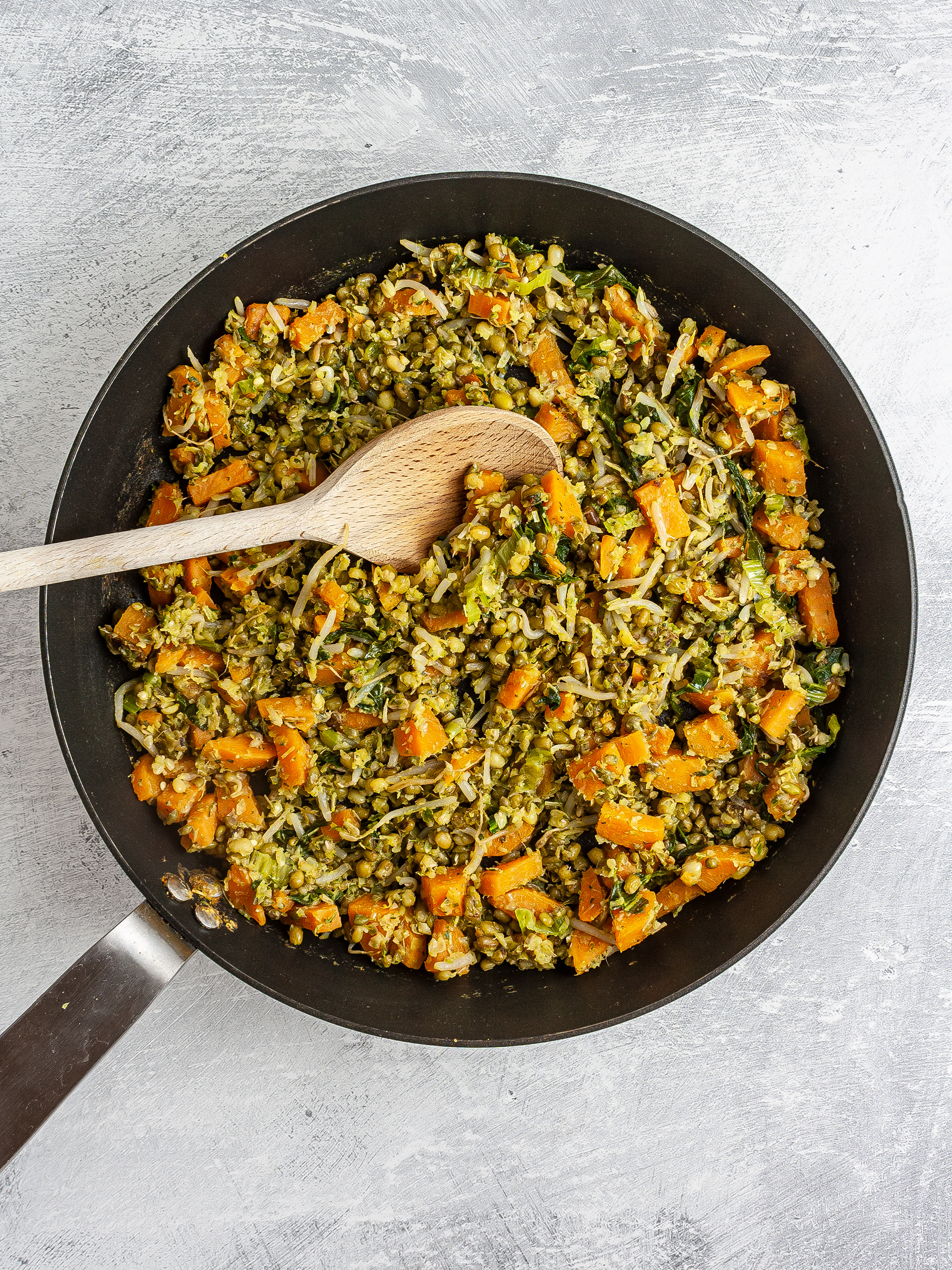 Step 4
Roll out the pastry sheet to a 0,5 cm (1/5 inch) thickness.
Use a cookie cutter or a sharp-edged glass to cut out 10 cm (4 inches) discs.
Now, portion the curry filling on the pastry rounds and wet the edges with cold water.
Then, fold the dough over filling to form a half-moon shape and seal the edges pressing down with your fingertips.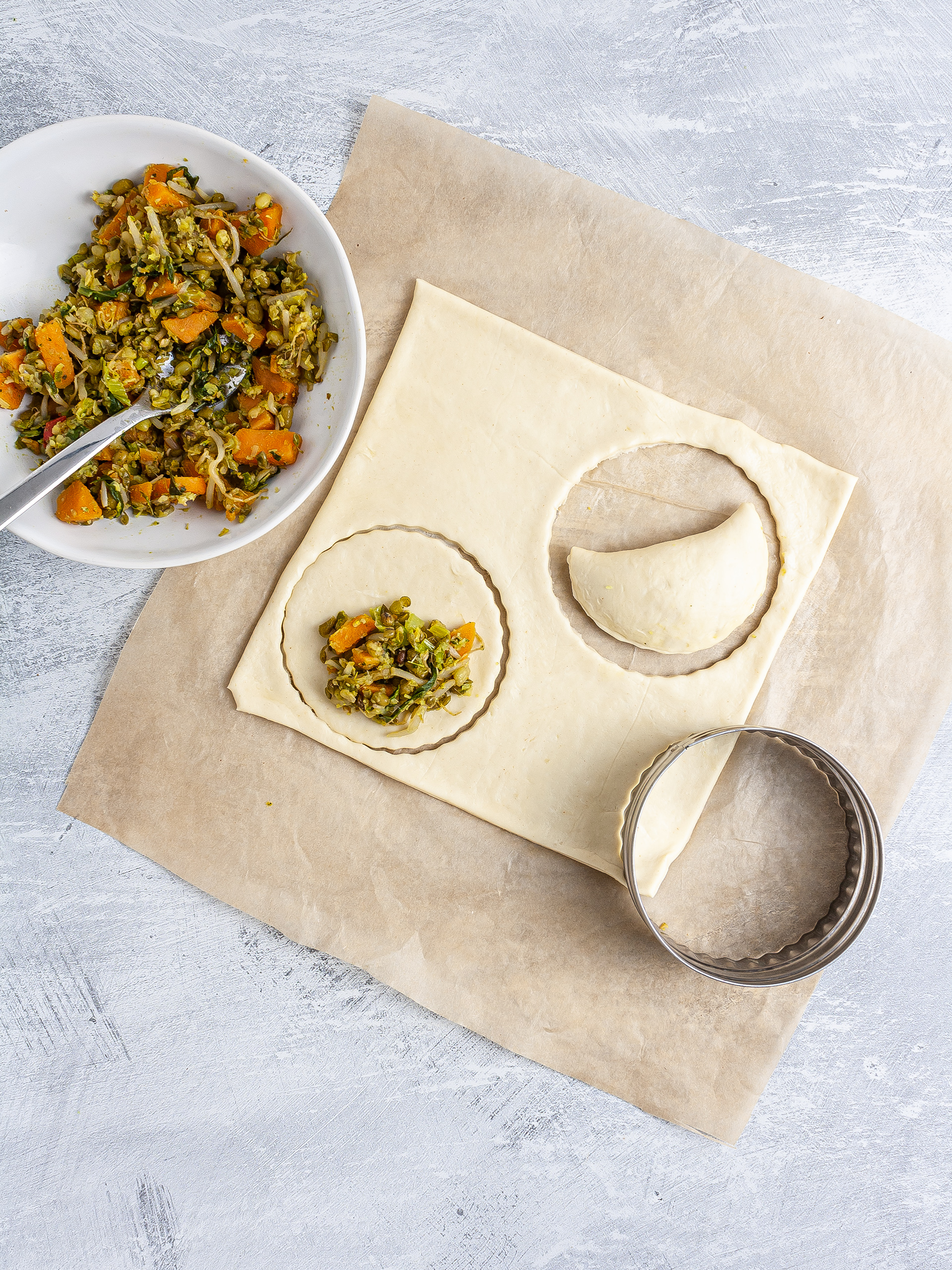 Step 5
Place the pastries onto a baking tray lined with parchment paper and lightly grease them with a bit of vegetable oil.
Bake the puffs in the preheated oven at 200°C (390°F) for 20 minutes.
Once golden and crisp, transfer them onto a wire rack to cool down evenly and serve.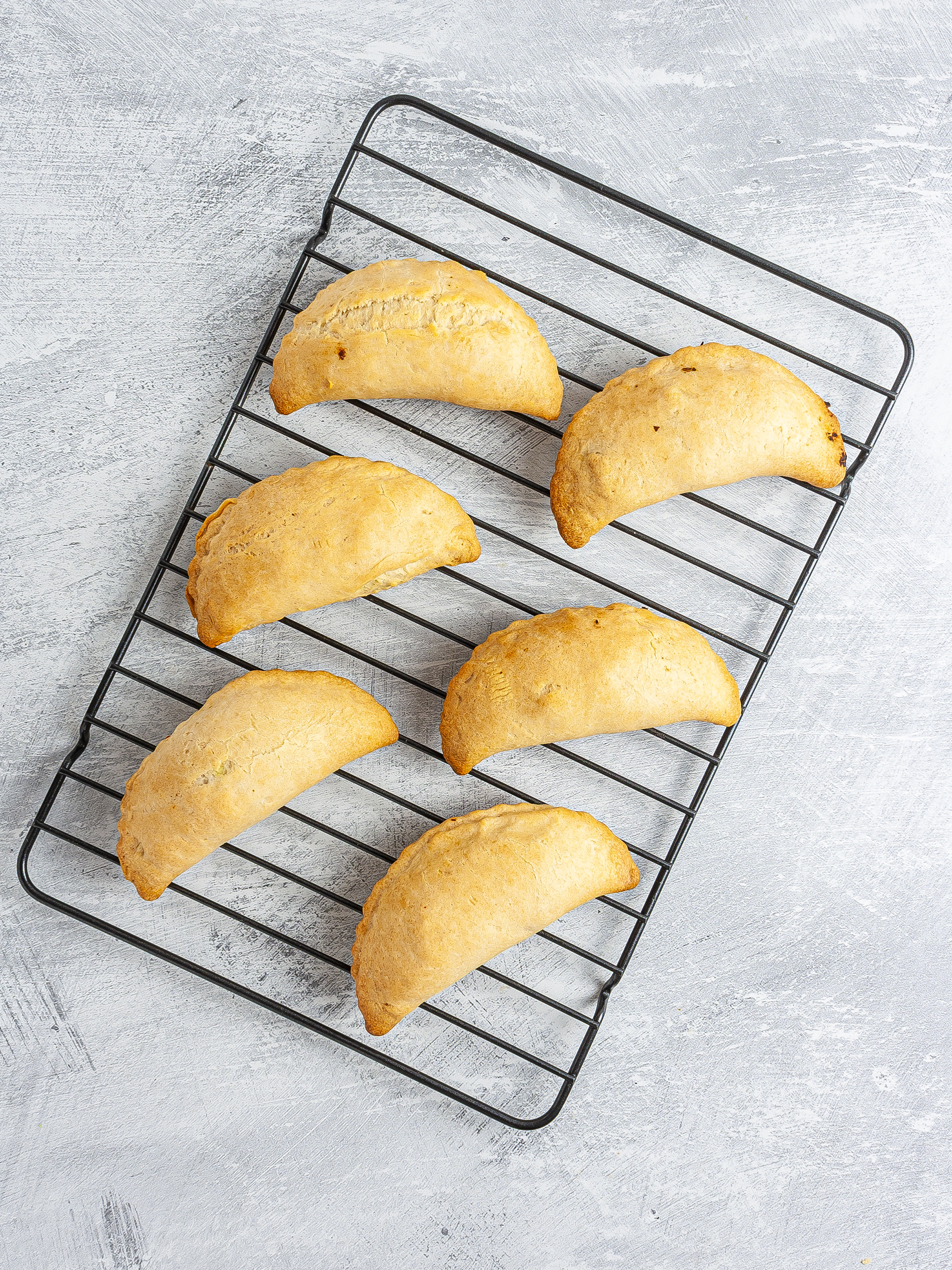 Tips
You can swap lemongrass with a bit of lemon juice and a few leaves of mint.
Watch on Youtube