Today, we'll show you how to make delicious cookies with purple ube filling. Crispy outside and creamy inside, they're a real treat worth trying — and they're 100% vegan!
For this recipe, you'll need ube spread to make both the cookie dough and the filling. Ube spread consists of fresh purple yams cooked with sugar and mashed into a pureé. It's sweet, creamy, and with a vibrant purple hue.
You can find ube spread online or at your local Filipino or Asian food store. It often comes under the name of ube halaya, which translates into "purple yam jam" in Filipino.
But the ube spread alone won't work as a filling for these cookie sandwiches. That's because it's too soft, and it will easily be squeezed out when you assemble the cookies or bite into them. This is where coconut oil comes in!
Soften the coconut oil at room temperature, mix it with ube spread, and let it harden slightly in the fridge. You'll get a dense cream that will work perfectly as a filling for your cookies.
We actually have a vegan ube butter recipe that already combines purple yams with coconut oil and a little maple syrup for sweetness.
It's our base for all our purple ube sweets and bakes, and we used it for this recipe too.
So, if you can get hold of some fresh purple yams, you can make your ube spread from scratch. It will have a fraction of the sugars compared to the ready-made ube-halaya. And you'll have the perfect vegan butter replacement for all your sweet creations. Give it a go!
As for the cookie dough ingredients, we used our vegan ube spread instead of butter and maple syrup instead of refined white sugar. Also, we added a little almond flour for extra flavour and crispiness.
Using cocoa powder in the cookie dough is optional. But it will add a lovely depth of flavour and give the cookies a nice and uniform colour.
If you don't use cocoa, the biscuits will have a pale pastel pink and golden hue once baked. That's because we didn't use any food dye, just ube spread.
The secret to these ube-filled cookie sandwiches is in making the biscuits as thin you can. The thinner they are, the crispier they will get.
And you'll have a delicious contrast between the crunchy cookies and the soft ube filling. We're sure you love them!
Ingredients
Self-Raising Flour

75 g

Almond Flour

25 g

Cocoa

2 tsp

Maple Syrup

65 mL

Ube Spread

recipe

225 g
Step 1
For the ube, you can make the spread from scratch using purple yams, coconut oil, and maple syrup following our vegan ube butter recipe.
Alternatively, you can use ube halaya, also called ube jam, which is available online. If you do, reduce the amount to 180g (6oz) and blitz it with 45g (1.5oz) of softened coconut oil to get a denser, firmer spread.
Now, add self-raising flour, almond flour, cocoa powder, maple syrup, and 65 g of prepared ube spread to a bowl.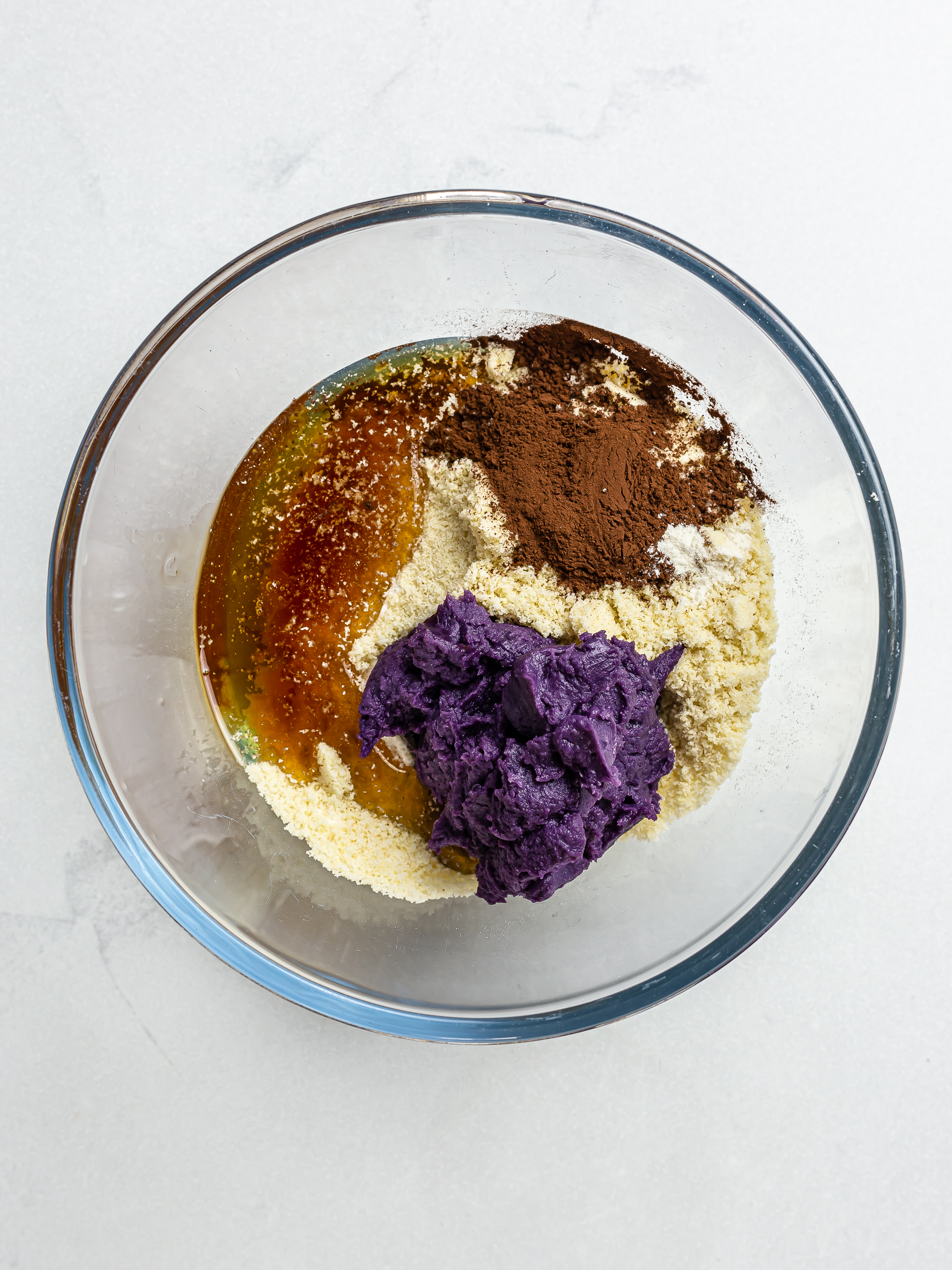 Step 2
Mix the ingredients with a spoon until they come together into a dough, and then work it with your hands until it's smooth and uniform.
If the dough gets too sticky, put it back into the bowl, cover it with film, and let it harden in fridge for 10-15 minutes.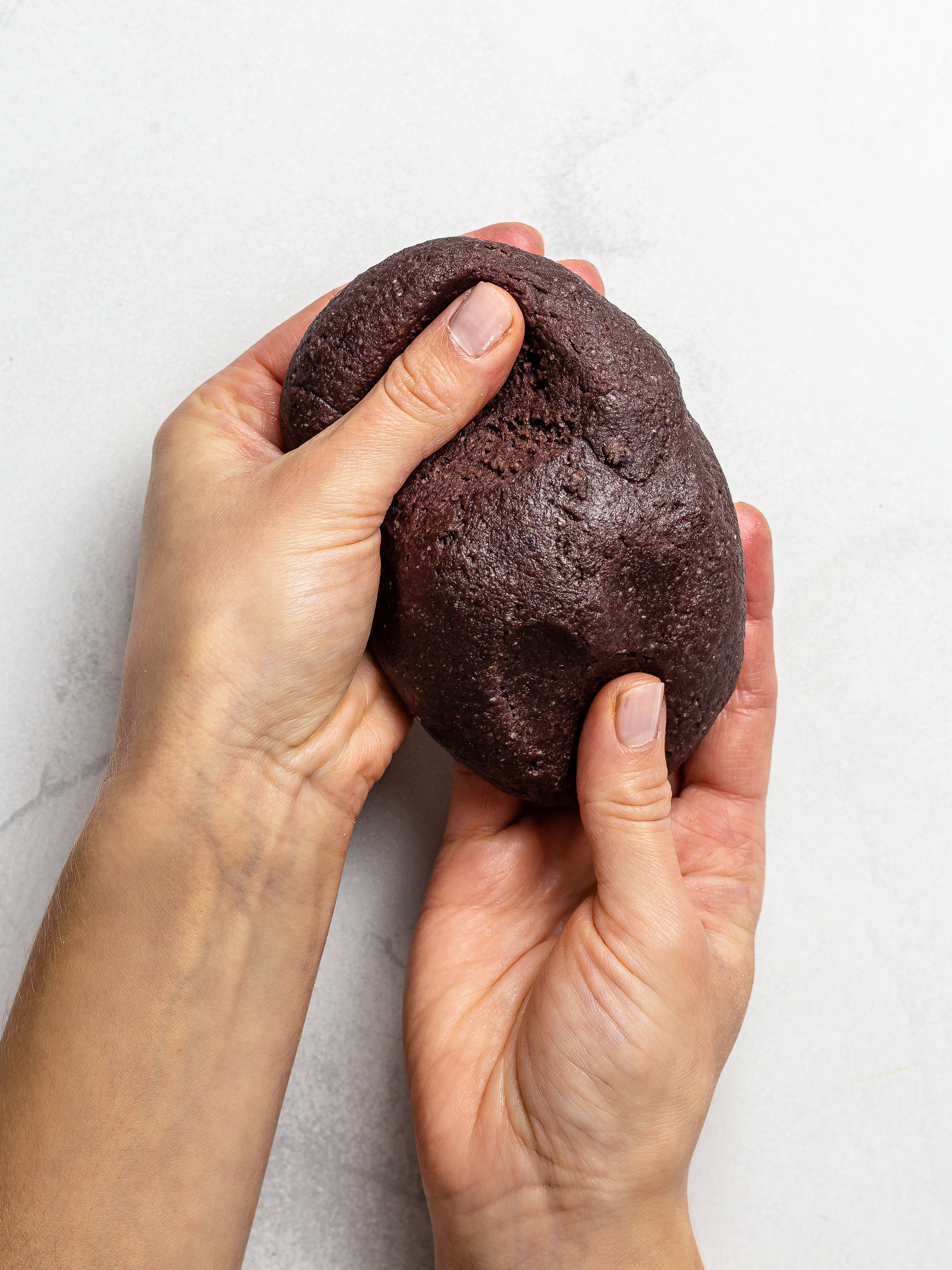 Step 3
Now, roll out the dough between two sheets of baking paper to a 2 mm thickness using a rolling pin.
Thinner cookies will be crispier, while thicker cookies will be chewier.
Then, use a 6cm (2.5 inches) round cutter to cut out the cookies.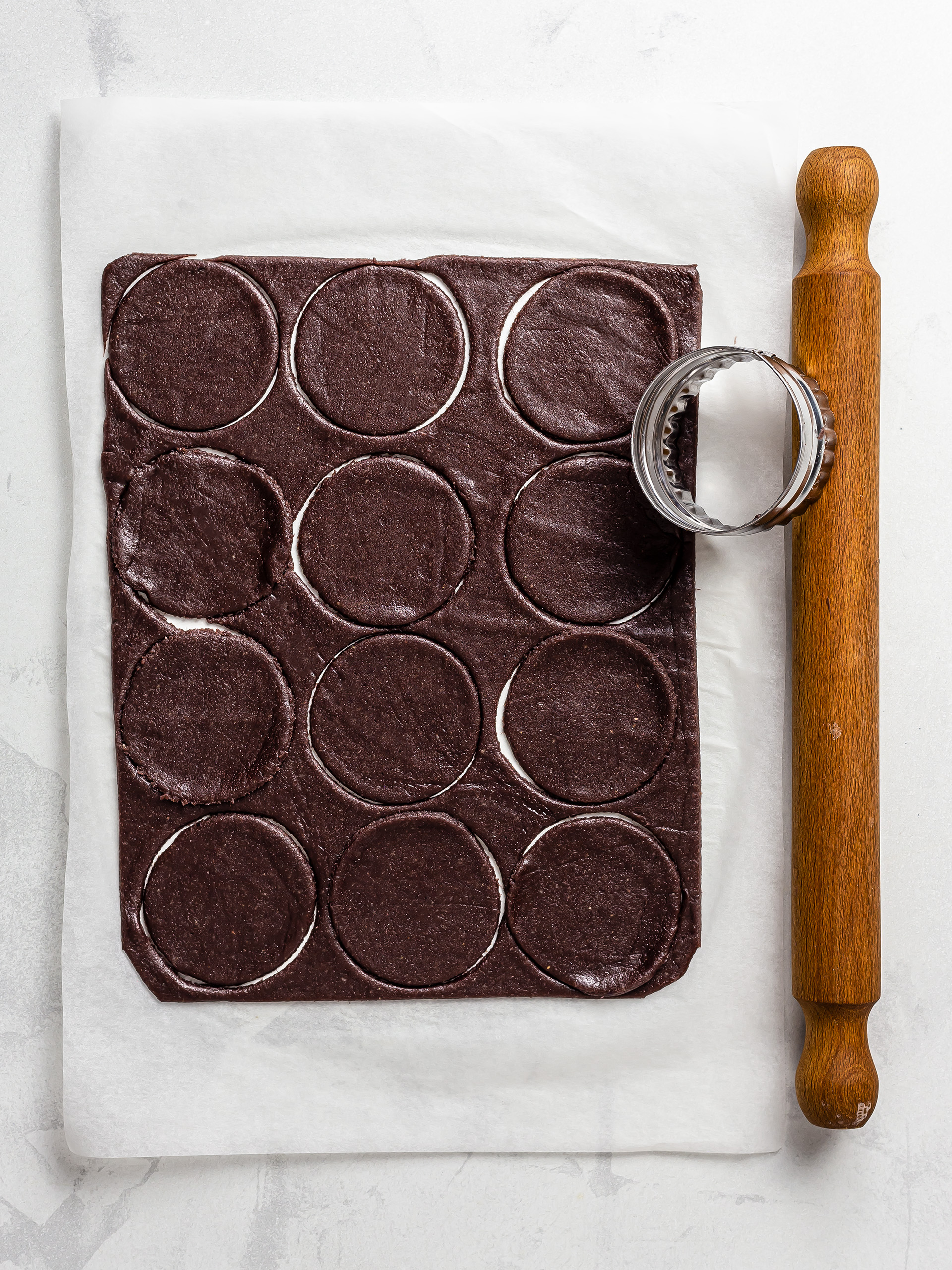 Step 4
Transfer the cookies onto a baking tray lined with parchment paper.
Gather the dough cut-outs back into a ball and repeat step 3 until you have used all the dough.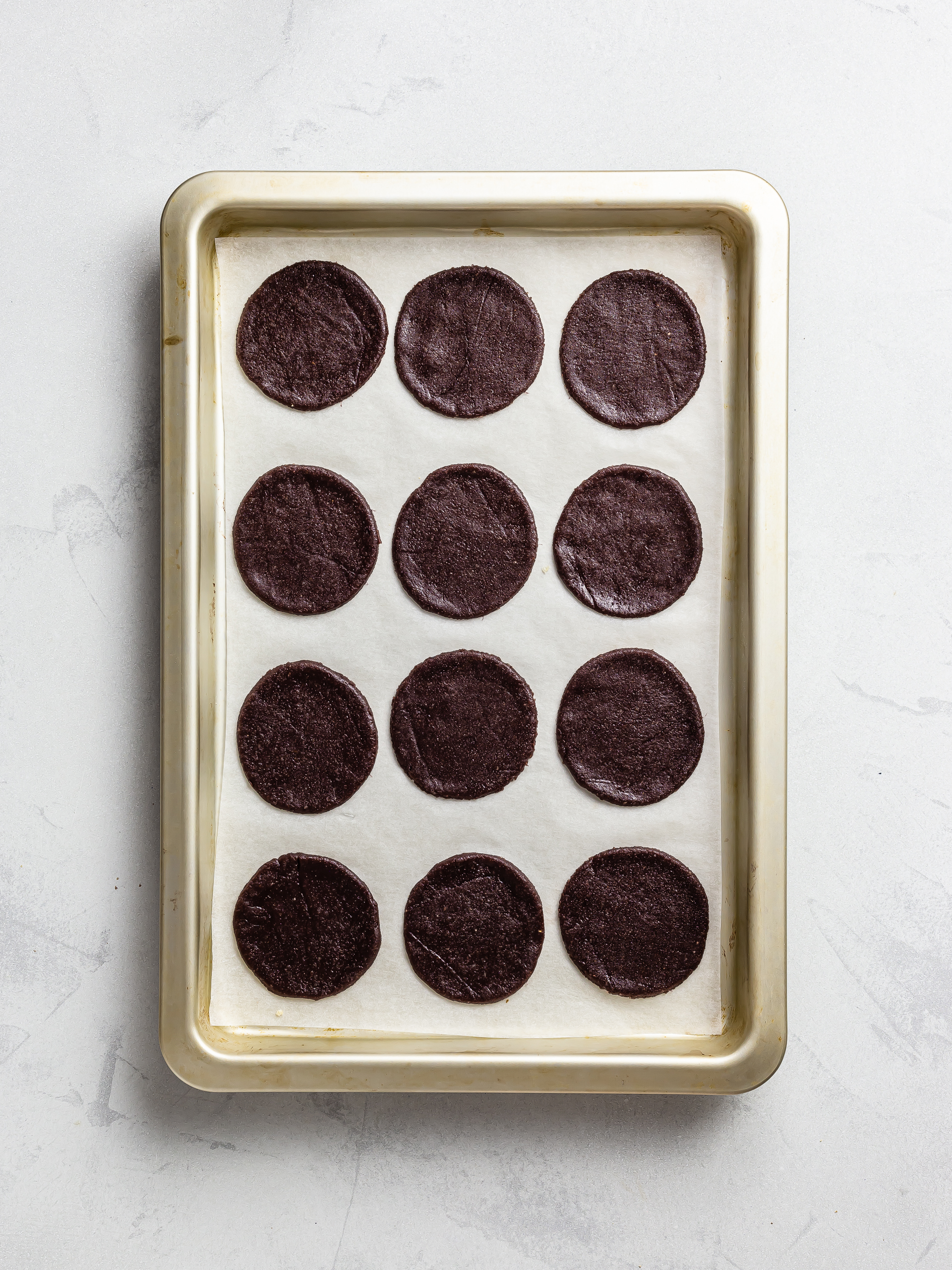 Step 5
Bake the ube cookies for 10-11 minutes at 190°C (375°F) and then let them cool completely on a wire rack.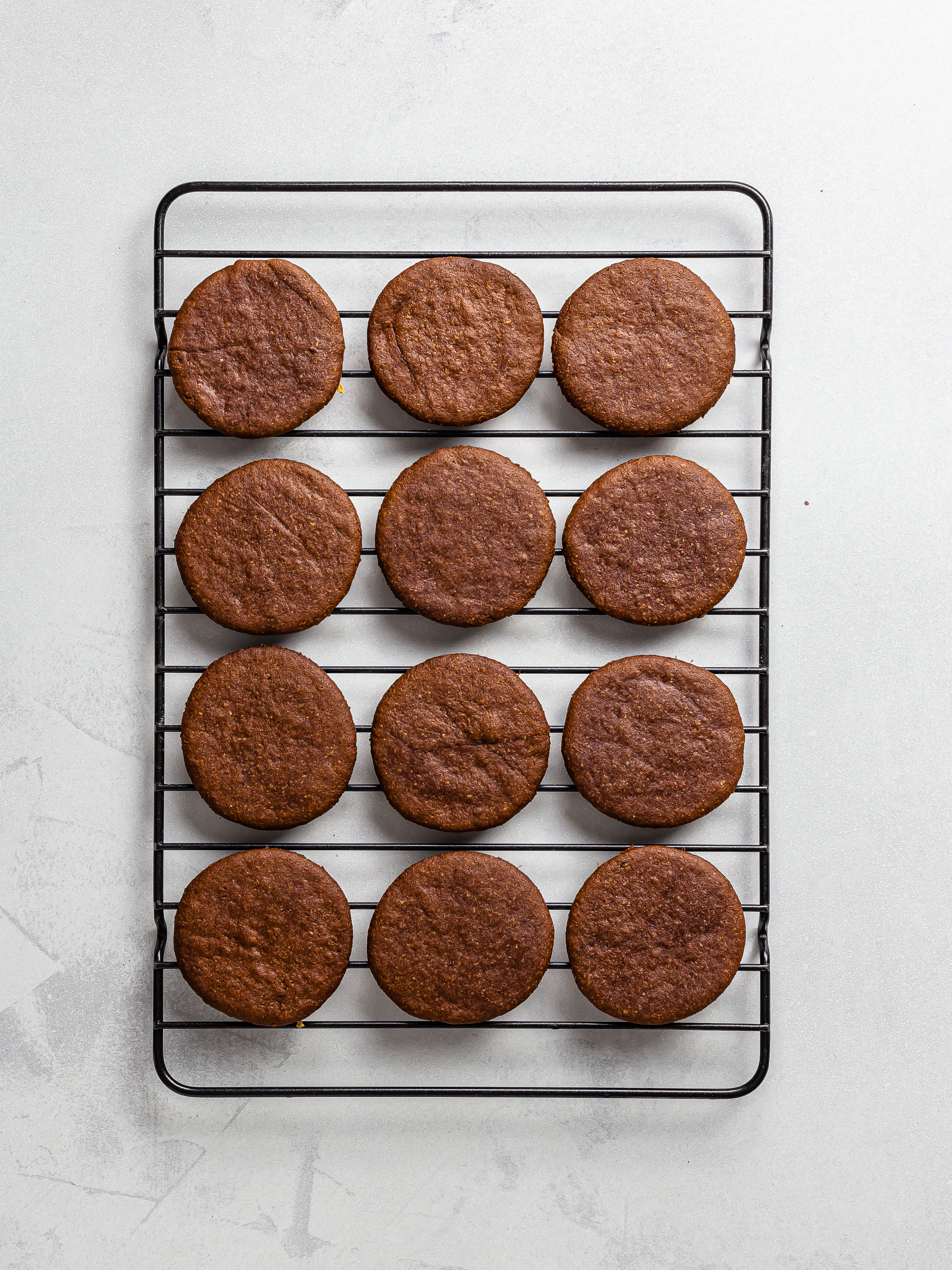 Step 6
Fill the cookies with the ube spread only when you're ready to eat them, or they will get soggy.
To make one cookie sandwich, spread two teaspoons of ube butter onto the base of one cookie, top it with another cookie and gently squeeze them together.
Level any excess of ube spread around the cookie edges using the back of a spoon, a knife, or with your fingers.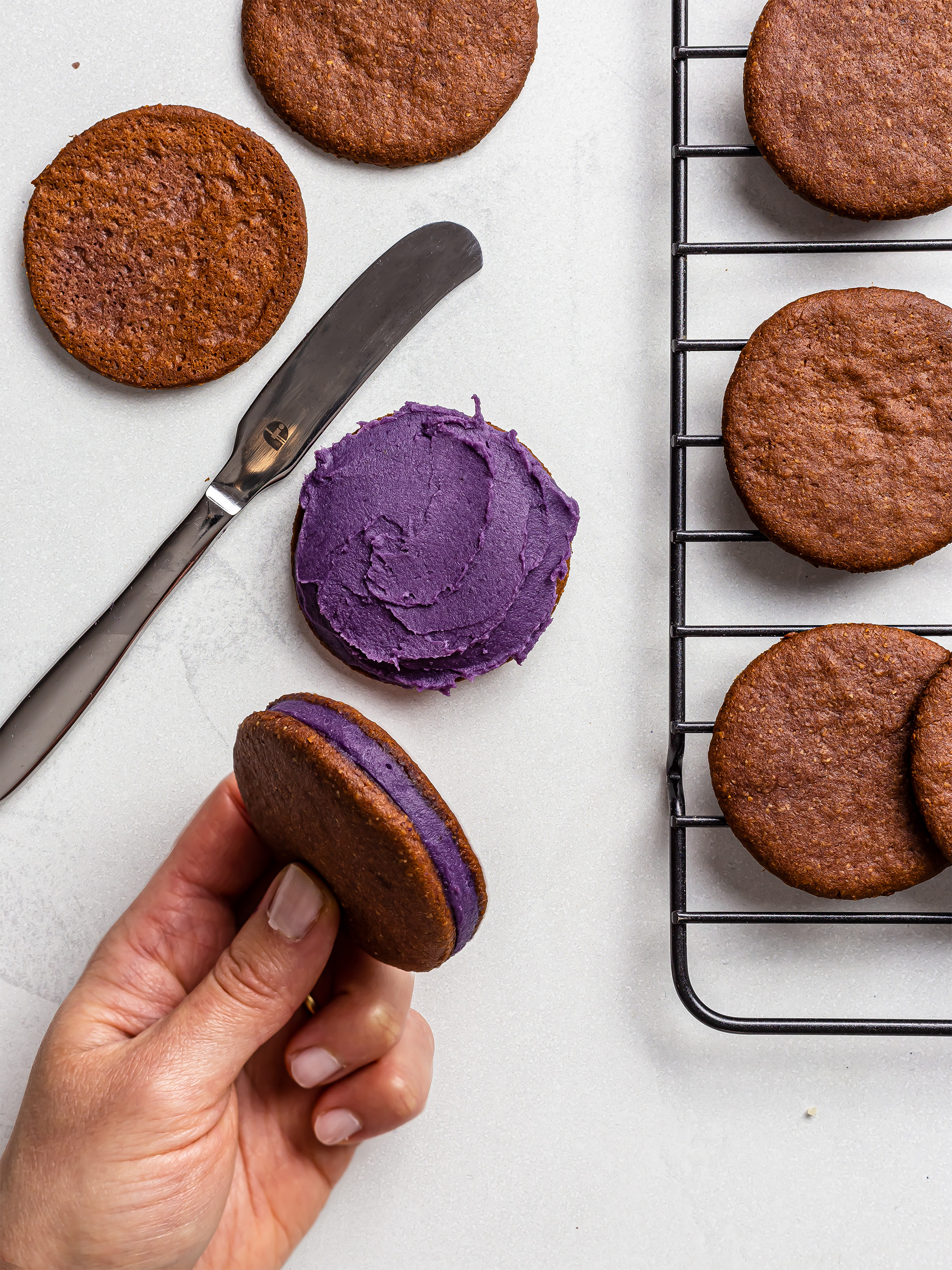 Tips
You can add a pinch of cinnamon or a few drops of vanilla or almond essence to the cookie dough for extra flavour.